Vietnam is an exciting place to immerse yourself in the fascinating culture. 
Ho Chi Minh City (also known as Saigon) is a memorable destination to visit and has something to offer everyone. From sampling the world-class cuisine, learning about the nation's enthralling history, or simply people-watching in Bui Vien Street, there is plenty of things to do here. 
Among the hustle and bustle of Ho Chi Minh City, the pagodas and temples offer some moments of serenity, along with some respite for your senses, which are otherwise overloaded in most spots in the city.
The variety of pagodas and temples have an element of uniqueness about them, so they're worth exploring the history behind them before you plan your visit. They're also a free activity to encapsulate the cultural history of Vietnam.
Here are 6 unique pagodas and temples in Ho Chi Minh City to add to your itinerary and check out on your next trip. There are also helpful tips to know before visiting the temples and pagodas. 
If you're still in the travel planning phase, check out these Vietnam posts:
*Disclaimer: This post contains affiliate links. If you click on them and make a purchase, we receive a small commission. There is no additional cost to you. Appreciate the support.
---
Important Tips for Visiting Ho Chi Minh City's Temples and Pagodas
Organize a Private Tour 
Ho Chi Minh is a vast city, so the temples are spread out around the city. It would be beneficial to organize a private tour to visit multiple temples in one trip. 
If you prefer group tours, many city tours include at least one temple visit. There are tour options below. 
---
Use the Grab App to Travel Between the Temples
If you plan to travel to the temples and pagodas without a guide, it's best to use ride-hailing apps to travel around the city. 
You'll need a data plan to request ride-hailing cars or motorbikes. Buy a SIM card at the Ho Chi Minh City Airport or set up a Vietnam eSIM in advance here. 
If you're from the U.S. and looking for an international phone plan, consider getting Google Fi (formerly Google Project Fi). Life Of Doing has been using this convenient phone plan since 2016 and has data access in 200+ countries. Google Fi works well in Vietnam. Read more here and try it for free. 
Downloading the Grab app (similar to Uber) will make your day more efficient and cost-effective, as you can book a ride between the different temples.
The best part about the Grab app is that everything is done in the app, from requesting to/from locations and payment by credit card. Exact cash is accepted as payment. 
TIP: The Downtown area of District 1 and Bui Vien Street is a popular place to base yourself. They're in a central location with good access to taxis, private tours, and information centers.
---
---
Hire a Private Driver 
Prefer to travel by private car? Check out this option to plan your temple visits either for a half day or a full day.  
---
Respect the Temple Rules
Pagodas and temples are active places of worship, so it's essential to respect the rules of the different religious sites. 
This usually includes dressing appropriately by covering your shoulders and knees and maintaining peace and quiet as you observe the different areas.
---
When to Visit
To make the most of your visit to the temples, plan and visit during a service to feel the religious energy flowing. 
The exciting times to visit include the Tet (Lunar New Year) holiday at the end of January/February and Buddha's birthday in mid-May. 
---
Map
---
1. Jade Emperor Pagoda (Chùa Ngọc Hoàng)
Address: QMRX+Q79, Đ. Mai Thị Lựu, Đa Kao, Quận 1, Thành Pho Hồ Chí Minh
Opening Times: 8:00 am – 5:00 pm daily
Unique Features: Paper mache statues located in several courtyards are dedicated to a different god/goddess.
If you want an authentic temple experience, then Jade Emperor Pagoda is one of the best pagodas in Ho Chi Minh City to visit. It offers both Buddhist and Taoist elements throughout the complex. 
There are intricate statues, along with the smell of different incense from lit candles at various shrines within the pagoda.
Memorable features of the temple include Taoist carvings, colorful ancient Chinese architecture (both internally and externally), and some marine life in the ponds in the gardens. 
People take a moment to enjoy the peaceful setting while observing the tortoises.
There is a feeling of spirituality within the pagoda as locals and visitors pay their respects to Jade Emperor, the supreme god in Taoism.
Visit Jade Pagoda with these city tour options:  
Private Half-Day Tour with Car
Half-Day Tour of Ho Chi Minh City with Car
---
2. Giac Lam Pagoda (Chùa Giác Lâm)
Address: 565 Lạc Long Quân, Phường 10, Tân Bình, Thành phố Hồ Chí Minh 
Opening Times: 6:00 am – 9:00 pm daily
Unique Features: Intricately designed entrance gate & a rare bodhi tree
The Giac Lam Pagoda is one of the oldest Buddhist temples in Ho Chi Minh City, following its construction in 1744 by a Chinese monk. 
As you visit the temple today, the monks are just as prevalent as they are on-site praying and meditating, which creates a spiritual atmosphere.
Buddhist relics and wooden Buddha statues capture your attention as you wander through the different structures which make up the temple. 
Head towards the multi-story stupa. With its hexagonal shape, it's very prominent at the back of the garden.
This pagoda is further away from the city center, so less touristy. Therefore, you gain insight into the true daily life of monks.
---
3. Thien Hau Temple (Chùa Bà Thiên Hậu)
Address: 710 Đ. Nguyễn Trãi, Phường 11, Quận 5, Thành phố Hồ Chí Minh
Opening Times: 8:00 am – 5:00 pm daily
Unique Features: There is a strong emphasis on lighting spiral incense while praying
Located in Chinatown in District 5, this ancient Chinese temple is much smaller than others on the list. Yet, it's decorated no less elaborately, so you get an experience true to the local Chinese community.
A memorable activity to undertake in this temple is the burning of spiral incense. This also aligns with regular daily worshipping.
The incense cones burn upwards around the spiral after you have placed a wish before lighting them. It's a great way to be at one with your thoughts and think deeply about what you desire. 
The cones usually take a few days to burn out, and then your prayers are lifted to heaven.
The well-kept Bà Thiên Hâu Pagoda dates to 1760, yet still has pristine ornate features throughout. 
Volunteers help to keep the place clean and tidy, so offering some pleasantries and a small donation is a nice way to thank them.
Many tours of Ho Chi Minh include this pagoda, so this is a fantastic way of exploring with a guide and learning about its ancient history while enjoying the aromas of the different incense.
Book this Chinatown Tour with a visit to Thien Hau Temple 
---
4. Vinh Nghiem Pagoda (Chùa Vĩnh Nghiêm)
Address: 339 Đ. Nam Kỳ Khởi Nghĩa, Phường 7, Quận 3, Thành phố Hồ Chí Minh
Opening Times: 8:00 am – 5:00 pm daily
Unique features: Features a large bell that visitors are welcome to ring during services
The architecture in this pagoda is exemplary throughout, from the traditional Vietnamese-style gate entrance to the multiple Giant Buddha statues situated in the garden area.
The expansive sanctuary area of this temple spans seven floors. It is an active place of worship with regular services here. 
If you are lucky enough to visit during a service, you will be welcomed inside to take part. 
Or, witness how the locals pray and offer their blessings to the impressive shrines in different areas of the Vinh Nghiem Pagoda.
A cool activity to do when visiting the premise is to ring the bell and pound the drums. This is a great way to get involved with the monks on site and to create a sense of spiritual energy during your visit.
The famous Tan Dinh Church and War Remnants Museum are nearby attractions and within walking distance, if you want to visit multiple sites in one afternoon.
5. Mariamman Hindu Temple (Đền thờ Hindu Mariamman)
Address: 45 Trương Định, Phường Bến Thành, Quận 1, Thành phố Hồ Chí Minh 
Opening Times: 7:00 am – 12:00 pm, 1:00 pm – 7:00 pm; on Fridays or the 1st and 15th days of the lunar month: 7:00 am – 7:00 pm
Unique Features: A Hindu temple with interesting information about different Hindu gods
The Mariamman Hindu Temple is a rare religious site in Ho Chi Minh City, as it's fully dedicated to Hinduism. 
The colorful facade of this 19th-century temple is very welcoming. It's been well preserved, despite being a very popular tourist attraction due to its central location. 
The traditional Hindu architecture on the building exterior stands out against the backdrop of the tower blocks in the vicinity.
Despite it being a Hindu temple, there are still many local worshippers, demonstrating the cosmopolitan reach of modern-day Ho Chi Minh. 
For visitors who want to learn about Hinduism, there is an abundance of information about the different Hindu gods worshipped in the temple. 
Reading the wall explanations and learning about them, while observing the various shrines makes for a very interesting activity.
According to Indian mythology, visiting this temple on a Friday is a very special day for Hinduism. So, the likelihood of a notable event taking place is increased.
---
6. Xa Loi Pagoda (Chùa Xá Lợi)
Address: 89 Bà Huyện Thanh Quan, Võ Thị Sáu, Quận 3, Thành phố Hồ Chí Minh 
Opening Times: 6:00 am – 11:30 am, 2:00 pm – 9:00 pm
Unique Features: A giant gold-coated seated Buddha statue captures your attention as you walk into the main ceremonial hall
Built in 1956, Xa Loi Pagoda is a beautiful temple and abundant with nature. 
From the surroundings of the entrance gate to the various gardens, the pagoda is filled with colorful flowers and bonsai trees. There are benches to immerse yourself in the tranquillity of this place. 
The pagoda is illuminated at night adding some magic to the majestic place. 
You can visit the upper floors of the pagoda with a small voluntary donation. 
The main ceremonial hall features a grand statue of Gautama, depicting a gold-coated Buddha seated. You will find some pretty flowers and miniature statues accompanying the Gautama statue, making it a beautiful shrine to pray to.
The 7-story bell tower is another place to check out when you're here. 
This temple has some historical significance behind it, adding a dimension of intrigue to your visit. 
Learning about the important history of the city is worthwhile, as it deepens your understanding of the different landmarks in the city.
---
Final Thoughts
If you have one day or 3 days in Ho Chi Minh City, you'll want to visit at least one temple or pagoda. 
While this list is a snapshot of the best temples to explore in the city, each temple and pagoda's ambiance varies and provides unique spiritual experiences. 
Happy temple hopping! 
Check out other Ho Chi Minh City posts to help with your planning:
Like this post? Save it to your Vietnam Travel Board on Pinterest.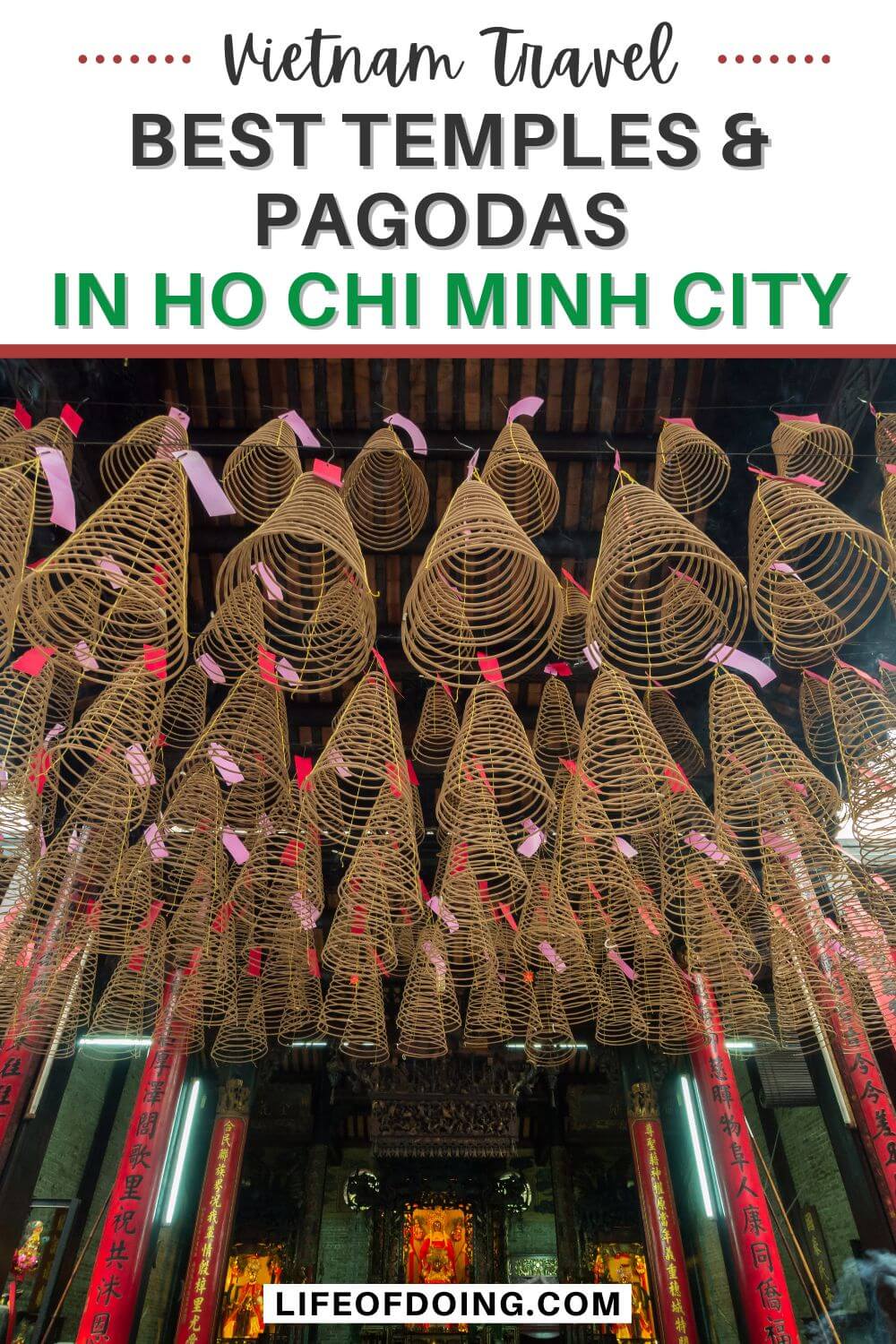 Featured photo & pin #1 photo credit: motive56 via Depositphotos.com