Travel Requirements for South Korea
Visa or K-ETA
---
Vaccinations
South Korea does not require PCR tests or quarantine. 
---
QR Code Health Declaration
---
How To Get To Incheon From the Incheon International Airport
If you're coming to Incheon from the Incheon International Airport, you'll need to pass through immigration. 
If you have a short layover, you may consider dropping off your carry-on luggage or bags at the airport storage, such as at Hanjin Express. 
Afterward, it's time to head to Incheon in one day! 
There are three ways to consider depending on how much time you have and your budget.
---
1. Take the Subway
It's easy to get to this city is to take the subway. To purchase tickets, there are two ways:
Option 1: Buy them at the subway station. 
You'll need to pay a 500 KRW ($.44 USD) deposit for the paper ticket, but you'll get the deposit back after usage. Look for the deposit change machines near the ticket area.
Option 2: Use your T-money card. 
---
2. Take a taxi or pre-book a car.
---
3. Consider taking one of the free or low-cost Incheon Transit Tours if you're visiting on a layover.
---
How To Get To Incheon From Seoul
By Subway 
---
Transportation in Incheon
---
Map
---
Recommended Things to Do in Incheon in One Day
We're headed to the Chinatown area which has many of the Incheon tourist spots for the day trip.
1. Chinatown 
---
2. Samgukji Murals
In the Chinatown area, colorful murals on Samgukji Street (삼국지 벽화거리) depict the story of the "Three Kingdoms" (from Chinese literature) along the wall. 
The murals are 500 feet long, and the story starts from the top of the hill to the bottom. So, you're reading the story from right to left. It's helpful if you can read Korean, otherwise, you can admire the artwork like what we did.
During our visit, we saw many schoolchildren taking photos of these murals.
As a heads up, the murals are along the main street. Please watch out for cars and other vehicles when they pass.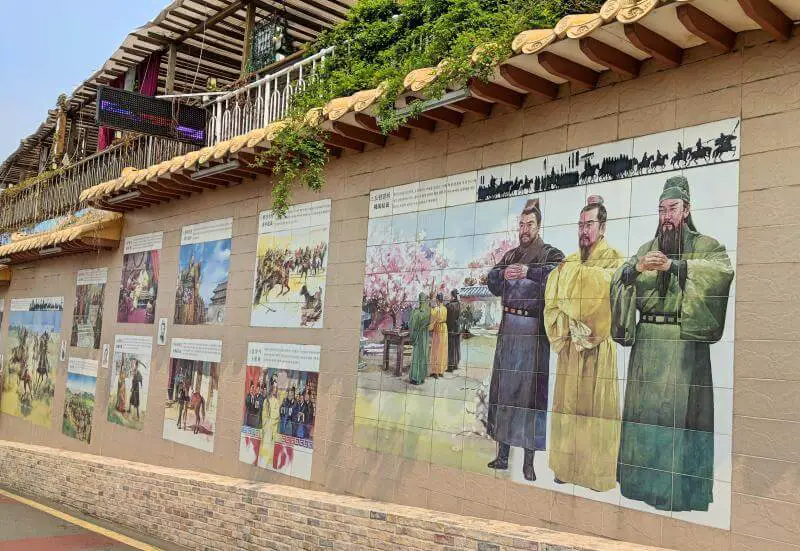 Address: 4-25 Bukseong-dong 3(sam)-ga, Jung-gu, Incheon, South Korea
---
3. Songwol-dong Fairy Tale Village
Can't resist fun street art and colorful murals? Neither can we. We recommend that you visit the Songwol-dong Fairy Tale Village (송월동 동화마을).
Located in the Chinatown area, this quirky area has sculptures and street art of Disney princesses and other characters, fairy tale characters, and more, on walls and front yards. You'll leave this place with a smile with the bright colors and ambiance. 
We suggest that you visit this place early in the morning as this place is a popular tourist spot in Incheon. The early risers also can get better photo opportunities too.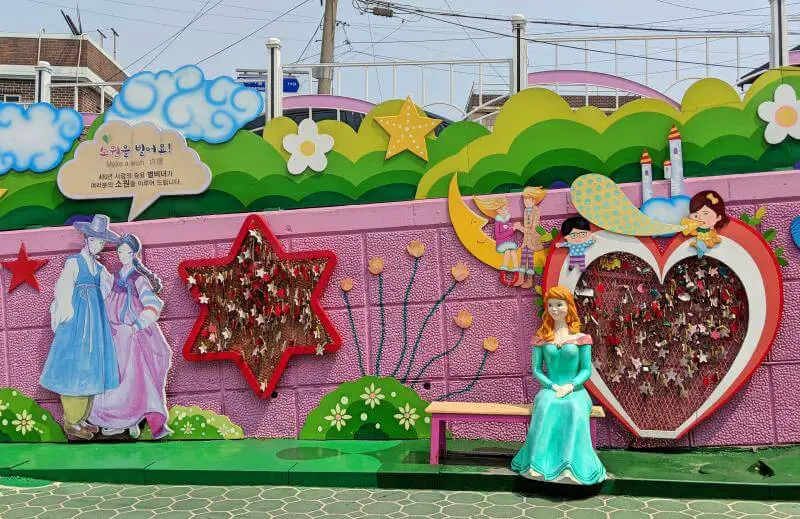 Address: Jayugongwonseo-ro 45beon-gil, Songwol-dong 3(sam)-ga, Jung-gu, Incheon, South Korea
---
4. Jayu Park
---
5. Wolmido Island
---
6. Wolmi Traditional Park
Next to Wolmido Island is the Wolmi Traditional Park, a former military base of the Korean War. 
The park is another beauty (and even better than Jayu Park). You'll huff and puff through the uphill paved roads to walk through the park.
If you pass by the "Love bench" (the slanted inward bench has a heart painted on it), feel free to snuggle with your loved one. Also, write a note on the green ribbon and attach it to the railing.
Other highlights of the park include the Observatory Deck, where you get incredible views of the surrounding areas, including Wolmido Island. Don't forget to stop by the Wolmi Garden and see traditional Korean architecture.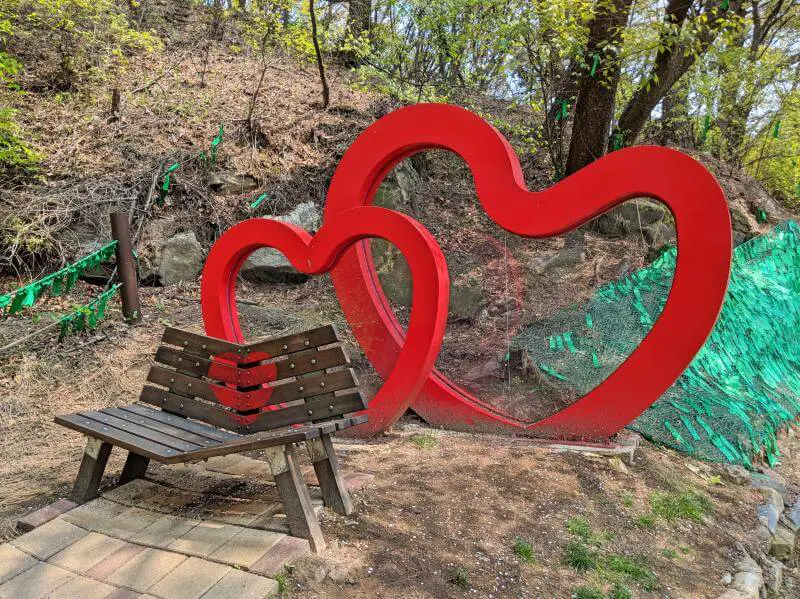 Address: 377-1, Wolmi-ro, Jung-gu, Incheon, South Korea
Optional Places to Visit in Incheon In Day Trip
On our day trip to Incheon, we couldn't see everything. Here are some places that we'll visit on a return trip to Seoul and Incheon.
1. Sinpo International Market
Sinpo International Market (신포국제시장) is one of the top destinations to visit in Incheon due to the shopping opportunities and the local street foods.  
Many visitors come here to try the famous dakgangjeong, which is crispy fried chicken covered in a sweet and spicy sauce.
This market is located about a 20-minute walk from Chinatown, or you can take the subway to get here.
Address: 6-6 신포동 Jung-gu, Incheon, South Korea
---
2. Sorae Pogu Fish Market
Looking for fresh seafood? Visit Sorae Pogu Fish Market (소래포구 전통 어시장) located in the Namdong area of Incheon.
This is a place where locals purchase their fresh seafood. We've been to the Noryangin Fish Market in Seoul and assume that the experience is similar. Plus, you can purchase lots of pickled fish here.
Address: 2-6 Pogu-ro, 논현1동 Namdong-gu, Incheon, South Korea
---
3. Bupyeong Underground Shopping Center
Bupyeong Underground Shopping Center is located in the Bupyeong area, so it's farther out from Chinatown.
This place is a shopping heaven with over 1400+ stores. As you know, women's fashion is taken seriously in South Korea. You can easily spend a few hours browsing through endless stores of clothes, cosmetics, and more. 
Throughout South Korea, underground shopping centers are common to connect subway stations. The underground connection is helpful if the weather isn't great outside.
Address: 69 Bupyeong-daero, 부평1동 Bupyeong-gu, Incheon, South Korea
---
4. Yeongjongdo Seaside Rail Bike 
On Yeongjongdo Island in Incheon, there is a popular rail bike attraction (영종씨사이드 레일바이크) in Seaside Park. 
It's a 4-seater rail car that takes you 5.6 kilometers (3.5 miles) along the waters and has views of Womido Island and more. If you've been to Gapyeong, it's a similar experience at Gapyeong Rail Bike. 
More information is here. Site is in Korean. 
Address: 75, Gueup-ro, Jung-gu, Incheon
---
Final Thoughts
Whew! The day trip in Incheon is finally done! We're thankful for the opportunity to spend one day in Incheon.
Although it was a quick journey to see the Incheon tourist attractions, we had a good snapshot of the city.
With lots of things to do in Incheon, you can easily spend 2-3 days here depending on your interest. Don't skip out on visiting this city during your next visit to South Korea.
Have you been to Incheon? What would you like to do in this city? Let us know in the comments!
Like this post? Save it to your South Korea board on Pinterest!
Pin #2 photo credit: Top Photo – Gabriela Bernal via Scopio Photos