Pack your bags and take a trip to Perth, Australia! Visiting Perth surprised us. Although the capital of West Australia, it didn't have the hustle and bustle of a large city like Sydney.
The laid-back lifestyle, friendly locals, beautiful parks, sunny weather, plenty of outdoor activities, and bucket list experiences is our kind of city.
Here are 8 recommended fun things to do on your next visit to Perth, Australia.
We had four quick days in Perth and it was way too short for our visit. The Perth itinerary below includes outdoor activities and sightseeing, wildlife, and local day trips from Perth. We barely scratched the surface with our exploration in Perth. 
You can easily spend a week in Perth exploring the surrounding areas as a part of a backpacking adventure in Australia, or even go on a road trip from Perth to Broome. There will be plenty of things to keep you occupied.
Before your Perth visit, don't forget to check out these helpful guides below:
Now, continue reading about what you can do in Perth!
---
How to Get Around in Perth Without Car
It's easy to travel around Perth without renting a car. We did it and you can too!
If you're staying within the city, take advantage of the Transperth's free CAT (Central Area Transit) buses. Five different lines are available for visitors and residents:
Red (East to West loop via Perth Station and Perth Underground Station)

Blue (North to South loop between Perth Bus Port and Kings Park via Perth Station and Elizabeth Quay Station)

Yellow (East Perth to West Perth loop via Perth Station)

Green (

Leederville Station to Elizabeth Quay Bus Station via City West Station)

Purple (Elizabeth Quay Bus Station and QEII Medical Centre and UWA via Kings Park)
More information on the scheduling is here.
The CAT buses were amazing. They were clean, arrived at the bus stops every 5 to 10 minutes, and had air conditioning for the brutally hot summer days (in the 30s°C/86°F.) It was awesome to see public transportation done right as many people took advantage of the free buses.
Paid fare bus lines are also available for destinations away from Perth City.
Uber and taxis are other convenient options.
We used Uber when going to and from the airport. At Perth Airport, exit the Terminals T1, T2, T3, or T4, and there is an Uber Sharecar Pick-Up zone. It's a win-win situation for both drivers and requesters with the designated location at the airport.
---
Sightseeing Activities and Things To Do in Perth, Australia
1. Explore Perth's Central Business District, such as Elizabeth Quay.
If you want to have an awesome view of the Central Business District (CBD), take a walk through Elizabeth Quay.
You can easily spend half a day walking through CBD. Check out a few souvenir shops and restaurants around the Barrack Jetty area. The Barrack Jetty area is the main hub to hop on a ferry boat ride (Rottnest Express to Rottnest Island or Captain Cook Cruise along the Swan River) from the dock.
For more picturesque spots, go for a walk, run, or bike ride along the 20-meter high pedestrian bridge for stunning views of the city, CBD, and Swan River. Or, hang out at the Spanda, the 29-meter high iconic white curved lined sculpture.
Plus, there are many opportunities to take photos such as at the unique Swan Bell Tower (Swan Bells) with the love locks along the entrance way. Although we didn't have a chance to go up the tower, it looks fun to participate in the interactive bell chiming demonstration.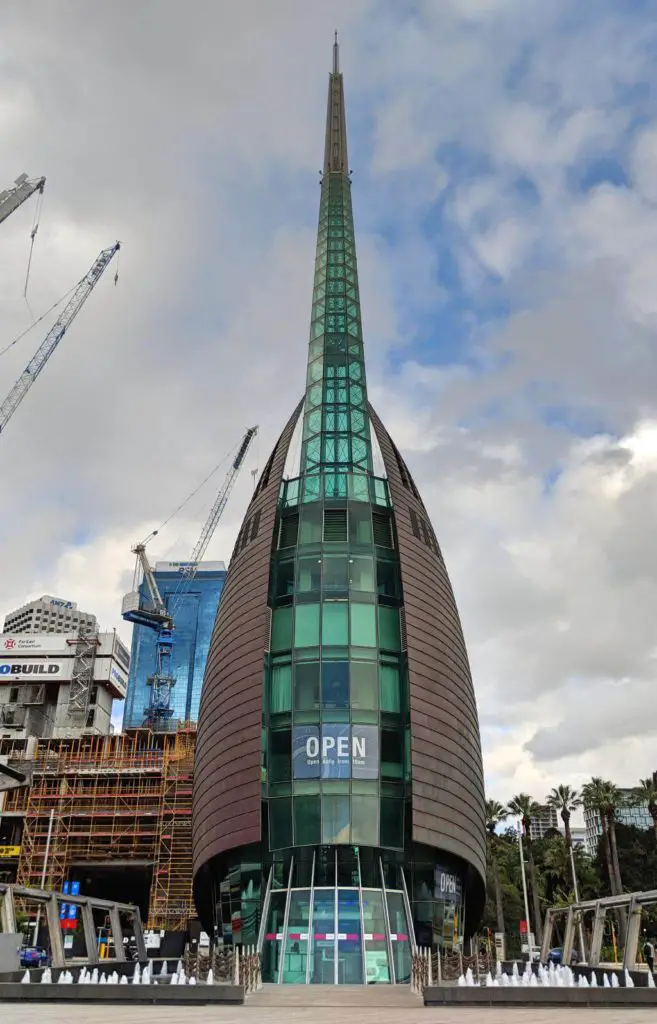 Swan Bell Tower
Address: Barrack Square, Riverside Dr, Perth
Opening Times: Thursdays-Sundays from 10am – 4pm
General Admission Fee: Adults $10 AUD, Children (Ages 5-14) $8, Children Under 4 is free, Family (2 Adults & 2 Children) $25
Bell Tower Admission Fee: Adults $18, Children (Ages 5-14) $9, Children Under 4 is free, Family $44
We loved visiting the London Court which is a few blocks away from Elizabeth Quay. The unique facades in the spirit of London and clocks are a nice change from the contemporary CBD.
Check out the local cafes, clothing and jewelry, and souvenir shops. If you are a postcard sender, this is the spot to purchase postcards. It's a unique place for a stroll.  
London Court
Address: Between Hay St Mall & St Georges Terrace, Perth
Opening Times: Monday – Saturday: 5am – 9pm; Sunday 11am – 9pm
2. Hang out with the kangaroos on Heirisson Island.
You have to see kangaroos when you're in Australia as they're one of the iconic Australian animals to observe.
If you want to see free-roaming wild grey kangaroos, head to Heirisson Island in East Perth. A handful of kangaroos live on the island.
Finding them requires patience as they hide under the bushes and shade from the blistering summertime heat. It took us an hour to find three kangaroos during our visit at 10am.
The kangaroos are used to people taking lots of photos of them and actually ignored us most of the time. Two of them just laid on the ground and got up to eat tree bark occasionally. A third kangaroo went by the Swan River for breakfast of tree bark and roots.
As with any wildlife, don't feed or touch the animals.
Heirisson Island
Address: The Causeway, Swan River, East Perth
Free Admission
3. Explore Kings Park and the numerous parks.
Perth is amazing with the number of parks throughout the city. It seems like every few hundred meters is a well-maintained park.
The famous and popular park to visit is Kings Park. At 4.06 square kilometers, it's huge and can take hours to walk through. Having a car is helpful to go through the southern parts of the park. Unfortunately, the free CAT buses do not travel through the park.
The most popular place to visit is the Western Australian Botanic Garden where you see various Western Australian plants. The Australian baobab is super cool to see. We thought there was only one version from Madagascar!
The Visitor Center offers free daily guided walks led by volunteers from 10am, 12pm, and 2pm. More information about the scheduling and guided walk topics is here. Segway tours are also available in the park.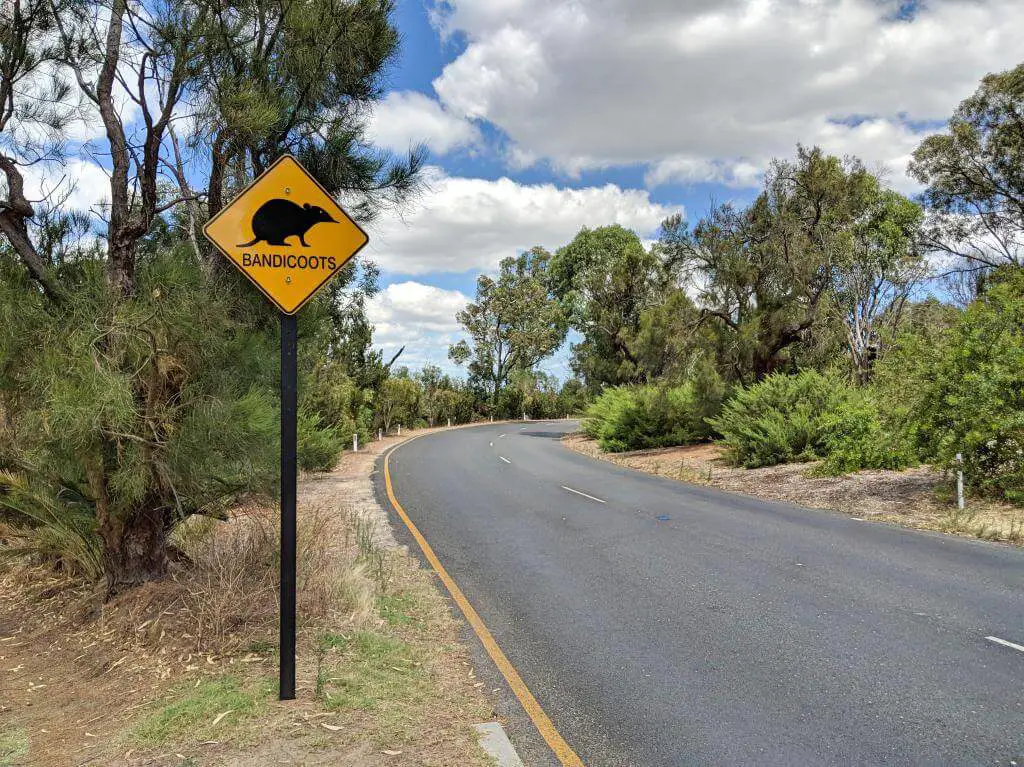 Kings Park
Address: Fraser Ave, Perth WA 6005, Australia
Free Admission
Opening Times: Daily for 24 hours
4. Walk, bike, or run along Swan River.
The Swan River is a peaceful place to relax and take a break. Along the river is a paved pedestrian road that is perfect for a walk, bike ride, or run. Cars are not allowed. Consider these running paths if you need some inspiration.
5. Visit the Blue Boat House and the Eliza Sculpture.
Have you seen the hundreds of photos of the famous Blue Boat House (also known as the Crawley Edge Boatshed) on Instagram? It's a famous landmark in the Swan River and great for photos. We stopped by the Blue Boat House after visiting King's Park.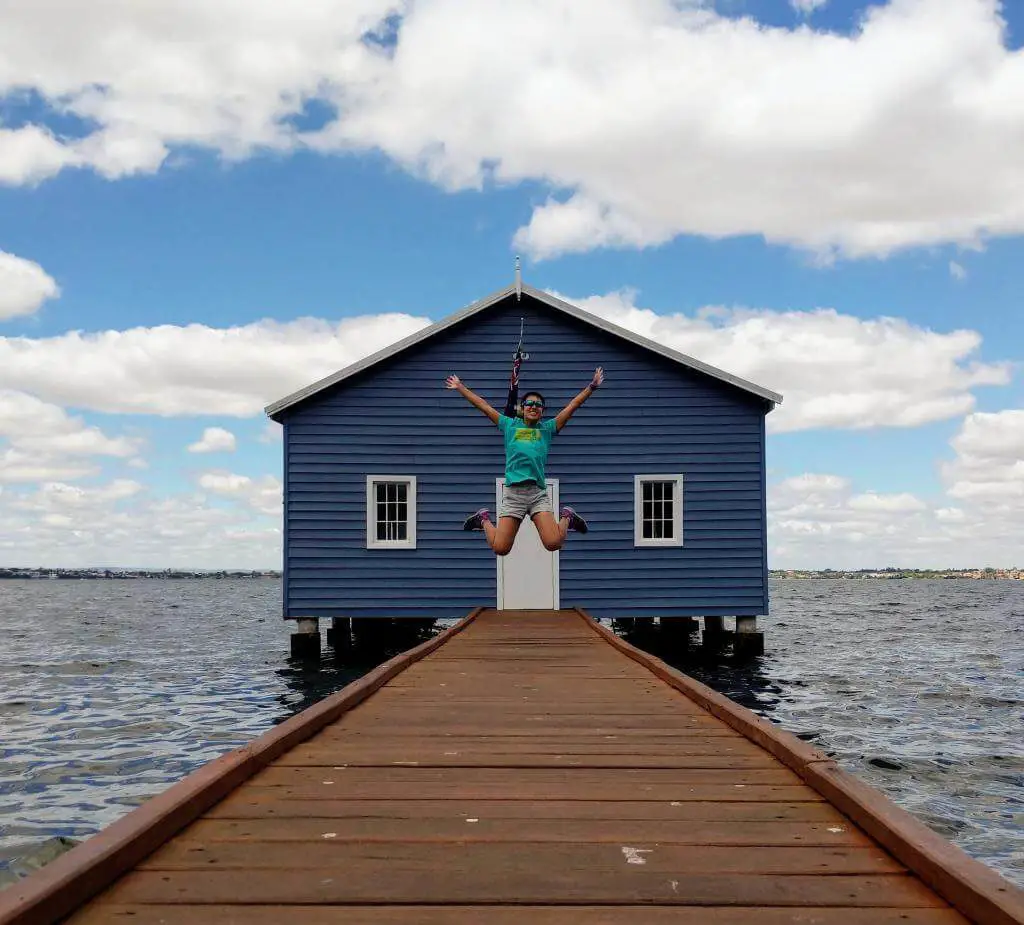 Blue Boat House/Crawley Edge Boatshed
Address: In the Swan River at the intersection of Mounts Bay Road and Kings Park Avenue
Not far from the Blue Boat House is the Eliza Sculpture. It's a five-minute walk from the Blue Boat House and located in the Swan River. Visitors and locals often swim in the Swan River and dress up Eliza in various outfits.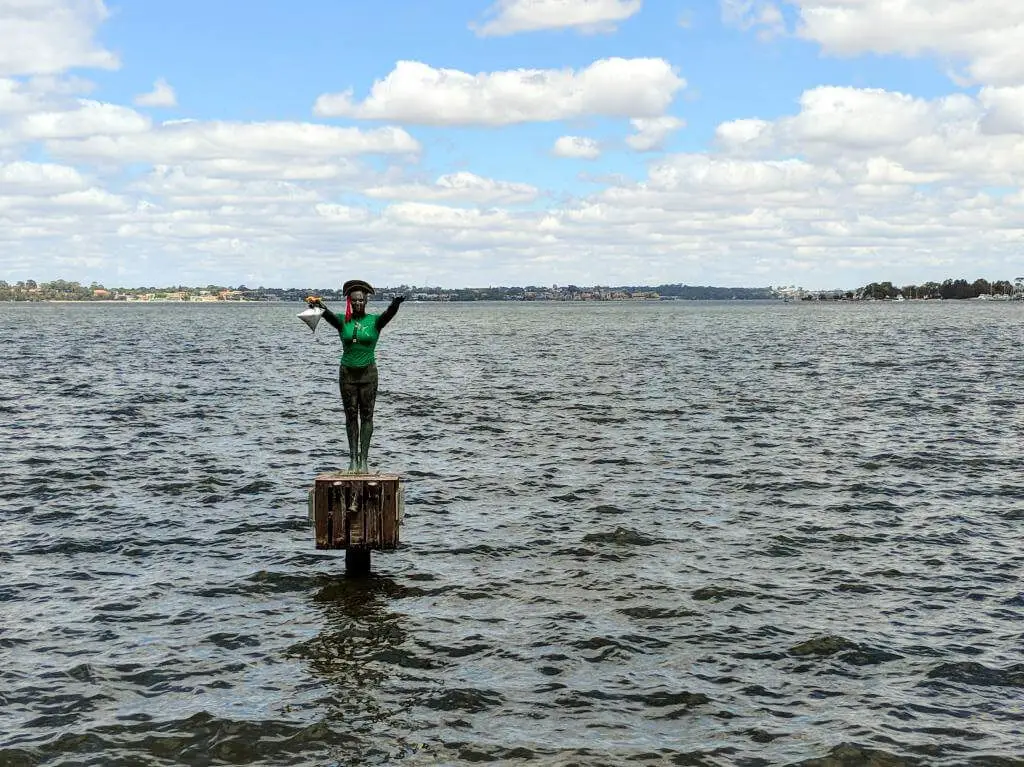 6. Eat delicious food in Northbridge Area.
Northbridge area has a variety of foods to satisfy any food cravings. Choose from a variety of Japanese, Korean, Chinese, Middle Eastern, Italian, burgers, pizza, and so much more. Prices are reasonable too. It's easy to go to Northridge via the CAT buses.
One of the places that we went to Is Donburi. The restaurant has cheap and delicious Japanese food. We enjoyed the Chirashi and Unagi Omurice.
Is Donburi
Address: 227 William Street, Northbridge, Perth
On the edge of Northridge is Perth's Chinatown. You've reached the destination when you see the two white lion statues in front of the Chinatown entrance.
The mornings and afternoons in this area is dead silent. The area comes alive when restaurants open at 5pm until closing at 4am.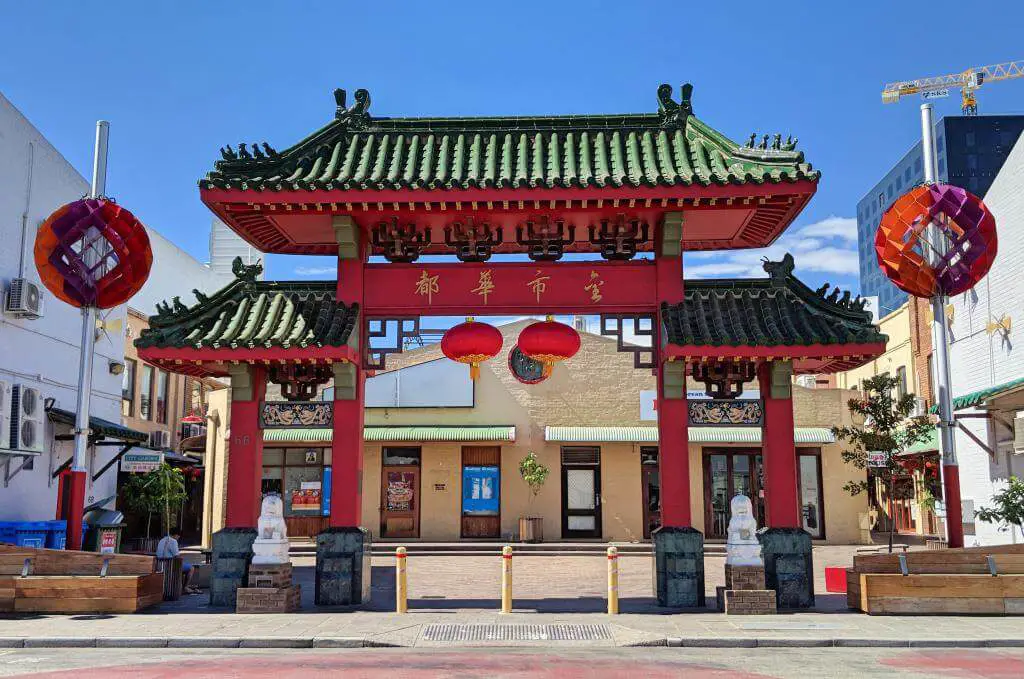 Chinatown
Address: Roe Street and between William Street and Lake Street
7. Spend the day in Fremantle.
Fremantle is a cute port city that is a 30-minute train ride or a 1-hour bus ride (if the trains are not functioning) from Perth. You can take the train from Perth Railway Station to Fremantle.
Once you arrive in the city, take advantage of Fremantle's free CAT buses (Blue line) courtesy of Transperth. The route travels north to south from Fremantle Station and Douro Road and runs every 20 minutes. 
Visit the famous Fremantle Market for your dose of shopping and cheap eats. If you eat at the restaurants in the Fremantle Market, many of the shops are cash only and may have a wait during peak hours. 
Fremantle Market
Address: Corner South Terrace & Henderson Street, Fremantle
Opening Hours: Friday, Saturday & Sunday 9am – 6pm || Yard opens from 8am – 6pm || Holidays open from 9am – 6pm
The beaches and sunset are also amazing in South Fremantle.
Consider taking the fascinating tour(s) at the Fremantle Prison, a UNESCO World Heritage Center, to learn about how convicts arrived in Australia. It's surreal how the prison closed recently in 1991 due to the living conditions.
There are three Prison Tours to choose from – Convict Tour, Behind Bars, and True Crime. You can choose one, two, or three tours to attend.
The Convict Tour and the Behind the Bar Tour are highly recommended. Each tour is 1 hour and 15 minutes and the tour guides are enthusiastic about sharing the prison's history. We did this tour and learned a lot about the prison's history. 
The underground Tunnels Tour sounds interesting too where you take the ladder down and explore passageways.
General prices are:
One tour: Adults $22 AUD/ Children $12/ Family Pass $62 

Two tours: Adults $32 / Children $22 / Family $102 

Three tours: Adults $42 / Children $32 / Family $142
Tunnels Tour prices: Adult $65 / Children $45 / Family $195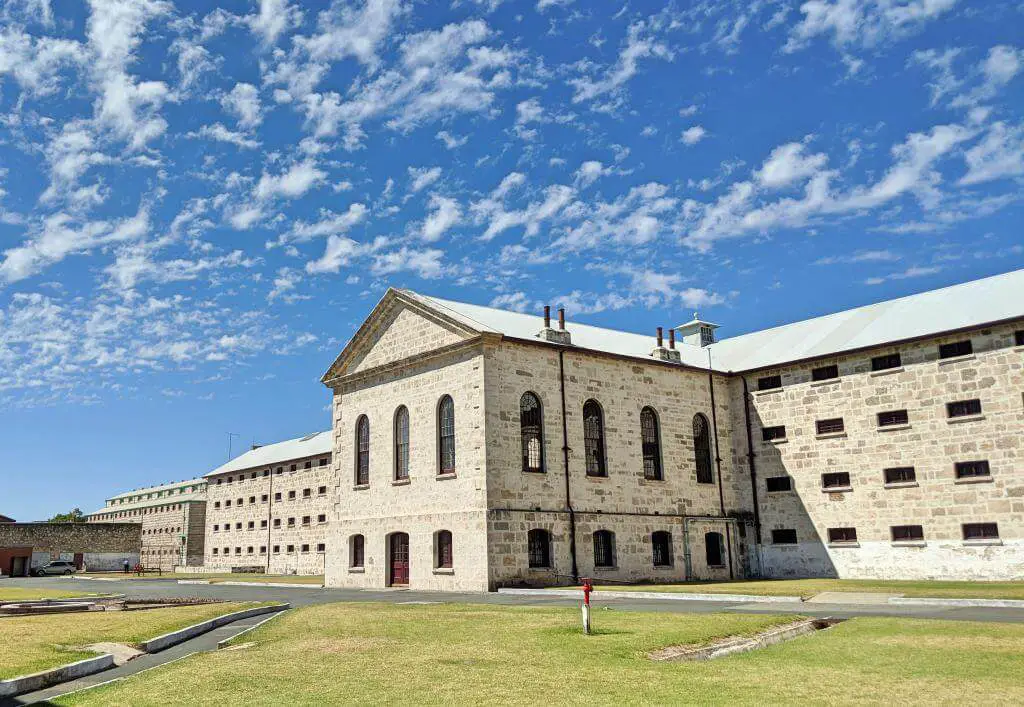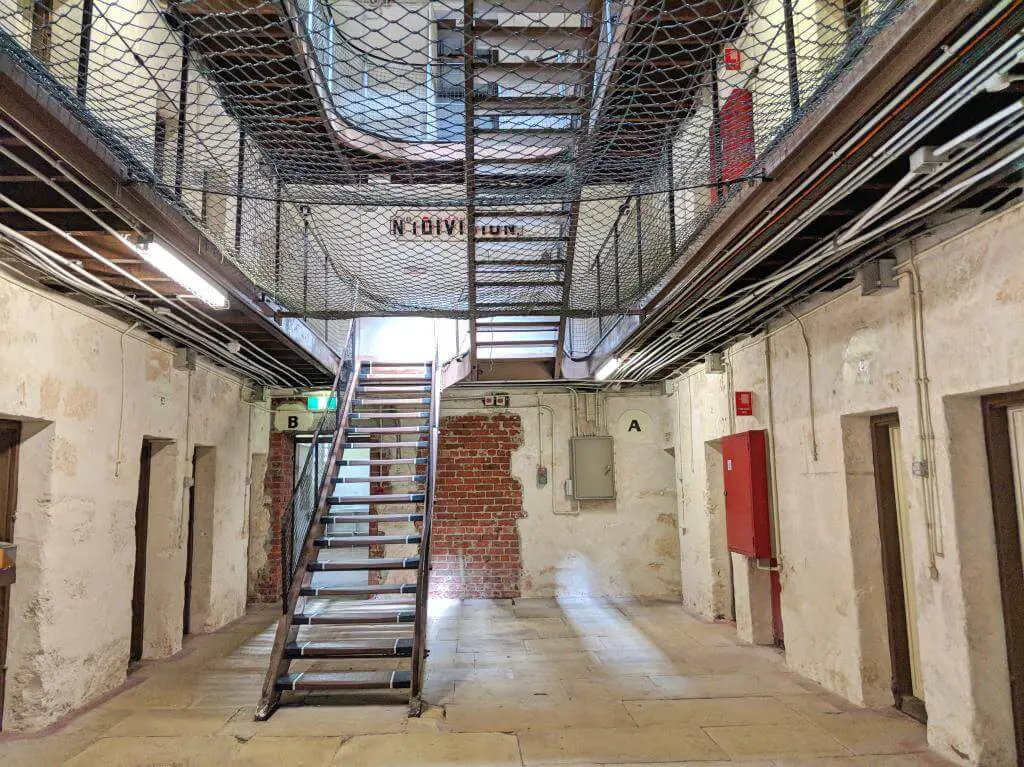 Fremantle Prison
Address: 1 The Terrace, Fremantle
Opening Hours: 9am to 5pm
8. Explore Rottnest Island and see quokkas.
Rottnest Island is easily one of the most beautiful places to visit. A day trip to Rottnest Island is doable but two days is highly recommended.
You'll love the clean beaches, beautiful blue ocean, and quokkas! Quokkas are adorable and curious marsupials that love people. They are the main attraction in Rottnest Island and are famous for the #QuokkaSelfie on social media.
Rottnest Island is great for renting a bicycle to cycle throughout the island. The roads are smooth and personal cars aren't allowed on the island. 
Getting to Rottnest Island is easy from Perth or Fremantle. Everyone takes a ferry from one of three ferry operators. From Perth, the ride is 1.5 hours and from Fremantle, it is 30 minutes.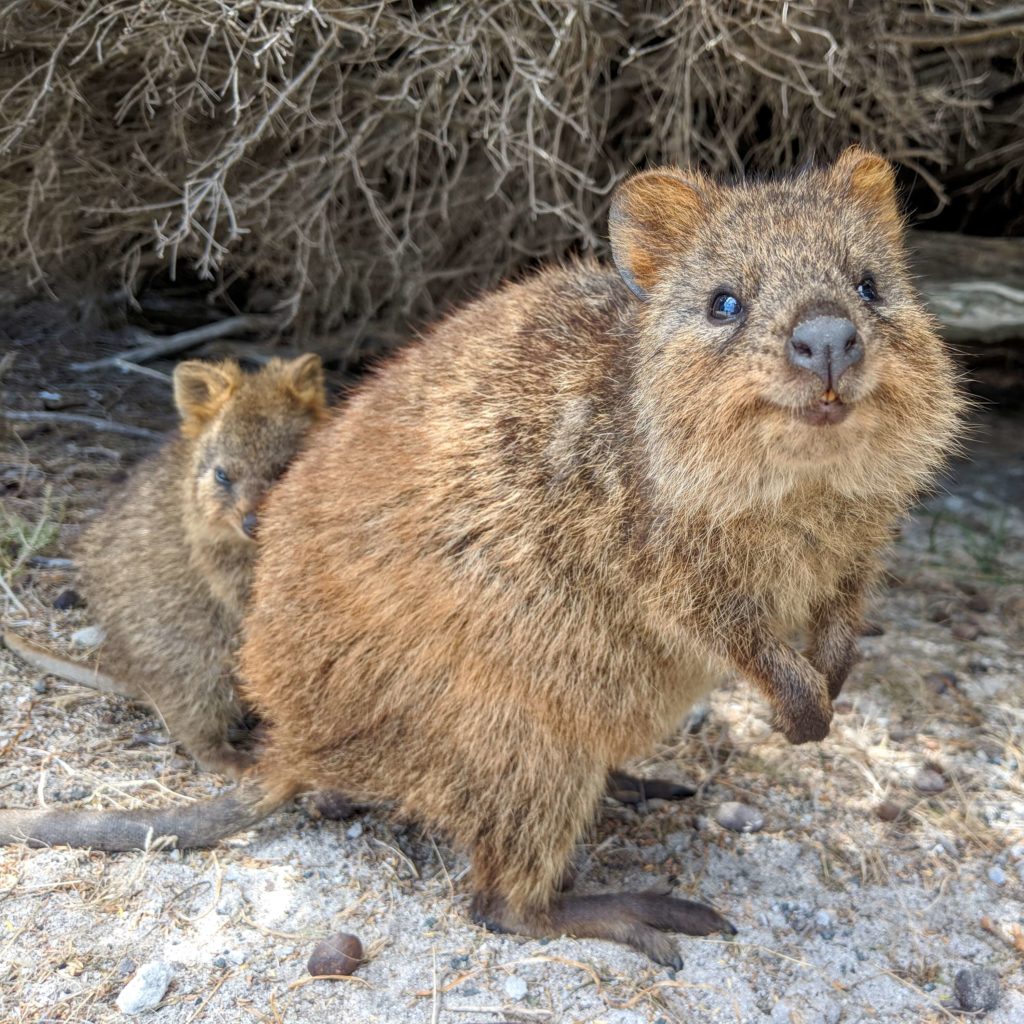 ---
We hope you plan your next holiday to Perth and consider these fun activities and things to do in Perth. We can't wait to go back and explore the region further.
If you need more ideas on where to go, check out the Experience Perth site. Since you're in Australia, consider visiting some of the incredible caves in Australia.
Have you visited Perth, Australia? What are other places that you would recommend visiting in this city or in Western Australia?
Save this Perth post to your Australia Pinterest board!