Is Santiago, Chile worth the stopover? Yes, do it!
We had one day in Santiago during our 10 days in Chile and it was a good introduction to see the country.
As the capital, you'll experience Santiago's large city vibe from the large crowds to the shopping centers with high-end department stores along with trying local Chilean restaurants and attractions. Some people may not enjoy Santiago as it doesn't have the "hustle and bustle" such as Singapore or Sydney, Australia. It's more relaxed, like San Jose, California. However, we had a wonderful stay in Santiago.
Due to our limited time, we're sharing our one day itinerary in Santiago, including free things to do in this city. You'll get a snapshot of the offerings available for a quick visit. Don't forget to see the beautiful views of the snow-capped Andes Mountains wherever you're in the city.
After your Santiago exploration, head to Valparaiso for 2 days, Concon for 1 day, or to Easter Island to extend your South America adventures. Read more about our adventures at these places by clicking on the links.
This one day itinerary in Santiago will cover:
How to get to Santiago

Transportation in Santiago

Accommodations in Santiago

Free things to do in Santiago
For our return trip to Chile, these places are on our list: San Pedro de Atacama, rent a motorhome to road trip throughout Chile and stop by Patagonia to hike at the Torres del Paine National Park.
*Disclosure: We have affiliate links in this post. If you click on them and make a purchase, we receive a small commission. There is no additional cost to you. Appreciate the support.
---
How to Get to Santiago?
Depending on your departure location, everyone will fly into Santiago de Chile Airport (airport code: SCL). The airport is easy to navigate through as signs are available in English.
Check out this list to determine if you need a visa to enter Chile. U.S citizens do not need to obtain a visa prior to arrival. 
Once you go through immigration, there are several ways to head to the Santiago downtown area.
1. Take a taxi to head to the downtown area of Santiago.
Taking a taxi will be an expensive option as the airport is about 16km from downtown.
2. Pre-book a one-way transfer to your hotel.
We know. After departing a flight, you want to head to the city as quickly as possible. Reserve this transfer option prior to your arrival.
3. Take a shuttle bus.
Go for the cheaper option by taking the Centropuerto or Turbus shuttle bus to go downtown and vice versa. We're always seeking out affordable ways to travel through the city. Exit the Arrivals door and find the signs for the Centropuerto or Turbus. Each of the routes has several stops where you can continue on to take the metro to your destination. It'll take around 45 minutes (or more depending on the traffic).
Centropuerto stops at Metro Barrancas, Pajaritos, Las Rejas, San Alberto Hurtado, Universidad de Santiago, Estación Central, Unión Latinoamericana, República, and Los Héroes. Departs every 10 minutes from the airport from 6:00am to 11:30pm. Cost is 1,900 CLP ($2.40 USD) (one way) or 3,400 CLP ($4.30) (round trip) which you can pay at their kiosk outside of the bus. Cash only.

Turbus stops at Pajaritos, Las Rejas, Universidad de Santiago, and Estación Central. Cost is the same as Centropuerto for 1,900 CLP ($2.40 USD) (one way) or 3,400 CLP ($4.30) (round trip) which you can pay at their kiosk outside of the bus. Cash only.
We took a one-way route with Centropuerto from the airport to downtown and took a Turbus from downtown to the airport. Both were very easy to use.
Tip: If you have a lot of luggage, you may not want to consider taking these routes as there isn't enough room for luggage storage. Some knowledge of basic Spanish will be helpful.
---
How to Get Around in Santiago
Public transportation in Santiago is convenient and easy to use. Check out the options below.
1. Walk
One of the best ways to travel throughout Santiago is by walking. The entire city is walkable. You have more control over what you can see and can browse through various neighborhoods (ie: Bellavista). Plus, it's healthy to walk.
2. Metro & Bus
We love using the Santiago Metro during our travels. The metro system is easy to use as the routes are in various colors. Plus the metro saves carbon emissions and is cheaper to use. We used it frequently during our day trip in Santiago.
If you're staying in Santiago for a longer period of time, consider purchasing the Tarjeta bip! card. You can use the card for both the metro and the bus (Transantiago). Load funds to the card and tap the card prior to entering the station. It's convenient to use so you don't have to worry about buying tickets every time.
As with the buses, we didn't use the Transantiago during our visit. To find routes, use the Red Metropolitan Mobility Network site to determine your starting and ending destinations and it will tell you which bus you can take.
3. Taxis & Rideshare
Taxis are available but will be more costly. Remember to either have a metered taxi (yellow and black taxis) or negotiate a flat fare prior to departure.
If you like ride-hailing programs, Uber is available in Santiago, Chile. We read that it's illegal in Santiago, but we didn't have any issues with using it. Download the app for iOS or Android. We love the cashless transaction and knowing that we won't get ripped off with the ride as foreigners.
---
Where to Stay in Santiago
There are so many places to stay in Santiago from hostels, guesthouses, to the hotels. We suggest staying close to the local attractions and nearby local transportation, such as the metro.
For cheaper options, consider these options:
If you want to splurge, we recommend the Courtyard by Marriott. It's in the Las Condes area so it's not quite in the main downtown area. However, it's a 10 minutes walk to the metro station (Manquehue station) where we can head to all of the attractions. We loved staying here even though breakfast was not provided in the room cost. Rooms had a nice view of the city and large size. During our visit, we loved receiving our gift – moai shaped chocolates. It was such a coincidence since our plan was heading to Easter Island the day after Santiago visit.  (Note: We used Marriott points to stay here.) Reserve a room at Courtyard here.
Check availability and reserve accommodations in Santiago here.
---
Free Things to Do in Santiago, Chile During Your One Day
What to do in Santiago? With one day in Santiago, you won't be able to see everything. We narrowed down the top attractions to check out and the best part is that these are free things to do in Santiago!
1. Take a free walking tour.
We love taking free walking tours. It's the chance to learn about historic places from locals, meet other tourists in a large group setting, and also view the Santiago attractions on foot. Everything is compacted into 3-4 hours. Although we didn't get a chance to take the tour, here are some options for you to consider: Strawberry Tours or Free Tour Santiago. Don't forget to pre-register ahead of time and give your guide a tip at the end of the tour for his/her service.
If you prefer a private tour group setting, reserve this one (extra fee required).
2. Hike the San Cristobal Hill.
A trip to Santiago is incomplete without seeing the iconic statue of Virgin Mary. The statue is located on San Cristobal Hill (Cerro San Cristóbal). This hill is the second highest peak in the city and is a part of the Metropolitan Park (Parque Metropolitano). The park is over 1780 acres and has the Chilean National Zoo, a botanical garden, and a children's park.
How did we get here? From the Courtyard hotel, we took the metro at Manquehue station and exited the Baquedano station (you can take either from the red or green line).
We walked about 20 minutes to reach the bottom of the hill and going through the University of San Cristóbal and Lover's Locks on the bridge. It's the same concept as in Paris where you write the names or a love message and secure it to a section of a bridge. Don't have a lock? You can purchase one from a local vendor along the same bridge area.
Once we reached the San Cristóbal area, there were three options to get to the top of the hill:
Take the funicular/cable car in the Barrio Bellavista area to the top of the San Cristóbal Hill. No walking necessary and with an

additional fee

.

Hike the dirt path, or

Walk along the paved road that cyclists, runners, and drivers used.
As you know, we're into the active and adventurous route. We took option #2 and went along the dirt path for exercise and to view the city better. The dirt path was safe and wasn't too muddy. Some areas were steep. Hiking shoes are not necessary but can be helpful. Don't forget to bring these must-have hiking essentials with you.
It was a peaceful walk through forest areas and we had some great views of the city. It took around 40 minutes to reach the summit.
We made it to the summit at 880 meters (2,887 feet). After walking around the area to see the Virgin Mary statue we headed back down the dirt path. It was much smaller than expected so we didn't spend as much time up there – around 10 minutes. There is a souvenir shop and a place to purchase refreshments at the top.
3. Visit Barrio Bellavista for Street Art.
Located at the bottom of San Cristobal Hill is Barrio Bellavista. The area is known for bright and colorful street art/graffiti. We saw amazing street art in Valparaiso, and the ones in Bellavista were just as good. Most of the shops were closed at 10am and the area was quiet. Thus, it was peaceful to snap photos of street art. If you need a break from the street art, there are plenty of bars and restaurants along Pio Nono Street in the area.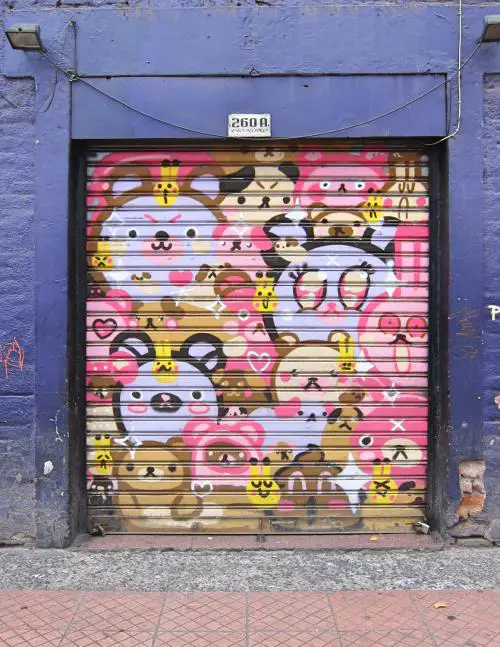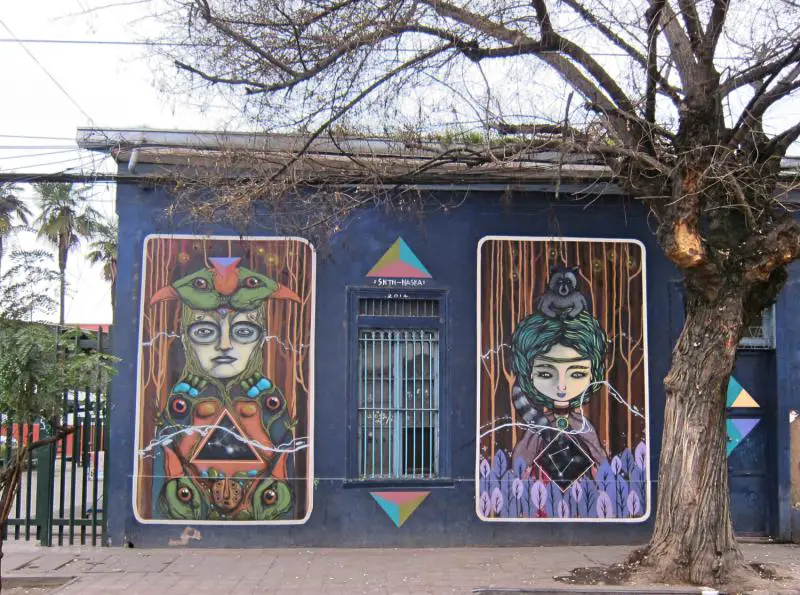 Nearby Bellavista is Barrio Patronato, which is Santiago's Koreatown. We passed by a local Korean church and some Korean restaurants.
4. Visit the historic areas of Santiago.
Plaza de Armas is the main square for the city and has historic buildings and architecture. It's a lively place as people hang out there and also sells stuff. There were a lot of people in the area. Like any urban place, just be cautious for potential pickpocketers. In the same area are other historic buildings such as the Metropolitan Cathedral of Santiago, Central Post Office, Royal Court Palace, and museums. You can easily hang out on the outside of these places to admire the architecture or sit down on a bench to people-watch.
About 800 meters (.5 miles) from the Plaza de Armas is the La Moneda Palace (also known as the Presidential Palace) is where the President and cabinet ministers offices are located. It was a former mint from 1814 to 1929. You can't go inside due to the heavy security officers in front of the building. The building itself looks nice, yet we didn't stay long to look suspicious.
5. Explore the Central Market.
The Central Market (Mercado Central) is a vibrant scene with the smell of seafood in the air. It's a great place to wander around especially at the wet fish market to browse through the fresh seafood.
Hungry? You won't be disappointed with the offerings at Central Market. There are plenty of restaurants to choose from. If you eat towards the middle of the restaurant, the prices are higher with the tourist prices. The best area for more local and affordable restaurants are on the outer edge of the market area.
One place that we would highly recommend is Tio Lucho. It was a small restaurant that serves a variety of seafood. The menu was in Spanish, so we picked two items – cold seafood soup (mariscos especiales) and seafood platter (jardines de marisco). We didn't realize that the dishes had similar shellfish.
When the seafood platter came out, we glanced at each other and knew that we were in trouble. The seafood platter was HUGE and could feed four people. No wonder everyone around us stared at our meal. We typically don't eat too much shellfish and this platter had a mound of shellfish and fried fish and empanadas to balance the meal.
The seafood was very fresh as the clams and scallops were still moving on our plate. Yet, we were scared for lives consuming this much raw shellfish in a foreign country and we luckily didn't get food poisoned.
It was a delicious feast, although we were scarred from eating shellfish for almost a year after the experience!
---
Other Places to Consider to Visit in Santiago
There is so much to do in the Santiago area. If we had more time to explore, we would love to see these places or visit these day trips from Santiago. 
1. Hike up Santa Lucia Hill (Cerro Santa Lucía).
It's a small hill in the central park of Santiago and nearby the Plaza de Armas. We're suckers for good views of the cities, and this is a recommended place to see Santiago. The height is lower than San Cristóbal Hill at 629 meters (2,063 feet).
2. Hike Cerro Manquehue.
As avid hikers, we would love to come back to Santiago to tackle the Cerro Manquehue. It's a doable day hike with an elevation of 1700 meters (5577 feet). Plus, we can't forget the stunning panoramic views of the area. Photos from other hikers show that the route is moderately challenging with some scrambling on rocks. It's our type of adventure!
---
Our one day in Santiago, Chile is finished! Santiago is a great city to explore and has a little bit of everything from the historical aspects to exploring nature. We only scratched the surface with the local attractions here. We'll definitely be back.
Have you been to Santiago, Chile? What interested you during our one day itinerary in Santiago? Where are some places we should visit during our next visit?
Love this post? Save it to your South America board on Pinterest!
Featured photo credit: diegograndi via Depositphotos.com