Throughout our research, we read that visiting Easter Island was expensive due to the remote location. We found that you can visit Easter Island on a budget (or at least cheaper!)
We visited Easter Island for 7 days/6 nights in the beginning of July. This time frame is considered a "low season" in Easter Island, so prices will fluctuate depending on the when you visit. Check out what we did below. All prices listed are in USD.
Flight
The flight to Easter Island is not the cheapest. There isn't a direct flight to Easter Island from San Francisco (SFO), so we had two legs:
SFO to Santiago, Chile (SCL)

SCL to Easter Island (IPC)
It is very difficult to use award travel/mileage for the final leg (SCL > IPC) as LAN Airlines is the only airlines to Easter Island.
You could purchase tickets on the LAN Airlines Chile website for lower prices in local Chilean pesos. We purchased directly on LAN Airlines U.S. website. We used search aggregators such as Kayak and Google Flights to see how prices changed daily for a few weeks. The prices for the dates we wanted in July ranged from $450 to $700 per person.
We booked our Santiago to Easter Island flight 3 months in advance.
Cost per person: $450
Accommodation
Hotel accommodations are limited on the island. Choices include camping, guesthouses, or fancy resorts.
Camping is the cheapest options at $15-$20 per night. We were tempted to camp, but didn't want to bring sleeping bags, mats, and other camping gear. We also didn't want to to rent gear. July is known to rain so sleeping on the soggy ground wasn't appealing. Camping locations were not centrally located (about .50 to .80 miles away from the main downtown area.)
The fancy resorts were over $200 per night, not as centrally located, and way out of our budget. Alternative transportation is necessary for the resorts.
There were plenty of guesthouses and hostels available from $65-$100+ per night. We like to use Airbnb as much as possible and stayed at a lovely bungalow with a private bathroom that was five minutes away by walking to the main downtown area. Our Airbnb accommodation did not have a cooking area, but had a mini fridge and a kettle for tea or coffee.
New to Airbnb? Sign up today and get $40 off your first reservation.
(*Disclosure: We have an affiliate link above. If you click on it and make a purchase, we receive a small commission. There is no cost to you. Appreciate the support.)
Cost per night for 2 people: $80 x 6 nights = $480 total
Cost per person per night: $40 x 6 nights = $240 total
Food
Many travelers recommend checking in a luggage with food and water from Santiago prior to coming to Easter Island. We spent one week in Santiago and Valparaiso, Chile prior to visiting Easter Island. Our travel philosophy is to not check in luggage due to the extra hassle and potentially getting lost. Though we did pack some snacks, we did not bring an extra luggage with us for food and water. Our Airbnb did not have cooking area, so we ate out for our meals.
Breakfast was pastries from a local bakery or granola bars. Lunch consisted of bars and snacks we brought from home – granola bars and mixed nuts. We splurged for dinner as it was our main meal. We had our share of cheaper food from $4 empanadas to more higher cost meals at $15-$25 per person.
Our favorite sandwich place was Club Sandwich where the sandwiches were the size of your face. We went here three times during our trip since it was a good value at $10 per sandwich – huge portions, fresh, delicious, and many locals ate here. Highly recommend the tuna and guacamole sandwich.
Total cost of food for 2 people: $225
Daily cost for 2 people: $32
Daily cost per person: $16
Transportation
You can drive whatever you want on the island. We didn't know how to hail taxis since due to our minimal Spanish knowledge. Plenty of cars (automatic and manual), scooters, ATV, and bicycles for rent along the main downtown area.
We thought about riding a bicycle for 10,000 CLP ($15 USD) per person per day. I wanted to ride to and from the tourist locations as the island wasn't large and it was good exercise.
The price of one scooter was a better deal for 20,000 CLP ($30 USD) per day so we could share the scooter. We received a discount as we rented for 4 days for 80,000 CLP ($120 USD).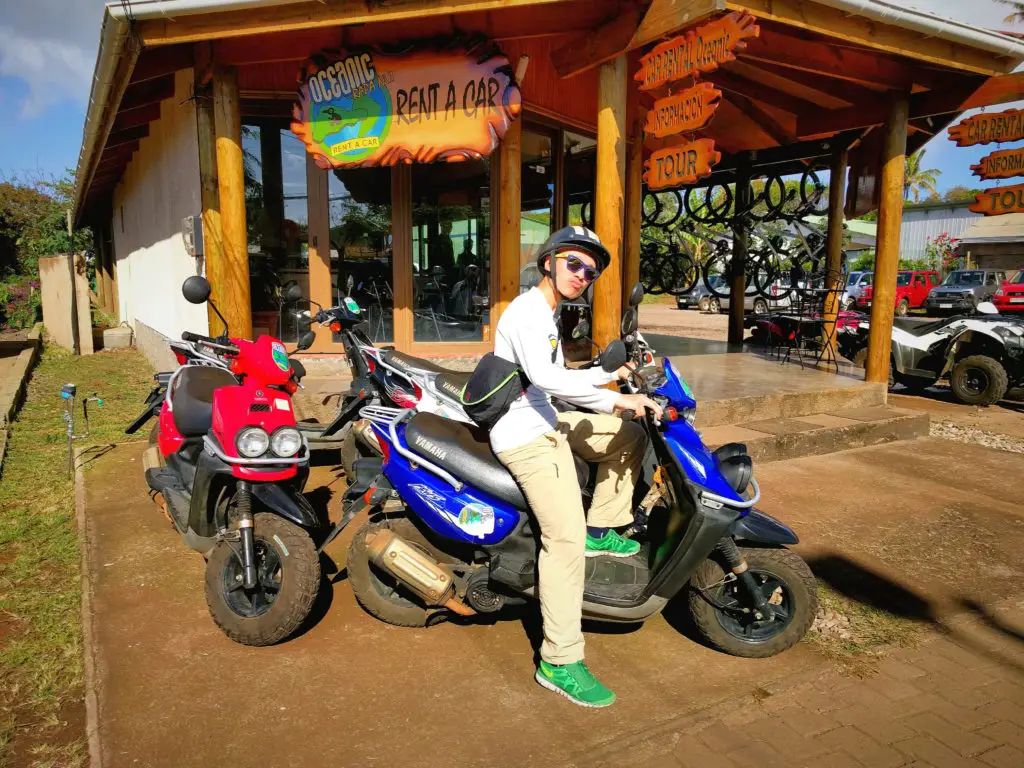 In hindsight, we should have rented a car due to a scooter accident. That story is for another post.
Total Cost: $120
Cost per day (4 days): $30
Cost per person (4 days): $15
Excursions
Our main goal was to hike around the island and explore the sites. If you're short on time or want to learn more history, hire a tour guide to visit the main sights. We went the cheap route and leveraged ideas from the Easter Island section from Lonely Planet and the Rough Guides.
The most important part is to purchase the Rapa Nui National Park pass. Purchase them on arrival as it will be at the CONAF (National Forestry Corporation) office at the airport. Cost is 30,000 CLP or $60 USD. We paid in local CLP instead of USD as there was a better exchange rate to $45. You can use the pass once for the Orongo and Rano Raraku sites.
Cost per person: $45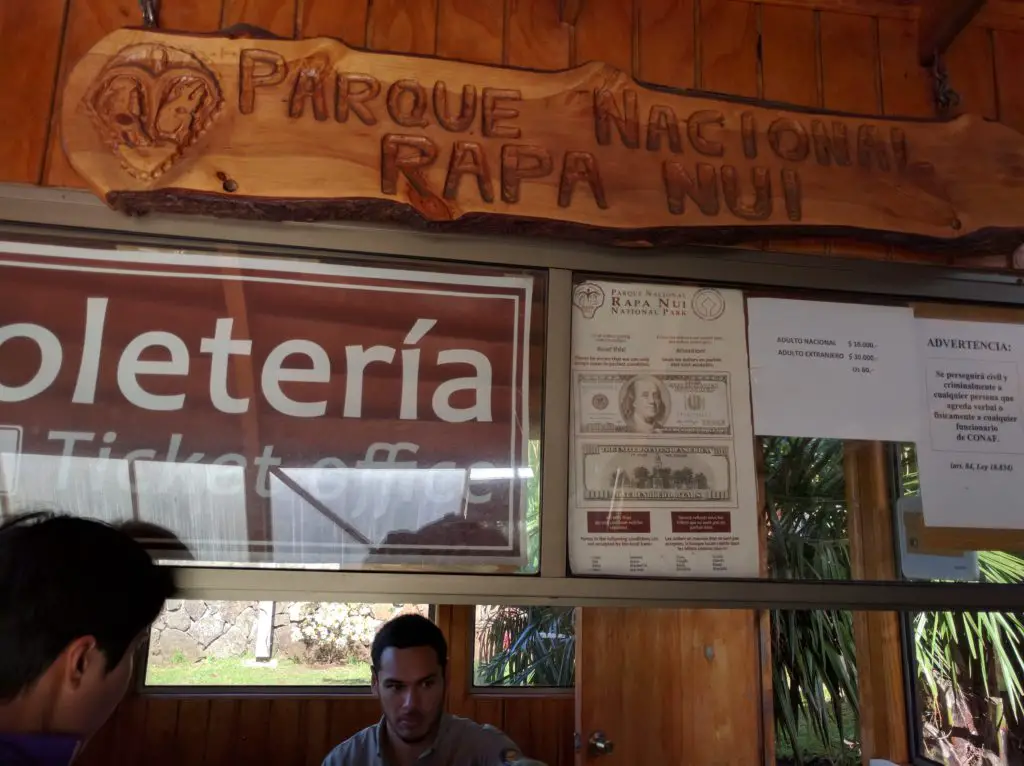 Final Summary of Total Cost Per Person for 7 Days/6 Nights
Flight from SCL to IPC: $450

Accommodation in Airbnb: $240

Food: $112

Transportation on Scooter: $60

National Park Pass: $45 (if pay in CLP)
Have fun at this amazing place!
Do you have Easter Island on your bucket list? What excites you about visiting this place?