Kuala Lumpur, the capital of Malaysia, is the main destination to start your Malaysia itinerary. If you have 4 days in Kuala Lumpur (also referred to as KL), it's a perfect amount of time to explore the heart of the city.
It has everything that we love about traveling – good eats, vibrant street art, incredible hiking and nature activities, historical landmarks, budget-friendly, and not as crowded as neighboring Singapore. Plus, visiting KL is a fun getaway from Ho Chi Minh City, where we're currently living.
Since there are many things to do in Kuala Lumpur in four days, it's hard to decide where to go in KL. With the help of our favorite travel bloggers, we've put together this Kuala Lumpur itinerary to help you with your planning. We've highlighted places to visit in KL, where to eat, where to stay, how to get around the city, and more.
When you look at this itinerary, it looks overwhelming with the number of attractions to visit each day. Please don't feel obligated to do everything. We encourage you to tailor your itinerary based on your interest and how you're feeling. Now, let's enjoy this vibrant city!
Click on the links below to jump to various sections of the Kuala Lumpur 4 days itinerary:
Map of Kuala Lumpur Activities
*Disclaimer: Headed to Nusa Islands? This post contains affiliate links. If you click on them and make a purchase, we receive a small commission. There is no additional cost to you. Appreciate the support.
---
How to Get Around Kuala Lumpur
Kuala Lumpur has convenient public transportation options. Since we're visiting many of KL attractions, it's best to figure out how you'll travel around. Here are some of the ways to travel around KL.
Walking is a healthy option to visit KL attractions. We were surprised that KL is a walkable city. The sidewalks are in good condition compared to what we're used to while living in Ho Chi Minh City. On most of the days, we reached over 20,000 steps on our Fitbit device. 
KL metro system is a cost-effective way to travel around KL. There are 12 lines in total that will take you around KL and the neighboring cities. Click here to see a map of the lines. You can purchase tickets at the stations' vending machines. KL Sentral is the main station that connects to the various lines as there are different companies managing the lines. 
From the Kuala Lumpur International Airport to the city center, you can take either the ERL KLIA Express Line or the ERL KLIA Transit Line to go to KL Sentral Station. Afterward, transfer to your appropriate line before heading to your hotel.
Grab Ride-Hailing App is Southeast Asia's equivalent to Uber. You get to choose your starting and ending location and a driver will take you to the destination. Everything is done through the app from the booking to payment (unless you decide to pay in cash with exact change.) We used Grab car a lot as it was efficient and cheaper than taking taxis. Plus, it was helpful to use during the random rainstorms. 
KL Hop On Hop Off Bus is another option if you want to explore popular KL sightseeing places. You get the opportunity to ride in a double-decker open-top bus and visit the various spots with a 24 or 48 hours ticket. Save money and purchase your bus ticket here!
Go KL City Bus is a free bus system that goes around the city. There are four lines to take (red, blue, purple, and green). Look for the light purple bus and it's free to use. More information on the routes is here.
The city also has taxis and Rapid KL buses. 
You can also go on day tours of the city. Here are recommended tour options of Kuala Lumpur which includes transportation:
---
Kuala Lumpur Itinerary Day 1: City Center Attractions
It's your first day in Kuala Lumpur. We're spending the time exploring the main city center and the highlights of KL.
Start the morning at the Kuala Lumpur City Center (KLCC) Park.
Let's head to the KLCC Park (Taman KLCC in Malay language) to take a stroll outdoors. It's a good way to explore the 20 hectares (50 acres) park either with walking or running and get some early morning exercise to kick start your day. The park is located in the back of the Suria shopping mall and you get jaw-dropping views of the KLCC Petronas Towers from the water fountain area.
Afteward, visit the KLCC Petronas Tower (Menara Petronas), the twin towers, to see the views of Kuala Lumpur. The tower is 88 stories high and it has an observation deck on level 86. Save money and purchase your ticket ahead of time and includes a one-way pick-up from your hotel.
If you want to combine a visit of Petronas Tower and Aquaria KLCC, click here for discounted tickets.  
How to Get There: Take the KLCC Station (LRT Kelana Jaya Line).
Walk on the canopies at KL Forest Eco Park.
The KL Forest Eco Park is one of our favorite places to visit in Kuala Lumpur. Who knew that there was a forest area up on a hill and in the middle of the city? It's well-known for their canopy suspension bridges and nature walks. The canopies are stable, yet it's recommended to have a few people on it at a time when crossing. The staircases to go between the canopies have low ceilings, so a heads up if you're tall. If you're afraid of heights, take a walk along the various hiking trails. There will be some rolling hills. We recommend that you visit early in the morning as it can get crowded and hot later in the day. 
In the same area as the KL Forest Eco Park is the KL Tower (Menara Kuala Lumpur). You can go up the tower to see the view of the city from the Observation Sky Deck at 300 meters (984 feet) from the ground. There is a glass platform area that overlooks the city and a good spot for photos. Another interesting attraction is the Upside Down House where you enter into a house and all the furniture is upside down.
Save money with admission to the KL Tower and purchase discounted tickets here. 
How to Get There: Can take the Hop On Hop Off bus, or the Go KL City bus (Purple Line) to KL Tower, or hire a Grab driver to take you to the entrance.
Find street art in Bukit Bintang.
We're fans of finding street art whenever we travel. The street art in Bukit Bintang along Changkat is spectacular and well worth a visit. The entire area is splashed with bright colors which gives it an inviting ambiance. The artwork includes playful designs of dragonflies and Birds of Paradise to butterflies flying and a river flowing between a forest. It's a fantastic place for photographs and to appreciate the local artists' work. 
How to Get There: Take the Bukit Bintang Station (KL Monorail Line or MRT Sungai-Buloh-Kajang Line).
Let's Go Shopping!
Bukit Bintang area has plenty of shopping malls that you can go to. It can get hot in the afternoon, so you can use this time to spend indoors and cool down in the air conditioning. We explored the following malls:
Pavilion

is a high-end shopping mall with recognizable brands such as Cartier, Michael Kors, Topshop, and more. It even has a Din Tai Fung (if you're craving xiao long baos 小籠包). 

Sungei Wang Shopping Center

is catered to shoppers on a budget. This 8 story mall has cheap clothes and shoes. We saw t-shirts that cost between $2-$5 USD. 

Berjaya Times Square

is a huge shopping mall with 10 floors. During our visit only half of the floors had vendors. What makes this place special is the indoor amusement park, and yes, there is a roller coaster ride.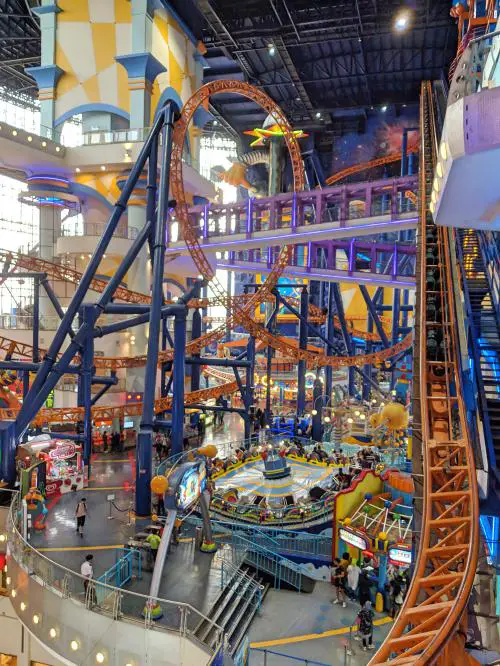 KLCC Lake Symphony Water Fountain in the Evening
In the evening, come back to see the KLCC Park to see the Lake Symphony Water Fountain evening show. Located in the back-side of the Suria shopping mall, this is KL's version of Las Vegas's Bellagio water show. The show is lovely with colorful lights and the Petronas Towers in the background. The light and sound showtimes are 8pm, 9pm, and 10pm every day. For the light show only, the showtimes are 7:30pm, 8:30pm, and 9:30pm. 
---
Kuala Lumpur Itinerary Day 2: Visiting the Ethnic Areas and Popular Sites
On the second day in Kuala Lumpur, we're exploring Chinatown, Central Market area, and Little India. 
Start your day in Kuala Lumpur's Chinatown Petaling Street. 
Whenever we go traveling, we love stopping by the city's Chinatown. Each of the Chinatowns that we've been to have their own vibe and culture.
If you're interested in our other Chinatown experiences, check out our posts: Singapore, Sydney and Perth, Australia, Incheon, South Korea, and Nagasaki and Yokohama, Japan.
We felt the vibe of Kuala Lumpur's Chinatown along Petaling Street like the night markets in Hong Kong. Along There were many stalls set up selling purses, t-shirts, watches, and other counterfeit stuff. You can also find stores selling herbs or outlet stores. Don't forget to bargain if you plan to buy something. 
As you explore the area, stop by two historic temples. Sri Mahamariamman Temple, built in 1873, is the oldest Hindu temple in KL. Guan Di Temple (關帝廟), built in 1888, is Chinese temple that focuses on Taoism. The front of the vibrant red building has a statue of the Guan Di, the Taoist God of War, who looks at you when you walk through the door. 
If you're hungry, head to Madras Lane for your hawker stall fix. It's a small alley that is a popular place for locals and tourists eating their favorite Malaysian-Chinese food. While some people may question its cleanliness, we loved the experience. It's a bit loud with the crowds, has tight spaces, not enough seating, yet has delicious food. Choose from eating curry laksa with cockles (so good!), chee cheong fun, tofu, and more. Prices are very affordable as a large bowl of curry laksa is 8 RM ($2 USD). You'll need to order your food at each individual stall. It's also helpful to know the Cantonese language to order.
Stop by the Madras Lane Yong Tau Fu (中华巷酿豆腐) where you choose vegetables (ie: eggplant and okra) stuffed with fish paste, fried tofu, beancurd, and other items. It gets boiled in a soup and served to you in a bowl. You pay per piece which is affordable at 1.40 RM ($.30 USD) per piece. The line gets very long so come here before 11:00am. 
How to Get There: Take the Pasar Seni Station (LRT Kelaya Jaya line or MRT Sungai Buloh-Kajang Line) and walk five minutes to Petaling Street. You can also take the Go KL City Bus (Purple Line) to Pasar Seni stop. 
Go souvenir shopping at Central Market.
A five-minute walk from Chinatown is the famous Central Market. You'll recognize the light blue building from a distance. The building was built in 1888 as a wet market. Now it's a two-story indoor market with vendors selling gorgeous handicrafts, artwork, and clothing. It's a unique place to purchase souvenirs and support the local vendors. Even if you don't buy anything, it's fascinating to walk around and admire the decor inside the building from the floral floor tiles to the colorful lanterns. 
Outside of the Central Market is the Katsuri Walk where you can find local Malaysian street food, bubble tea shops (you'll need one with the heat), and more shopping.
How to Get There: Take the Pasar Seni Station (LRT Kelaya Jaya line or MRT Sungai Buloh-Kajang Line) and walk a few minutes to Central Market. Or, take the Go KL City Bus (Purple Line) to Pasar Seni stop. 
Stop by the Merdeka Square. 
A five-minute walk from Central Market is Merdeka Square (Dataran Merdeka). It was a former cricket playing area. Now it's a historical area known to celebrate Malaysia's independence from the United Kingdom. On August 31, 1957 at midnight, Malaysia lowered the Union Jack flag and raised the Malyasian flag for commencing the moment. The flag area is a small part of the square while the rest of the former cricket field is now grass. 
Check out the other sightseeing activities in the area: 
Sultan Abdul Samad Building

used to house the UK government officials. Now it's a historic landmark as the building was constructed entirely by bricks. It's an iconic building with various archways and good place to take photos. We're not sure if you can go inside as there wasn't any signage when we visited. If you have the chance, stop by this place in the evening as the building lights up.
KL City Gallery

has a souvenir shop and an opportunity to take a tour of the history of KL through miniatures figurines. You can also receive tourist information inside the gallery. 

We love finding the giant signage of the city name during our travels. Kuala Lumpur's signage is outside the gallery with the tagline, "I heart KL." You can imagine how popular this photo spot is!
Dataran Underground Shopping Center

is underneath the Merdeka Square. There are a few shops that sell souvenir items, yet it's half vacant. During our visit, it looked more like a ghost town with a few people attending an event in the restaurant area. Hopefully this place gets more developed in the future!
 A short walk away is the Masjid Jamek Sultan Abdul Samad, one of the oldest mosques in KL, and the River of Life, also known as the Klang River (Sungai Kelang) that runs through the city. 
How to Get There: From the Central Market, head towards the River of Life, continue on the Leboh Pasar Besar road for a couple of minutes until you reach the Sultan Abdul Samad Building on Jalan Raja. The street is closed off to cars and other vehicles.
Visit Little India Brickfields.
By Jodie, Ala Jode 
Even if you only have a couple of days in Kuala Lumpur, take at least a couple of hours to explore the Brickfields area. Also known as Little India, Brickfields is a feast for the senses, with colorful shops, Bollywood music blasting from every window, and no shortage of amazing foodie spots. There are several impressive temples that are worth a visit too, including the Buddhist Maha Vihara Temple and the Hindu Sri Kandaswamy Temple. 
Make sure you arrive in Brickfields with an empty stomach so you can enjoy one of the many restaurants serving authentic banana leaf rice dishes. There are many to choose from but you can simply step into any for a very affordable meal that will keep you full all day. Expect to pay less than 20 RM (less than $5 USD) for a hearty banana leaf curry and drink. Don't be surprised if you realize that you're the only tourist around! 
How to Get There: Brickfields is a short walk from KL Sentral Station (LRT Kelana Jaya Line and the KL Monorail Line) which makes it easy to get to.
---
Kuala Lumpur Itinerary Day 3: Perdana Botanical Gardens Area
On your third day in Kuala Lumpur, we're headed to the Perdana Gardens and the nearby parks to spend time outdoors. It's a relaxing place with many activities to do for a full day. 
Explore the beautiful Perdana Botanical Gardens.
Perdana Botanic Gardens (Taman Botani Perdana) is a must-visit when you're in Kuala Lumpur. It was a highlight of our trip with over 91 hectares (225 acres) of well-maintained greenery and has activities for everyone. Plus there is free public wifi throughout the park! Most of the places in the park are free to access except for KL Bird Park and Butterfly Park. Since this place is huge, you'll need to wear good walking shoes.
Some of the places to see in Perdana Botanical Gardens are:
Laman Perdana

is in the center of the park and a good place to hang out or use it as a meeting spot. It has a whimsical design with the curved rooftop and the triangle-shaped glass. We like how the rooftop has holes to let the preserve the trees and allowing them to grow taller. 

Deer Park

(

Taman Rusa

) is a good place if you want to have a short hike through the forest. We thought that there would be wild deer walking everywhere but the deer are enclosed. During our visit, we saw about 3-4 deer. 

Bamboo Playhouse

(

Rumah Buluh

), designed by Eleena Jamil, is a unique place to walk through. Although not quite a playground, there are huts and walking paths made out of bamboo. We stayed in one of the huts for 30 minutes and used it as a resting spot.
How to Get There: Take the KL Sentral Station and walk 3 kilometers (1.9 miles). Hiring a Grab is easier and will take you to the park entrance.  
Awe at KL Bird Park's pretty birds.  
The Bird Park (Taman Burung) is considered the "world's largest free-flight walk-in aviary." Located across from the Orchid Garden, this place has over 3,000 birds and 200+ different species. The park is large at 8 hectares (20 acres), so you'll need a few hours navigating the four sections of the park. There are daily programs such as ostrich feeding, taking photos with parrots, and a bird show. You can also visit the Education section to learn more about the different birds in the park.  
What we enjoyed about this place is that many of the birds have the opportunity to fly and walk around. Many of the free-roaming birds are friendly and will walk up to people (or they think we have food). We loved seeing the peacocks roaming around on the sidewalks. (Although, they are camera shy when we tried to take photos with them!) There are hornbills, parrots, flamingos, lovebirds, and many other birds to see. 
As a heads up, there are non-native birds that are in cages so it has a "zoo" feel (ie: in the Oriental Bird Aviaries area). Some of the cages may be small, but the birds are well taken care of. We're not sure if there are conservation efforts for the birds in the cages.
Regardless, we would still recommend this place to visit to see various birds. Please respect the birds and do not feed them. 
Admission Cost: Adults is 63 RM ($15 USD) and Children (ages 3-11 years old) is 42 RM ($10 USD).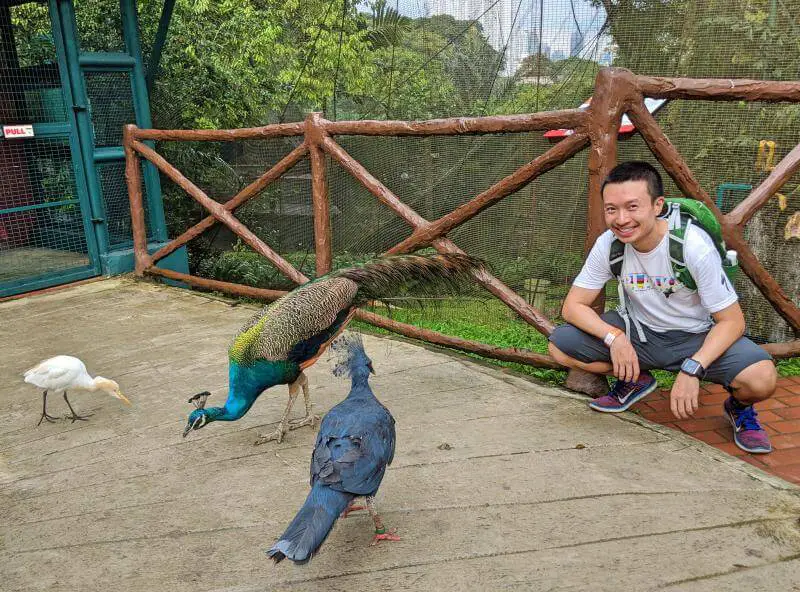 Admire the Butterflies at the Butterfly Park.
By Josh and Sarah, Veggie Vagabonds 
There is something you can't beat about standing in the center of a swirl of butterflies. Kuala Lumpur Butterfly Park is located next to the Bird Park. Once you step foot inside, it's like stepping into a whole other world, shared with more than 5,000 of the resident butterflies and 120+ different species. 
Spread across the large 80,000 square feet park you'll find stunning landscape gardens, rock pools, exotic plants and vegetation. It feels like an oasis such a short journey from the busy city. You'll also find Japanese koi fish, river turtles, and an insectarium. Yet, none of this takes away from the real stars of the show – the butterflies. 
Of every size and color, these beautiful creatures waft through the air and swirl in unison. As you walk through you can feel them breeze past your skin and if you're lucky you might even have a few friends stop to say hello! 
Admission Cost: Adults is 25 RM ($6 USD) and children 13 RM ($3.10 USD). Cash only. 
If you have time, visit the National Mosque of Malaysia.
At the base of the Perdana Botanical Garden on Jalan Perdana Street is the National Mosque (Masjid Negara). While we didn't have a chance to go here, it has star shaped dome and can hold up to 15,000 people during a praying ceremony. It's open to the public and closed during prayer times. The opening times are from 6:30am – 1:00pm, 2:30pm – 4:00pm, and 5:30pm – 7:00pm. Visitors will receive a purple robe to cover themselves. 
How to Get There: It's walking distance from the KL Sentral Station or take the Go KL Free City bus (Red Line) to the National Mosque. 
---
Kuala Lumpur Itinerary Day 4: Day Trips from KL
On your fourth day in Kuala Lumpur, we're leaving it open. If you missed some attractions from the previous day, feel free to take this day to check them out. Otherwise, choose one or more of these day trips from KL.  
Spend the morning at the Batu Caves. 
Batu Caves is a well-known place to visit in Kuala Lumpur. Recently, this top cave to visit in Asia is trending on social media due to the bright ombre colored staircases. Yet, this spiritual place is used as a Hindu shrine area. Many locals and visitors take the trek up 272 steps to reach the two temples inside the limestone cave (also called Temple or Cathedral Cave). The front entrance has a 42 meters (140 feet) tall gold statue dedicated to Lord Murugan statue. 
If you are inside the cave, it's quite a sight to look up and see the height of the cave and the plants grown on the walls. You can also walk around the see the small temples where people will do their prayers. 
Tips when visiting Batu Caves
It's recommended to arrive at the Batu Caves early in the morning (around 9:00am) with fewer crowds and lower temperatures. 

Please wear proper attire covering shoulders and knees or you can rent a sarong at the entrance. 

There are mischievous monkeys who hang out along the staircases. They will eye your food so be careful if they're hanging from your daypacks.

If you need something refreshing to drink, there are a few vendors at the base of the cave selling fresh coconuts. 
We didn't go to the Cave Villa that is located at the base of the mountain. It highlights the Hindu religion and Hindu deities and also has a small reptile and bird area. We read some questionable things about the quality of living for the reptiles and bird areas and decided not to visit. Instead, we went to the Dark Cave educational tour (closed as of January 2019). There is a small fee to go inside Cave Villa. 
How to Get There: It's easy to take a Grab car to the Batu Caves as the cost is 19 RM  ($4.50 USD). If you take the MRT, take the Batu Caves Station (KTM Seremban Line) and walk a few minutes to the Batu Caves. 
Tour Options: 
Take a batik workshop.
By Emily, Wander-Lush
Batik textiles are popular throughout the country and make for excellent Malaysia souvenirs. If you're searching for something creative and off-beat to do in Kuala Lumpur, a batik workshop is the perfect hands-on activity.
Malaysian batik is a cotton fabric decorated with motifs, typically floral patterns drawn from nature. Patterns are drawn on with hot wax, which is applied using wooden blocks, brushes, or canting pens. The process of dyeing and washing the fabric reveals intricate wax-resist patterns and marbled colors (similar to tie-dye). Not only is it beautiful, but batik is also a cultural symbol of Malaysia and a time-honored tradition. 
There are a few places that offer batik workshops in KL. My top choice is Batik Boutique, a social enterprise that has helped more than 150 artisans to earn a fair income. Alongside a batik workshop and community sewing centers, Batik Boutique runs daily classes at their studio in Desa Sri Hartamas that are suitable for both adults and kids. Over the course of three hours, small groups of participants are taken through the entire batik-making process, from preparing the wax, to drawing the patterns and applying the dyes. Whatever you make – be it a cushion cover, a clutch purse, or a tote bag – you get to take home with you at the end of the day. 
How to Get There: Take the Pusat Bandar Damansara Station (MRT Sungai Buloh-Kajang Line).
Admission Cost: 95 RM ($22.66 USD) per person
Eating durian in Petaling Jaya.
By Margherita, The Crowded Planet
KL is my favorite stopover in Asia, so we make sure we stop whenever we can. One of the reasons is that durian is delicious! As a crazy durian lover, Kuala Lumpur, Penang, and Singapore are where you can find the best durian, especially in season from June to August. 
The best place to eat the king of fruits is not actually in KL but in Petaling Jaya (PJ for short), a large suburb of KL and a short drive from the city. The best stall to buy durian from is called DKing SS2, and it's open daily from 12pm to 12am. 
It's worth visiting with a group as it's only possible to buy entire durians. There is only so much durian a person can eat! Durian price depends on weight and variety, and all prices are marked. 
There are different durian varieties available. The staff is happy to explain the differences. Try the Musang King, the top quality of durian. A whole Musang King costs 150-200 RM ($36-$48 USD), depending on size. A second favorite is the 'red prawn' variety which takes its name from the deep color of its flesh.
How to Get There: The easiest way is getting a Grab from wherever you are in Kuala Lumpur. From Kuala Lumpur City Center (KLCC) to PJ, it's about 25 RM ($6 USD). 
Get your nature fix at Forest Research Institute of Malaysia (FRIM). 
By Kirsty, World for a Girl
If you're finding city life in Kuala Lumpur a little intense, why not pop to nearby FRIM to experience gorgeous tropical rainforests and wetlands? The Forest Research Institute of Malaysia (FRIM) consists of almost 600 hectares (1482 acres) of man-made forest. FRIM is part research facility and part recreation center. Located in Kepong, a 20 minutes drive from Kuala Lumpur, FRIM is an ideal spot to spend time outdoors.
Ninety years ago, FRIM was created to study tropical forest systems and sustainable forest management. Today, it prides itself on being an educational and outdoor activity facility. It's a great place to visit in KL with kids. FRIM is a popular place to hire bicycles. The quiet roads make it a fun area to explore by bike. If you prefer exploring on foot, there are some awesome hiking trails. The friendly visitors' information center will provide you with maps and details. Unfortunately, the once-popular canopy walkway has been closed for several years. 
Make sure that you leave time to visit the fascinating little museum located in the park. Here you can learn about the different forest types endemic to Malaysia and explore the park's fauna. You can also spot traditional wooden Malay houses amid the trees. The Sungai Kroh waterfalls are popular with locals and a good place to have a picnic. If you'd like to make a weekend of it, you can reserve a camping spot at the Perah Campsite.
How to Get There: Take the Kepong Sentral Station (KTM Port Klang Line). Although it's best to use private transportation to reach FRIM.  
Admission Cost: 5 RM ($1.20 USD) for adults and 1 RM ($.25 USD) for children
Tour Option: Group tour of Batu Caves and Forest Research Institute Malaysia (FRIM)
Go hiking along Dragonback Ridges.
By Henry, This Life of Travel
If you're looking for an early morning cardio challenge that ends with stunning views, look no further than the climb up Dragonback Ridge (Bukit Tabur). It's a quartz ridge and only 20 minutes away by car from Kuala Lumpur. 
The eastern ridge is supposedly the easier way up, but you still need to be careful when climbing this. It's considered a class 3-4 climb, which usually means climbing with a rope and falling down could mean broken limbs or even death. It's best to hire a professional guide to take you up this climb. They'll provide gloves, a safe route, and transportation to/from the area. 
You can choose to do it yourself but you'll need to find your own transport there and back, bring some gloves, and find your own way to the top. You'll also need to purchase a permit from the park office, but if you go early enough there won't be anyone at the office – so in that case it's free.
If you want a bit of a harder challenge, you can climb the Bukit Tabur West trailhead. At the end of both trails, there is a refreshing natural swimming pool to relax in afterward.
How to Get There: It's recommended to go via car and start your journey at the Bukit Tabur East Trailhead on Google Maps.
Admission Cost: If you take a guide, it'll cost around 200 RM ($48 USD) per person. 
---
Where to Eat in Kuala Lumpur
Kuala Lumpur has lots of droolworthy foods to try. Similar to Singapore, KL has many hawker stations and night markets that you can visit to fill your belly with deliciousness. 
With many places to visit, it can get overwhelming on where to go. You can also consider going on a food tour to try the best Malaysian cuisine with a local guide. Check out these food tour options: 
Here are the places that we tried in Kuala Lumpur and would recommend. Tipping is not required at restaurants. 
Lot 10 Hutong in the Bukit Bintang area has a basement level in this shopping center that has Chinese, Malaysian, and Japanese food and snacks. It's a cleaner hawker area compared to what we mentioned earlier in Chinatown's Madras Lane so the prices are slightly higher (between 15-18 RM / $3.50-$4.30 USD). This level also has air conditioning in case you need a reprieve from the humidity. Try the Kim Lian Kee stall (stall H10) for the Moonlight Kway Teow noodles. While this place is known for their mee goreng type noodles, the kway teo noodles have a burst of flavors with the sauces and fresh noodles.
Jalan Alor Street

is a famous street for affordable street food and snacks. We ate our way through dim sum (we saw green, purple, and black dim sum but aren't sure of the flavors, putu piring (Malaysian snack food made from palm sugar, coconut, and rice powder and steamed), fruit juices, and more. There are sit-down seafood and Thai restaurants where you can sit outside and enjoy your food. Prices are higher in these restaurants since it's in a tourist area.

Capitol Cafe

is a must-visit place to eat in Kuala Lumpur. This place serves yummy Malaysian and Indonesian food such as nasi lemak. We loved this place so much that went here two times for meals and an afternoon rest break. We tried the nasi lemak which had good flavors and similar to what we had in

Bali

and the

Kampung style goreng ikan fish with rice

. Each cost around 13 RM ($3.10 USD). The teh tarik (iced tea with milk) is very addicting and tastes like Hong Kong milk tea. Check out their

Facebook page

for more information.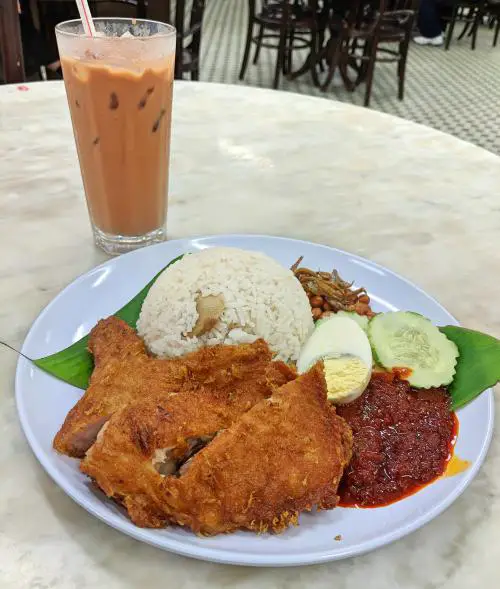 Tapak Food Truck is Malaysia's version of the U.S's food truck craze. Opened in 2016 and in four locations in KL, Tapak provides an outdoor eating experience with many food trucks to choose from such as Malaysian and Mexican cuisine. We visited the original location in the Jalan Ampang area and couldn't try everything. There were over 30 trucks to visit. We enjoyed trying foods such as fried tofu with squid, spicy seafood pasta, and mango milk. Check out their Facebook page

for more information. 
---
Where to Stay in Kuala Lumpur
Kuala Lumpur has a wide range of accommodations that you can choose from whether you're a solo and budget travelers or want more comfort at the luxury hotels.
Click here to find a place to stay in Kuala Lumpur and make a reservation now.
We stayed at the Element By Westin hotel. It's one of the best places to stay in KL! Normally we book guesthouses when we travel but we had extra Marriott Bonvoy points to use. The hotel is located in a business building, yet was great with the clean room and nice staff. Ask for a view of the main city area as it's fantastic to see from your room. Plus, this hotel is eco-friendly as they don't provide plastic water bottles. Instead, the room's mini-bar area has a water filter dispenser which was perfect to refill our reusable bottles. The hotel is close to public transportation as the Ampang Park Station (LRT Kelana Jaya Line) is a five-minute walk. We would consider coming back here to pay for a room in the future. Click to check availability and make a reservation for Element.
Here are some other options to consider based on the positive reviews.
Sunshine Bedz –

If staying in hostels is your jam, consider visiting this place. Located in Bukit Bintang, you're close to the shopping and the local foods. Guests appreciate the friendliness of the workers and the size of the rooms. There are bunk bed accommodations as well.

Make a reservation for Sunshine Bedtz here.
CitizenM

– Located in Bukit Bintang area, this mid-range hotel has an on-site restaurant and bar. Rooms are modern with the use of smart devices to control the room.

Click here to make a reservation at CitizenM. 
RuMa Hotel and Residences – Visitors love this place with the close distance to KLCC and the views of the KLCC Petronas Tower. The luxurious amenities sleek room decor, both a bath and a shower option, and complimentary breakfast. There is an on-site fitness center and swimming pool available. Check availability and make a reservation for RuMa Hotel here. 
---
Helpful Travel Tips for Kuala Lumpur
If you're looking to update your international phone plan, consider changing it to Google Project Fi. We've been  using Project Fi since 2016! This plan has data and text for no additional charge when using it in over 200+ international places. Sign up for Project Fi today and receive a $20 credit!
KL still uses cash in their local restaurants and stores. ATMs are plentiful around the city.

The weather is humid and warm, so don't forget to stay hydrated. You may want to bring an umbrella with you for the dual purpose of shielding yourself from the sun and the rain.  

KL is a safe city to explore and wander. As with any large city, stay aware of your surroundings. 
---
Whew! Four days in Kuala Lumpur has gone by so quickly. From the various outdoor hiking adventures to the memorable Malaysian cuisine, we hope you have a fabulous time exploring this city. Many thanks to our travel bloggers friends for contributing to this post!
If you're continuing your Malaysia travels, stop by Penang for two days and hike up Penang Hill!
Interested in visiting Kuala Lumpur? What places would you want to visit? If you have questions about this Kuala Lumpur itinerary, ask in the comments below. 
Like this post? Save it to your Malaysia Pinterest travel board.
Featured photo credit: mrsiraphol via Depositphotos.com
Pin #1 photo credit: Keith Lee (top), Tarran Goodwin (bottom) via Scopio Photos
Pin #2 photo credit: Heather Holding via Scopio Photos
Pin #3 photo credit: Ekaterina Abramova via Scopio Photos