If you've been in Bali for a few days and need a break from the island, consider visiting Nusa Islands for four days. Located southeast of Bali, Nusa Islands is a wonderful getaway with your choice of three islands –  Nusa Penida, Nusa Lembongan, and Nusa Ceningan. Nusa Penida is the largest island while Nusa Ceningan is the smallest island out of the three. It's easy to get to Nusa Islands by a quick 30-minute speedboat ride from mainland Bali. 
What we love about visiting the islands are unspoiled views of the beautiful landscapes, some of the bluest ocean that we've seen, and iconic places to visit. The island life is a bit rustic and there aren't any crowds and tour buses, so it makes the environment laid-back and quiet.
Although you can spend more time on Nusa Islands, we're sharing our amazing 4 days Nusa Islands itinerary so you can get the highlights of the top things to do in each of the islands, where to eat, and other helpful tips.
We scheduled our time by the following schedule: 1.5 days in Nusa Lembongan, .5 days in Nusa Ceningan, and 2 days in Nusa Penida. 
Click to jump to certain sections on the 4 days on Nusa Islands itinerary:
Map of Nusa Islands in 4 Days
*Disclaimer: Headed to Nusa Islands? This post contains affiliate links. If you click on them and make a purchase, we receive a small commission. There is no additional cost to you. Appreciate the support.
---
Nusa Islands Itinerary Day 1: Depart Bali & Nusa Lembongan
Nusa Lembongan is a popular island which most travelers go to. It's the closest island to mainland Bali and has more development with amenities from the accommodations, resorts, to the restaurant options. Plus, the roads are easier to manage versus Nusa Penida if you decide to rent a motorbike (more information about transportation is below.)
How to Get to Nusa Lembongan 
To easiest way to get from mainland Bali to Nusa Lembongan is via a speedboat. Most of the boats leave from Sanur, so it's recommended to stay in the area the night before your trip to Nusa Islands.
Or, check with your speedboat carrier if they do pick-up from certain areas such as Kuta or Seminyak which is included in your ticket price. We stayed in Seminyak for one night at CR Tris Room Seminyak Guesthouse. It was a good location and close to many restaurants within walking distance.
The two well-known speedboats companies that depart from Sanur to Nusa Lembongan are Rocky Fast Cruise or Scoot Cruise. We went with Rocky Fast Cruise and made a reservation through their email system as we had some issues with their online booking system.
It's recommended to make a reservation at least 3 days to a week in advance as spots can get booked up early. Try to book the first boat at 10am so you can maximize your time. Otherwise, the next boat ride is at noon.
You can also choose one of these options to make a speedboat reservation in advance and save money! 
Most people hang out in the waiting area on the beach before departure. If you have rolling luggage or large luggage, the workers will carry your luggage onto the roof of the boat. 
Before boarding the ship, you'll need to take off your shoes and sandals as you will enter the water. All sandals get placed in a communal shoebox.
Tip: You may want to hold onto your sandals instead of putting them in the communal shoebox if you're worried about someone taking your sandals by accident.
The speedboat ride isn't too bad but there are some big swells. Once you reached Nusa Lembongan, you receive a complimentary ride to your hotel accommodations. Feel free to check into your hotel or guesthouse and then head out for the day.

Things to Do in Nusa Lembongan
1. Splash your feet at Dream Beach.
Head south of the island to the Dream Beach to start your beach adventure. To be honest, the beach isn't very big and we couldn't swim due to the high currents. What we did do was splash our feet in the water and walk along the white sandy beach. 
Otherwise, you can hang out at the Dream Beach Huts and the beach club. They have an incredible pool overlooking the Dream Beach and plenty of lounge chairs to relax. one
2. Awe at the Devil's Tear waves.
Only a five-minute walk from Dream Beach is the popular Devil's Tear. We call it the area to channel your inner Ariel from the Little Mermaid since there are many waves and rocks to pose like Ariel! Anyway, it's one of the must-see activities when you're on Nusa Lembongan. The blue water is so mesmerizing to watch as the huge waves splash against the edge of the limestone rocks. 
Most of the tourists hang out close to see the waves splash, yet it's a splash zone. There is a high probability of getting wet with a huge wave and the waves are super powerful too. It was poor timing for us as we walked by and caught a wave. Whoops. Our bodies and clothes were drenched. 
If you walk further away from the main splash area, you can see a waterhole from the distance.
Depending on when you arrive at the Devil's Tear, it's a good spot to see the sunset.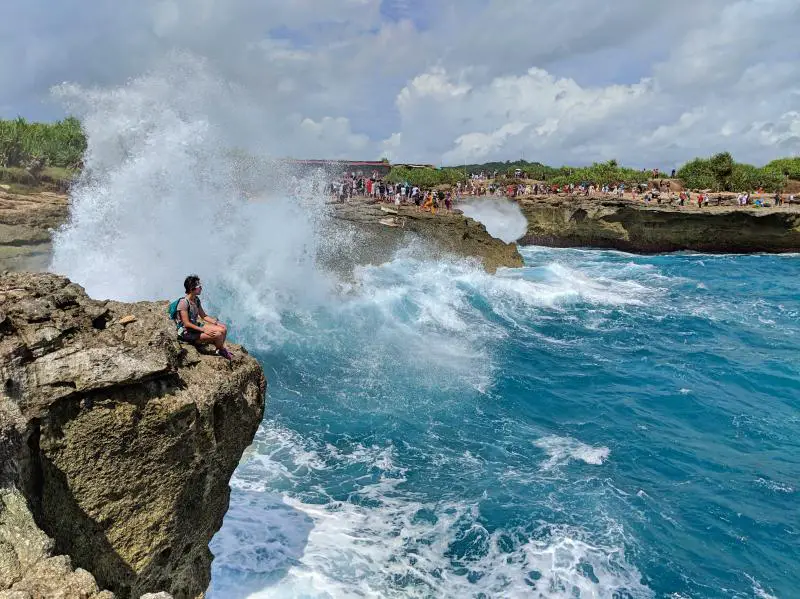 3. See the mangroves and Mangroves Beach.
On the northeast side of Nusa Lembongan is the mangrove forest. Mangroves are trees that require little to no soil and have roots intertwined with each other to make a dense forest. It looks like the roots are standing in the water.
If you haven't been through a mangrove forest, this is a great opportunity to take a tour. You get to ride in a traditional boat through the forest area. Prices for the tour ranges between 75,000-100,000 IDR ($5.30-$7 USD) per person if you go to the area. Otherwise, you'll pay a higher price of 200,000 IDR ($14 USD) per person if you pre-book with a third party vendor. 
Afterward, walk across the street to see the Mangroves Beach Club and you'll see the Mangroves Beach. It's not a typical beach where you can relax and sunbathe as the sand is pretty shallow. You can wade your feet in the ankle-deep waters. There are some tiny crabs and other small creatures in the water.
We also saw a few people coming through the water with stand up paddleboards and canoes, so you could rent them.
There are cafes and restaurants along the water if you're looking to hang out and relax further. 
To get to the mangrove area, follow the Jangut Batu Main Road which connects to the Mangrove Road and continue until you hit a dead end. Park your motorbike at one of the parking areas and walk over to the mangrove area. 
4. Hang out at the other beaches.
Since you've already been to Dream Beach, consider spending time at the other beaches on the island. 
Sunset Beach is nearby the Devil's Tear and another spot to watch the sunset. 
Mushroom Bay Beach, located in the northwest side of the island, is a small beach yet used for boat transportation between Bali and Lembongan.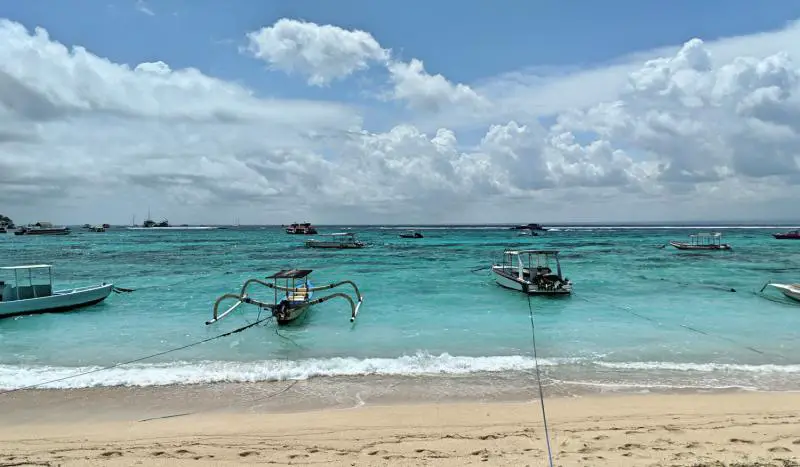 How to Get Around Nusa Lembongan
To get around the island, you'll need to rent a motorbike or a bicycle. You may be able to rent a motorbike from your Nusa Lembongan accommodation or find a motorbike rental shop along the main port area.
We rented our Honda Beat motorbike from Bro Shop for 150,000 IDR ($10.60 USD) for two days. We didn't get any helmets with our rental, so you should inquire with your rental company if they have any available. 
The road conditions on Nusa Lembongan are much easier to manage versus Nusa Penida as there are more paved roads. To get from one end of the island to the other is between 10-15 minutes by motorbike. Remember that there isn't any insurance coverage if there are damages to the motorbike. 
If you decide to rent a bicycle, there are hills so you'll need to pedal hard to go up the hill on a bicycle. Bicycle rentals are around 50,000 IDR ($3.50 USD) per day. 

Where to Eat in Nusa Lembongan
We were surprised at how delicious the food was on Nusa Lembongan. Here are some of the Nusa Lembongan restaurants that we visited.
Note: The island makes an effort to reduce plastic waste and encourage visitors to use reusable water bottles. It's an awesome eco-friendly initiative to see. There are several refillable water bottle stops where you pay a nominal fee to refill your bottle with filtered water. We've listed some of the restaurants with this option below.
Maria Boemboe Bali Warung is located off of a quiet alleyway that serves Indonesian and Western food. Everything is made fresh to order so the food does take some time to prepare. We loved the fresh juice which had a combination of pineapple, lemon, and banana, mie goreng seafood, and the tempeh sweet soy sauce chili sauce. If you're a tempeh fan, then you'll enjoy the tempeh dish too. You can refill your water bottle here. 
Warung Bambu is a great place if you want to have a meal with a beach setting. It's located nearby the Mangroves area. We received a recommendation of the red snapper in a banana leaf and the flavors didn't disappoint. Heads up that the flies also enjoy the smell of the fish so you can ask the restaurant if they have a candle to deter the flies.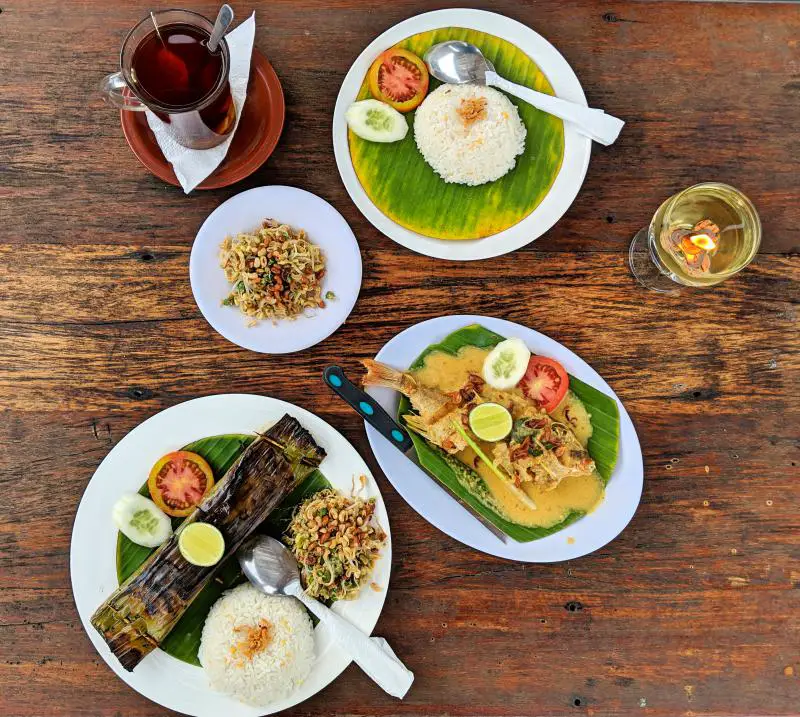 Bali ECO Deli is an eco-friendly place that has healthy drinks and food options. The Purple Boost smoothie was amazing with the fresh bananas and berries. We also tried the brownie and banana cake which aren't too sweet and taste healthier. During the time of our visit, you can get 10 percent off your bill if you bring clean, dried, and collapsed plastic water bottles as they get recycled back in Sanur. You can refill your water bottle here. 
Tropical Juice Corner is a good option for brunch and close to the Devil's Tear. You can order off of the breakfast menu until 11am and your meal comes with coffee or tea. This place has a variety of breakfast smoothie bowls with fresh fruits which is a refreshing start for the morning. The lepet Bali which is grilled chopped fish with coconut in a banana leaf is also a yummy option but would be more of a lunch or dinner option.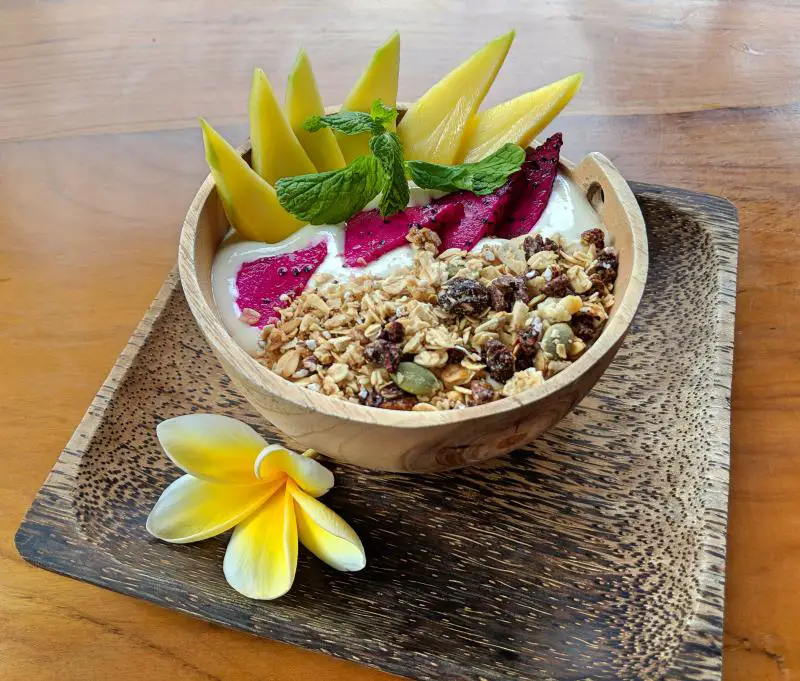 Seaweed Seafood and Grill has a gorgeous view of the water from the dining area. This place is known for its seafood so we ordered grilled red snapper which had a delicious sweet sauce and Pepe's mahi mahi (fish) had a creamy turmeric sauce in a banana leaf. The restaurant is close to the Golden Bridge.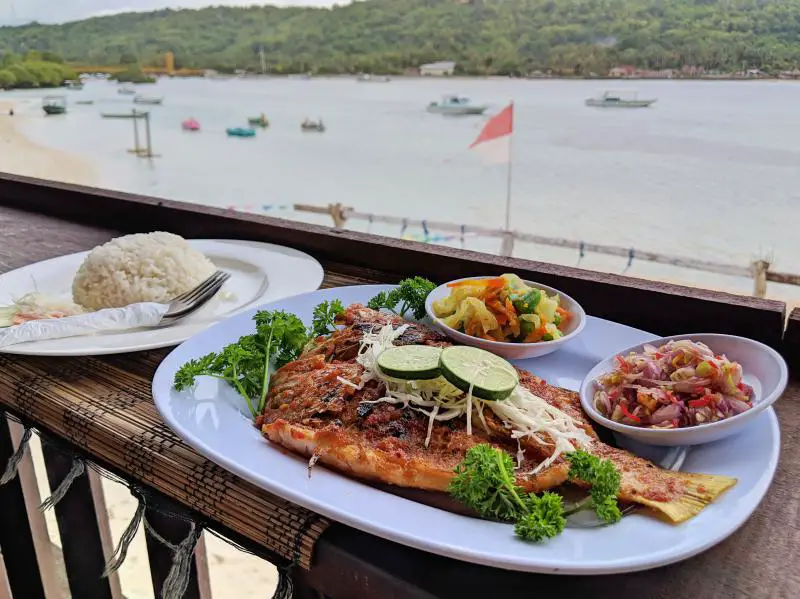 Warung Bu Edy is an affordable local place that serves either chicken or vegetarian options. You get a plate of coconut rice with your sides such as tempeh, a stew item, vegetables, and more. Many of the locals stop by here to do a to-go order for breakfast. You can also choose to dine-in. Each plate of food is 25,000 IDR ($1.80 USD). Plus, this was next to our guesthouse – only a 1-minute walk. 
Where to Stay in Nusa Lembongan
Nusa Lembongan has a variety of accommodations to stay at depending on your budget. Click here to find a place to stay in Nusa Lembongan and make a reservation. 
We stayed at D'Tegal House where we had a bungalow and a private bathroom. The room was clean and a large room for our two nights stay. The guesthouse is along an alleyway so we missed it as Rocky Fast Cruise dropped us off. You can also park your motorbike on-site. While there isn't a concierge to book tours, etc, you can go next door to a diving place to ask questions. Click here to find availability and reserve a room at D'Tegal House.
If you're looking to splurge, consider Cliff Park Lembongan. It has incredible views of the ocean from your balcony and the on-site infinity pool. Spend the day relaxing at your bungalow or head to the closest beaches, Mushroom and Dream Beach. Find availability and make a reservation for Cliff Park Lembongan here. 
---
Nusa Islands Itinerary Day 2: Nusa Lembongan and Nusa Ceningan
Today we're spending a few hours exploring Nusa Ceningan. You can ride your motorbike or cycle around the entire island in about 30 minutes to an hour. It would be a nice place to take a walk around the island as there are only a few connecting roads. 
How To Get to Nusa Ceningan
From Nusa Lembongan, take your mode of transportation and head south of the island to go to the Golden Bridge. It's a yellow suspension bridge that connects between Lembongan and Ceningan. It's free to cross the bridge. 
The most exhilarating (or terrifying) part is when you're on the super narrow bridge. A car will not fit on the bridge, yet, two passing motorbikes will barely squeeze by. You'll be super close to the person going in the opposite direction. 
If you're walking on the bridge, you'll also share the same road as the motorbikes. Please be careful and stay to the far right as much as you can. 
If you don't feel comfortable with riding a motorbike, consider taking a one day tour of Nusa Lembongan and Nusa Ceningan. Book your tour by clicking on this link.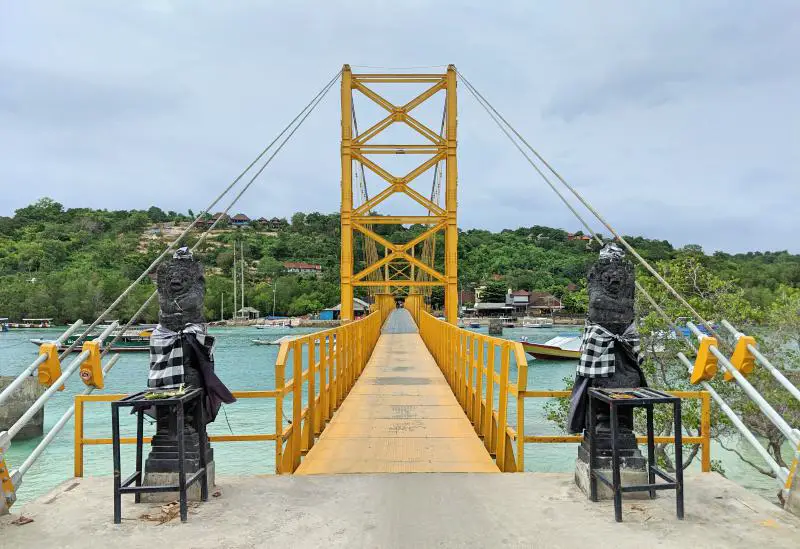 Things to Do in Nusa Ceningan
1. See the awesome view from the Ceningan Cliffs. 
If you're looking for a quiet place to see the views of the trees and cliffside landscapes, head to the Ceningan Cliffs. This restaurant and photo spot is up on a steep hill and also filled with potholes. You can either take your motorbike up the hill or park at the base of the hill and walk up 700 meters (.43 miles). We walked up since the road up looked too steep for us to ride.
Once you reach the summit, check out the stunning views. You can opt to take the stairs down the cliff but we didn't have the proper shoes. The overlook also has a designated photo spot with hearts and Ceningan Cliffs.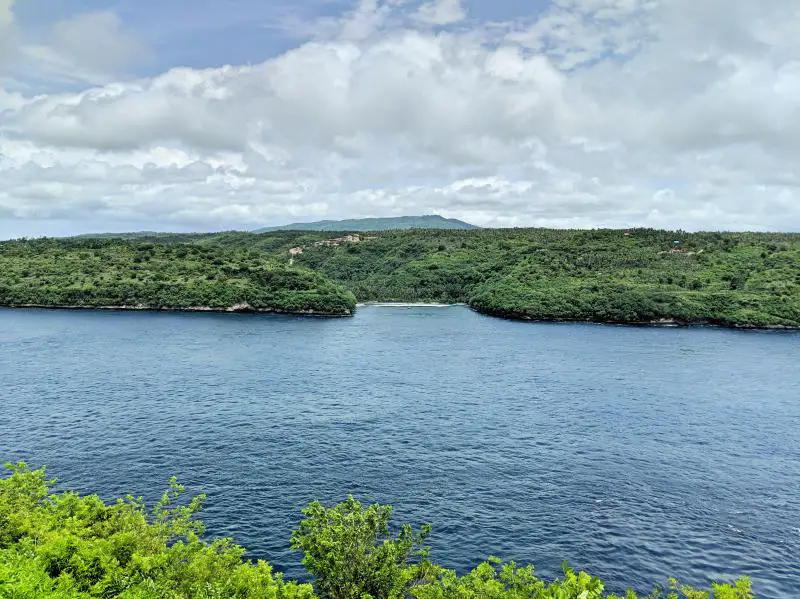 2. Visit the Blue Lagoon. 
There is a good reason why everyone raves about the Blue Lagoon on Nusa Ceningan. The Blue Lagoon deserves its title as one of the prettiest waters that you'll see.
It's not a formal lagoon as the water connects with the ocean. You can't go down the cliff to hang out in the Blue Lagoon, however, you can do the famous cliff jump from Mahana Point. You'll also see surfers in the area catching the waves. 
After you visit the Blue Lagoon, walk along the edge of the cliff for more ocean views and waves. It's fun to see how large the waves splash against the rocks.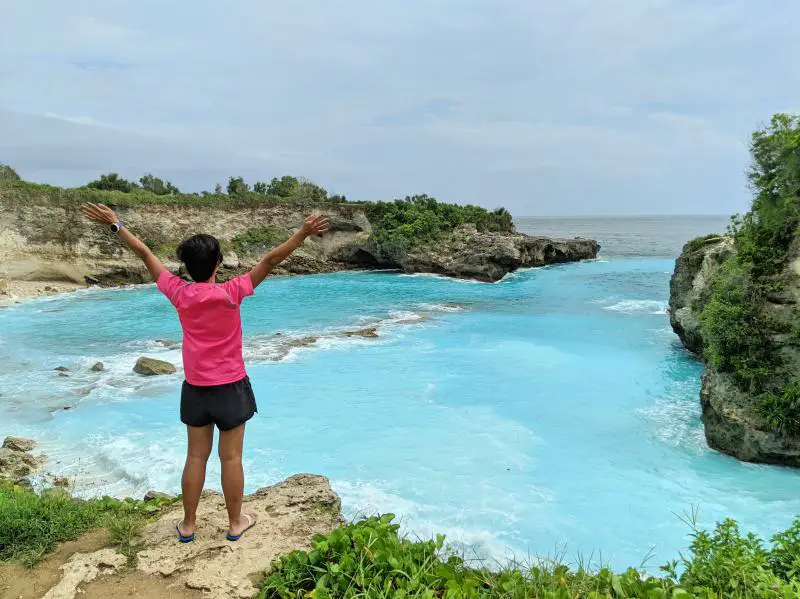 3. Go diving.
On the east side of Nusa Ceningan is an opportunity to go diving with Ceningan Divers. They having diving opportunities to Nusa Penida or you can get your PADI open water certification done here. We came across this side of the island during our motorbike ride, so we didn't get the opportunity to explore this option. We know where to go in case we want to get our diving license in the future!
4. Spend the rest of the afternoon on Nusa Lembongan. 
On your way back to Nusa Lembongan, feel free to stop by other places that you may have missed on the first day, such as the Mushroom Beach and Sunset Beach. We tried to find the Seaweed Farm along the Seaweed Road but couldn't find it. Maybe it wasn't the right season. 

Where to Stay in Nusa Ceningan
We decided not to stay at Nusa Ceningan since it's a 10-15 minute motorbike ride from the Nusa Lembongan pier. If you want to experience a night at Nusa Ceningan, click here for availability and make a reservation. 
---
Nusa Islands Itinerary Days 3-4: Nusa Penida
Nusa Penida is the largest island at 202.8 km2, yet it has breathtaking views of the ocean and beaches. Plus, you're able to do many and outdoor adventures or as much relaxation as you want. 
How to Get from Nusa Lembongan to Nusa Penida
It's easy to get to Nusa Penida from Nusa Lembongan. Since you're staying for two days at Nusa Penida, take a taxi to the Golden Bridge. The taxi cost is expensive as the price is 50,000-75,000 IDR ($3.50-$5.30 USD) per person for a 10-minute ride. It's challenging to negotiate any lower too. 
At the Golden Bridge, go to the right side to buy a round-trip ticket for around 120,000 IDR ($8.50 USD) per person. ​You can visit any of the boat companies. You'll get a lanyard which has your ticket. You'll board your boat once it's filled with at least 8 people and then take your 10-minute boat ride to Nusa Penida's Toya Pakeh port. 
Things to Do in Nusa Penida
From seeing and hiking the iconic Kelingking Beach to watching the sunset from Broken Beach, there are so many incredible activities to do in Nusa Penida. If you have time, you can also consider snorkeling with the manta rays which is quite an adventure. Book the snorkeling tour here. 
Check out our 2-days in Nusa Penida itinerary which has greater details on each of the top attractions in Nusa Penida to visit.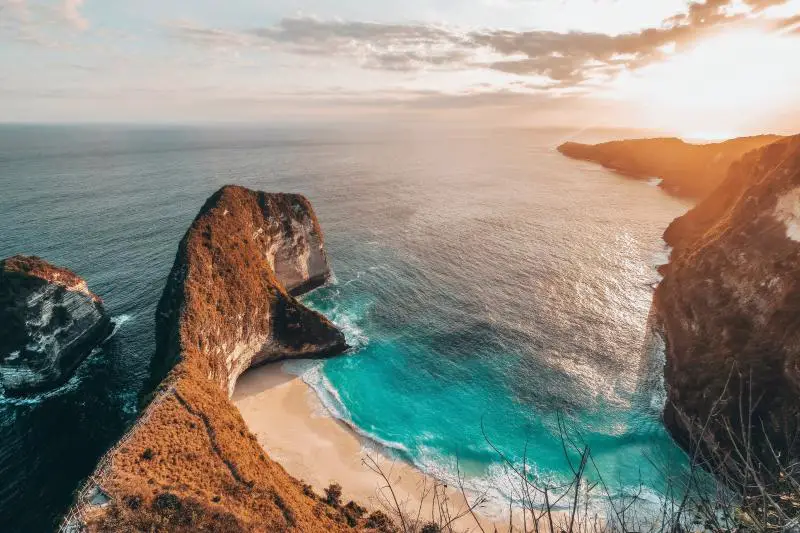 How to Get Around Nusa Penida
Due to Nusa Penida's large size, it can take over an hour to go from the Toya Pakeh area to the south of the island. You'll need to have transportation such as a motorbike or hire a driver.
If you decide to rent a motorbike, please exhibit extra caution when driving a motorbike as many of the roads are a pothole mess and super sketchy to drive on.
Where to Stay in Nusa Penida
Our itinerary highlights some places that you can consider staying over in Nusa Penida. You can also click here to find the perfect Nusa Penida accommodations. 
---
Your four days on Nusa Islands will go by quickly! As you can see, each of the islands has its own charm and top attractions to see. We loved our visit and can't wait to come back when we're visiting Bali. 
If you're also planning a trip to Bali, check out our other Bali posts for inspiration:
What did we miss seeing in Nusa Islands? If you've been there, which island is your favorite? Let us know in the comments below. 

Enjoy this post? Save it to your Indonesia Pinterest board.
Featured photo credit: ozimicians via Depositphotos.com
Pin #1 photo credit: Alyshia Turchyn via Scopio Photos
Pin #2 photo credit: Anais Hubeaux via Scopio Photos