Two days in Nusa Penida, Indonesia is a great introduction to the island.
Located off the southeast of Bali, Nusa Penida (also called Penida Island) is a beautiful place to visit while you're exploring Bali and other Nusa Islands (Nusa Lembongan and Nusa Ceningan). Penida is the largest island out of the three Nusa Islands. 
From the secluded beaches to the jaw-dropping viewpoints, you'll have an incredible time traveling and relaxing around this quiet island. 
In this post, we're providing information on how to spend 2 days in Nusa Penida and other helpful travel tips such as how to get around, where to eat, and more.
With this Nusa Penida itinerary, feel free to mix around the schedule and sightseeing activities. If you want to spend more time on the beaches, go for it! 
Click on the links below to jump to various areas of the Nusa Penida itinerary.
*Disclaimer: Visiting Nusa Penida? This post contains affiliate links. If you click on them and make a purchase for your Nusa Penida travels, we receive a small commission. There is no additional cost to you. Appreciate the support.
---
How Many Days Should You Stay in Nusa Penida?
Spending 2 days in Nusa Penida is enough time to see the major attractions and highlights of the area. We've been to Nusa Penida twice and spend between 2-3 days here. 
If you have the chance and have a longer stay, we would suggest that you stay in Nusa Penida for at least three days.
This Indonesian island is huge and has long traveling times between attractions. You're better off taking your time to spread out the Nusa Penida attractions over more days. Plus, you can always relax on the beach 
---
Map of the 2 Days Nusa Penida Itinerary
---
Nusa Penida Itinerary Day 1
It's recommended to depart Bali in the early morning so you can arrive at Nusa Penida by 9am or 10am. (We have more information about how to get to Nusa Penida below or you can click here to see it now.)
Once you arrive in Nusa Penida's Toya Pakeh Harbour or Buyuk Harbour, stop by your Nusa Penida accommodation to check-in and drop off your luggage before heading out for the day.
On this first day Nusa Penida, we're exploring the west side of the island.
Swim at the Crystal Bay Beach.
The weather is hot and humid, so it's time for a morning swim at Crystal Bay Beach. Or, you can visit this place in the late afternoon. This place is easy to get to from the Toya Pakeh Harbour area. 
The refreshing water is a great way to cool off. It's stunning here – so blue and clean.
This area is known for scuba diving and snorkeling so you'll see a few boats docked in the water.
We saw many locals and tourists swimming and relaxing in the area. 
If you don't want to swim, you can rent a lawn chair on the beach or hang out at the local warung and enjoy cold drinks.
In the afternoon, the beach area gets extremely crowded. 
Admission Cost: Free to visit
Explore the iconic Kelingking Beach.
Kelingking Beach is the iconic spot splashed over social media and Instagram.
You'll recognize the spot with the extended green cliff area surrounded by the deep blue water (it looks like a T-Rex's head!)
It's well worth the opportunity to spend some time here. Most visitors tend to stay in the top overlook area which is amazing for photos. Yet, you're competing with other tourists for the same spot. 
If you have the chance, take the stairs down for a better view of the coastline and also go to the beach. It's a mini hiking adventure since the stairway is steep.
It's recommended to have closed-toe shoes and to hold onto the bamboo railing for extra support. For our first time visiting, we did the climb in flip-flops but was extra careful to not slip on the rocks.
We can see why this beach is considered one of the top beaches to visit in Southeast Asia. The white sandy beach is secluded and not crowded since it takes a while to head down and you also need to think about coming back up! 
Note: You'll need to check if the beach is available. As of January 2023, it was closed to the public.
The road to get to Kelingking Beach is one of the sketchiest places that we've been on. It was formerly a potholed mess but now it's been paved. But, the road is still steep, so be extra careful if riding a motorbike. 
Admission Cost: Free to visit and 5,000 IDR ($.35 USD) for motorbike/car parking
Stop by the Pura Paluang (Car Temple) (Optional).
A five-minute walk from the Kelingking Beach parking lot is the Pura Paluang (also known as the Car Temple).
It's a small Hindu temple that has two cars (one is a smaller version of the Volkswagen Beetle) in the worship area.
Unfortunately, we couldn't enter the temple as there was a ceremony so we'll come back on a future visit.
If the temple is open to the public, please remember to cover your knees and shoulders before entering. 
Awe the views from the Paluang Cliff viewpoint.
Next to the Pura Paluang temple is the Paluang Cliff viewpoint.
Surprisingly it isn't crowded and provides another fantastic view of Kelingking Beach's cliffside.
There is a wooden boat that overlooks the cliff so it's another photo opportunity spot. The cost to take a photo is 50,000 IDR ($3.30 USD) per person, so it's costly. 
It's so relaxing in this spot that we didn't want to leave! Feel free to rest and order a drink at the local shop. 
Watch the sunset from Angel's Billabong and Broken Beach.
If you have time to visit Angel's Billabong and Broken Beach before sunset, then go for it! The host of our guesthouse recommended seeing them around sunset time frame. 
Otherwise, visit these two attractions at any time of the day.
Angel's Billabong and Broken Beach are located next to each other so you don't need to travel far.
Angel's Billabong is a natural pool between two jagged rocks/cliffs. Unfortunately, swimming isn't allowed at Angel's Billabong. 
Broken Beach is a picturesque spot with a natural archway surrounded by gorgeous blue water. What is cool about Broken Beach is that you can take a short walk around the bay and on top of the arch. There are also plenty of photo spots with the arch.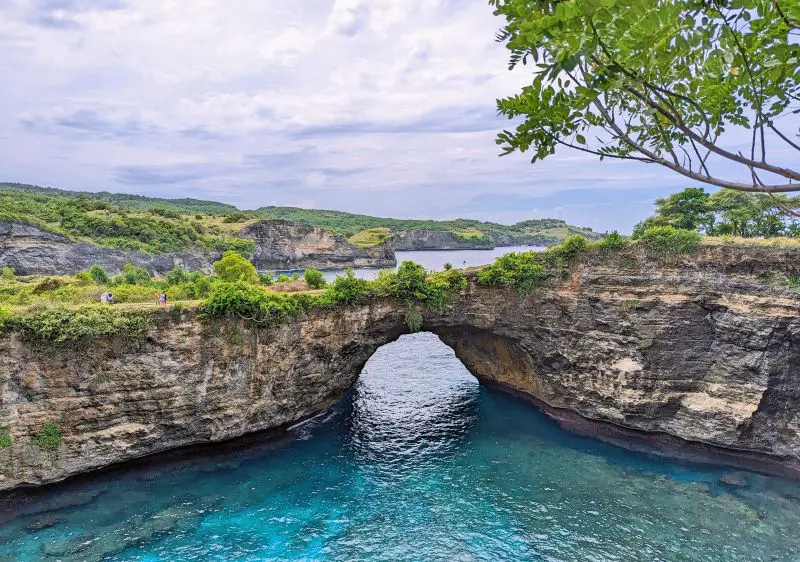 Admission Cost: Free to visit and 5,000 IDR ($.35 USD) for motorbike/car parking
Life Of Doing Side Story:
On our first trip to Nusa Penida, visiting Broken Beach and Angel's Billabong was high on the Nusa Penida bucket list. Unfortunately, we didn't get a chance to visit.
We had a motorbike accident driving to Seganging Waterfall after Kelingking Beach. While the accident wasn't terrible, it was necessary to return back to our guesthouse to clean up the wounds. We'll return back to Nusa Penida to see these two places.  
On our second trip to Nusa Penida, we were thrilled to finally see these beautiful sights!
---
Nusa Penida Itinerary Day 2
We're now on our second day in Nusa Penida and we're off to see more beautiful places on this island. 
This time, we're exploring the east side of the island.
Hike down to the Peguyangan Waterfall.
​With our failed attempt to see Seganging Waterfall yesterday, our host from our guesthouse recommended Peguyangan Waterfall. The waterfall also has a small temple area.
NOTE: This place is not suitable for those who have difficulties walking. It's very steep and dangerous in some areas!
From the Toya Pakeh port, it'll take around 45 minutes to get to this waterfall and the road quality is much better than going to Seganging Waterfall. This place is located southwest of the island.
From the parking lot, it's an adventure to get to the waterfall as you walk/hike down a steep set of blue stairs along the edge of the cliff for 15 minutes. You need to rent a sarong as there is a temple area.
The stairways are stable yet you'll need to climb over pipes and tree branches. You may need to use the handrails to balance yourself going down. If you're afraid of heights, you'll test your fear here. 
Once you reach the bottom, you'll see a small temple area that also has holy water. Don't forget to wear your sarong as you enter the temple.
You'll pass through a stream which is the start of the Peguyangan Waterfall. 
Peguyangan Waterfall is a bit of an understatement as it didn't have the huge cascades like the waterfalls in Bali. It was more of a stream from the water pipes that falls directly into the ocean.
If you continue further down the cliffside, there is a bathing area to wade in a small pool.
It's the same route to go back to the parking lot, so you'll have a good leg and arm workout with the challenging course.
Otherwise, this place is a fun offbeat destination in Nusa Penida since it isn't crowded. 
Admission Cost: Free. Motorbike parking is 5,000 IDR ($.35 USD). Sarong rental is 15,000 IDR ($1.00 USD).
Relax at the Diamond Beach and Atuh Beach.
Diamond Beach and Atul Beach are next to each other so you need to pay one admission cost to visit both of them. From the Peguyangan Waterfall, it's about a 30-minute drive to get here. 
Diamond Beach is a clean and secluded beach to spend an hour or two relaxing, taking a nap, and reading a book. The entrance is closer to the parking lot area so you can head there first before going to Atul Beach.
You have to take the stairs down to Diamond Beach. The stairs are steep and you also need to watch out for your head along the white limestone/sandstone cliff.
You will need to use a rope to go down a rock.
At the bottom of the stairs, there is a store that sells drinks and food. It also offers a swing experience (similar to what you see at Tegallalang rice terraces) for 200,000 IDR ($12.90 USD) per ride. 
The beach itself has soft white sand and isn't too crowded. You'll get some views of the large rocks in the water. You don't need to worry about umbrellas or shade as the cliff covers the area most of the time. Bring your towel, swimsuit, and enjoy this relaxing spot.
If you're eyeing more beach time, head to Atuh Beach. Located on the other side of the mountain, Atuh Beach has beachside amenities with lawn chairs, umbrellas, and drinks available for purchase.
To get to Atuh Beach, go back up the stairs from Diamond Beach, follow the signs to Atuh Beach, and then head back down the mountain to Atuh Beach.
We didn't spend any time at Atuh Beach as we didn't want to be in the sun after the shade from Diamond Beach.
Admission Cost: 25,000 IDR ($1.65 USD) per person and 5,000 IDR ($.35 USD) for parking 
Stop by Nusa Penida Treehouse.
If you have additional time on your Nusa Penida itinerary, check out the photographic views from Rumah Pohon Treehouse. It has jaw-dropping views of the Diamond Beach area and Thousand Islands Viewpoint.
Here, everyone takes the famous treehouse photo while overlooking the viewpoint. Since the line is very long, there is a 2-minute per person time limit to take photos.
To get to the treehouse, you need to take the stairs down. It's steep so it won't be suitable for those with mobility issues.
For a unique experience, you could consider staying overnight at Rumah Pohon Treehouse.
Admission Cost: 75,000 IDR ($5.00 USD) per person for the photo
Stop by the Teletubbies Hill.
Want to see the rolling hills of Teletubbies Hill? If you've seen the British Teletubbies show, then you'll remember the green hills that the Teletubbies characters play on. And, Nusa Penida has its own version of the hills.
We visited this place on our second visit to Nusa Penida. During our visit in January, the hills were not that green and pretty. Our driver mentioned that July would be a better time to see the green hills.
Admission Cost: Free
Visit the Goa Giri Putra Temple.
On your way back to town, consider taking the route going east of the mountain. The roads are a lot smoother and paved. 
If you have the chance, stop by the Goa Giri Putra temple. It's an opportunity to visit a Hindu temple inside a cave. You're only allowed in the cave one at a time as the entrance is very tight.
As with any temple in Bali, you'll need to have a sarong prior to entering the temple. Renting a sarong is available at the entrance. 
We didn't have a chance to visit this place as the sun was setting by the time of our arrival and we wanted to catch an early dinner.
Admission Cost: 50,000 IDR ($3.30 USD)
---
How to Get to Nusa Penida
Now, we'll share some helpful information on how to get to Nusa Penida. 
Option 1: From Bali to Nusa Penida
It's best to stay and explore the Sanur area so you can take a boat that goes directly to Nusa Penida. 
There are several speed boat companies that'll pick you up and take you directly to the boat docks at Sanur Harbour. You can inquire at the dock and make a reservation or reserve a speedboat ticket in advance.
Reserve a speedboat ticket here.
Your Nusa Penida accommodations may also assist with making a speed boat reservation, so you can make an inquiry.
Our Bali driver handled our round-trip boat reservation through Wijaya Buyuk Fast Boat.
The speedboat ride from Bali to Nusa Penida takes 50 minutes. The boat will get dropped off at either Toya Pakeh Harbour or Buyuk Harbour.
Option 2: From Bali to Nusa Lembongan to Nusa Penida
You can also travel from Bali – Nusa Lembongan – Nusa Penida route. We did this route as we stayed in Nusa Lembongan for two days before visiting Nusa Penida. 
From Bali to Nusa Lembongan, hire a speed boat to travel between the two islands – either from Rocky Fast Cruise or Scoot Cruise.
Once you've arrived in Nusa Lembongan, take a taxi to go to the yellow bridge.
Purchase a round-trip ticket at one of the boat vendors on the side. They'll give you a lanyard as your ticket and then you'll wait until your boat is full with 8 people to go to Nusa Penida. The boat ride to Nusa Penida is 10 minutes. 
---
How to Get Around Nusa Penida
Nusa Penida is a large island so you need some form of transportation. There are three options to consider – motorbike, car with private driver, or tour. 
By Motorbike
The best way to travel around Nusa Penida is on a motorbike. You have the freedom to travel to all of the Nusa Penida attractions based on your schedule. 
The caveat is that you need to know how to ride a motorbike and also have the handling skills to go down steep mountains with gravel roads.
On our first trip to Nusa Penida, we drove a motorbike. On our second trip as of January 2023, the roads are paved and are much better than before.
There are some areas that still have gravel.
It's no joke – it's pretty scary to go on a gravel road with the high possibility of slipping. We can't stress enough the importance of motorbike safety!
By Private Car
If motorbiking is out of your comfort zone, consider hiring a driver to take you around the island. The cost is around $50-$60 USD per day. 
Hiring a driver is ideal for large travel groups as everyone stays together.
On our second Nusa Penida trip, we hired a driver as we traveled with my mother-in-law. It was helpful to have a car and also have air-conditioning.
By Day Tour
The third option is to go on a day tour. It's convenient to go on a tour as admission cost, transportation, and speedboat transportation are included in the cost. There are tours departing from Bali to Nusa Penida daily. 
The tour routes are the same – whether it's visiting the east or west side of the island.
Check out one of these tour options:
---
Where to Stay in Nusa Penida
Nusa Penida offers a variety of places to stay from hotels to guesthouses. Many of the Nusa Penida accommodations include a rustic bungalow to provide a unique overnight experience. Plus, they are budget-friendly too.
Click here to check availability and make a reservation for your Nusa Penida accommodation on Booking.com.
Recommendation: Pudak Nature Bungalow
We stayed at Pudak Nature Bungalow and loved our stay here. It's a five minutes ride by motorbike from the Toya Pakeh beach and in a residential area. Surrounded by trees and a garden, it's a very quiet place to stay.
The host, Ketut, was friendly and offered us hot tea and suggestions on what to do in Nusa Penida on arrival.
We had our private bungalow with a private bathroom. While the room itself was spacious, the bathroom was very small and a little too tight for us.
Our room came with a hearty breakfast of eggs and toast and fresh-squeezed juice which we enjoyed on our bungalow's patio area.
Book a room at Pudak Nature Bungalow on Booking.com here.
Book a room at Pudak Nature Bungalow on Agoda. 
Here are some other luxury options to consider:
Kompyang Cottage

is in the quiet area of Batununggul with a swimming pool and an outdoor bathroom setting. You can enjoy breakfast in the swimming pool on a floating tray.
---
Where to Eat in Nusa Penida
Here are some recommended Nusa Penida restaurants that we enjoyed during our trip. 
WR Makan Restu
WR Makan Restu is a local warung restaurant and a good place if you want to enjoy a meal on the beach and watch the sunset.
It's located on Toya Pakeh Beach and has a variety of food options from seafood to vegetarian.
If you love grilled fish, definitely order it here. The sauce on the fish was so magical that even the flies knew what smelled good.
Note: We were swarmed by flies after ordering it so it was a constant battle with ensuring that the flies didn't touch the food.
End your meal with fruit ice which had seaweed and fresh fruits with shaved ice. 
Oqix Warung
Oqix Warung is self-proclaimed as the "best Seaview restaurant in town." We have to say that the views are gorgeous from the dining area.
If you love fresh seafood, check out the grilled red snapper and the octopus satay. You can choose a larger red snapper if you want more fish.
Octopus has a chewy texture when overcooked, but this place cooks their octopus perfectly.
Ask for candles if the flies start to bother you during your meal.
If you use a credit card, they charge 3% extra.
More information: Facebook | Instagram
---
Final Thoughts
We hope you consider extending your Bali itinerary to include Nusa Penida. You won't regret spending at least two days in Nusa Penida during your vacation. If you have more time, explore Bali in 2 weeks!
We can't wait to visit the island again to go snorkeling with the manta rays and visit the other hidden beaches.
Visiting Bali? Check out our other posts for more travel inspiration.
Headed to Nusa Penida? What are you excited to see in Nusa Penida? Let us know if you have any questions in the comments below.
Save this post to your Indonesia Pinterest board!​
Featured photo: Jomnicha via Depositphotos.com
Pin #1 photo credit (top to bottom): Jessica May via Scopio Photos
Pin #2 photo credit: Andrea Torres via Scopio Photos