Is it worth the visit to see Broken Beach and Angel's Billabong? 
Located in west Nusa Penida, Indonesia, these tourist attractions are worth the visit if you have at least two days in Nusa Penida.  
What is awesome about these two places is that they're conveniently located next to each other and only require a few minutes of walking between the two. You don't need to leave the area! 
Broken Beach is a beautiful bay that leads to the ocean and is famous for its natural arch. You can walk around the bay and even on the archway. 
Angel's Billabong is the neighboring attraction and it's a natural pool between a rocky cliffside. Depending on the time of your visit, the water has different hues from yellow to turquoise. 
In this post, we're sharing what to know about visiting Broken Beach and Angel's Billabong, such as how to get there, admission cost, and other insider tips. 
We finally had a chance to visit Broken beach and Angel's Billabong after these years! On our first Nusa Penida visit, we had a motorbike accident that derailed our plans and mobility. So we're thrilled to see the hype around these two places. 
*Disclaimer: This post contains affiliate links. If you click on them and make a purchase, we receive a small commission. There is no additional cost to you. Appreciate the support.
---
Best Time to Visit Broken Beach and Angel's Billabong
These attractions are open all day long. 
We suggest arriving here in the early morning or late afternoon for fewer crowds. We arrived at 11:30am on a weekday, and there were some crowds. 
This area gets hot and sunny, so prepare water/drinks, a hat, and sunscreen for your visit. 
---
How to Get to Broken Beach & Angel's Billabong
From Bali
Everyone needs to take a 50-minute speedboat from Sanur Harbour to Nusa Penida. You can arrange the boat ticket yourself or have your Bali accommodations help coordinate.
Click here to buy the speedboat ticket. 
Or if you're taking a day tour from Bali, the speedboat ticket will be included in the overall cost of the tour package. 
---
From Nusa Lembongan or Nusa Ceningan 
Nusa Lembongan and Nusa Ceningan are two smaller islands in Nusa Islands. Penida is the largest island out of the three.
There is a 10-minute boat ride between Nusa Lembongan and Nusa Penida. The boats depart and arrive from the yellow bridge on Lembongan. 
---
Once You Arrive in Nusa Penida
Nusa Penida has three options to travel around – a day tour which includes car transportation, a private driver, or a motorbike.
It's easy to go on a day tour to Nusa Penida from Bali. The tour includes a driver, admission fees, Bali to Nusa Penida speedboat transfer, pick-up/drop-off from Nusa Penida harbor, and parking.
Book a spot for a West Nusa Penida day tour from Bali here. 
A private driver is a fantastic option to travel around Nusa Penida. The driver will pick you up from one of the two Penida harbors and take you to various places. The drive can be customizable. 
If you have a large group, this is also a good option since everyone travels together. While a driver is a more expensive option, you don't have to worry about anything!
Click here to arrange a private driver. 
A motorbike is a good option for adventure travelers. While it's a cheaper option, you must know how to drive a motorbike. The roads are better than before but still require skills to travel over dirt and steep hills.
Before you decide whether or not you want to drive a motorbike, check out our Nusa Penida motorbike post. 
---
Entrance Fee
It's free to visit Broken Beach and Angel's Billabong. You just need to pay for parking which is 5,000 IDR ($.33 USD). 
---
Is a Guide Necessary?
No, you do not need a guide to explore. The walking paths are easy to follow so you can wander around the area on your own. 
We had a guide since he doubled up as our driver for our private day tour. He also took photos of us, so that was helpful. 
---
How Much Time Needed at Broken Beach and Angel's Billabong
Since the two attractions are next to each other and swimming isn't allowed at either site, you need about an hour. 
Waiting in line to take the photo at Broken Beach's main photo spots will probably take up most of your time.
---
Insider Tips for Visiting Broken Beach and Angel's Billabong
1. At the time of our visit, swimming at Broken Beach and Angel's Billabong is not allowed. 
With the return of tourists to Bali and Nusa Penida, there has been an increase in tourists needing a Search and Rescue team for drifting out to the ocean. 
According to this article, Diamond Beach, Kelingking Beach, and Angel's Billabong are not allowing swimmers until further notice. 
It's not possible to swim at Broken Beach as there is quite a distance between the ocean and the Broken Beach viewing area. There aren't any stairs that lead to a beach area like what you would see at Kelingking Beach. 
We did see a speedboat go under the arch and into the pool area of Broken Beach. But there wasn't anyone who jumped off the boat and into the water. 
---
2. The first part of the walking path to get to Broken Beach or Angel's Billabong is steep going down. 
You may have noticed how Nusa Penida requires a lot of walking and even hiking! 
From the parking lot to a portion of the walking path, the pavement has a steep slope down. There aren't any stairs so you will need to go down very slowly. 
---
3. Warungs and smaller kiosks sell snacks and cold drinks along the walking path. 
Support the local vendors and stop by one of the warungs if you need something to eat or drink. We saw someone selling grilled corn which looked delicious! 
---
4. You won't get lost on where to go since there is this sign pointing to the attractions. 
Continue left if you want to visit Broken Beach and right if you want to visit Angel's Billabong. 
---
5. Broken Beach has a prime photo spot with the arch but you'll need to wait in a long line. 
You'll see where the best photo spot of Broken Beach is located. You'll see someone in a tree taking aerial photos of people and the beautiful arch perfectly in the center of the photo.
Our driver said a long queue can take up to an hour before your turn. We didn't want to spend time waiting in line so we opted for other photo spots. 
---
6. But, don't worry. There are other pretty photo spots along the walking path. 
You can get a similar view of the arch, albeit slightly more angled if you don't want to wait in the long line. 
Plus, you won't be as rushed taking photos so come up with different poses and snap away!
---
7. Walking around Broken Beach is not technical. 
The dirt path is very flat so you can walk around the bay and over the arch in 5 to 10 minutes. Therefore, you can walk in flip-flops, sandals, or shoes. 
---
8. Angel's Billabong is mostly a photo spot. 
There isn't any specific highlight of the area except to see the colorful pool. This can disappoint some visitors who are expecting something more magical.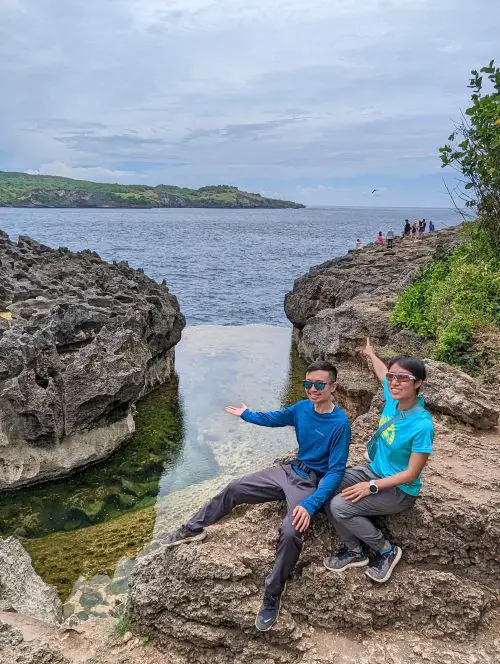 You can walk around the cliffside and take photos of the blue ocean. 
Watch out for the waves that splash against the cliffside. You may get drenched if you're at the edge.
Final Thoughts
If it's your first visit to Nusa Penida, you want to add these Broken Beach and Angel's Billabong to your sightseeing list and enjoy the views.
For returning visitors, it's up to you whether you want to visit again. We felt that visiting once is good enough for us as we prefer other places such as Diamond Beach and Kelingking Beach. Again, everyone has their own preferences! 
If you have time, consider adding a visit to Rumah Pohon Treehouse for more pretty views of Nusa Penida. 
Check out our other Bali and Indonesia posts for more inspiration:
Have any questions about Broken Beach or Angel's Billabong? Ask a question in the comment section below.