Is Rumah Pohon Treehouse in Nusa Penida, Indonesia worth the visit? It depends. 
The east side of Nusa Penida has a famous treehouse called Rumah Pohon Treehouse (also known as Molenteng Treehouse). It's a popular and very touristy photo spot to visit on a Nusa Penida itinerary. 
The swoonworthy views of a small treehouse overlooking the coastline and a distant view of Diamond Beach's white limestone cliffs are why many tourists head to this place. Sunrise and sunset photos from this place tend to be sought after times to visit. 
While the landscape views are worthwhile, the cost and procedure to capture that perfect photo may or may not be right for you. 
In this post, we're sharing what to know about visiting Rumah Pohon Treehouse and insider tips so you can determine if this is a place you want to stop by. 
*Disclaimer: This post contains affiliate links. If you click on them and make a purchase, we receive a small commission. There is no additional cost to you. Appreciate the support.
---
Best Time to Visit Rumah Pohon Treehouse
You can visit at any time of the day. Weekdays will have fewer crowds. 
Many people suggest visiting at sunrise or sunset for the gorgeous views, but we didn't have a chance to visit. 
We went at 1:30pm and the photos turned out nicely. We had the perfect photo conditions with clear blue skies and a vibrant turquoise ocean.  
We do not suggest going in the rain as the colors and skies will not be as nice. If rain occurs, you'll need to wait until the rain passes. Hopefully, you have an umbrella on hand as there aren't many trees.
---
Best Way to Get to Rumah Pohon Treehouse
Step 1: Get to Nusa Penida
First, you'll need to get to Nusa Penida. 
From Bali to Nusa Penida, you can take a speedboat from Sanur Beach Harbour and arrive in 50 minutes. If you plan to take a tour, the speedboat ride may be included in the cost. Please check with your tour agency.
Reserve a speedboat ticket here. 
From Nusa Lembongan to Nusa Penida, you can take a short 10-minute boat ride. 
---
Step 2: Arrival in Nusa Penida & Head to Treehouse
Once you arrive in Nusa Penida, it's recommended to hire a driver, drive your own motorbike, or take a day tour of Nusa Penida to reach Rumah Pohon Treehouse. Click here to see the location on Google Maps.  
Hiring a driver is a more expensive option. Yet, this is a safer option for those who do not know how to drive a motorbike. Plus, this option is great for those with a large party since the cost per person for the driver and car is shared between the group.
Click here to reserve a private driver. 
Riding a motorbike is cheaper and there is more control over the schedule. You can rent a motorbike from your accommodation or at the harbor. Although Nusa Penida's road quality is much better than before, you'll still need to know how to drive on the steep hills. 
The last option is to go on an East Nusa Penida day tour from Bali. The tour includes a driver, guide (it could be the same person as the driver), pick-up to and from the Nusa Penida harbor, admission cost to various sites, round trip speedboat cost from Bali to Nusa Penida, and parking fee.  
Click here to reserve a spot for a day tour of East Nusa Penida from Bali.
---
Entrance Fee for Rumah Pohon Treehouse
There isn't a fee to enter the area, but you need to pay to take a photo at the treehouse. The cost may not be included in the fee if you take a day tour. 
The treehouse cost is 75,000 IDR ($5.00 USD) per person. It's one of the pricier admission costs on the island considering that there is a time limit for photos. More information on that is below. 
Besides the treehouse, other prime photo spots require payment:
Coco Cliff: 50,000 IDR ($3.30 USD) per person
Swing: 50,000 IDR ($3.30 USD) per person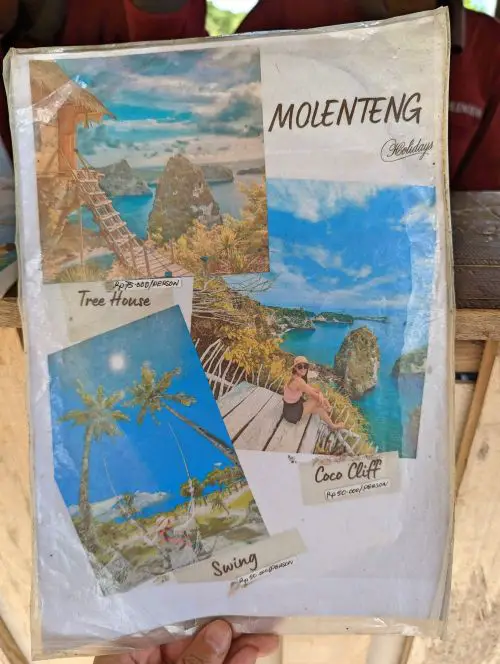 Visitors who pay for the various photo spots will receive a colored lanyard to show as a ticket.
The parking fee is 5,000 IDR ($.33 USD).
---
Rumah Pohon Treehouse Tips & Things to Know
1. You need to climb down and up a lot of stairs to reach the treehouse. 
The stairs are uneven, so they will be a challenge for those who have difficulties walking or knee problems. If you have any of these issues, it's advisable to stay in the top area where it's flatter. 
Don't forget to take your time going down the stairs. It's not a race since you can trip and fall. And remember, you need to climb up to return to the parking lot. 
Halfway on the walk down, there is a rest spot at the Coco Cliff area which is shaded. However, the sitting area is slanted, so it's not as comfortable as it could be. 
---
2. Take some nice photo spots of Thousand Islands Viewpoint on the way to the Rumah Pohon Treehouse. 
While you climb down the stairs, there are plenty of photo opportunities of Diamond Beach and the smaller islands and rocks. This specific view is called, Thousand Islands Viewpoint, on Google Maps. 
A popular photo spot is a heart shape with a view of the ocean and a partial view of Diamond Beach.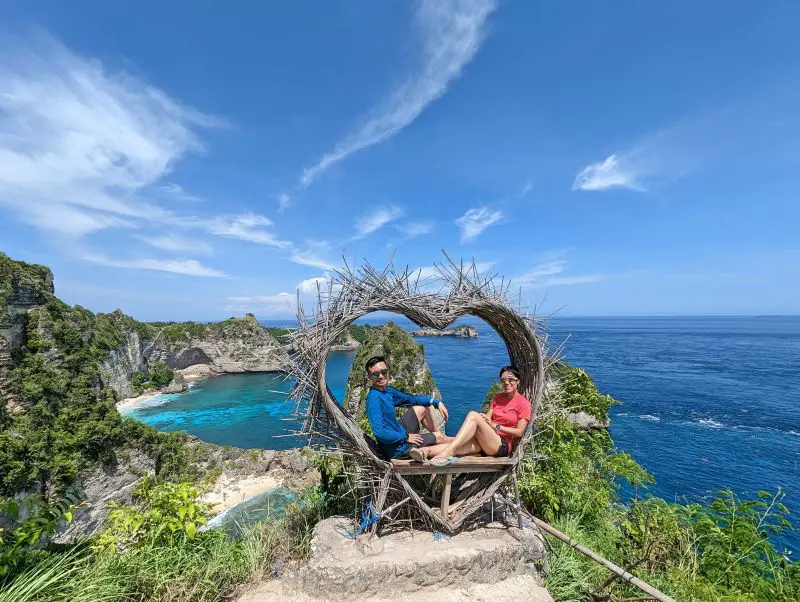 ---
3. There will be a long line to take photos at the treehouse, so grab a number and wait patiently for your number.
If you have a driver or a tour guide, he/she can go to the queuing line on your behalf while you make your way down to the photo spot. You will give your lanyard to the person managing the line. 
Expect to wait about 30 minutes. Wait will be longer on the weekends since there are more crowds. We were lucky and waited 10 minutes for our turn. 
---
4. Important: You only have 2 minutes for your photo shoot, so think of poses in advance. 
Since there is a long queue to take photos, the team managing the treehouse imposes a 2-minute time limit per person. Therefore, it's highly recommended to think about the poses and photo angles in advance. You want to maximize your time at the treehouse. 
---
5. Designate someone to help take photos for you. 
The 2-minute time limit will go by quickly so you'll need to have someone help take photos for you. 
If you're in a group and have a driver/tour guide, then he/she can help take photos. You can stage the photos to your style. 
If you're a solo traveler, you can ask someone who is waiting in line to help take photos. 
---
6. Bring water or drinks with you. 
Nusa Penida is very hot and humid. 
Taking the stairs down and back up from the treehouse and waiting to take the photo will be scorching hot. Since there is little shade in the area, you'll need to stay hydrated to prevent heat stroke. 
The top area nearby the parking lot has a warung so you can buy cold drinks. 
---
7. Take trash with you. 
Please do not litter the area. Bring back any garbage that you have to dispose of in a trash can. Let's do our part and keep Nusa Penida clean. 
---
Staying Overnight at Rumah Pohon Treehouse
If you need a place to stay overnight in Nusa Penida, consider staying at the treehouse. 
You can rent one of the private treehouses with a shared bathroom. One of the coolest perks is that you can wake up to the gorgeous sunrise and take photos. You may encounter monkeys in the area. 
For adventure seekers, you can zipline your way down to the parking lot. 
As a heads up, there aren't many dining facilities in the area. You will need to have a motorbike or have a driver take you somewhere. 
Check availability and book your stay on Booking.com. 
Click here to check availability on Agoda. 
---
Final Thoughts
Would we go back to Nusa Penida's treehouse? 
Yes, if we travel with someone who hasn't been there before. 
If it's just the two of us, we do not plan to revisit. While we loved seeing the ocean views from the treehouse, we feel that visiting this place once is enough.  
This place is not exactly a budget-friendly attraction considering the 2-minute time limit to take photos and videos. While we understand why the time limit is necessary, there isn't enough time to just soak in the pretty landscape from the treehouse. 
As an alternative, we suggest stopping by Diamond Beach where you have more time to take photos from the limestone cliffs. Plus, you can relax at the beach after the short hike down. 
Also, consider checking out the famous Kelingking Beach, the unique arch at Broken Beach, and the pretty waters of Angel's Billabong.
---
Where Should You Go Next? 
After you're done with Nusa Penida, consider visiting the neighboring Indonesian islands, Nusa Lembongan and Nusa Ceningan. 
Have any questions about Rumah Pohon Treehouse? Ask in the comment box below.