Traveling to Bali, Indonesia, and need ideas on how to travel around Bali on a budget? You're in the right spot! 
Bali is one of the most budget-friendly places that we've visited in Southeast Asia. Prices for accommodations, food, and transportation are similar to traveling in Vietnam (and we live in Vietnam) and Malaysia. You can easily spend about $35-$50 USD per person per day which includes accommodations.  
In this post, we're showing how you can travel and enjoy your vacation to Bali without having to spend a lot of money.
Our travel philosophy is to experience bucket list attractions that have good value but also reasonable prices. Now, learn how to save money on your trip to Bali!
Check out our posts to help you plan a trip to Bali. 
*Disclaimer: We have affiliate links in this post. If you click on them and make a purchase, we receive a small commission. There is no cost to you. Appreciate the support.
---
Bali on a Budget – Accommodations
1. Travel during the off-season.
Bali is a fabulous place to visit throughout the year.
Bali's high season is from April to October and during the Christmas holiday so you'll see higher prices for accommodations and flights. The weather is warm and drier, so you won't be caught in a rainstorm. 
If you have the opportunity, visit Bali during the low season which is from November to March. The timing might not be feasible due to work, school schedules, or other priorities. Crowds are fewer during the low season. Also, the weather is still warm and humid but will have rain.
We traveled to Bali in February and did have some rainy days. While the rain didn't last all day, we stayed inside for an hour or two at a time or braved the rain during the outdoor exploration. 
---
2. Stay at cheaper accommodations such as guesthouses and hostels.
We know. You're in paradise and you want to stay at the luxurious hotels with the infinity pool and have a floating breakfast in the pool. While these types of accommodations are photogenic, you'll pay over $200 per night. It's a high price if you're on a budget!
Bali has tons of guesthouses and hostels that are affordable. You can find places surrounded by the jungle and comes with swimming pools.
Many of the private bedrooms with an ensuite bathroom cost $20-$30 per night. They also offer breakfast included with your room, so you'll have a meal covered for the day!
In Seminyak, we stayed at Kubu Cempaka Seminyak and our room cost $33 per night with breakfast. This place also had a pool for the afternoon swims. Reserve a room at Kubu Cempaka on Booking.com.
As with hostels, you can pay $10-$15 per night. They also have a swimming pool and lounge area to meet other people.
If you decide to take a getaway to Nusa Islands, the islands south of mainland Bali, the guesthouses are also similar prices.
What is unique about staying overnight at Nusa Penida, Nusa Ceningan, or Nusa Lembongan is that you can stay at a private bungalow with parabolic wooden architecture. You'll have a high ceiling and teak wall panels in your bungalow. 
We stayed at the following guesthouses and would recommend them:
D'Tegal House – Located on Nusa Lembongan, this guesthouse is close to the speedboat docks so you can head back to mainland Bali. There are plenty of restaurants in the area that are walking distance.  Click here to find availability and reserve a room at D'Tegal House.
Pudak Nature Bungalow – Located on Nusa Penida, this guesthouse is in a quiet residential area. It's about a five-minute motorbike ride from the speedboat docks. The host, Ketuk, is very friendly and takes care of his guests by offering hot tea or coffee daily. Book a room at Pudak Nature Bungalow here.
---
3. Use credit card or hotel points for your stay. 
If you've collected travel or hotel points through your credit card, consider using the points for your accommodations in Bali.
There are many hotel chains on the island so it depends on which one you've accumulated points for. You'll save money and have the chance to use points before they devalue. 
Here are some things to consider before using the points:
What category/level is the accommodation? 
How many points are needed to redeem for the accommodation? 
What is the value of the room if you use points versus paying cash?
Can you use both points and cash payment if you don't have enough points?
We've used hotel points when staying in Bali. We're partial to the Marriott brand as we've been members since the Starwood Hotel-Marriott merger.
We've stayed at Element by Westin in Ubud and loved the experience. The rooms normally cost $75-$100 per night yet we don't have to pay for anything by using points. (Meals, drinks, and anything outside of the room charge will be added to your bill.)
Below are other hotel chains and hotels to consider:
---
Bali on a Budget – Transportation Options
4. Ride a motorbike as your mode of transportation. 
Unfortunately, Bali doesn't have any good public transportation. Since many attractions are spread out, it's recommended that you figure out how you'll travel around the island. If you know how to ride a motorbike, it's an excellent option. 
Using a motorbike is a cheaper way to travel around the island. Rentals cost around 60,000 IDR to 300,000 IDR ($4.00-$20.10) per day depending on the type of motorbike. Your accommodations may have motorbikes available for rent or you can rent one here.
Plus, you have full control of your Bali itinerary and where you want to go. You can whiz pass by the cars if there is traffic.
Please be careful when riding a motorbike and drive slowly. Don't forget to wear your helmet too! Accidents happen frequently so we wouldn't want you to get injured during your vacation. Also, you'll need to have travel insurance coverage in case you get injured.
If you have any damages to the motorbike, you'll need to pay for them. 
A motorbike is necessary when you travel to Nusa Islands. While you can rent a bicycle to travel through Nusa Lembongan and Nusa Ceningan, it's impossible to ride one on Nusa Penida. The hills and road quality makes riding a bicycle too challenging. 
Read our Nusa Penida motorbike guide to decide if this is the right option for you.
---
5. If you do not know how to ride a motorbike, hire a driver instead.
Hiring a driver was one of the best decisions that we made during our trips to Bali. A driver will cost 500,000 IDR to 650,000 IDR ($34-$44 USD) per day, depending on the itinerary. If you have a group of people, then the per-person cost will be lower. 
It's recommended to hire a driver in advance or you can use the driver that we used. Our driver is very safe and accommodating to what you want to do and see. Send us an email if you're interested in the contact information for our driver. 
While the cost is higher than a motorbike, the driver knows how to navigate the roads as many of the roads are narrow and windy.
Driving is also left-hand traffic, so the driver's side is on the right side of the car. It's a bit confusing for visitors coming from the U.S. as the roads are reversed.
If you're visiting areas outside of Kuta and Ubud, then the drive will be 2+ hours one way which will be exhausting on a motorbike. 
---
6. What about taxis and ride-hailing?
Taxis tend to be an expensive option and are not readily available. You'll see taxis around crowded areas such as Kuta and Seminyak. Outside of these areas, they are harder to find.
TIP: If you do take a taxi, go with a metered taxi, such as Bluebird Taxi. There are copycats of blue taxis so ensure that you're in the proper taxi. 
As with ride-sharing options such as Grab or Go-Jek, it is possible to hire a car or motorbike to travel around for short distances. We used a Grab car to travel from Seminyak to a coffee shop in Denpasar.
Don't forget to buy a SIM Card in order to hire a driver. You can get one at the airport.
When you visit more local places or certain touristy areas many do not allow ride-share cars or motorbikes. There is an ongoing battle between taxis and ride-sharing companies which you can read about here.
---
Bali on a Budget – Food
7. Dine at warungs, local Indonesian restaurants.
Warungs are small, local restaurants that serve the tastiest Indonesian and Balinese cuisine. These are often "hole in the wall" restaurants.
What is great about the warungs is that the ambiance is laid-back, the menu is not too large, and you'll meet some of the friendliest hosts. Plus, the food is very cheap at the warungs. 
Our go-to dish at the warung is the nasi campur. Nasi campur is an iconic Indonesian dish with rice, small portions of meat, egg, peanuts, and fried fish. It's a simple, healthy, and flavorful dish.
Depending on the warung, the price for this dish ranges from 25,000 IDR to 75,000 IDR ($1.80-$5.00). Therefore, this meal won't break the bank. Vegetarian nasi campur is available and usually has tofu and tempeh (fermented soybeans).
We usually spend between 70,000-150,000 IDR ($4.80-$10.30) per meal and it includes drinks. It's very reasonable for two people!
---
8. Consider taking a cooking class. 
Let's take a cooking class!
Learn about the Indonesian and Balinese food culture and also get the opportunity to learn new cooking techniques and recipes from a local chef.
What we love about cooking classes is that you're hands-on with the prep work and also cook the food. Since you're the chef for a few hours, you can tailor the flavors to your liking. The best part about the course is eating the meal that you cooked.
A cooking class does cost more than eating at a warung, yet it's a memorable travel experience. Expect to pay around 700,000 IDR ($48.00) for a 6-hour class. Sign up for a class here.
---
Bali on a Budget – Attractions
9. Choose the type of attractions you want to visit. 
Are you interested in seeing temples, visiting Instagram photo spots, seeing waterfalls and rice fields, or hanging on the beach?
Maybe you're interested in seeing the off-the-beaten path of North Bali or East Bali?
There are so many incredible things to do in Bali! You'll need to decide what you want to do. 
Just know that most of the attractions require a fee. The more Instagram-worthy locations also tend to cost more such as riding on one of the photogenic Bali swings. It's a minimum of 100,000 IDR ($7.00) per person.
When visiting temples, you'll see two different prices – local and tourist prices. As a tourist, expect to pay 2-3x the cost of the local price.
When the temples cost around 50,000 IDR ($3.40) per person, it can get pricey so choose a few temples that are high on the list.
Visiting waterfalls is a budget-friendly option as the entrance is between 10,000-50,000 IDR ($.70-$3.40) per person. Sekumpul and Banyumala Twin Waterfalls are highly recommended!
There are also free attractions to visit in Bali, yet, you just have to find them. You'll find some hidden gems such as the Campuhan Ridge Walk and Kajeng and Juwuk Manis Rice Fields in Ubud.
Or you can head to a beach in Kuta and Seminyak and watch the sunset. 
---
10. Book tours when you arrive on the island.
Although we prefer to have tours booked in advance, one of the things that Bali has taught us is to not rush with pre-booking. Bali has tours running all the time, so you can easily find a tour a few days before the tour date. 
For example, hiking Mount Batur at sunrise was one of the top adventures that we wanted to do.
While we had the option to pre-book the tour online, it's cheaper to walk around the main Ubud area and ask for pricing at the various tour agencies.
Look for the small kiosks around the area and inquire. Prices for the Mount Batur sunrise trek is 300,000-400,000 IDR ($21-$28 USD) per person. 
---
11. Bargain when you're shopping at local markets.
If you're eyeing souvenirs to bring back for families and friends, there are plenty of markets and boutique shops to choose from. 
Check out the Ubud Art Market during your Ubud itinerary. You'll find rattan bags, dream catchers, wood-carvings, jewelry, and more. Since prices aren't listed, you'll need to bargain to get the best deal. 
Tip: Please be cognizant of the sellers' time and do not bargain for the sake of bargaining and then walk away without purchasing anything.  
---
Bali on a Budget – Currency
12. Use an ATM card with no transaction fees. 
Cash is heavily used in Bali. If you want to use a credit card, you'll need to pay an extra 3-5% for the credit card fee. Therefore, you'll visit the ATM to withdraw money frequently. 
If you're from the U.S. consider signing up for the Charles Schwab High Yield Investor Checking Account. This is one of the best ATM cards to have when you travel.
The main perk about this debit card is that you can use this card internationally and get your ATM transaction fee refunded to you at the end of every month. The fees add up because ATM fees can be $3-$5 with each withdrawal.
We love this debit card and have used it for many years. 
---
Final Thoughts
You'll love your experience and vacation to Bali. Since it's an affordable place to travel to, enjoy the attractions and adventures that spark your interest. With the money-saving tips that we provided, we hope you have some extra spending money to return to the island again. 
Enjoyed this post? Save it to your Indonesia Pinterest board.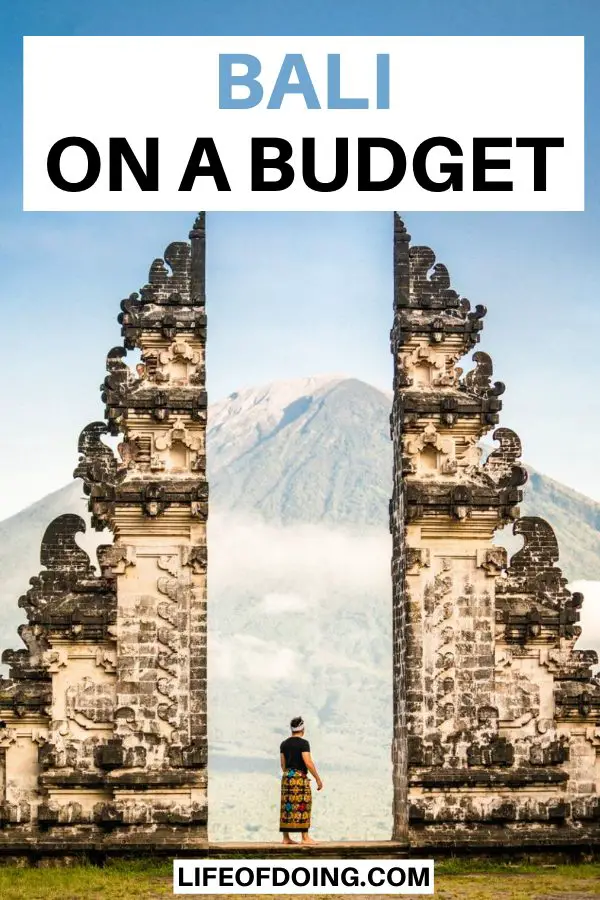 Featured photo credit: Jessica May via Scopio Photos
Pin #1 photo credit: Diego Nuila via Scopio Photos