Bali's Ubud area is one of our favorite places to stay. What's not to like with the calmer vibe, walkable access to popular attractions, and delicious and affordable restaurants?! 
Ubud has many things to do to keep you occupied for a few days, such as visiting Tegalalang Rice Fields and Goa Gajah. While there aren't any nearby beaches or ocean here, there are plenty of bucket list-worthy places to visit that are only 1-2 hours away. It helps that Ubud is in a central location!
From the beautiful waterfalls, outdoor adventures, to iconic temples, we're sharing 17 day trips from Ubud that you can't miss.
We're focusing specifically on North, South, and East Bali as we haven't traveled to West Bali (where the National Park is located). There is also a day trip to Java island! This post also includes important information such as the distance from Ubud (we'll use Ubud Palace as the starting location) and the estimated driving time. 
We visited Bali a few times and used Ubud as a base location for our 4 days itinerary and a portion of our 2 weeks itinerary and have visited each of these places. Therefore, you'll get the inside scoop on what to do at each of the locations. Since you'll be walking a lot, we recommend that you wear comfortable walking shoes.
Without further ado, here are the best day trips from Ubud to add to any Bali itinerary. 
Check out our posts to help you with your Bali travel planning:
Click on the links to jump to a certain section of this Ubud day trip post:
*Disclaimer: Headed to Ubud, Bali? This post contains affiliate links. If you click on them and make a purchase, we receive a small commission. There is no additional cost to you. Appreciate the support.
---
Getting Around Bali
How are you supposed to travel to each of these places? Since Ubud is more inland on the island, there are a few transportation options in Bali to consider. Public transportation such as buses is out of the question as they aren't available. 
Driving a motorbike is a popular way to travel around Bali. It's a cheap way to explore Bali if you're a solo traveler or traveling as a couple. The caveat is that you must know how to drive a motorbike beforehand. There is a lot of traffic in the main areas and the rural areas have narrow roads. 
Renting a motorbike is around 60,000-300,000 IDR ($4.20–$21 USD) per day. Book a motorbike rental here. Just remember to wear a helmet and drive slowly. Many visitors get into motorbike accidents so you should consider getting travel insurance. 
If you have a larger group or are not interested in riding a motorbike, hire a driver. You won't regret having a local driver navigate the roads while you can rest in the car. 
The cost to hire a driver varies depending on your itinerary and will cost between 500,000 IDR to 650,000 IDR ($34-$44 USD). Pre-book a driver here or send us a message for our driver's information.
We used a driver for the day trips that we've taken. During the rainy season, having a driver was a lifesaver as we sat in the car during the heavy rain. 
---
Map of Places to Visit on your Day Trip from Ubud
This map will help you plan out your day trip as you can see which attractions are close together to combine in one trip. 
---
Ubud Day Trips to North Bali
North Bali is typically not on a typical itinerary. It takes some time to drive to North Bali from Ubud, yet it's well worth the opportunity.
We're sharing a snapshot of places to visit from Ubud such as waterfalls, rice fields, and even an iconic mountain! 
A suggestion is to visit 2 or 3 of these attractions so you don't feel rushed with exploration.
Read our things to do in North Bali post for more inspiration on places to visit. 
---
1. Mount Batur
Distance from Ubud: 41-45 kilometers (25.5-28 miles)
Driving Time (one-way): 1 hour 15 minutes
Here is your chance to hike the popular Mount Batur and to see the sunrise. This is one of the most adventurous activities to do while you're in Bali. Just prepare for an early morning start.
The easiest way to visit Mount Batur is to join a tour group. You can walk along Ubud to find a tour agency or pre-book a tour here. The cost includes pick up and drop off from their Ubud accommodations, breakfast, water, local guides, and/or a side trip to a coffee plantation or hot spring. Expect to get picked up between 1:00-2:00am, and then start hiking around 4:00am. 
The hike isn't difficult as the hiking pace is slow. Plus, the hiking path is shared with other tour groups so some areas are congested. 
Once you reach the summit at 1,717 meters (5,633 feet), it's time to find a spot to sit, enjoy the boxed breakfast of bread, hard-boiled eggs, and bananas, and watch the gorgeous sunrise. During our visit, the sun rose around 6:30am.
You've accomplished so much before the day even started, although, you may need to nap the rest of the day.
---
2. Brahma Vihara Arana
Distance from Ubud: 75 kilometers (46.6 miles)
Driving Time (one-way): 2 hours 4 minutes 
After visiting numerous Balinese Hindu temples, it's time to change the pace to visit the Buddhist monastery, Brahma Vihara Arana. It's a serene place to visit as the monastery is in the middle of the jungle. Plus, you may have the monastery grounds to yourself! 
What is neat about this place is that there are Buddha statues everywhere and Buddhism is incorporated in the statues and stupas. Depending on your visit, you can see monks meditating. Otherwise, it's a quiet place to wander around. 
Plus, there is a mini version of the Borobudur Temple. You can see the actual UNESCO-recognized temple nearby Yogyakarta in Central Java. Java island is to the west of Bali and another island to check out in Indonesia!
---
3. Sekumpul Waterfall
Distance from Ubud: 68 kilometers (42.25 miles)
Driving Time (one-way): 2 hours
Out of all of the waterfalls that we've visited in Asia, Sekumpul Waterfall is high on our "favorites" list. It's the first waterfall that we visited in Bali and we were spoiled by its beauty. 
The waterfall is surrounded by luscious jungles and isn't crowded with tourists. The cascades are stunning at 80 meters (260 feet) high. You can also do some swimming at the base of the waterfall.
To get to the waterfalls, you have to do a short 15-20 minute hike down the mountain. The walking path is a bit slippery and you'll need to cross the waters that are ankle to calf-high (depending on the water flow at the time. 
Read our Sekumpul Waterfall post on how to avoid tour scams.
---
4. Banyumala Twin Waterfall
Distance from Ubud: 57-60 kilometers (35-37 miles)
Driving Time (one-way): 1 hour 40 minutes
Banyumala Twin Waterfall is another fabulous waterfall to experience as a side trip from Ubud. The entrance is a little harder to get to as it's a bit hidden from the main road. Plus, the driving path is narrow for cars. 
Regardless, you take a short 10-minute hike from the ticket office to the base of the falls, and then you're rewarded to two cascading falls. You can take stunning waterfall photos from the bridge or swim/walk to the base of the falls.
From here, you can visit the neighboring local attractions such as the Buyan-Tamblingan Lake viewpoint or Hidden Hills Wanagiri for Instagram photos of swings and bird nests. These two places are located along the main road.
---
5. Ulun Danu Beratan Temple
Distance from Ubud: 44-48 kilometers (27-30 miles)
Driving Time (one-way): 1 hour 5 minutes to 1 hour 15 minutes 
Ulun Danu Beratan Temple (Pura Ulun Danu Beratan) is one of the popular temples to visit on the island. The main temple, Lingga Petak Temple, which has holy water, is surrounded by Lake Beratan. Therefore, you won't be able to walk directly to the temple. An option is to hire a boat to take you closer to the temple.
The temple ground isn't large, so it's easy to walk around and check out the other temples and artwork. 
---
6. Jatiluwih Rice Terraces
Distance from Ubud: 40-46 kilometers (25-28.5 miles)
Driving Time (one-way): 1 hour 12 minutes
Jatiluwih Rice Terraces is a hidden gem, especially if you love rice fields. Although Tegalalang Rice Fields nearby Ubud has breathtaking views, Jatiluwih is worthy of a visit.
The rice fields are vast and green due to using the subak water irrigation system, which received UNESCO recognition. (If you go during the rice burning season, the fields are yellow and you may consider wearing a mask since it will smell like smoke). 
It's easy to wander around a walking path or two and soak in the beauty of the rice fields. There are opportunities to talk to a local farmer at pop-up stations. You can also travel around the rice fields on a bike tour.
---
Ubud Day Trips to South Bali
South Bali is an area that we haven't explored a lot of, yet, there are some noteworthy places to visit on your Ubud day trip. We suggest that you focus on one area in South Bali to lessen your travel time and get stuck in traffic.
---
7. Hidden Canyon
Distance from Ubud: 14 kilometers (8.7 miles)
Driving Time (one-way): 22 minutes
Hidden Canyon (Hidden Canyon Beji Guwang) is one of our favorite day trips from Ubud! It's a fabulous spot away from the crowds as you get to walk through canyons.
It's no ordinary walk through the canyons as there is water flowing through the canyons and can be ankle to waist-high. Walking through the water is quite an adventure and more challenging than expected!
Don't worry. You'll have a tour guide that will guide you through the canyon and take photos of your trip. Safety is a priority for the tour guides so you're in good hands. 
No matter what time you visit, you'll have peaceful canyons to yourself. We saw a handful of tourists during our visit. 
---
8. Uluwatu Temple
Distance from Ubud: 53 kilometers (33 miles)
Driving Time (one-way): 1 hour 50 minutes
Uluwatu Temple (Pura Uluwatu or Pura Luhur Uluwatu) is worth the visit when visiting South Bali. The temple is located along the cliffside so you'll get some incredible views of the ocean. Take the time to walk along the cliffside to enjoy the landscapes. Watch out for the monkeys in the area as they will take your stuff hanging out of purses and backpacks. 
In the evening, the temple has the Kecak Fire Dance. The show is one hour and tells a story of the battle of Ramayana. The main draw of this show is that you can see the sunset at the time and also learn about the Balinese culture.
While you can visit Uluwatu Temple for a day trip, we suggest that you stay a night or two in the area so you can make a trip to see beaches. 
---
9. Seminyak
Distance from Ubud: 31 kilometers (19.2 miles)
Driving Time (one-way): 1 hour 30 minutes
As we mentioned earlier, Ubud is surrounded by jungles and forest areas. If you're looking for some beach time and beach cafes, then you need to head to Seminyak.
This area is perfect to go cafe hopping, beach hopping, shopping, and learning how to surf. You don't need to have much planned as hanging out and relaxing can be the main highlight of your Seminyak day trip.
Seeing the sunset from any of the beaches in the Seminyak area is highly recommended. The pinks, purples, and pink skies colors are memorable to see in person. The photo below is from Seminyak Beach.
---
10. Canggu
Distance from Ubud: 30 kilometers (18.6 miles)
Driving Time (one-way): 1 hour 10 minutes
Canggu is the best spot to hang out at cafes and eat healthy foods. There are tons of incredible brunch places to try.
A recommended place to try is Baked. Although it's in the Pereranan area which is slightly outside of Canggu, they have incredible eggs benedicts and baked goods.
Canggu is also another fantastic spot to see the sunset from the beaches. Similar to the Seminyak area, there are also surfing lessons here.
---
11. Nusa Penida
Distance from Ubud: n/a – On another island
Driving Time (one-way): n/a – Have to take a 20-minute speedboat ride from Sanur to Nusa Lembongan or directly to Nusa Penida.
Want a different vibe from Bali? Head to Nusa Penida. It's the largest island of the three islands that makes up the Nusa Islands. The other two islands are Nusa Ceningan and Nusa Lembongan. 
Located south of Bali, spending a day in Nusa Penida would include lots of relaxing on beaches and seeing iconic attractions such as Kelingking Beach and Broken Beach. You'll love seeing the blue waters and the unique cliffside landscapes. 
A day trip to Nusa Penida is doable, yet requires some planning. The easiest way is to take a tour as they will have everything set up from your speedboat tickets and hiring a driver. 
If you're a planner, you can organize a trip on your own and purchase your speedboat tickets in advance and rent a motorbike on arrival. Ensure that you purchase the speedboat ticket that departs the first time in the morning – around 9:30am to 10:00am. 
---
Ubud Day Trips to East Bali 
East Bali is a dreamy place to visit as there are more mountains and plenty of greenery. Since East Bali requires some time to arrive by car or motorbike, it's recommended to group two or three of these attractions together in one trip. 
---
12. Besakih Temple
Distance from Ubud: 43 kilometers (26.8 miles)
Driving Time (one-way): 1 hour 15 minutes
Want to see one of the largest Hindu temples on Bali? Check out Besakih Temple (Pura Besakih)! It's also known as the "Mother of Temple" where thousands of locals make the pilgrimage here for celebrations and burials. 
Unfortunately, you won't be able to explore the temple on your own. As a part of the admission cost, you get a sarong, a motorbike ride from the ticket area to the entrance, and a local guide. The guide provides the history of the temple and takes you around the temple since many of the smaller temples are closed to tourists. 
On a clear day, you can see Mount Agung in the background!
---
13. Lempuyang Temple 
Distance from Ubud: 64-70 kilometers (40-43.5 miles)
Driving Time (one-way): 1 hour 50 minutes
Lempuyang Temple (Pura Lempuyang) is an iconic temple to visit. This temple is up on the hillside of Mount Lempuyang and is known for the Instagram-worthy photo spot of the "Gateway to Heaven." It's the first out of seven gates to visit the complex and has a view of Mount Agung through the gate. There is a line to take photos, yet, it's a lovely view if you have a clear day.
Or, you can consider getting up early to drive and see the sunrise from this gate. You'll need to leave Ubud before 4:00am if you want to see the sunrise.
If you have the time and the stamina, consider visiting the other gates. You'll need to climb over 1440 steps to reach the temple at the top of the mountain. During your walk, you'll witness locals bringing offerings to each of the gates, see families of monkeys in the trees, and enjoy the quietness.
---
14. Tirta Gangga Water Palace 
Distance from Ubud: 56-60.5 kilometers (34.8-38.6 miles)
Driving Time (one-way): 1 hour 40 minutes
Visiting Tirta Gangga Water Palace (Taman Tirta Gangga) is a must-visit during your Ubud day trip itinerary. It's a former royal palace with manicured gardens, bridges, and fountains. 
The highlight of this place is the pond area with the guardian statues and stepping stones on the right side of the entrance. Follow the stones to see the water fountain in the middle of the pond. You'll see huge orange and yellow koi fish swimming around the stone path. 
Fish food is available for purchase at the front entrance but the koi are huge. They are fed often by the groundskeepers and visitors. 
---
15. Houses Tree Hill Lemped
Distance from Ubud: 54-59 kilometers (33.5-36.6 miles)
Driving Time (one-way): 1 hour 40 minutes
Houses Tree Hill Lemped (Bukit Lemped) is a fun place to explore as a day trip from Ubud. This local attraction has many treehouses to wander through. It's fun for everyone including those with children. 
To enjoy this place, all you need to do is climb ladders to various treehouses and cross the bouncy suspension bridges to travel between treehouses. The bridges are not for those who are afraid of heights since they will sway back and forth as you walk across. You'll get lovely views of neighboring rice fields from above.
There are Instagram photo spots of swings and bird nests.
---
16. Ujung Water Palace
Distance from Ubud: 58-62 kilometers (36-38.5 miles)
Driving Time (one-way): 1 hour 35 minutes
Ujung Water Palace (Taman Soeka Sada Ujung) is a larger water palace compared to Tirta Gangga Water Palace. It has three large pools and one main building, which serves as a museum of the royal family. 
The best thing to do at Ujung Water Palace is to explore the immaculate gardens and the pool area. There are stairways to see an aerial view of the water palace area and the ocean.
Since everything is more spread out here, you'll have plenty of opportunities to take photos without the crowds. 
---
Ubud Day Trip to Ijen Crater
17. Ijen Crater on Java Island
Distance from Ubud: n/a – On another island
Driving Time (one-way): 3 hour drive to Gilimanuk Harbour + boat ride + drive to Ijen
Interested in visiting Ijen Crater in East Java? It is possible to do a very long day trip from Bali to Ijen Crater.
Ijen Crater is one of the coolest places to visit to see an active volcano with sulfuric gas. Many visitors hike up Ijen after 2:00am to see the vibrant Blue Fire, a natural fire by sulfur gas and one of the largest blue fires in the world.
Afterward, everyone waits to see the beautiful sunrise over the turquoise acidic lake.
Along the hiking route, you'll see many sulfur miners carrying over 50 kg (110 pounds) of yellow sulfur per day.
It's recommended to do an Ijen Crater tour since the tour agency takes care of the transportation from Ubud and admission. The tour will also provide a gas mask when seeing the Blue Fire. Even though the tour takes place in the middle of the night, it's worth the visit!
---
Final Thoughts
Aren't you glad that you're staying in Ubud to take advantage of these day trips?! You have so many different places to explore outside of the Ubud area. We hope you can incorporate several of these attractions on your future trip to Bali. 
If you have any questions, please ask in the comment below. 
Like this post? Save a pin to your Pinterest board.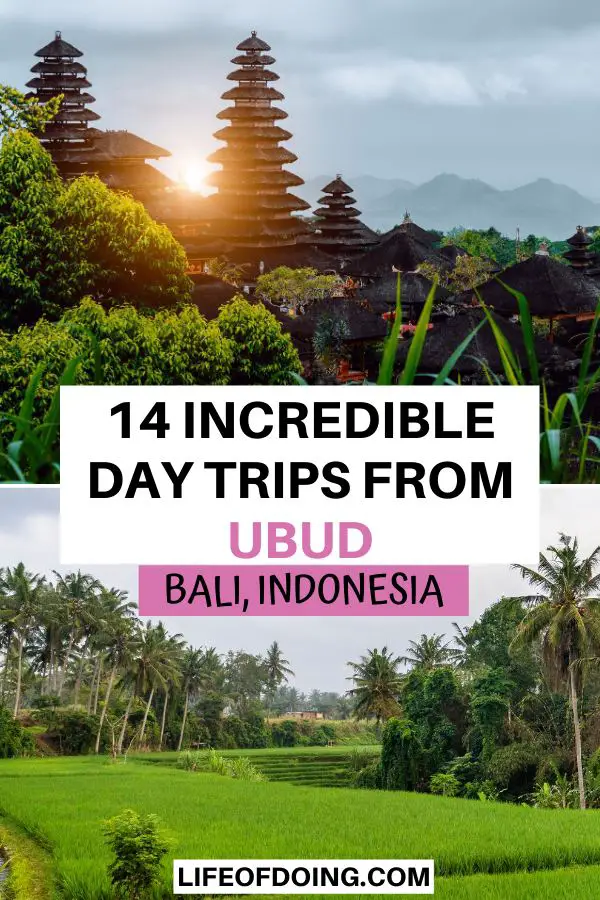 Featured photo credit: galeja via Depositphotos.com
Pin #1 photo credit (top to bottom): galeja and YuliyaKirayonakBO via Depositphotos.com