Four days in East Java, Indonesia is the perfect amount of time to see top attractions and go on epic adventures. 
If you're eyeing a visit to see active volcanoes and waterfalls, then visiting East Java will offer unique experiences to your Indonesia travels. 
In this post, we're sharing our 4-day itinerary for East Java and things to do. While you may have tons of attractions that you want to visit, this itinerary focuses on one big attraction per day so it's easy to follow. Also, it's to prevent burnout since 2 out of the 4 days require an early morning start. 
Click the links to jump to certain areas on this post. 
*Disclaimer: This post contains affiliate links. If you click on them and make a purchase, we receive a small commission. There is no additional cost to you. Appreciate the support.
---
General Travel Information & Tips for East Java, Indonesia
Indonesia Visa Requirements
Please check the latest visa requirements when entering Indonesia. 
When we visited in late August 2022, Indonesia did not require a PCR test or quarantine any more. However, we showed our vaccination cards on arrival. 
Indonesia allows 86 countries to enter with a visa on arrival. The visa is valid for 30 days. Cash is only accepted. The cost is $35 USD or 500,000 IDR per person. 
On our visit, here are other currencies accepted – Singaporean Dollars, Hong Kong Dollars, Euro, Japanese Yen, British Pounds, Saudi Arabia Real, Thailand Bhat, Canadian Dollars, Swiss France, Korean Won, Malaysian Ringgit, and Chinese Yuan. 
Note: We did not see an ATM at the visa on arrival section, so prepare cash ahead of time. 
---
How Many Days Should You Stay in East Java?
We say a minimum of 4 days is needed for East Java. 
There are many volcanoes and nature areas to explore in East Java, so if you have more than 4 days, then that is even better. We could have easily stayed for a week to visit more of the non-touristy sites.   
---
Should You Take a Tour or DIY for East Java? 
This is up to you and how you prefer to travel. There is no wrong or right way to travel and explore. 
Taking a tour is convenient as everything is done for you from transportation, admission to attractions, accommodations, meals, and guides. Tours tend to cost more than visiting places on your own. 
If you prefer to go at your own pace and handle transportation and accommodations, then it's best to travel by yourself. We'll share more information below on transportation options to consider. 
Another option is to do a combination of both such as hiring drivers and taking day tours that are organized by others. 
What Did We Do? 
We went on a tour with Blue Flame Tour and enjoyed our visit with the Blue Flame team. 
We highly recommend their services as everything was scheduled over email (WhatsApp can also be used to contact the team) and organized. The tour included a driver, guide, mineral water, hotel with breakfast, and admission cost to attractions. The tour excluded lunch and dinner, tips, and extra expenses. 
There was no need to transfer money ahead of time as the tour deposit was done on the day of arrival and the second day of the tour. 
We had a fabulous time with the team and wouldn't hesitate to go on future trips with them again. 
Here is another tour option that you can consider: From Surabaya: Bromo, Ijen, and Tumpak Sewu
---
Best Time to Visit East Java
The rainy season is from November to March. January tends to have the most rain. 
The dry season is from April to October. We went in late August to early September.
Since you're in Southeast Asia, rain can happen at any time, even during the dry season. As long as you have an umbrella on hand and a backup plan of an indoor activity, then you'll still have a fun time.  
At least the temperatures are consistent all year round between 26 to 30℃ (78 to 86℉). 
---
How to Get to East Java & Where to Start
East Java has three major spots to start from – Surabaya, Malang, and Banyuwangi.
Surabaya – Surabaya has the main airport is Juanda International Airport (airport code: SUB) and 4 train Stations (Pasarturi, Gubeng, Wonkoromo, and Kota). The main train station hub is Gubeng. 
Malang – Malang's main train station is the most popular. Other stations are Kepanjen, Lawang, Malang Kotalama, Blimbing, Sumberpucung, and Ngebruk. 
Banyuwangi – This city is the closest to Mount Ijen, so it's a popular starting point for East Java. Plus, it's the closest city to Bali island. 
There are three main sources of transportation hubs – Banyuwangi International Airport (airport code: BWX), Ketapang Harbour for the ferry from Bali, and Banyuwangi Ketapang Train (nearby the Ketapang Harbour). Other train stations are Glenmore, Kalibaru, Karangasem, Kalisetail, Banyuwangibaru, Rogojampi, Sumberwandung, Temuguruh, and Banyuwangi Kota.
What We Did
We visited East Java from the West side of Bali. We took the ferry from Gilimanuk Harbour in Bali to Ketapang Ferry Port on Banyuwangi. 
Since it tends to be a popular way to travel, we're going to share more about how we did this under "Day 1" section. 
Note: There is a 1 hour time difference between East Java and Bali. Remember to set your watch 1 hour back when you arrive. 
---
How to Travel through East Java
There are several ways to travel around East Java depending on your comfort level. 
Hiring a driver. If you don't want to worry about driving and traffic, then hiring a driver is highly recommended. You will need to hire a driver for a few days or whenever you arrive at a new destination. 
Riding a motorbike. This is an option if you're comfortable with riding a motorbike. 
Taking the train. Taking the train is convenient and affordable. It's perfect for long-distance rides. Check out our post on traveling by train from Surabaya to Yogyakarta. 
Taking domestic flights. This could be a faster option compared to driving and taking the train, but the cost will be higher. 
Go on a tour. If you're on a tour, then transportation will already be included. 
A combination of all of the above. 
---
Purchase a SIM Card. 
We suggest purchasing a SIM card at your arrival destination in Indonesia so you can stay in communication with tour guides, drivers, etc. 
While many hotels and guesthouses will have wifi, it can be hit and miss.  
If you're from the U.S. and looking for an international data plan, consider getting Google Project Fi. Get data access and phone calls in over 200+ countries without having to pay extra. We've been on this plan since 2016 and it's been a lifesaver for our travels. Click here to learn more and get a $20 credit.
---
East Java Itinerary Overview
Here is an overview of what we did as we started in Bali and then made our way to East Java. 
Day 1: Travel Day
Day 2: Visit Ijen Crater for Sunrise
Day 3: See sunrise at Mount Bromo & Malang Colorful Houses
Day 4: Explore Tumpak Sewu & Goa Tetes Waterfalls & Travel to Next Destination
Note: You can start either in Surabaya or Malang and work your way east. 
---
Map of Where to Go in East Java
---
East Java Itinerary: Day 1 – Travel Day from Bali to Banyuwangi
Depending on where you're coming from, your first travel day will vary. 
As mentioned earlier, we're starting in Bali since it's the main travel hub in Indonesia. After spending 4 days or up to 2 weeks in Bali, it's time for a change and visit another Indonesian island, Java. 
Everyone will need to hire a driver to get to Gilimanuk Harbour in west Bali. It's about 3 to 4 hours away from the main areas of Bali – Kuta, Seminyak, and Ubud. 
Here are the driving times: 
From Kuta: 3 hours 20 minutes 
From Canggu: 3 hours 
From Sanur: 3 hours 25 minutes
From Ubud: 3 hours 10 minutes
We were charged 700,000 IDR ($45 USD) for the one-way drive from Canggu to Gilimanuk. The driver worked for Blue Flame Tour. 
We had a driver who took us around Bali, but opted not to use him for this route. If you're looking for a driver, please contact us here and we'll share the details.  
When you're close to the port, ask the driver to pull over to one of the dozens of kiosks on the side of the road to buy the ferry ticket. The tickets must be purchased online at one of the kiosks. The cost of the ticket is 8,500 IDR ($.55) per person. 
Once you arrive at the port, use the ticket machine to print a physical ticket. 
Find your ferry to Ketapang and a spot to sit, and enjoy the ride. The ferry ride will take 1 hour – 30 minutes for the ride and 30 minutes of waiting for a dock to open.
Once you arrive at the Ketapang Port, you'll need to have transportation arranged ahead of time to get to your hotel. 
Afterward, take a rest and grab some dinner. Hope you can sleep for a couple of hours before you start the Ijen tour. 
---
Where to Stay Around Ijen 
There are plenty of guesthouses to stay around the Banyuwangi Ijen area. Click here to see options on Booking.com or Agoda. 
Our Recommendation: Ketapang Indah Hotel
Ketapang Indah Hotel is a popular place to stay in Banyuwangi. This is a beautiful resort to stay overnight and is close to the Ketapang port. The resort ground is surrounded by luscious greenery, palm trees, and plants so it's like you're back on Bali Island. The resort has an on-site restaurant and swimming pool.
The room itself has simple decor and blackout shades so it helps with getting rest before your Ijen trip. 
If you have the chance to try the buffet breakfast, go for it! There is a lot of variety of food from Western to Indonesian cuisine and very delicious. 

Book your stay at Ketapang Indah Hotel on Booking.com or Agoda.
---
East Java Itinerary: Day 2 – Ijen Crater Sunrise & Bromo Area
Visit Ijen Crater in the Early Morning
On your second day in East Java, you're off to see the popular Ijen Crater (also known as Kawah Ijen). 
It'll be an early morning with a start time after midnight, but it's worth it. 
This crater is famous for the vibrant blue fire that emits due to the intense natural sulfur gas escaping the cracks. It's only available to see from 2 to 4am before sunrise. 
Tip: You can skip the blue fire if it's too early and go to Ijen for sunrise or anytime afterward. Ijen is open all day long. 
Along the way, you'll see many sulfur miners gather over 50 kilograms (110 pounds) of yellow sulfur blocks up and down the mountain. Don't forget to move out of the way when you see them on the trail. 
After the blue fire, you'll wait for the beautiful sunrise to appear over the turquoise acidic lake. 
Ijen is considered one of Indonesia's top hikes so it's helpful to have proper hiking shoes or shoes with traction. Everyone, including the miners, follows the same path, so you can't get lost. Just take your time climbing up and down due to the elevation at 2,769 meters (9,085 feet) and loose gravel. 
You'll also need to have a gas mask (provided by your tour guide or can rent one at the base) since the sulfur gas is toxic. 
After Ijen, back to your hotel to eat breakfast and take a shower. You'll want to wash the sulfur gas and smell off your body.
---
Head to Mount Bromo Area in the Afternoon
It's time to head to the next destination – the Mount Bromo area. 
Depending on your itinerary, you can stay either in Malang or Probolinggo. Many people stay in Probolinggo as it's closer to Mount Bromo. 
The rest of the day is for travel and rest in the afternoon. The following morning is when you'll visit Bromo and see the active crater and the sea of clouds at sunrise. 
---
Where to Stay Around Mount Bromo
If you want to stay in Malang, click here to see options on Booking.com or Agoda. 
For accommodations in Probolinggo, click to see options on Booking.com or Agoda. 
Our Recommendation: Bromo Camp House
Located in the forest area of Probolinggo, Bromo Camp House has individual bungalows to spend the night. 
It's a cute and quiet place to hang out in the afternoon as you get a view of the garden when hanging outside of the bungalow. Or, you can hang out at the cafe near the entrance. 
The room has simple decor and an ensuite bathroom. It's a pleasant stay for an evening. 
Book a room at Bromo Camp House on Booking.com or Agoda here. 
---
East Java Itinerary: Day 3 – Mount Bromo & Malang
Visit Mount Bromo for Sunrise
On the third day in East Java, it's another early morning to see the sunrise at Mount Bromo (also known as Gunung Bromo). 
Luckily, the start time is not as early as the previous day – around 2:15am. 
Mount Bromo is located within Bromo Tengger Semeru National Park and one of the coolest experiences is to take a Jeep to the sunrise point. It's a bumpy ride going through the National Park, so hold onto any handlebars inside the Jeep. 
One of the popular spots to see the sunrise is King Kong sunrise point. It's a short 5-minute hike up a hill. It's dark, so you'll need to use a flashlight or the light from the smartphone. 
As a heads up, it's FREEZING at this point so you'll need to wear a warm jacket or rent a jacket from one of the coffee shops nearby the entrance. 
Once the sunrises, you'll see the sea of clouds over Mount Bromo, Batok, and Semeru peaks. It's a stunning sight. 
After sunrise, you'll get the chance to take a photoshoot with your colorful Jeep. 
Then, you take the challenge and climb over 200 stairs to see the top of the active Bromo crater. Bromo volcano also releases sulfur gas but the area is wider than Ijen so gas masks are not needed. 
You've accomplished so much already and it's still morning! Once you're done, return to your Jeep to go back to the hotel to pack and have breakfast. 
---
Stop by Malang Rainbow Houses in the Afternoon
The next stop is to head to Malang (unless you're already based in the city) to see the colorful houses.
As a former slum area, a volunteer group worked with the villages and the community to repaint the area with bright colors. Now it's a popular and fun tourist spot to explore the villages and take photos. 
Note: There are several villages so you'll need to pay separate admission fees (5,000 IDR / $.30 per person).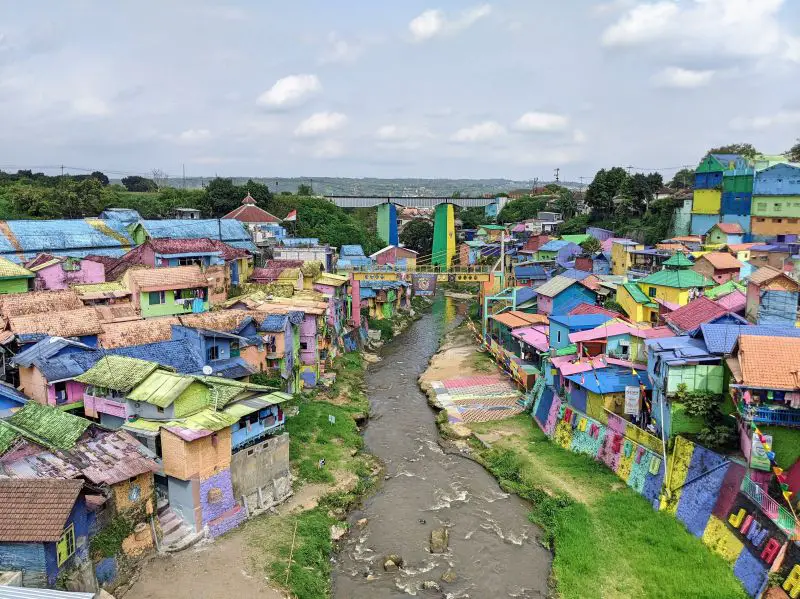 ---
Head to Tumpak Sewu Waterfall Area to Rest
Our final stop for the day is the accommodation close to the Tumpak Sewu Waterfall. You'll visit the waterfall tomorrow morning. 
---
Where to Stay Close to Tumpak Sewu
There aren't too many guesthouses nearby Tumpak Sewu. It's best to reserve in advance to get a spot, especially during the high season. Click here to see availability on Booking.com. 
Our Recommendation: Yanto Homestay
This homestay is located across from the Tumpak Sewu entrance. It's a low-key yet clean homestay with individual rooms and an ensuite bathroom. It is a nice place for one night. 
There is an on-site restaurant as there aren't any other food options in the area. The food is delicious and reasonable (from 20,000-40,000 IDR / $1.30-$2.60 for a meal and drinks). Breakfast is also served here. 
Click here to reserve a stay on Booking.com or Agoda here. 
East Java Itinerary: Day 4 – Tumpak Sewu & Goa Tetes Waterfall & Departure
On your fourth day in East Java, get ready for a waterfall adventure! 
Tumpak Sewu Waterfall (also known as Air Terjun Tumpak Sewu or Coban Sewu) is considered one of the most gorgeous waterfalls in Indonesia. The waterfall is surrounded by the green jungle area with small cascades covering about half of the area. 
You can see the waterfall from a panoramic viewpoint.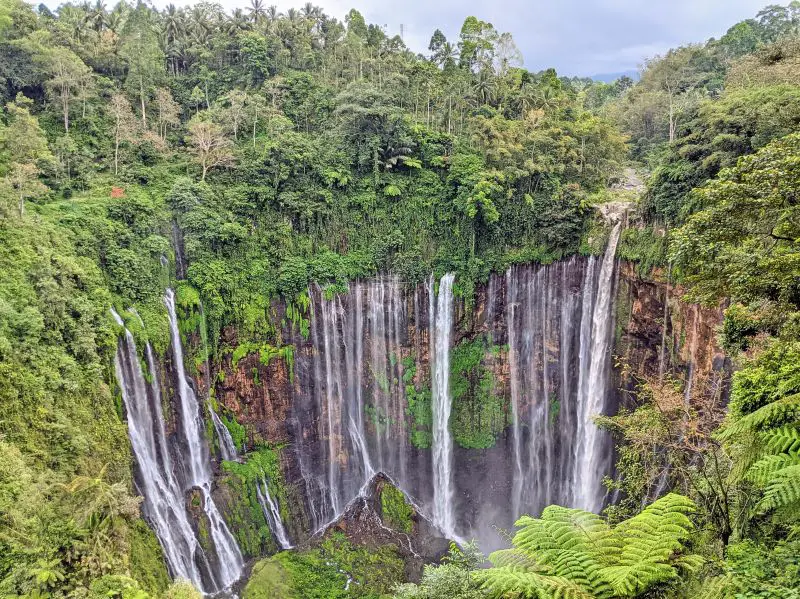 Or, consider taking the trek down the mountain to see an epic view of the waterfall and take more photos. 
Tip: You may want to hire a guide if you plan to visit the base of Tumpak Sewu. You will cross rushing streams and smaller waterfall cascades so be careful! Hold onto any ropes that you see. 
While you're in the area, stop by Goa Tetes for smaller and gentler water cascades. You can also go on an adventure and hike the waterfall to visit a secret cave.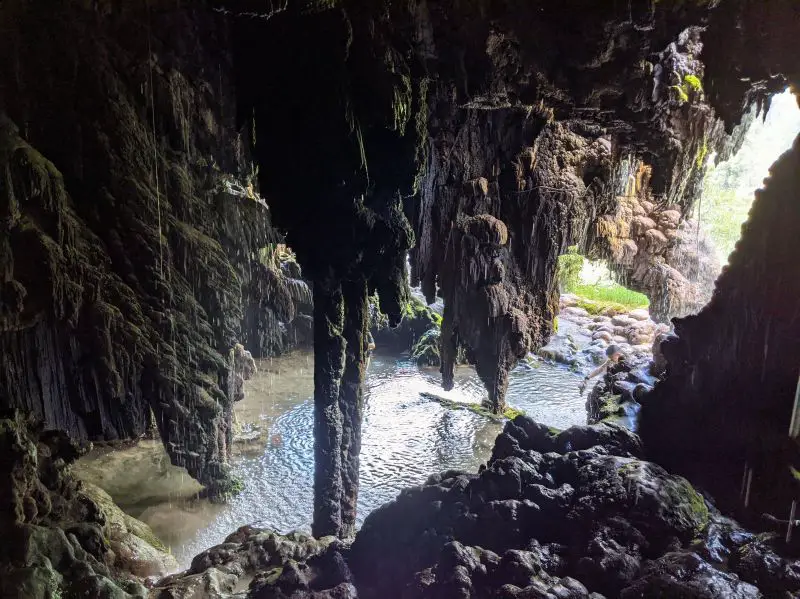 It's not easy walking on a waterfall with rushing water at your feet. It's a bit scary since you could easily slip. Just be extremely careful. 
Please ensure that you wear proper water shoes or sandals with traction and heel straps. We lost our flip- flops a few times in the water. 
Return to your accommodations to shower and pack. 
---
Head to your next destination.  
Depending on your schedule, you can either:
End your trip in Malang, Surabaya, or Banyuwangi
Continue your journey to see other areas of Java or Indonesia
---
Final Thoughts
We hope you enjoyed this East Java itinerary filled with adventures and exciting activities. You'll have plenty of good memories from exploring two volcanoes – Ijen and Bromo, and walking through waterfalls at Tumpak Sewu and Goa Tetes. 
If you're looking for other places to visit in Indonesia, check out our posts:
Have any additional questions on how to spend 4 days in East Java, please ask in the comment section below. 
Like this post? Save it to your Asia Travel Board on Pinterest.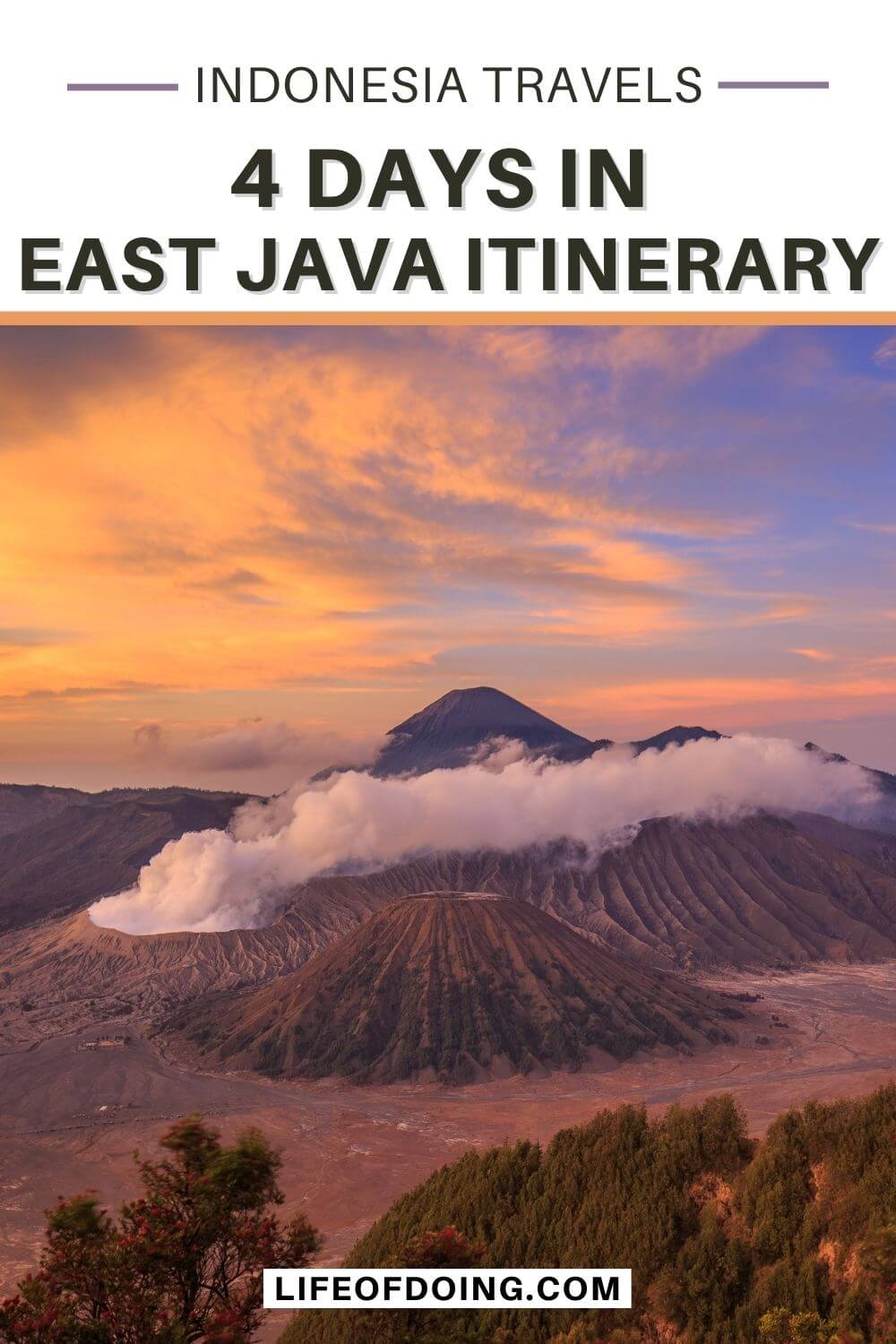 Featured photo & Pin #1 photo credit: Claudio Duarte via Scopio Photos