Mount Bromo, also referred to as Gunung Bromo, located in Bromo Tengger Semeru National Park, is a popular volcano to see when visiting East Java, Indonesia. 
Bromo is still an active volcano and stands at 2,329 meters (7,641 feet). There are major eruptions every few years with the last one in 2015. 
It's worth a visit to see Mount Bromo and the neighboring volcanoes (Batok and Semeru) for the gorgeous sunrise viewpoints and to see the bubbly nature of Bromo itself. 
We had the chance to visit Mount Bromo the day after visiting Ijen Crater so it was cool to see the difference between the two volcanoes. Visiting Bromo is much easier than Ijen since the hiking is very short and you get to ride a Jeep when visiting the National Park. 
In this post, we're sharing tips on what to expect when visiting Mount Bromo for sunrise and how to enjoy your time here.
*Disclaimer: This post contains affiliate links. As an Amazon Associate, we earn from qualifying purchases. If you click on them and make a purchase, we receive a small commission. There is no additional cost to you. Appreciate the support.
---
Can You Visit Mount Bromo without a Guide? Is a Tour Necessary?
Yes, it is possible to visit Mount Bromo without going on a tour. 
We saw a few people on their motorbikes to visit various sites such as the sunrise overlook and Mount Bromo crater. One of the difficulties that we saw for the motorbikers was getting stuck in the sand when heading to the Bromo crater.   
Otherwise, most visitors hire a Jeep to travel around the Bromo area. The Jeep or Land Cruisers are rugged and can go over sand and dirt terrain so they won't get stuck.
The Jeep tour may just include the driver unless you have a guide from your multi-day East Java tour. 
Check out the Mount Bromo Sunrise Tour options below: 
---
What did we do? 
For us, we had a guide from Blue Flame Tour, and the team hired a driver and a Jeep for the Mount Bromo transportation. We had our guide from our previous day's excursion at Mount Ijen. 
---
Mount Bromo Admission Cost
If you're going by yourself, you can buy the tickets ahead of time here. (Although, the website is confusing even though it's partially translated into English so you may want someone to help you to reserve your spot.) The price is between 220,000-320,000 IDR ($14.70-$21.50 USD) if visiting on a weekday or weekend. 
If taking a tour, the cost of admission is included in the price. 
The cost of the Jeep tour will vary depending on the number of people you have in your group. Your accommodation can arrange on your behalf. The price starts at 600,000 IDR ($40).
When visiting the Bromo crater, you can ride a horse to take you from the parking lot to the base of the crater/bottom of stairs. The round-trip cost is 200,000 IDR ($13.35) for the ride. 
Otherwise, walking is another fantastic option to get more exercise and to reduce the burden on beautiful horses. (We prefer not to support non-ethical animal experiences.)  
---
Best Time to Visit Mount Bromo
Bromo is open all year round unless there is a major eruption. 
The rainy season is from November to March, yet that shouldn't deter you from visiting. The driving and hiking route will be muddier than the dry season. 
We went in late August in the dry season and the weather conditions were great! The crowds weren't too bad either as many tourists already returned home in mid-August. 
Most people visit Mount Bromo and the area in the early morning to see the sunrise. It's a nice view of the calderas and the volcanic landscape. 
If watching the sunrise isn't your thing, you can skip it and visit in the late morning. There will be fewer people in the late morning. Plus, you can have more time to explore the sights without the crowds. 
---
How to Get to Mount Bromo
The two cities closest to Mount Bromo are Probolinggo and Malang. There are buses and trains that go directly to Probolinggo and Malang. Or, hiring a driver can get you to these destinations when coming from other parts of Java. 
From Probolinggo to Bromo, it'll take 1 hour 15 minutes for 41 kilometers (25.5 miles). Most people tend to stay in this area as it's closer to the base of Bromo.  
From Malang to Bromo, it'll over an hour for 31 kilometers (19.2 miles). 
Most visitors take a Mount Bromo Jeep tour and depart from their Malang or Mount Bromo accommodation in the early morning (around 2:00am from Probolinggo). 
TIP: Add a visit to the rainbow colored houses in Malang after the trip.
---
Where to Stay Close to Mount Bromo
Many visitors stay in Probolinggo. There are lots of guesthouses and homestays located in this village. The homestays also have an on-site restaurant since the food options are spread apart. 
Click here to find the perfect accommodations in Probolinggo on Booking.com or Agoda. 
Another option is to stay in the larger city, Malang. 
Click to find accommodations in Malang on Booking.com or Agoda. 
---
Where did we stay? 
We stayed at Bromo Camp House in Probolinggo.  
It's a guesthouse area surrounded by the forest. Everyone gets their own bungalow with an ensuite bathroom. The bungalows are cute with slanted roofs so it's similar to a mini house. There is a patio with outdoor chairs to enjoy the area in the afternoon; although, there are a lot of mosquitoes here!
Book a room at Bromo Camp House on Booking.com or Agoda here. 
The room has simple decor and has a TV, water boiler to make tea and coffee, towels, water bottles, a fan (no air-conditioning in the room), and a towel rack. You'll need to bring your own shampoo and body wash as they aren't provided. 
Breakfast is included in the price. There was only one choice – an egg sandwich with sliced tomatoes, lettuce, and cheese. Banana and tea also came with the breakfast.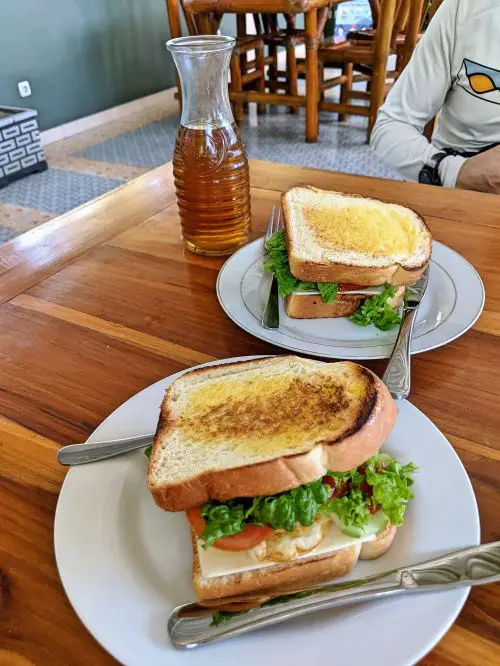 If you need coffee or drinks, there is a cafe near the entrance. 
We did not have dinner at this place as the guesthouse only served breakfast. Our driver and guide took us to a warung, Warung Mateb, about 50 meters away from the hotel (at the bottom of the hill). We had vegetarian fried noodles and chicken with rice. This place was very cheap and had delicious food.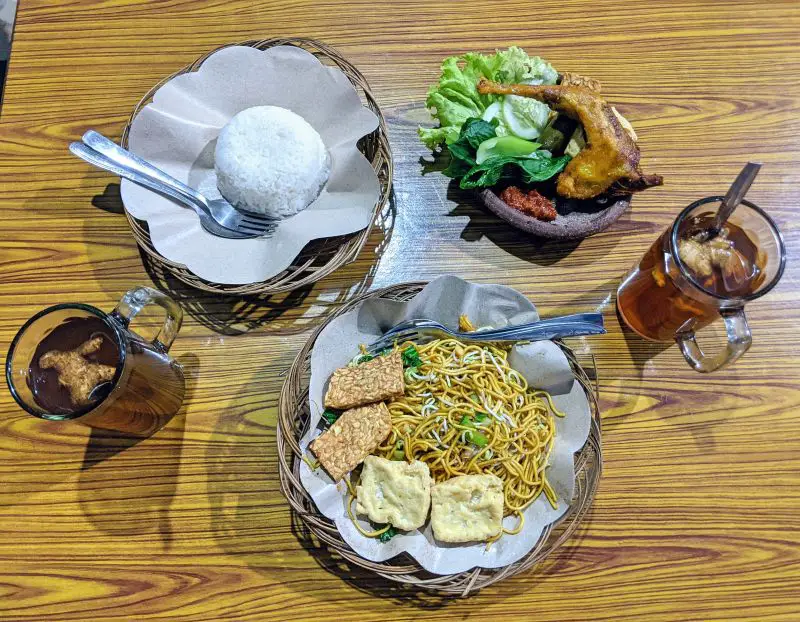 ---
Schedule for Mount Bromo Sunrise & Exploration
Below is what we experienced. You may have a different schedule based on your departure location.
2:15am – Depart hotel
3:00am – Arrive at Mount Bromo sunrise area. Hang out at a coffee shop until the sunrise time
5:00-6:00am – Sunrise is around 5:20am but the layer of clouds doesn't clear up until closer to 6:00am. 
6:15am – Head back down the mountain
6:30am – Photo shoot with your Jeep & head to the next stop
6:45am – Walk to the Bromo crater from the parking lot
8:00am – Return to hotel for breakfast and packing
What to Wear for Mount Bromo Sunrise
A Warm Jacket – This is an absolute must!! It's COLD and FREEZING waiting for the sunrise since you don't move much from your spot. Expect temperatures of 8 to 12℃ (46 to 54℉). You can also rent a jacket from one of the coffee shops. 
Comfortable Shirt 
Comfortable Pants – Do not wear shorts if you plan to wait for Bromo sunrise. Your legs will be very cold. 
Scarf, hat, gloves (optional) – In case the jacket isn't enough, feel free to wear more accessories. Many of the coffee shops also sell scarves and hats as souvenirs. 
Comfortable walking shoes – Regular walking shoes are perfectly fine for this excursion. You won't be hiking technical routes. 
---
What to Bring for the Mount Bromo Trip
Backpack – Hold your important gear for the Bromo excursion such as hat, water, jacket, etc. Check out our favorite daypacks here: men's day pack option / women's day pack option.  
Snacks 
Hat & Sunglasses – Protect your head and eyes from the sun. This is needed when climbing Bromo crater staircase. 
Sunscreen – If you plan to stay on top of Bromo Crater for a while, then wear sunscreen. The top of the volcano doesn't have any shade. 
Water
Flashlight – The short hiking path to the sunrise spot is dark so you'll need a flashlight. A cell phone light will also be fine. 
Cash 
---
Our Experience on Mount Bromo
On the Way to Bromo
We promptly departed our accommodation, Bromo Camp House, and boarded our green Jeep at 2:15am. 
The back of the Jeep was small and supposedly holds 5 people – 2 people per seat and 1 person on the floor. It would be a tight fit with 5 people since we thought it was cramped with the two of us. 
Once we entered the Bromo Tengger Semeru National Park, the ride was rough. The back of the Jeep was very bumpy and swayed a lot over the dirt roads and curves. 
We had some nausea and had to close our eyes to lessen the symptoms. You may need to take motion sickness medication if you're sensitive to car rides. 
---
Waiting for Mount Bromo Sunrise 
We arrived at the parking area on Mount Penanjakan after 3:00am. This is where the popular "King Kong sunrise viewpoint" is located. 
Even though the sunrise wasn't for another 2 hours, it was imperative to arrive early to get a parking spot along the road and close to the King Kong viewpoint. 
During the high season (ie: July-August), the road gets very congested. If there isn't enough space for parking, then Jeeps will need to go to a lower viewpoint. 
NOTE: Take a photo of the car, license plate, and the location. When you go back to the Jeep after the sunrise, there will be a lot of cars lined up and you may forget which one you boarded. 
Since we had ample time, our guide took us to one of the coffee shops nearby. There are many to choose from. All offer the same things – hot coffee, hot tea, fried bananas, instant noodles, and other snacks. You can hop into any that doesn't seem too crowded. 
We made our way to the sunrise point around 4:30am. It was pitch black but our guide used his cell phone for light. 
We did a short hike up to the viewpoint of King Kong Hill. It's a short and narrow path – about .20 miles each way and took less than 5 minutes to go up. 
Remember to wear your warm jacket. It's VERY CHILLY here and there isn't any coverage from the wind. 
The sun rose around 5:20am but it was covered in a layer of fog. We didn't see the sun peak out from the clouds until after 5:40am. 
The main reason to see the sunrise from King Kong's viewpoint is to see the calderas of Bromo and Batok and the smaller volcanoes. You can see Mount Semeru, another active volcano, from afar.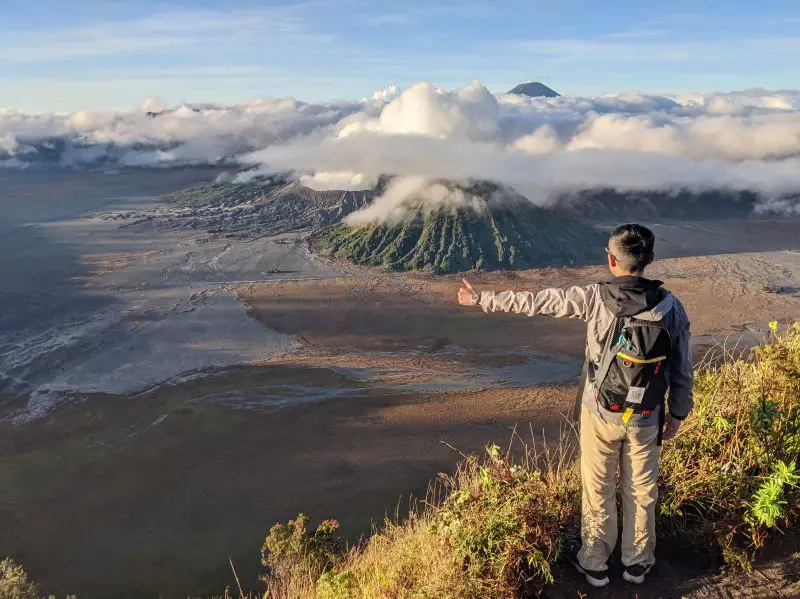 If you're lucky, you'll have a layer of clouds that blanket the calderas. It's a beautiful view to see with the sunrise. 
If you prefer not to see the clouds, then you'll need to visit in the later morning or afternoon. 
After the sunrise, it was time to continue our trip. 
---
Photoshoot with Jeep 
This is one of the highlights of visiting Bromo – taking photos with your colorful Jeep/Land Cruiser. 
These Jeeps are squattier and smaller than what you expect when taking an African safari, yet oh so fun to do a photoshoot with. 
We had an adorable green Land Cruiser. It was sturdy as we hung from its side and also went on the roof to take photos. 
We had about 10 to 15 minutes for this photoshoot before heading to the Crater. 
---
Taking the Stairs to Bromo Crater
The last stop of our Bromo adventure was to see the crater itself. It's an exciting opportunity to see the active volcano that still releases sulfur in the air. 
There are two choices to visit the crater from the parking lot – 
Walk and then climb around 250-300 stairs to the top, or 
Ride a horse to the bottom of the stairs and then walk up 250-300 stairs. (The owners of the horses will follow your Jeep when you arrive in the parking lot.) 
We prefer walking to get some exercise and to save money. Plus, we didn't want to support any unethical animal activities.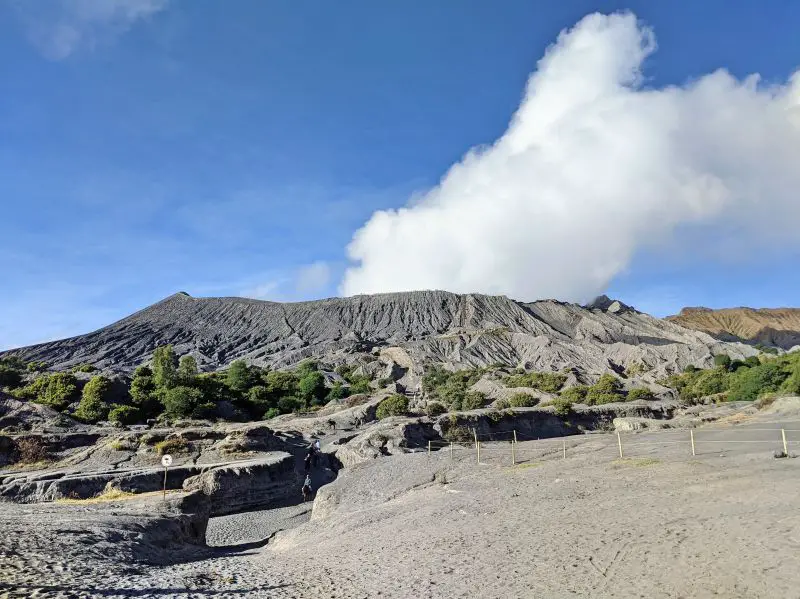 Along the way, you'll pass by the small temple, Puru Luhur Poten Gunung Bromo. The temple has small entrance gates, similar to what you see in Lempuyang Temple on Bali. We didn't have a chance to visit, so we're not sure if it's open to visitors. 
The parking lot is covered with black sand, also known as the "Sea of Sands" which was expelled from Bromo in the past eruptions.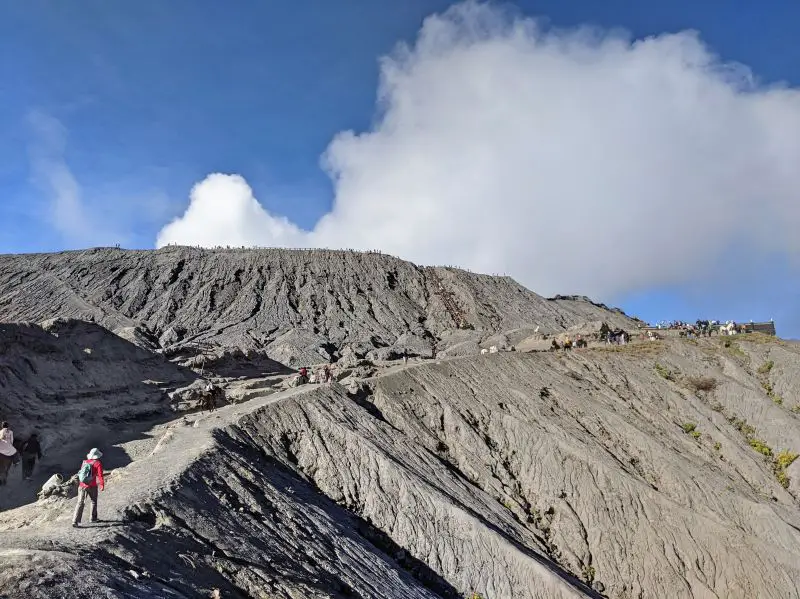 The walk from the parking lot to the base of Bromo (before the staircase) is flat. It is dusty, but at least you won't need to walk on the same path as the horses. 
The challenging part is walking up 250-300 stairs to the top of the crater. The wooden staircase is well-maintained and there are two aisles – one for going up and one for going down. Take your time going up the stairs and take breaks as needed. 
Note: If you have knee problems, it's recommended to hang out at the bottom of the stairs. The walk up the stairs will be taxing on the knees. Unfortunately, you won't be able to see the crater but someone can show you photos.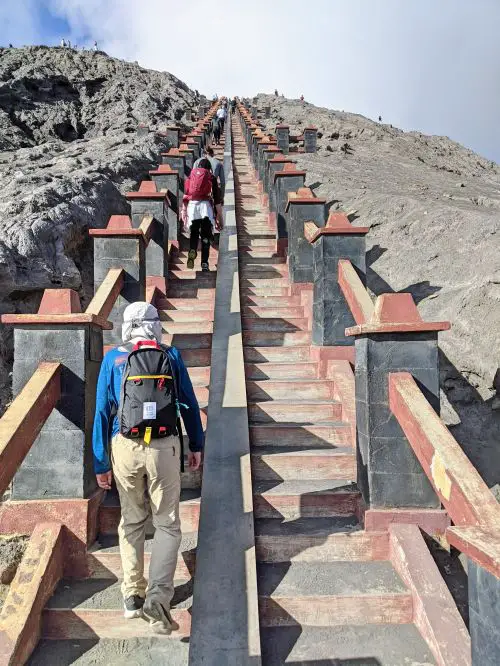 At the top of the crater, peer into the crater to see the steam and turquoise lake. Depending on the wind direction, you may need to wait a few minutes to see the turquoise lake. 
You also get some nice panoramic views of the neighboring green mountain, the black sand, and Puru Luhur Poten Gunung Bromo Temple. 
If you have time, you can walk around the top of the Bromo Crater. There is a narrow walking path so you can see various angles of the crater. 
Unfortunately, we didn't have the chance to walk around as we needed to head back to our hotel to pack our stuff, eat breakfast, and go to our next destination. 
Before descending the stairs and returning to your car, please remember to bring your garbage with you. We saw trash and water bottles left on top of the crater. 
---
Final Thoughts
We loved our time at Mount Bromo and would recommend the visit if you have an extra day in East Java. 
Visiting Bromo is a unique experience from riding the Jeep to seeing the clouds on top of the volcano calderas. Even if you don't make it to sunrise, you can also see Bromo's natural beauty in the late morning or afternoon. 
After Bromo, you can consider visiting Tumpak Sewu Waterfall to see gorgeous waterfalls.
Looking for other places to see the sunrise? Check out our posts below: