Pura Lempuyang Temple is one of the best temples to add to your itinerary when visiting Bali, Indonesia. It's often on a Bali bucket list, and for good reasons. There are stunning photos of the picturesque Hindu temple with Mount Agung in the background on Instagram. We had to see this beautiful place for ourselves.
Lempuyang Temple is an older temple in East Bali and located on Mount Lempuyang. There are a total of seven temples in this complex yet everyone tends to go to the first one, the "Gateway to Heaven." We can see why as you're high up on the mountain overlooking the area!
If you have the time and endurance, consider visiting all of the temples for the full experience. We went to a total of three out of the seven temples and had a good leg workout from 1440+ steps of stair climbing!
Below is an overview of visiting Pura Lempuyang in Bali. Enjoy your amazing time here!
Before you read more about Lempuyang Temple, check out these essential Bali travel tips.
Learn more about visiting Pura Lempuyang by clicking on the links below to jump to the section that you're interested in:
*Disclosure: We have affiliate links in this post. If you click on them and make a purchase, we receive a small commission. There is no cost to you. Appreciate the support.
---
How to Get to Pura Lempuyang from Ubud
This temple is far from the touristy areas as it's in East Bali, so you won't see the crowds compared to Tanah Lot. From Ubud City Center, the temple is 73-76km (45-47 miles) one way depending on the route and takes over 2 hours to get there. Therefore, it's recommended to combine this site with other attractions in the area as a full day trip from Ubud. 
Consider these four options to get to Pura Lempuyang;
Rent a motorbike/scooter –

It's a cost-effective way to travel around the island. Consider getting one in the town that you're staying in or

pre-book one online

.

Rent a car –

Feel free to drive a car on your own. Parking is limited in the temple though.

Hire a driver

– Drivers will cost between 500,000 IDR to 650,000 IDR ($34.50-$45 USD) for the day. Family members and friends may have recommendations and same with TripAdvisor. Consider

this option

for a driver. W

e went with the driver route since we didn't want to navigate the streets on our own. If you need a driver, contact us and we'll send you our recommendation. Our driver was safe and nice to hang out with.
Pre-book a tour. Book one of these two options: Instagram Shots or Temples Tour.
---
Admission Cost for Pura Lempuyang
Sarongs

– Visitors must wear a sarong which can be rented for 10,000 IDR ($.70 USD) per person. If you have your own, feel free to wear it. We liked the rentals sarongs since they came in a variety of colors and patterns. You can choose whichever one matches your outfit.

Donations – There isn't an official entrance fee for the temple, so it's a budget-friendly place to visit. Donations are requested. All donations are scribed in their guest book. Since we had 50,000 IDR ($3.40 USD), we used 20,000 IDR ($1.40 USD) for the sarong rental and 30,000 IDR ($2 USD) for the donation.
Parking

– There is a small fee for parking your car or scooter at this temple.
---
What to Know Before Entering Pura Lempuyang
Before entering the temple, one of the temple's workers will give you a document to read about the rules of the temples and will also share with you a map. It's recommended to take a photo of the map since paper copies are not available.
We don't remember all of the rules, but these were the main ones. Please be respectful of them.
Everyone must wear a sarong.

Women who are on their menstrual cycle cannot enter the temple.
---
When To Go and Amount of Time Needed
There is no wrong or right time to visit the temple. It's an amazing view at any time of the day. Some people are early birds and others are not. Go whenever you're ready!
Visiting the first temple only

– From the parking lot, it's less than 5 minutes walk to go to the first temple, "Gateway to Heaven." You'll need between 30 minutes to 1 hour depending on the number of people at the temple. If you want the famous gate photo, it's the line that will eat up your time.
---
Pura Lempuyang's "Gateway to Heaven"
The first temple is also called, "Penantaran Lempuyang Temple." It's more of a two-part temple as there is the lower level and the upper level.
Once you enter the upper-level entrance, you'll get splashed with holy water by one of the workers at the temple. The upper level has three staircases that lead up to the prayer area and the middle aisle is closed for visitors. Check out the details of the dragons at the base of the staircases!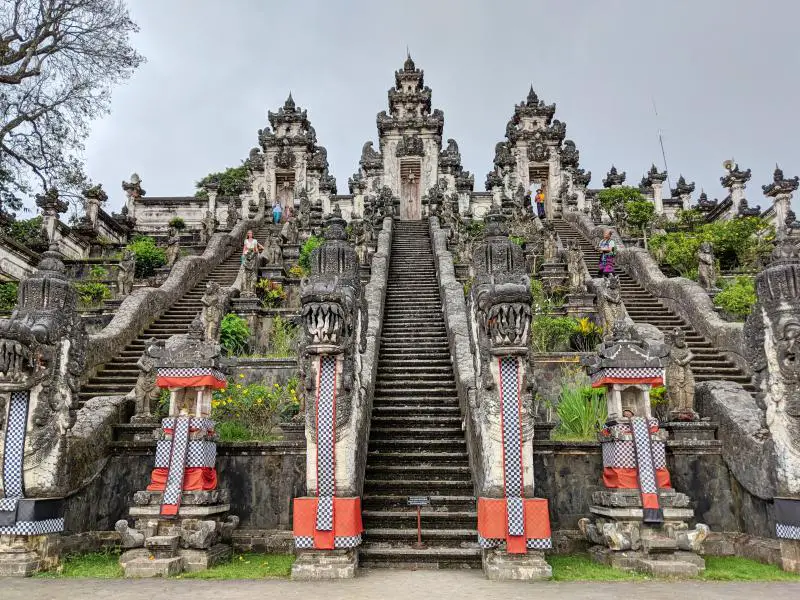 Although we had a cloudy day since Mount Agung erupted in the morning of our visit, we still had an awesome time taking photos at the white and black "Gateway to Heaven." It's a beautiful view, and we can see why it's such an iconic experience. The line may be long for taking the photo, but it moves along.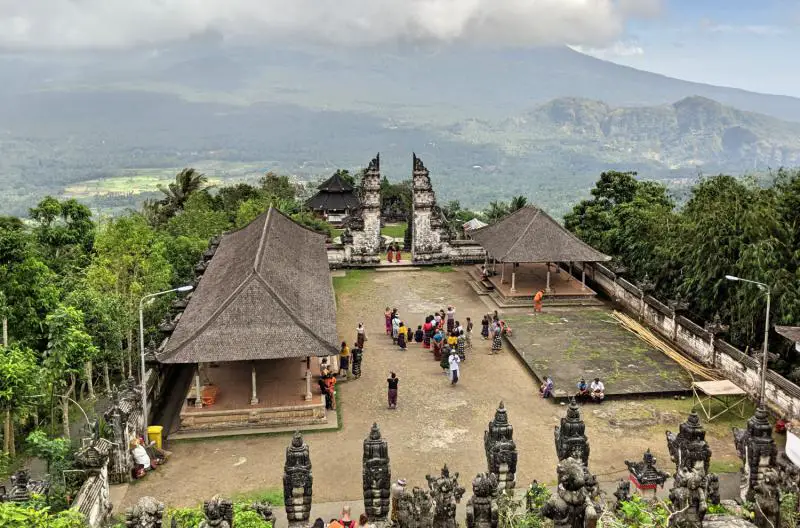 Want to know the secret of the reflections of the gate? Well, like any magic trick, it is smoke and mirrors! The photographer (one of the workers at the temple) had a nifty photography hack using a mirror under the cell phone camera. In real life, there isn't a lake in front of the gate. We had to verify with Google images while waiting in line as we wondered where the lake was. Sorry to burst your bubble. Don't forget to give a small tip (ie: 10,000 IDR) for his service.
---
Visiting Lempuyang Luhur and Other Temples
We didn't get a chance to visit all 7 temples, but we went to 2 more temples, Telaga Emas and Lempuyang Luhur. Here are the other temples to continue with your Lempuyang Temple journey.
Telaga Emas Temple (Temple 2)

Telaga Sawang Temple (Temple 3)

Lempuyang Madya Temple (Temple 4)

Pucak Bisbis (Temple 5)

Pasar Agung Temple (Temple 6)

Lempuyang Luhur Temple (Temple 7)
It'll take over 3 hours to complete the circuit of the 7 temples. If you have knee problems, you may not want to visit the other temples as the stairs are steep and broken at various sections.
After exiting the "Gateway of Heaven," you'll walk up the mountain for 10 minutes to reach the second temple, Telaga Emas. It's a pleasant walk up on a paved road and super quiet. We didn't see other walkers going up the mountain during our visit. We felt a little underwhelmed visiting Telaga Emas as it is a small temple.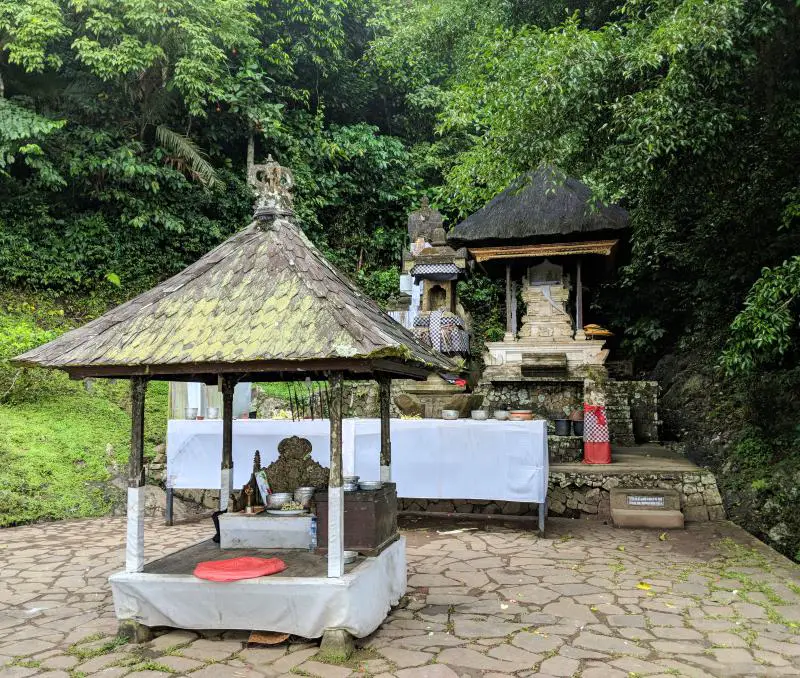 Motorbike taxis are available to reduce your walking time either going up or going down the mountain. You'll need to pay an additional fee to use the motorbike.  
The real fun is walking over 1440 steps to Lempuyang Luhur Temple, the last temple. It's a thigh workout as the steps are steep! Just note that the stairs aren't straight and often broken so take your time going up and down the hill.
You'll pass by small shops selling drinks and even shy monkeys along the way. What a big difference compared to the vicious monkeys at Ubud Monkey Forest.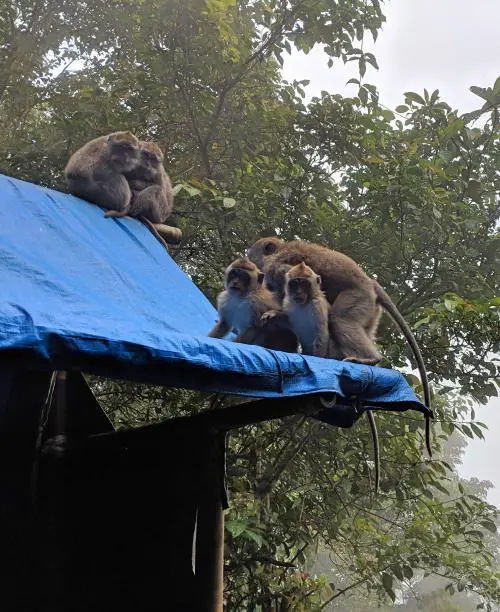 Once you reach the summit of the Lempuyang Luhur Temple, you'll see a white temple with dragons in front. It's like a smaller-scale version of the first temple, "Gateway to Heaven." Although we couldn't go inside due to prayers going on, it felt good to reach the top! Plus, we enjoyed the quietness in the area as there weren't other visitors.
Since we didn't have time to go to the other temples, we went back down the same stairways and back to the parking lot to return our rented sarongs. Whew! What a workout. We hope to visit the other Lempuyang temples on a return trip.
---
Other Places to Visit in the Area
We know that there are more places to visit after you're done with Pura Lempuyang. Consider checking out the hidden gems of Sidemen Valley, such as the rice fields, weaving centers, and more.
If you're looking for another unique Hindu Balinese temple, stop by the water temple, Tirta Empul Temple to experience the water spring for yourself.
---
Definitely add Pura Lempuyang and the "Gateway to Heaven" to your temple-hopping itinerary when you're in Bali. It's worth the journey to get here.
Which temples have you visited in Bali? Would you want to visit Pura Lempuyang?
Check out other posts in Bali and Indonesia
Like the post? Save it on Pinterest to your Indonesia board!