We love living in Ho Chi Minh City, Vietnam, yet the crowds, traffic, and pollution can take a toll. What better way to escape the craziness than to go on a day trip from Ho Chi Minh City to visit Tan Lap Floating Village (also known as "Làng Nổi Tân Lập" in Vietnamese)?
It's an eco-tourism site located in Long An province in Mộc Hóa District and 100km (62 miles) from Ho Chi Minh City. Getting to here was quite a journey on a local bus, which we'll share more about later.
The village is what we needed to get back in touch with nature. Thanks to the encouragement of our friends to visit this place, we set off to Tan Lap for this amazing day trip. We were impressed with our visit as there were lots of things to do at Tan Lap Floating Village and not a lot of people.
Some of the highlights include walking through the beautiful cajuput forests and mangroves (about 5km/3.1 miles), taking a boat ride through the river, and enjoying clean air and quietness. It's a great place for families and friends to enjoy. This place is popular for taking wedding photography. 
What is interesting about this place is that no one lives on the Tan Lap Floating Village due to the preservation of this site.  Consider taking a cruise to Ha Long Bay to learn more about how life is like on a floating village.
Here is a guide on how you can visit Tan Lap Floating Village for yourself and to have a memorable day. Definitely add this place to your South Vietnam itinerary!
Click on the links to jump to the various sections:
*Disclosure: We have affiliate links in this post. If you click on them and make a purchase, we receive a small commission. There is no cost to you. Appreciate the support.
---
When Should You Go
You can visit at any time and season. We went on a Saturday at the end of June and it was fine. Although the weather was in the mid-80℉s (mid-26℃s), we didn't encounter any rain.
The rainy season in Ho Chi Minh City from May to October is unpredictable so there will be random rain showers throughout the day. Don't count on weather.com or any other weather forecast sites to provide accurate weather predictions either.
Even on a Saturday, the village wasn't crowded with visitors since the area is spread out. We came across 20 people or so during our entire visit. Visitors may increase with holiday weekends.
When we took our boat ride on the river, our rower recommended to visit the village during September as the water levels are higher and the lotus flowers will be blooming.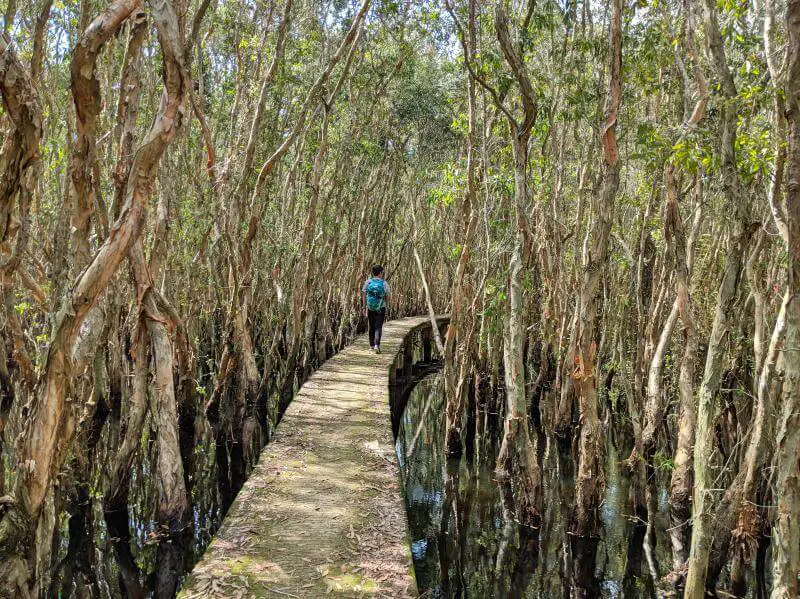 ---
How to Get To Tan Lap Floating Village From Ho Chi Minh City
This place is requires some planning as it's an off the beaten path destination. There are two ways to get there from the city center of Ho Chi Minh City.
1. By Motorbike or By Car  – These are the easiest way to get to the Floating Village. You'll have more control over the schedule. It's a 2+ hour ride from from the city center of Ho Chi Minh City. Head out to Highway 1A (QL1A) for 40km (25 miles) and then take Highway 62 (QL62) for 60km (37 miles). The village is on the left hand side. See the entrance below.

2. By Bus – We went the local route and took the public bus to the Floating Village.
Recommendation: Check out the
BusMap
app or web version as a resources for local bus routes in Ho Chi Minh City. Download the app for free on
iOS
,
Android
, or
Windows
.
Below is one of the ways that you can take. It was a long journey at almost 4 hours one way as we had a lot of waiting time. Who knew the bus needed to be at full capacity before leaving a station?! Regardless, it was an interesting way to travel by bus.
Since we came from Binh Thanh district, we took the following routes to the Floating Village and also added our bus cost for reference.
From Binh Thanh District – Take Bus 56 to Cholon Station (30 minutes ride). Cost: 6,000 VND ($.25 USD)

From Cholon Station – Take Bus 628 to Long An Station (1 hour ride). Cost: 20,000 VND ($.86 USD)

From Long An Station – Take Bus 2 to Tan Lap Floating Village. (1 hour wait till the bus was full + 1 hour 20 minutes ride for a 50k distance). Cost: 35,000 VND ($1.50 USD)
We did the same route to go back to Ho Chi Minh City. Luckily, there wasn't a 1 hour wait from Long An Station to Cholon Station.
Total round trip bus cost for one person: 122,000 VND ($5.30 USD)
You can also check out the short-cut recommendations from Tan Lap's website for directions to get here via local bus. With these instructions, they're much easier to get to.
---
Admission Fee
The combination ticket cost is 370,000 VND ($16 USD) per person (as of March 2022.) The fee includes the lunch buffet, 30 minutes boat ride along the river and through the Melaleuca Forest, and walking through the Floating Village.
We thought the price was fair. Credit cards accepted for payment.
Make sure that you have your ticket on hand. You'll pass by several stopping points where your ticket will be checked.
---
Time Needed
We spent over 3 hours at the village and didn't rush through seeing the various sites.
---
Where to Stay
If you're looking to extend your trip, consider staying in the Tan Lap Floating Village Hotel. There is a renovated hotel that is nearby the boat ride area. For more information about the hotel and availability, click here. The cost is between $25-$35 USD depending on your choice of room. 
Otherwise, consider staying in Ho Chi Minh City.
---
Map of the Area
Getting around the village is easy as the walking paths are in a loop. Below is a copy of a map with the walking paths, although it's in Vietnamese.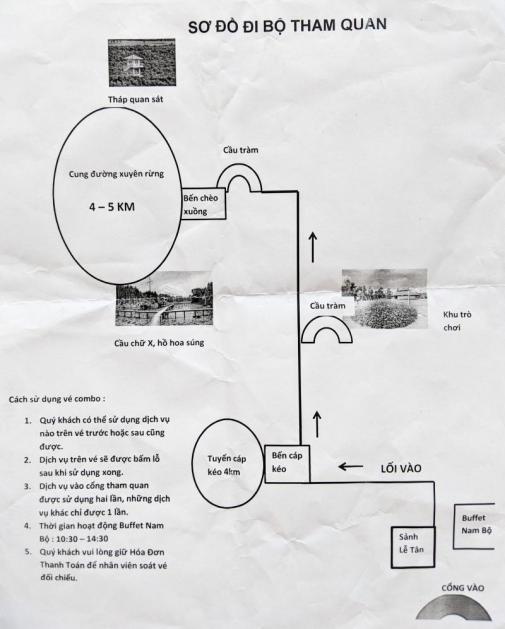 ---
Top 5 Things To Do in Tan Lap Floating Village
1. Enjoy the lunch buffet at "Buffet Nam Bộ."
After our morning bus ride excursion we were famished. Luckily the lunch buffet at "Buffet Nam Bộ" was a part of the admission fare to curb our hunger. The open air restaurant is across from the ticketing area.
Lunch is available from 10:30am to 2:30pm. Visitors receive a wristband when entering the restaurant.
There were over 20+ food options that were delicious. You'll be satisfied with food options such as snake soup, grilled fish, grilled snails, frogs, fish simmered in a pot, noodle soup, bánh xèo (sizzling pancake), green mango salad, veggies, fruits, and more. Coffee and tea available.
The food is delicious and a great way to fill up the belly before the walk.
2. Play traditional games in the games section.
You'll cross a bridge to go to this games section. At the time of our visit, there were several balancing games such as walking across the wooden planks and also a swing. This area was still in construction during our visit.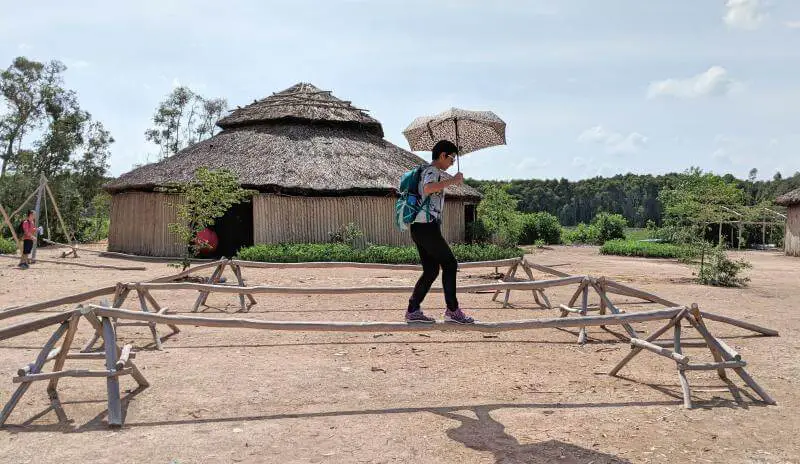 In addition to the balancing games, you can also play a duck chasing game for a small fee. While we skipped that game, we were chased by one cheeky bird.

3. Ride the boat through the Melaleuca Forest.
There is something about riding a boat that makes a trip even more fun. Maybe it's the peaceful drifting along the waters. Or maybe it's the unknown of what lurks beneath the surface.
It was a peaceful 30 minute boat ride through the Melaleuca Forest. Everyone wore a life jackets (children sizes are also available) and a conical hat (iconic rice paddy hat). Who knew the conical hats were so light and had the perfect amount of coverage from the sun?!
We had five people in our boat – the rower and the four in our group. The boat had paddles which we used to move the boat along, yet our rower probably did a better job with the paddling than all of us combined.
The scenery was lovely throughout the ride with the white tree stumps and leafy foliage covering the area.  We didn't see any other boats during our ride so it was quiet and a private place for our group.
There is a separate water cable car that we saw on the way to the boat ride but it wasn't open during our visit. (As an update, the boat tour with the underwater cable is now open!)
4. Walk through the Melaleuca Forest.
This place is perfect to walk through. From the lunch buffet place, you'll need to walk 15-20 minutes to the boat ride area.
Afterwards, take the walking path loop which is an additional 4 to 5 km (2.5-3.1 miles), depending on where you want to go. The path is paved, so it's easy to walk on.
You will come across some wooden bridges or wooden planks to test your balance.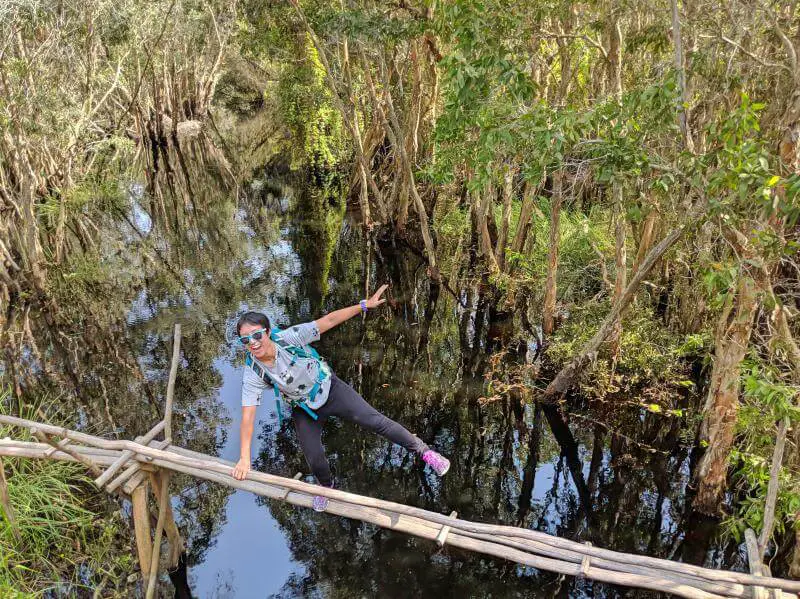 There is a section to see a pond of lotus flowers. You'll come across an "X bridge" for the walking path. Unfortunately during our visit, the lotus flowers were not yet ready to bloom so it was a brown mess in the pond.
What is great about the walking path is that it's in a loop so you won't get lost. We loved seeing the cajuput forest, mangrove trees, and also freshwater snails in the river.
5. Visit the Observation Tower.
If you want an aerial view of the village and beyond, visit the Observation Tower.
You'll climb up the 5+ story stairway (unfortunately no elevator available) and will see greenery that extends for miles. The tower isn't the best place for a picnic with the limited space and lack of seating area.
We hope the tower gets a new paint job as visitors have tagged the walls with names and messages. It's quite sad to see the graffiti.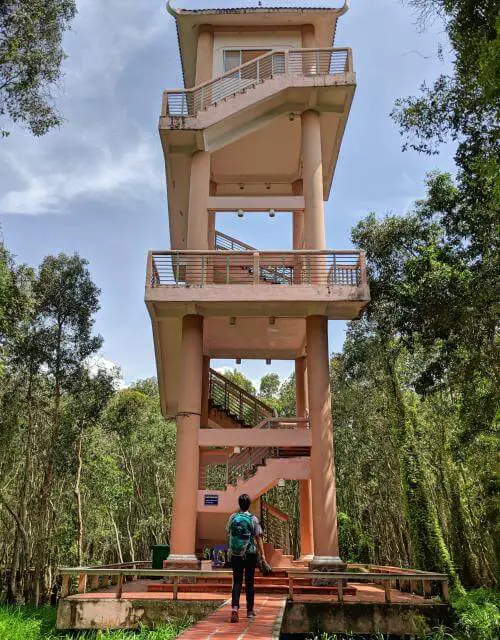 ---
We hope you consider a day trip from Ho Chi Minh City to Tan Lap Floating Village in the future! You won't be disappointed with the visit and to spend some time outside and check out one of the pretty spots in Vietnam. 
For more information about the village, check out the official website or Facebook.
Would you want to visit this place? What other day trips have you taken from Ho Chi Minh City? Let us know in the comments!
Related posts in Vietnam and Ho Chi Minh City
Save the post and pin below!