If you're visiting Bali, Indonesia, and need an idea for a day trip, consider visiting Ijen Crater (Kawah Ijen in the Indonesian language) and Blue Fire. It's one of the most epic adventures to do in Indonesia. 
Ijen is an active volcano that spans 20 kilometers (12.5 miles) long. It has a huge caldera with a vibrant turquoise acidic lake and a continuous release of sulfuric gas into the air. 
This area is a prime spot to mine for sulfur as many miners make the daily trek up and down the volcano collecting over 50 kg (110 pounds) of sulfur. 
Located on the border of Banyuwangi and the east side of Java island, it's doable to visit Ijen and cross over from the west side of Bali (albeit a very long day!) All you need is some planning. 
What makes Ijen popular is the photogenic Blue Fire and the beautiful sunrise. Visitors start at 2:00am to hike along the volcano to see the Blue Fire, made from the burning of natural sulfur gas and released from the cracks at intense temperatures of 600°C (1,112°F). The stunning sunrise is also something to not miss!
In this post, we're sharing insight tips on visiting Ijen from Bali and our experience hiking to this unique place. 
*Disclaimer: This post contains affiliate links.  As an Amazon Associate, we earn from qualifying purchases. If you click on them and make a purchase, we receive a small commission. There is no additional cost to you. Appreciate the support.
---
Mount Ijen Crater & Blue Fire Hiking Overview
In order to reach the Blue Fire, everyone must hike the volcano in the early morning – around 2:00am. 
Challenging level: Moderate
Distance: 5.6 miles (9 kilometers) round-trip (according to our Strava)
Elevation: 2,769 meters (9,085 feet)
Time to complete: Varies – But account for 4-5 hours round trip including the time to wait for sunrise
Helpful tips: 

Hike up slowly to conserve energy. Do not rush with the hiking. 
If you see sulfur miners bringing up sulfur, please move out of the way. They're carrying around 50 kg (110 pounds) of sulfur on their shoulders.
---
Can You Climb Ijen Crater Without a Guide Or Need a Tour Guide?
It depends on your budget and the comfortability of doing Ijen Crater by yourself. It is doable and requires extra planning. 
Things to consider if doing this by yourself: 
How will you get to/from the Ijen starting point? You'll need to organize transportation to the Ijen Crater base (at Bumi Perkemahan Paltuding) from Bali or Banyumangi. Will you hire a driver or take a motorbike from Banyuwangi? 
How will you purchase the admission ticket? This can be done either online or at the gate. 
Do you have a gas mask? Renting a gas mask is important if you plan to visit the Blue Fire. 
Are you able to hike on your own or do you need extra support? The good news is that you can follow everyone to the Ijen Crater and Blue Fire as everyone goes to the same place. 
Where will you go after Ijen? You'll need to figure this out as a part of the planning for transportation. 
If taking a tour: 
Everything is already taken care of for you from the transportation, admission fee, parking fee, food (if a boxed breakfast, hotel breakfast, or a meal at a local restaurant is included), and a guide. The tour will provide a gas mask and flashlight or headlamp. 
Taking a tour will cost more than doing it by yourself but it'll be a stress-free experience. Just show up and have fun!
---
What did we do? 
While we like to explore attractions on our own, we went with going on an Ijen tour.  
We didn't want to ride a motorbike by ourselves at midnight so we opted to have a tour that included transportation. 
Plus, it was safer to go on a tour as our guide, Arief, a former sulfur miner, knew where to go and helped us on any sketchy parts of the hike around the rocky area. The extra support from Arief was helpful throughout the trip. 
We'll share the tour group that we went with below. 
Here are tour options for you to consider: 
---
Our Tour Recommendation: Blue Flame Tour
After researching various tour operators, we contacted Blue Flame Tour due to their high reviews on TripAdvisor and Google. 
It was easy to communicate with Blue Flame Tour and the team via email and WhatsApp. They provided an East Java itinerary for 4 days (3 days of activities + 1 day of travel) at a reasonable price. The tour included transportation, gasoline, hotel and hotel breakfast, admission to attractions, and water.
Our guide, Arief, and our driver, Adi, did a fabulous job on our Ijen tour (and the rest of the trip). They were professional and made sure we were comfortable and safe. 
They arrived promptly at our hotel before driving us to the base. 
As a former sulfur miner over 7 years ago, Arief shared his insight about Ijen and the challenges working as a miner. He shared the walking techniques that miners use when carrying the large sulfur chunks and strategies used to create a face covering to block the sulfur gas (instead of using a gas mask).  
He did an amazing job ensuring our safety on the hiking trail and took many photos of us along the journey. 
We were thrilled to spend the next few days with Arief and Adi for our East Java trip. They made the trip a lot of fun. 
---
Ijen Crater & Blue Fire Admission Cost
If you take a tour, admission to Ijen Crater will be included in the total cost. 
If you're visiting by yourself, the admission cost is between 100,000-150,000 IDR per person ($6.70-$10 USD) (depending if you visit on a weekday or weekend). 
---
Best Time To Hike Ijen Crater
Ijen Crater can be visited all year round. Yet, the dry season (April to October) will be a better experience than the rainy season (November to March). 
The hiking trail is part dirt and part rocks. During the rainy season, it'll get extremely muddy on the dirt path so that'll slow down your hiking speed. In addition, the rocky area will be slippery so this is where you'll need to have hiking shoes or shoes with good traction. 
July and August tend to be high season in the summertime so the trail will be more crowded. The trail to the Blue Fire is narrow so you will be in a line during the high travel season. We went at the end of August so the crowds weren't too bad. 
Visiting on the weekdays will be better than the weekends. More locals tend to visit on the weekends and the cost is higher. 
You can visit this trail at any time of the day. The majority of the hikers start the hike at 2:00am to see the Blue Fire and then wait for sunrise around 5:00am and finish at 6:30am before ascending the volcano. 
If you're just visiting to see the crater, then visiting anytime in the morning is fine.
---
How to Get to Ijen Crater from Bali
You may disregard the following steps below if you're taking a tour and have everything already prepared for you. 
Step 1: From Bali to Banyuwangi 
Hire a driver to take you from your current accommodations in Bali to Gilimanuk Harbour on the west side of Bali. Allocate 3.5 hours one way to get to the port as the distance is 124 to 150 kilometers (77 to 93 miles) away. (We left Canggu area at 11:00am.)
Here are some approximate travel times:
From Kuta to Gilimanuk: 3 hours 20 minutes 
From Canggu to Gilimanuk: 3 hours 
From Sanur to Gilimanuk: 3 hours 25 minutes
From Ubud to Gilimanuk: 3 hours 10 minutes
As you get closer to the port, ask your driver to pull over to one of the kiosks on the side of the road to buy the ferry ticket. The tickets must be purchased online at one of the kiosks.
Once you arrive at the port, use the ticket machine to print a physical ticket. 
From there, find your ferry to Ketapang and a spot to sit, and enjoy the ride. The ferry ride will take 1 hour. Technically, the ferry ride itself is less than 30 minutes, but another 30 minutes of waiting is needed for a dock opening. 
---
Step 2: Transfer from the Ketapang Ferry Port in Banyuwangi to Hotel (or Direct to Ijen Crater)
Once you arrive at the Ketapang port, you'll need to arrange transportation to go to a hotel in Banyuwangi for a few hours of rest before the midnight pick-up. 
Or, go directly to the base of Mount Ijen at Bumi Perkemahan Paltuding (depending on your itinerary.) 
---
Step 3: From Banyuwangi Hotel to Ijen Crater 
Most of the tours start between 12:00am to 12:15am to see the Blue Fire with a hotel pick up. 
It'll take about one hour to arrive at Bumi Perkemanhan Paltuding, the starting point for the hike.
After purchasing the ticket, then you're ready to go hiking. 
Note: There aren't any toilets along the trail. In the parking lot area of Paltuding, there are toilets available. The toilets aren't in the best condition. Bring toilet paper and hand sanitizer in case the water pressure is low. 
---
Where to Stay in Banyuwangi
If you have the extra budget and can stay in a hotel the day before going to Ijen, it's worth it. While it's only for a few hours, it'll be a nice way to relax and unwind in a bed or by the pool before the big event. 
Click here to find accommodations in Banyuwangi on Booking.com or Agoda. 
---
We stayed at Ketapang Indah Hotel. Located 2.8 kilometers (1.7 miles) away from the Ketapang Ferry Port Wharf, it's a gorgeous resort area with so much greenery – palm trees everywhere, manicured green lawns, and tons of plants. Plus, they have a swimming pool and an on-site restaurant. 
Book your stay at Ketapang Indah Hotel on Booking.com or Agoda.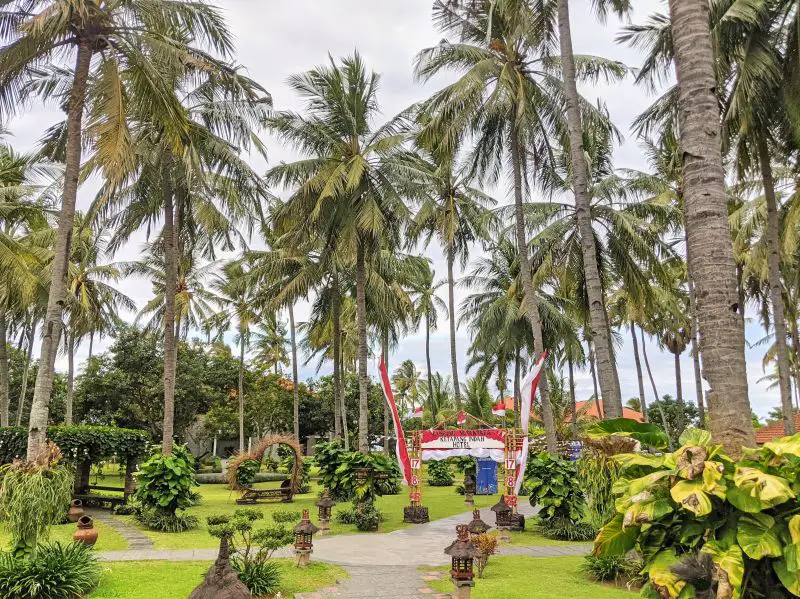 At check-in, the hotel provided this delicious welcome drink of various green vegetables with lime. YUM! 
The room was clean and had a minimal design, yet it was fine for a few hours of sleep. The room had blackout shades so we could rest when the sun started to set after 6:00pm.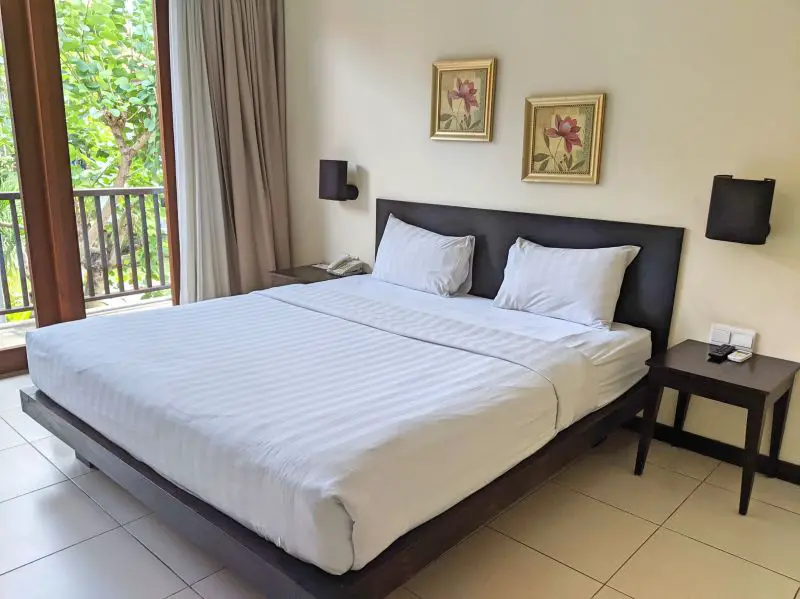 As for breakfast, the hotel provides two options – 1) A boxed breakfast to enjoy at Ijen, or 2) At the hotel. 
We suggest that you go with the buffet breakfast at the hotel. It was delicious! The variety of Indonesian and Western food would satisfy all palates. From the hot fish soup, gado-gado (vegetable salad) station, to the egg station, there was so much good food to try. We didn't have a chance to try the dessert bar as we were too full. 
Ijen Blue Fire & Ijen Sunrise Schedule
Depending on where you're departing from, the schedule will vary. Just know that you'll start EARLY!!
The schedule below is what we experienced when departing from Ketapang Indah Hotel in Banyuwangi. 
12:15am – Pick up from hotel
1:15am – Arrival at Bumi Perkemahan Paltuding. It's cold here! You can order hot tea or coffee at one of the local shops and keep warm next to a fire pit. The guide will buy the tickets at the ticket office.
2:00am – Start the 3 km (1.9 miles) hike to the Blue Fire. 
4:00am – Arrive at the Blue Fire and walk around.
5:00-5:15am – Wait for the sunrise. 
5:30am – Start the ascend to the parking lot. 
6:30am – Congratulations! You've finished the hike! It's time to return to the hotel for breakfast. On the way, we stopped by a coffee and rubber tree plantation. (Other schedules may include heading to a local restaurant for breakfast or returning to Banyuwangi port to go back to Bali.) 
---
What to Wear for the Ijen Crater Hike
Technical t-shirt – Wear a moisture-wicking t-shirt to absorb the sweat.
Jacket – The weather is unpredictable and can change at any time. It can be very cold from 5-15℃ (41-59℉), especially at the base, so you want to prepare a jacket just in case. Your body will warm up as you climb up the volcano. 
Comfortable long pants 
Hiking shoes or trail running shoes – It's necessary to wear proper hiking shoes or trail running shoes. No flip-flops! (We saw a group wearing them and were impressed that they didn't injure themselves.) We wore Nike Free shoes. They were okay but didn't have enough grip on the rocks so slipping occurred. 
Comfortable socks
---
What to Bring for the Ijen Crater and Blue Fire Hike
Backpack – You'll need a backpack to carry water, snacks, a jacket, and other things you'll need. Check out our favorite daypacks here: men's day pack option / women's day pack option.  
Headlamp or Flashlight – If you're taking a tour, they should provide you with one of these. We suggest having a headlamp so you can be hands-free when hiking down the rocks. 
Gas Mask – If taking a tour, then a gas mask will be provided. You'll only need these to see the Blue Fire. You can also rent one at the base as seller walks around with them. 
Hat – Once the sun comes up, it is bright! Buy this hat to protect yourself from the sun.
Sunscreen – You'll need sunscreen once the sun comes up. Check out this sunscreen.
Sunglasses – Here are our favorite sunglasses.
Travel Insurance documentation – Travel insurance is recommended when traveling. You never know what may happen when walking along the Ijen crater trail or the rocky area. Injuries occur and you may need medical attention.
---
Our Experience on the Ijen Blue Fire & Ijen Crater Sunrise Tour
The Night Before the Trip
We mentally had to prepare for a long journey ahead of us. 
Our guide, Arief, stressed the importance of getting at least 4 hours of sleep the night before the trip. Based on his experience, many hikers were exhausted from the lack of sleep. Considering that the hotel pick-up was at 12:15am, we needed to sleep between 7:00pm to 8:00pm. 
We did our best to have an early dinner and sleep by 6:30pm. Luckily our hotel room had blackout shades. Yet, we heard loud music playing so that disrupted our sleep. 
Regardless, we promptly picked up from the lobby area of our hotel, and off we went to the starting point. 
---
Start of the Ijen Hike 
We started the hike at 2:00am and the weather was chilly. 
Once we started moving and climbing Mount Ijen, our bodies warmed up and we had to take off our layers. 
Everyone followed the same dirt path up the mountain. It was around 3 kilometers (1.9 miles) to reach the Blue Fire. Portions of the trail were flat while others were steep. Just take it slowly and go at your own pace. You don't want to burn out in the beginning 
It was dark along the trail so a flashlight or headlamp is needed.
---
Visiting Ijen Blue Fire
The next part of the hike was the rocky section. 
The best suggestion is to walk SLOWLY. There were loose rocks and gravel so you could easily fall.
The best time to see the Blue Fire is between 2:00am to 4:00am, which is why everyone rushes to see this unique flame. It's a natural fire by sulfur gas and one of the largest blue fires in the world. 
We saw a few miners going up the path and bringing up huge chunks of yellow sulfur on the shoulders. Each load was between 50-70 kg (110-154 pounds) of sulfur! 
Arief, our guide, was a former miner and said that each kilogram is worth 1,500 IDR ($.10), so 50-70 kg is 75,000-105,000 IDR ($5-$7) of earnings. It's hard work to mine for the sulfur. 
As we got closer to the Blue Fire, we had to wear the gas mask. The wind direction changed often and the sulfur gas went everywhere. 
To be honest, we saw the Blue Fire for 30 seconds and then had to leave. 
While the vibrant blue flames were cool to see, the smoke got into our eyes and they burned! We kept them close until the wind passed but it was challenging to keep them open. We needed some swim goggles to block out the smoke!  
Luckily, we wore the gas mask which kept most of the smoke out of our lungs. 
This is not the most flattering photo, but the smoke is no joke!
Arief saw how uncomfortable we were so he grabbed my phone and took photos and videos on my behalf. The conditions were too rough to handle and we had to get away from the smoke. 
Here is an amazing photo that he took!
Note: If you're wearing a headlamp or have a flashlight, please turn it off, so you can see the flames better. 
Afterward, Arief showed us a spot where sulfur mining occurs. There is a pipe that releases the red sulfur molten and when the sulfur cools, it turns to a pale yellow color. 
The miners break the yellow sulfur into large chunks to carry back up to the crater rim. 
Before, miners only had a basket to carry the sulfur back up. Now, they have a trolley with a braking system to transport. (You'll also see them carry people in the trolleys too!)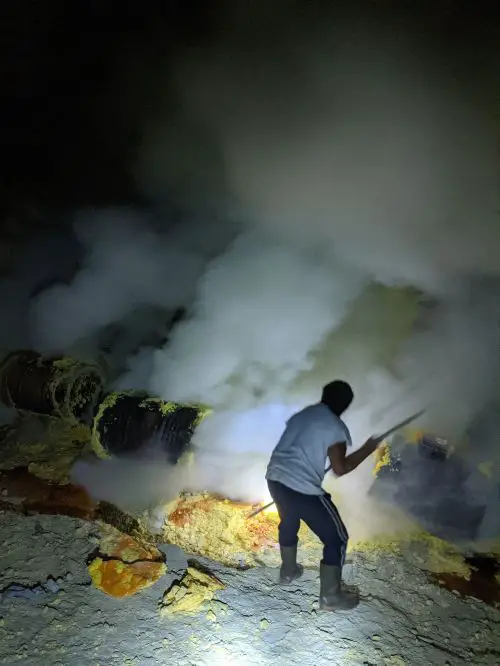 Close to the blue flames is a place where you can buy souvenirs made from sulfur molten. Or, you can support the miners by giving a small donation (not required). 
---
Awing at Ijen's Sunrise
After exploring the sulfur mining area, it was time to hike back up to see the sunrise. You won't need the gas masks anymore. 
There are plenty of spots to see the sunrise whether it's up at the crater rim or halfway up the crater. 
We decided to go partway up the crater to wait for the sunrise around 5:15am. While the view was lower, it wasn't as crowded. Plus, the views were just as gorgeous! 
Once the sun rose, the turquoise lake sparkled with the pink and orange skies and the sulfur steam. It was a breathtaking sight and worth the early morning wake-up call. 
We couldn't stop taking photos since the crater view was so beautiful!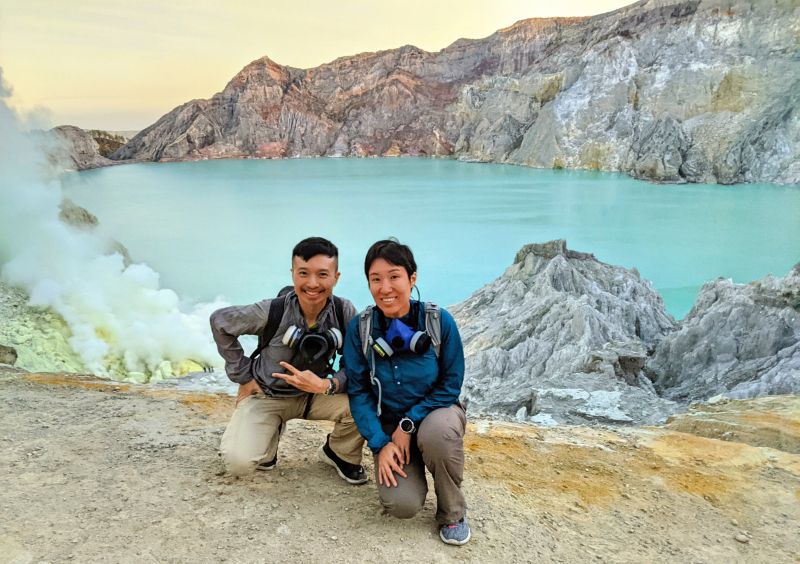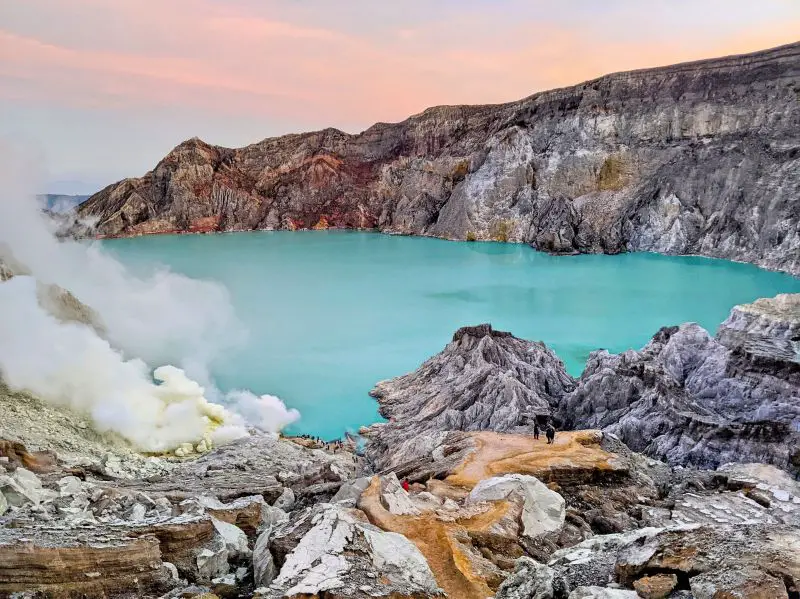 ---
Returning to the Car
Ijen Crater calmed down after the sunrise. It was eerie quiet yet so peaceful when looking into the lake. 
We took our time going ascending the volcano. The rocky trail that we took in the dark looked much different in the daytime. 
Once we reached the crater rim, the crowds already dispersed. We saw miners taking a break, hanging out by a fire, and drinking hot beverages. 
Going down the mountain wasn't too bad. 
A few miners pushed their trolleys and asked if we needed a "GoJek" ride (GoJek is the Indonesian ride-hailing app similar to Uber in the U.S.) to go down the mountain. The cost was 100,000 IDR ($6.70) for 2 people. 
We saw one couple take advantage of the trolley and off they went. The experience seemed safe enough as the trolley had brakes when the trail was steep. 
Once we made it to the parking lot, we were thrilled with our accomplishments! It's not an easy hike, especially when starting early in the morning.
Afterward, our driver, Adi, and Arief drove about 30 minutes away to stop by a coffee and rubber tree plantation. We saw Arabica coffee beans and rubber trees collecting the white sap. 
Then we returned to our hotel to eat breakfast, shower, and gather our belongings for the next destination – Mount Bromo. 
---
Final Thoughts
If you want to visit Ijen, then don't hesitate to plan a trip there! You can easily get there from Bali or visit at the end of your Java Island exploration. 
Whether you want to go via a tour or by yourself, just stay safe and wear your gas mask as you get closer to the sulfur gas. 
Enjoy your time here! 
Looking for more places to see the sunrise in Indonesia? Check out our other posts:
If you have any questions about Ijen or our experience, please ask in the comment section below. 
Like this post? Save it to your Pinterest board.