Who loves visiting waterfalls? Indonesia has many swoonworthy waterfalls to visit in Asia. 
One of the popular and beautiful waterfalls to check out is Tumpak Sewu. Other names are Air Terjun Tumpak Sewu or Coban Sewu. 
Located in the Pronojiwo District of Lumajang area and nearby Mount Bromo and Malang City on Java Island, Tumpak Sewu is a collection of smaller waterfall cascades that fall gently into the pool. In the Javanese language, Tumpak Sewu means "a thousand waterfalls," even though there aren't a thousand of them. 
It's quite impressive to see the massive size of this waterfall surrounded by the quiet lush jungle.
While you're here, you can also visit the neighboring waterfall, Goa Tetes. It's a smaller yet more adventurous waterfall to explore since you get to climb up the waterfall and enter a secret cave! 
In this post, we're sharing tips on how to visit both Tumpak Sewu and Goa Tetes Waterfalls for an exciting morning activity in East Java. You'll want to add these incredible waterfalls to your Indonesia itinerary. 
*Disclaimer: This post contains affiliate links. If you click on them and make a purchase, we receive a small commission. There is no additional cost to you. Appreciate the support.
---
Do You Need a Tour to Visit Tumpak Sewu & Goa Tetes?
It depends on the amount of time for your visit. 
A very short visit would be to visit Tumpak Sewu Waterfall's panoramic viewpoint. This would not require a guide and would take 15-20 minutes. Just follow the walking path for a few minutes and then you can see the viewpoint and take a few photos. Then you can return and continue your East Java itinerary.
---
A short visit is to see Tumpak Sewu's panoramic view and walk down to see the waterfall. It'll take a minimum of 1 hour. Having a guide would depend on your comfort. 
It's doable to go by yourself, but you would need to be very careful. You will walk through rushing waterfalls, rivers, and slippery rocks. There is a rope to hold on to when crossing through slippery areas. You can follow the walking path and then can reach the bottom of Tumpak Sewu Waterfall. 
If this doesn't sound feasible, then you should hire a guide. Most of the visitors that we saw had a guide.  
Note: You will need to be physically fit to pull yourself up and down the ropes. 
---
If you want to visit both Tumpak Sewu and Goa Tetes and go climbing up Goa Tetes,  then you need to hire a guide. It'll take 2-3 hours to complete. 
This way is a true adventure as it's very tricky to climb a waterfall by yourself. Your guide will know which route to take and will support you along the way.
This is the route that we took. We had a private tour that included a tour guide, and the tour also included a guide for the waterfall. The waterfall guide was hired through our guesthouse, Yanto Homestay. We'll share more information about the homestay below. 
Tour Options
Note: Tipping the guide is optional. It's not expected but it is a nice gesture to show your appreciation for guiding you for a few hours. We gave our guide a tip of 100,000 IDR ($6.60 USD) for his support.
---
How to Get to Tumpak Sewu Waterfall
This waterfall is hidden in the jungle off of National Route 3 / Jl Raya Dampit-Lumajang Road, so you'll need to have transportation to get here. Whether you hire a driver, go on a tour, or ride a motorbike, transportation must be planned ahead of time. Click here to see the location on a map. 
From Malang to Tumpak Sewu, it'll take 2.5 hours for 68 to 78 kilometers (42 to 48 miles) of travel one-way. Click here to see the driving directions. 
From Probolinggo to Tumpak Sewu, it'll take 3.5 hours to travel 95 to 180 kilometers (59 to 112 miles). Click here to see the driving directions. 
Tip: One of the routes goes through Malang, so you can consider stopping by Malang's colorful houses to see some bright and rainbow-colored houses. 
---
Entrance Fees
If you're taking a guided tour, then admission is included.
If traveling by yourself, there is a small fee for each section of the waterfall. Each section costs 10,000 IDR ($.66 USD) per person. Cash is only accepted.
To see the panoramic view of Tumpak Sewu
To enter Tumpak Sewu Waterfall area
To visit the Goa Tetes 
---
Where to Stay Near Tumpak Sewu
Guesthouses are limited in the area. If you plan to stay overnight nearby Tumpak Sewu, please reserve in advance. Prices are between $16-$30 per night. Check out these options on Booking.com.
---
We stayed at Yanto Homestay, located conveniently across the entrance of the Tumpak Sewu. It's a five-minute walk to get to the panoramic viewpoint. 
Click here to reserve a stay on Booking.com or Agoda here. 
There are several dozen rooms here. Some of the rooms were next to the dining area, so it can get noisy. You can request a room farther away which will be quieter. 
We had a private room with queen size bed, an ensuite bathroom, and air-conditioning. The room had minimal decor, yet it was fine for the overnight stay. Room came with water bottles and towels. You must bring your own toiletries as there aren't any provided.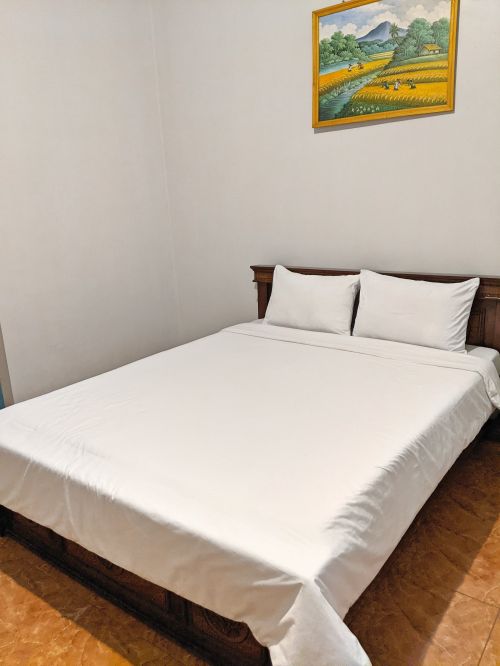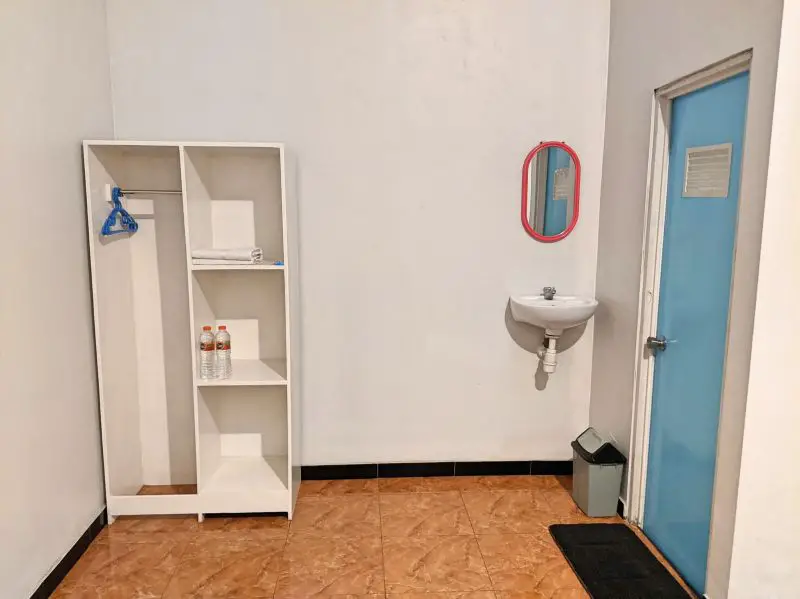 This place also has an on-site restaurant. Since you're located in the middle of the jungle area, there aren't many choices for restaurants. 
The menu has options such as nasi rawon (rice with beef stew), nasi goreng telur (egg fried rice), nasi ayam penyet (rice with fried chicken), nasi lele penyet (rice with lele fish), tempe, and more. Prices are not listed on the menu but the food cost around 20,000 to 25,000 IDR ($1.30 to $1.65). The food was pretty good! We had dinner here and then lunch the following day. 
Breakfast is included in the room. The choices are mie goreng telur (egg fried noodles), Indomie goreng telur (Indomie fried noodles with egg), pancake, omelet, roti bakar (toast), or sandwich. You also get a choice of hot tea or coffee.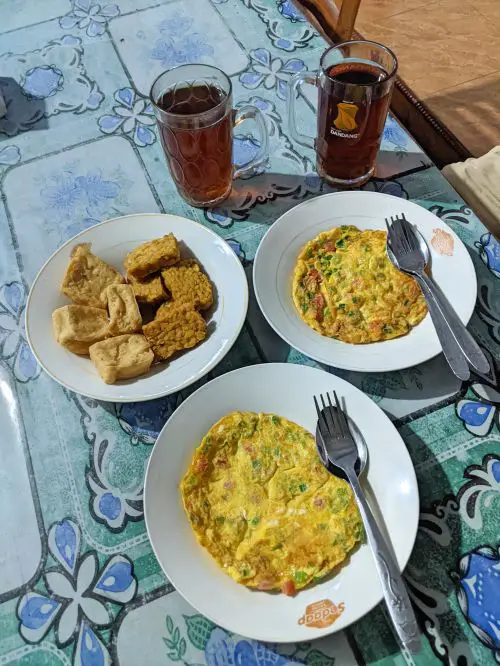 One of the workers of the homestay was also our guide for the waterfall. He was great and supported us throughout the sketchy parts of the trip. He also made sure that we were safe throughout the excursion.
---
What to Wear
A swimsuit – Please wear your swimsuit ahead of time. There aren't any changing stations next to the waterfall. 
T-Shirt and Shorts – Moisture-wicking fabric is recommended to dry quicker.
Water shoes or strappy water sandals – You need to have footwear that has good traction at the bottom. Otherwise, you will slip A LOT. We used flip-flops which weren't ideal as they often floated away but they helped provide flexibility when climbing rocks. 
---
Things to Bring
A small backpack or waterproof dry bag – A dry bag will be better since your stuff will get wet when walking through the streams. 
Hat
Water bottle 
A small towel
Snacks
Camera
Insect repellent
Sunscreen 
Cash 
**Do not bring your passport or any valuables with you as they will get wet. You can leave them at your accommodation.
Tumpak Sewu Waterfall Viewpoint
The first stop is the panoramic viewpoint of the Tumpak Sewu It's a must-visit spot as you get an aerial view of the waterfall. You can see the small waterfall streams flowing from the top to the bottom. 
As mentioned earlier, it's a five-minute walk from the entrance gate to the viewpoint. The walkway is paved but is steep at some parts so walk slowly. It can get slippery so do not walk here on a rainy day. 
There are a few warungs located in front of the viewpoint. You can enjoy a drink or snack while you're here. 
As a heads up, the fog lingers around in the morning. When we visited at 7:15am, there was a dense layer of fog. After waiting for 10 minutes, it didn't clear up so we visited the platform once we finished our waterfall excursion. 
---
Tumpak Sewu Waterfall
From the overlook platform, there is a narrow dirt trail that descends to the bottom of the hill to get to Tumpak Sewu. Walk carefully as the path can be muddy. 
You have to cross and walk down through a waterfall cascade with rushing streams. This is a dangerous part as slipping can occur. 
Tip: The side of the route has a rope to hold on to. Please use this rope to help with balancing and to make the descent easier. 
Once you arrive at the bottom of the hill, pass through the entrance to go to Tumpak Sewu. You can't miss the signage, "Welcome to Coban Sewu." Here, you'll pay an admission fee (if visiting by yourself). 
You can also stop here for a coffee or tea break either before or after your visit and support the locals. A drink is around 15,000 IDR ($1.00).
You'll need to cross another waterfall stream that is ankle to calf-deep high before you reach the waterfall. 
You've finally arrived at the Tumpak Sewu Waterfall!! It's a jaw-dropping sight to see. The waterfall is wide (and looks like several football stadiums in length), so it's hard to capture in one shot. 
The area looks like you're in the Jurassic Park movie with the greenery everywhere. 
One of the picturesque spots is standing on top of a rock with the waterfall in the background. Some scrambling over the rocks are needed to get to this spot. 
Your photographer can capture the photo from the bottom of the falls or via a drone.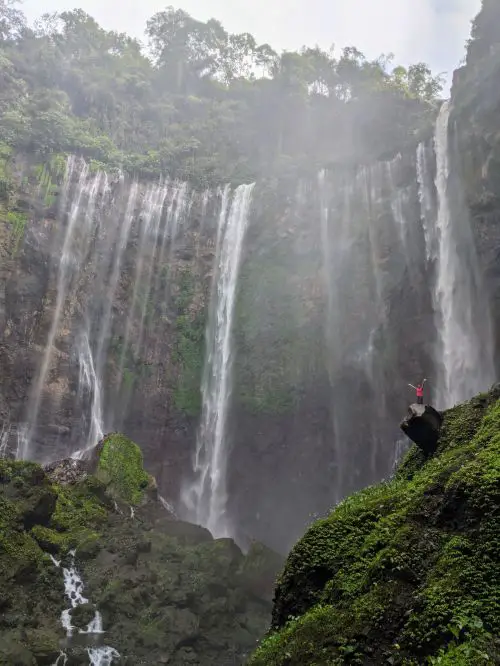 There is usually a line to get to this spot, so you'll need to wait your turn. When we arrived, there was a group of four people in front of us so we didn't have to wait too long. 
Note: There are leeches here. Watch your legs and feet for any leech bites. If you see any, pull them off immediately!
---
Goa Tetes Waterfall
After spending some time at Tumpak Sewu, it was time to go to our next waterfall, Goa Tetes. It's in the opposite direction of Tumpak Sewu, so you need to exit the area and walk in another direction. 
There is another kiosk to pay for admission to enter here. 
Goa Tetes's waterfall cascades are smaller and gentler yet they're just as impressive as Tumpak Sewu. Since the cascades are not as high, there are more photo opportunities with the waterfall. 
The highlight of visiting Goa Tetes was climbing up the waterfall to reach a hidden cave called Tetes Cave. This was very challenging with the rushing waters and an unmarked path. We couldn't have done this without the help of our guide. 
It was a bit scary and challenging to climb since the rocks were very slippery. Luckily, many of the areas had railings and ropes to cling onto. 
We eventually made it to a secret cave that had stalactites and stalagmites and small fish swimming around. (The fish bit our feet, so it was similar to doing the fish foot massage.) It was a cool spot to take photos, even though we got drenched in the cave!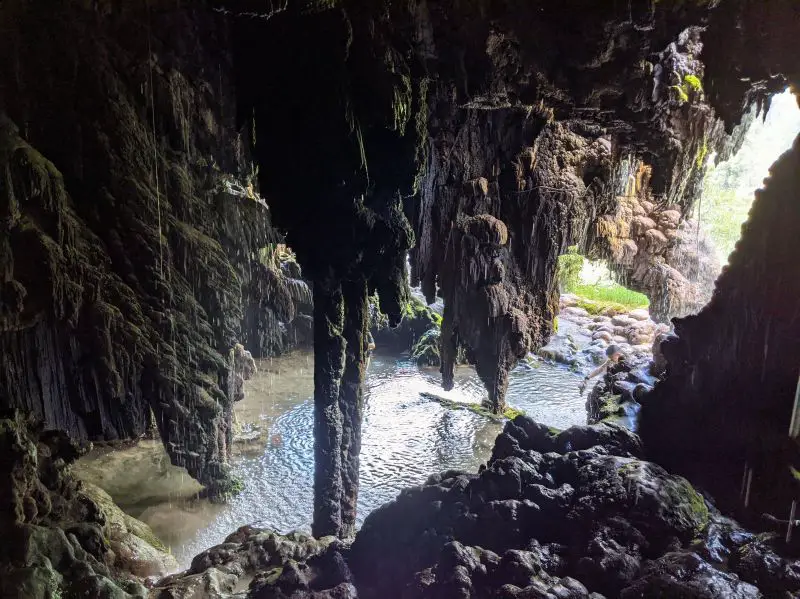 Unfortunately, Justin slipped on one of the rocks in the cave. He cut up his foot. Luckily, the wound wasn't deep and didn't get infected. (He scrubbed the area well with soap and alcohol wipes when we returned to the homestay.) 
We climbed down a portion of the waterfall and eventually made it to a shortcut trail to return to the main entrance area. Luckily, we didn't have to backtrack and go back in the same direction the first time. 
Unfortunately, there was a mudslide a few days before so a portion of the trail got washed away. We had to be careful to not trip over fallen tree branches. 
What an adventure!! We were thrilled to reach the main road and finally dry off with the sunshine.
We returned to the homestay to shower and pack up and then off to our next destination – going to Surabaya to take the train to Yogyakarta.
---
Final Thoughts
Would we recommend visiting Tumpak Sewu and Goa Tetes? Absolutely! These are fun additions to any Indonesia itinerary.
You can't deny the beauty of the greenery and nature and see these awesome waterfalls. 
Plus, our guide did an amazing job to ensure our safety. If you have the budget, please hire a guide as they know where to go. 
The only thing that we would have done differently was the footwear. The flip-flops held up fine since there was traction on the bottom, but we kept on losing them in the stream. Strappy sandals would have been better to prevent slippage. We probably wouldn't have had the accident but who knows?!
Looking for other waterfalls to visit in Indonesia? Check out our posts:
Have any questions about these waterfalls? Let us know in the comments below.