Need an idea for a day trip from Yogyakarta, Indonesia? Consider stopping by Timang Beach and Timang Island. 
Located in Gunungkidul on Java Island, Timang Beach is a white sandy beach and has a small, rocky island, Timang Island (also known as Palau Timang). 
What makes this place special is the adventurous opportunity to visit Timang Island by gondola or suspension bridge and get rewarded with photogenic views of the ocean and landscape. The ocean is some of the bluest water that we've seen! 
In this post, we're sharing tips on how to visit Timang Beach and Timang Island and what to expect when visiting here. 
At first, we were hesitant about visiting this place since it seemed like a tourist trap. While it's tailored for local tourists and foreigners, we loved our experience here. It was a nice change of pace from visiting temples in Yogyakarta. 
*Disclaimer: This post contains affiliate links. If you click on them and make a purchase, we receive a small commission. There is no additional cost to you. Appreciate the support.
---
How to Get to Timang Beach from Yogyakarta
Step 1: Hire a driver or ride your motorbike to get to Timang Beach from Yogyakarta. 
You can ask your accommodations if they have any recommendations for drivers. 
Before visiting Yogyakarta, we contacted a driver through WhatsApp and hired him for 3 days. If you're interested in our driver's contact information, please contact us here. 
The drive will take 2.5 hours one-way depending on traffic. The beach is 70 to 75 kilometers (44 to 47 miles) away. Click here to see the driving directions.  
---
Step 2: Hire a Jeep to get to Timang Beach. 
The beach is 5 kilometers (3.1 miles) away from the main road so you need to hire a Jeep to get to the beach. Walking is not an option.
Our driver took us to Jeep Jogja Corner. The Jeep cost 350,000 IDR ($23.00 USD) and includes a driver and a round-trip drive. Each Jeep can hold up to 4 people. 
Things to Know About the Jeep Ride
We read that we could take a motorbike instead of hiring a Jeep as a cheaper option. Unfortunately, there wasn't an option. Anyway, taking a motorbike would have been rough since the road is partially paved and made out of stone. The road is really bumpy!
When standing in the back of the Jeep, please hold on to the handrail tightly. It's quite an adventure to feel each bump along the road and some parts of the road are steep! 
Hold on to your cell phones and cameras during the ride as they can fly out of the Jeep easily. 
Don't forget to take a photo with your colorful Jeep. 

Other side trip ideas: Since Timang Beach is farther away from Yogyakarta, many tourists take a full-day trip to include other attractions, Jomblang Cave for caving and Pindul Cave for tubing in a river before visiting here.

 

You can also do this tour option which includes a visit to Jurang Tembelan, Pine Forest, and Timang Beach. 
---
Timang Beach and Timang Island Admission Cost
Visiting Timang Beach is free if you want to just hang out at the warungs and see the views from the mainland.
There is an additional fee to visit the rocky island, Timang Island, to take photos and see gorgeous views of the waves and surrounding waters. 
There are two options to cross and both have a different admission cost. 
Walking across the suspension bridge. The cost is 100,000 IDR ($6.50) per person.
Taking the man-powered yellow gondola. The cost is 200,000 IDR ($13.00) per person.
Note: There are two different kiosks to pay for the crossing. Once you cross to the other side, there are designated areas to stay. 
Overall, this excursion isn't the cheapest since you need to pay for the driver from Yogyakarta, a Jeep ride (350,000 IDR/$23), and the Timang Island crossing. Yet, don't let the cost discourage you as this place is beautiful to see in person. 
---
Should You Take Timang Beach Gondola or Bridge?
It's up to you on which route to take. 
The gondola is a cool way to travel across Timang Island. It's a bright yellow contraption that is pulled by a few men. There are some awesome views of the ocean and the mainland. 
The bridge is another option to visit Timang Island. The bridge is made of thick blue rope and has a wooden platform to walk across. You get the chance to walk at your own pace and feel the suspension bridge sway underneath you. 
If you can't decide, you can always do both routes! You'll need to pay two admission fees though. 
As with any adventure, use at your own risk! Both options are suspended over the ocean, so anything could happen! Yet, they appear safe to use since they've been around for a while. 
---
Timang Beach and Timang Island Bridge Route
We decided to walk across the bridge as it was a budget-friendly option. Plus, we wanted to go the adventurous route and feel the swaying of the bridge as we walked. We didn't want to be restricted inside a gondola as we wanted to take photos along the way. 
After paying for the admission cost, a man followed us to the suspension bridge. While we didn't do any conversation exchange, he ended up being our photographer and using our cell phones to take photos throughout our trip. He also took a few panoramic videos. 
Normally we're hesitant about other people's photo skills but our photographer was awesome. He found creative spots to take photos on the bridge and on Timang Island such as photographing us between the cracks of the rocks. It looks like he's been doing these photoshoots for a while. Once we finished, we gave him a small tip for his services. 
Here are some fun photos that we took.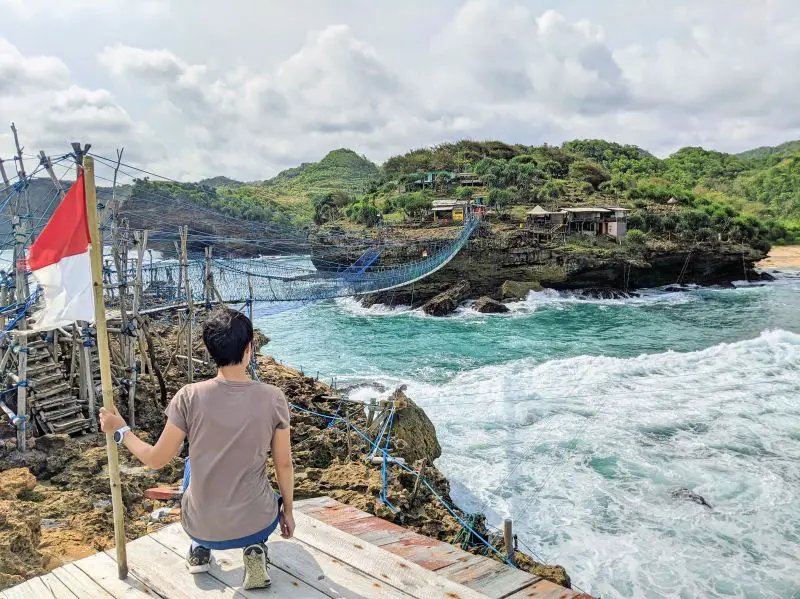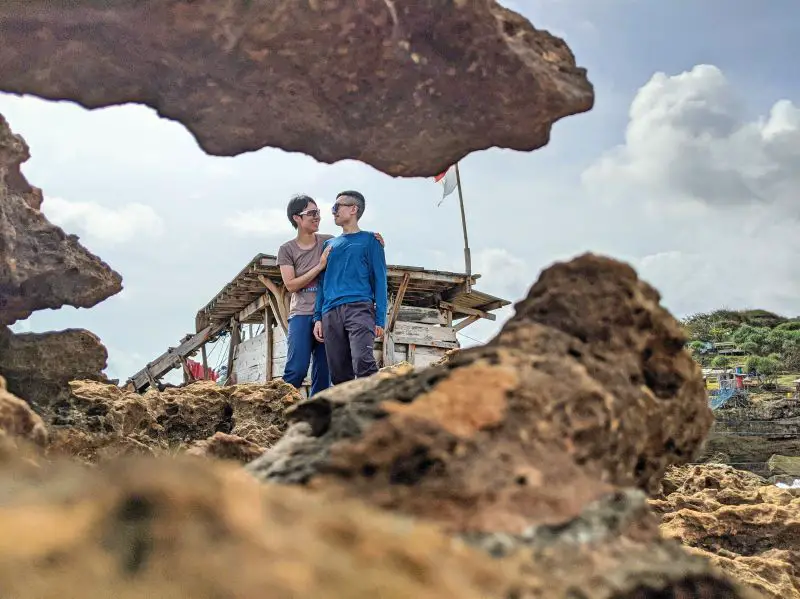 Since we visited earlier in the afternoon, we didn't have to worry about crowds. You'll want to enjoy the quietness as watching the waves is tranquil. The water is super blue here. 
While we were on the island, we saw a sea turtle swim by. We also saw a fisherman trying to catch fish. 
Our trip took a total of 45-50 minutes and we loved every minute of it!
---
Other Helpful Travel Tips to Timang Beach & Timang Island
If you time your visit, you can see the sunset from Timang Island. Sunset is around 5:30pm.
If you're hungry, the Jeep parking area is located next to a restaurant, Kedal Lobster Pak Sis, that sells fresh lobster and seafood. There are combo meals where you can get a small lobster, fish, and other seafood for a reasonable price. We didn't try the lobster as we were still full from our lunch. 
Tipping is optional for your Jeep driver. Yet, it's a nice gesture to thank the driver.
---
Final Thoughts
We recommend that you visit Timang Beach and Timang Island if you have extra time on your Yogyakarta itinerary. It's a fantastic addition seeing pretty ocean views and experiencing an exhilarating adventure. While it's not the cheapest excursion, it's still a fun place to visit in the Yogyakarta area. 
While you're in Yogyakarta, stop by the unique Chicken Church and Prambanan and Borobudur Temples.
If you have any questions, please ask in the comment section below.