Can you visit Borobudur and Prambanan Temple in one day? Yes, you can! 
If you have limited time in Yogyakarta in Central Java, Indonesia, and only have one day, then visiting Borobudur and Prambanan Temples will be high on your priority list. 
You'll love the adventure of visiting these famous UNESCO-recognized World Heritage Sites temples. Seeing the gorgeous architecture and learning about the history is worth the trip here. 
We're sharing with you planning tips on how you can see both Borobudur and Prambanan temples in a day and including helpful information such as transportation, scheduling, and more. 
Click on the links below to jump to certain areas of this post:
*Disclaimer: This post contains affiliate links. If you click on them and make a purchase, we receive a small commission. There is no additional cost to you. Appreciate the support.
---
Why Visit Borobudur and Prambanan
Located in Magelang, Borobudur and Prambanan Temple Complex are easy to get to as a day trip from Yogyakarta. They're important cultural and historical temples which is why many tourists visit these when they're in the area. 
Borobudur Temple (also referred to as Candi Borobudur) is the largest Buddhist temple in the world. 
Built in the 9th century, the temple is one square unit with 9 levels with over 500 Buddhist statues and stupas on the upper levels. At the upper level, there are views of two volcanoes – Mount Merbabu and Merapi. 
Prambanan Temple (also referred to as Candi Prambanan and Rara Jonggrang Temple) is considered the largest Hindu temple in Indonesia. It's also the second largest in Southeast Asia as Angkor Wat in Siem Reap, Cambodia is the largest. 
Built in the 9th century, this is the biggest temple in the complex. Prambanan has over 240 temples including 3 main temples – Shiva, Vishnu, and Brahma, 3 smaller temples – Nandi, Garuda, and Angsa, and surrounded by smaller temples nearby in the complex. 
Both Borobudur and Prambanan Temples joined the UNESCO World Heritage Sites list in 1991. 
---
How to Get to Borobudur & Prambanan Temples
Transportation Options
It's recommended to have transportation to get to both of these temples. Here are some options to take: 
Hire a private driver from Yogyakarta. The driver can be hired for a half day or full day depending on your itinerary. The benefit of having a driver is that you don't have to worry about driving and the traffic. Plus, you can schedule your own time at each of the temples. 
We hired a driver and paid 500,000 IDR ($32 USD) for the day. The day trip included other places such as the Setumbu sunrise, Chicken Church, and a rest stop for lunch. If you're interested in our driver's contact information, please send us a note here. 
Hire a Grab driver. Grab is an important ride-hailing app to have in Southeast Asia. It's similar to Uber where you input your pick-up and ending destination and the payment is done through the app. When hiring a Grab driver with a car pick-up, it's only for one-way transportation unless you negotiate with the driver to stay longer. 
Drive a motorbike. If you're confident in your motorbiking skills, then feel free to rent a motorbike from your accommodation or rental place and drive to these temples. Similarly to having a driver, you can set your schedule. 
Take a tour that includes transportation. We'll share more thoughts about the tour options below. 
---
Driving Directions 
It's recommended to visit Borobudur first. Borobudur Temple is 40 kilometers (25 miles) away from central Yogyakarta. It'll take 1 hour and 15 minutes to arrive at the temple. Here are the driving directions. 
From Borobudur to Prambanan, it's 51 kilometers (31.6 miles) and will take 1.5 hours. Click here for driving directions. 
Prambanan Temple is closer to Yogyakarta city center at 16-21 kilometers (10-13 miles) away. It'll take 40 minutes one way. Click for the driving directions. 
It's better to end your temple visit at Prambanan and then you can explore Yogyakarta city center in the late afternoon and evening. 
---
Do You Need to Go on Borobudur Prambanan Tour?
No, it's not necessary to go on a specific Borobudur and Prambanan day tour.
If you prefer to know more about the history of these temples, there are English-speaking tour guides for hire at the temples. They linger nearby the entrances and will approach you to see if you want a guide.  
For those who want the full-day tour from the hotel pick up and drop off, guide, and lunch (optional), then here are recommended tour options. (Please check the tour if the admission cost for the temples are included.)
---
Borobudur Sunrise Options
There are two ways to see the sunrise- either at Setumbu Hills or Borobudur Temple.
Setumbu Hills
Setumbu Hills (Punthuk Setumbu) is currently the only place to see the sunrise (as of our visit in September 2022). It can be a hit or miss depending on the weather. The observation deck is a short 300-meter (.19 miles) walk up the hill from the parking lot. 
Once the sunrises, you see a layer of fog covering Borobudur Temple from afar. After waiting for 20 minutes or so, the fog burns off so you can see the city better.  
Tip: If you've already seen the sunrise on Ijen Crater and Mount Bromo in East Java, feel free to skip this one. You may be tired from the other excursions and the Setumbu Hill sunrise viewpoint is average. 
---
At Borobudur
Borobudur Temple at sunrise is the bucket list thing to do in Yogyakarta. You get the chance to walk on the top levels and see the morning rays shine on the stupas and Buddha statues. 
Unfortunately, the top two tiers of the temple have been closed since 2020 due to the pandemic and have not reopened for sunrise and to explore. According to our driver, it's in talks to reopen in 2023 (TBD) but who knows?
Here is what you would have seen:
We will return to see this sunrise view once it's been reopened. 
---
Suggested Schedule
Here is a sample of how to plan your trip. We suggest visiting Borobudur in the morning and then Borobudur in the late afternoon (due to the heat). 
3:15am (optional) – Depart Yogyakarta
5:30am to 6:30am (optional)– See the sunrise at Setumbu or Borobudur if open
7:00am to 8:30am – Visit Boroburur Temple
9:00am to 12:00pm (optional) – Can visit other neighboring temples such as Pawon, Mendut Buddhist Monastary, unique Chicken Church (Bukit Rhema), or go on a Merapi volcano Jeep tour. 
12:00pm to 1:30pm – Lunch 
2:00pm to 4:00pm (or later to see sunset) – Visit Prambanan Temple 
*Note: Borobudur Temple is open from 6:30am to 4:30pm. Closed on Mondays. 

Prambanan Temple is open from 7:00am to 5:30pm.
---
Admission Cost & How to Buy Tickets
Each temple cost the following for foreign tourists:
Adults: 362,500 IDR ($23.30)
Children (under 10 years): 217,500 IDR ($14)
Students (with ID card): 217,500 IDR ($14)
There is a combo ticket where you can see both temples. Here are the costs:
Adults: 652,500 IDR ($40.25)
Children: 391,500 IDR ($20.60)
As you can see, buying a combo ticket is cheaper than individual tickets. Credit cards are accepted for payment. 
Admission includes a bottle of water. 
---
To buy the tickets, visit the Borobudur or Prambanan ticket office for foreigners and notify the ticket agent that you would like the combo ticket. Then, you'll take a photo which will be printed on your ticket. 
You must carry the ticket with you to visit both of the temples. 
Before entering the temple grounds, Security checks the daypacks and bags.  
What to Know About Borobudur Temple
When entering Borobudur Temple (Candi Borobudur), you'll see giant Hollywood-like "BOROBUDUR" letters to take photos. There is a large banyan tree behind the letters so it's a nice contrast.
To the left side of the signage, there is a visitor center that has photographs and some history of the temple. 
To reach Borobudur Temple, follow the walking path. You'll see a sign that has rules on how to enter the temple. 
Enter the park from the east entrance (Timur)
The original temple gates are in the southeast corner
Go up the temple from the east gate and walk clockwise on every stair (not applicable to walk up the stairs at the moment)
Descend the temple from the south, west, or north gates 
Exit the temple park to the north gate
As mentioned earlier, visiting Borobudur Temple's top levels is not open due to the pandemic. You're only allowed to view the lower grounds and walk around the temple. 
Otherwise, feel free to walk around the base and take photos. You can walk around the temple in a few minutes since the stairs are blocked off. But, you'll want to slow down and admire the details of the temple's architecture. 
Two cool photo spots are:
At the corner when you first enter the temple 
Outside of the temple on the grass area so you can see the stupa at the top level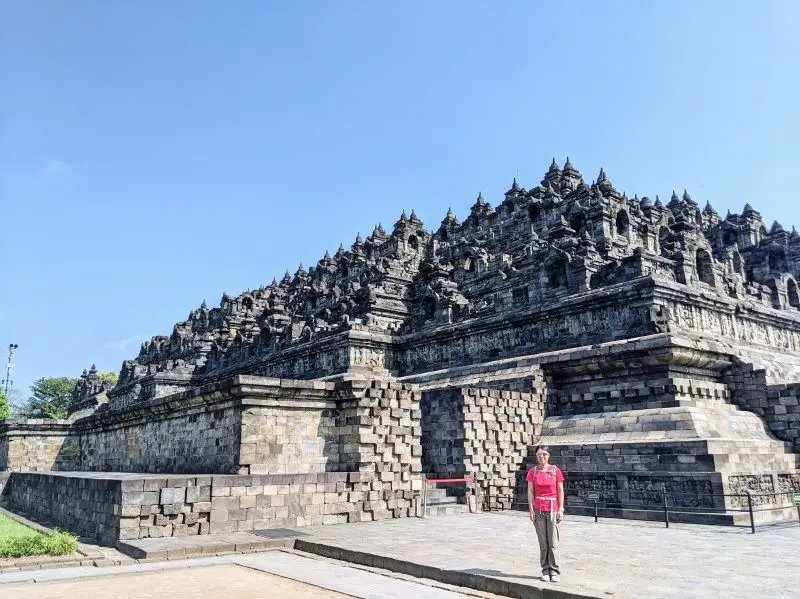 After exiting the temple, there is a Sumatra elephant. We somehow missed it as we exited in a different direction. We heard that the elephant was caged up, so we're glad that we didn't see it. 
There is a small museum, Museum Kapal Samudraksa, that you can visit for free. It has replicas of shipping boats that traveled from Indonesia to western Africa during the spice trade. There are also replicas of materials and what life was like on the boat. 
There is an open museum, Karmawibhangga Museum, where you see hundreds of missing pieces stupas and parts of the stone structure of Borobudur arranged on the ground. It looks like these pieces are getting categorized for future restoration. Inside the museum, there are replicas of artwork and artifacts.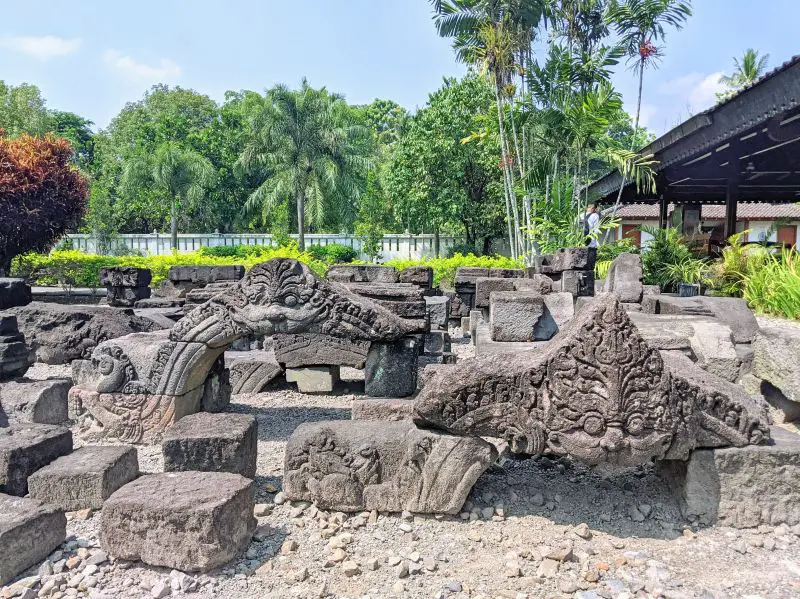 Once you finish exploring the temple, you're directed to the souvenir shopping area. It's a maze and takes about 5 minutes to go through. Many of the souvenirs are the same from t-shirts to purses. You can also get cold drinks here. 
---
What to Know About Prambanan Temple
Prambanan Temple Complex is separated by four main areas – Prambanan Temple (Candi Prambanan), Lumbung Temple (Candi Lumbung), Bubrah Temple (Candi Bubrah), and Sewu Temple (Candi Sewu). 
We loved our experience and wandering through the Prambanan complex. We preferred it more than Borobudur as there is more to see. 
---
Prambanan Temple (Candi Prambanan) 
Before entering Prambanan, there is another Hollywood sign with "PRAMBANAN." The view is of the temple in the background. 
This Hindu temple area is beautiful to explore. The temples are around 47 meters high (154 feet). There are smaller temples and all have been fully restored. The details of the stone carvings and sculptures are nicely done. 
Here, you can walk up the stairs on the smaller temples. 
Tip: One of the best photo spots is behind the temple. To get here, exit the temple and then turn left around the stone garden. Then you'll see the backside of the temple for some nice photos.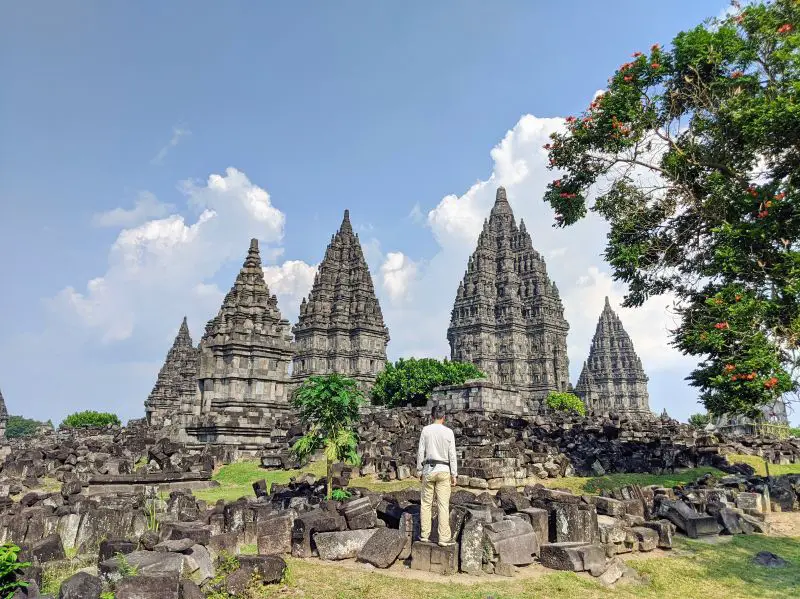 ---
Lumbung Temple (Candi Lumbung)
Lumbung Temple is considered one of the main temples after Prambanan. It's located 700 meters (.43 miles) away from Prambanan so it'll take around 10 minutes to walk there. 
This temple was built around the 9th century. There is one main temple with smaller temples surrounding the central temple. All of the temples in this area have been fully restored. They have stupa roofs so there are Buddhist influences with the temple architecture.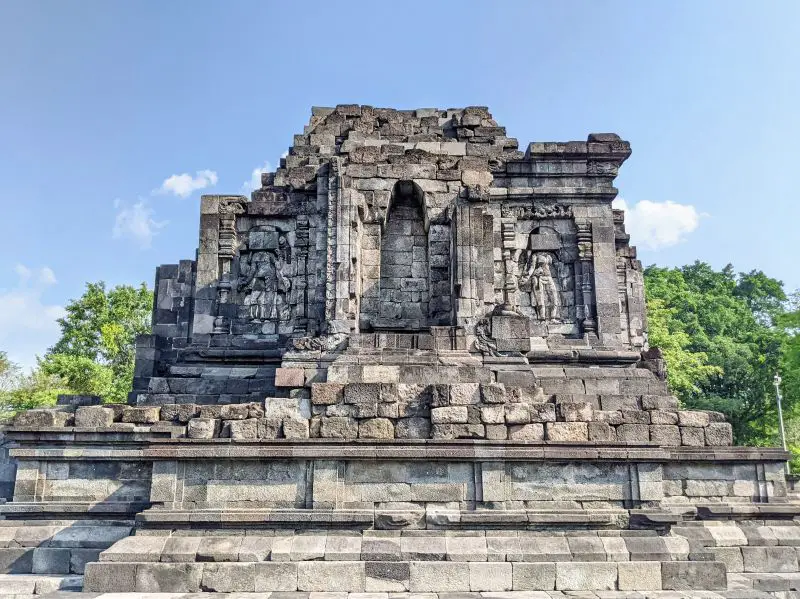 ---
Budrah Temple (Candi Budrah)
Budrah Temple is located next to Lumbung Temple at 300 meters (.19 miles) away so it takes a few minutes to walk there. 
Budrah was built around the same time as Sewu Temple, so in the 8th century. This temple has Buddhist influences with the stupa roof and the arrangement of the stupas.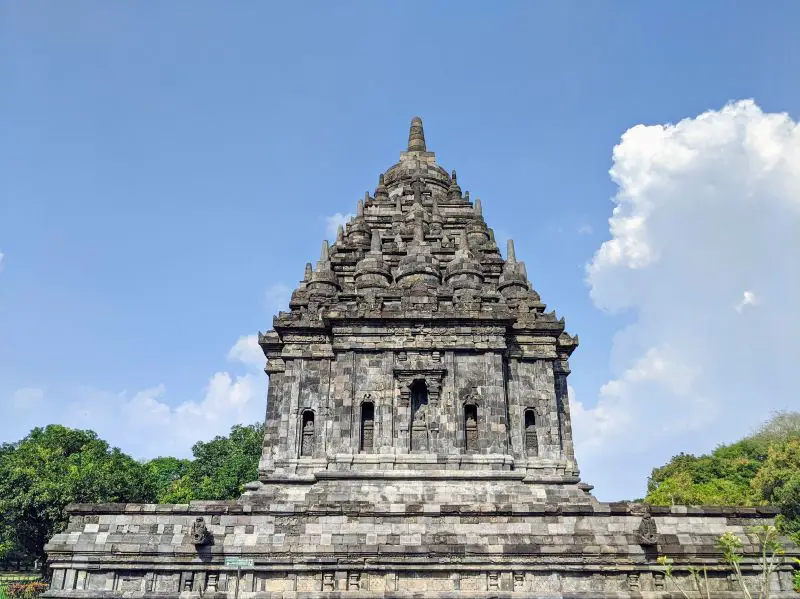 ---
Sewu Temple (Candi Sewu)
Sewu Temple is the furthest from Prambanan at 1.3 kilometers (.80 miles) away. You'll need to walk, rent a bicycle, or ride an electric vehicle. It'll take 15 to 20 minutes to walk there one way. 
Out of the temples that we saw here, Sewu Temple is the most impressive. We can say that it's one of our favorites! In the Javanese language, "Sewu" means a thousand, but there aren't a thousand temples here. Built in the 8th century, Sewu Temple Complex has 249 buildings with one main, 8 smaller temples, and 240 smaller temples.
What we loved about Sewu Temple Complex is the juxtaposition of restored and unfinished temples. The central temple is quite impressive with the details and the stupas on the roof. 
Around this main temple is the base or partially built smaller temples. Many of the pieces are just piled on top of each other waiting to be categorized.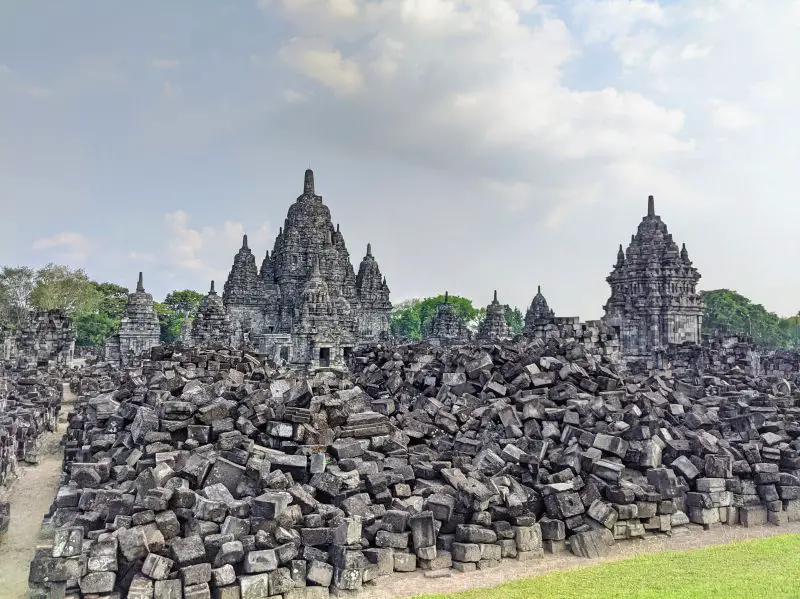 Plus, the guardian statues at the ends of the entrances are nicely preserved.
Since this place is farther out, you don't have to worry about the crowds. Feel free to take as many gorgeous photos here as you want!
Behind this temple, there is a restoration site so you get to see more pieces of temples lying around. 
Once you've finished, you'll need to return to the main entrance for the parking lot. 
Tip: If you have a driver, have him or her park the car at the exit where the Sewu Temple is located. You may need to ask the guard there to see if this is possible. Otherwise, you'll need to return to the main entrance.  
---
What About Prambanan Sunset?
We heard that Prambanan is gorgeous to visit around sunset time. Unfortunately, we didn't have a chance to see this view as we visited the temple earlier in the afternoon. From the photos, it looks like a spectacular photo opportunity! 
---
Other Things to Know for Your Temple Visit
The weather can be hot on your visit. Please remember to bring a hat or umbrella and extra water. Continue to stay hydrated all day long. 
Wear appropriate clothes. Since you're entering temples, please wear clothes that cover the legs and shoulders.
---
Final Thoughts
Whew! Your one day at Borobudur and Prambanan Temples is finally done! We hope you're inspired to add these two temples to your Yogyakarta itinerary. 
Out of the two temples, we preferred Prambanan Temple for the variety of temples to visit. Since Borobudur Temple has yet to be fully opened, it was a bit disappointing to see. Otherwise, the admission cost is a bit expensive to see only the bottom area of the temple. We will return to Borobudur again. 
Looking for other places to visit in the Yogyakarta area? Read our posts below for inspiration: 
If you have any questions about these places, ask a question in the comment section below.