Did you know that you can explore a cave nearby Yogyakarta, Indonesia? If this adventure sounds interesting, you want to add Jomblang Cave (also referred to as Goa Jomblang) to your Yogyakarta itinerary. 
Jomblang Cave is a fun place to visit to descend into a dark cave and see some breathtaking views of morning rays shining into the cave. 
Located in a remote area of Semanu on Java Island, the cave is located 1.5 hours away from Yogyakarta so it's a fantastic day trip option. 
In this Jomblang Cave guide, we're sharing what to know about planning a day trip to Jomblang Cave, how to get there, and other helpful travel tips. 
Before you read the post, check out our other post on fantastic caves to explore in Asia.
*Disclaimer: This post contains affiliate links. If you click on them and make a purchase, we receive a small commission. There is no additional cost to you. Appreciate the support.
---
Can You Visit Jomblang Cave without a Tour?
No, Jomblang Cave is on private property so a tour is necessary to access the cave. In addition, the tour happens only once per day and starts around 9:30am. 
There isn't any reservation system, pre-booking, or any way to contact the caving group on social media, so you have to arrive early before the tour starts. We arrived around 9:00am. 
Don't worry. The tour is organized to have everything set up for you from the equipment to the descent to the guide. 
---
How to Get to Jomblang Cave from Yogyakarta
Since the tour starts around 9:30am, it's recommended to leave Yogyakarta at 7:30am. 
Hiring a driver from Yogyakarta to go to Jomblang Cave would be the best option. The distance is 49 kilometers (30 miles) and takes 1 hour 40 minutes one way. Click here for the driving directions. 
You can consider pre-booking a driver here (excluding admission to the cave). 
We hired a driver for 3 days in Yogyakarta and would recommend his services. Please send us a message here if you're interested in the contact information. 
If you have a motorbike, you can also consider driving here yourself. 
As a heads up, a portion of the road to Jomblang Cave is extremely bumpy due to potholes. In the car, it felt like we were on Disneyland's Indiana Jones ride. 
---
Jomblang Cave Tour Cost
The cost is 500,000 IDR ($33 USD) per person. You pay cash on arrival. 
Jomblang Cave Tour Price Includes:
Admission cost to the cave
A guide 
Equipment such as a harness and hard hat
Rubber boots 
A lunch box and bottle of mineral water 
The admission is on the pricier side compared to other attractions in Yogyakarta, but it's a lot of fun and worth the time to visit. 
Expect to finish the tour in 3 hours. 
---
What to Wear
Clothes that you don't mind getting dirty – We wore hiking pants and a technical t-shirt
Socks – Since rubber boots are shared with others, you want to protect your feet from any spreading of potential skin diseases.
Hat (optional) – If you don't want to wear the helmet directly on your head, wear a hat as an extra layer. 
---
What to Bring
An extra set of clothes – You can leave the clothes in the car. 
A small backpack or fanny pack
Water 
Camera
Headlamp or flashlight – This is highly recommended since the cave is dark. A headlamp is better so you can be hands-free when walking inside the cave. You can also use your cell phone flashlight if you want. 
---
Our Jomblang Cave Tour Experience
On Arrival
We arrived after 9:00am, paid for the admission, tried on a variety of rubber boots, and waited for 30 minutes for more people to arrive. 
We had a group of 16 people so it was on the smaller side. (We read in other reviews how there were over 30 people on the tour.)
Our guide rounded up everyone and then walked a few minutes to the entrance of the cave. 
There wasn't any explanation about the cave, so we just went with the flow. 
Our driver gave us a history lesson after the trip and mentioned how this place used to be a Killing Field. People were blindfolded and dropped off at this location. They eventually fell to their deaths and the river washed the bodies away. 
---
The Descent
Each person received a hard hat and a harness. There were a couple of people who help with the harness fitting. 
Afterward, everyone paired up and slowly went down into the Jomblang Cave by ropes and pulley system.
You don't have to do any rappelling yourself as the cave tour team does everything for you. So, just go along for the ride. 
Don't forget to smile at the camera. There was a photographer who took photos before the descent. 
We felt like full-time cavers going on an adventure as we slowly made our way down to the bottom of the cave. It was pretty fun to see the cave from above and to see the luscious forest area. We loved the feeling of being suspended in the air!
The descent takes 1 minute, so it's a quick journey. 
Once arriving at the bottom, the harness was removed. After everyone arrived, we walked down the mountain to enter the cave.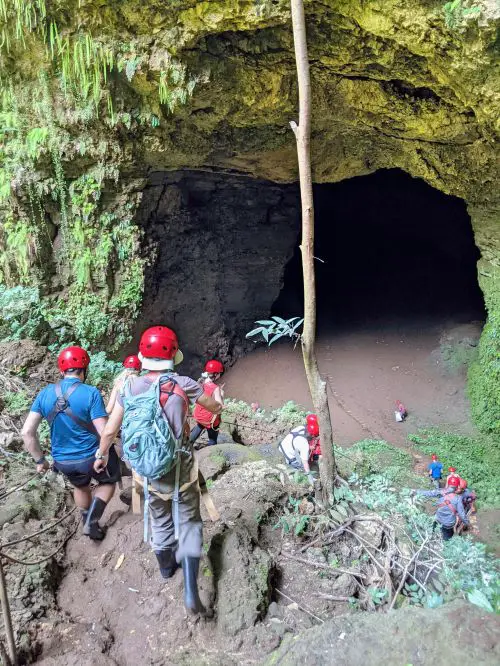 Tip: Don't forget to use your headlamp or flashlight if you have this on hand as the cave is dark! 
---
Exploring the Cave
The cave was extremely muddy. Thank goodness we had the rubber boots! We did our best to follow the stone path but had to step into the mud in certain areas. 
The best part about the cave tour was seeing the light shine into the cave. The rays lit up the cave and our dark silhouettes looked pretty cool for photos. You have about 10 to 15 minutes for the morning rays to shine through and then they disappear. 
Luckily we had a small group so there wasn't any need to crowd and rush to take photos.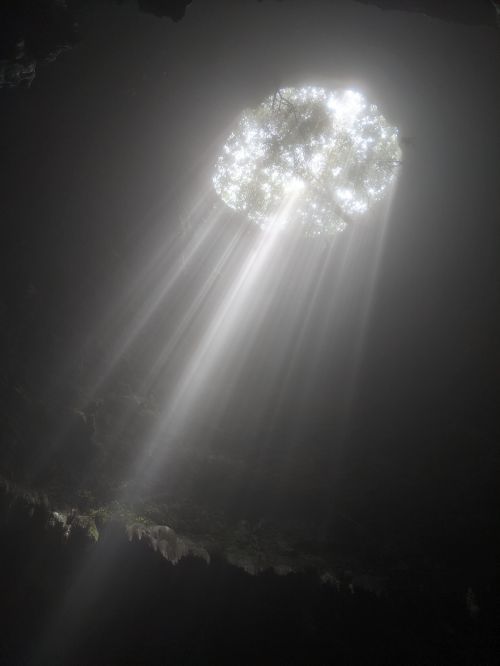 Everyone received over an hour to take photos. Just be careful whenever you walk as the cave was very slippery. After the time is up, everyone made their way to the same spot as the descent to return. 
Since the cave has a stream flowing through, garbage accumulates. We saw a few of the workers pick up garbage to keep the area clean. 
---
The Ascent
It's the same process as going down. Two people helped us with the harness and then we were pulled up by rope. 
When we reached the top, we saw over 20 men manually pulling on the ropes in flip-flops. It was quite a sight to see an involved team and the manual work involved.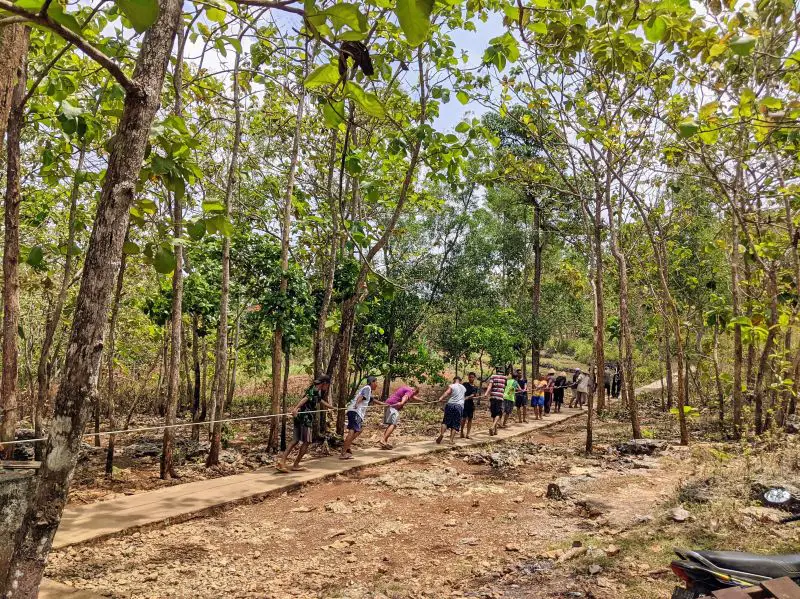 Note: Some people may be worried about the safety of this attraction. We didn't have any issues. Since the team has done this process for a while and knows what to do, we trust their process. 
---
Lunch & Finish
Once we returned to the main area, we received a lunch box and mineral water. It was a nice surprise since it wasn't explicitly stated when paying for the attraction. 
The lunch had rice, tempeh with green chili, a piece of fried chicken, and tofu. It was a simple lunch yet very yummy.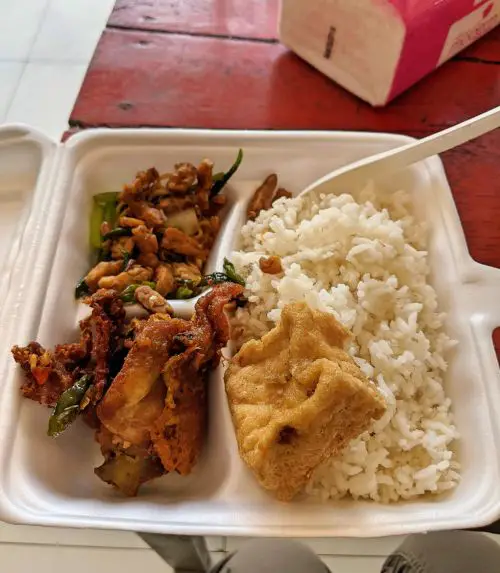 You can also order drinks if water isn't enough. 
Remember how there was a photographer at the ascent? You can buy two photos as a souvenir. They're already printed for you to take. The cost is 15,000 IDR ($1.00) in total, yet you don't have any obligation to purchase. 
Final Thoughts
We recommend visiting Jomblang Cave as a quick day trip from Yogyakarta.
Whether it's your first time caving or you've gone caving before, it's a fun and adventurous excursion. Plus, it's not as intense as a typical caving experience since the caving team organizes everything for you. 
To have a full day of adventure, you can also stop by Pindul Cave to go tubing in a river and Timang Beach and Timang Island afterward. We loved our time on Timang Island and seeing the gorgeous ocean views. 
Another day excursion is to visit the Chicken Church and Borobudur and Prambanan Temples in a day.
If you have any questions about Jomblang Cave, ask in the comment section below.