Three days in Yogyakarta, Central Java, Indonesia is a good amount of time to explore the city. 
Yogyakarta (also referred to as Jogja) is known for its beautiful historical and cultural sites, such as the UNESCO Borobudur and Prambanan Temples, yet has other incredible tourist attractions, beaches, and outdoor adventures to experience. 
To help with your travel planning, we're sharing this Yogyakarta 3 days itinerary highlighting unique and must-visit places to check out and helpful travel tips. 
Each day has suggestions of where to go but don't feel obligated to visit everything. We don't want you to feel burned out with the travel, especially if you've visited other areas of Indonesia before coming to Yogyakarta. 
Click here to jump to certain areas on how to spend 3 days in Yogyakarta: 
*Disclaimer: This post contains affiliate links. If you click on them and make a purchase, we receive a small commission. There is no additional cost to you. Appreciate the support.
---
Important Yogyakarta Travel Tips
Visa Requirements
Before departing for Indonesia, please check the latest visa requirements when entering the country. 
On our visit in late August 2022, Indonesia did not require a PCR test or quarantine. However, copies of our COVID vaccination cards must be shown on arrival at the airport. 
Indonesia allows 86 countries to enter with a visa on arrival. The visa is valid for 30 days. Cash is only accepted. The cost is $35 USD or 500,000 IDR per person. 
Here are the additional currencies accepted – Singaporean Dollars, Hong Kong Dollars, Euro, Japanese Yen, British Pounds, Saudi Arabia Real, Thailand Bhat, Canadian Dollars, Swiss France, Korean Won, Malaysian Ringgit, and Chinese Yuan. 
---
How Many Days to Stay in Yogyakarta Area?
Three days is the minimum amount of time needed to explore Yogyakarta. 
If you have more time, you can visit other neighboring areas. We provided many day trip ideas on Day 3 yet these can be separated over multiple days. 
---
When to Visit Yogyakarta
The rainy season is from November to March. January and March are heavier rainy months. 
The dry season is from April to October. October is considered the warmest month of the year. 
Our Yogyakarta trip took place in September and we had plenty of warm weather, humidity, and sunshine. 
As a heads-up, rain can happen at any time, even during the dry season. If you have an umbrella and are inside when the rain happens, then you'll be fine.
At least the temperatures are consistent all year round between 30 to 32℃ (86 to 89℉) but can drop to 21 to 24℃ (70 to 75℉). 
---
How to Get to Yogyakarta
There are a few transportation options to arrive in Yogyakarta.
By Plane. Yogyakarta International Airport (airport code: YIA) has both international and domestic flights. You'll land here if you're taking airlines such as Lion Air, Garuda, and AirAsia. 
The airport is 43 to 50 kilometers (27 to 31 miles) away from the city center and will take 1.5 hours to travel one way. Since the airport is a bit far, you'll want to take transportation, such as a taxi, private driver (pre-book one here), or ride-hailing (ie: Grab), to get to the main city. 
By Train. Yogyakarta has two train stations to consider – Lempuyangan (LPN) or Yogyakarta (YK). They are both in the center of town and nearby Malioboro Street. Yogyakarta Station is the larger station and only 1 kilometer (.60 miles) away from Lempuyangan Station. 
The train station connects with other cities in Java.
---
Getting Around Yogyakarta
Since you'll be in Yogyakarta for a few days, it's best to know how you'll travel around the city and neighboring areas. 
By Car. One of the easiest ways to travel around is by car. You'll want to hire a personal driver if you plan to do any day trips from Yogyakarta. 
The benefit of having a driver is that you don't need to worry about the traffic and navigating the roads. If you're tired during your travels, you can also take a nap during the ride. 
We hired a private driver for 3 days and also for airport transfer. We arranged the transportation over WhatsApp before our arrival. Everything went well for our travels. If you're interested in our driver's contact information, please send us a note here. 
By Ride-hailing Car or Motorbike. For short distances around the city, consider using a ride-hailing app to request a driver by car or motorbike. It's a cheaper option than taking a taxi. 
You'll need to download Grab or GoJek apps ahead of time. The app is similar to using Uber or other ride-hailing apps. You'll add your starting and ending location, and the price is listed in the app. Payment is done through the app via credit card but cash is also accepted. 
By Taxi. Hotels can arrange taxis ahead of time.
By Motorbike Rental. If you're confident with your motorbiking skills, feel free to ride one around town and on your day trips. You can ask your accommodation if they provide motorbike rentals. 
By Cyclos. Around Malioboro Street, there are many vendors offering cyclo trips to various attractions for a flat fee. 
By Walking. If you're staying nearby Malioboro Street, then you can walk to restaurants and shopping places easily. You could also consider walking to the local attractions. 
---
Purchase a SIM Card
If you plan to use ride-hailing as your main source of transportation or need data to travel around, it's recommended to get a SIM card on your arrival. You can get one at the Yogyakarta airport. 
For our U.S. readers, if you're looking for a new international phone service consider using Google Project Fi. We've used Google Project Fi since 2016 and love the phone service. Data access is available in over 200 countries without any additional fees. Click here to learn more and get a $20 credit. 
---
Map of Where to Go in Yogyakarta
---
Yogyakarta Itinerary Day 1: City Center 
After you've arrived in Yogyakarta, stop by your accommodation to check in or drop off your luggage. Then we're off to explore the local attractions and Malioboro Street. 
---
Visit Kraton and Pagelaran Karaton 
Kraton (also known as the Karaton, Palace of Yogyakarta, or Kraton Ngayogyakarta Hadiningrat) is an important landmark in Yogyakarta. It's a royal palace for the Sultan, and apparently, the Sultan's family still lives there today. The palace grounds have museums with artworks and artifacts and open courtyards.
There are cultural performances such as dancing and music. We lucked out when we visited on Saturday as there was dancing around 10:30am. Unfortunately, we don't know the frequency of the performances as there isn't any signage. 
Note: In the backside of the Kraton, we were approached by a few people saying that the batik museum is included in your ticket. This is not true! These people are trying to take you to their batik store and sell you stuff.
Behind the Kraton is Pagelaran Karaton. This place has a collection of carriages and clothing on display. There is also a museum, but it wasn't open on our visit. 
English-speaking guides are available for hire and you can learn more history of the palace. 
Unfortunately, Kraton and Pagelaran Karaton do not connect even though they're on the same grounds. You need to walk for 5 minutes or hire a cyclo to walk between the two areas. 
We prefer visiting the Kraton more than Pagelaran Karaton as it was more interesting with the performances and museum. 
Admission cost:
Kraton: 15,000 IDR ($1.00)
Pagelaran Karaton: 7,000 IDR ($.45)
---
Visit Taman Sari
Next on the list of places to visit in Yogyakarta is the water palace, Taman Sari (Kampung Wisata Taman Sari). It's a former resting spot for the Sultan's family and now it's a water temple area with two main areas with pools. 
It can get crowded on the weekends, so you may want to go on the weekday or early in the morning. 
You can hire a guide to learn more about the water palace. Otherwise, you can browse around but there isn't any history or explanation. 
For us, the water temple area seemed like a letdown as it wasn't as pretty or extravagant as Tirta Gangga Water Palace or Ujung Water Palace in East Bali.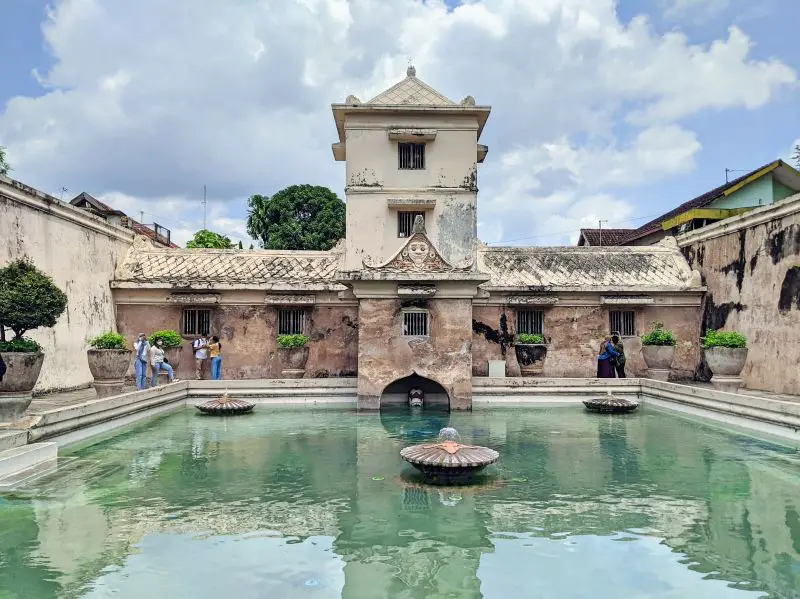 Admission cost: 15,000 IDR ($1.00)
---
Walk, Shop, and Eat along Malioboro Street
Malioboro Street (Jalan Malioboro) is a famous street in Yogyakarta for shopping and eating. It's considered the center of town so many hotels, restaurants, and train stations are nearby here. The street itself is 2.5 kilometers (1.6 miles). 
As for souvenirs, you'll see similar stuff after a while such as batik-style clothing and bags, t-shirts, and food souvenirs. 
One of the yummiest food souvenirs to try and even buy is bakpia. It's a circular flaky puff pastry filled with various flavors such as chocolate, mung beans, and cheese. We saw many people buying boxes of bakpia. 
On our visit, we saw a Chinatown with a friendship gate. But we didn't stop by to see if there were any Chinese food. 
We also stopped by Malioboro Mall to see the food options.
---
Take a free city walking tour 
Who loves taking free city tours led by locals? If you have the time, consider taking this free walking tour hosted by Jooga Good Guide. There are morning and afternoon sessions. Malioboro, Kotabaru, and Kotagede are popular walking tours to check out. 
You'll need to register for a spot in advance and meet at the scheduled meeting spot. 
Tip: Please give a small tip at the end of your tour to show appreciation to the tour guide.
Although taking a tour was on our list of things to do, we didn't have a chance to do any of them due to limited time. On our return trip to Yogyakarta, we'll try one of these. 
---
Yogyakarta Itinerary Day 2: Borobudur & Prambanan Temples and More
It's the second day of your Yogyakarta trip and we're off to explore the UNESCO World Heritage sites, Borobudur and Prambanan Temples, and neighboring sites. 
---
Sunrise at Setumbu Hill (or Borobudur Temple) (Optional)
For the early risers, you may want to see the sunrise – either from Setumbu Hill (Punthuk Setumbu) or Borobudur Temple. At the moment, only Setumbu Hill is open for sunrise. (Borobudur's upper levels have been closed since 2020.)  
The observation platform to see the sunrise is 300 meters (.19 miles) from the parking lot. The walking route is paved so it's easy to reach. 
It's best to view the sunrise on a clear day. If it's rainy or overcast, you can't see much. Although, even on a clear day, you see a layer of fog over the Borobudur Temple and the surrounding area. It'll burn off 20 minutes after sunrise. 
The sunrise is okay, so feel free to skip this one to get extra sleep. We suggest seeing the sunrise at Ijen or Bromo in East Java, or Mount Batur on Bali instead.  
Admission cost: 50,000 IDR ($3.20)
---
Visit the Chicken Church
Is it a chicken or a dove? The Chicken Church (Bukit Rhema) is a unique building in a shape of a chicken (supposed to be a dove). This church invites all religions to come for praying and meditation.
Visitors receive a free tour of the church to learn more about its history, take photos from the top of the chicken's head (dove's crown), and get a free snack in the cafe. 
It's a fun attraction to visit either before or after Borobudur Temple.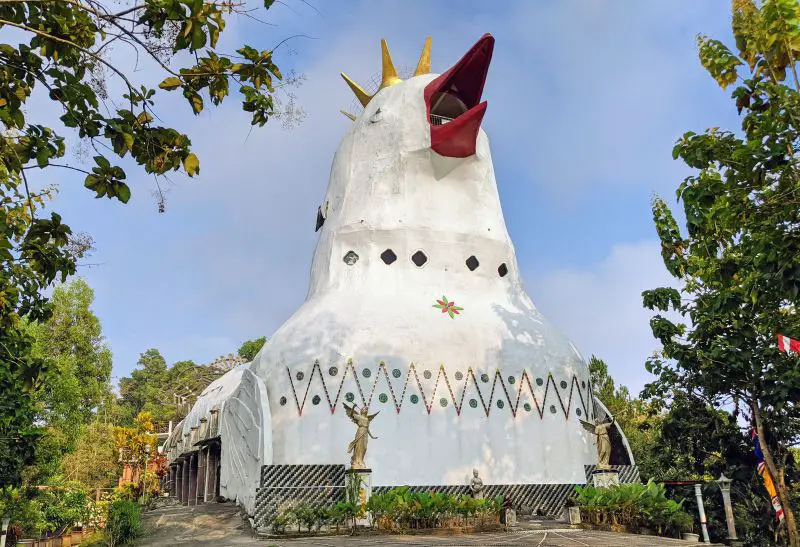 Admission cost: 15,000 IDR ($1.00)
---
Visit Borobudur in the morning & Prambanan Temple in the afternoon
Borobudur and Prambanan Temple is the main attraction of today's visit. It's very doable to visit both of these UNESCO sites that were built in the 9th century. 
Borobudur Temple is a Buddhist temple and is considered the largest Buddhist temple in the world. The temple has 9 levels with Buddhist sculptures, carvings, and stupas. 
Note: Unfortunately, visitors cannot visit the upper levels of Borobudur. It's been closed since 2020 and may reopen in 2023. 
It's recommended to visit Borobudur in the morning. 
Prambanan Temple is the main Hindu temple and the largest Hindu temple in Indonesia. The complex has other smaller temples in the area. 
We suggest that you visit Sewu Temple, located 1.3 kilometers (.80 miles) from Prambanan. The temple is restored yet has tons of large stone pieces surrounding it waiting to be categorized. 
Since Yogyakarta gets hot in the mid-morning and afternoon, it's recommended to visit Prambanan in the late afternoon. 
Admission cost: Combo ticket for Borobudur & Prambanan 
Adults: 652,500 IDR ($40.25)
Children: 391,500 IDR ($20.60)
---
Stop by Other Temples
Between your Borobudur and Prambanan Temple visit, consider stopping by other temples along the way. 
Pawon Temple – A Buddhist temple nearby Borobudur
Mendut Buddhist Monastary – Another Buddhist temple nearby Borobudur
Selogriyo Temple – You get to walk through rice terraces on the way to a small temple.
Ratu Boko – This temple is 3 kilometers (1.9 miles) south of Prambanan and a good spot to see the sunset. 
---
Yogyakarta Itinerary Day 3: Day Trips
On your third day in Yogyakarta, it's time to do day trips! There are many places that you can visit within a 2+ hour drive from Yogyakarta.
We suggest choosing 2 places that are nearby each other to reduce travel time. Here are some options that you can do. 
---
Explore Jomblang Cave 
Who wants to feel like a caver? You'll want to visit Jomblang Cave (Goa Jomblang) for a unique adventure to rappel down into a cave area (with the help of a team), walk through the darkness, and see a gorgeous light beam at the end of the cave. 
This caving tour is only offered once a day, so you want to get there early to get a spot. It's a fun experience and highly recommended. Plus, you get a complimentary lunch once you're done.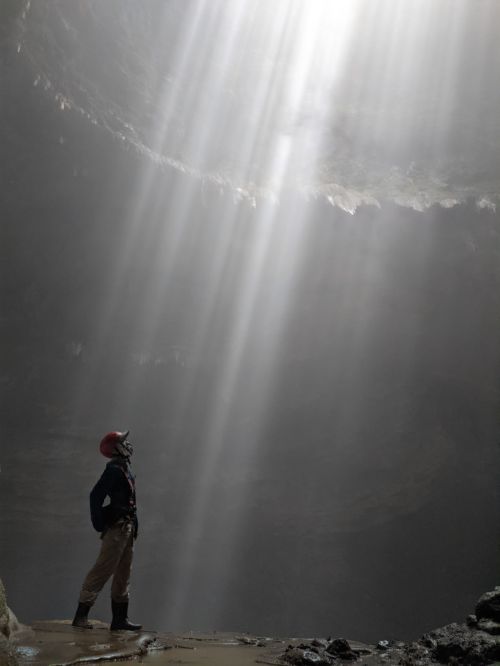 ---
Go tubing in Pindul Cave
After exploring Jomblang Cave, it's time to cool off, lounge around, and go tubing in Pindul Cave (Goa Pindul). It's a limestone cave with some awesome underground views. 
---
Visit Timang Beach & Timang Island
If you're looking for gorgeous views of the ocean and to hear the waves, then head to Timang Beach. You'll need to take a Jeep to reach Timang Beach as it's 5 kilometers (3.1 miles) away from the main road. 
Once you arrive, you can walk along a suspension bridge or take a gondola to a small island, Timang Island, from the mainland. Here, you can take more epic photos of the beautiful ocean. You may never want to leave this area since it's so pretty. 
You can also add a visit to Pine Forest and Jurang Tembelan. Click here to book this tour option. 
---
Take an Instagram Photo Tour including Kalibiru National Park
Where are the best photo spots in Yogyakarta? Check out this tour that focuses on Instagram-worthy photo spots! You get the chance to visit the Merapi volcano, Kalibiru National Park, Sky Swing, waterfalls, and more. 
We heard about Kalibiru National Park from other travel bloggers. There are gorgeous views of the lake from the platforms.
Book your Instagram tour of Yogyakarta here. 
---
Explore Mount Merapi on a Jeep
Mount Merapi (Gunung Merapi) is an active volcano nearby Yogyakarta. There was a major eruption in 2010 that destroyed a village living on the mountain and killed over 350 people. 
Visitors head to Merapi to go on a Jeep tour. It's an opportunity to learn more about the history of the area, visit museums, and get close to the volcano. The tours are 2 to 4 hours depending on which tour package. 
Book a Mount Merapi Jeep Tour & Transportation To/From Yogyakarta here. 
Note: Depending on your schedule, you may visit Mount Merapi on your second day in Yogyakarta. But, if you didn't have time or the weather didn't cooperate (which is what happened to us), then visiting this spot on another day is fine. 
What about hiking Mount Merapi? Unfortunately, hiking isn't allowed at the moment. 
---
Visit Sikunir Hill for Sunrise & Dieng Plateau Trip
For those who love sunrises and can't get enough of them, add Sikunir Hill to your list. Afterward, you get the chance to view the colorful Telaga Warna Lake and Sikidang Crater in the Dieng Plateau area. 
It takes about 3.5 hours to get there from Yogyakarta so it'll be an early morning start.
Reserve a spot for the Dieng Plateau Sunrise Trip here. 
---
Take a countryside cycling tour 
If you're looking for an outdoor activity, consider taking a tour of Yogyakarta's countryside by bicycle. It's a fantastic way to get insight into a local lifestyle and see the quieter areas of Yogyakarta. 
Book a spot for the cycling tour here. 
---
Explore Temples in Solo City & Mount Lawu Area
Want to go to a less explored area? Consider checking out this tour that goes to Cetho and Sukuh Temples, Mangukunegaran Palace, and a Batik museum. You'll also pass by the Mount Lawu area and see rice fields. 
Both of the temples are Javanese-Hindu and have unique architecture. 
Located in the Karanganyar Regency, it's about 3 hours away by car. 
Book this tour to Solo City here
---
Take a Street Art Tour
Sewon, located south of Yogyakarta, is known for its incredible street art. Taking a tour is a fantastic way to learn about the local artists and what the artwork represents. Book this tour by Via Via Jogja.
---
Where to Stay in Yogyakarta
The city has a variety of accommodations to stay from guesthouses, hostels, hotels, and resorts. It depends on the location, budget, and comfortability to find your perfect place. 
Many visitors stay around Malioboro Street. Since it's in the center of town, it's a prime location for dining, shopping, and evening activities. 
Click here to find a place to stay in Yogyakarta on Booking.com or Agoda here. 
Here are some budget-friendly options in the Malioboro Street area that we considered staying in: 
---
Where Did We Stay?
We stayed at Marriott Hotel as we're current Marriott Bonvoy members and used hotel points for our stay.
Book a room at Yogyakarta Marriott Hotel on Booking.com or Agoda. 
Located in the Depok area, this location is farther from Malioboro Street so we took Grab to travel there. It's about 20 to 30 minutes to get there depending on the traffic. 
Despite the farther location, we liked the spacious room and the amenities. Our room overlooked the swimming pool. Since the weather gets hot in the afternoon, you must use the pool! It's clean and so refreshing to hang out in the water.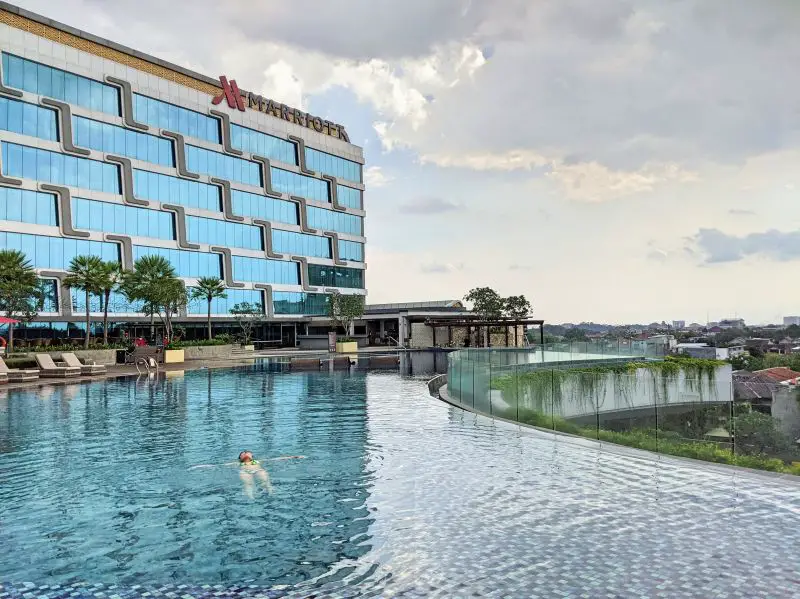 In the mornings and early afternoons, the hotel lobby has juice and samples of cake from the cafe such as tiramisu and pandan. 
If you don't want to eat at the hotel, the hotel connects to Pakuwon Mall (formerly Hartono Mall). There are many restaurants to try on the top level or bottom level. There is also a supermarket and ATM on the lower level. 
We wouldn't mind staying here again. 
Where to Eat in Yogyakarta
Yogyakarta has plenty of local eateries to try from Indonesian to Western food. The best way to find local places to eat is to ask your accommodations for suggestions! 
---
Try Gudeg.
Gudeg is specifically a Yogyakarta local food to try. It's unripened jackfruit and seeds mixed with palm sugar and coconut cream. 
It's very sweet and has a distinctive flavor so it's a hit or miss depending on your taste buds. For us, it took a few bites before we warmed up to the taste. 
Gudeg comes with rice and other side items such as fried crackers and krecek. If you see krecek on the menu, please know that it's not vegetarian. It's cow inner skin and simmered with coconut milk and spices so it turns out very soft. 
The cost is affordable starting at 22,000 IDR ($1.40). 
Places to Try Gudeg: 
Gudeg Yu Djum Pasat – This is where we went and there are multiple locations around the city. 
Gudeg Bu Djuminten
Gudeg Permata Bu Narti
Note: You can also buy canned gudeg as souvenirs. 
---
Try a Place with 20+ sambals. 
Do you like Indonesian sambal (chili sauce)? If so, you have to visit this place, Waroeng Spesial Sambal "SS." It has over 20+ sambals that you can try with your food. 
They also have delicious and affordable foods such as chicken, grilled fish, vegetables, and much more. We love the gourami and nila bakar (indigo fish). 
To order, you get a checklist of the food options and you write down your quantity. The checklist is in Indonesian so you'll need to recognize some of the food options or use Google Translate. 
Note: This restaurant is also located in Denpasar, Bali and it's a popular spot. Yogyakarta has many locations to visit. 
---
Take an evening food tour. 
After you've done your day excursions, consider taking a food tour in the evening. You get the chance to try delicious street food and get insider tips on where the locals eat.
Check out this street food tour here. 
---
Final Thoughts
After 3 days in Yogyakarta, it's time to head to your next destination in Indonesia or return home. 
We hope you enjoyed this Yogyakarta itinerary filled with breathtaking temples, interesting history, and amazing outdoor adventures. 
If you're looking for ideas to continue your Indonesia trip, check out our posts below: 
Have any questions about our Yogyakarta itinerary? Ask a question in the comment section below. 
Like this post? Save it to your Asia Pinterest board.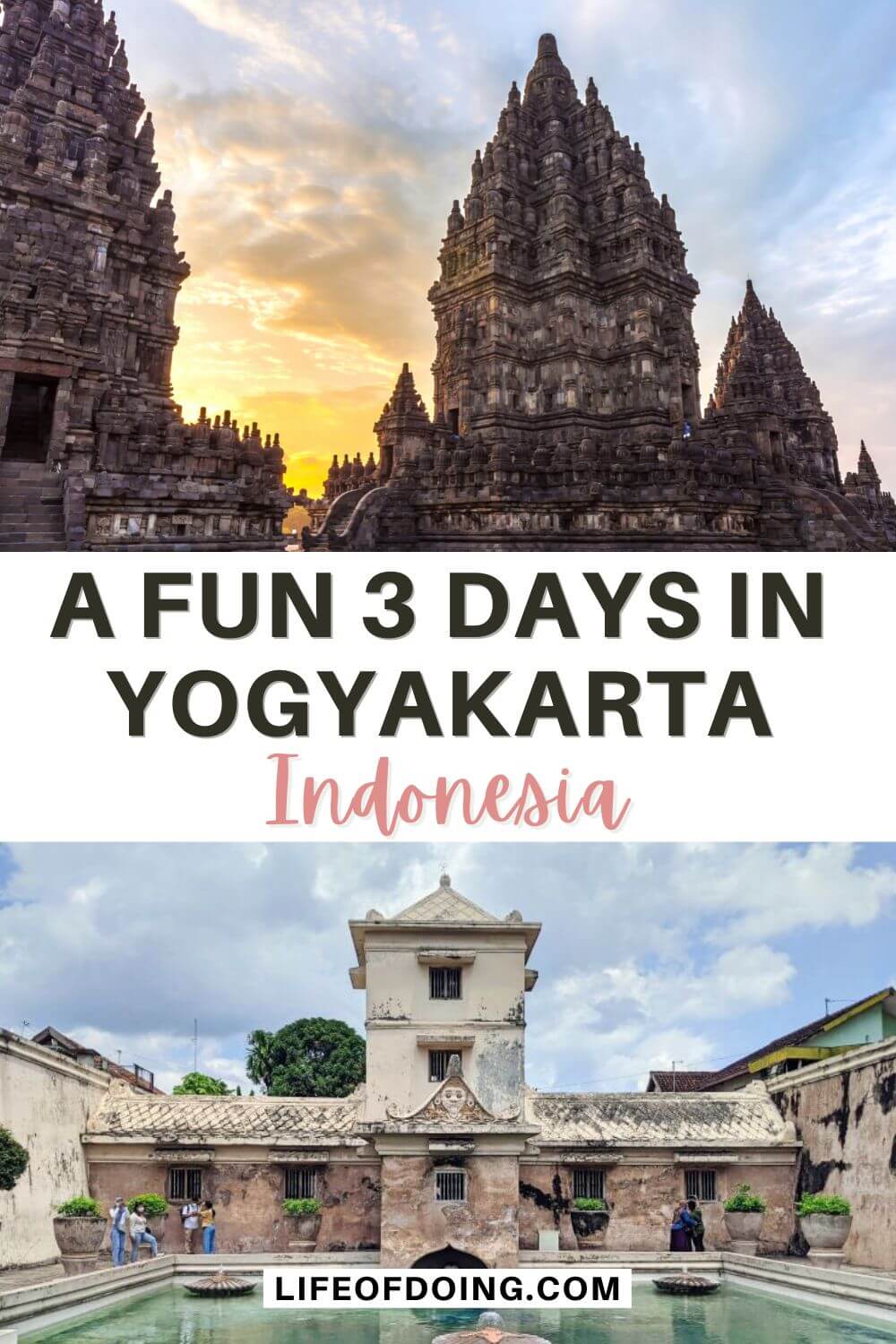 Featured photo & photo #1 in pin photo credit: ValeryBocman via Depositphotos.com