Should you visit Seminyak on your next Bali vacation? Yes, you should!
Located on the western side of Bali, Seminyak is a popular beach and high-end resort area. While the beaches are the main highlights, there are plenty of activities to do from nonstop shopping, amazing good eats, and just relaxing. 
Whether you're visiting Bali for short time like 4 days or 2 weeks, we suggest that you visit Seminyak for one day. If you have more time in Seminyak, feel free to stay longer. We've been to Seminyak a few times and love how many attractions are walkable and nearby to each other. 
In this post, we're sharing how to spend 1 day in Seminyak, the top places to visit, where to stay, and other travel tips. 
Before reading this post, check out our post on what to know before going to Bali. 
*Disclaimer: This post contains affiliate links. If you click on them and make a purchase, we receive a small commission. There is no additional cost to you. Appreciate the support.
---
How to Get to Seminyak
If you're flying directly to Bali, you'll land at the Ngurah Rai International Airport (airport code: DPS) in Denpasar. There is also a domestic airport, located next to the international terminal, depending on your initial departure.
Please remember to follow the travel requirements such as visa on arrival and COVID vaccination status. Check out the latest requirements here. 
From the airport to Seminyak, it's over 9 kilometers (5.6 miles) and will take 25-30 minutes. The traffic leaving the airport is always congested. 
The transportation options to leave the airport are:
Hiring a private driver. It's recommended to pre-book a driver ahead of time. We've always had a driver pick us up. Feel free to contact us here on the driver that we used for airport pick-up and also for driving around the island. The cost is around 250,000 IDR ($16 USD). You can also book a driver here or ask your accommodation to arrange it. 
Taking a ride-hailing car, such as Grab or GoJek. Grab is a ride-hailing app for Southeast Asia destinations. It's similar to Uber. When leaving the airport, there is a Grab pick-up spot close to the parking lot.

Tip: Buy a SIM card ahead of time and pick it up at the airport. You'll need to have data to order the vehicle. 
Or, if you're from the U.S. consider getting an international phone plan with Google Project Fi. You'll have data access without needing to pay extra. We've used this service since 2016 and it works in Indonesia. Sign up here. 

Taking a taxi. If you must take a taxi, please ensure that you use the official taxi, Bluebird and that the driver uses the meter. Do not use the fake taxis that look similar to the Bluebird, otherwise, you'll pay a much higher fee. 
From other areas of Bali, here are the approximate distances and timing by car to get to Seminyak.
---
Getting Around Seminyak
By motorbike. If you know how to ride a motorbike, then having one will be helpful to ride between areas and around the island. As a heads up, the traffic is very congested so slow down and watch out for pedestrians. Rent a motorbike here. 
By ride-hailing app. Feel free you use either Grab or GoJek if you want to ride either a car or a motorbike.
By walking. It is possible to walk around Seminyak area as there are sidewalks. 
---
Things to Do in Seminyak in a Day
1. Eat your way through Seminyak's cafes, restaurants, and warungs
One of the best parts about visiting Seminyak is how easy it is to find food options. We're a fan of eating Indonesian food but also appreciate the Western options. 
Since we had limited time to eat in our Seminyak itinerary, we only enjoyed a few places. In the meantime, check out our compilation of incredible places to eat in Bali which has many places in the Seminyak area. 
Or, if you're looking specifically for affordable food options, check out our Seminyak cheap eats post.
---
Made Warung
There are multiple locations of Made Warung around the island, yet the food is delicious! 
Nasi campur, a rice dish with variety of meats and vegetables as side items, is a winner here and has a lot of variety on the plate. The tuna in Bali sauce is also yummy. There are also Western food options that we haven't tried yet. 
We love the outdoor seating area at the Seminyak location. In the courtyard area, there is live music every Friday from 7:30pm to 10:30pm, salsa dancing every Saturday from 7:00pm to 11:00pm, and Balinese dancing every Sunday at 7:30pm.
---
Dod's Burger 
This is a small burger shop that has affordable and delicious burgers that are made to order. 
There are hamburgers, chicken burgers, fish burgers, and vegetarian options (veggie tempeh and veggie potato). You can also order double or triple beef patties. 
We had the classic burger and veggie tempeh burger and upgraded both with a drink and fries. The veggie tempeh burger is highly recommended. The tempeh patty is slightly deep-fried and still has a chewy tempeh texture. 
There is another Dod's Burger shop in Legian area. 
---
Gusto Gelato  
Our driver told us about Gusto Gelato as a popular place to have gelato. Expect long lines to this place on your visit. You can try flavors before you purchase. We like tropical fruits and more unique flavors such as sambal and ginger. 
---
2. Go shopping
If you forgot your swimsuit, beachwear, or need souvenirs, there are many shops around Seminyak. We walked along Jalan Raya Seminyak and towards the beach areas on the side streets and found many shops to browse. You may want to wear your walking shoes since you could end up walking farther than expected. 
---
3. Visit Seminyak's beaches and beach clubs
Seminyak has many beaches for you to lounge, get some sunshine, and relax. You can even practice your surfing skills. 
The beaches in the area are Double Six Beach, Seminyak Beach, Kayu Aya Beach, Batu Belig, and Petitenget Beach. The sand in Seminyak is mostly black. If you're looking for white sand beaches, then you'll need to go to another area of the island. 
While you're here, you can stop by the popular beach clubs such as Potato Head Beach Club or La Plancha. Unfortunately, we haven't been to these as some of them require reservations ahead of time and minimum spending. 
Or, go anywhere along the beach that has comfy bean bag chairs to have drinks and enjoy the waves. 
The beaches can get crowded but are mostly clean. We prefer the Seminyak beach area more than Kuta. 
---
4. Learn how to surf
If you want to learn how to surf, consider taking lessons at Double Six Beach. It's a fantastic way to get some exercise and try a new adventure.
Book your surfing lessons here. 
---
5. See the incredible sunset 
Bali has some of the best sunsets to see in person. Whether you see the sunset from the beach, beach club, or rooftop location, you'll need to see them when you're in Seminyak. 
Tip for watching the sunset at the beach: Google when the sunset will occur and arrive at the beach 10 to 15 minutes ahead of time and watch the colors change. 
We saw the sunset at Seminyak Beach, but you can easily head to Double Six Beach or Petitenget Beach.
At Seminyak Beach, it's not necessary to sit at the beach clubs and order drinks to enjoy the sunset. You can walk along the beach and find your spot to see the picture-perfect hues of pink, purple, and orange colors dancing in the sky.  
---
6. Hang out at the pool 
Did you choose an accommodation with a swimming pool? If so, take advantage of the pool time and simply relax. As you know, the weather in Bali is hot and humid all year round, so you'll want to cool off throughout the day. 
---
7. Visit Bintang Supermarket
This popular supermarket recently reopened after a fire incident. This two floor supermarket has everything that you can want. The lower level has groceries and drinks, while the upper level has clothes, souvenirs, and home goods. 
If you want to stock your accommodation's fridge with snacks and fruit, feel free to stop by here. 
Click here for more information. 
---
Where to Stay in Seminyak
Seminyak has many affordable guesthouses and boutique accommodations to choose from. There are also resorts and name-brand hotels such as Marriott Courytard to stay in. You can easily find a place to stay based on your budget and location. 
Find the perfect accommodations in Seminyak here on Booking.com or Agoda. 
We've stayed in Seminyak on three separate occasions and at different guesthouses and would recommend both as affordable options. 
---
Recommendation #1: CR Tris Homestay
Located off a small alleyway, CR Tris Homestay is a quiet place to stay for an evening. The rooms are clean and have a private bathroom. Plus, there is a patio in front of the room to relax and hang out outside. 
Breakfast is not included in the price, but there are cafes and breakfast spots within walking distance. This place does not have a pool. 
The owners and the family members live on-site so you can ask them questions at any time. 
Click here to reserve a room on Booking.com.
---
Recommendation #2: Kubu Cempaka Seminyak
Tucked at the end of a quiet residential side street, Kuba Cempaka Seminyak is considered a small hotel. There are two floors of hotel rooms. Each of the rooms has an ensuite bathroom, towels, and comes with water bottles.  
The garden area is beautiful with a huge lawn, trees, and tropical plants. The swimming pool has a view of the garden. 
The stay comes with breakfast with your choice of nasi goreng (fried rice), mie goreng (fried noodles), pancake with honey, eggs, cereal, bread basket, and tea or coffee. A platter of fruit is also included in certain room rates. 
We always ordered the nasi goreng and mie goreng since we love Indonesian flavors. Since these aren't spicy, you can ask for fresh chili on the side.   
If you don't want to leave the hotel, you can also order lunch, dinner, and drinks here.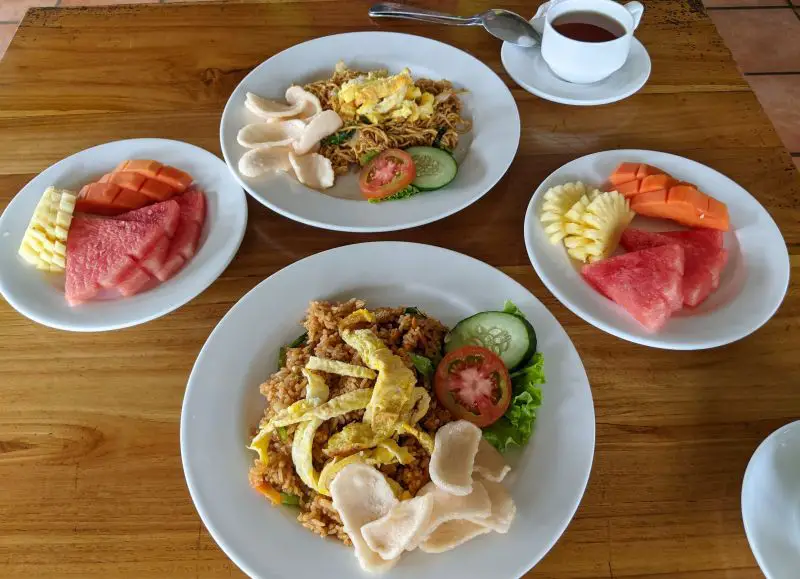 Reserve a room at Kubu Cempaka on Booking.com.
Check out pricing on Agoda here. 
---
Final Thoughts
Whether you're visiting Seminyak for a day or as a day trip, it's a relaxing beach spot to hang out, eat, and explore. We love how easy it is to explore Seminyak. Hope you get a chance to visit on your next Bali trip. 
If you need ideas on where to go next in Bali, check out our other posts: