Pfeiffer Beach is one of the top places to visit on your Big Sur road trip.
Located within the Los Padres National Forest and in the center of Big Sur, this beach is famous for the purple sand and the beautiful Keyhole Rock landmark. 
Since it can be tiring driving along Highway One, Pfeiffer Beach is worth the visit to relax for a few hours and get some beach time. Plus, it isn't too crowded due to the limited parking and hidden location. You can miss the entrance in a blink of an eye!
In this post, we're sharing tips on how to enjoy a visit to Pfeiffer Beach, how to get there, and other helpful travel tips.
*Disclaimer: This post contains affiliate links. If you click on them and make a purchase, we receive a small commission. There is no additional cost to you. Appreciate the support.
---
How to Get to Pfeiffer Beach
From Monterey or Carmel to Pfeiffer Beach 
It'll take 56 minutes to travel 34 miles to Pfeiffer Beach from Monterey (52 minutes for 31 miles from Carmel). 
Drive along Highway 1 South until you pass by the Big Sur Station. Then, there will be a yellow sign, "Narrow Road – No pedestrian. No RVs and trailers."
Note: It's easier to find the sign when driving from Highway 1 South. 
Then, you'll need to make a sharp right on Sycamore Canyon Road. Follow the road for 2 miles on the narrow road until you reach the beach parking lot. Click here to see the driving directions.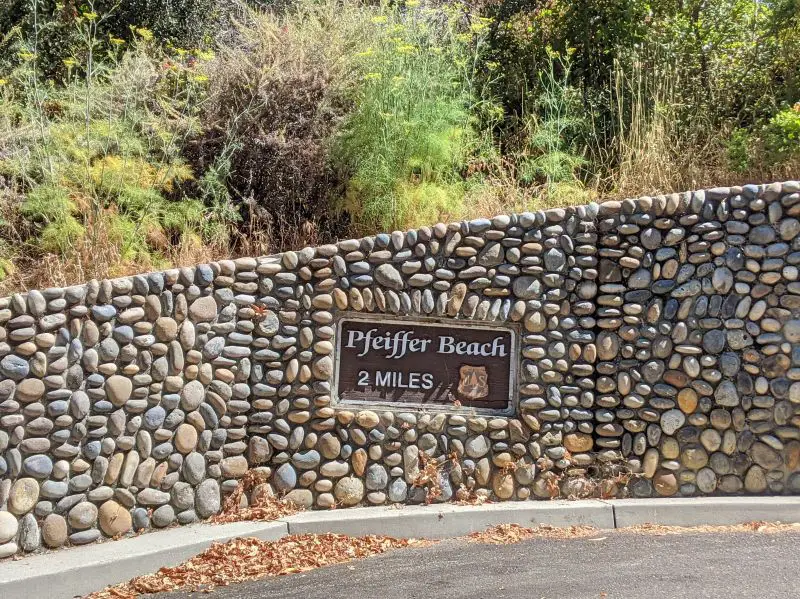 ---
From San Simeon or Anywhere Southbound 
From San Simeon to Pfeiffer Beach, it'll take 1 hour 40 minutes to travel 64 miles. 
Drive along Highway 1 North until you see the yellow sign and turn left into Sycamore Canyon Road. Then, follow the road as stated above. Click here to see the driving directions. 
TIP: There isn't any reception here so download the driving directions to your phone ahead of time.
---
Pfeiffer Beach Parking
Parking is not allowed outside of the beach area since Sycamore Canyon Road is very narrow. 
The cost to enter is $12 per car and is an all-day pass. Credit cards or cash (exact change) are accepted. 
You must leave the parking permit on the windshield dashboard of your car. 
---
When To Visit Pfeiffer Beach
Pfeiffer Beach opens at 9:00am and closes at sunset daily. 
Due to the limited parking spots (about 60 spots), it's highly recommended to get to the beach EARLY (before noon) and stay as long as you want. 
We went here twice due to a failed first attempt. We tried to go in the late afternoon around 4:00pm and were turned around near the road entrance. The parking lot was already full. 
We tried again the next morning after breakfast and made it! Once we left after 1:00pm, the park rangers set up a sign that the lot was full.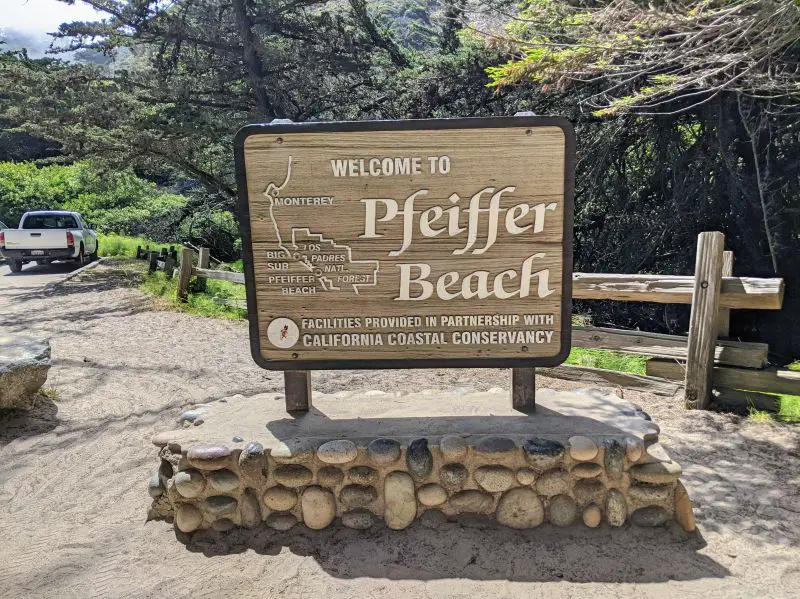 ---
Top Highlights of Visiting Pfeiffer Beach
1. See purple sand on the dunes 
Once you enter Pfeiffer Beach, you'll notice the purple sands on the sand dunes on the right side. It's such a unique site to see the sand as they're only on the dunes. The purple color is due to the erosion of manganese garnet from the hills. 
The purple sand blends in with the powdery white sand so the entire dune is not purple. Yet, it's beautiful to see in person. We love how soft the sand is here. 
---
2. Relax on the clean beach 
While the beach area isn't large, there is plenty of space to relax and hang out for a few hours. We saw many children and families on their beach towels, mats, and hammocks. You can also have a picnic on the beach, but please remember to bring the trash with you. 
Walking on Pfeiffer Beach is allowed. You can also swim in the water, but the waves are rough and the water is often cold.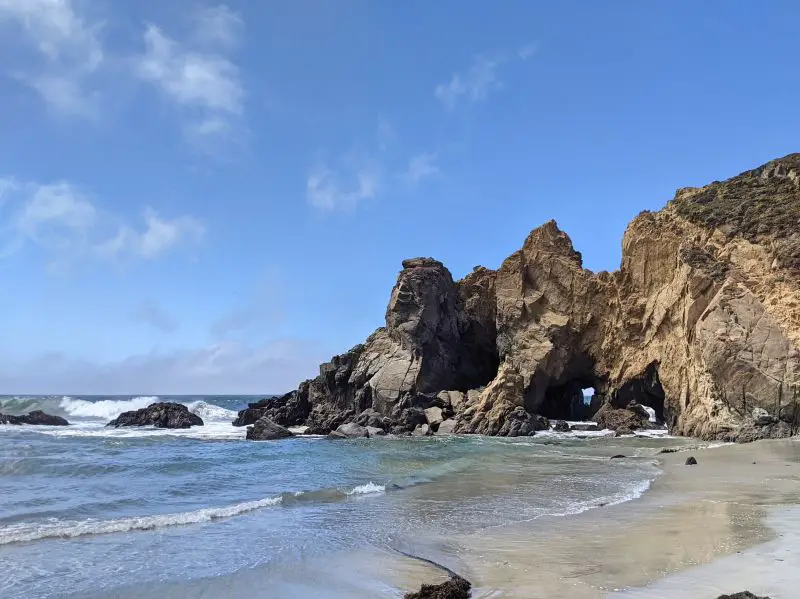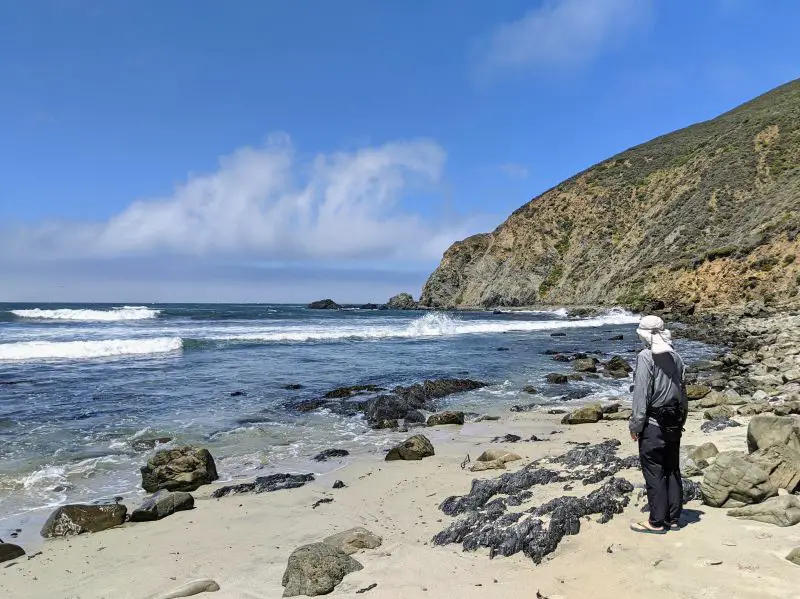 ---
3. See the Keyhole Arch 
One of the coolest spots at Pfeiffer Beach is seeing a natural large rock with a giant hole at the bottom. The rock is surrounded by water, so it's a pretty sight to see the waves pass through the arch. 
---
4. Wander through the forest area 
If you continue to walk along the beach, there is a forest area with a short walking path. There isn't a set hiking path, but it's a quiet and shaded spot to get some nature and do some forest bathing.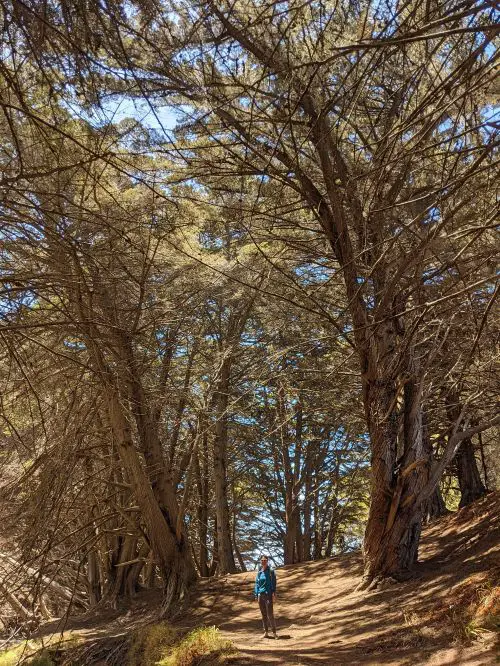 ---
5. See the sunset
We heard that the sunset is pretty at Pfeiffer Beach, especially to see the sun shine through the Keyhole Arch. Since we didn't get a chance to visit the beach at sunset (due to the full parking lot), we'll visit again in the future. 
---
Other Things to Know About Pfeiffer Beach
Dogs are allowed on the beach. Yet, they need to wear a leash at all times. 
There are vault toilets (not flushable) next to the parking lot. The cleanliness is okay but they are smelly. 
There aren't any restaurants or food options on-site, so you'll need to buy food outside. 
Picnic benches are nearby the beach so you can enjoy a meal or snack. Benches are first-come-first-served. Or, you can have a picnic on the beach. Please remember to take your trash with you so the beach can stay clean.
It can be very windy at the beach so bring a jacket.
---
Where to Stay in Big Sur
If you plan to stay overnight in Big Sur, please reserve your accommodation as early as possible. The accommodation options are limited and on the pricier side (over $300/night). 
Find your perfect accommodation in Big Sur here. 
Here are some places to consider in Big Sur:
You can also consider staying in Monterey or Carmel for more affordable options. 
Click here for options in Monterey. 
Final Thoughts
If you have a chance to visit Pfeiffer Beach for the day, go for it! It's a beautiful place to spend a few hours or the whole day lounging and relaxing. 
Looking for other places to visit on your Big Sur trip? Read our posts below:
Have questions about this Pfeiffer Beach day trip? Ask in the comment section below.