Partington Cove Trail, located in Julia Pfeiffer Burns State Park in Big Sur, California, is one of the most incredible hikes to do. You'll want to add this as a stopover along your Big Sur road trip. 
It's a short and easy 1-mile route hike that splits to two different endpoints but both provide epic views of the ocean and cliffside. The hike is doable for small children to try as the trail is mostly flat and not technical, but there is an uphill climb when returning to the parked car.
Partington Cove Trail is free to access and can be visited at any time of the day. 
Continue reading this Partington Cove Trail guide as we share details about what to bring for your hike and what to know about the hike. You don't want to miss this beautiful place. 
*Disclaimer: This post contains affiliate links. As an Amazon Associate, we earn from qualifying purchases. If you click on them and make a purchase, we receive a small commission. There is no additional cost to you. Appreciate the support.
---
Partington Cove Trail Hiking Overview
This day hike is doable for all ages.
Challenging level: Easy 
Distance: 1-mile round trip 
Time to complete: 30 minutes to 1 hour (longer if you decide to relax)
Helpful tips: 

There are no public toilets here. 
Bring water as shade is minimal.
Admission is free.
There aren't any food options here so you'll need to buy snacks and food ahead of time.
Please do not litter and bring your trash back to dispose of properly.
Dogs are not allowed on the trail but there isn't any Security enforcing that rule. 
---
How to Get to Partington Cove Trail & Parking
From Monterey/Carmel to Partington Cove Trail
It'll take 1 hour to drive 40 miles to the trailhead from Monterey (58 minutes for 37 miles from Carmel). You need to drive along Highway 1 southbound and the trailhead is on the right side. Click here to see the driving directions. 
---
From Big Sur to Partington Cove Trail
If you're starting from Big Sur, it'll take only 18 minutes by car for 10.8 miles. When driving along Highway 1 southbound, the trailhead is on the right. Click for driving directions. 
---
From San Simeon or Anywhere Southbound
It'll take 1 hour 17 minutes to drive 54 miles from San Simeon to the trailhead. The drive will be going northbound on Highway 1 and the trailhead is on the left side. Check out the driving directions here.  
---
Partington Cove Trail Parking
Parking is only along Highway 1, so you'll see many parked cars close to the trailhead. Park your car as close as you can to the edge of the road so other cars can pass by. 
TIP: Don't forget to lock your car and remove any valuable items in sight. 
---
When To Hike Partington Cove Trail
You can visit this trail at any time of the day. There isn't any signage about the opening and closing times at the entrance.
We stopped by this hike after 2:00pm and it was warm but had a slight ocean breeze. Bring water and a hat and wear sunscreen.
If you hike in the evenings or before sunrise, you must bring a handlamp. The trail does not have any lights. 
---
What to Wear for the Hike
Technical t-shirt or any t-shirt – Wear a moisture-wicking t-shirt to absorb the sweat.
Comfortable pants or shorts 
Comfortable walking shoes – The trail isn't steep and not technical so hiking boots are not necessary. We wore Nike Free shoes and they were fine for the visit.
Comfortable socks
---
What to Bring for the Hike
Backpack (optional) – You may not need to bring a backpack since the trail is short, yet it's helpful to have it on hand to hold snacks and water. Check out our favorite daypacks here: men's day pack option / women's day pack option.  
Reusable Water Bottle – You must bring a water bottle as there aren't any water fountains along the trail. These are our favorite reusable water bottles to bring.
Hat – The trail has a mix of sunny and shaded areas. Cover your head to protect yourself from the sun, especially for the first half of the hike. Buy this hat.
Sunscreen – Protect your skin from the sun. Check out this sunscreen.
Sunglasses – Here are our favorite sunglasses.
Headlamp (optional) – If you plan to hike at sunrise or sunset, then you'll need a source of light.
---
What to Expect at Partington Cove Trail
Once you've parked your car, the entrance to the trail is easy to find. 
The trail starts off going downhill. Along the way, you'll see some pretty wildflowers.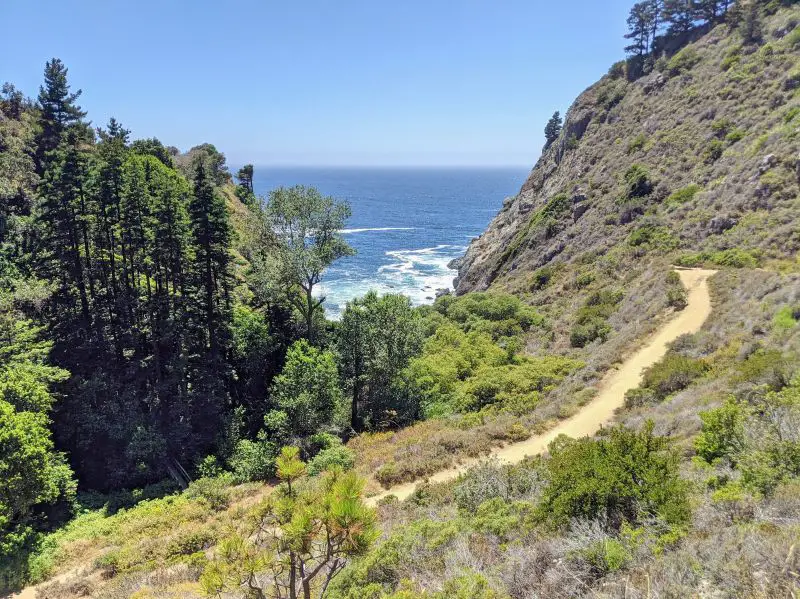 Towards the bottom of the hill, the trail splits into two directions: 
To Partington Cove: where you pass through a wooden tunnel 
To Partington Point: continue straight to a rocky beach
Since the walk is short, you can do both. 
Note: Nearby the wooden tunnel, there is a forest area that you could walk through. We opted to skip this section as we wanted to see the ocean. 
---
To Partington Cove & Tunnel
Going through the tunnel is a nice surprise. It's cooler to walk through the tunnel.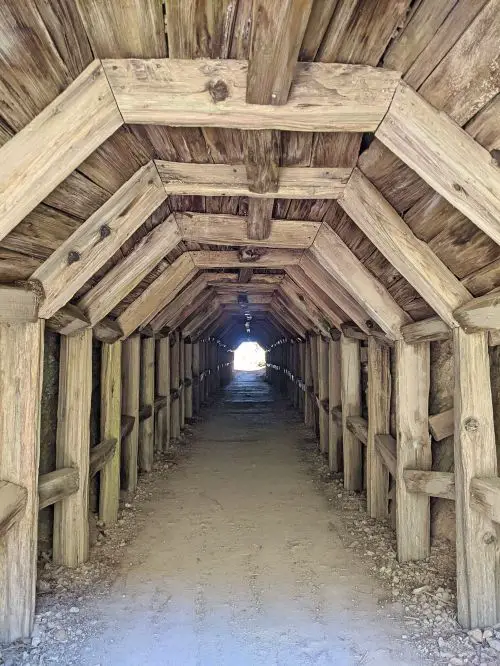 Once you've passed through, you walk next to Partington Cove and to an open cliffside area to see the ocean. Visitors can climb along the rocks to get closer to the edge of the water.
It's such a pretty sight to see the clear blue waters and hang out on the rocks (they are sharp though!)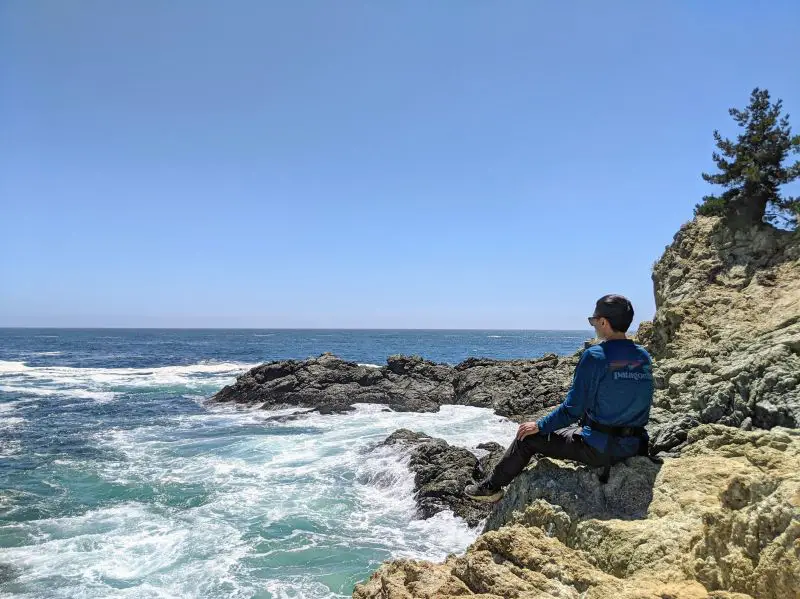 It's not recommended to swim in the water as the currents are strong. 
There are benches if you want to rest and have a snack.  
---
To Partington Point – The Rocky Beach Route
After completing the tunnel route, head back in the same direction and then turn left. It's a short walk to the rocky beach, Partington Point. 
This beach doesn't have any sand, so all pictures will take place on the rocks. Feel free to channel your "Little Mermaid" pose on the giant rocks! 
Since there aren't as many benches here, it can be a shorter visit compared to the other tunnel route. 
---
Return to the Car
Once you're done visiting both sections, it's time to head back to the car. It's the same route as before, so it's easy to return.
Going up will be a slight challenge since it's uphill. You can do it! Take slow steps and go up slowly. It'll be over before you know it. 
Final Thoughts
We loved our time at Partington Cove Trail and would highly recommend it for a quick and easy day hike in Big Sur. It's the perfect spot for ocean views and a nice break from driving all day long. 
Looking for more ideas for your Big Sur travels? Check out our posts below: 
If you have any questions about this trail, please ask in the comment section below.