Seoul, the vibrant capital of South Korea is not just a city of modern skyscrapers, bustling streets, and delicious foods. 
It's also surrounded by natural beauty, and one of the best places to experience this is Bukhansan National Park (북한산국립공원 in Korean).  
Located a short distance from the heart of Seoul, Bukhansan offers a sanctuary of lush forests, ancient temples, and breathtaking views.  
It's estimated that over 5 million people visit the park each year, and it's in the Guinness Book of World Records for being the most visited national park per unit area in the world!  
With over 1,300 species of flora and fauna, it's an awesome place to escape the hustle and bustle of city life and presents a chance to unwind in beautiful nature.  
This comprehensive post has everything you need to know about hiking around Bukhansan National Park, detailing the most popular trails and ensuring that you have an unforgettable adventure amid nature's wonders.  
You'll love this day trip opportunity from Seoul!
Click here to jump to certain areas of this Bukhansan hiking post: 
*Disclaimer: This post contains affiliate links. If you click on them and make a purchase, we receive a small commission. There is no additional cost to you. Appreciate the support.
---
Helpful Tips for Hiking at Bukhansan National Park
Admission to the park is free.
There are public toilets around the outskirts of the park, mostly located next to the various information centers. 
There are a few cafes and restaurants near Bukhansanseong Park Information Center. It's still a good idea to bring some snacks with you for the hike.  
Please don't litter while in the park!  
It's important to have data for your phone just in case something happens during the hike. Before leaving Incheon International Airport or Gimpo International Airport, 
For U.S. travelers, consider getting Google Fi for the international phone plan. It's what Life Of Doing has been using for their international travels since 2016. The phone plan has access to data and text in 200+ countries, and it works well in South Korea. Read more about the plan and try it for free here. 
---
How to Get to Bukhansan National Park from Seoul
There are many entrances to Bukhansan National Park from Seoul, so you have different options when it comes to starting your hike. It all depends on what trail you wish to hike. 
So, here are several options on how to get to the park from Seoul. 
Note: If you plan to take the train or other public transportation, it's recommended to get a T-Money card. It's a prepaid card where you add funds and tap the card to pay for trains, buses, and other transportation. Buy a T-Money Card in advance here. 
---
Option 1: This option is best if you want to head to Jaunbong Peak and/or Uiam Rock. 
Catch a subway on line 1 to Dobongsan Station (도봉산) which is situated very close to the park. 
You can leave the station at exit 1 and from there you'll walk past plenty of hiking shops on your way to the park.  
---
Option 2: If you fancy an easy hike at the park then head for Gireum Station (길음역), which is on line 4, and take exit 3. From there hop on Bus 110B or 143 and get off at the last stop. 
Then you'll walk up a slope until you reach Jeongneung Park Information Center, which is right next to the park entrance.  
---
Option 3: If you plan on hiking up Baegundae Peak, then the best way is to catch a subway to Gupabal Station (구파발역) which is the orange line 3, and take exit 1. 
From there you can take a bus to Bukhansan Mountain Entrance bus stop.  
---
Option 4: If you want to enter the park from the east side, then you can catch a subway to Suyu Station (수유역), which is on line 4. The park entrance is a short walk away from there. 
---
Option 5: You can take a taxi to the park if you don't want to take the subway. This will cost you around $15, depending on your pick-up point.  
---
Option 6: If you're renting a car or hiring a private driver, then there are plenty of car parking spaces situated around the park.  
---
When to Hike Bukhansan National Park 
Seoul can experience very high temperatures during the summer months, such as in June. Please exhibit safety precautions in the extreme heat. 
If you choose to hike Bukhansan National Park during this time then make sure to bring plenty of water with you. 
The park can become somewhat overcrowded during the summer months as well, which is worth bearing in mind.  
The winter months in Seoul can get extremely cold with minus temperatures and snow, so it's not advised to visit the park during this season. But if you do then make sure to wear some extra layers.  
So with all that considered, the best time to hike Bukhansan National Park is during the spring or autumn months.
With mild weather, the vibrant colors of cherry blossoms in spring and foliage in autumn make for a very beautiful and Instagram-worthy hiking experience.  
---
What to Wear for the Hike
When you decide to hike Bukhansan National Park will determine what you'll wear. 
If it's going to be a hot summer's day then a technical t-shirt and shorts would suffice. Thicker clothing and layers will be better if you're there during the winter months.  
TIP: There are a lot of hiking shops near the park which you might pass on your way. These shops are a great opportunity to gear up on necessary hiking equipment before you start your trek.  
---
What to Bring for the Hike 
Bring plenty of snacks as it'll be a long day if you plan on one of the longer hiking trails. 
Bring hiking gear such as a backpack, plenty of water/electrolytes, comfortable hiking boots, sunglasses, sunscreen, and anything else. 
---
Which Bukhansan National Park Hiking Trails to Take
Before beginning your hike, it's important to plan which trail you want to hike on and whether it will be a good match for your fitness level and time constraints. 
There are over 30 different hiking trails in Bukhansan National Park which have different levels of difficulty, so choosing which trail is best for you before your hike is a must. 
Let's have a look at some of the most popular trails at Bukhansan National Park and how challenging they are. 
---
Baegundae Peak Trail  
Challenging level: Medium  
Distance: 5 miles round trip  
Time to complete: 4-5 hours, perhaps longer if you take a break.  
Also known as the Bukhansanseong course, this is considered the most popular trail. 
It's the most challenging trail and should only be attempted if you're in good physical condition.
The peak is the highest part of the whole park. It has incredible views of Seoul which should not be missed.  
The trail gets quite difficult the closer you get to the peak. You may have to scramble over boulders at times. When the path becomes quite steep, there are ropes to assist you on your climb. So be sure you're fit enough for the climb.  
---
Obong Trail  
Challenging level: Medium  
Distance: 8 miles round trip  
Time to complete: 4-5 hours, depending on how long you stop along the trail.  
Obong means: 'five peaks' in Korean, and this trail takes you past the five highest peaks in Bukhansan National Park towards Songchu Waterfall. 
It is quite a scenic route, but is still considerably challenging, being almost twice as long as the Baegundae Peak trail, and not as strenuous.  
---
Daenammun Trail  
Distance: 3.6 miles round trip  
Time to complete: 2-3 hours  
This is considered the trail that goes past the most beautiful parts of the whole park. 
Although it does take a considerable amount of time to complete, it's ideal for beginners, children, or those who don't fancy an exhausting day!  
---
Bibong Trail  
Distance: 2.5 miles round trip  
Time to complete: 1-2 hours  
This is another relatively short and easy trail that leads to Bibong Peak. 
What is interesting about this trail is that it passes by a monument to King Jinheung, which dates back to the 6th century. 
Exploring Cultural Sites  
There are over one hundred Buddhist temples and monk's cells throughout the park. It's most likely that you will encounter several of these on your hike, as well as magnificent rock formations like Insubong.  
It's worth taking the time to appreciate the historical significance and architectural beauty of these places. Some of the temples in the park date back to over 1,000 years old. 
Remember to be respectful and dress modestly when visiting temples.  
It's even possible to stay overnight in the temples through the Korean temple stay programs. This would be an unforgettable experience!  
The most famous cultural site at Bukhansan National Park is the Bukhansanseoung Fortress, which is incredibly over 2,000 years old! It dates back to the 2nd century when it was built by the Kingdom of Baekje.  
You'll probably come across the gates to the fortress when hiking up the Baegundae Peak Trail, and the fortress offers excellent views of Seoul. This makes it a perfect rest stop to explore and appreciate the history on show. 
---
Final Thoughts – Why Visit Bukhansan National Park 
Hiking around Bukhansan National Park is a memorable experience that allows you to connect with nature and immerse yourself in South Korea's rich cultural heritage. From awe-inspiring landscapes to ancient temples, the park offers a diverse range of experiences for hikers of all levels.  
By choosing the right trail, respecting the environment, and being prepared, you can make the most of your Bukhansan adventure. It's a great alternative activity for when visiting Seoul and a memorable one too.  
So, if you're visiting Seoul, don't miss the opportunity to explore this natural gem and create lasting memories of a thrilling hiking experience. Happy hiking! 
Check out our posts below for things to do after visiting Bukhansan:
Like this post? Save it to your South Korea Pinterest board.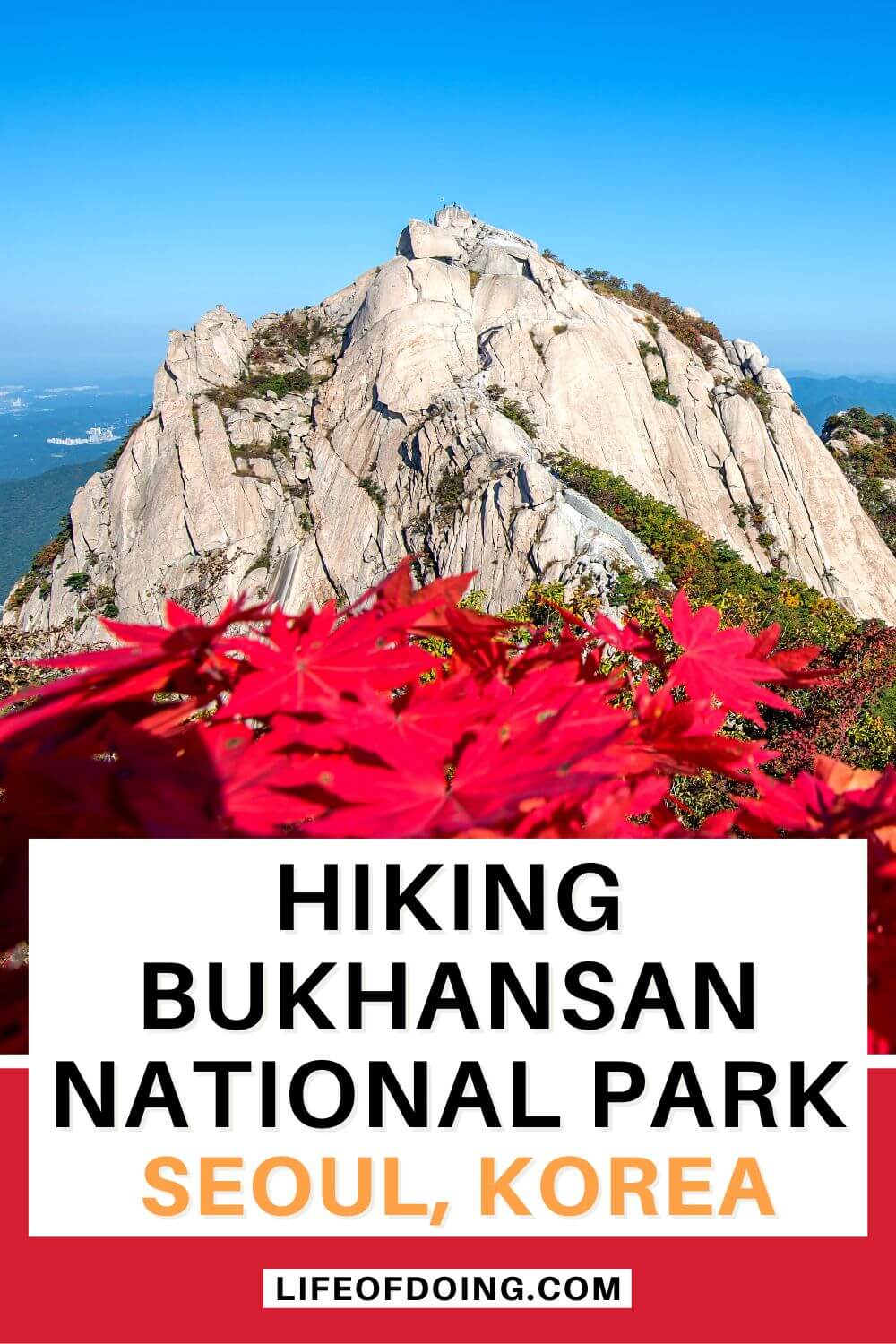 Featured photo credit & Pin #1 photo credit: praewa_koreashopping@hotmail.com via Depositphotos.com