Do you have extra vacation time and want to travel to Asia in the fall season? Go for it!
The fall season (September to November) is an ideal time to travel to Asia. The cost of travel will be lower than in the summertime with fewer crowds. The weather is pleasant as the monsoon season has passed and less humidity, especially in Southeast Asia. Plus, seeing gorgeous fall foliage and visiting cultural festivals adds excitement to the season. 
In this post, we're sharing the 18 beautiful and best places in Asia to visit in the fall season. With our travel blogging friends, we're sharing destinations from Central Asia, Southeast Asia, South Asia, and East Asia and unique experiences and activities to do in these places.
Click here to jump to a certain spot in the autumn in Asia post:
Check out our other posts in this series for more travel inspiration:
*Disclaimer: This post contains affiliate links. If you click on them and make a purchase, we receive a small commission. There is no additional cost to you. Appreciate the support.
---
 Map of Where to Go in Asia in the Fall
---
Fall Destination in Central Asia
1. Karakol, Kyrgyzstan
By Emily, Emily Embarks
Recommended Months to Visit: September to October
Often overlooked by its neighboring countries of China, Tajikistan, and Uzbekistan, Kyrgyzstan is an under-the-radar gem bursting with culture and unparalleled beauty. Accessible with just a U.S. passport, Kyrgyzstan is one of the best fall destinations in Asia!
Come the autumn months when the sky-scraping mountain peaks become topped with snow and the trees turn bright shades of yellow, orange, and red for as far as the eye can see, the streets are empty. 
Tourists rarely venture to the country as a whole and scarcely depart the capital of Bishkek if they do making it one of the best hidden destinations in the world. 
A 7-hour drive east of the capital will bring you to the small city of Karakol, where true adventurers thrive. Mountains here start at 6,000 meters (19,685 feet) tall and lure in skiers, trekkers, and adventure enthusiasts from around the world. 
For those looking to explore the cultural side of Kyrgyzstan, a trip to the Dungan Mosque and the Holy Trinity Cathedral are surely worth a stop. 
There is also a unique souvenir shop near the gas station in town, and the owner is a collector of coins from around the world. Pop on in and show him your local currency and he's almost sure to make a fair trade with you with some of his own!
Karakol, Kyrgyzstan is a town overflowing with hospitable locals, stunning landscapes, and traditional Kyrgyz customs. If you're looking to get off the beaten path this coming fall season, a trip to Kyrgyzstan surely won't disappoint!
---
Incredible Fall Destinations in Southeast Asia
2. Sapa, Vietnam 
By Jackie and Justin, Life Of Doing
Recommended Months to Visit: Any time from September to November
Sapa is a mountainous area in northwestern Vietnam known for the gorgeous rice terraces, trekking opportunities, and home to a large group of ethnic minorities. Once a sleeper town, Sapa has recently boomed as a top destination in Vietnam. 
The fall season, especially September, is an ideal time to visit Sapa. Many visitors and tourists head to Sapa to visit the rice terraces as they glow a golden color in preparation for the harvest time. It's a photogenic time to see the beautiful terraces. While rain may occur during the season, the weather is the most pleasant. 
While visitors can drive by the terraces and see them from afar by car or motorbike, trekking is the best way to see the rice terraces up close. The length varies from 1-3+ days depending on the schedule. Along the way, hikers awe at the landscapes, stop by ethnic minority villages, and stay overnight at homestays. Read our Sapa trekking guide here. 
For those who do not want to trek, there are a few waterfalls in the area such as Love and Silver Waterfalls. 
In addition, the popular tourist attraction is visiting Fansipan peak. At 3,143 meters (10,312 feet) and the highest mountain in Vietnam, visitors take the cable car from Sapa's city center or by trekking. Experienced hikers can take 1-2 days to trek Fansipan Mountain. The top of Fansipan has Buddhist temples, statues, and plenty of summit signs.
Enjoy your time in Sapa during the fall season.   
---
3. Can Tho, Vietnam
By Jackie and Justin, Life Of Doing
Recommended Months to Visit: October to November
The Mekong Delta is an important waterway in South Vietnam and runs through 12 provinces. Can Tho is a major city along the Mekong Delta and one of the places to visit during the fall season. 
The rainy season ends around October, so the weather will get hotter and stay humid. Many of the activities and sightseeing activities are along the Mekong River and use boats as transportation so the waters won't be as choppy during this time. 
The best thing to do in Can Tho is to ride a small sampan boat and visit the Floating Market at sunrise. It's a memorable experience to see large boats overstuffed with fresh produce and fruits such as garlic, pumpkin, and pineapples. The sellers must sell the produce before heading back home, so the buyer-seller transactions occur all day long. 
For breakfast, stop by the famous boat in the middle of the Floating Market. This boat makes and sells delicious hủ tiếu, a hot noodle soup, that visitors can eat in their boat. 
Along the way, visitors can visit several factories making rice noodles, coconut candy, and puffed rice snacks. It's the perfect spot to buy souvenirs. 
In Can Tho city, there are other fun places to explore such as the Night Market along the Ninh Kieu Wharf, temples, and pagodas. For those who love street food, there are many local shops selling fresh noodles, Vietnamese food, and snacks. 
---
4. Borneo
By Marya, The Beau Traveler
Recommended Month to Visit: September
Borneo is the third-largest island in the world and the first in Asia. The island consists of three countries' territories split by Indonesia, Malaysia, and Brunei Darussalam. 
Dubbed the Emerald of the Equator, September is the best time to visit the island as it is already considered the off-peak season after the summer ends and the weather on the island is still nice enough to stroll around. 
Also, get a chance to stop by Pontianak, a city in the Indonesian part of Borneo. There, you will experience "The Culmination of the Sun," when the shadow of objects will disappear in the afternoon as the sun hovers directly around the Equator on September 21-23 every year. 
Travel to the north, and cross the border to Sarawak, a Malaysian part of Borneo, to enjoy the island's wildlife. Visit orangutans in their natural habitat at Semenggoh Nature Reserve in Kuching. Also, go trekking around Bako National Park and see the wildlife in front of your eyes. 
If you still have time to explore more parts of Borneo, head over to Brunei, the smallest country that is also the only Islamic sultanate-governed country on the island. You can see the solid Islamic culture and architecture through Jame' Asr Hassanil Bolkiah and Sultan Omar Ali Saifuddin Mosques. 
If you're lucky, you may stop by Brunei around Muslim public holidays, which may allow you to attend the sultanate parade around the country and celebrate it with the locals. 
---
5. Bromo Tengger Semeru National Park, Indonesia
By Una, Wandernity
Recommended Months to Visit: September to October 
Nestled in the heart of Java in Indonesia, Bromo Tengger Semeru National Park is a must-visit for any nature lover. It is known for its volcanoes and landscapes and was recognized as a Biosphere Reserve by UNESCO.
The Bromo Tengger Semeru National Park is home to many unique attractions, including active volcanoes, steaming craters, and lush green valleys. Visitors can also enjoy a range of activities, such as hiking, horseback riding, and bird watching.
One of the best things you can do in the park is to go on a guided tour to see a sunrise over one of the active volcanos in the Tengger Caldera: Mount Bromo. It is an incredible sight to see, and one that you surely won't forget. 
The excursion usually includes traveling through the National Park at night in Jeeps, hiking up to the steaming top of the volcano, and taking pictures in the scenic spots recommended by the guides.
Whether you're looking for adventure or simply want to soak up the breathtaking scenery, Bromo Tengger Semeru National Park is sure to leave you with lasting memories.
The best time to visit Bromo Tengger Semeru National Park is between April and October when the weather is dry and the hiking trails aren't muddy.
---
6. Komodo National Park, Indonesia
By Elen, Elenpradera.com 
Recommended Months to Visit: September to October
One of the best places to visit in Indonesia is Komodo National Park, a UNESCO Heritage Site on the island of Flores. 
Although containing many small islands, the main islands of Komodo National Park are Padar, Rinca, and Komodo. Here, the attractions include hiking mountains with magnificent views, diving with mantas, swimming along pink sand beaches, and of course seeing the main attraction – the Komodo dragon.
The best way to explore the wonders of Komodo National Park is with a boat tour, either on a day trip or a multi-day sea journey.
On a day trip, the boats usually start at Padar Island, where you'll hike for approximately 30 minutes to the top of the mountain to take in postcard views of the surroundings. 
Then, you'll visit Rinca Island with a park guide to glimpse the Komodo dragons in their natural habitat. 
Also, tours usually include a stop at Taka Makassar (a sandbank with crystal clear water) and some time at the stunning Pink Beach for snorkeling or swimming.
Does it sound interesting? Then, you'll like to know that getting to Komodo National Park is an easy task. The gateway to the park is Labuan Bajo, a small fishing town with an airport with regular flights to either Jakarta or Bali. In town, you can find many daily tours to visit the park. 
However, with more time, you can also explore other top things to do in Labuan Bajo, such as catching a sunset on Kalong Island and snorkeling on Kanawa Island.
---
7. Penang Island, Malaysia
By Marco, Penang Insider
Recommended Months to Visit: September to October
A favorite for holidaymakers that love staying at its seaside hotels in Batu Ferringhi, the UNESCO-inscribed island of Penang has a lot going for it year-round.
The fall is particularly attractive, not just for a slightly less punishing heat, but because of two unique festivals of the Chinese community: the Hungry Ghost and the Nine Emperor Gods.
The Hungry Ghost falls on the 15th day of the seventh month of the Chinese lunar calendar between late August and early September. It's believed that during this time, the gates of hell open and ghosts return to earth looking for… mundane entertainment. 
Penang's capital George Town fills up with makeshift shrines where, beyond praying to the ancestors, are stages for Chinese Opera performance and, in line with modernity, singing shows of leggy Ko Tai singers — local Chinese pop divas.  
The festival ends with the ritual bonfire of giant statues of the god of hell, King Demon Tay Su Yeah. The biggest is made and burnt in the mainland of Bukit Mertajam.
Afterward is the Nine Emperor Festival, falling on the eve of the ninth month of the lunar calendar in early October. It's a celebration to welcome back the Nine deities, who traditionally come from waterways, and the ninth day of the festival is its climax. 
In Penang, a procession of colorful chariots draws hundreds of devotees and public storms through George Town until the seaside near Gurney Drive, where the deities are "sent" back home.
Expect to see devotees with metallic skewers piercing their cheeks. This stunt is taken to the wildest extremes in Thailand, where the Nine Emperor Gods Festival is known as Vegetarian Festival and is gruesomely famous in Phuket and Trang.
---
8. Battambang, Cambodia    
By Linda, Muy Linda Travels                                                                                                                       
Recommended Month to Visit: November (December to May is also recommended for the dry season)
Battambang is a provincial city in northwest Cambodia with an attractive riverside location, impressive Buddhist temples, ancient Khmer ruins, and some of the best-preserved French colonial architecture in the country. 
In Battambang, you'll see a different side of Cambodia and experience life in a more rural setting.
Traveling to Battambang by riverboat is a highlight. You'll pass floating houses and dwellings on stilts and the warmth of the local people will warm your heart. They wave and smile as the ferry passes by. 
And on the streets of Battambang, barefoot monks wearing saffron robes collect alms daily. The gifts of food and money from the local people support the monks in their religious life.
The ornate Ek Phnom temple and ancient ruins of Phnom Banan are fun to explore and you can take a thrilling ride on the Bamboo Train, a rustic railway originally built by the French. 
Battambang is also the home of the Phare circus and you can enjoy a dramatic and exciting performance and support the disadvantaged youth of the city.
Just outside Battambang is the Killing Cave, a stark reminder of the tragedy of the Cambodian Civil War and a memorial to the tens of thousands of people who died at the hands of the Khmer Rouge.
Battambang in Cambodia has much to offer and is a fascinating place to visit in Asia.
---
9. Siem Reap, Cambodia
By Jessica, Uprooted Traveler 
Recommended Months to Visit: September and October for a quieter visit; November for sunny skies
Fall is an excellent time to visit Siem Reap, a city full of ancient temples, bustling markets, and a thriving nightlife district. 
Cambodia's monsoon season extends through September and October, but don't let that deter you- there is usually only a downpour for a few hours in either the morning or afternoon, so your explorations won't be hindered. And in return, you'll enjoy the city's surrounding jungle at its very lushest- and its magnificent sites at their very quietest. 
Come November, the skies clear, while the crowds generally stay at bay. 
While you're visiting Siem Reap, you can't miss the city's biggest draw– Angkor Wat. This sprawling complex, with over 100 temple ruins in its 400-acre footprint, dates all the way to the 12th century. 
Now, you can do your best Indiana Jones impression and explore its gorgeous temples, with stunning bas relief carvings and statues and its iconic architecture. It's no wonder that TripAdvisor has ranked Angkor Wat as the #1 Top Landmark in the World! 
Want to do something other than wander through temples? Make a stop at either the Old Market or the night market to pick up some incredible Cambodian food or affordable souvenirs, ranging from elephant pants to silk scarves and stone carvings. 
At night, don't miss the famed Pub Street, which, with its nightclubs blasting EDM and cheap massage parlors, will make everyone from partiers to bargain hunters happy.
---
10. Chiang Mai, Thailand
By Katy, A Rambling Unicorn
Recommended Months to Visit: October and November
Chiang Mai has long been a favorite destination for travelers in the know. Located in a mountainous region of Northern Thailand, the city is famous for its stunning Buddhist temples, friendly people, and delectable cuisine.
Autumn is the perfect time to visit Chiang Mai due to mild temperatures and dry weather. Monsoon season typically tapers off by the end of September, so the months of October and November tend to be particularly nice.
The Yi Peng Festival (sometimes spelled Yee Peng) also takes place during this time. Known as the Festival of Lights, Yi Peng is celebrated on the full moon of the 12th month of the Thai lunar calendar. During the event, participants release giant paper lanterns into a night sky filled with magical twinkling lights.
Autumn is also a great time to go hiking and explore the mountains around Chiang Mai. The Monk's Trail is an easy hike on nearby Doi Suthep that leads to a hidden jungle temple. Doi Inthanon National Park is located further away but worth the drive as it features Thailand's tallest mountain.
During your visit to Chiang Mai, don't forget to visit an elephant sanctuary. There are many excellent elephant parks and camps in the nearby mountains where you can see Thailand's official animal up-close and in person. 
Be sure to choose an ethical Chiang Mai elephant sanctuary, however, that does not allow visitors to ride on these magnificent animals.
---
11. Bangkok, Thailand
By Krisztina, She Wanders Abroad
Recommended Month to Visit: November
If you're looking for a fall getaway that is both exotic and affordable, Bangkok is the perfect destination. This bustling city is full of culture, delicious food, and interesting sights.
November is a great time to visit as it marks the end of the monsoon season, which means the weather slowly becomes cooler and more comfortable.
There are plenty of things to do in Bangkok, whether you're interested in exploring the city's temples and museums or doing some shopping. Some of the must-see attractions in Bangkok include the Grand Palace, Wat Arun, Wat Pho, and the floating markets.
And, of course, no trip to Bangkok would be complete without trying some of the city's famous street food!
Loy Krathong is one of the major festivals in the city that takes place in November. This festival celebrates the end of the monsoon season and takes place on the full moon night. During the festival, people release krathongs (decorated floats) into rivers, canals, and other bodies of water. It's a beautiful sight to see!
Another great thing about Bangkok is that it can be as cheap or as luxurious as you want it to be. There are plenty of affordable hotels, restaurants, and activities to suit any budget but you can also find many incredible hotels in Bangkok with infinity pools and upscale fine dining restaurants for those who want a more luxurious experience.
So, if you're looking for a unique and exciting destination for your next vacation, be sure to add Bangkok to your list!
---
Beautiful Fall Destinations in East Asia
12. Kyoto, Japan
By Mariana, Road Trip Euroguide 
Recommended Month to Visit: October
Kyoto is one of the best places to visit in the fall. The leaves change color and the temperatures are perfect for spending time outdoors. 
There are many great attractions to see, including the Fushimi Inari Shrine with its thousands of tori gates leading up a mountain, the Golden Pavilion which is completely wrapped in gold (stunning and bright), and the Philosopher's Walk, a meditative experience during the fall changing of the leaves.
In addition, Kyoto is a great place to try traditional Japanese food. The city is home to many Michelin-starred restaurants, as well as more casual eateries serving everything from sushi to tempura. You can get some of the best udon noodles and omakase meals in the smaller nook restaurants – so no need to pay an arm and a leg for good food.
Kyoto is also a diverse city, and home to a wide array of fascinating cultural attractions. In the fall, the best places to visit are its many incredible festivals. From food fairs to art shows, these events offer an immersive experience of Kyoto's unique cultural traditions – check out the calendar here. 
So whether you're looking to enjoy the autumn colors or experience Japanese culture, Kyoto is an ideal destination for the fall. 
Oh, and before you head out, make sure you pack accordingly – comfy layers are best for this time of year!
---
13. Seoraksan National Park, South Korea
By Ashley, Culture Snapshots
Recommended Month to Visit: October
Seoraksan National Park in South Korea is one of the best places in the country to enjoy the fall foliage. It also houses the third tallest mountain peak in South Korea.
Seoraksan is a beautiful destination with a bit of something for everyone. The area has challenging hikes for experienced hikers, but also easier trails for those who want a simpler stroll through nature.
Another great feature of Seoraksan is the cable car, which makes the spectacular views from the mountaintops available to those who can't hike there. From the top of the cable car, you can see the iconic Ulsan Rock and Sinheungsa Temple.
Iconic sites you can see while hiking around Seoraksan include the aforementioned Ulsan Rock and also Dinosaur Ridge.
To make your Seoraksan visit into a 2-3 day trip, one of the best places to stay is Sokcho, a lovely resort town on the east coast. Besides its proximity to Seoraksan, Sokcho is well-known for its gorgeous beaches with clear blue waters.
When visiting South Korea during the fall, make sure to look up when Chuseok, Korea's mid-autumn festival, is. The dates for Chuseok vary each year because they're based on the lunisolar calendar. But the holiday is generally in September or early October.
During this holiday, Koreans have a few days off and often return to their hometowns to spend time with family. You'll want to bypass traveling to popular tourist destinations during that time if you want to avoid crowds and traffic.
---
14. Sun Link Sea, Taiwan 
By Mariza, Hoponworld 
Recommended Month to Visit: Mid to end November
Sun Link Sea Forest doesn't ring a bell to most, but it's a great place to explore if you want to get off the main tourist track in Taiwan. 
Hidden in the hills of Nantou County, Sun Link Sea sits at an elevation of 1,600 meters (5,249 feet) and covers just over 40 hectares. The park is full of towering cypress and fir trees, and an array of flowers. There are even several stunning waterfalls to see! 
Sun Link Sea is a hiker's paradise, and there are loads of trails ranging in difficulty. If you just want to take it easy, you can easily follow the well-paved walkways to all of the park's best bits; Songlong Rock Waterfall, the Heaven and Earth Eyes, and the 4000-year-old Red Cypress. For more serious hikers, though, there are also 1 and 2-day hiking trails to follow. 
While Sun Link Sea is a great spot year-round, fall, in particular, is a fantastic time to visit. Even though the waterfalls won't be as big as during summertime, the forest bursts into a kaleidoscope of colors perfect for leaf peeping. Don't miss the Golden Yellow Metasequoia forest!  
Sun Link Sea might be a lesser-known gem, but it's an amazing spot to add to your to-do list when exploring Asia in fall! 
---
15. Taipei, Taiwan
By Nick, Spiritual Travels
Recommended Month to Visit: November
November in Taipei is one of the most pleasant months of the year to visit the vivacious capital Taiwanese capital. In terms of weather, the typhoons and extreme temperatures of summer have waned, while the chilly, wet winter months have yet to arrive. Days are sunny and mild, with almost no rain. 
Yet despite the ideal weather conditions, it's one of the least popular months to visit, so you can avoid the foreign tourist crowds as you tour the city's stunning temples, bustling night markets, and top attractions like Taipei 101 and Maokong Gondola.  
The mild, dry weather makes November the perfect month to go hiking in the mountains that surround Taipei. Yangmingshan National Park, which protects a dormant volcano on the city's doorstep, is the perfect venue. In November, wild silvergrass blooms throughout the national park, a true sight to behold. 
A little further from the city, the Caoling Historic Trail boasts even more silvergrass, making entire mountain slopes appear silver and swaying in the wind, attracting masses of local visitors.
November also marks the start of the hot spring season in Taipei. Hop on the MRT to Beitou, the city's premier hot spring village, first developed by the Japanese, where you can choose from a variety of traditional bathhouses, public spas, or private hot spring rooms.
---
Amazing Fall Destinations in South Asia
16. Goa, India
By Soujanya, The Spicy Journey
Recommended Months to Visit: Any time from September to November 
Goa in India is the perfect place to visit in the fall because that is when the monsoon season ends and the peak tourist season begins. The best time to visit Goa is from September to March. 
Given that Goa is the ultimate beach destination in India, there are tons of fun activities to do here like yoga, surfing, salsa nights, beach sports, and beach clubs to name a few. 
Apart from that Goa has an extensive food scene with plenty of cafes, vegan cafes, restaurants, bars, and pubs. Many of these also have karaoke, live music, and open mic nights regularly. 
The beaches in Goa are a major attraction. The beaches in South Goa are a lot quieter and more pristine than the ones in North Goa. Palolem, Agonda, and Cola beaches in particular are unmissable. When visiting North Goa, Arambol, Ashwem, Mandrem, and Morjim beaches have still retained a bit of hippie culture and thus have tons of vegan cafes. 
Additionally, there are many churches, waterfalls, islands, a bird sanctuary, a wildlife sanctuary, and more in the area. 
Speaking of accommodation, since Goa is a tourist hotspot and popular among expats, there are innumerable hotels, resorts, Airbnbs, and hostels here. One can find a place to stay on any budget.
---
17. Agra, India
By Charu, Travel with CG
Recommended Months to Visit: October and November
Agra, the home of the iconic Taj Mahal, is another beautiful destination to visit in Asia in the fall. Located 210 kilometers (130 miles) south of New Delhi, the capital of India, it is a city that deserves to be on every Asian bucket list for its remarkable monuments.
The first thing to do in Agra is to get up bright and early to visit the Taj Mahal at sunrise. Being the country's most visited landmark, it gets crowded quickly. If you are visiting Agra near the full moon, it may also be possible to see the Taj Mahal at night.
Some other places to see in Agra are Agra Fort, Tomb of I'timad-ud-Daulah (aka Baby Taj), Tomb of Akbar, and Mehtab Bagh. If you have more time, you can also go on a day trip to the nearby Fatehpur Sikri and Bharatpur Bird Sanctuary. 
Although the Indian winter months of October to March are good to visit Agra in general, October and November, in particular, are great to avoid the peak season rush and yet experience good weather. 
Agra experiences intense fog from late November onwards, so it can become challenging to see the Taj Mahal in the morning then. 
Besides, Diwali, the festival of lights, also falls in October and November and is a joyful time to be in the country to witness the festivities. 
---
18. Uttarakhand, India
By Ipsita, Nomad En Route
Recommended Month to Visit: September
Uttarakhand is a Himalayan gem, situated in the Northern part of India. When snow falls on the Himalayan peaks, Uttarakhand becomes a hub for trekking. Yet, the fall months, especially July-August, have an altogether fresh vibe in the buds and leaves.
Hill stations like Nainital or Mussoorie can sometimes be too-sharp during wintry months and not everyone can take the cold during that time. But autumn comes to your rescue with its breezy winds, freshly-washed hills, and a green landscape as far as the eyes can see.
There are plenty of opportunities for travelers during the fall season. One may visit the Jim Corbett National Park, go paragliding, or the most popular one, trekking. An adventurous white-water rafting experience is famous in Rishikesh, or visit spectacular sites like Valley of Flowers or Nainital Lake for trekking or calming your mind and body.
Valley of Flowers is a UNESCO World Heritage Site, where the full bloom of the flowers can only be witnessed from mid-July to mid-August. And the aura continues up to September. This is a three-day trek, which can be coupled with Hemkund Sahib Trek.
So, this year when the fall season comes home, get a train ticket to Uttarakhand and visit the multitude of places that will surely dazzle you with their autumn colors.
---
Final Thoughts
How many of these destinations for your Asia fall getaway piqued your interest? 
From the popular to off-the-beaten track places to visit, you'll have memorable adventures no matter where you'll visit. Enjoy your time trekking, wandering through nature, checking out local festivals, and more. 
Have fun traveling during this time. 
If you need more ideas on where to go in Asia for the other seasons, check out our posts: Spring, Summer, and Winter.
Like this post? Save it to your Pinterest board.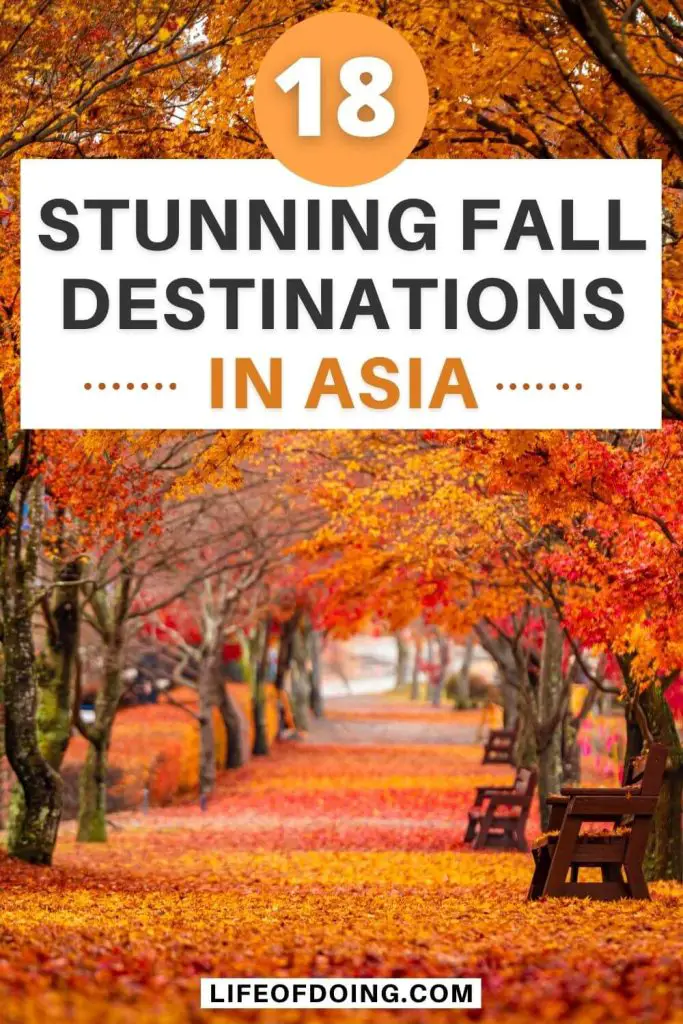 Featured photo credit: Byeong Uk Cho via Scopio Photos
Pin #1 photo credit: Kaori Hoshimoto via Scopio Photos