Four days in Ha Giang (Hà Giang in Vietnamese) in north Vietnam is an ideal amount of time to explore this beautiful, less-frequently traveled, and remote area. 
Ha Giang Province is a mountainous area known for the breathtaking landscapes of high limestone mountains, vast forests, and endless rice terraces, and is home to many ethnic minority groups. It's why this area has been recognized in 2015 as Dong Van Karst Plateau UNESCO Global Geopark.
Many visitors travel through Ha Giang by motorbike or car and complete a loop in a counterclockwise or clockwise direction. The length of the routes vary and can be over 225 kilometers (140 miles) long! There are plenty of stops along the way to see.  
Since living in Ho Chi Minh City for over 4 years and exploring as many beautiful places in Vietnam, Ha Giang is easily our favorite and most memorable, especially on a motorbike. 
In this post, we'll share what to expect for your 4 days Ha Giang Loop motorbike tour. Since we're traveling to a new location each day, we'll provide highlights on places visited, accommodations, and places to eat. 
We encourage you to visit Ha Giang now while tourism is in its infancy. 
To learn more about how to spend 4 days in Ha Giang, click on the link below to jump to a specific section of this post:
Before you read more about Ha Giang, check out our Vietnam travel tips post.
*Disclaimer: This post contains affiliate links. If you click on them and make a purchase, we receive a small commission. There is no additional cost to you. Appreciate the support.
---
Planning Your Ha Giang Loop Road Trip
How Many Days Should You Spend On The Ha Giang Loop? 
Ha Giang is typically not on a Vietnam itinerary for first-time visitors as it's quite a distance from Hanoi at 280-300 kilometers (174-186 miles) away.   
Depending on your schedule, you can do a quick trip of 3 days or spend up to 5+ days completing the loop. 
We thought 4 days/3 nights was a good amount of time to see the best of Ha Giang. 
Remember to not cram too many sightseeing spots into your itinerary. Otherwise, you'll feel overwhelmed with driving (as many of the stops are not close) and scheduling.   
---
Should You Take A Ha Giang Tour Or Do The Loop By Yourself?
Here are some things to think about:
Do you feel comfortable in a large group setting on a tour? 
What is your mode of transportation to travel around the loop?
Can you drive a semi-manual motorbike? (Automatic motorbikes are not recommended as you won't have as much control with driving on sketchier roads.)
How do you feel about navigating the roads?
If there are any of these questions where you're hesitating, then definitely go with a tour option for peace of mind. 
The cost of the tour will vary depending on the number of people on the trip and the transportation option.
We've seen 4 days Ha Giang motorbike tours for $80-$150+ USD per person per day. 
Here are other tour options that you can consider depending on your schedule:
**Note: Ask your tour if they have travel insurance included in the cost. 
If not, we highly suggest that you purchase your own travel insurance. You never know what may happen on your tour or if you get into a motorbike accident and need medical care. 
---
Can You Do A Ha Giang Loop Without A Motorbike? 
Yes, it is possible. You can hire a car to do the loop. An organized Ha Giang tour will have this option. 
We originally asked for a private car option but our tour guide, Sỹ, suggested seeing Ha Giang by motorbike. 
If you don't know how to ride a motorbike, then hire an Easy Rider. You ride on the back of the motorbike while the motorbike driver takes you to various destinations. All you need to do is just enjoy the scenery passing by. 
---
**Our Recommendation: A Private Motorbike Tour**
We opted to take a private motorbike tour with our friend and tour guide, Sỹ from Disy Travel. The tour was just the two of us and Sỹ. 
While a private tour costs more than a group tour, it was worth it to have everything already planned for us including food, attractions, accommodations, transportation, motorbike rental, and gasoline. Plus, Sỹ has traveled to Ha Giang over 30 times so he knows the ins and outs of Ha Giang and the roads. 
I sat behind Sỹ on the motorbike (as the Easy Rider way), while Justin drove his own motorbike. Justin followed Sỹ on the roads. Normally, Justin drives an automatic motorbike but his experience of driving a manual car helped him drive the semi-manual motorbike. 
It was such a pleasure working with Sỹ. He listened to what we wanted to do for the trip which was a 1 week trip to Ha Giang and Cao Bang and created an itinerary in a few days. 
Sỹ is a fun person to hang out with and you can hear his passion for traveling and visiting Ha Giang. He is also a great photographer and will take beautiful and candid photos of the trip.
If you want to go on a private tour or consider going on one of Sỹ's group tours, check out his Facebook page and contact him to learn more. While Sỹ focuses on local Vietnamese tourists, feel free to reach out for a private tour. He speaks excellent English.
---
What About The Police In The Area? 
This may be an important question on your mind!
We saw a few police officers in Ha Giang city, but they didn't stop us on the motorbikes. For the rest of the trip, we didn't encounter any police on the roads. 
It was such a peaceful experience to not get hassled on the motorbikes unlike in Ho Chi Minh City where "coffee" money (paying off the police) is done all the time. 
---
When Is The Best Time To Do The Ha Giang Loop?
Spring (March to April) or fall season (September to October) will be the best time to visit Ha Giang.  During these times, the weather is warm and pleasant. Expect the average temperature to be around 25℃/77℉. We went in April and had the mostly sunny weather and one afternoon with rain. Luckily, the rain didn't last long.  
Springtime has peach, plum, azalea, and other beautiful flowers in bloom. The fall season has the mountains and terraces glowing with golden rice. 
Avoid the rainy and extremely hot season in summer from May to mid-September. Many of the roads are not paved and have loose gravel so it will be dangerous to ride a motorbike in the rain. In addition, North Vietnam is notorious for having intense heat of 30-35°C (86-90°F). You want to be safe on the road. 
---
Where Are Places To Stay In Ha Giang?
Ha Giang has plenty of budget-friendly guesthouses and homestays available. High-end hotels and chain hotels do not exist in this area. Since you'll be on the road and at a different location every day, the accommodations will vary. 
Check out accommodations in Ha Giang here. 
In the itinerary below, we'll share where we stayed in each of the communes/areas.  
---
Map of Ha Giang Loop
---
Ha Giang Loop Itinerary: Day 0 – Arrive in Hanoi & Head to Ha Giang
Today is your travel day to get to Hanoi and head to Ha Giang.
Transportation from Hanoi to Ha Giang
From Hanoi to Ha Giang, there are several transportation options to get there. The distance between Hanoi Old Quarter and Ha Giang is 280-300 kilometers (174-186 miles). 
Take an overnight bus. This is the most comfortable option since you can stretch your legs and recline your seat. Expect to take 7-hour one way to get to Ha Giang.  
Drive a motorbike. This is assuming that you're starting your motorbiking trip from Hanoi, which will take extra time. Please follow the speed limit of the roads. 
Take a car. If you're doing a group tour, then a car or minivan will be provided. 
---
What We Did
For us, we took a late afternoon flight (between 5-6:00pm) from Ho Chi Minh City to Hanoi. We arrived after 7:30pm and met Sỹ, our tour guide, at the airport. 
Afterward, we went to the pick-up spot for the overnight bus after 10:00pm. The pick-up is a few kilometers away from the domestic and international airport terminal. You can take either the electric car (Vietnamese is needed to communicate to the driver) or a taxi to the pick-up point. 
The overnight bus was fancier than normal as the seat was wider to fit two people. The seat had an in-built massage chair and the room also had a curtain for privacy. 
There was one rest stop around 1:00am to use the toilet and eat a midnight snack of porridge. 
---
Ha Giang Loop Itinerary: Day 1 – Ha Giang to Du Gia Commune
Distance Traveled: 75 kilometers (46 miles)
Hooray! We've finally arrived in Ha Giang! On the first day of the tour, it's an easier day of driving to get used to the roads.  
Rest at a hostel (Optional). 
The overnight bus dropped us off in front of the hostel, Giang Son Hostel, in Ha Giang at 3:40am. Since it was still really early in the morning and nothing was open, we rested in one of the rooms for a few hours, showered, and then started the day. The hostel decor is minimal and there are cracks in the walls, but all we needed was a few hours of sleep in a bed to feel refreshed. 
If you're have a private driver or will arrive in Ha Giang later in the day, then this can be skipped.
---
Rent a motorbike.
Giang Son Hostel is a popular place to rent motorbikes. Most of the motorbikes were semi-manual. 
We rented two Honda Blade motorbikes (110cc). The motorbike rental came with a rain poncho, gloves, helmet, motorbike rack, and a rubber strap to tie luggage. 
Tip: Check your motorbike for any damages. Also, check your helmet to make sure the straps can lock. Mine broke a few days before our trip ended. 
---
Drive along Highway 4C to get to Du Gia Commune, Yen Minh District. 
One of the best reasons to travel through Ha Giang by motorbike is the flexibility with driving around and stopping at places whenever you want. 
From our breakfast spot, we went through Highway 4C via Thuan Hoa and traveled to Du Gia Commune in Yen Minh District. It's not a popular way to travel as it takes more time compared to taking the main highway. While a portion of the road was rocky and had loose gravel, we just drove slowly. 
We saw pretty rice terraces and rice fields that rival Sapa. It was such a peaceful drive through ethnic villages and to see the lovely views. 
---
Check out Du Gia Waterfall. 
Du Gia has a small waterfall to check out. Since this place is hidden, it's best to ask for directions or go with a local who knows the direction. 
You can either ride a motorbike or walk to Du Gia Waterfall (Thác Du Gia). The roads are extremely rocky and not in the best conditions, so it's better to walk and enjoy the scenery. 
You'll see some beautiful rice terraces that look like you're in Bali. Plus, you'll see tons of cornfields. Corn is used as the main starch compared to rice. 
Once you arrive at the waterfall, you can enjoy the falls from the bottom or climb to the top and jump down. We saw a few young adults who went the adventurous route by jumping off.
Address: TL176, Du Già, Yên Minh, Hà Giang 310000, Vietnam
---
Accommodations in Du Gia
Du Gia Commune in Yen Minh District is not a typical stopping point along the Ha Giang Loop unless you have more time on the trip. Regardless, there are a few homestays to consider when staying here. 
---
We stayed at Du Gia Homestay. It's one of the first homestays to open in the area and is popular with tourists. 
We had a private room that came with air-conditioning, a desk, an enclosed bathroom, and a patio area to sit outside. The bathroom had shampoo and body wash. 
Note: Hot water isn't turned on all the time, especially at odd hours. Test the water temperature before deciding to do a full shower. 
Since you're in a remote area, this place offers dining services. Therefore, we had three meals here – lunch and dinner on the first day and breakfast the next day. 
---
Meals
Breakfast at Phở Chua Ly Dính in Ha Giang – We tried sour pho for the first time and it was yummy! We aren't used to the cold pho style but it works. 
Lunch and Dinner at Du Gia Homestay 
---
Ha Giang Loop Itinerary: Day 2 – Du Gia Commune to Lung Cu Commune
Distance Traveled: 100 kilometers (62 miles)
On the second day of the Ha Giang motorbike tour, we're off to explore Lung Cu Commune in Dong Van District. It's the most northern area of Vietnam that borders China. 
Travel through the gorgeous roads of Yen Minh and Dong Van and then to Lung Cu. 
As we navigated through the roads, we noticed more gorgeous rice terraces. Many of the terraces weren't green as it isn't rice harvest season but they were still nice. We passed more cornfields and just awed at the tall mountains and valleys. 
---
Check out Tham Ma Pass Viewpoint.
Tham Ma Pass (Dốc Thẩm Mã) is a quick sightseeing spot when traveling from Yen Minh. It's a windy paved road that cars and motorbikes frequently use. The road looks like a snake. 
At the viewpoint, young women and children wearing ethnic clothes have a backpack of yellow and pink buckwheat wildflowers or flower crowns that you can use to take photos with the road. A small tip to the women and children is appreciated. 
Address: 559V+QW7, Unnamed Road, Đồng Văn, Hà Giang, Vietnam
---
Stop by the Lung Cam Cultural Tourism Spot.
Want to see a traditional house of the ethnic Hmong people? Check out the Lung Cam Cultural Tourism Spot (Làng văn hóa du lịch Lũng cẩm). It's a small house that has Chinese-influence architecture. A famous Vietnamese movie, "The Story of Pao" was filmed here. 
To us, the house wasn't as interesting as the entrance area – flowers! 
During the springtime (and when we visited in late April), the garden area near the entrance is covered with pink buckwheat flowers. It's a beautiful spot to take photos. 
In the motorbike parking lot, there are vendors where you can rent traditional ethnic clothes to take photos with. 
Address: 66G2+PPF, Sủng Là, Đồng Văn, Hà Giang, Vietnam
---
Visit the Vuong Castle/Hmong King Palace.
Hmong is one of the ethnic minority groups in Vietnam. 
Vuong Chinh Duc was the leader who oversaw the Hmong people in the Sa Phin – Pho Bang area. He chose this location to build his castle/palace (Dinh Vua Mèo). It took over 8 years to complete from 1919 to 1928.
You'll notice that the architecture is a mix of Chinese and Hmong architecture and influences. At the entrance, there is traditional Chinese writing with a painting of a phoenix and dragon. Feng shui was also incorporated in the building of this palace.  
The palace is surrounded by a forest area and has a garden of red amaryllis flowers. During the springtime, the garden is covered in pink blossoms from the peach trees.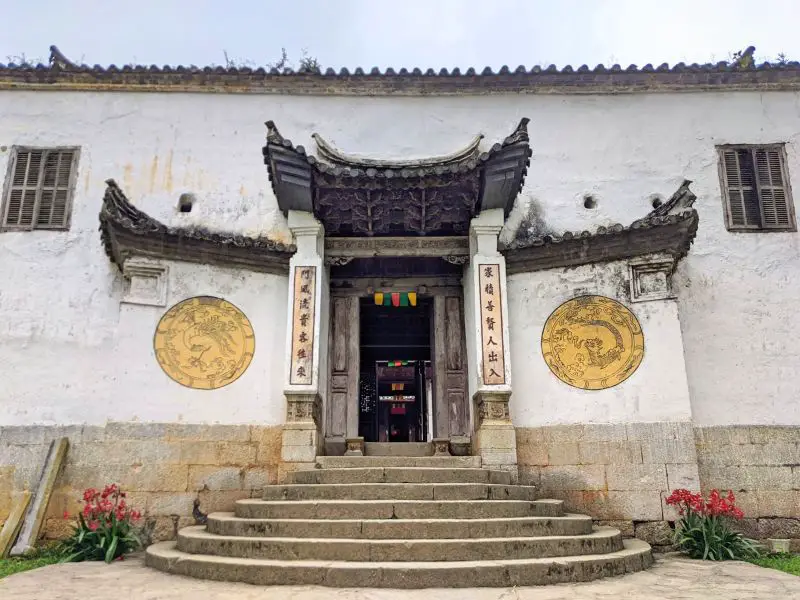 Address: Xà Phìn, Đồng Văn District, Ha Giang 310000, Vietnam
---
Walk Around the Lo Lo Chai Village. 
When wandering around Lo Lo Chai Village, you'll notice that all of the homestays and buildings have a cracked wall architecture with bright yellow or beige colors and clay roof tiles. It's by design as it's the traditional building look of the Lo Lo people. 
It's a quiet area so you may not see tourists here on the weekdays. You will see children and dogs playing on the sidewalks. 
There is a cafe, Cafe Cực Bắc, if you need to get your caffeine fix or if you need a rest. 
Address: Lô Lô Chải, Lũng Cú, Đồng Văn, Hà Giang
---
Accommodations in Lung Cu
Consider staying at one of the homestays in the Lo Lo Village. 
We stayed at the adorable Lo Lo Eco House. Everything is so cute here with the decor and the gorgeous fields and gardens surrounding the area. 
We had a private bungalow that overlooked the fields. The room had a comfy bed and seating area. Since Lung Cu is colder than other places in Ha Giang, the portable heater in the room came in handy in the evenings. 
Shower rooms and toilets are in separate areas from the rooms. 
This homestay offers breakfast and dinner. 
Note: The paved road that leads to the homestay is very narrow. Drive your motorbike carefully so you don't fall into the fields.  
---
Meals
Breakfast at Du Gia Homestay – There are two options for breakfast – instant noodles or banana pancakes. We chose banana pancakes which were more like crepes. The meal came with condensed milk for sauce and fresh bananas. 
Lunch at a local restaurant, Nhà Hàng Đạt Béo, in Yen Minh 
Dinner at Lo Lo Eco House – The dinner options are BBQ or hot pot. We had chicken hot pot and it didn't disappoint. The hot pot soup base had tons of fragrance and spice from the fresh herbs and chili. There were tons of vegetables and noodles. Unfortunately, we couldn't finish everything and had leftovers. 
---
Ha Giang Loop Itinerary: Day 3 – Lung Cu to Meo Vac
Distance Traveled: 50 kilometers (31 miles)
Visit the highest point in Lung Cu.
If you've wanted to be close to the Vietnam-China border, then check out a viewpoint in Lung Cu. There is a sign, "Điểm Đầu Cực Bắc" as a reference. 
Climb a set of stairs and then you'll see the vast forest area of Vietnam-China lands. You'll notice the fencing along the border. 
There is a Lung Cu sign with the coordinates of the northern point in Vietnam. You can also climb up the observation tower for a better view.
Address: 98VF+25X, Lũng Cú, Đồng Văn, Hà Giang
---
Stop by the Lung Cu Flag Pole.
Did you know that the Vietnam flag is 9 meters long by 6 meters high? The area of the flag is 54 meters square which represents the 54 ethnic minority groups in Vietnam. 
Lung Cu's flag pole (Cột Cờ Lũng Cú) is on top of Mount Rong and is 30 meters (98 feet) high so it's visible around the area. 
There is a set of stairs to climb to the flag pole. You can also climb another set of stairs inside the flag pole tower to see a higher view of the area. 
Address: 9878+GF5, Đường lên Cột Cờ, Lũng Cú, Đồng Văn, Hà Giang 312600
---
Ride along the Ma Pi Leng Pass. 
One of the bucket list motorbike rides to do is Ma Pi Leng Pass (Đèo Mã Pí Lèng). The 20 kilometers (12.4 miles) route is along Highway 4C and it's a beautiful yet dangerous road with hairpin turns and curves along the mountain. 
As you drive along the road, you'll see endless green tall mountains and rice terraces in the valleys. The highest point is at 1,500 meters (4,900 feet) and you'll see the turquoise Nho Que River along the way. 
Feel free to stop by along the road to admire the beauty and take photos. There are guard rails and white and red striped barriers along the edge of the cliff to prevent you from falling off. 
The road itself is mostly paved. You just need to be careful with the blind spots on the curves.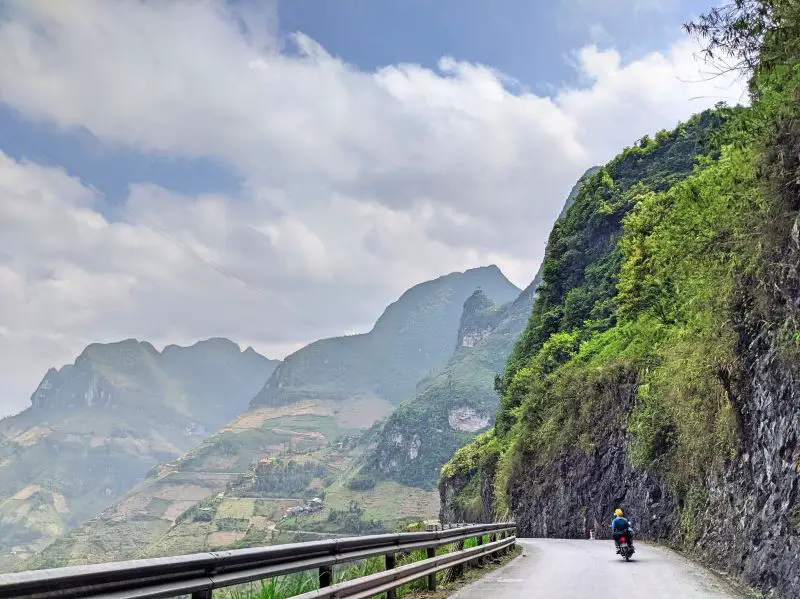 ---
Take a boat ride along the Nho Que River.
Nho Que River (Sông Nho Quế) is a 192 kilometers (119 miles) long river that flows between China and Vietnam. 
Since you've seen the beautiful turquoise river along Ma Pi Leng Pass, it's time to see the river up close. (During the rainy season, the river turns to brown color). 
To ride the boat along the river, you have to get to the boat pier (Bến thuyền hẻm Tu Sản). There are 3 ways to get to the boat pier:
Take a 25-minute walk down from the coffee shops/motorbike parking area. This is the best option to save money and also get some exercise. 
Take a motorcycle taxi for 50,000 VND ($2.20) per person each way. The motorcycle taxi drivers are very skilled since the road is bumpy and extremely steep. 
Take the electric vehicle (coming soon!) We heard from our tour guide that a road is getting built for an electric vehicle to take visitors.  
Tip: If you're afraid of heights, it's best to walk down. Otherwise, you may be scared for your life when riding down. Riding up on the motorbike was just as scary. 
Once you arrive at the pier, you're directed to one of the boats and then enjoy the 30-40 minute hour ride. 
The boat doesn't go fast so you can enjoy the views and take tons of photos.
It's quite amazing as the boat travels through Tu San Abyss Alley, which is considered the deepest alley in Southeast Asia. With the two tall mountains surrounding the Alley, it's such a humble experience to pass through the majestic landscape. 
Your boat driver may also drop you off at another scenic spot to take photos of the Alley. There is a set of stairs to climb in order to arrive at the photo spots yet it's worth the extra effort to see the pretty views. 
Address: Giàng Chu Phìn, Mèo Vạc District, Ha Giang
---
Accommodations in Meo Vac 
We recommend staying at the Hmong Culture Village in Pa Vi Commune, Meo Vac District. It's a fun area for tourists to stay in a Hmong village and traditional houses. Plus, it isn't far from the Nho Que River boat area. 
The village is separated into three sections and there are 20 homestays to choose from. Each of the sections has a park in the middle with swings, seesaws, and spots to take photos.  
---
We stayed at Vi Vi Homestay. It's one of the large homestays in the area and a good place to spend the night.
We had a private room that overlooked the main courtyard area. The room came with a clothing rack with hangers. It's one thing that we missed having during our trip. The bed was really comfy. 
Separate shower rooms and toilets are outside of the rooms and are shared. During the busy season, these will be busy so you want to visit in the off-hours. 
This place offers dinner but it needs to be arranged ahead of time. Breakfast is not included. 
---
Meals
Breakfast at Lo Lo Ecohouse – The two choices were sticky rice or instant noodles. 
Lunch at Ethnic House in Dong Van downtown area
Dinner at Vi Vi Homestay – There is a choice of BBQ or hot pot. We chose hot pot as it came with fish and plenty of fresh vegetables, instant noodles, and sides. 
---
Ha Giang Loop Itinerary: Day 4: Free Day / Travel Day
Distance Traveled: Various
It's the last day of the Ha Giang 4 days motorbike trip. There are a few options to do:
Return to Ha Giang to complete the loop and drop off the motorbike.
Motorbike to Hanoi (if you rented your motorbike from Hanoi). 
Extend your trip to visit Cao Bang or other surrounding areas. 
We decided to extend our trip and visit Cao Bang (Cao Bằng), the neighboring province to Ha Giang. 
Visitors love going to Cao Bang to see the waterfalls and beautiful views. Here, we saw many gorgeous places such as Ban Gioc Waterfall and God's Eye Mountain. 
FAQs About Ha Giang Travels
How Is The Cell Reception In Ha Giang? 
It depends on your location. The main Ha Giang city center has data reception and you can get LTE.
All of the homestays that we stayed in had free wifi available. 
When we drove around the countryside, we did not get any reception. We have MobiFone provider for our SIM card and it's known to not get reception in the area. 
Tip: Buy a Viettel SIM card. You can get better reception in the off-the-beaten-path areas too. 
---
What Should We Pack For The Ha Giang trip?
Remember to pack light! Our Vietnam packing list covers everything that you need for a trip and is customizable to your Ha Giang trip. 
If you're driving a motorbike, you'll need to use a duffel bag instead of a hard luggage. It'll be easier to wrap the rubber strap around the duffel bag to the motorbike rack. 
Also, wear gloves and a neck gaiter to protect yourself from the sun and insects. 
Bring lots of insect repellent. The insects are brutal in Ha Giang and love biting the ankles!
Bring cash with you as places will not take credit card.
---
Do You Need To Tip For The Ha Giang Tour? 
Tipping is optional so it's up to you whether to give one or not. If you enjoyed your tour guide's services, then give one. About 5-10% of the trip cost is generous and your guide will greatly appreciate it. 
Helpful Tip: Bring an envelope so you can put the tip inside and then give it to the tour guide. It's less discreet this way. 
---
Final Thoughts About Ha Giang Loop
Completing the Ha Giang Loop by motorbike or car in 4 days will be one of the most memorable trips that you've taken in Vietnam. Since the province is harder to get to from Hanoi, you can still admire the quietness and beauty of the landscapes without the crowds. While the driving is long, it's worth it!
Do not hesitate and start planning a trip there now! Enjoy your time in Ha Giang.
If you have any questions about Ha Giang or our experiences, please ask a question below. 
---
Need more places to visit in North Vietnam? Check out our posts below on where to go next:
Like this post? Save it to your Pinterest board.