Traveling through Vietnam will provide a once-in-a-lifetime experience. The top reasons to visit include seeing the stunning landscape, eating mouthwatering Vietnamese cuisine, exploring fun things to do, and observing unique cultural experiences from North to South areas. It's one country that you'll fall in love with and will want to visit many times. 
If you're thinking about visiting Vietnam in the future, then continue reading! 
We're sharing the 40 things to know before traveling to Vietnam for your first visit. We want you to be fully prepared for your trip so you must read these helpful Vietnam travel tips. 
How do we know so much about Vietnam? We've been living in Ho Chi Minh City, Vietnam for over three years so we know the ins and outs of the country. There is so much information floating around the Internet and Facebook groups, so we want to provide relevant and valuable advice to traveling here, especially for your first time in Vietnam. 
Continue reading and check out these practical tips on visiting Vietnam from general travel information, budget-friendly ideas, where to go, and more.
*Disclaimer: This post contains affiliate links. As an Amazon Associate, we earn from qualifying purchases. If you click on them and make a purchase, we receive a small commission. There is no additional cost to you. Appreciate the support.
---
1. Check if you need a visa.
The most important Vietnam travel tip to know is to determine if you need a visa before entering Vietnam. Unless you're part of the ASEAN countries, you'll most likely need a visa. 
You must submit your visa application two weeks before your travel date to get approval from the government. 
You can either go through a visa company or submit an e-Visa (U.S. citizens can do this option). Click here to submit the e-Visa. 
The e-Visa is only for a single entry and you can stay in the country for 30 days. It's available for certain countries, such as the United States. 
We suggest the e-Visa process since it saves time on arrival as you can go directly through immigration after landing. Otherwise, you may have to wait a while to get your visa in your passport.
IMPORTANT:
Once you're close to your visa expiration date, you'll need to leave the country.
Or, you'll need to apply for another e-Visa at least 1 week before your expiration date and then do a visa run. If you're in Ho Chi Minh City, many people go to Moc Bai (Vietnam)-Bavet (Cambodia) borders to do the visa run. You'll need to do this process every 30 days or pay a penalty for overstaying your visit.
**Temporary suspended until further notice** If you plan to go to Vietnam, take a flight to Thailand and spend 3 days there, and then go back to Vietnam, then you'll need a multi-entry visa. This will require a visa through a visa company. We've used this company (no affiliation) and didn't have any issues. 
---
2. Vietnam is a LONG country. Choose your destinations wisely!
Vietnam has so many incredible places to visit. It's hard to decide where to go! The country is S-shaped and is 1,025 miles (1649 kilometers) long, so it's much longer than it appears on the map. 
If this is your first trip to Vietnam, do not try to see everything! It'll be too daunting and you'll burn out from the transportation and moving from city to city.  
Where should you go in Vietnam? Most travelers will start their Vietnam travels either in North Vietnam at Hanoi, the capital, or South Vietnam at Ho Chi Minh City (Saigon) and head in the opposite direction. During your visit, add one or more of these Vietnam UNESCO sites, national parks, or beach towns to your itinerary. 
If you're short on time, it's easy to visit the large cities with a short domestic flight. You can easily fly around the country in 2 hours. 
---
3. You'll need to spend at least 1 week in Vietnam or longer.
Since Vietnam is a long country to travel to, you'll need at least 1 week to travel here. 
One week in Vietnam is barely scratching the surface. If you have this limited amount of time, it's recommended to spend the time in one area to lessen the travel time – either in North (ie: Hanoi), Central (ie: Danang), or South (ie: Ho Chi Minh City).
Check out our 1 week itinerary from North to South Vietnam or 1 week in Central Vietnam itinerary here. 
We recommend that you have at least 10 days to 2 weeks in the country. Read how to spend 2 weeks in South Vietnam here. 
You can spend up to one month here and still won't be able to see everything. At least you have time to add one of these off-the-beaten-track destination spots to your itinerary. 
Just remember to pace yourself with your sightseeing adventures as you can always return to this country multiple times. 
---
4. Vietnam is a Communist government.
The government transitioned to a Communist government after the end of the Vietnam War (called the American War in Vietnam) in 1975. This was an opportunity for the North and South to unite as one country. More information about Vietnam's Communism is here. 
Since you're a guest in this country, please be respectful of the government here. Here are some things to consider:
Be aware of what you say in public and on social media. You will get arrested for saying terrible things about the government and will need to pay a high fee to get out of jail. 
Do not do any political outreach or protesting! 
Otherwise, Vietnam isn't as overbearing as other Communist countries. It's developing rapidly in major cities such as Ho Chi Minh City. Many people are entrepreneurs and open up their own businesses and restaurants. 
---
5. Vietnam is a safe country to visit.
After living and traveling around Vietnam, we can say that Vietnam is a safe country to travel through.
All you need to do is use common sense and trust your gut. If it doesn't feel right, then get yourself out of the situation! 
From what we've experienced after living here and traveling around, Vietnam is LGBT-friendly in Ho Chi Minh City. There are a few gay bars in Ho Chi Minh City, mostly in District 1. When traveling outside of Ho Chi Minh City, the country is still conservative so you'll need to be cognizant of displaying public affection.
Vietnam is a good solo destination for women. We know a few female solo travelers who have visited this country and haven't had any major issues. There are a few cases in the Ho Chi Minh City Female Expat group regarding Grab motorbike drivers taking photos of the driving routes and sending them to friends or assault at parks and streets. There are also cases of catcalling and bag theft. If this happens, report it to the police and fight back if needed. Stay vigilant!
The one thing to worry about is petty theft of jewelry, purses, and phones. Petty theft can happen at any time such as waiting at a street corner or riding a motorbike. 
Important Vietnam Travel Tips: 
If you need to check Google Maps on your smartphone, do not check it at the corner of the street. Step back and stand next to a building to minimize theft. 
Use a backpack or a crossover purse instead of a handbag to walk around town. 
If you ride a motorbike, use the seat trunk to store your purse and valuables. 
When dining on a sidewalk or the side of the road, do not leave your phone on the table. It can easily be swiped. 
We always suggest that you have travel insurance on hand just in case something happens. You never know what may happen or if you need medical attention.
---
6. English is spoken in larger, touristy cities. 
It's recommended to learn some Vietnamese, but it's really difficult to master due to the 12 vowels and each of the vowels has six tones. Even though we've lived here for 3 years, our speaking skills are elementary and people still cannot understand our tones. 
In the end, it's best to speak English in larger cities. Many younger people will understand English (although, they'll be shy about speaking) and can help you. 
If you're in the smaller towns and cities, you will be out of luck since English is not spoken. The best way to communicate is to use the Google Translate app. The translation may be off but at least the other person can understand. 
If you do want to know some Vietnamese, we recommend that you download the Master Ling app to learn Vietnamese. The app's courses are similar to what we learned during our in-person Vietnamese classes. Just know that the dialect used in the app is with a Northern accent as there is a "z" sound with the words. A Southern accent has a more "y" sound with words. 
Here are some important phrases. 
Hello (formal way) – Xin chào. 
Hello (informal way to friends) – Chào bạn.
Thank you – Cám ơn.
How much is this? – Cái này bao nhiêu tiền? 
One, two, three, cheers! – Một, hai, ba, vô!
7. Pack clothes for all types of weather.
It's an assumption that Vietnam is hot and humid all year round. This is true if you're based in South Vietnam, such as Ho Chi Minh City. Yet, there is different weather throughout the country. You'll need to be prepared and bring appropriate clothing depending on when you travel to Vietnam. 
North Vietnam experiences many seasons here. It's very hot during the summertime (in the 90℉ (32℃)) and cold and snowy during the winter (about 59℉ (15℃)), especially in the mountain regions. The rainy season is from May to September. 
Central Vietnam has plenty of sunshine throughout the year. The rainy season is from September to December and the heavy rains do flood some areas such as Phong Nha.  
South Vietnam has two seasons – 1) hot and rainy from April to October and 2) hot and dry from November to March. The average temperature is 85℉ (29℃). The rain can appear at any time but won't last long. Check out our post on what to do in Ho Chi Minh City during the rainy season here.
---
8. Bring your own toiletries.
While you can buy many things in Vietnam, it's best to bring your own stuff such as travel size shampoo, body wash, Pepto Bismol, etc. 
We also suggest that you bring sunscreen (coral reef safe sunscreen is even better!) and travel size lotion since many of the products in Vietnam have whitening agents. 
For those who menstruate, bring your own tampons, sanitary napkins, and menstrual cups. 
---
9. Wear comfortable clothing.
What can you wear in Vietnam? Anything comfortable and weather appropriate! You can wear shorts, t-shirts, tank tops, dresses, and sandals when walking around town. 
When visiting religious sites and churches, please be respectful and cover shoulders and knees. If you don't have any coverings, it's still okay. You won't be turned away by Security. 
---
10. Buy a SIM card on arrival.
Once you depart the airport in Vietnam, the first thing you should do is buy a SIM card. They're cheap, provide unlimited 4G data around the country, and can make calls (in Vietnam only). Plus, you can use Google Maps, Grab (the most popular ride-hailing app similar to Uber), Google Translation, and other important apps while you're here. 
At the airport, expect to pay around 220,000 VND ($9.50 USD) for unlimited 4G data and 100 minutes for local calls for the SIM card and it should last about 2 weeks of travel. 
The two most-used SIM card companies are Mobifone or Viettel. We use Mobifone for our carrier and haven't had any issues. 
If you're from the U.S. and want an international phone plan, consider switching to Google Project Fi. You can get data and calls in over 200+ countries and do not need to pay extra! Click here to learn more and get a $20 credit. 
We've used Project Fi since 2016 and this plan has helped us save money when we traveled internationally. We currently use both Google Project Fi and the Mobifone SIM card in Vietnam. 
---
11. Motorbikes are everywhere.
You know that you're in Vietnam when you see a sea of motorbikes on crowded roads. 
Driving a motorbike is a way of life in Vietnam. If you know how to drive a motorbike, you can rent one to drive around the cities. They're affordable and will be around $5-$7 USD per day to rent one. 
Follow these rules: Remember to wear your helmet, signal when turning, follow the road roads, and use your horn to warn others. Don't be obnoxious and honk crazily on the road. 
Note: Technically, you're breaking the law by driving a motorbike without a license. You may get pulled over by the police and have to pay a "fee" (also referred to as "coffee money" since it's a small fee to pay the police). 
If you do not know how to drive a motorbike, it's not a problem. You can utilize public transportation, taxis, or hire a motorbike driver via the Grab app. 
Do not attempt to learn how to drive a motorbike for the first time in Vietnam. This is a prime example of what NOT to do in Vietnam! You will get in an accident and may hurt others.
---
12. Grab is your go-to app for taxis.
You won't have any issues with finding taxis in the major cities. The reputable taxi companies that use the meter are Vinasun (white-colored taxi) and Mai Linh (green-colored taxi). You won't need to negotiate with the taxi driver in advance. Be aware of fake taxis that look similar to these two taxi companies. 
A cheaper and reliable option is to use Grab, the most popular ride-hailing app in Southeast Asia. The Grab app is the same interface as Uber with the starting and ending location, cost of fare, and your choice of vehicle (motorbike, car, or van). 
The transaction can also be cashless as you can use your credit card to pay for the ride. If you need to use cash, ensure that you have the exact change since the drivers often do not carry cash. 
Grab is available for pick-up and drop-off at the airport, so you'll want to get this app ahead of time. 
Other ride-hailing apps are GoJek and Be. We haven't tried these options yet. 
Note: Grab is only available in larger, major cities. In the smaller cities and towns, you'll need to use taxis.  
---
13. Transportation is reliable and cheap around Vietnam. 
One of the best reasons to travel to Vietnam is the budget-friendly transportation options. In the larger cities, you can use taxis, ride a bus, and ride-hailing app, such as Grab. 
If you're traveling long distances, you can take a short plane ride (no more than 2 hours one-way) to visit other cities in Vietnam. This will cost more, but will allow you to get to your next destination faster. 
Other options include taking an overnight sleeper bus, overnight train, or a minivan to the next destination. These options take longer due to the road traffic so you'll need to account for the extra time. For example, going from Ho Chi Minh City to Dalat will take 5-6 hours (longer if it's a holiday weekend). 
You can also hire a private driver as foreigners are not able to rent cars. The road conditions and heavy traffic is not ideal for foreigners to drive through. With a private driver, you can arrange your itinerary in any way you'd like. 
---
14. Lock up your luggage when taking overnight transportation.
If you take overnight trains or sleeper buses, don't forget to lock up your luggage. You can also bring valuables with you onto the bus and train. 
Large luggage and bags will be placed in the undercarriage of the bus and you won't see it until the end of your trip. As with the trains, we've only taken the overnight train with 4-beds and didn't have any issues with luggage storage on the floor.  
---
15. Do not bring strong-smelling foods inside buses and hotels.
You may see signs around buses, trains, and hotels to not bring pungent foods such as durian and jackfruit.
While we love the smell of these tropical fruits, others do not like it and will complain about the smell. We had this happen when the driver asked who had the jackfruit on the bus on our way from Vung Tau to Ho Chi Minh City.
Some hotels will charge you for bringing these fruits so please be aware.
---
16. When staying at a hotel or guesthouse, the front desk will keep your passport.
In Vietnam, hotels and guesthouses need to register overnight guests with the police and will need your passport information. Larger hotels will take a photocopy of your passport and immediately give back your passport. 
The smaller hotels and guesthouses will keep your passport during your stay and use it as "collateral" until payment at check-out. 
We know. It's difficult to give up your passport since it's your only official documentation in the country. 
There are two workarounds that you can try: 
Give a copy of your passport to the front desk to see if they'll accept it. 
Or, you can pay for your hotel room at check-in and then ask for the passport back. 
We haven't had any issues with leaving the passport with the hotel.
---
17. Vietnam uses a lot of cash.
Cash is king when you're in Vietnam. Vietnam uses Vietnamese dong (VND/₫) as its currency. The bills come in denominations of 200₫, 500₫, 1,000₫, 2,000₫, 5,000₫, 10,000₫, 20,000₫, 50,000₫, 100,000₫, and 500,000₫. As of June 2021, $1 USD = 22,954 VND. 
You'll want to have the smaller bills from 5,000 VND to 50,000 VND, especially if buying street food. 
It's rare to find the 200₫ and 500₫ bills so if you come across one, feel free to keep it as a souvenir. 
Must Know Local Tip: Be careful between the 20,000 VND (blue bill) and the 500,000 VND (teal bill) as the colors are similar. It's easy to mix up the bills as it's the difference between $.86 and $21.78 USD, respectively. 
We suggest that you place the 500,000 VND in a separate spot in your wallet so you don't accidentally give out the wrong bill or get swindled with your change.
---
18. ATMs do not give a lot of cash.
ATMs are plentiful in the major cities, yet they don't give that much money. You'll need to do multiple transactions to get a large sum of money. 
Stop by well-known banks for cash, such as Vietcombank and Techcombank. For international ATM cards, the maximum ATM withdrawal is 2-3 million VND per transaction ($87 – $131 USD) + minimum 50,000 VND ($2.18) transaction fee. 
If you're from the U.S, we suggest signing up for the Charles Schwab ATM card. It's our go-to card whenever we travel internationally. The best feature about this card is that the ATM fees are refunded back to you at the end of the month. You get to save money when you travel!
Tip: Don't forget to contact your bank before you leave so your ATM card isn't locked for fraudulent activities. 
**If you do not have an ATM, you can exchange your money at the gold shops or money exchange shops. You'll tend to get better rates at the gold shop, especially around Ben Thanh Market in Ho Chi Minh City. 
---
19. You can use your credit cards in large cities. 
Credit cards are accepted at hotels and more established restaurants in the main cities. Some places may charge an extra 3% fee for using a credit card. It's best to have extra cash just in case the credit card machine isn't working.
---
20. Tipping isn't necessary.
Whenever you have a service such as getting a haircut, eating at a restaurant, etc, tipping is not required. 
It's a nice gesture if you do decide to tip as the person providing the service makes a low wage. Feel free to round up or give 10% of the bill amount as a tip. If you do give a tip, give it directly to the person who gave you the service. 
The nicer sit-down restaurants will add a 10% VAT and a minimum of a 5% service charge fee to your bill. 
If you go on a tour, it's recommended to give a tour guide a small tip. We give about 10% to the tour guides and porters (if we go on overnight hikes). 
---
21. Trash is a huge issue around the country.
Vietnam has beautiful landscapes and scenery, but there is often trash everywhere. Unfortunately, it's not the cleanest country to visit as every city has a trash issue. 
In the larger cities, there are street cleaners who pick up trash and sweep the roads. You'll often see trash collected piled up along the sidewalks and then they get cleaned up in the middle of the night. 
In the countryside and on Vietnam's islands, there isn't any way for the trash to be disposed of. Most of the time, it gets burned, is thrown into the water, or is a collection spot forever. 
Don't be surprised to see a bonfire light up at 5pm which is often the trash burning time. It will stink. We even see trash burning in Ho Chi Minh City too! 
Unfortunately, there is a lack of education regarding trash and how to properly throw things away, and the lack of facilities for pick-up. 
The recommendation is to reduce your waste as much as you can and throw things away in a trash can. 
---
22. Say "no" to plastic!
Plastic is a huge issue in Vietnam as it's everywhere. When you buy a plastic water bottle from the convenience store, you get a plastic straw and a plastic bag. Sometimes the water bottle has a plastic security wrapper around the cap. 
To lessen your plastic waste, say "no" (Không in Vietnamese; sounds like "comb" in English) to plastic items.
Instead, bring a reusable water bottle and a reusable tote bag whenever you go shopping. You can also bring reusable utensils to lessen your usage. 
---
23. Do not drink tap water.
It's not recommended to drink tap water in Vietnam as the water isn't the cleanest. There is small debris that appears in the water. 
Many locals do not drink tap water and order 20 liters of filtered water. You'll see the large blue 20 L water bottles getting delivered around the larger cities. 
During your stay in Vietnam, ask your accommodation if they have filtered water available to refill your reusable water bottle for a small fee. Otherwise, you'll need to buy water (There are 1-liter plastic water bottles available. We know. It's another plastic bottle). 
Note: You can use tap water to brush your teeth. We've been using the tap water to brush our teeth and haven't had any issues with it yet.
---
24. The ice is safe in Vietnam.
At restaurants, the canned sodas and beer are not refrigerated so everyone receives a beer mug with ice to chill drinks.  
Don't worry. The ice is perfectly safe to consume in your drinks and Vietnamese desserts (ie: chè). Many local vendors and restaurants have ice delivered to their location daily. 
You'll notice that the ice for drinks is cylindrical with a hole in the middle. It's made by an ice manufacturer and they use clean, filtered water to make the ice. 
---
25. During lunchtime, many of the local attractions are closed.
Vietnam enjoys their time off for lunchtime so you'll see many attractions closed from 11:30am to 1:30pm. Before you visit a local attraction, double-check the opening times since you wouldn't want to have your stay cut short.
---
26. Practice your bargaining skills when you go shopping in Vietnam.
If you're at a local market and you're interested in buying something, don't forget to bargain. Most of the time, the prices aren't marked. The first price stated is often way overpriced, so you can bargain for half the amount listed and go on from there. You're welcome to walk away at any time. 
Some sellers believe in this superstition as the first customer is often the lucky sale of the day. You may get a good price on an item as the first customer. 
Please do not bargain for the sake of bargain and don't expect to buy anything. The sellers need to make a living too!
---
27. Book day tours when you arrive.
Want to go on a day tour in Vietnam? It's recommended to book them when you've arrived at your destination. The reason is that your itinerary can change at any time and you have the flexibility to decide which dates to go on a tour. 
You can stop by any tour agency in your designated city or check out Klook or Get Your Guide for any deals. If you use Klook or Get Your Guide, it's recommended to book 2-3 days ahead of your tour date to confirm your spot. 
---
28. Enjoy all the food in Vietnam!
You'll need some stretchy pants since the food in Vietnam is delicious! Food is available for all budgets. 
You can choose affordable street food, such as phở, bánh cuốn, and bánh mì and sit on the squatty plastic chairs on a sidewalk or sit at a small local shop and enjoy a meal. This can set you back about 10,000-50,000 VND ($.44-$2.20). So cheap!
Otherwise, you can sit down at a restaurant or on a rooftop restaurant and eat your heart out. 
Some of the unique food experiences include trying fish sauce (the favorite condiment of Vietnam), sweet chili sauce, all the street food, or trying some of the pungent fruits (ie: durian and jackfruit).
**Heads up: If you have a peanut allergy, Vietnamese food uses peanuts as a topping or as peanut sauce. Please ask the waiters and check the menu to see if dishes have peanuts.
There are also plenty of Western-style restaurants available throughout the country. We found some delicious spots to try in Ho Chi Minh City, Nha Trang, and Danang such as Italian food, pizzas, burgers, brunch, and desserts. 
Japanese food is also highly recommended.
---
29. Vietnam is vegetarian and vegan friendly. 
Vegetarian and vegan travelers won't have any issues finding food in Vietnam. 
Buddhism is one of the religions practiced in Vietnam so there are many vegetarian and vegan places in every city and town. Look for the word "chay" in the signs as it means "vegan." 
You can find these small and local shops that sell rice (cơm chay) with 10 to 20 vegetarian choices from stir fry tofu, stuffed bittermelon, vegetables, and more or vegetarian noodles. The food is delicious and cheap! Expect to pay around 20,000-30,000 VND ($.87-$1.30) for a plate of rice with sides and a bowl of soup. 
Just know that the 1st and 15th of the month tends to be the busiest times for vegetarian places as many people eat vegetarian/vegan on these days. 
If you need a change in flavors, there are Western vegetarian and vegan restaurants. You'll find these options in the cities such as Danang and Ho Chi Minh City. Check out our list of vegetarian and vegan restaurants in HCMC here.
---
30. Food portions are smaller than in the U.S.
Vietnam has some incredible foods to try. If you're a large eater and dining at a Vietnamese restaurant, you'll need to order a few dishes in each meal to get full. Or, you can consider visiting multiple restaurants and try a wide variety of foods. 
Western restaurants tend to have larger portions so you can just order 1 dish. 
---
31. Relax in the afternoon (or at any time) at a coffee shop.
Coffee lovers will love trying Vietnamese coffee here. Since the afternoons tend to be hot and humid, it's perfectly acceptable to sit at a coffee shop and relax in the air-conditioning (or sit outside and watch the traffic pass by). 
The chain coffee shops are Trung Nguyên Legend, Highlands Coffee, Phúc Long and Tea, and Cộng Cà Phê, but there are thousands of places that you can visit. 
Try ice coffee with condensed milk (cà phê sữa đá), iced coffee (cà phê đen đá), or egg coffee (cà phê Trứng). The coffee shop can also have teas available as Vietnam grows a lot of tea, such as in the Bao Loc area. 
You can drink coffee at any time of the day, even at 3:00am. There are sidewalk vendors and 24-hour coffee shops that will be open for you to enjoy your caffeine. 
32. Squat toilets are still used today and bring tissue.
The public bathrooms (ie: at the bus stops) may have squat toilets. All you need to do is step on the pedestal, have your feet on the outside of the bowl, squat, and do your business.
Since plumbing is limited, there will be a bucket of water with a pail instead. Once you're done, "flush" the toilet by using the pail to pour water down the toilet. 
Also, many of the public toilets do not have toilet paper. It's recommended to bring toilet paper or tissue with you. Or, you can use the bum spray if you don't have paper but it'll get wet everywhere. 
You may need to pay a small fee to use the bathroom, such as 2,000 VND ($.08).
Note: You may need to bring soap or portable soap sheets and/or hand sanitizer as well. 
---
33. Do not flush the toilet paper.
Vietnam's pipes are old and cannot handle toilet paper and tissue flushed down the toilet. You'll notice signs in restaurants and many places to remind you to not flush the paper. Place the waste in the plastic waste bin next to the toilet.
---
34. Go on a hike in Vietnam.
Did you know that Vietnam has some incredible hiking trails to explore? If you're an avid hiker, then you need to add one hike to your Vietnam itinerary. There are trails from North to South Vietnam and the difficulties vary depending on your level. 
The bucket list hike is Mount Fansipan in North Vietnam's Sapa area. It's the tallest mountain in Vietnam at 3,143 meters (10,312 feet). Currently, the peak is a tourist attraction called Fansipan Legend so many people take the cable car up. Therefore, you can have the trail all to yourself. Read more about hiking Mount Fansipan in 1 day here. 
South Vietnam has some cool hikes to explore. The highest peak in South Vietnam is Black Virgin Mountain (Núi Bà Đen) at 986 meters (3,235 feet). It's a challenging hike, yet a fun day trip away from Ho Chi Minh City. Read more about hiking Black Virgin Mountain in a day here. 
---
35. Visit one waterfall while you're in Vietnam.
We can't help but share how awesome the waterfalls are in Vietnam. Some of the best in Asia! 
Many of the waterfalls are located in the Central Highlands in the Dalat area, so you can easily see one or a couple while you're there. Check out Pongour Waterfall, Elephant Waterfall, and Tam Tham Waterfall (a hidden one).
You can also see waterfalls in the North Vietnam-China border, such as Ban Gioc Waterfall. It's a bucket list worthy waterfall to check out. 
---
36. Add a theme park to your first visit.
If you have the chance to visit a theme park during your first time in Vietnam, we highly recommend it. 
They're fun for children and families and provide a different experience to the typical itinerary. Some of the theme parks have a water park too, so it's a great way to cool off from the heat. 
Two of the largest amusement park companies are Sun World and Vin Group. 
Here are some theme parks that we visited: 
37. Vietnamese Lunar New Year (Tết) is the largest holiday celebrated in the country.
If you have the chance to visit Vietnam during the Lunar New Year (Tết), it's one of the prettiest and festive times of year. Every year, the holiday date changes as it's based on the Lunar calendar so it's between January-March. 
Many cities celebrate the New Year with a large flower display in the center of town and have the zodiac animal decorations everywhere. Shopping centers and restaurants also join in with the festivities. 
In Ho Chi Minh City's Chinatown (District 5), there are streets selling Lunar New Year decor and lanterns. The entire street brightens up with the red and gold decor. 
This holiday season is considered the busiest time to travel as many people return to their hometown. Hotels and transportation (especially trains and flights) need to be booked in advance. Prices will be higher so it's something to consider for the budget travelers. 
Read more about the Tet traditions here. 
---
38. In larger cities, sidewalks are used for motorbike parking.
For those who love walking around the big cities, you'll notice that Vietnam's big cities aren't as pedestrian-friendly. Ho Chi Minh City and Hanoi have narrow roads so many of the sidewalks are used for motorbike parking instead of for walking.  
Just be careful when walking around the motorbikes and on the street. You may see another motorbike headed your way in the opposite direction!
---
39. Cross the street like a champion.
Crossing the streets in Vietnam is not for the faint of heart. It's one of the most intense things to do as a first-timer in Vietnam, especially during high traffic times.
It's like playing the game of chicken. Who will win – you or the vehicle? About 99% of the time, large vehicles, cars, and motorbikes will not stop for pedestrians at a crosswalk. The crosswalks are more of "a suggestion" to use, but many people cross anywhere they need to.
Below are our tips on how to cross any street in Vietnam:
To ensure your safety, look both ways for traffic. Motorbike drivers do drive in the opposite direction of traffic.
Walk very slowly and watch for vehicles. You can predict how the vehicles will travel and which way they will go around you. 
Do not stop in the middle of the road or run across the road since the vehicles cannot predict your movement. Just keep going. 
If you see a bus or a car coming at you, do not attempt to walk in front of it. Stay put in the middle of the street for a few seconds until it passes.
Once you've crossed the street, take a sigh of relief. You made it! 
---
40. Wear a mask outside.
Vietnamese people have been wearing masks outside for years to protect themselves from dust, pollution, and sunlight. When riding a motorbike, you'll especially want to wear a mask since the fumes and dust are everywhere.
Due to the pandemic, many cities and buildings require guests to wear a mask and have a temperature check. Otherwise, there is a heavy fine for not wearing one. 
---
Final Thoughts
We hope you liked reading through this post on practical travel tips to Vietnam and feel more prepared on your first trip to Vietnam. Feel free to ask a question in the comment box below if you have more inquiries on any of these travel tips. 
If you've been to Vietnam before, what other tips do you have for traveling to Vietnam?
Like this post? Pin it to your Vietnam Pinterest board.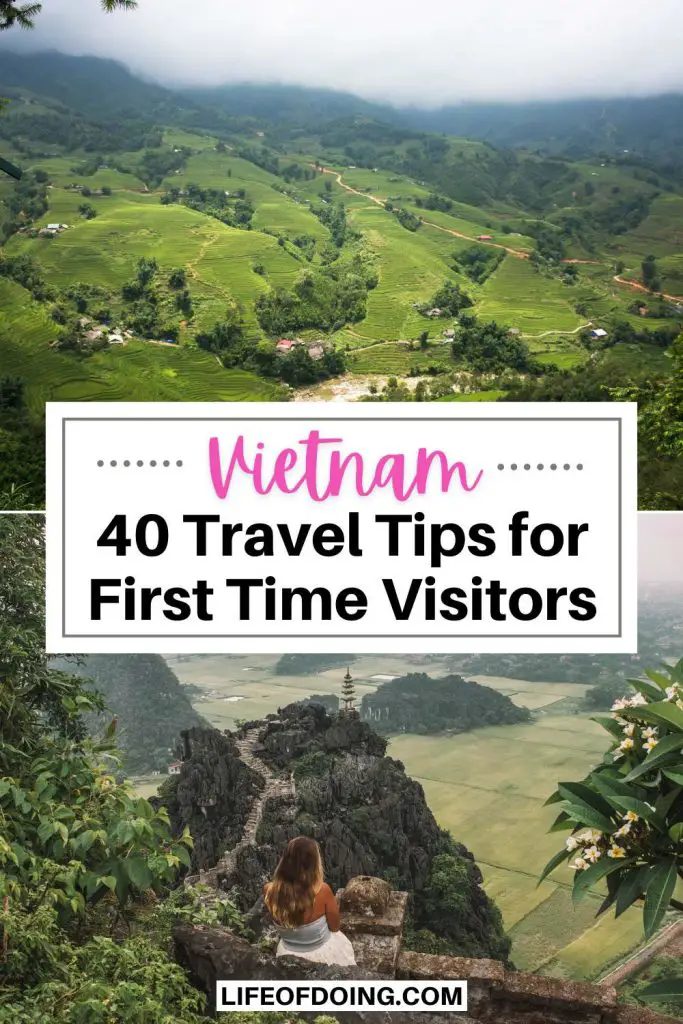 Featured photo credit: Michele Naideck via Scopio Photos
Pin photo credit from top to bottom: Michele Naideck via Scopio Photos; Jessica May via Scopio Photos