Looking for a new adventurous activity to try after visiting Dalat a few times? Add a visit to Tam Tham Waterfall (Thác Tàm Thàm in Vietnamese).
Located north of Langbiang Mountain in Dalat's Lac Duong's district, Tam Tham is not on a typical Dalat itinerary since it's truly an off-the-beaten-path spot. Most people tend to visit Langbiang Peak for a day hike or visit the popular waterfalls in the area such as Datanla, Pongour, and Elephant Waterfalls. With little to no crowds at Tam Tham, you can have the waterfall to yourself!
We had the chance to hike to Tam Tham Waterfall with our large hiking group in late April 2021 and it was a fun and adventurous experience. Since living in Ho Chi Minh, we're always looking to find the next hiking opportunity. 
In this Tam Tham Waterfall guide, we're sharing how to hike to this waterfall without a tour, how to prepare for this hike, and important things to know about the trail. As a heads up, this excursion requires about 5-6+ hours of hiking, river crossings, and monkey bridge crossings. 
*Disclaimer: This post contains affiliate links. As an Amazon Associate, we earn from qualifying purchases. If you click on them and make a purchase, we receive a small commission. There is no additional cost to you. Appreciate the support.
---
Tam Tham Waterfall Hiking Overview
This Tam Tham Waterfall day hike isn't too difficult as it's an out-and-back route, yet it's a very long day. The route has some steep hills and/or monkey bridge crossings or fallen tree trunks. You can also cross the rivers if you're afraid of heights or don't mind getting your feet wet. 
Challenging level: Moderate
Distance: 22.5 kilometers (14 miles) round trip 
Elevation: 1,430 feet (according to Garmin watch)
Time to complete: 5-6 hours round trip
Helpful tips: 

The hiking route isn't marked so you'll need to follow an offline version of Google Maps. Once you enter the forest, there isn't any cell phone coverage. 
It's recommended to have at least a group or another person join you on the hike.
Since it's a long walking journey, there is an option to take a Jeep which will take you 75% of the way to the waterfall. We were told that it costs 80,000 VND ($3.50) for a ride, but we do not know how to book one. 
You can also flag a motorbike down and have the driver drop you off as closer to the waterfall hiking route. 
---
How to Get There
How to Get to Tam Tham Waterfall from Dalat City
The easiest way to get there is by hiring a driver or riding a motorbike. From the central Dalat City to Tam Tham, it's 26 kilometers (16 miles) to a drop-off point, plus the hiking portion to the waterfalls. 
Input "Tam Tham Waterfall" into Google Maps for directions. 
From Ho Chi Minh City to Tam Tham Waterfall 
Our hiking group did a crazy day trip from Ho Chi Minh City. We had two 40-person sleeper buses that left Ho Chi Minh City at midnight and arrived past 5:30am. After eating breakfast at Bon Langbiang Village, the bus dropped us off along Đường Mười Chín Tháng Năm. 
We started the hike around 7:30am. We walked north along the road and passed by many greenhouses and farmland until we reached a riverbank, turned left, and followed the road to the waterfall. We'll share our experiences below. 
We took a different route from what Google Map suggested. Click here to see our starting point in Google Maps. 
If you need additional support
As we mentioned earlier, you can hire a Jeep to transport you to a certain drop-off point and then walk to the falls. The Jeep will allow you to finish the hike in less than 6 hours round trip. 
To save your legs from walking, you can also hire a motorbike taxi to drive you to a certain point and then you continue the rest of the route. Some of the motorbike drivers will ask for a payment, others will not. 
---
When To Hike to Tam Tham Waterfall
Dalat has cooler weather due to the locations in the mountains. The average temperature is 15-28℃ (59-82℉) so it'll be comfortable to walk in. 
Do not attempt this waterfall hike if it's raining or in the rainy season (April to October). The hiking path is mostly dirt and it will be very slippery and muddy. Plus, it will be challenging to cross the monkey bridges in the rain. 
It's recommended to start this hike as early as possible to accommodate the various hiking levels. We started the hike at 7:30am and arrived in the main town after 2:00pm. Since we did the hike in late April, it was a gamble to complete this hike. Luckily it rained once we finished the hike at 4:00pm. 
---
What to Wear for the Tam Tham Waterfall Hike
Technical t-shirt – Wear moisture-wicking shirts as you'll be sweating on your way up. 
Comfortable hiking pants or shorts – Wear long hiking pants or comfortable shorts.
Comfortable walking shoes or water shoes – It's not necessary to wear hiking boots. We recommend any walking shoes. Water shoes will be better if you plan to walk through the rivers as they'll dry quickly and will protect your feet.
Swimsuit – If you want to jump right into the waterfall when you arrive, then you can wear a swimsuit underneath your clothes.
---
What to Bring for the Tam Tham Waterfall Hiking
Daypack – Since you'll be out and about for over 6 hours, you'll need a daypack to hold your essential gear. We recommend using these: men daypack option / women daypack option.  
Water – You can buy water in the main town on the way to the waterfall. Once you get to the dirt hiking paths, there will not be any places to buy water. We recommend that you bring at least 1 liter with you. Use reusable water bottles to reduce plastic waste.
Snacks – It'll be a long journey so bring snacks to refuel the body such as mixed nuts and trail mix. 
Hat – Half of the trail is not covered so you'll need a hat to protect your face and head. Buy this hat.
Towel – Bring a small towel to dry yourself after jumping in the waterfall. We prefer using microfiber towels since they will dry quickly if you place them outside of your daypack. 
Sunscreen – You'll need to wear sunscreen during the first half of the hike. Check out this sunscreen.
Sunglasses – Here are our favorite sunglasses.
Insect repellent – There are a lot of mosquitoes and insects in the forest area. Use this one.
Cash  
Trash bag – Do not litter. Let's keep the trails clean. 
Health or travel insurance documentation – It's always helpful to have some sort of travel or health insurance documentation on you. You may get injured on your hike and may need medical assistance.
An extra set of clothes to change into after the trip
---
Admission Cost
It's free to access the waterfall and the hiking trail.
What to Expect on the Tam Tam Waterfall Day Hike
Starting the Hike 
After getting dropped off along Đường Mười Chín Tháng Năm, it's an easy, flat walk through the main part of town. The road is paved until reaching the dirt path. 
The road is not paved so it can be muddy and/or flooded during the rainy season. 
Dalat is known for growing plants and flowers, so you'll pass by lots of greenhouses with colorful roses or warehouses of people processing and bundling the roses for sales. In addition, you'll pass by farmland where farmers tend to their vegetables and fruits such as kale, swiss chard, strawberries, cabbage, lettuce, and more. 
You may even see some horses along the way.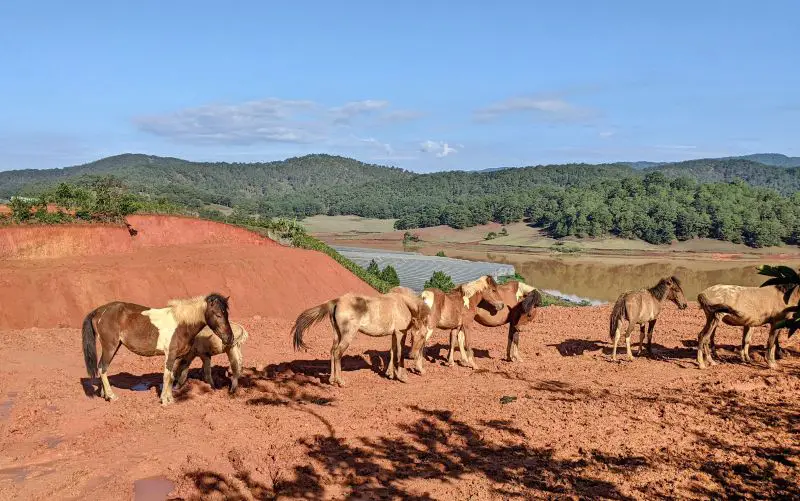 We walked along the riverbank until we crossed a small bridge. We continued up a clay-colored mountain and saw more farmlands until reaching the start of the forest area. 
Some parts are hilly so take your time going up the hills. 
Note: There isn't much shade up to this point, so you will need to wear a hat and sunscreen.
Walking through the Forest
There is a section where it splits into two. The left side goes down a forest area while the right path goes over a hill and through another section of the forest. It's up to you which way you want to go since it goes through the forest area. 
If you take the left side, you'll need to cross through barbed wire and into the private property of fields. You will also need to cross a monkey bridge since you'll pass over a river. 
If you take the right side, you'll need to walk through a river or cross a huge log that fell over. The log is high above the river so this option is not ideal if you're afraid of heights. 
True story: Justin crawled on the log like a bear since he is afraid of heights. I walked about 95% of the way and then slipped when I tried to crawl. Luckily the group helped me up as I dangled from the tree. It could have been worse if I fell into a river! 
After you breathe a sigh of relief from crossing the log, you'll continue the journey through the serene forest area. 
The only thing to watch out for is the fenced barbed wire areas as these are private property. 
We can see why this spot is used for camping. It can be arranged with the people who organize the Jeep rides as we saw a team tear down camping equipment from a previous group and placed everything in the Jeep.
Reaching Tam Tham Waterfall
Once you hear the waterfall cascades, you're almost there! 
The hiking path will take you down a narrow path that is very slippery. You'll need to grab onto tree branches and tree trunks for better support down the path. 
It's only a few minutes to reach the base of the waterfall where you can see the small, yet gentle cascades coming down. 
You've finally reached Tam Tham Waterfall after a long hike there. 
Take some time to jump into the cool and refreshing waterfall, dip your feet at the bottom of the river, wash your face, or go for a quick swim. There is a fallen tree bark in front of the falls, which is a good photo spot. 
The water was a bit too cold for us so we didn't jump in. Yet, many people in our group went into the waterfall. 
On the bottom of the falls, there is a natural "slide" down the rocks. However, it's a bumpy ride and we saw many people in our group rub their tailbone from the rock's impact.
After you've finished swimming in the waterfall, it's time to return to town. All you need to do is to take the same walking path back and/or flag down a motorbike taxi or car. In town, feel free to stop by a cafe to replenish your fluids with cold drinks, sugarcane juice, or coconut juice. 
---
Final Thoughts
Would we visit Tam Tham Waterfall again? Yes! It's a fantastic addition to any Dalat itinerary or if you need a new attraction to visit in Dalat. We can't wait to visit Dalat again for another weekend trip. 
Looking for other things to do in the Dalat area? Check out these posts: