Ho Chi Minh City (Saigon) needs to be on your list of places to visit in Vietnam if you're a vegetarian or vegan.
Eating vegetarian/vegan in Ho Chi Minh City (and the rest of the country) is widely accepted due to a large number of Buddhist practitioners. Therefore, it's ridiculously easy to find vegetarian and vegan places to eat as there are hundreds of restaurants and local shops to satisfy your palate. 
You'll be impressed with the diverse array of affordable vegetarian cuisine from Vietnamese to Western-style food. 
We've been living in Ho Chi Minh for over 4 years, and love eating plant-based foods several times a week. While we're not full vegetarians, it's our lifestyle to incorporate healthy and colorful vegetables and fruits into our diets daily.  
Now, where are the best vegetarian and vegan restaurants in Ho Chi Minh City, Vietnam?
Most of this food guide will cover places in District 1 and District 2 as these are the hottest veggie-friendly spots. The first half of this guide will list our favorite vegetarian and vegan places to eat in Ho Chi Minh. The second half will include restaurants that offer a variety of foods and have yummy vegetarian-friendly options. 
While we haven't been to every single plant-based restaurant in this city, we'll continue to try as many as we can. We'll update this post and will only share what we liked the most. 
In addition, we've visited all of these places and paid for our meals. There aren't any sponsored meals so you have our complete reviews for these places. 
Click on the links below to "jump" to a certain section of this post: 
Read our other Ho Chi Minh City posts to help with your planning:
*Disclaimer: This post contains affiliate links. If you click on them and make a purchase, we receive a small commission. There is no additional cost to you. Appreciate the support.
---
How to Find Vegetarian and Vegan Places to Eat in Ho Chi Minh City
Look for "chay" on restaurant signs which means Buddhist vegan. Therefore everything is made without any animal products and uses tofu, mushrooms, and faux meat as protein sources. In a Google map search, type in "chay" in the search field and look for a specific area. 
Insider tip: Vegetarian restaurants are popular on the 1st, 15th, and the 30th of the month due to the Buddhism "fasting" days. Prepare for crowds when you visit.  
Insider tip #2: It's affordable to eat vegan at local shops ("quán chay") selling rice places. You can get a plate with a mountain of rice, tofu, faux meat, and veggies, or vegan noodles (ie: chay phở or chay hủ tiếu) for less than 20,000 VND ($.88 USD). These types of chay places are located in every neighborhood. 
Many of the vegetarian places are in District 1, District 2 Thao Dien, and a growing number in District 7. Since we live in Binh Thanh District it's easy for us to try restaurants in District 1 & 2. 
Tip: If you're staying in District 1, you'll need to travel to Thao Dien or District 7 via taxi or Grab car. 
Search reviews of vegetarian/vegan places on HappyCow Website or HappyCow App. We found that it is harder to find places on TripAdvisor as many of the small, local restaurants aren't listed there. On HappyCow, you can filter results to and find current reviews. The website and app cover global cities. 
Join Facebook groups to ask questions about vegetarian/vegan restaurants in the city. We suggest these two groups: Vegans and Vegetarians in Saigon and Vegetarians & Vegans in Saigon.
Ask accommodations for recommendations. 
If you don't go to a specific plant-based restaurant, many restaurants have a vegetarian section on the menu. Although, you will need to inquire if there are any eggs, cheese, and/or milk products. 
If you have any questions regarding the restaurants' menu, feel free to contact them directly via Facebook Messenger. They'll respond over Facebook Messenger quickly. 
We recommend taking a vegetarian or vegan food tour. One of the coolest ways to find vegetarian and vegan spots in the city is to take a scooter or walking tour with a local tour guide. 
---
Map of Where to Eat Vegetarian & Vegan Places in Ho Chi Minh City
---
Ho Chi Minh City's Best Vegetarian and Vegan Restaurants
The restaurants below specifically offer vegetarian and/or vegan options. 
1. Hum Vegetarian
Hum Vegetarian is one of the most delicious places to eat vegetarian food in Ho Chi Minh City. There are three restaurants in the city located in District 1, 2, and 3. We've been to the locations in District 1 and District 3 and prefer the dining experience at District 1 better. 
While this restaurant chain is on the pricier side, the food is made with fresh ingredients and presented beautifully. The interior of the restaurants have fancier decor, but you can wear casual clothes to dine.  
You may be tempted to order everything on the menu since the restaurant has a lot of options to choose from. In addition, the food pictures on the menu are gorgeous. 
The best appetizer to try is the square deep-fried spring rolls which have tons of mushrooms and vegetables. There is so much umami flavor from the mushroom and the vegan fish sauce that you may be tempted to place another order. 
You can also complement the fried spring rolls with fresh spring rolls. We also like the pomelo salad when it's in season. The lotus fried rice and the pad thai are also good options for the main entrees. The waiter will ask if egg is okay in the pad thai, but you can decline if you want to keep the pad thai vegan. 
Reservations are necessary, especially if you visit the District 1 location for dinner.
Addresses: 
Hum Vegetarian Lounge & Restaurant: 2 Thi Sách, Bến Nghé, District 1
Hum Restaurant Cafe & Restaurant: 32 Võ Văn Tần, Phường 6, District 3 (close to the War Remnant Museum)
Hum Restaurant Garden & Restaurant: 32 Đường D10, Thảo Điền, District 2 (close to Masteri Thao Dien)
Average Prices for Dishes: 130,000-260,000 VND ($5.60-$11.30)
More Information: Menu on Website 
---
2. Metta Vegetarian 
We love eating at Metta Vegetarian whenever we're in District 2. Located in a residential area, it's a fabulous spot to get some flavorful Vietnamese vegetarian food in Ho Chi Minh. We usually have a feast here since everything tastes great. Plus, it's the perfect place if you love eating mushrooms as they're the main meat substitute in dishes. 
Our top recommendations for appetizers are the fried spring rolls with the lettuce and herbs already prepped in bite-size pieces and jackfruit salad (gỏi mít). The vegan fish sauce over the jackfruit brings the dish together with flavor. We also love the main dishes of steamed rice sheets (bánh hỏi) and mushroom wrapped in betel leaves (chay bò lá lốt). 
The sweet and sour hot pot is really good as it comes with lots of mushrooms and vegetables. You may want to have more than two people sharing the hot pot, especially if you have other dishes.
What we like about this restaurant is how calm and welcoming it is. The front of the dining area has a lot of natural light from the high ceilings and is filled with plants. They also have some cute stuff to buy as vases for plants. 
Address: Số 6 Đường số 19, Khu B, District 2 
Average Prices for Dishes: 50,000-200,000 VND ($2.20-$8.70)
More Information: Facebook 
---
3. Kashew Cheese 
Kashew Cheese offers the tastiest vegan sandwiches in Ho Chi Minh City. All the cheeses are made from cashews and have a similar texture to real cheese. They offer aged cheese, ricotta, and mozzarella kashew cheese. 
It's hard to choose only one sandwich when you get there since they're all delicious. You can choose hot paninis, sandwiches with sourdough breads, bagels, and baguettes.
Here are our favorites at Kashew Cheese. The Mozza Pesto is a simple mozzarella and pesto sandwich on a baguette. It has a variety of kashew cheese (mozzarella, pesto, and aged cheese) and is stuffed with arugula, sun-dried tomatoes, and pesto. There are a lot of umami flavors from the tomatoes and pesto. 
Kashew & Mushroom Panini is also recommended if you love eating mushrooms. The sauteed mushrooms, veggies, and kashew cheese in the toasted sourdough bread have a rich and decadent flavor yet oh so good. Since this sandwich needs to be pressed on the panini grill, it takes a bit longer to make. 
Another favorite is the Cheese and Chutney sandwich. The balsamic vinegar and red onion pickles give the overall flavor a nice touch.  
Tip: If you're sharing the sandwiches, you can request the sandwiches to be cut in half when you place your order. Otherwise, you'll get bread crumbs everywhere if you attempt to cut the sandwich yourself.  
We haven't tried the pastas or salads as these are new additions to the menu.  
Address: 14 Trần Ngọc Diện, Thảo Điền, District 2, Thành phố Hồ Chí Minh 700000
Average Prices for Sandwiches: 130,000-190,000 VND ($5.60-$8.25)
More Information: Facebook
---
4. Zeroism Vegan Cafe & Store
Zeroism is a 100% vegan restaurant to try in Ho Chi Minh City. It's one of our new favorites since everything on the menu is healthy and bursting with flavor. 
We've only done delivery orders for this place as we tried it during Ho Chi Minh City's social distancing period to prevent the further spread of the pandemic. Regardless, the delivery order holds up well and is still a good representation of the yumminess of this place. 
We tried a lot of dishes and cannot get enough of them. The mushroom bean burger is highly recommended. It's made with a vegan whole wheat bun with tons of black and white sesame seeds. The mushroom bean patty is also moist with kale, lentils, and mushrooms.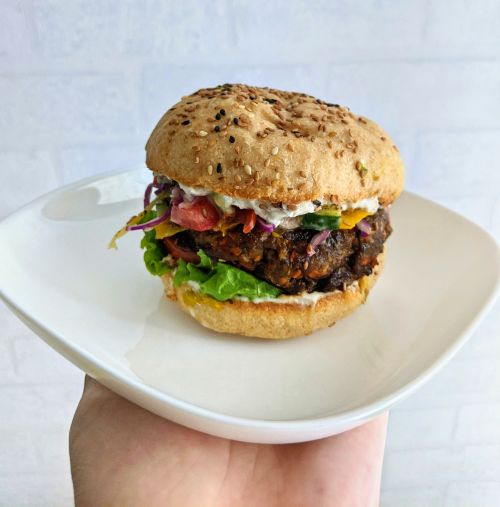 The Jackfruit sandwich is also a winner. The braised jackfruit has texture so it's not a mushy mess when biting. Plus, the added vegan cheese and lemongrass bring out the flavor of the jackfruit. 
The Gratitude Buddha Bowl is one of my favorites in Ho Chi Minh. It's made with red rice, tofu, has tons of veggies and avocado, and topped with shredded seaweed for more umami flavor.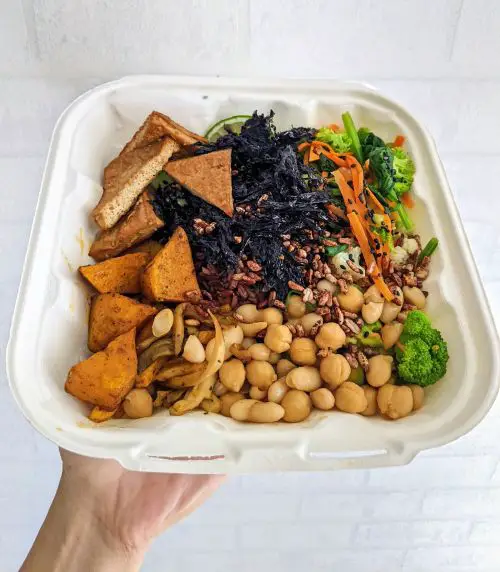 There are also pastas, smoothie bowls, and vegan drinks offered here. 
If you have extra room, the cheesecake with blueberry sauce or the passion fruit cheesecake is a winner. We love eating desserts and this one gives a thumbs up. The cashew, coconut, and macadamia nut crust give the cheesecake a nice crunch.
Address: 50 Nguyễn Cừ, Thảo Điền, District 2
Average Prices for Dishes: 115,000-195,000 VND ($5.00-$8.45)
More Information: Facebook
---
5. Pure Bowl 
Craving an acai bowl in Ho Chi Minh City? Visit Pure Bowl to get your acai fix. This small place located in Thao Dien offers organic acai puree (sweet or unsweetened) at 150g or 250g size with various toppings. All of the offerings are rich with antioxidants and bursting with flavors
We've tried the standard Pure Bowl and Immunity Bowl and they're refreshing and healthy to enjoy on a hot day. The acai isn't too liquidy as it's mixed with banana and has a good flavor. 
The Pure Bowl is our go-to item to order since it's simple and has the most acai flavor. The bowl is topped with homemade granola, goji berries, chia seeds, coconut flakes, almonds, fresh blueberries, and a choice of two fresh fruits. The seasonal fruit options are wonderful such as mango, cherries, pomegranate, pineapple, and more.  
The Immunity Bowl has a lighter flavor as it's made with spinach and ginger kombucha and includes the standard toppings. It's only available in 250g. 
Other flavors include Chill Bowl with a drop of CBD oil, Dragon Bowl with dragon fruits, Energy Bowl with a caffeine boost, and more. 
This place also offers smoothies made with coconut water or almond milk, fresh juice, and kombucha. 
Address: 94 Xuân Thủy, Thảo Điền, Quận 2, Thành phố Hồ Chí Minh 700900
Average Prices for Dishes: 90,000-140,000 VND ($3.90-$6.10)
More Information: Facebook
---
6. Habiba Kitchen 
Who loves eating crispy and flavorful falafels? We're huge fans of eating falafels and have tried dozens of falafel places in Ho Chi Minh City. It's usually hit or miss with falafels as many restaurants have flavorless falafels. 
We highly recommend trying Habiba Kitchen. It has hands down the best falafels that we've eaten with the perfectly crunchy outside with the moist and flavorful filling. It doesn't have an overpowering parsley flavor.  
We always order the falafel sandwich which has 3-4 falafel balls, lettuce, tomato, hummus, and your choice of spread in a whole wheat pita. Everything is vegan in this pita. 
We've tried many of the spreads and enjoy muhammara (made with roasted red peppers and walnuts) and bar ba (with chunks of roasted beets with tahini sauce). Baba ganoush (moutabel) is also another recommended spread yet we always order a side of baba ganoush dip. 
Habiba Kitchen is only available for delivery, so you can have it delivered to your accommodations. 
Address: 38 Số 19B, P. Bình An, Quận 2, Thành phố Hồ Chí Minh 70000
Average Price for Sandwich: 100,000 VND ($4.30)
More information: Menu on Website / Facebook 
---
Ho Chi Minh City Restaurants that Offer Vegetarian Options
This list can be a mile long since many of the restaurants that we visit offer vegetarian options. Therefore, we're sharing a handful of our go-to vegetarian-friendly restaurants.  
7. Pizza Reale
If you're craving pizza, head to Pizza Reale. This Italian-style pizza shop is a popular spot to eat in District 2. We've been eating here for over two years and love the fluffy crust and unique toppings. 
While there are traditional pizzas with sausages and pepperoni, check out the vegetarian pizzas (noted with a leaf on the menu). 
Some of the ones that we love are The Margherita, Vegetariana (it has lots of veggies on it), and 5 Formaggi (mozzarella, pecorino, taleggio, gorgonzola, provola) and with honey on the side. 
The menu has at least 4 vegan pizzas so it's 100% plant-based. Fresh tofu is used as the "cheese" and the pizza sauce is either creamed pumpkin or tomato sauce. We haven't tried the vegan pizzas but they're popular. 
Pizza Reale also has vegetarian pastas and risotto too. 
Addresses:
District 1 Location: 7D Nguyễn Thị Minh Khai, District 1
Thao Dien Location: 27-29 Nguyễn Đăng Giai, Thảo Điền, District 2
Average Price for Pizzas: 120,000-300,000 VND ($5.20-$13.00) 
More information: Facebook 
---
8. Legumes 
Legumes is our go-to spot if we want a smoothie bowl. It's located on the same street as Zeroism and is only a few stores away. 
There are so many smoothie bowls to choose from. Our favorite is the Cherry Bomb Smoothie which uses cherries, mango, strawberry, blueberries, watermelon, and pineapple as the base and topped with sliced kiwi. This one isn't always on the menu as it depends on the cherry season. 
We also like the Avocado smash as there are chunks of avocado with chia seeds and dried coconut flakes. This is made with Vietnamese avocado so it's not as creamy as a Hass avocado, yet it's still ripe. 
The basic green smoothie is always good as it's mixed with kale, pineapple, banana, grain milk, and peanut butter. This one is filling due to the peanut butter yet really yummy. 
They can be made with yogurt or without yogurt (vegan option) and are topped with granola and chia seeds. 
They also have sandwiches and salads for takeaway or other healthy snacks that you can buy. 
Tip: You may be tempted to order more than 1 smoothie bowl but they're filling. We usually order 3 for the two of us and it's a bit too much. 
Address: 40 Nguyễn Cừ, Thảo Điền, District 2
Average Price for Smoothie Bowls: 58,000-85,000 VND ($2.50-$3.70)
More information: Menu on Website / Facebook 
---
9. The Green Box
Who wants to eat salad? The Green Box is one of the recommended spots to eat salads and bowls. You can choose to make your own salad or choose one of the warm salad bowls or wholefood bowls. 
Roots Manuve Salad screams fall season with kale salad topped with za'atar roasted butternut squash, sweet potato, and kashew cheese. The flavors are on the sweeter side due to the squash and sweet potato yet very yummy. (The Perfectly Pilaf has similar ingredients as this salad yet the base of the bowl is rice pilaf.)
Tahini Tahini Salad is another winner. It has ancient grains as the base with two black bean falafels, beetroot hummus, tomatoes, purple cabbage, pumpkin seeds, and lettuce. 
If you have room in your stomach, grab a warm cookie from Annie's Cookies. They share the same space as The Green Box. Annie's Cookies is known for the New York-style cookies (similar to Levain's Bakery) so they're large, gooey when warm, and oh so good! We think it's the best cookie shop in Ho Chi Minh City! You must try the S'Mores and NY Chocolate Chip and Walnut Cookie. 
Address: 6 Đường Lê Văn Miến, Thảo Điền, District 2
Average Price for Bowls: 130,000-170,000 VND ($5.60-$7.40)
More information: Facebook 
---
10. Dim Tu Tac
Dim Tu Tac is a fantastic restaurant to eat in Ho Chi Minh City for dim sum. While you may think that Hong Kong-style dim sum is mostly made with pork and shrimp, there are some awesome vegetarian dim sum options here! 
You have to try the steamed assorted mushroom with truffle sauce. It's our favorite dumpling to eat! There is a variety of sauteed chopped mushrooms with added truffle sauce inside the thin rice wrapper. When you bite into this dumpling, the truffle sauce is the main star and coats the mushroom nicely. 
Other yummy vegetarian options (although it's very carb heavy) are rice rolls with XO sauce, steamed taro buns (made into a cute panda design), pan-fried sesame pancake, egg tarts, and fried bread wrapped in rice roll (it's another winner). 
If you don't want dim sum, there are vegetarian main entrees available such as fried tofu with mixed nuts, bamboo pith and tofu with veggies, vegetarian Szechuan hot and spicy soup, and more. 
Tip: The weekends are very busy so you'll need to get there early (before 11:00am) or wait in line. 
Addresses: 
District 1 Locations:

55 Đông Du, Bến Nghé, District 1
Floor 6, Saigon Centre, Nam Kỳ Khởi Nghĩa, Bến Nghé, District 1 (inside Saigon Centre) 

District 5 Location: 29B Đ. Trần Hưng Đạo, Phường 6, District 5
Phu Nhuan Location: 202A Hoàng Văn Thụ, Phường 9, Phú Nhuận
Average Price for Dishes: 55,000-80,000+ VND ($2.40-$3.50+)
More information: Menu / Facebook 
---
111. Thai Street
We've tried a lot of Ho Chi Minh City's Thai restaurants, yet Thai Street stands out with the flavors and spiciness level. The "hot" spicy level is pretty spicy and we can tolerate a high spicy level. Medium is recommended where you don't feel like you need to cry with every bite. Or, you can add more chili flakes to your food if you need more spice.
This restaurant has cool decor where you feel like you're sitting outside in a street stall environment somewhere in Bangkok. Or, you can sit inside the air-conditioning "Bangkok subway cart."
As with Thai food, you can have the street-food type of food here from vegetarian or vegan pad kee mao noodles to the pineapple fried rice. We like the pad thai here so it's a recommended dish. 
The curries are a large portion and can feed a family of four. We love the red curry and the green curry. Both can be made vegetarian or vegan. The curry comes with one bowl of rice, so you'll need to order extra rice to soak up the curry sauce. 
Address: 32 Trần Ngọc Diện, Thảo Điền, District 2 (Inside Snap Cafe area)
Average Price for Dishes: 105,000-120,000 VND ($4.60-$5.20)
More information: Facebook 
---
12. Shelley's Vegetarian Comfort Food
If you've been to Eddie's New York Deli & Diner, then you've seen the vegetarian menu branded as "Shelley's Vegetarian Comfort Food." There are so many veggie options here! 
I usually order the vegetarian big breakfast burrito which is HUGE. You will need to split it to save for another meal or share with another person since it's very filling. It has two scrambled eggs, black beans, cheddar cheese, peppers, onions, and salsa. 
The vegetarian burger is also yummy with the lentils and spinach patty. The patty holds up well and doesn't fall apart when you eat. You can add a slice of cheese if you want but it tastes great without it too. 
One item that I would not recommend is the mushroom pastrami Reuben. It may have been an off day when I ate it but the mushroom brine was way too salty. 
Addresses:
District 1 Location: 73 Pasteur, Street, District 1 (next to Norfolk Hotel)
Thao Dien Location:  71 Đường Thảo Điền, Thảo Điền, District 2
Average Price for Dishes: 120,000-230,000 VND ($4.60-$10.00)
More information: Facebook 
---
13. Halen's Indian Curry
This unassuming Indian restaurant serves some of the tastiest vegetarian Indian food that we've eaten. While we've ordered fish and seafood dishes, we prefer to eat the vegetarian dishes here. 
We usually do a delivery order and receive a mountain of food. Since the portions are huge, we always have leftovers for a few days. 
Tip: If you cannot eat spicy, avoid anything with chilis. Some of the dishes are spicy!
Our favorite dishes are dal fry (yellow lentils), baingan bertha (a highly recommended eggplant dish), palak paneer (cottage cheese with pureed spinach), and vegetable kolhapuri (super spicy vegetable curry-like dish). 
The garlic naan is a must-order since it's a huge piece that can be easily shared for two people. 
Address: 17C Nguyễn Thị Minh Khai, Bến Nghé, District 1
Average Price for Dishes: 70,000-90,000 VND ($3.00-$3.90)
More information: Facebook 
---
14. Sara's Ethiopian
We love eating Ethiopian food and were surprised to find an Ethiopian restaurant here in Ho Chi Minh City. The ambience is cozy and the food is delicious. 
We've eaten at a lot of Ethiopian restaurants back at home in San Jose, California and Sara's Ethiopian is one of the better places due to the flavors. (There is also a Sara's Ethiopian in Phnom Penh, Cambodia too). 
Vegetarians and vegans will love the Veggie (Vegan) combo. It's perfect for one person as it has yellow lentils (kik wot), cabbage and carrot stew, red lentils (misir wot), and collard greens/spinach (kosta). The meal also comes with a salad and injera (a sour flat bread used to pick up the food and also as the base of the meal.) 
Don't worry. There is also a Meat and Veggie Combo if you're visiting this place with another person. 
The red lentils is our favorite dish since it's so flavorful. It's not spicy but has the most flavor out of the four items. When we visit the restaurant, we tend to get one side order of the red lentils. It's a big bowl so you'll get full quickly. 
Address: Hẻm 283/37 Phạm Ngũ Lão, Phường Nguyễn Thái Bình, District 1
Average Price for Dishes: 165,000 VND ($4.60-$10.00) for Veggie Combo, 70,000-150,000 VND ($3.00-$6.50) a la carte
More information: Facebook 
---
15. En's Kitchen
We've recently been ordering from En's Kitchen every week. This delivery-only place offers healthy vegetarian and vegan options such as pizzas, pastas, toasts, burritos, sandwiches, and side dishes. The food is delicious and very reasonable for the cost. (There are also seafood and meat options on the menu.)
You can't go wrong with any of the options. Our favorites include mushroom and spinach pizza (plus chunks of roasted garlic), tofu burrito (it has tons of tofu chunks), cauliflower wings (it's a vegetarian version of buffalo wings), and baked sweet potato fries. 
We've tried the vegan sausage pizza before. While the texture wasn't for us, it's a good option if you're vegan.  
Just a heads up – the food portions are generous. You may have leftovers.
Address: 81/5 Võ Duy Ninh, Phường 22, Bình Thạnh District
Average Price for Dishes: 88,000-170,000 VND ($3.90-$7.45)
More information: Facebook
---
Final Thoughts
How many of these vegan and vegetarian restaurants in Ho Chi Minh City do you want to try? As you can tell, it's so easy to eat vegetarian food here. We hope you get to try as many places as you can on your next trip to Ho Chi Minh City. 
Read our other Vietnam travel posts to help with your planning:
Like this post? Save it to your Vietnam Pinterest board.