Ho Chi Minh City, also known as "Saigon" to the locals and abbreviated as "HCMC," is a fabulous place to visit when you're in South Vietnam. As the largest city in the country with about 9 million people, you'll experience this buzzing city that never sleeps. 
If you have only one day in Ho Chi Minh City and are looking for what to do in this city, then you're in the right spot! 
Whether you're visiting Ho Chi Minh City as a layover or have a full day, we've put together this Ho Chi Minh City 1 day itinerary highlighting the top things to do and must-see attractions. We're also providing transportation and accommodation information. Your one day will go by quickly so this itinerary ensures that you maximize your time efficiently at each of the attractions. You'll need at least 6-8 hours here. 
Don't worry. We won't pack too many things to see in your one day in HCMC since you may be exhausted from the long travels. 
Ideally, you'll want to have at least 3 days or 5+ days in this city as you have more opportunity to explore at a leisurely pace and also take several day trips. It's a good reason to return to visit HCMC!
How do we know so much about Ho Chi Minh? We're in our second year (almost third year) of living in HCMC. We tend to follow this one day itinerary whenever we have family and guests visiting. 
Without further ado, continue reading this post so you can make the most of your Ho Chi Minh City 1 day visit. 
*Disclaimer: Headed to Ho CHi Minh City, Vietnam? This post contains affiliate links. If you click on them and make a purchase, we receive a small commission. There is no additional cost to you. Appreciate the support.
---
How to Get to Ho Chi Minh City 
You'll most likely enter Ho Chi Minh City via plane at Tan Son Nhat International Airport either from the domestic or international side. 
If you're arriving from an international country, don't forget to apply for a visa in advance. Some countries allow e-Visas, so it's recommended that you check out this link to see if this option is available. Visas are not available on arrival. 
**At the time of publication, Vietnam is not allowing tourists to enter the country. We'll monitor when the borders will re-open and update this post accordingly.
After you exit the aircraft, you'll either go to the visa section to get your visa or wait in the long line to pass through immigration. Then you can pick up your check-in luggage and head out to the taxi area (which is on the left side when you exit the Arrivals gate) or call a Grab car. 
If you're arriving from another city within Vietnam, you'll be on the Domestic Airport side. Once you exit the aircraft, grab your check-in luggage, and head outside to catch a taxi or Grab car. (We'll share more information about transportation in the next section below). 
---
Ho Chi Minh City Transportation Options
The easiest way to travel around Ho Chi Minh City is to take a taxi or Grab, a ride-hailing app. When using a taxi, find either a Mai Linh or Vinasun as these are reputable taxi companies that use the meter. Make sure that you're in the right taxi as there are fake taxis with similar names. 
Grab is one of the best travel apps to have in Vietnam. It's similar to Uber, so you'll use the app to input your starting and ending location. You can hire either a motorbike or car to get to your destination. It can also be a cashless transaction by using a credit card. It's often cheaper to use Grab versus a taxi, but watch out for surge pricing during the rain.  
---
What to Do in One Day in Ho Chi Minh City
Depending on your schedule, you can either start sightseeing as soon as you depart the airport.
If you plan to stay overnight in Ho Chi Minh City, you can also head to your accommodation to drop off your luggage before starting the itinerary.
Click here to find the perfect accommodation for you.
1. Let's go shopping at Ben Thanh Market.
Time needed: 30 minutes-1 hour
Ben Thanh Market (Chợ Bến Thành in Vietnamese) is the go-to place to visit when you're in Ho Chi Minh City. As one of the largest markets in the city, you'll either love or feel overwhelmed by the ambiance. 
With over 1,000 vendors, there are rows and rows of local goods, produce, ceramics, clothing, shoes, and other souvenir items to purchase. You're bound to find something here if you're looking for souvenirs.  
Why are we visiting Ben Thanh Market first thing in the morning? There is a superstition that if you're the first customer of the day, then it's good luck. You may get a huge discount! We love finding good deals or hearing the word, "sale."
Another reason to visit this market in the morning is due to the ventilation. The market doesn't have air conditioning and gets stuffy as the day goes on. 
Take the time to wander around and look to see what you want to purchase. Many of the vendors sell similar stuff so it can look the same after a while. 
If there is something that you want, you'll need to use your bargaining skills since items do not have a price tag. The first price stated by the vendor is often inflated, so you can continue to throw out prices that you think are reasonable until the vendor agrees. 
If you're not a fan of bargaining, head to the outer perimeter to see vendors that have "fixed pricing." You'll see the "fixed pricing" signs. 
Address: Chợ, Đ. Lê Lợi, Phường Bến Thành, Quận 1, Hồ Chí Minh 700000
Opening Hours: 7:00am-7:00pm
2. Visit the Central Post Office, Notre Dame Cathedral, and Book Street.
Time needed: 1 hour
Walk for 12-15 minutes for 1 kilometer (.62 miles) or take a Grab from Ben Thanh Market to iconic landmarks of Ho Chi Minh City – Central Post Office, Notre Dame Cathedral, and Book Street. These attractions are conveniently located only a few steps away from each other so you can change the order of how you want to visit 
Central Post Office (Bưu điện Trung tâm Sài Gòn in Vietnamese) is a can't miss attraction. It's a gorgeous golden yellow building with French architecture and still functions as a post office. 
When you enter inside, you'll see two large maps on the left and right side of the upper walls and a large portrait of Ho Chi Minh (Uncle Ho) in the center of the back wall. There are also former phone booths but are now used for seating. 
There are souvenir shops available at fixed prices. They have similar stuff to what you saw at Ben Thanh Market but more toys, wallets, bags, and coffee versus shoes and clothing. 
Want to send a postcard to family members or friends? You can do that here! Buy postcards from one of the souvenir shops, sit down at one of the tables, write a message, and buy stamps. When we sent a postcard back home to the U.S., it took around 2-3 weeks to arrive.
Book Street (Đường Sách Thành Phố Hồ Chí Minh) is one of our favorite streets to visit in Ho Chi Minh City. It's an underrated area and such a charming street to stroll through. You'll love the quietness and seeing the towering trees covering the street. It's the perfect spot to get some shade and reprieve from the heat. 
Take the opportunity to look for books and souvenirs at the small bookstores. There are books available in Vietnamese and English and often have discounts. You can also find souvenir items to buy such as journals, birthday cards, and canvas tote bags. 
Motorbikes aren't allowed on the street so you can walk around and browse the bookstores in peace. There is also an outdoor cafe if you want to sit down and relax. 
It's easy to get to Book Street from the Central Post Office. When you exit the Central Post Office, turn right and walk for a minute. You'll see this street behind McDonald's.
Notre Dame Cathedral (Nhà thờ Đức Bà Sài Gòn) is an iconic Catholic church in Ho Chi Minh City. Built between 1863-1880 by the French, it's one of the main stops to observe the architecture and take a photo. Unfortunately, you can't enter the church as it's getting renovated and expects to reopen in 2023. 
To get to Notre Dame Cathedral, cross the street from either the Book Street or Post Office. The church is in the middle of the road. 
Address of Notre Dame Cathedral: 1 Công xã Paris, Bến Nghé, Quận 1, Hồ Chí Minh
3. Take a lunch break. 
Time needed: 1-1.5 hour
You may be hungry after walking around. If you need a lunch break, here are two options to consider:
My Banh Mi

– This small restaurant serves delicious Vietnamese sandwiches (

bánh mì

) and fresh juices and smoothies. The best part is that it's across the street from the Central Post Office.
Address: 57 Nguyễn Du, Bến Nghé, Quận 1, Hồ Chí Minh 70000
Bánh Khọt Cô Ba Vũng Tàu

– Interested in trying sizzling Vietnamese pancake (

bánh xèo

) and sizzling mini pancakes (

bánh khọt

)? This restaurant is a great introduction to these Vietnamese foods. You get the opportunity to wrap your pancake with fresh herbs and lettuce and dip it into fish sauce. Yum! This place is a 10-minute walk (600 meters/.38 miles) from the Central Post Office.
Address: 40B Trần Cao Vân, Phường 6, Quận 3, Thành phố Hồ Chí Minh, Vietnam
4. Walk along Nguyen Hue Street. 
Time needed: 30 minutes-1+ hour
Nguyen Hue Walking Street (Nguyễn Huệ) is a lateral pedestrian walking street in the heart of District 1. The length of the walking street is 900 meters/.5 miles and is surrounded by restaurants, cafes, and shopping. 
The street is quiet in the afternoon since there isn't any shade or trees to hang out. However, the street comes alive in the evenings as locals and tourists use it as a hang out spot. You'll see hawkers selling drinks and snacks, children running around, and people wearing costumes (ie: Elmo or Monkey King). If you take a photo with one of the characters, you'll need to pay a tip (at least 20,000 VND/ $.90). 
From the walking street, you can explore other areas based on your interest.
Visit the

statue of Ho Chi Minh

with the People's Committee of Ho Chi Minh City building in the backdrop.

Pass by the

Saigon Opera House

.

Head to the

Saigon River

and walk along the riverfront.

Stop by

Saigon Centre

for department store shopping or head to the basement level for Japanese cuisines and sweets. 

Walk up or take the elevator to the

Cafe Apartments

for drinks or shopping at boutique stores.

Visit Bitexco Financial Center's

Saigon Skydeck

to check out an observatory deck. 
Address: 22 Nguyễn Huệ, Bến Nghé, Quận 1, Hồ Chí Minh 700000
5. Take a coffee/tea break. 
Time needed: 30 minutes-1 hour
Ho Chi Minh City's weather is hot and humid all year round. Expect to have temperatures at 30-32℃ (86-90℉) throughout the year. The only difference is whether you're visiting in dry (November-April) or rainy season (May-October). We know that walking around is physically draining with the heat so it's best to take a rest at a coffee or tea shop. 
What is fantastic about central Ho Chi Minh City is that there are hundreds (maybe thousands) of coffee shops to choose from. 
The local way of enjoying coffee is to find a small shop and sit on the sidewalk in the lawn chairs or squatty chairs. You'll face the street, watch the vehicles and pedestrians pass by, and sip on your iced Vietnamese coffee with condensed milk (cà phê sữa đá). 
Or, you can head to a coffee chain such as Cộng Cà Phê, Highlands Coffee, Phúc Long and Tea, and Trung Nguyên Legend. Starbucks is available as an option. We love Cộng Cà Phê's coconut drinks! Okay, it's coffee but still refreshing. Trung Nguyên Legend also has weasel poop coffee if you're interested in trying. 
For those who love tea, Ho Chi Minh City has a plethora of Taiwanese milk tea shops. Head to Nguyen Hue and Huynh Thuc Khang Street and you'll find the crowd favorites such as Koi, Gong Cha, and Yi Fang.
6. Enjoy the evening either on a food tour or at a restaurant. 
Time needed: 2+ hours
It's the end of the day and you may be hungry. We're suggesting two options – take a food tour or enjoy dinner on your own. 
Taking a food tour is a fantastic way to try local Vietnamese cuisine and street food away from the tourist spots. Your tour guide will bring you to hidden gems. Most of the tours have pick up from your hotel or your tour has a meeting spot and then you travel between places either by walking or via motorbike. 
Check out the following tour options to take: 
If you prefer to enjoy dinner on your own, there are plenty of options to try in Ho Chi Minh City. We love how diverse Ho Chi Minh City is with the food options. You can have traditional Vietnamese to Italian to Japanese and even Ethiopian food! The opportunities are endless. 
We'll have a post of our favorite restaurants to try in Ho Chi Minh City soon. In the meantime, here is a snapshot of our favorites:
Mountain Retreat

,

Secret Garden

,

Chi Hoa

– These three options are fantastic for Vietnamese food. Chi Hoa has more home-style flavors compared to Mountain Retreat and Secret Garden. Mountain Retreat and Secret Garden have the rooftop views. 

Pizza 4Ps

– This is the crowd favorite for wood-fire pizza. With the Japanese influences, there are unique flavors such as salmon sashimi pizza and seafood pizza. 

Octo

– If you want Spanish tapas, then this is a fantastic choice. The menu rotates every few months depending on the seafood and veggie availability. The fried potatoes (

patatas bravas

) are addicting to eat. 
---
Final Thoughts on the 1 Day Ho Chi Minh City Itinerary
Your one day in Ho Chi Minh City is finally done. We hope you received some inspiration on what to do in Ho Chi Minh City. 
We didn't mention any museums on this one day itinerary since it might be too overwhelming to visit. If you are looking to squeeze in a visit, then head to War Remnants Museum to learn more about Vietnam's history.
Hope you get a chance to visit Ho Chi Minh City and spend some time exploring the sites!
If you're headed to other areas of Vietnam, check out our other posts:
Save this post to your Vietnam Pinterest board!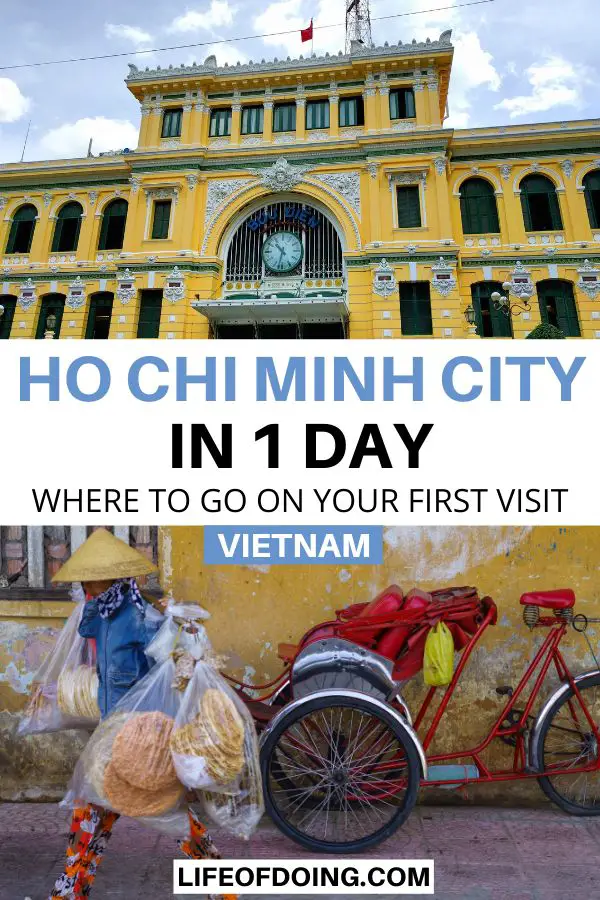 Featured photo credit: saiko3p via Depositphotos.com
Pin #1 photo credit (bottom): jethuynh via Depositphotos.com