Not sure how to pack for a future trip to Vietnam? We're here to help!
Whether you're visiting Vietnam as a solo traveler, couple, with family, or on a tour, this Vietnam packing list has everything covered. You'll be prepared for your fun trip no matter how long you plan to stay in this country. 
The best advice to give is to pack light and wear lightweight clothes as much as possible in Vietnam. While living out of a backpack or a duffel bag may not be for everyone, it'll be easier to travel across the country. You can easily hop onto a plane (without needing to check in luggage for an extra fee), overnight train, sleeper bus, and have everything within reach. 
Our first trip to Vietnam was back in 2012 and it was a family trip with a party of 6. Everyone traveled with a 25-30 liter backpack for a 10 day trip to Vietnam from North to South and a 2 weeks trip to Thailand. You heard right – one backpack! It was doable with lots of handwashing of clothes, yet we still made some mistakes with overpacking. 
Fast forward to the present day, and we've been living in Ho Chi Minh City (Saigon) for over 3 years. We're wiser with our packing for domestic trips and still use these packing tips. 
Without further ado, check out this post on what to pack for Vietnam, including what to wear, and what to leave at home. 
Before you read this post on what to bring to Vietnam, read these Vietnam planning guides:
*Disclaimer: This post contains affiliate links. As an Amazon Associate, we earn from qualifying purchases. If you click on them and make a purchase, we receive a small commission. There is no additional cost to you. Appreciate the support.
---
What to Wear in Vietnam
One of the best Vietnam travel tips that we can share is to wear clothes that are comfortable and lightweight!
The country isn't as conservative as you think so you can walk around in shorts and t-shirts. 
Just cover up your legs and shoulders when entering temples and spiritual areas. Yet, you won't be turned away if you're not covered. 
Locals tend to cover themselves up from head to toe to prevent sun damage. You'll see the "street ninjas" on motorbikes with hats, gloves, arm covers, and leg covers. 
In the evenings, they dress up for dinner (especially in Ho Chi Minh City), so you could bring something fancier. However, it isn't necessary. 
---
Identification & Travel Essentials
Passport
Visa or e-visa documentation
You must have your visa approval letter or e-visa in hand before landing in Vietnam. Application for visa on arrival is not available. If you need to get your visa, ensure that you have your paperwork completed and then go straight to the visa processing center. You can also meet someone from a visa agency who can help "expedite" your visa. processing. If you have an e-visa, you can go straight to immigration after arriving in Vietnam. 
Cash is king in Vietnam so you'll need to have an ATM card to withdraw money. 
If you're based in the U.S, we recommend that you sign up for the Charles Schwab ATM card. We've used this ATM card for over 8 years and Schwab refunds the ATM charges back to your account at the end of the month. It's a great way to save money on pesky ATM fee charges. 
New, crispy currency for money exchange 
If you don't have an ATM card, bring new, clean, and crispy bills to exchange for Vietnamese dong currency at local gold shops or money exchange shops. It's better to bring U.S. dollars (Year 2009 and newer for $100 bills) and Euros, yet other currencies are accepted. 
Hotel, transportation, and pre-scheduled tour documentation
Travel insurance documentation
It's recommended to have travel insurance when visiting Vietnam, especially if you plan to do any outdoor adventures. Travel insurance will cover any expenses related to lost luggage, medical needs, and much more. You never know what will happen during your trip and may need medical attention.
---
Luggage & Bags
Depending on your traveling style, you can either carry on your luggage or check in your luggage. We suggest that you go with something portable and easy to travel around, especially if you're visiting multiple cities and taking public transportation. Please follow the airlines' weight and luggage dimensions for carry on luggage.   
Duffel bag or large backpack 
We like using the Patagonia 60L duffel bag as it is lightweight and has straps to convert to a backpack. 
Having a daypack is useful to travel around Vietnam during the daytime. You'll need to pack clothes, water, camera gear, and anything else during your exploration. We love using the Osprey backpacks as they're lightweight, have a hip belt, and hold just enough stuff. 
Check out the Men Osprey Talon 22 Backpack or the Women Osprey Tempest 20 Backpack here. 
While we love walking around with a backpack to travel around Vietnam, it's recommended to have a crossover purse or bag to use in the daytime. Do not use a handbag to travel with as the chances of petty theft and stolen bags are higher in the big cities. 
---
Personal Toiletries
Travel size shampoo & conditioner
If you plan to carry on luggage, it's recommended to have travel-sized toiletries (100 mL) as hostels and guesthouses may not have shampoo. We recommend this handy shampoo and conditioner travel set. 
Travel size body wash or soap
Bring your own travel size body wash or soap as some accommodations may not have it. 
Many of the lotions sold in Vietnam have whitening agents so it's best to bring your own. We love using this lotion. 
You must bring sunscreen as the sun is potent in Vietnam. Wear sunscreen even if the sun isn't out. Also, we suggest the coral reef safe sunscreen as the coral reefs are slowly dying as we saw in Phu Quoc Island. 
Lip balm with SPF
Insect repellent or Tiger Balm
Once the sun sets, you will get mosquito bites in Vietnam. Bring your own insect repellent. 
Or, consider using Tiger Balm as an insect repellent. We've been using Tiger Balm for years as it helps relieve itchiness. Buy Tiger Balm here.   
Toothbrush, toothpaste, and floss
Face wash and face moisturizer
Deodorant
Nail clip
Hairbrush
Tissue
You must bring your own tissue to Vietnam. Many of the restaurants charge a small fee (2,000-5,000 VND) for the wet napkins and you won't know the cost until the bill arrives. Save money by bringing your own tissue. Plus, you can use the tissue for the public bathrooms (ie: at a bus stop). Buy travel size tissue packs here. 
Portable travel soap sheet or bar of soap 
What you'll notice in the public bathrooms (especially if you're stopping on the roadside rest stops when taking an overnight bus) is that soap isn't available. Sometimes, there is a shared bar of soap lying around. It's best to bring either a bar of soap or use travel soap sheets.
If you get an upset stomach, have some Pepto Bismol on hand. The chewable Pepto Bismol is portable and can fit in any backpack or purse. We use Pepto Bismol whenever we eat something too spicy. Buy chewable Pepto Bismol here. 
Tampons, sanitary napkins, or menstrual cup
You can buy these at the larger cities' pharmacies and drugstores but tampons are not as common. If you find a Guardian store, you can buy tampons there.
---
Essential Clothing for Vietnam
The number of essential clothing will vary depending on the number of days you'll stay in Vietnam. The amount below is a good amount for a 1-week trip. You can add or subtract the number of items as needed. 
Shorts (1-2 pairs)
T-Shirts (3-5 shirts)
You can wear cotton, wool, or technical clothing. If you wear light, technical clothes, you can wash them daily. 
Dresses or skirts (as many as you'd want)
If you love dressing up, wear adorable dresses to visit the photogenic spots in Vietnam. Since these can pack lightly, you can bring as many as you can fit in your luggage.
Evening shirts or tops (1-2 shirts)
These are only needed if you plan to dress up in the evenings and visit nicer restaurants, bars, or clubs. Otherwise, you're welcome to wear casual clothes all day long.
Long pants or leggings (1-2 pairs) 
We don't suggest jeans as they're heavy and will be too hot to wear in South Vietnam. If you're visiting a colder area, such as North Vietnam during wintertime, then jeans will be okay. Just account for the long drying time if you wash your jeans in cooler places. 
You can also walk around in sandals and flip flops if you want. We prefer to wear wool socks so we don't need as many pairs. Here are men socks or women socks options. 
We suggest quick-drying underwear such as you can wear one and then have another one drying. We own three pairs each and use them on every trip! Buy Men Quick Drying Briefs or Women Quick Drying Underwear. 
Bras (2-3 pairs) & sports bras 
Moisture-wicking bras are good to have on hand when walking around town and they dry overnight. I recommend this quick-drying crossover bra and use it on every trip. 
If you plan to do outdoor adventures, it's helpful to have extra sports bras. 
Light windbreaker 
Light fleece layer
This will be helpful for bus rides or anywhere with air conditioning. We love using the Patagonia R1 jacket. 
Only necessary if going to a cooler area of Vietnam.  If not, leave this at home.
Rain jacket or poncho (optional)
It's up to you whether you want to bring a rain jacket. If you have an umbrella, it'll be good enough to use outside. We use these: Men rain jacket and women rain jacket. 
Compression socks – For the plane rides
Swimsuits (2 sets) & swimsuit cover 
---
Electronics
Power bank & charger
Travel adapter
If you're from the U.S, then you don't need to worry about the travel adapter. The electronics plugs will work with Vietnam's outlets. Otherwise, buy this universal travel adapter.
Noise-canceling headphones
Vietnam is a bit noisy and you'll want to have these for any long car rides or flights. Buy our favorite noise-canceling headphones here. 
Laptop & charger or tablet
If you plan to work or need these electronics, add these to your packing list. 
Camera, battery, extra SD cards, charger
Smartphone & charger
GoPro (ie: GoPro Hero 9), extra SD cards, & charger
This is helpful if you plan to take underwater footage. 
You'll need these for your phone, GoPro, or holding any accessories for the day.  You can also go underwater and have your items protected.
---
Miscellaneous Things to Bring to Vietnam
Here is our favorite hat to use due to the full coverage in the front and back of head.
Protect your eyes from the sun. These are our favorite sunglasses to wear. 
Sandals/flip flops (1 pair) (+ another pair for showering)
Wearing sandals and flip flops is normal in Vietnam. If you're visiting South Vietnam, you'll wear these every day since it's hot and humid outside. Plus, sandals are useful to wear during the rainy season, visiting pagodas and temples where you need to take off shoes, or hanging out at the beaches. 
We love using these sandals: Men Fanning Sandals and Women Fanning Sandals. 
You'll also need a second pair to use when showering at hotels. You never know what is growing on the shower floors!
Walking or running shoes (1 pair)
These will be your go-to shoes for the trip so they need to be comfortable. Slip-on shoes would be ideal, especially when visiting temples where you need to remove shoes often.
If you're planning to go hiking in Vietnam and want to tackle challenging trails such as Mount Fansipan in Sapa or Black Virgin Mountain in Tay Ninh, then you need proper hiking boots. 
We wear these hiking boots and love them: Men Hiking Boots OR Women Hiking Boots 
This can be used for the rain and sun. Buy an umbrella here. 
Let's save the environment and use a reusable water bottle! Ask your hotel reception or restaurant if you can refill your water bottle with their filtered water. Check out our favorite water bottle here.  
This is optional. Since plastic is an issue in Vietnam, lessen the use of plastic utensils when eating street food or take out and bring your own set.
This lightweight and microfiber towel is best to have on hand to use at the hotel, beach, or anywhere.
You'll need to hold your dirty laundry somewhere so this cute laundry bag would be a good option.
Vietnamese people have worn masks before the pandemic arose to help block the dust and pollution in the air. Since Vietnam is rapidly expanding in the big cities, the roads are dusty with ongoing construction. You don't want to inhale the dust when riding on a motorbike. Plus, some buildings and shopping malls require masks so it's better to have one on hand. 
These will be helpful if you plan to hand wash your clothes during your trip. 
It's helpful to have one if you'll handwash clothes and do not have enough hangers. You can use one inside or outside of your hotel room.
A paper fan or portable hand fan
It's hot and humid, especially in South Vietnam and you need a way to cool off. You'll thank us in advance for suggesting a paper fan or a portable and battery-powered hand fan to include in your backpack or purse. 
If you're staying in guesthouses and hostels, there won't be any hair dryers. Resorts and chain hotels will have hairdryers. If you're staying in a colder destination (ie: North Vietnam in wintertime), then this will be helpful to dry clothes, hair, and other things.  
You'll need these to block the light and drown out the noise when taking public transportation. When taking the overnight sleeper bus, the driver may not turn off the lights and may turn on music for the overnight ride.
You'll need a pen to complete the immigration forms, sign credit card slips, etc. Vietnam prefers to use blue ink for any formal signatures. 
---
What NOT to Bring to Vietnam
Fancy jewelry, gold necklaces, or watches
There have been reports of petty theft such as stealing gold necklaces and chains, purses, and phones. Recently, we've seen reports from expats of stolen gold necklaces and chains when walking around Ho Chi Minh City's Thao Dien area in District 2. 
Vietnam's sidewalks are not pedestrian-friendly. They either aren't in the best shape, taken over by sidewalk vendors, or used for motorbike parking. Ditch the high heels and wear comfy, flat shoes instead.  
This may be controversial but it's not necessary to have a money belt. We suggest that you have enough money on hand – no more than 1-2 million VND ($44-$87 USD) and then exchange or go to the ATM as needed to withdraw money. You can use your backpack, purse, and wallet to hold money.
There are way too many good restaurants, street food, and fresh fruits to try in Vietnam. You won't have any room in your stomach to eat the extra snacks. Unless you're doing a day hike or outdoor adventure, you won't need them.
---
Final Thoughts
After reading this post, now you're prepared with things to pack for Vietnam from the travel essentials to clothing and more. 
If you need ideas on where to go in Vietnam, check out our other posts: 
Enjoyed reading this post? Save it to your Vietnam Pinterest board.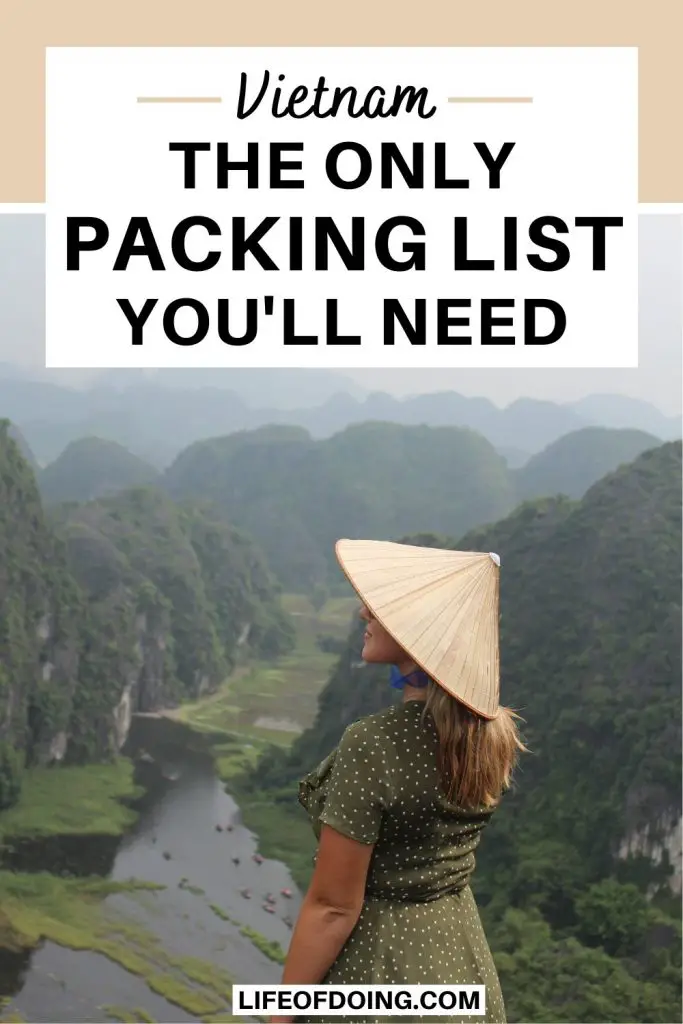 Featured photo and pin #1 photo credit: Alyshia Turchyn via Scopio Photos