After traveling through the top highlights of Vietnam, you may be itching to relax on a beach and just hang out for a weekend or 3+ days. Why not head to a Vietnam island for some much-needed self-care? 
Vietnam has over 40 islands to choose from. While there are some popular islands, there are many smaller and quieter islands to enjoy. Since it may be difficult deciding which Vietnamese islands to visit, we're here to help!
In this post, we're sharing the 8 best islands in Vietnam to not miss and including the top things to do and how to get to each of the islands. After living in Vietnam for a few years, we've had the opportunity to explore various islands from North, Central, and South Vietnam. We also received some feedback from our favorite travel blogging friends on other bucket list-worthy islands to visit. 
Whether you're starting from Hanoi or Ho Chi Minh City, adding any of these islands to your Vietnam itinerary will be a memorable experience. 
Now, continue reading this post to get some inspiration on which islands to visit! 
Disclaimer: Visiting any of these best Vietnam islands? We're giving you a heads up that this post contains affiliate links. If you click on them and make a purchase, we receive a small commission. There is no additional cost to you. Appreciate the support.
---
Things to Know About Visiting Vietnam Islands
Before heading out to visit these islands, check out these helpful tips below. Let's continue to keep Vietnam islands beautiful for future generations. 
Dispose of your trash properly. Garbage will wash ashore on the beaches daily and it's worse after a rainstorm. With the lack of proper garbage facilities, please remember to "pack in, pack out" your trash. Your plastic bottles and food wrappers will not go away on their own on the island! Burning the trash is also not a viable option, although many locals will do this to quickly dispose of it. 
Bring sunscreen that is sustainable. Coral-reef safe and zero waste sunscreens are here to stay! While you need to protect your skin from sun damage, these sunscreens can also preserve the coral reefs for future generations. We've witnessed many bleached and damaged coral reefs during our snorkeling adventures in Vietnam and it's quite devasting.
Bring bug spray. During some of our beach visits, we were attacked by sand flies and other pesky insects.
Stay hydrated. Bring lots of water if you plan to hang out on the beaches all day long. 
Bring cash. Vietnam is mostly a cash-based country and some of the smaller islands may not have ATMs. 
---
Map of Vietnam Islands
---
1. Cat Ba Island
Contributed by Jori, The Tejana Abroad
Opposite of Halong Bay is the island of Cat Ba (Đảo Cát Bà). This is the largest island out of the 367 islands in the Cat Ba Archipelago. While still a bit touristic, Cat Ba is smaller and has more of a local vibe than Halong. 
The main city of Cat Ba boasts an assortment of bars, hotels, and restaurants. You're able to organize a nicely priced Halong Bay boat tour for any budget and timeline you prefer. 
The best part about Cat Ba is leaving the city. Once you're outside the city, Cat Ba remains largely untouched by tourists. It's easy to rent a motorbike and explore the vast jungles of the island and uncover hidden beaches. Cat Ba is also a national park, so there are many treks, rock climbing, and a lot of territories to explore.
How to Get to Cat Ba Island: The only way to reach Cat Ba is by boat from the ferry/speedboat station at Hai Phong. It's best to book a boat and bus combo because the boat does not take you to the main city on the island, where your hotel will likely be. Hai Phong is best reached from Hanoi (about an hour and a half), so plan accordingly!
---
2. Cham Islands
Contributed by Maartje & Sebastiaan, The Orange Backpack
The Cham Islands (Cù lao Chàm) are a gem worth visiting in Vietnam. When backpacking Vietnam, the islands will be the perfect tropical paradise for one or even a few days of relaxing at the beach.
The islands are located in front of the famous UNESCO World Heritage Site, Hoi An. You'll probably have this Vietnam destination in your travel route, so why not add an extra stop? There are many boats bringing tourists from Hoi An to the Cham Islands. Most of them for a day trip, stopping at all the beaches and then bringing you back to Hoi An.
But the islands – or more specific: the main Hon Lao island – are worth spending at least one night. When most day-trippers are gone, you'll have the chance to stroll around the quiet island. Soak in the charming vibe, enjoy the most stunning sunset, and relax at the empty white-sand beaches.
The Cham Islands are a popular destination for snorkeling and diving. Most visitors come for the beautiful coral reefs around the island. The rainy season won't be the best time of the year so it's recommended to skip the islands.
Beware that the Cham Islands aren't the peaceful fisherman's oasis anymore, as more and more tourists have found this beautiful bounty paradise in Vietnam.
How to Get to Cham Islands: Take a day tour of Cham Islands from Hoi An or Danang.
---
3. Ly Son Island
Located on the South Coast of Central Vietnam, Ly Son Island (Đảo Lý Sơn) is our little secret. It's one of the hidden gems of Vietnam as tourism is still in its infancy. With mostly Vietnamese tourists visiting, this island is the perfect spot if you want to be away from people and just enjoy the quietness. You'll get the chance to experience more of the Vietnamese lifestyle as English isn't prevalent. 
This island is well-known for growing garlic and onions. The small, pearl-shaped Ly Son garlic are prized for their mild flavors as they're grown in volcanic soil and sand. The flavor is worth the 150,000 VND ($6.50 USD) per kilogram cost at grocery stores. As you explore the island, you'll pass by many garlic and onion fields and can smell them in the air. 
Since Ly Son Island is an inactive volcano, the beach and swimming area in Cau Cave has sharp rocks and isn't the best for swimming. For better swimming opportunities, head to An Binh (Đảo An Bình/Be Island). It's a 15-minute boat ride from Ly Son. The beach area is small, yet there is an overhang area for lounging and visitors can buy drinks and snacks.
Other fun places to visit on Ly Son Island include Gieng Tien Mountain to see an aerial view of the island and Hang Temple to see a temple in a cave. Before you leave the island, you must try the fresh seafood. 
How to Get to Ly Son: Take a 30-minute speedboat from Sa Ky port. The boat ride is super choppy. If you're prone to seasickness, it's recommended to take motion sickness medication. 
---
4. Hon Tam Island
Hon Tam Island (Đảo Hòn Tằm) is one of the beach areas to visit in Nha Trang. It's a tranquil island with endless white beaches and palm trees lined up along the beachfront. The island is owned by Merpearle Resort, so the island has a tropical resort ambiance. 
Most of the day will be spent relaxing on the beach. There are plenty of lounge chairs and umbrellas to rest. Other ways to pamper and de-stress is to take a luxurious mud bath, lounge in the hot mineral springs, or get a massage. 
For adventurous travelers, the resort has plenty of fun activities to participate in such as completing an inflatable obstacles course, kayaking, seawalking, or driving jet skis. 
Hon Tam is a nice getaway from Nha Trang city and is so easy to get to. 
How to Get to Hon Tam Island: Take a short 5-6 minute speedboat ride from the Hon Tam Pier in Nha Trang. 
---
5. Hon Tre Island
Want to visit a family-friendly theme park and spend some time on the beach? Head to Hon Tre Island (Đảo Hòn Tre/Bamboo Island). Located off of Nha Trang mainland, it's one of the best islands to visit in Vietnam. Spend a few days at one of the Vinpearl resorts or take a day trip to visit VinWonders (also known as Vinpearl Land) amusement park. 
VinWonders theme park has children-friendly rides and shows. It also has a gorgeous garden area with unique foliage and plants from around the world. We loved seeing baobab trees that are native to Madagascar. The theme park has a zoo section so depending on your stance on zoos, you can skip this section. Otherwise, you can see unique animals such as white Bengal tigers. 
What is neat about VinWonders theme park is that there is a water park included in the admission cost. Children will love the tidal wave pools, water slides, and sitting around in the inner tubes. There is a beach area for the adults to hang out in. The ocean also has an inflatable obstacle course to tackle. 
If you're not exhausted from the fun activities by the end of the day, check out the evening water fountain show and light show. 
How to Get to Hon Tre Island: Take a 12-minute cable car ride from VinWonders cable car station in Nha Trang. There will be a speedboat ride available in the future. 
---
6. Con Dao Islands
Con Dao Islands (Côn Đảo) is one of the most beautiful islands to visit in South Vietnam. It's an archipelago of 16 islands with Con Son (Côn Sơn) as the largest island. Many visitors head to Con Dao Islands to escape the city life and enjoy the relaxing island life. There are fewer crowds compared to Phu Quoc, so it's a plus if you're looking for peace and quiet. 
A visit to Con Dao would not be complete without visiting the beautiful beaches. We've been to many beaches in Vietnam and the ones on Con Dao are the cleanest and have the finest white sand that we've seen. It's unbelievable to see beaches without any trash washed ashore or left behind by visitors. Our favorite beach is Nhat Beach and is accessible off of the main road.
Besides sandy beaches, Con Son has rocky beaches along the coastline and through the Con Dao National Park that require a few hours hike each way.
The waters are also the most blue that we've seen in Vietnam! If you go snorkeling off the islands, the coral reefs are still alive and bursting with colors. 
One of the unique things to do in Con Dao Islands is to visit the former prisons where thousands of revolutionary soldiers and fighters died from 1862 – 1975. Walkthrough the prisons and see the tiny cells, "tiger cages," that people suffered in. The Con Dao Museum is also recommended for more background information on the prisons. 
We suggest that you add Con Dao to your itinerary as soon as possible before more tourists find out about this place. 
How to Get to Con Dao: Take a domestic flight to Con Son Airport (airport code: VCS) or take a 4-hour speedboat ride from Vung Tau or Soc Trang ports.
---
7. Phu Quoc Island 
Whenever someone mentions an island to visit in Vietnam, Phu Quoc Island (Đảo Phú Quốc in Vietnamese) is always mentioned first. It's the most developed island so you'll experience plenty of tourism here.
Located in South Vietnam, off the coast of Cambodia, Phu Quoc is a popular weekend destination for visitors and locals to relax on numerous white sandy beaches and underneath palm trees and/or veg out at the resorts and their private beaches. Popular public beaches include Sao Beach and Starfish Beach (yes, you can see starfish in the water!) 
Besides beaches, Phu Quoc has plenty of unique tourist attractions to visit. The island grows a lot of pepper so visit a pepper farm in the countryside. Try the fresh pepper seeds and buy whole peppercorns as souvenirs. The pepper flavor is much stronger than what you get at grocery stores. You can also take a tour of a fish sauce factory or learn about the former prisons that were used to torture revolutionary soldiers during the Vietnam War. 
If you love swimming and snorkeling, take a day tour to visit several islands off of An Thoi Islands. The tour includes the boat ride to the islands, lunch, and snorkeling equipment. The waters are clear, yet the coral reefs have been impacted by tourism as they are brown and slowly dying. 
Nature lovers will enjoy visiting Phu Quoc National Park. It covers over 50% of the island and is a protected area for plant biodiversity, marine creatures, and wildlife. Since the park is so large, it's recommended to take a day tour. 
How to Get to Phu Quoc: Take a domestic or international flight to Phu Quoc International Airport (airport code: PQC) and then take a taxi to go to your accommodation. 
---
8. Nam Du Island
Nam Du Island (Đảo Nam Du) is on our bucket list of Vietnam islands to visit. Located southwest of Phu Quoc Island, it's an archipelago of 21 islands and the largest island is Hon Lon. It recently opened up to foreign tourists so it's still a secret spot to explore in Vietnam! 
While exploring the beaches and swimming in the waters is a given, there are opportunities to see the fishing village on Hon Ngang Island, eating fresh seafood such as sea urchins and giant clams, and exploring the island by motorbike. Seeing the blue waters from the top of the cliffside will be an amazing sight to experience!
How to Get to Nam Du Island: Head to Rach Gia city and take a ferry from Rach Gia port. 
---
How many of these gorgeous Vietnam islands? Add one or more of these islands on your next trip! Visiting these islands would be a good way to incorporate some beach and relaxation time during your itinerary. 
Looking for other posts to help with your Vietnam travel planning? Check out more below.
Like this post? Save it to your Vietnam Pinterest board.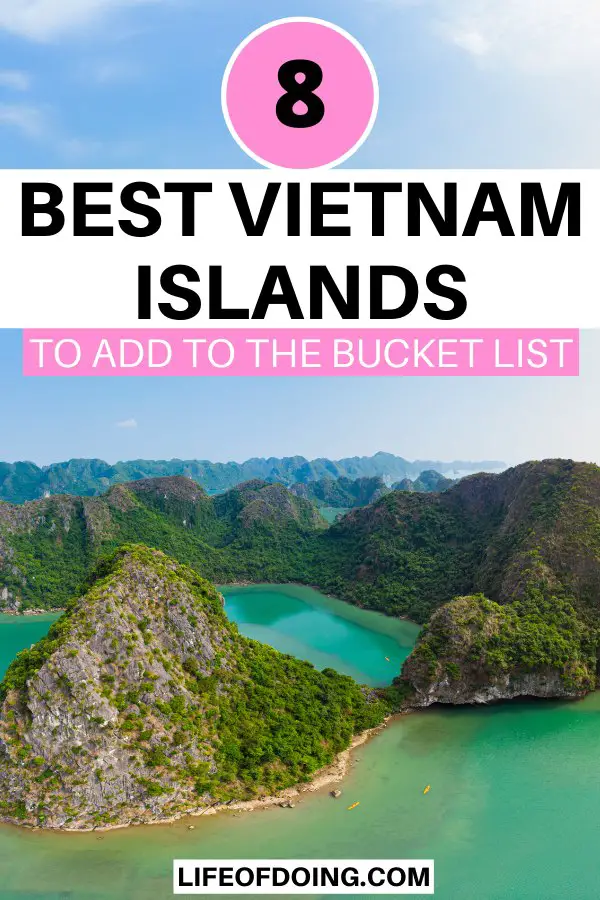 Featured photo credit & pin #1 photo credit: fbxx via Depositphotos.com