Con Dao, Vietnam is one of those quiet and relatively unknown places that needs to be on your South Vietnam itinerary. Located in the southeast part of Vietnam in the Ba Ria – Vung Tau (Bà Rịa–Vũng Tàu) province, Con Dao (Côn Đảo in Vietnamese) is an archipelago of 16 islands. Con Son (Côn Sơn) is the largest island and most populated island.
From the island's dark past as a former prison for 113 years and the use of the infamous "tiger cages" to the current unspoiled, stunning beaches, you can't go wrong with a trip here.
In this post, we're sharing our top recommendations of the 8 best things to do in Con Dao and helpful tips to plan your trip here.
We highly recommend that you visit Con Dao as soon as possible. Con Dao's tourism is still not heavily developed so there are fewer crowds and a lack of mega-resorts along the beachfront. We love how this beautiful island maintains its local lifestyle as many local restaurants close early by 8:00pm. If you're into nightlife, then you're out of luck as there isn't any.
All you need is to spend a weekend from Ho Chi Minh City or at least 3+ days on Con Dao to feel relaxed and rejuvenated. 
Click on the links below to skip to your Con Dao Islands topic of choice:
If you're looking for other Vietnam beach destinations, check out our other posts on Danang, Nha Trang, Mui Ne, Phu Quoc, Quy Nhon, and Ly Son Island.

*Disclosure: This post contains affiliate links. If you click on them and make a purchase, we receive a small commission. There is no additional cost to you. Appreciate the support.
---
Incredible 8 Best Things to Do in Con Dao 
We're sharing our recommended attractions to visit in Con Dao Islands. Most of the Con Dao sightseeing is on Con Son Island.
1. Con Dao Museum
Con Dao Museum (Bảo Tàng Côn Đảo) is a good introduction to the history of Con Dao and its dark past. First the French then the Americans occupied Con Dao and used it as a prison (also known as "Hell on Earth") from 1862 – 1975.
We recommend that you visit the museum before checking out the prison cells on the island. The museum has plenty of English-translated signs as you walk through the galleries.
There are two parts to visit – 1) Overview of Con Dao's biodiversity and 2) History of the prison system. The history section is extensive with over 2000 artifacts and photos of life in the prison and its influential Vietnamese fighters, including Vo Thi Sau (Võ Thị Sáu) who fought against the French, was captured, tried, and executed at 19 years old. You'll also see how two U.S. Congressmen, Augustus Hawkins and William Anderson, exposed the gruesome tiger cages to the world.
If the outdoors of Con Dao are too hot for you, the museum is where you can cool off with AC units everywhere.
Admission: 10,000 VND ($.40 USD)
Address: Số 10 Đường Nguyễn Huệ
Opening Hours: 7:30am – 11:00am, 1:30pm – 4:30pm
2. Con Dao Prisons
Con Dao Prisons is a must-visit attraction. The three main prison sites are open to the public for you to explore – Phu Hai, American Tiger Cages, and French Tiger Cages.
It's a solemn experience to think about how far the human race went to torture and kill thousands of Vietnamese fighters and revolutionary soldiers. You'll see the tiger cages which were cells with bars and barbed wire so prisoners could get tortured and abused like animals.
Phu Hai Prison

(

Di Tích Phú Hải

) was built in 1862 and was named No. 1 Prison and No. 2 Prison before officially called Phu Hai Prison in 1974. As the largest and oldest prison on the island, there are 10 large rooms and 20 smaller blocks of prison cells for you to glance at how life was like back then. Some of the rooms are dark and damp so it can be a bit spooky. You'll see mannequins representing their anguish with their ankles chained. The center of the prison has a memorial which also shows a video on Con Dao history.
Address: Along Lê Văn Việt
American Tiger Cages

(also called

Di Tích Chuồng Cọp M

ỹ and

Trại Phú Bình

) is the prison area with the Americans style tiger cages used during the Vietnam War. When you inside the prison cells near the entrance, you'll see bars in the ceiling that guards used to torture the prisoners. The idea is that prisoners were captured and placed in cages (cells) just like a tiger. Check out the A-H Buildings with 48 cells in each building. After you see one of the buildings, the others look the same so you don't necessarily need to go to them.
Across from this prison is the Phu An Camp (Trại Phú An) which has two sections of cells to browse through. There isn't any additional fee to visit and an admission ticket isn't necessary.
Address: Off of Nguyễn Chí Thanh
French Tiger Cages

(

Di Tích Chuồng Cọp Pháp

) was built in the 1940s and located next to the American tiger cages prison. Even though the area is much smaller between the other two prisons, the French tiger cages were more brutal.

One of the more infamous rooms was one large cell area that had open ceiling bars where guards poked and abused the prisoners from above. You'll need to walk up a set of stairs so you can see the guards' perspective. Another cell area didn't have roofs so prisoners exposed to sunlight all day eventually became blind.
Address: Off of Nguyễn Chí Thanh
With the increase in tourism, we hope that these prison cells increase their signage to describe the various area. Otherwise, it was a quick look for us as we navigated to the next prison area.
Admission: 40,000 VND ($1.70) which provides you access to all four locations on the same day, including the Palace of Island's Governor (Di Tích Nhà Chúa Dảo)
Opening Hours: 7:30am – 11am, 2:00pm – 4:50pm
3. Relax on the Beaches
Con Son Island doesn't have a shortage of beaches. You'll find that many of the public beaches are in pristine conditions with the superfine white sand and the lack of garbage. It's truly paradise! Let's hope everyone makes an effort to sustain these beautiful beaches for future visitors.
Here are the top beaches that we went to:
Nhat Beach

(

Bãi Nhất

)

–

This unassuming beach is off of the main road, Bến Đầm. It's the perfect spot to see the stunning sunset from the warm and clear waters. Unfortunately, there isn't anything interesting to see in the water. Many minivans stop by here in the late afternoon for the sunset view.

Dam Trau Beach

(Bãi Đầm Trầu) –

Located on the north side of the island near the airport is the Dam Trau Beach. If you want a

good place to relax and see the propeller planes fly by, then this is the place to visit. It's a neat experience to have them fly right overhead and so close to you.
An Hai Beach

(

Bãi

An Hải)

– It's an early wake-up call to see the orange and pink hues of the sunrise at 5:00am. Since you're hanging out in the area, check out the fishermen's daily catch of fresh seafood in the morning. The beach turns into a mini-market with the sale of squid, fish, and rays.
Admission: Free for public beaches
As a heads up, Con Son has numerous beaches that do not have sand. These are shingle beaches where the water hits an area full of large and small rocks. For these beaches, it's recommended to go swimming.
4. Take a boat trip and snorkel on Con Dao's other islands.
While riding your motorbike around Con Son, you'll see many signs for boat day trips and phone numbers listed. By collecting these numbers and calling around, you can find yourself a boat tour operator to explore the other Con Dao islands via a day trip. It's recommended to speak Vietnamese to make the arrangements as English isn't widely spoken.
An easier way is to pre-book a tour on Klook here!
We met our tour contact and the boat operator at the ferry terminal (Cầu tàu du lịch) which is in the downtown area. The boat holds 7-8 people so the more people that you have in your group, the cheaper it costs per person. Foreigners need to carry their passports for the trip to register at the port.
The day trip includes two swimming excursions and hanging out at a private island. The coral reefs were the most impressive that have seen in Vietnam, even after snorkeling in Ly Son, Phu Quoc, and Quy Nhon.
The water was also super blue and clear due to the low number of visitors. We saw no one else at our "private" island and just 2-3 groups snorkeling at the second swimming spot.
Admission: 3 million VND ($128) for the boat ride and paid an extra 300,000 VND ($12.80) to visit a private island.
5. Con Son Night Market
Vietnam loves having night markets! Con Son Night Market is an impressive size as the intersection between is closed to vehicles every night. Check out the various sections of fresh grilled seafood, Vietnamese local delicacies, and desserts. Or, sing your heart out in the public karaoke section and also try traditional Vietnamese games such as balancing on a beam.
Admission: Free, additional costs for food
Address: Intersection of Lê Hồng Phong and Nguyễn Huệ
6. Con Dao National Park
If you want some hiking and to experience nature through the forest, then you must visit Con Dao National Park (Vườn Quốc Gia Côn Đảo). Depending on your interest and time, feel free to spend all day here. While we didn't do any of the longer hikes, we've read that there are beautiful views from the mountain peaks.
Due to the humidity and heat, we spent 4 hours at the park and we started at 8:00am. The highlights include:
Taking a short hike to

Ave Maria

holy cave (

Hang Đức Mẹ).

Hiking to

Ong Dung Beach

(

Bãi Ông Đung

) to experience the crystal clear waters. Feel free to snorkel in the area. As a heads up, the walking path has steep steps. While there isn't a sandy area to relax, you can rent lawn chairs for extra comfort. Ensure that you have your ticket as there will be a guard asking for it.

Walking through the trees on unmarked paths to see the hundreds of years old

Heritage Tree

. We encountered lots of spider webs along the walking path so not too many people have seen the heritage tree. On the way, there are unique twisted branches to sit on and take photos with.
The Con Dao National Park has trails to visit other beaches in the park, such as Bang Beach (Bãi Bàng) and Dat Tham Beach (Bãi Đất Thắm) but it'll require more time. Expect to spend about 1-2 hours each way to get to the beaches. Come prepared with water and sunscreen. These are rocky beaches as we mentioned before.
Admission: 60,000 VND ($2.50) per person. Based on availability, you may hire a guide at the ticket office for an additional fee.  
Address: Continue west from Huỳnh Thúc Kháng until you reach the entrance
7. Hang Duong Cemetery
Hang Duong Cemetery (Nghĩa Trang Hàng Dương) is one of the somber locations which reminds you of Con Dao's horrific past. While there are over 1900 graves with many unmarked tombstones, it's a peaceful place to walk through.
Most Vietnamese people pay respect to the unknown prisoners of wars and famous martyrs, such as Vo Thi Sau. You'll see a crowd of people praying in front of her grave. The center of the cemetery also has an impressive memorial.
Please wear appropriate clothes prior to entering the cemetery, such as no shorts above the knees. If you're sensitive to incense smoke, you may want to avoid this place.
Admission: Free
Address: On Nguyễn An Ninh Street
8. Eat delicious food and seafood!
Considering that Con Son is surrounded by the ocean, you won't have any difficulties eating delicious and fresh seafood here. Check out our recommendations on places to eat in Con Dao's Con Son. Don't forget to bring cash as many places don't accept credit cards.
Quán Ốc Mai Thy is a snail (ốc) restaurant where all of the locals go. Sit on the small plastic chairs and enjoy cheap and delicious snails starting at 69,000 VND ($3.00). Pick what you want from their offerings such as clams, sea urchins, mussels, snails, and more, and have it cooked any way you'd like. If you order non-snailed items, you will wait a long time for them. It'll be helpful to know Vietnamese here.
Address: Off of the smaller side street of Trần Huy Liệu and Nguyễn An Ninh
Nhà Hàng Thu Tâm

is another recommended place to have seafood. We recommend any of the seafood hot pot, mango salad, and sliced conch in a ginger broth. The mango salad had a delicious umami flavor of slightly spicy and sweet mixed with herbs and peanuts. The cost is slightly higher compared to the local places, but it's still worth it.
Address: Off of Nguyễn Đức Thuận and Lương Thế Trân
Bún Riêu Cua Bà Hai Khiêm

has one of the best bun rieu (bún riêu) noodle soup that we've eaten. The hot soup and generous amount of fish cakes have lots of flavors. Pair the noodle soup with a fresh-pressed sugarcane juice (nước mía) and eat away. We ate here three times during our stay. This place is popular at all hours including breakfast. Plus, you won't be able to find a cheaper joint at 25,000 VND ($1.10) a bowl.
Address: 22 Đường Nguyễn Huệ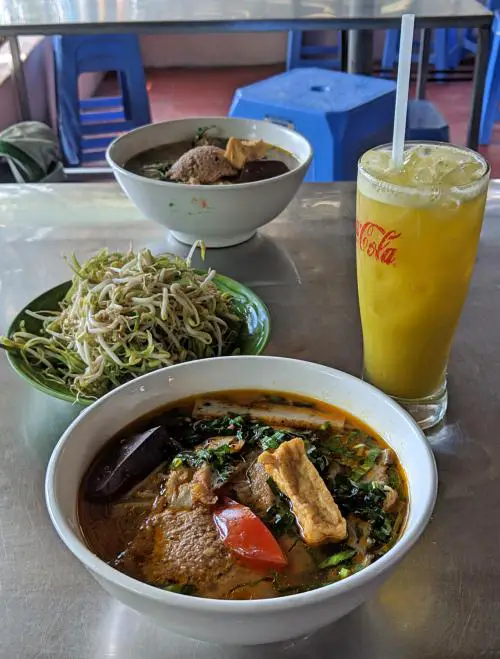 ---
How to Get to Con Dao
What is great about living in Ho Chi Minh City, is that visiting Con Dao is easy with a little bit of planning.  
What is the easiest way to get from Ho Chi Minh to Con Dao? There are several options to take depending on your budget and your preferred transportation method.
1. Take a flight on Vietnam Airlines directly to Con Dao Airport.
Bamboo Airlines and VASCO, partnering with Vietnam Airlines, are two airlines that have nonstop flights to Con Dao (airport code: VCS) from Ho Chi Minh City (airport code: SGN). It also has flights from Can Tho (airport code: VCA). The flight from HCMC is convenient and quick as it's a one-hour flight, yet it's one of the most expensive options.
Flights from Hanoi to Con Dao are also available on Bamboo Airlines and VASCO. The Bamboo Airlines from Hanoi (airport code: HAN) has a direct flight to Con Dao. The direct flight is 2 hours and 20 minutes.
Cost: $155-$275 round trip depending on your time of visit
2. Take the speedboat that departs from Vung Tau or Can Tho.
A new speedboat route started from Vung Tau to Con Dao in February 2019. The other speedboat route is from Soc Trang, south of Can Tho, which is still running.
Vung Tau is located 2 hours south of Ho Chi Minh City, so you'll first need to take a bus or a minivan to get from Ho Chi Minh City to Vung Tau.
Bus Option:

We love taking bus rides from

Futa Bus

as the buses are comfortable. The earliest departure from Ho Chi Minh to Vung Tau is at 6:00am, and the last departure is at 7:00pm. Therefore, you'll need to arrive in Vung Tau the night before in order to catch the speedboat on time.
Cost: 115,000 VND ($5.00) one way
Address: 272 Đường Đề Thám, Phường Phạm Ngũ Lão, District 1, Ho Chi Minh
Minivan Option:

Another option is to take the 16 seater minivan option that departs at 4:30am from Ho Chi Minh. We used

Hoa Mai transportation

in District 1. You can prepay and reserve a seat on

vexere.com

. Or, show up before 4:30am, pay cash directly to the driver, and tell the driver that you need to go to Con Dao. The driver will drop you off in front of the speedboat dock.
Cost: 120,000 VND ($5.10) one way
Address: 44 Nguyễn Thái Bình, Phường Nguyễn Thái Bìn, District 1, Ho Chi Minh
Speedboat
We're finally taking the speedboat! Phu Quoc Express is a large boat that transports 600 people between Vung Tau and Con Dao's Con Son Island daily. Enjoy a comfortable and smooth 4-hour ride each way with spacious legroom and the ability to recline your seat. It's also a cheaper way to travel to Con Son Island. 
The daily speedboat ride departs Vung Tau at 8:00am and arrives in Con Son at 11:50am. The boat returns to Vung Tau at 1:30pm and arrives in Vung Tau at 5:20pm.
All guests must have their ticket scanned prior to boarding the boat and will receive a small bottle of water and a wet napkin. Free wifi is available on the boat but only works when closer to the mainland. Otherwise, guests can relax and watch the three consecutive Jackie Chan movies shown on TV screens. These guys are big Jackie Chan fans.
It's recommended that you make your reservation in advance. Click here to find out how to make reservations directly on the website. Or, click here to purchase on Klook.
We reserved seats over 1 month prior to departure as we also traveled during a holiday time frame so seats WILL SELL OUT.
Cost: 660,000 VND ($28.00) for Monday – Thursday travels; 880,000 VND ($37.60) one way for Friday – Sunday travels and holidays
Address: 9 Hạ Long, Tp. Vũng Tàu, Bà Rịa – Vũng Tàu 78000
If you're coming from Can Tho, there is a new speedboat via Trung Trac line. The Can Tho route departs at 7:00am and arrives at Con Son at 10:45am. To return to Con Dao, the boat departs Con Son at 12:00pm and arrives at 3:45pm. It takes about 3.5 hours one-way.  **Note: The route has been temporarily stopped. Check out this site for more info.
Cost: 660,000 VND ($28) for Monday – Thursday travels; 690,000 VND ($30) one way for Friday – Sunday travels
In conclusion, the combination of taking a bus from HCMC to Vung Tau and speedboat will save you money depending on which days you travel.
---
How to Get Around Con Dao
Driving a motorbike is the best way to get around Con Son. Since we arrived in Con Dao via speedboat, we rented motorbikes from the dock area for 150,000 VND ($6.40) per day. Otherwise, inquire with your guesthouse on rentals.
The roads in Con Son have very little traffic (many times empty!) and also road quality is pretty good so you can technically learn how to drive a motorbike on this island.
Your guesthouse may also have bicycles for rent which is an environmentally friendly option. However, you'll need to do some pedaling strength going up the hills.
Otherwise, metered taxis and electric golf carts are available around the island.
---
Where to Stay in Con Dao
For your Con Dao accommodation, we suggest that you stay in the main Con Son downtown area as you'll be close to the restaurants and the beaches. Click here and find a place to stay on Con Dao here.
Budget: We stayed at Lan Anh's Home and loved our time here. It's a brand new guesthouse with friendly owners and clean rooms with private bathrooms. The bathrooms come with shampoo and body wash. They will help out with any inquiries that you have. If you need to purchase snacks or drinks, visit their convenience store on the ground level.
Check availability and reserve a room at Lan Anh here.
Splurge: If you fancy posh accommodations with your own private beach and exclusivity, stay at Six Senses. While it's about a 20-minute motorbike ride from the downtown area, maximize the resort lifestyle here. Many of the celebrities such as Brad Pitt and Angelina Jolie stayed here.
One of our friends tried to reserve one of the tables at their restaurant for dinner but they are only available for guests.
Check availability and reserve a room at Six Senses here.
---
We hope that you're inspired to visit Con Dao Islands and visit these incredible attractions. There are plenty of activities for everyone. Definitely, plan a trip to visit this place soon and admire its beauty before the tourism boom.
If you extending your Vietnam trip and need more ideas on what to do, check out our other Vietnam posts:
Interested in visiting Con Dao Island in South Vietnam? Let us know if you have questions or comments in the comment box below.
Enjoy this post? Pin it to your Vietnam Pinterest board!