Hiking Ba Den Mountain (Núi Bà Đen in Vietnamese), also referred to as Black Lady Mountain and Black Virgin Mountain, is one of the bucket list hikes to do in Vietnam.
Located in Tay Ninh Province, the neighboring province northwest of Ho Chi Minh City, it's a popular day hike to conquer as it's the highest summit in South Vietnam. Many hiking groups take the challenge to climb this mountain at 986 meters (3,235 feet). 
There are five trails to take and our hiking group followed the Electricity Pole Trail. This Ba Den hiking trail is considered the "easiest" yet it's strenuous (and we've been on many hikes!) Therefore, it's not recommended for the first-time climber. While it's not as bad as hiking Fansipan in a day, this trail is tough due to the steepness and climbing up rocks. The other trails are closer to the cable car area. 
If you're up for the challenge, continue reading this post on how to hike Ba Den Mountain on your own, how to prepare for this hike, and important things to know about the trail. This hike is an exhilarating weekend activity when living in Ho Chi Minh.
Not into this adventurous activity and want an accessible way to reach the top? There is a cable car option which we'll share more details below. 
*Disclaimer: This post contains affiliate links. As an Amazon Associate, we earn from qualifying purchases. If you click on them and make a purchase, we receive a small commission. There is no additional cost to you. Appreciate the support.
---
Ba Den Mountain Hiking Overview
Black Virgin Mountain is an iconic landmark as there are several stories regarding its origin. One story says that Bà Đen is a local deity with Khmer origins.
Other stories are based on a tragic love story where the beautiful girl named Ly Thi Thien Huong, loved a man named Le Sy Triet (who eventually became the famous emperor, Nguyễn Huệ). She was forced to marry a man from her village and eventually killed herself to protect her virginity.
Depending on what you believe, there are many pagodas along the mountain to worship her. 
As with hiking, several trails leading to the summit. We're taking Black Virgin Mountain's hiking trail via the Electricity Pole Line. This is a hard route. Most of the trail is hiking over giant rocks and the hiking trail goes straight up the mountain. 
You're welcome to hike this trail on your own so a tour guide isn't necessary. The trail has many hikers so you'll see other hikers on your way up or down the mountain.
Once you reach the summit, you're rewarded with seeing the Lady Buddha and also the chance to wander through the Sun World Ba Den theme park.
Challenging level: Challenging
Distance: 6.6 kilometers (4.11 miles)
Summit height: 986 meters (3,235 feet)
Time to complete: 4+ hours to complete the round trip hike with breaks. Allocate at least 2.5 hours climbing. 
Helpful tips: As of January 2020, a cable car option is available if you're tired or would like to experience it. You could hike up one-way and take the cable car back down, but you'll buy a round-trip ticket. Buy discounted tickets here.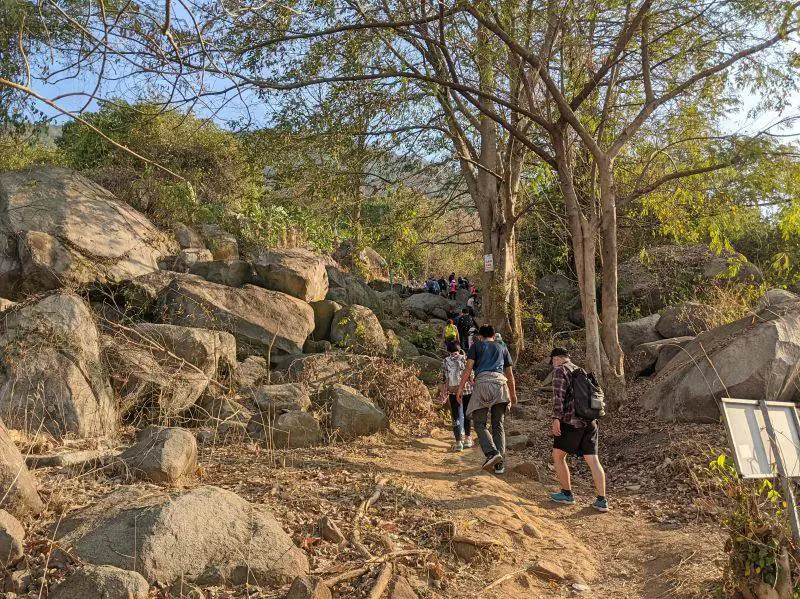 ---
How to Get to Ba Den Mountain from Ho Chi Minh City
You'll need to leave Ho Chi Minh City early – between 4:00-4:30am to have an early start on the trail. 
The easiest way to get to Ba Den Mountain is by hiring a driver or riding a motorbike. From Ho Chi Minh City's Ben Thanh Market to Ba Den Mountain, it's 100 kilometers (62 miles) and will take 2.5-3 hours one-way depending on traffic. 
If using a motorbike, input "Black Virgin Mountain" into Google Maps for directions. You'll drive along Highway QL22 for over 2 hours and then go on DT 782 and DT784. 
You can park your motorbike at the Ba Den's parking lot or one of the side vendors on the main street. Our hiking group took a private bus to get here and parked at the 5 Sơ Ri (Cherry Lady) shop which is a five-minute walk to the trailhead. (This place sells cold drinks and has hammocks and showers).
Note: Cu Chi Tunnels and Cao Dai temple is along the way to Ba Den Mountain so you can stop by these two places if you have time on your day trip.

If you plan to do these activities, you may consider taking the cable car in one direction to expedite the trip and visiting these places on your way back to Ho Chi Minh City.
---
When To Do the Ba Den Hike
South Vietnam has some of the best weather as it's consistent all year round. The average temperature is 27-30℃ (81-86℉) so you can do this hike at any time.
If you're concerned about the rainy season (May-October), you can still do the hike as long as the day is dry. Unfortunately, the rain can come down at any time and will make the rocks slippery. We don't recommend that you hike in the rain. There are tall trees and some open areas to hide under if it does rain on your hike.
It's recommended to start the Black Virgin Mountain hike as early as possible. Although the trail has shade, it will be hot and humid when you do the hike. The shade disappears on the trail as the day passes. 
We started the hike at 7:30am and wished we started a bit earlier. The weekend that we visited had a heatwave so it was really hot on the way up the mountain. 
---
What to Wear for the Ba Den Mountain Hike
Technical t-shirt – Wear moisture-wicking shirts as you'll be sweating on your way up. 
Comfortable hiking pants – Wear long hiking pants as there are some plants and trees with thorns along the way up. Plus, there are lots of rocks to climb so you may scrape your knees and legs on the rocks.
Hiking boots or shoes with traction – We recommend wearing hiking boots or have shoes with good grip. The hiking route has many rocks to walk over. Here is my recommendation for men or women hiking boots.
---
What to Bring for the Ba Den Hike
Backpack – Since this hike will take a few hours, you'll need a sturdy backpack to hold your water and other stuff. We love these backpacks – men or women Osprey.  
Lots of water – It'll be very hot going up the mountain and you'll need lots of water. While you can start with two 500mL bottles, you'll need to buy water when you reach the summit. The trail does not have any access to buy drinks. Also, we recommend that you use this reusable water bottle to reduce plastic waste.
Snacks 
Hat – Some parts of the trail get sunny so it'll be helpful to have this hat.
Sunscreen – Protect your skin from the sun. Check out this sunscreen.
Sunglasses – Here are our favorite sunglasses.
Gloves – You'll need to climb up and down rocks so wearing gloves protect your hands from scratches and can also make you go up/down faster. We wore these gloves but you can get any other disposable ones. 
Rain gear or umbrella – If you encounter rain, feel free to bring a rain jacket or an umbrella. Buy this portable umbrella and/or rain jacket (women) or men for your next trip. 
Hiking Poles – These will be helpful on your hike, but they aren't required. Check out these hiking poles.
Cash  
Trash bag – Since this trail is heavily traveled, there is garbage everywhere. While there are receptacles for plastic water bottles, we saw wrappers, fruit peels, and other garbage along the trail. Please bring a bag to dispose of your trash properly. 
An extra set of clothes – You'll be glad to have a clean set of clothes to change into after finishing the hike. 
If you plan to stay in Vietnam for a longer vacation, check out our Vietnam packing list for more details.
---
Admission Cost to Ba Den Mountain
The hiking route doesn't have a fee, so it's a budget-friendly outdoor activity to do!
The round-trip cable car ride to Black Lady Mountain is 250,000 VND ($10.90) for Adults and 150,000 VND ($6.50) for Children. You can buy discounted tickets here.
What to Expect on the Ba Den Mountain Day Hike
Ascending the Mountain
To get to the Black Virgin Mountain's Electricity Pole hiking trail, you'll head to a side street (Vòng quanh khu du lịch Núi Bà) which is adjacent to the large parking lot.
At the end of the street is the Vạn Pháp Cung Pagoda where you'll turn left.
The start of the trail has an ominous sign which makes you wonder if hiking is a good idea? Or, should you have taken the cable car instead? 
We're still proceeding with the hike! The trail starts with an uphill climb and continues to go up until you reach the peak. There aren't any rolling hills so you'll get a good leg workout. 
Most of the trail is covered with huge rocks as the "steps." Sometimes, you may need to crawl over the larger ones. This is where the gloves will be helpful to scramble over the rocks. The rocks are the most challenging part of the hike as you'll need to have stability walking over these rocks. 
As with many of the Vietnam hiking trails, the trail doesn't have any physical signage on where to go. Follow the heavily used walking path. As long as you see the power lines above your head, you're headed in the right direction!
Once in a while, you'll see a spray-painted red arrow on a rock to guide you to the turning spots. Sometimes the arrow led us to a sketchy path so you may need to do a quick check before proceeding a long distance. 
One of the best parts about this hike is that you're in the forest and surrounded by trees during the hike. There are also tons of banana trees along the way. We saw a local heading down the mountain and carrying a basket full of bananas on his back.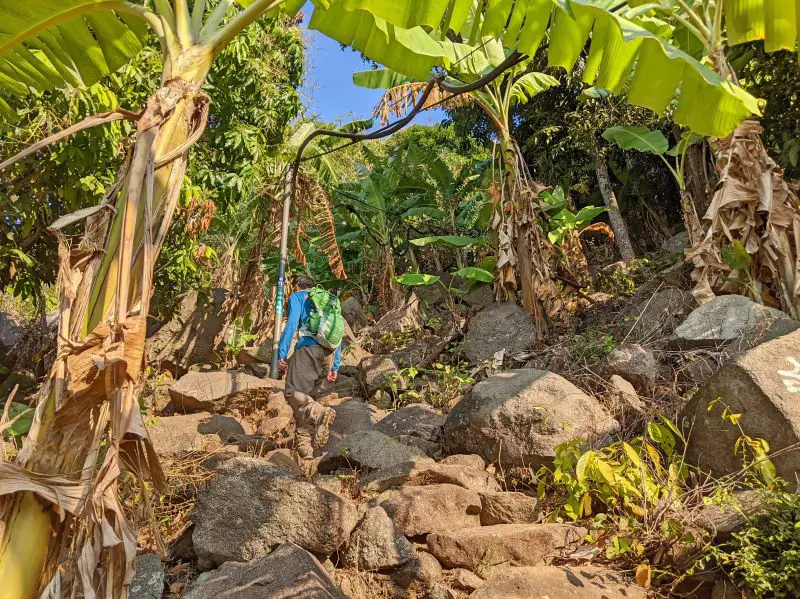 Tip: Please take as many breaks as you need to when going up the hill. It isn't easy and we don't want you to pass out. Also, stay hydrated! 
If you see these steps bolted onto the rock, please do not use them. We somehow took these instead of the hiking path and had to cross through bushes to get onto the trail. 
---
The Summit Area at Sun World Ba Den
You're almost at the summit when you've reached two grey pillars that lead to the Sun World Ba Den attraction. Go through the pillars, walk around the fence, and you'll end up at a food kiosk selling cold drinks and ice cream. 
Congratulations! You've officially made it to the summit of Ba Den Mountain/Black Virgin Mountain at 986 meters (3,235 feet). The highlight is seeing Lady Buddha (Tây Bổ Đà Sơn) at the top of the mountain! She is a gorgeous bronze statue at 72 meters (236 feet) high and overlooking Tay Ninh Province.
From our second visit in February 2022, the base of Lady Buddha has finished building. Guests can walk around the area.
Unfortunately, you'll need to go up and down the stairs to visit the theme park. We know your legs and thighs are tired at this point! 
Take some time to walk around and take photos of the gardens. The set-up is a smaller scale to Sun World Ba Na Hills theme park, yet has similarities with the Instagram-worthy photo spots with plant topiaries and sculptures. Just know that it will be crowded as many locals take the cable car to this place.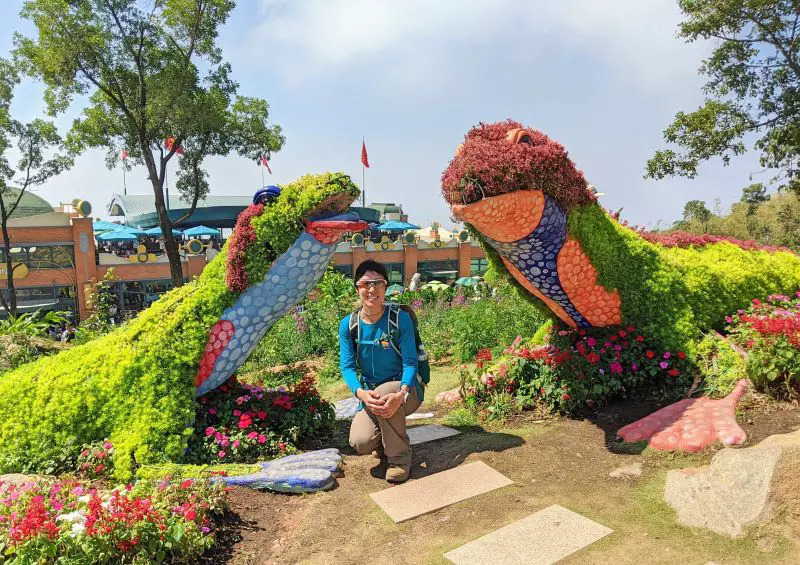 There is also the triangle-shaped summit sign that overlooks the mountain area. It's located in the lower section below the windmill attraction and nearby the cable car station. This summit sign is proof that you made it to the highest point in South Vietnam!
If you're hungry, there are a few places selling food. Check out the all-you-can-eat buffet option that is available from 10:30am-3:00pm and 4:30pm-8:00pm. The cost is 250,000 VND ($10.90) for adults and 150,000 VND ($6.50) for children.
A cheaper dining option offers Vietnamese noodle soup and it's located closer to Lady Buddha under a tent. The menu has phở, hủ tiếu, bánh canh Trảng Bàng (pork noodle soup) starting from 75,000-90,000 VND ($3.25-$3.90). 
Cold drinks are sold everywhere and you may need to buy some to rehydrate. We ran out of water as we reached the summit. The cost of a 500mL Aquafina water bottle is 20,000 VND ($.87). 
---
Descend the Mountain
Once you've finished exploring the theme park, take the same hiking path to go back down. You'll be faster descending the mountain, yet take your time going down the rocks as you'll be exhausted for the ascent. 
Yay! You've finished the hike! Stretch out your legs and body before heading to your next destination.
---
Final Thoughts
Hiking Black Virgin Mountain/Ba Den Mountain is a bucket list experience when you're visiting or living in Ho Chi Minh. It's a tough one-day hike but you'll feel so accomplished after completing it!
Looking for other things to do in Ho Chi Minh City? Check out these posts: