If you're visiting Mui Ne (Mũi Né in Vietnamese) in Phan Thiet City, Vietnam and want to balance the beach time with a nature hike, check out Ta Cu Mountain (Núi Tà Cú).
Located in the Thuan Nam of Binh Thuan Province, visiting Ta Cu is a good side trip from Mui Ne and an opportunity to get fresh air, walk through a forest, see monkeys, and go hiking! 
I had the opportunity to hike Ta Cu Mountain with a group of hikers coming from Ho Chi Minh City. Yes, Ho Chi Minh!
It was a long day trip yet it was a lot of fun to visit the TTC World Ta Cu tourist attraction (where the hike is located), see the reclining Buddha, and experience a new hiking trail. 
Ta Cu Mountain is a hidden gem since it isn't too crowded with people. The hiking trail is especially quiet and peaceful. Our hiking group of 40 people was the only one on the trail. 
In this post, we're sharing how you can hike Ta Cu Mountain on your own and important things to know about this hike. If you're not into hiking, there is a cable car option, which we'll share more details below. 
*Disclaimer: This post contains affiliate links. As an Amazon Associate, we earn from qualifying purchases. If you click on them and make a purchase, we receive a small commission. There is no additional cost to you. Appreciate the support.
---
Ta Cu Mountain Hiking Overview
Ta Cu's hiking trail is a beginning-moderate trail as it has both stairs made out of rocks (although, sometimes a bit broken) and a dirt path. A tour isn't necessary to do this hike. 
Challenging level: Easy-Moderate 
Distance: Approximately 7.2 kilometers (4.5 miles) round trip
Summit height: 649 meters (2,129 feet); The Buddha statue is approximately 476 meters (1,564 feet)
Time to complete: 2.5-3 hours to complete the round trip hike with breaks. Allocate at least 1.5 hours climbing and 1 hour descending. 
Helpful tips: If you're tired, you can take a cable car to go up and/or down the mountain, but you'll pay a round-trip fare.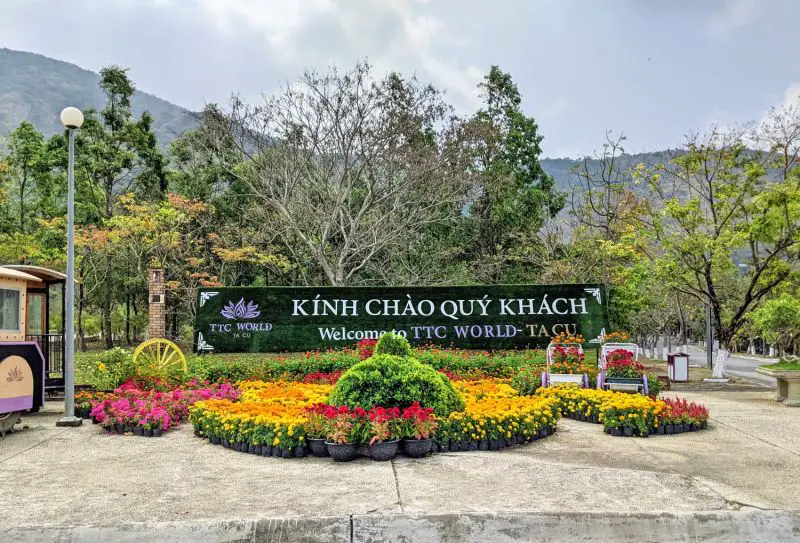 ---
How to Get to Ta Cu Mountain
The easiest way to get to Ta Cu Mountain is by hiring a taxi or riding a motorbike. From Mui Ne to Ta Cu Mountain, it's 55.4 kilometers ( 34.4 miles) and will take approximately 1 hour 15 minutes one-way. 
If hiring a taxi, it's best to negotiate a flat rate which includes the round-trip driving distance and driver's waiting time as you're hiking. 
If using a motorbike, please ensure that you follow the driving rules. Drive along the National Highway QL1A from Mui Ne. Turn left at the Nguyen Van Linh Street to get to the Ta Cu Mountain parking lot. 
---
When To Do the Ta Cu Hike
The weather in South Vietnam is consistent as the average temperature throughout the year is 25-27℃ (77-81℉) so you can do this hike at any time!
If you're concerned about the rainy season (May-October), you shouldn't worry. The rain won't last for the entire day and lasts at most 30 minutes to an hour. Since the hiking route is mostly covered by trees, you won't get too wet along the trail. 
The hike can be done at any hour of the day. We started the hike at 10:30am and finished around 1:00pm. It was great to have shade on the trail.
---
What to Wear for the Ta Cu Mountain Hike
Technical t-shirt – Wear moisture-wicking shirts as you'll be sweating on your way up. 
Comfortable hiking pants or shorts – Wear hiking pants or any moisture-wicking shorts or pants.
Hiking boots or shoes with traction – The hiking isn't technical so you can use running shoes or any type of shoes with additional traction. Hiking boots aren't needed but they're helpful as I rolled my ankles a few times on the rocks. Here is my recommendation for the best women hiking boots.
Mask – A mask is required to enter the theme park.
---
What to Bring for the Ta Cu Hike
Water – Water is not available along the trail. Buy water at the small stalls in the parking lot or bring your own. Use this reusable water bottle to reduce plastic waste.
Snacks 
Hat – Some parts of the trail get sunny so it'll be helpful to have this hat.
Sunglasses – Here are our favorite sunglasses.
Rain gear or umbrella – If you encounter rain, feel free to bring a rain jacket or an umbrella. Buy this portable umbrella and/or rain jacket (women) or men for your next trip. 
Cash  
Trash bag – This trail isn't the cleanest as it has wrappers, plastic bottles, and other trash. Please take your trash with you to properly dispose of at your final destination. 
Health or travel insurance documentation – It's always helpful to have some sort of travel or health insurance documentation on you. You may get injured on your hike and may need medical assistance.
---
Admission Cost to Ta Cu Mountain
The cost to hike and access Ta Cu is 50,000 VND ($2.20 USD) for Adults and 30,000 VND ($1.30) for Children (1-1.4 meters). Therefore, it's not too costly to visit this place.
The premium package includes admission, a round-trip cable car ride to Ta Cu Mountain, and a ride in an electric car to the cable car station. It costs 250,000 VND ($10.90) for Adults and 150,000 VND ($6.50) for Children. 
Payment is done at the front ticket office. Cash and credit cards are accepted.
What to Expect on the Ta Cu Mountain Day Hike
Once you enter the Ta Cu theme park area, head to the right of the water fountain and follow the walking path. You'll pass by a children's play area, garden, and sunflower field which you can visit when you finish hiking. There is a small sign that points to the hiking trail on the left-hand side.
The majority of the hike goes through the forest area so there is plenty of shade along the trail. Portions of the trail have makeshift stairs made out of large rocks and boulders. While scrambling isn't required, just be careful when going up and down the rocks. Some of the rocks aren't stable and you may fall (which happened to me!) 
The trail isn't marked yet you can easily see the heavily used trail to follow. Along the way, you'll see trees with twisted roots and branches, hear birds chirping, and may see adorable monkeys! 
Insider Tips:
If you see monkeys, ensure that you put everything away inside your backpack. They may grab something on the outside of the backpack and you'll never see your item again. (We're a bit traumatized after
visiting Can Gio Island
where monkeys are the king of the area.) Also, don't get too close to the monkeys since they're wild and may attack. 
You're almost near the top of the mountain when you hear the cable cars' motors running and see the cable car station. The cable car stops on top of a mountain, yet you still need to climb more stairs to visit pagodas and see the iconic reclining Buddha. 
From the cable car station, walk a few minutes to the entrance of the Linh Sơn Trường Thọ Pagoda. The walkway has colorful flags welcoming you to the pagoda. 
Before walking up the pagoda steps, purify your hands and face with the spring water in the fountain area. Do not drink the water. It's refreshing to have the water clean the hands and face after the sweaty hike up.
Once you reach the top of the pagoda, feel free to walk around the pagoda grounds. Most people head left of the pagoda to see the reclining Buddha. On the way, you'll pass by a few Buddha statues and praying areas. 
Follow the walkway to reach the reclining Buddha. You'll see many Vietnamese locals and tourists having picnics and relaxing in the outer areas of the walkway. It's a nice place to hang out as the trees cover the area. 
Hooray! You finally reached the main attraction on Ta Cu Mountain, the reclining white Buddha statue! It's a staggering 59 meters (194 feet) in length and is gorgeous! It's considered the longest reclining Buddha in Southeast Asia. The Buddha statue is sparkling white.
There is a sign in front of the Buddha to reminder visitors that climbing the statue and vandalizing the statue with graffiti isn't allowed. It's no wonder the statue is in pristine condition. 
If you want that postcard-perfect photo with the statue, there is a photographer who will take photos and give you a copy as a souvenir. Otherwise, you can find a spot on the steps to take an angled shot of the reclining Buddha. 
Note: The location of the Buddha statue is not at the highest peak of the mountain. There is more hiking available to reach the summit, but we didn't have a chance to continue the hike. 
To the right of the statue, adventurers can venture down to a small cave and visit a small prayer area. I didn't have a chance to visit but it looks like some scrambling down rocks are required.  
If you're hungry, stop by the restaurant that has a vegetarian lunch buffet. It's located on a lower level from the cable car and is reachable on your descent. 
Outside of the restaurant, there is a fun Instagram-worthy photo opportunity of a colorful infinity staircase that goes to the skies. 
On your back down the mountain, take the same route as coming up. It'll be faster to go down the mountain and should take an hour. 
Congratulations on finishing the hike! Once you finish the hike, feel free to explore the rest of the theme park area and check out the sunflower fields. The sunflowers have huge blooms so it's a picturesque spot.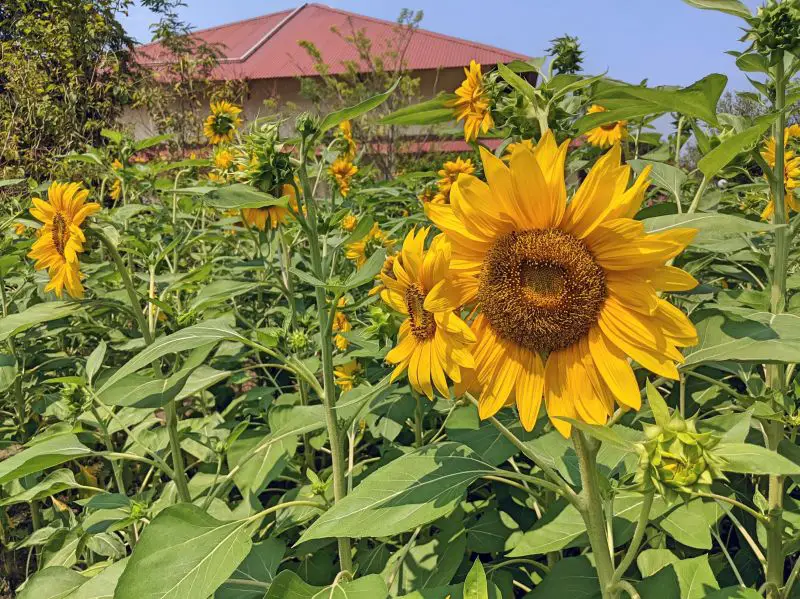 If you need to rest before returning to Mui Ne, check out the vendors in the parking lot area and relax on a hammock.
Click here to check out accommodations in Mui Ne. 
---
Final Thoughts
Hiking Ta Cu Mountain is a fun getaway from Mui Ne and we hope you enjoyed this Ta Cu Mountain hiking guide! What's not to love about spending time in nature and getting some exercise? 
Some people may think that visiting this place is uneventful since the reclining Buddha is the only highlight. Yet, the Buddha statue is beautiful and well worth the hike up. It's a spiritual place and a way to experience the Buddhist culture.
If you're continuing your trip from Mui Ne, check out these posts of neighboring cities: