Want to visit the Mekong Delta in South Vietnam but are looking for a quieter, less touristy, and more off-the-beaten-path destination? Head to An Giang Province. 
Located about 257 kilometers (160 miles) west of Ho Chi Minh City and almost at the border of Vietnam-Cambodia, it's a fantastic alternative to the more popular Mekong Delta day trip destinations in Ben Tre and Can Tho. 
We had the opportunity to visit An Giang with a local hiking group so we had some local tips on where to go. We've been living in Ho Chi Minh City for over four years and have never heard about this area so it was a fun adventure to visit a new place in Vietnam, experience hiking and running, and swoon over gorgeous nature. 
While we had an ambitious one day in An Giang, it would be better to spend a weekend here to enjoy the peacefulness and local attractions. 
Continue reading this An Giang guide on what to do in An Giang in 1 day, how to get there, and other helpful travel tips.
*Disclaimer: This post contains affiliate links. If you click on them and make a purchase, we receive a small commission. There is no additional cost to you. Appreciate the support.
---
How to Get to An Giang from Ho Chi Minh City
From Ho Chi Minh City to An Giang Province, it's about 257 kilometers (160 miles) one-way and will take about 6 hours of driving. The starting location is at Ben Thanh Market in District 1. 
If you want to spend a full day in the An Giang area, you'll need to leave Ho Chi Minh City between 12:00am to 3:00am. Otherwise, you can leave at any time if you plan to stay for 2+ days.
The two main cities of An Giang are Chau Doc (Châu Đốc in Vietnamese) and Long Xuyen (Long Xuyên), the capital of An Giang. Since we only have a day trip to An Giang, we're visiting the area close to Chau Doc. 
The easiest way to get to travel to An Giang is to hire a driver. Therefore, you can control the amount of time needed at each of the local attractions you visit. 
Another option is to take the sleeper bus. It's one of the most reliable and convenient ways to travel around Vietnam. 
Futa Bus has an option where you start in Ho Chi Minh City and end at Chau Doc. The starting price is 155,000 VND ($6.70 USD) per way and will take about 6 hours one-way. If you have difficulties with booking tickets online, ask one of your friends who speaks Vietnamese to reserve tickets on your behalf. 
We recommend that you stay overnight if you take this sleeper bus option. Plus, you'll also need to hire a motorbike or take a taxi to travel around the area. 
Tip: Speaking some Vietnamese will be helpful since English isn't widely spoken here.
---
Things to Do in An Giang in One Day
With this An Giang day trip, you're limited to what you can see and do in the area. So we've visited the top highlights of the area and hope to return to see other local attractions. 
1. Visit the Tra Su Cajuput Forest.
Tra Su Cajuput Forest (Rừng Tràm Trà Sư) is one of the beautiful nature areas to visit in Vietnam. You're in the middle of the cajuput forest with mangrove trees, lotus flowers, and lily pads floating in the calm waters. It's a quiet area so the perfect way to start the day.
The best way to explore the forest area is by visiting the local ecotourism site to wander around the photogenic spots, such as the bamboo bridge, and also take a boat ride through the waters. The views from the boat ride are similar to our experience visiting Tan Lap Floating Village in the Long An area, another part of the Mekong Delta. 
If you visit the ecotourism site, the admission fee is 100,000 VND ($4.30) per person and 50,000 VND ($2.20) for the boat ride.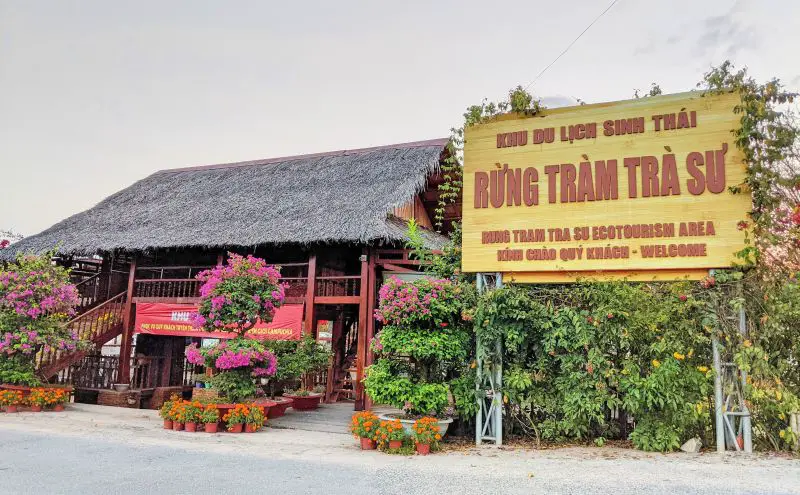 Outside of the ecotourism site is a flat walking/running path that leads to side roads with residential houses, cafes, and restaurants. The course is a square that goes around the ecotourism site and is about 10 kilometers (6.2 miles). Some of the paths are shared with motorbikes, but it isn't congested.
There are some pretty photo spots – golden and green rice fields, bridges, and forests. We also saw lots of butterflies in the area.
The best part is that there isn't a fee to walk around the forest area and it's shaded! You know us – we love budget-friendly places to visit!
Address: Ấp Văn Trà, Xuân Tô, Tịnh Biên, An Giang
---
2. Visit Cam Mountain (Forbidden Mountain). 
An Giang is surprisingly hilly in the western side of Tinh Bien District. There are Seven Mountains in the area.
Cam Mountain (Núi Cấm/Thiên Cấm Sơn), also referred to as Forbidden Mountain, is the tallest mountain at 716 meters (2,349 feet) high. It's a sacred mountain due to the story of the prince Nguyen An, who would be later the first emperor of Vietnam, forbidding anyone from coming up the mountain. He wanted to stay in the mountain after losing a battle and there were rumors spread around about monsters living there, thus the "forbidden mountain" name appeared. 
You can spend the entire day on this Forbidden Mountain attraction site. The main attraction is seeing the giant white Buddha, yet there are beautiful temples and pagodas, a bridge with colorful windmills, waterfalls, and a lake to explore. Unfortunately, we only had a limited time to explore.
How to Get There
The adventurous way is to hike Cam Mountain/Forbidden Mountain via the Phat Nho Pagoda (Chùa Phật Nhỏ) route. We started the hike from the main road, An Hòa. There is a checkpoint to show your ticket so you'll need to buy them before visiting the trail. This is a challenging hiking route through the forest as the first 2 kilometers is a 30-40% grade of steepness before reaching the pagoda. 
Tip: At the beginning of the hike, there is a pile of bamboo sticks. Grab one as you'll need it on your way up or down the mountain!
After you pass the pagoda, you continue along the paved roads and keep on veering right until you reach the main road, Đường lên Núi Cấm – Chùa Vạn Linh. Turn left and follow the road up until you reach the tourist destination. You'll pass the Lady Buddha on your way before seeing the main Cam Mountain attractions. Allocate at least 2 hours to hike up. 
The admission is 20,000 VND ($.88). 
Other options include hiring a motorbike taxi or taking the 3.5 kilometers (2.2 miles) cable car. It's an accessible way to reach the top and will save your legs!
To return down the mountain, you can hike back in the same direction (although, it will be super steep going back down the pagoda way), take a motorbike taxi, or the cable car. 
Address to Cable Car: Nhà ga đi cáp treo Núi Cấm, An Hảo, Tịnh Biên, An Giang, Vietnam
---
Other Attractions to Visit in An Giang
If you have more time to spend in An Giang Province, here are some other recommended places to visit:
1. Chau Doc Floating Market
We're huge fans of the floating markets. While we've seen them in Can Tho's Cai Rang Floating Market, visiting Chau Doc Floating Market would be an exciting way to see the locals' lifestyle along the Hau River. It's less touristy yet you get the chance to see boats selling tropical fruits and produce along the river. 
---
2. Tuc Dup Hill 
Tuc Dup Hill (Khu Du Lịch Đồi Tức Dụp) is not on a typical attraction list for An Giang, yet it's a historic site to see similarly to Cu Chi Tunnels. It was a former secret base used during the Vietnam War by the Vietnamese and the location had some challenges with the cliffs and caves. You have the chance to walk through 200 meters (.12 miles) of the cave. 
Address: Đường 15, An Túc, Tri Tôn, An Giang
---
3. Masjid Jamiul Azhar Mosque 
After visiting Brunei for a layover, we're intrigued by seeing other mosques around the world. Masjid Jamiul Azhar Mosque (Thánh Đường Hồi giáo Jamiul-azhar) is one of the oldest mosques in Vietnam. The unique architecture is what draws people to visit this mosque. Since Chau Doc has a lot of Cham Muslims, this mosque is where they visit to pray and practice Islam. 
Address: Tổ 8 ấp Châu Giang, An Giang
---
Where to Eat in An Giang
There are plenty of local restaurants and cafes around the two major sites that we mentioned. Bánh xèo (sizzling Vietnamese pancake/crepe) is a popular item around the area.  
We had a meal at a local restaurant, Quán Hải Đăng- Đập Tràn. It's a popular place for hot pot and seafood. We had eel hot pot, spring rolls, fried egg, grilled snakehead fish, and BBQ pork. If you decide to go here, you'll need to go with someone who speaks Vietnamese. 
Tip: Take off your shoes before entering the seating area. Everyone sits on the ground and around a table. 
Address: N1, Nhơn Hưng, Tịnh Biên, An Giang
---
Where to Stay in An Giang
Visiting An Giang from Ho Chi Minh City in a day is ambitious and a bit tiring due to the travel distance. We recommend that you stay overnight so you can rest and explore other areas of An Giang on the second day. There are a variety of hostels, guesthouses, and hotels to stay at and have various prices. 
Click here to find the perfect accommodation in Chau Doc or Long Xuyen City.
Here are some recommendations on places to stay in An Giang based on the reviews:
The Luxe Hotel Châu Đốc – This hotel in Chau Doc is highly rated for the cleanliness and friendly staff. Average cost per room is between $30-$40 per night for 2 person occupancy. Book a room at Luxe Hotel here. 
Victoria Chau Doc Hotel – This is a fancier hotel that has photogenic riverside views of the floating markets and Cham villages in the Chau Doc area. Visitors love the outdoor pool too. Average cost per room starts at $100 per night for 2 person occupancy. Book a room at Victoria Chau Doc Hotel here.
---
An Giang is one place that we would love to return to explore further. It's still a hidden gem and not overpopulated with tourists as we saw mostly locals. Plus, this will be a fantastic addition to an extended Mekong Delta itinerary or side trip from Ho Chi Minh City. We hope you get a chance to visit An Giang in the future. 
Check out our other Ho Chi Minh City posts to get ideas on what to do: