Once the sun sets, Ho Chi Minh City (aka "Saigon" to the locals and abbreviated as "HCMC"), Vietnam offers some of the best nightlife. While there are so many attractions to visit in Ho Chi Minh City in the daytime, there is something special about exploring the streets at night. 
The city is buzzing with people, tourists, and has plenty of activities to keep you occupied. Interested in seeing a performance? Want to eat dinner on a rooftop?
We have you covered with this guide on the 17 best things to do in Ho Chi Minh City at night. Any of these nighttime activities would be a perfect addition to your itinerary whether you have 1 day, 3 days, or 5+ days in HCMC.
We currently live in Ho Chi Minh City so we will update this guide when we find new and exciting opportunities for you to try!
Check out our other Vietnam posts to help you with your travel plans:
*Disclaimer: Visiting Saigon at night? We have affiliate links in this post. If you click on the links and make a purchase, we receive a small commission. There is no cost to you. Appreciate the support.
---
Things To Do in Ho Chi Minh City at Night: Attractions & Activities
1. Bargain at the Ben Thanh Market Night Market.
Ben Thanh Market is the famous market in the center of Ho Chi Minh City's District 1. Once the main market closes around 6:00pm, the vendors move outdoors to set up shop along both sides of the market on Phan Bội Châu Street and Phan Chu Trinh. 
Many of the shops sell similar stuff from fake Nike and Under Armor workout clothes, North Face backpacks, shoes, purses, sunglasses, and other souvenir items. 
If you're interested in purchasing something, don't forget to use your bargaining skills. The first price will be inflated. Then ask for 50% off the price or any amount that you would prefer. 
**At the time of publishing, the Ben Thanh Night Market is currently not open due to the current situation and the travel restrictions. We'll continue to monitor this and will let you know when it reopens!
2. Take an evening stroll along Nguyen Hue Walking Street.
Nguyen Hue Walking Street is a pedestrian friendly walking street that is perfect for people watching. The street is 900 meters/.5 miles long and it's a popular spot to visit at night. Plus, you get to see a bronze statue of Ho Chi Minh with the People's Committee of Ho Chi Minh City building in the background. 
You'll see crowds hanging out on the benches and enjoying drinks, kids playing, and hawkers wearing costumes. If you decide to take a photo with these characters (ie: Elmo, Monkey King, etc), then it's expected to give a small tip such as 20,000 VND ($.88 USD). 
What is fabulous about this walking path is that it's located in the center of Nguyen Hue Street so cars and motorbikes are not allowed. On the weekends, the street is closed to vehicles so everyone can walk on the streets.  
Depending on your time of visit, there are holiday celebrations and festivals on Nguyen Hue Walking Street. If you visit during the Tet Vietnamese New Year, there are festive decorations with red lanterns, flowers, and the zodiac animal. 
You can also visit the local attractions along Nguyen Hue such as Saigon Skydeck observatory deck and Cafe Apartments.
3. Run or walk along the Saigon River. 
Depending on where you're staying in Ho Chi Minh City, take an evening run or walk along the Saigon River. You won't have to worry about the searing sun and heat at night. 
If you're in District 1, head towards the end of Nguyen Hue Walking Street, cross the street (watch out for traffic on both sides and walk slowly!), and run along the river. You can run towards Le Meridien Hotel, close to Le Thanh Ton Street or head the opposite direction to the Elisa Floating Restaurant, a large boat that docks on the Bach Dang Pier on the weekends. 
Another opportunity is to walk/run along the river from District 1 along Hoang Sa or Truong Sa. Head to the Saigon Zoo area and you'll find the river route from there. Check out this post on other running paths you can take around the city.
4. Watch a show at the Opera House.
The Opera House, also known as the Ho Chi Minh Theater, is a gorgeous building with French colonial architecture. It was built in 1897 and restored in 1995. This place is in a central location as it's a few minutes walk from the Nguyen Hue Walking Street. 
The theater has a variety of performing arts shows such as music concerts, ballets, and other cultural shows. During the November time frame, there is usually a Nutcracker show so get you into the Christmas holiday spirit. 
5. Watch a water puppet show.
One of the unique experiences in Vietnam to do is to watch a water puppet show. The show is an opportunity to see puppets tell a story about Vietnamese folklore and stories. It's fun to watch and provides more insight into Vietnamese culture. 
These puppets are different from what you're used to as they are made out of wood and lacquered. The puppeteers hold these puppets by rods and sticks so they float and dance on top of the pool of water. 
You can't see the puppeteers as they're hidden to the side of the stage. Yet, you have to admire the puppeteers' strength to maneuver the heavy puppets in the pool. To the side of the pool, there is a small orchestra playing traditional Vietnamese music. 
We originally saw the water puppet show in Hanoi, yet, the show in Ho Chi Minh City is similar. It was a cute show even though the show was in Vietnamese and had a TV screen with English translation to the side of the stage.
Purchase discounted tickets for the water puppet show in advance and save money!
6. Take an evening walk through Vinhomes Central Park.
If you're in the Binh Thanh area which is about 20 minutes away from Nguyen Hue Walking Street, then you have to check out Vinhomes Central Park. We're a bit biased as we live in the area, yet, it's a fabulous place to spend an evening. 
The 43.91 hectares (108 acres) public park was inspired by New York City's Central Park and is beautiful with the luscious greenery and plants and paved walking paths along the Saigon River. There is a large lawn area for people to hang out and a BBQ section for those living in the area. It's also children-friendly with two playground areas. 
Afterward, you can head to Landmark 81, the tallest building in Ho Chi Minh City at 81 stories high, for high-end shopping, movie watching, and/or to check out the Landmark 81 Skyview observatory. 
7. Check out the Starlight Crescent Bridge (Rainbow Bridge). 
If you have more time in Ho Chi Minh City, consider visiting the other districts to explore. District 7 has the Starlight Crescent Bridge in the park next to the Crescent Mall. 
From 5:30pm-10:00pm on Thursdays to Sundays, the bridge displays the colors of the rainbow. The bridge has water which illuminates with colorful LEDs. 
Afterward, try one of the Korean restaurants in the area. There is a high Korean expat population living in District 7. 
8. Get creative with a painting night!
Anyone can learn how to paint! Take a two hour painting class where everyone gets the opportunity to paint. The painting will have a different theme such as landscape, animals, plants, etc. 
Your instructor provides guidance on how to paint each layer. Yet, you can get creative with adding your own pizzazz to your painting. Plus, you get a glass of wine to enjoy during your course. 
The painting event starts either at 4:00pm or 5:00pm and lasts 2 hours. You still have the evening ahead of you to try other activities in this list. 
The location varies so it's recommended that you follow Paint & Wine in Saigon on Facebook and register for a class. 
9. Sing your heart out with karaoke night.
Karaoke is a cultural bonding experience in Vietnam. You often find a group of people on the sidewalk drinking beer and singing karaoke on the weeknights and especially on the weekends. We've seen speakers point to the street so everyone can hear them. 
While you can participate in an ad hoc karaoke event, consider visiting karaoke bars around Ho Chi Minh City instead! This would be a fantastic opportunity for a group of people. You get the opportunity to rent a room for a certain time frame, order food and drinks, and sing as much and as loudly as you'd like. 
It's a fun experience and you don't need to worry about singing badly. Just have fun with singing English and Vietnamese songs!
Recommended karaoke bars are iCool which has multiple locations in the city and King Karaoke in District 1.
10. Take a city tour at midnight. 
One of the unique things to do in Ho Chi Minh City is to take a city tour at midnight. Yes, midnight! Your tour guide will take you around the vibrant spots of the city on a motorbike. It's also the chance to hang out with a local. 
Click here to reserve your spot. 
---
Things To Do in Ho Chi Minh City at Night: Food & Drinks
11. Take a sunset or dinner cruise. 
One of the coolest things to do in Ho Chi Minh City at night is to take a cruise along the Saigon River. 
Depending on your preference, you can either do a late afternoon cruise to see the sunset or have dinner on the boat. It's a fun way to check out Ho Chi Minh City's skyline and also pass through various districts along the river. 
Since we live in Vinhomes Central Park in Binh Thanh District, we've seen the Saigon Princess Cruise pass by and we hear the music playing. 
Check out these other dinner cruise options to take:
12. Eat seafood for dinner. 
Vietnamese people love eating seafood, snails (ốc), and shellfish for dinner. It's one of the most memorable experiences that you'll have. 
You get the opportunity to choose your fresh seafood from the tank and have it cooked in any way you'd like such as sauteed with garlic, salt and pepper, pepper sauce, etc. 
Tip: It's helpful if you have someone who knows how to speak Vietnamese with you so they can order the fresh seafood. The prices aren't marked so you have to ask what is the price per kilo. Otherwise, you can order from the menu. 
One restaurant that we recommend that you try is Ốc Đào Nguyễn Trãi in District 1. This restaurant is hidden yet it's crowded every evening. 
We love eating razor clams with garlic, scallops, and shellfish in coconut sauce. We don't know the name of the shellfish in English but it's very delicious with the rich coconut sauce. You'll need to use your lung capacity to suck the shellfish meat out of the shells or use a toothpick. 
13. Try a meal in the dark at Noir. 
Noir: Dining in the Dark is a unique dining experience in Ho Chi Minh City as you get to eat in the complete darkness. Since it's already the evening, why not take the "night time theme" to the next level? 
While we haven't had a chance to visit this restaurant yet, it's on our bucket list. Each person enjoys 3 courses – appetizer, main entree, and dessert. There is a vegetarian option available. 
What is neat about this experience is that you have to utilize your other senses since you can't see your food. Cell phones are not allowed in the dining room as the emitted lights will affect your meal. 
Reservations are necessary. Click here to save money for dinner.
14. Eat dinner at one of the rooftop restaurants. 
Let's enjoy dinner on the rooftop of a building! It's a fantastic way to see Ho Chi Minh City light up in the evening and also get some breeze as you enjoy your meal. 
Heads up. There is a chance that you may need to climb up a dozen stairs to get to the top level of the restaurant. Many of the restaurants are not in commercial buildings, so prepare for a hike. If you have knees or walking problems, it's best to avoid these places. 
We love these rooftop restaurants: 
We prefer Mountain Retreat as the rooftop setting is refreshing with the strung lights and the wooden seating. You'll need to take the stairs to get to both of these restaurants.
15. Enjoy drinks and/or dance at the rooftop bars.
Ho Chi Minh City is constantly growing so there are more and more skyscrapers and tall buildings appearing every year. Visiting a rooftop bar is an exciting opportunity to see Ho Chi Minh City's skyline and the sunset (if the timing is appropriate). Many of these rooftop bars are also nightclubs with the party-vibe. 
In the Female Expat group, these are the top-recommended rooftop bars to visit: Banana Mama (this one is highly recommended for the casual vibe), M-Gallery, Chill Sky Bar, and Glow Rooftop. Check out this post for additional rooftop bars to visit at night. 
Have a blast and party the night away!
16. Party and drink at Bui Vien Walking Street. 
Bui Vien Street, located in District 1, is Ho Chi Minh City's version of Las Vegas. With the flashing lights, loud music, clubs, and crowds of people, it's a busy area that's popular with tourists and locals. 
This area is known as the "backpacker's area" due to the cheaper guesthouses and hostels, affordable restaurants, and cheap beer. We love eating at Sara's Ethiopian Restaurant, yet there are other good choices such as Baba's Kitchen for Indian food and Bún Chả 145 for a classic Vietnamese dish of rice noodles with grilled pork that originated from Hanoi. 
If you're into the nightlife and want a different vibe than the rooftop bars, then Bui Vien is a top night attraction to visit. You can party and drink all night long! A unique place to visit is the Hong Kong inspired beer club at Hẻm Bia: Lost in Hong Kong. The decor takes you to Hong Kong's nightlife in 1968. 
Bui Vien is about 20-25 minutes walking from Ben Thanh Market. If you plan to stay up late and will drink, please hire a Grab car or motorbike to take you back to your accommodations. 
17. Eat street food via a motorbike tour. 
Love eating street food? Consider taking a street food tour where your guide takes you to the local places to eat. You'll have an incredible time eating various Vietnamese cuisine and desserts and fill your belly with delicious food. Plus, it's an opportunity to learn more about Vietnam and Ho Chi Minh City from your tour guide. 
While you can do a walking tour, it's more adventurous to ride on the back of your guide's motorbike to travel from restaurant to restaurant. 
Check out food tours via motorbike options here:
If you're a vegan and/or vegetarian, check out this specific food tour. 
---
We hope you enjoyed reading this post on what to do in Ho Chi Minh at night. From the Ho Chi Minh City nightlife to the incredible food options, you'll have a memorable evening here!
Have other questions about the nighttime activities? Ask them in the comments below!
If you need more ideas on what to see in HCMC, read our other posts below.
Save this post to your Vietnam Pinterest board!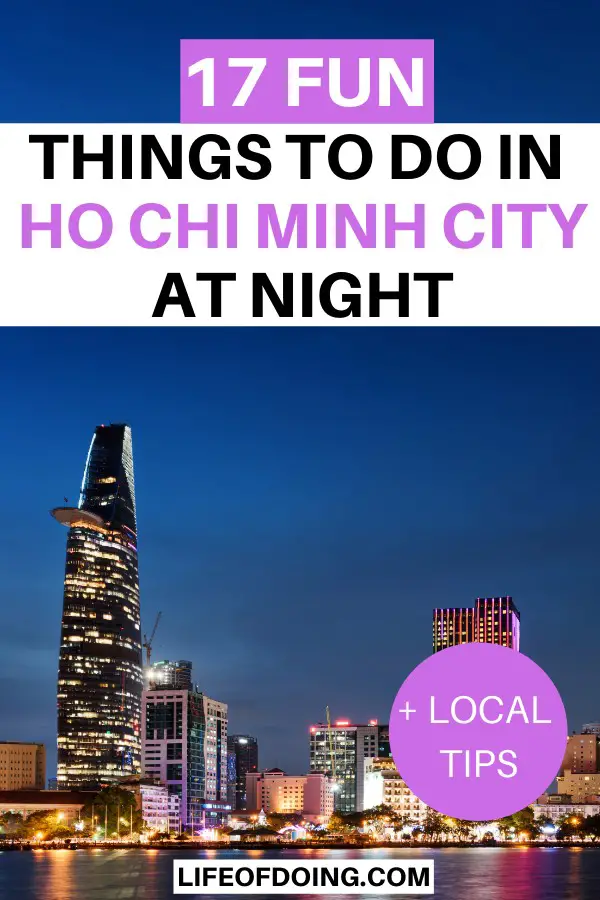 Featured photo & pin #1 photo credit: efired via Depositphotos.com