Sapa is a fantastic spot in North Vietnam to go hiking.
Located 6 hours from north of Hanoi and in the Lao Cai Province, it has plenty of beautiful hiking trails through the green mountains and endless rice terraces.
If you have limited time and only have two days to trek in Sapa, then you're at the right place.
With many treks to choose from, we recommend taking a 2 days trekking tour from Sapa to Lao Chai, Ta Van, Giang Ta Chai, and Supa villages.
It's an easy to moderate-level hike through the breathtaking landscapes of the Muong Hoa Valley. The trek passes through ethnic minority groups (Hmong, Dao, Xa Pho, Tay, and Day) who live in the area.
You also get a chance to stay overnight at a local homestay. 
In this guide, we're sharing how you can spend 2 days trekking in Sapa through Lao Chai, Ta Van, Giang Ta Chai, and Supa village, how to choose a tour guide, what to bring, and other helpful trekking tips. 
Looking for other ideas on things to do in Sapa? Check out our posts:
*Disclaimer: Visiting Sapa? This post contains affiliate links. As an Amazon Associate, we earn from qualifying purchases. If you click on them and make a purchase, we receive a small commission. There is no additional cost to you. Appreciate the support.
---
Before starting your Sapa trip, it's recommended to buy a SIM Card at Hanoi Airport (Noi Ba International Airport) or set up a Vietnam eSIM before your Vietnam arrival. You'll want to have access to data during your trekking experience.
For those in the U.S. looking for an international phone plan, consider Google Fi (formerly Google Project Fi). We have used this plan since 2016 and would recommend it. We get access to data and text in 200+ countries, including Vietnam, without additional roaming fees. Read more and try it for free here.
---
Lao Chai – Ta Van Village – Giang Ta Chai – Supa Trek Overview
The trek isn't too difficult, yet there are some hills to climb. Luckily, you can take your time so there aren't any time constraints. Plus, your guide will also wait for you.
Challenging level: Easy to Moderate
Distance: 6–7 miles (9.6-11 kilometers) per day 
Time to complete: 6 hours per day
Helpful tip: Wearing hiking boots is a must when hiking through the area. 
---
How to Book a 2 Days in Sapa Trek 
Choosing a trekking guide is no easy task. You can either choose to pre-book a trek or inquire with your hotel accommodations or tour operators when you arrive in Sapa. 
The criteria that we looked for in a trekking guide were: 
A local guide living in the area
A private tour versus joining a group tour
Cost per person per day
Number of meals included 
Hiking distance per day
---
*Our Recommendation*
We opted for pre-booking a tour with Zaazaa Trekking.
Zaazaa is a local female guide who has lived in Sapa for her entire life. Her services are highly recommended in Ho Chi Minh City's Female Expat Facebook group. 
We can vouch for her excellent customer service. Contact her on her Facebook page and she'll provide a WhatsApp phone number to continue the conversation. 
It was super easy to communicate with her over WhatsApp. Zaazaa is in high demand so you must contact her in advance. If she has a conflict on a specific day, one of her family members will trek with the group.
If you decide to go with her, she asks for a small deposit into her Vietnam bank account. If you don't have a Vietnamese bank account, you'll need to ask a friend or inquire with her about another way to send payment. 
Zaazaa may also request that you pay in full in Vietnamese currency on the day of the trip.
---
How Much Does the 2 Day Sapa Trek Cost?
We paid $60 USD per person for the 2-day private tour to Lao Chai-Ta Van-Giang Ta Chai-Supa. The final payment is in Vietnamese currency. 
The trek included a guide, 1.5 L water bottle per day, 2 lunches, 1 dinner, 1 night at a local homestay, luggage transportation to the homestay, and a taxi ride to Sapa hotel.
The trek does not include tips, travel insurance, or extra drinks and snacks.
While tipping your guide isn't required or expected, it's a nice gesture to thank your guide for the hard work and effort to arrange the trip. It's also a way to give back to the community and support the ethnic villages.
---
What to Bring on Your Sapa 2 Day Trek
Luckily you don't need to bring your luggage or overstuff your backpack. Just bring things that you need for the day of the trek.
Our luggage was sent to the homestay so you'll need to inquire with your trek operator to see if they'll do the same. 
Here are some hiking accessories to have on hand:
Rain jacket or poncho – You may encounter rain during your trek, so it's better to be prepared with a rain cover. Here are the rain jackets that we love: men/women. 
Jacket – Any lightweight jacket would work
Backpack – Having a lightweight backpack is key to the weight on the shoulders and back. Here are our favorite men and women backpacks that we use. 
Sun hat – Cover your head and face with this hat.
Sunglasses – Here are our favorite sunglasses for hiking.
Sunscreen – Wear sunscreen to prevent sunburns. The sun still peers through the clouds when it's cloudy.
Hiking poles – This isn't required, but it would be helpful when going down muddy paths.
Umbrella – Use the umbrella for sun protection or rain
Snacks 
Extra cash 
---
If you'll be hiking during the summertime when it gets hot, you may need extra hydration. Read our post on hiking in hot weather for more tips.
---
If you forgot to bring something for your hike, Sapa has plenty of stores that sell rain jackets and trekking gear. You'll see tons of North Face jackets and backpacks for sale.
Heads up – Most aren't authentic products. But if you need something now, then these are your only options.
---
What to Wear on Your Trek
It's best to wear layers since the Sapa weather changes often. 
Technical t-shirt or long-sleeve shirt 
Hiking pants or any long pants 
Hiking boots – This is necessary to have on hand. Otherwise, you may injure yourself on the muddy paths. We use these hiking boots (men/women). 
Hiking socks 
---
Trekking Schedule
The schedule is mostly flexible as it depends on the speed of your hiking.
On the first day, the trek starts at 9:00am with pick-up from your Sapa accommodation and ends around 2:30pm.
On the second day, the schedule is similar and includes a taxi drop-off at your Sapa hotel in the afternoon.
---
Sapa Trekking: Day 1 – Sapa to Lao Chai and Ta Van
Morning
After hiking Fansipan mountain the previous day, we started the hike at a reasonable time at 9:00am.
**For those who do not want to hike Fansipan, take the more convenient route by riding a cable car and funicular to the peak.
Zaazaa was away on another tour, so we met Zaazaa's sister-in-law, Zal, promptly at our hotel, My Boutique Hotel & Spa. She wore a Hmong outfit with a colorful tunic top, black pants, and socks. 
My Boutique Hotel is an ideal place to stay in Sapa since it's located close to the entrance of the ethnic village. It saved us walking an extra 10-15 minutes through the Sapa town.
Five minutes into the walk, an elderly woman wearing a basket on her back also joined us and stayed with us until our lunch spot. 
We walked through muddy rice terraces and rice fields as the rice was already harvested a few months ago. The trail also hasn't been frequently used due to fewer hikers visiting Sapa during the country's travel restrictions. (We hiked this trail in November 2020).  
Two hours into the trek, we had a rest stop at a small cafe. It overlooked the gorgeous view of the valley.
By this time, the morning fog cleared up so we had pretty views of the iconic rice terraces.
The cafe was cute as it had cobs of corn hanging from the ceiling area and adorable puppies. 
After drinking hot ginger tea, we went off to continue our trek.
At this time, we walked along a flat, paved path or dirt path for another 1.5 hours.
Zal mentioned that we were in the Lao Chai area where the majority of the Hmong people live. Houses were either along the main road or tucked in the forest area.  
The hillside was too beautiful. Every few kilometers required a photo stop since the landscape was unreal.
While many visitors come to Sapa when the rice terraces are golden in late August/September, yet, it was still impressive to see in late November. 
One of the saddest moments along the trail was when we passed by a family preparing to eat a dog for a meal. The dog had its legs tied up and whimpered out of sadness.
We know that Vietnamese people eat dogs since they're a type of meat and have seen shops in the rural area selling dog meat.
As with any culture, please be respectful even if it isn't the same ideology as what you practice. 
---
Lunch
We arrived at a local restaurant in Lao Chai for lunch. Our delicious meal of cucumber and tomato salad, boiled potatoes, fried sweet potatoes, pork and veggies, and rice was ready when we arrived and brought out instantly. 
Remember how we had an elderly woman follow us for the trail?
Although she helped us a lot with going down the steep parts of the mountain, her main objective was selling souvenirs such as handmade pillowcases, pouches, and handbags.
They were made beautifully and had vivid colors, but we declined the offer as we didn't need anything. Instead, we gave a tip for her services so she didn't leave empty-handed. 
Note: Women following a group of tourists are common as our friends had the same experience when they did their trek a couple of years ago. We understand since it's a way to earn money during difficult times. 
Before we left, we saw a young couple buying a live duck and chicken to bring home.
The restaurant owner has free-range ducks and chicken hanging out in the garden area and had to fetch one of each.
The owner didn't kill the birds as the local people prefer to kill the animals at home. The duck and chicken's head popped out from the plastic bag. 
There are ducks and chickens under cages but we were told that it's questionable how the birds were raised. They could have been on a farm before getting dropped off at a vendor's shop for sale.  
---
Afternoon
After lunch, we continued the trek to Ta Van Village for another 2 hours. The village area was quiet as many of the typical souvenir and gift shops were closed.
We passed by rice terraces with water buffaloes and waterfowl grazing in the fields and a few young boys catching eels/snakes living in the mud. 
We reached our homestay at Indigo Snail Homestay after 2:30pm and were welcomed with hot tea.
It's a cozy homestay owned by Hmong locals. It has with a small garden, rice field, and overlooking the rice terraces.
After saying our goodbyes to Zal, we spent the rest of the afternoon relaxing. Our room was on the second level of the main house and we were the only guests for the day.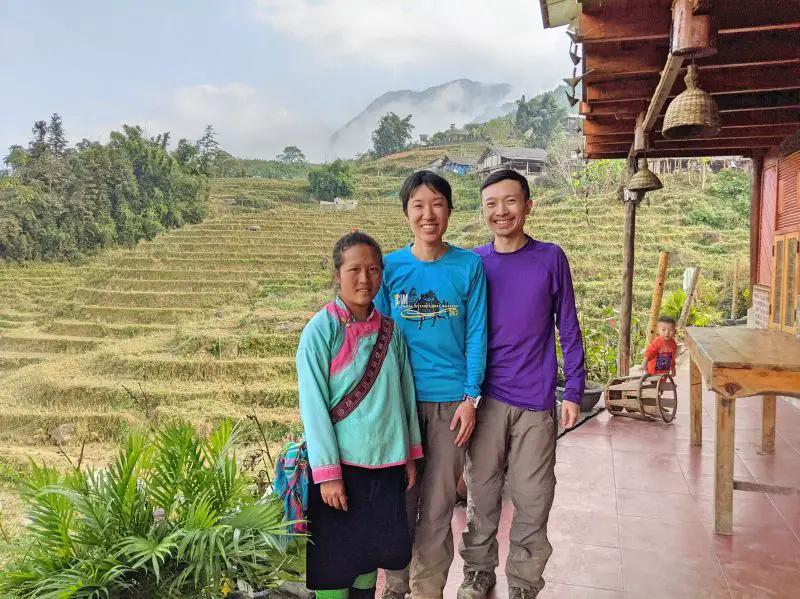 Dinner
In the evening, we had dinner with the homestay owner's family members.
They made a delicious meal with duck egg and tomatoes, pork with veggies, and morning glory with garlic. There was plenty of rice too. 
The rest of the night was spent at our own leisure.
---
Sapa Trekking: Day 2 – Ta Van to Giang Ta Chai, Supa, and Sapa Town
WooHoo! It's our second day of trekking in Sapa.
Morning
We woke up early as the roosters and dogs barked at odd hours in the morning. It felt like we were sleeping outdoors or camping.  
We met Zaazaa, the main contact and owner of her trekking company, and her adorable baby boy.
She gave us a warm welcome, shared with us the itinerary for the day as we passed through the Giang Ta Chai to Supa areas, and left the room so we could enjoy breakfast. 
With the yummy dinner the previous night, we knew breakfast would be just as amazing.
The breakfast consisted of tea or coffee, star-shaped banana cakes, a stack of crepes, and bananas. It was a banana festival!
The banana cakes were oh so good as the batter was crispy and inside had chunks of banana. The crepes were yummy with a drizzle of honey.
Luckily we had a long trek ahead of us since we ate a lot of carbohydrates.
As we exited the homestay, we saw a machine making homemade rice wine. It's a popular wine that the Hmong people make and has 30% alcohol.
We didn't try any, yet it was neat to see the wine getting made. The leftover rice husks are used to keep the fire going.  
Zaazaa asked if we prefer the shorter route or the longer route.
The longer route would have better views higher up. Although it was another foggy day, we're glad we proceeded with the longer route.
The beginning of the route had more hills which was challenging for our tired legs and ankles.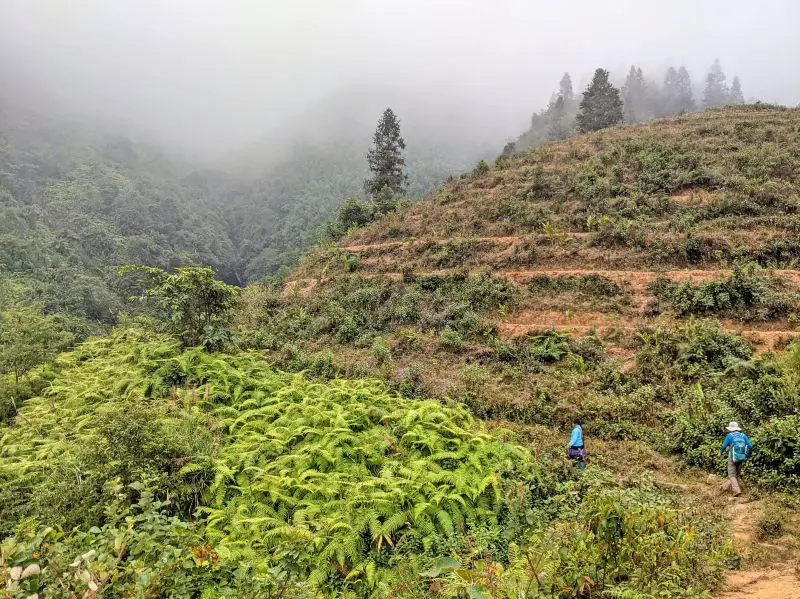 While we saw more rice terraces, the highlight was seeing a hidden waterfall about two hours into the trek.
The waterfall doesn't have a name and is only accessible by trekking.
It has small cascades, yet the area was peaceful and clean. There wasn't a speck of trash left behind from other visitors.
We spent about 15 minutes taking photos and enjoying the falls. 
---
---
It was time to descend the mountain and the fog cleared up.
Similar to yesterday, the trail had overgrown plants. Sometimes, we had to walk along the water stream.
Be careful with the hidden holes in the ground!
Zaazaa explained that the rice terraces appeared in Sapa within the past 30 years which coincides with the tourism boom in the area.
Since rice is a staple for meals, the majority of the locals have their personal rice fields. Some do export but many of the rice is for personal consumption.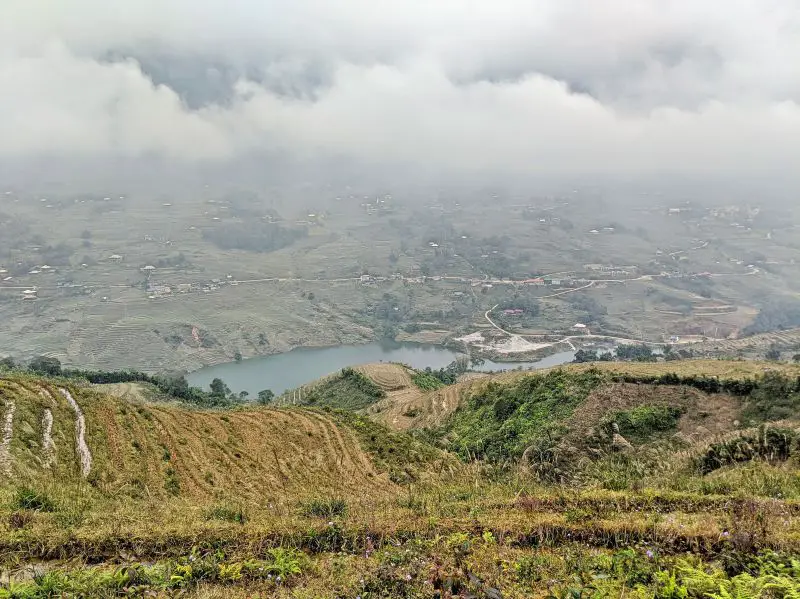 We saw another waterfall along the way through the Giang Ta Chai area yet the falls were smaller. Since the waterfall is easier to access, we saw more trash left behind such as plastic bottles and used shampoo packets.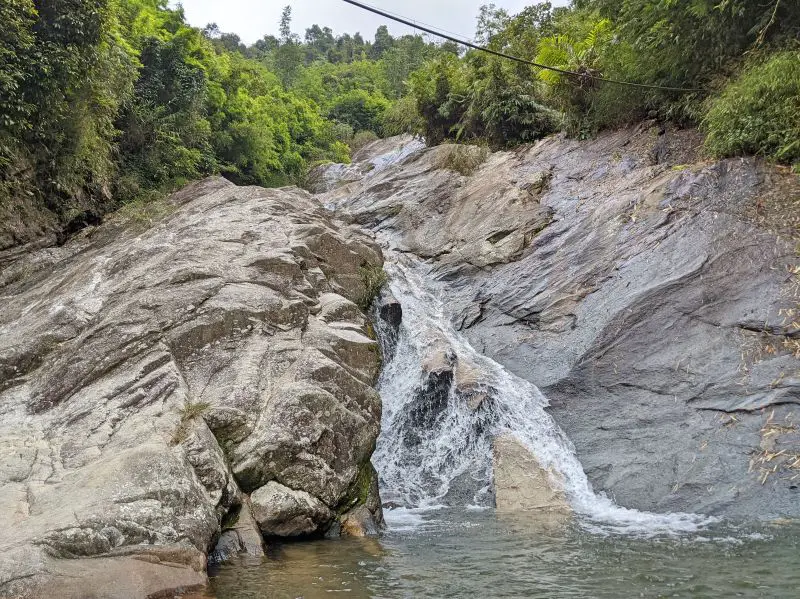 Zaazaa mentioned that the Red Dao ethnic people live in this area. Locals wear a red hat/turban with black clothing. Many women have their heads shaved since it's considered beautiful in the culture. 
After passing through a bridge and a small village, we eventually reached the main road, Muong Hoa.
It was such a relief to be on a flat, paved road. We saw women selling fresh vegetables and fruits. They also approached us with handicraft items but we politely declined. 
---
Lunch
For lunch, we stopped by a local pho shop. Justin and Zaazaa had beef pho.
For a semi-vegetarian version, the chef made one bowl of noodles with rolled egg, similar to the Japanese version of tamagoyaki, and used the same beef broth.
A vegetarian version would be having the noodles dry and without the soup. 
---
Afternoon
Zaazaa asked if we wanted to walk another 7 kilometers (4.3 miles) to a taxi pick-up point. Otherwise, the taxi could pick us up at the lunch spot.
We decided to end the 2 days trek at the lunch spot since we would share the road with cars and motorbikes. It was a wise decision since the road also had construction. 
After a 10-15 minute drive, we arrived at a different hotel in Sapa, Sapa Relax Hotel & Spa.
We said our goodbyes to Zaazaa and thanked her for her efforts in planning a successful trip and trek.
What a memorable way to end our Sapa trip!
---
Final Thoughts
Would we trek in Sapa again? Yes, we would!
We had an incredible two days trekking through Sapa and can see why it's one of the best things to do in Vietnam.
Since there are other ethnic villages to explore, we would return to Sapa in a heartbeat.
Plus, we would visit during the rice harvest season so we can see the vivid golden colors in the mountains.
**As an update, we returned to Sapa in May 2023. We did another hiking trip with Zaazaa and had a fantastic time. We also did a side trip to Bac Ha Market, the largest traditional market in the Lao Cai Province.
---
For other hikes/treks in Vietnam to try, check out the following: 
---
Save this post to your Vietnam Pinterest board.