One of the unique places to visit in Sapa is O Quy Ho's Heaven Gate (Khu Du Lịch Cổng Trời Ô Quy Hồ in Vietnamese). 
It's a tourist attraction located on the border of North Vietnam's Lao Cai and Lao Chau Province and perched along the O Quy Ho mountain pass. 
This place is at the peak height of 2035 meters (6,675 feet) and has swoonworthy views of the windy roads and green mountains of Hoang Lien National Park. 
If you like to take photos with breathtaking views, then this is the place for you! 
In this post, we're sharing what to know about visiting Heaven's Gate at O Quy Ho Pass from admission cost, how to get there, and more. This place can easily be visited from the main Sapa city so it's a fantastic day trip option on your Sapa trip. 
*Disclaimer: This post contains affiliate links. If you click on them and make a purchase, we receive a small commission. There is no additional cost to you. Appreciate the support.
---
Before arriving in Sapa, buy a SIM Card at Hanoi Airport (Noi Ba International Airport) or set up a Vietnam eSIM before your arrival. You'll need to have data when you travel throughout Vietnam.
For those in the U.S. looking for an international phone plan, consider Google Fi (formerly Google Project Fi). We love this phone plan and have used it since 2016. We get access to data and text in 200+ countries, and it works in Vietnam. There are no additional costs to the data plan.  Learn more and try it for free here. 
---
How to Get to O Quy Ho Heaven's Gate from Sapa City Center
O Quy Ho Heaven's Gate is 15 kilometers (9.3 miles) from Sapa and takes 30 minutes by car. Click here to see the location on Google Maps. 
Since this place is located on the peak of a windy road of National Road 4D (QL4D), transportation is necessary. 
---
Option 1: Hire a taxi driver or private driver 
Taking a taxi is easy to do from the main town of Sapa. Many taxis wait around Sapa Station, so you can hail for one easily. Inquire with the taxi driver if he/she will charge a flat fee or by meter. 
My mom and I hired a taxi and paid 500,000 VND ($21 USD) for a round-trip ride. We went to three locations – Silver Waterfall, Love Waterfall, and Heaven's Gate. Our short trip took only a few hours, so we were happy with the price of the taxi. 
A private driver is also available if you're taking a tour. 
Note: The drivers are not guides and will not join you at the attractions. They'll stay near the car in the parking lot. 
---
Option 2: Drive a motorbike/scooter 
If you know how to drive a motorbike, consider driving one to various Sapa attractions. You'll have more flexibility with your schedule. Book a motorbike rental ahead of time here. 
---
Heaven's Gate Parking Lot
There is a small parking lot in front of the entrance/ticket office. 
---
Best Time to Visit Heaven's Gate
It's recommended to visit this place on a weekday so there will be fewer crowds. It's also best to visit on a clear day to have better views of the mountainous area.  
---
Sapa Heaven Gate Entrance Fee
Adults (1.4 meters / 4 feet 7 inches and taller): 120,000 VND ($5.00 USD)
Children (Under 1.4 meters): 60,000 VND ($2.50)
Children (Under 1 meter): Free 
Tour Guide: Free (If provide tour guide badge)
Payment is done at the ticket counter. Cash only.
---
Do You Need a Tour Guide for Heaven's Gate?
No, a tour guide is not required to visit Heaven's Gate. This tourist site has signage on where to go and it's doable to explore on your own. 
If you visit this place with a tour guide, he/she can enter this place for free if they show the tour guide ID card. 
---
Things to Know Before Visiting Heaven's Gate in Sapa
Expect to spend at least 30 minutes up to 1 hour here. If you plan to eat at the on-site restaurant, you'll take more time exploring. This tourist attraction isn't large, yet you'll walk around and take plenty of photos here. 
Since you're on top of the mountain, it's incredibly windy. Put away hats, umbrellas, or anything that could fly away easily. 
The attractions require walking up and down stairs and walking paths. For those with mobility issues, it's recommended that they skip this place. 
There aren't many explanations of the attractions here, so hopefully that gets improved in the future. Otherwise, just come and enjoy the beautiful views. 
This place has toilets. Head to the restaurant or pagoda area to use them. 
What to Expect at O Quy Ho Heaven Gate (Khu Du Lịch Cổng Trời Ô Quy Hồ)
Plenty of Instagram-worthy photo spots
This place is perfect for those who love taking beautiful Instagram photos. 
From the white staircase leading to the blue skies and clouds to a larger-than-life pink heart sculpture and "I Love You" signs to seating areas with hearts and circles, you'll have fun posing and snapping photos at various spots.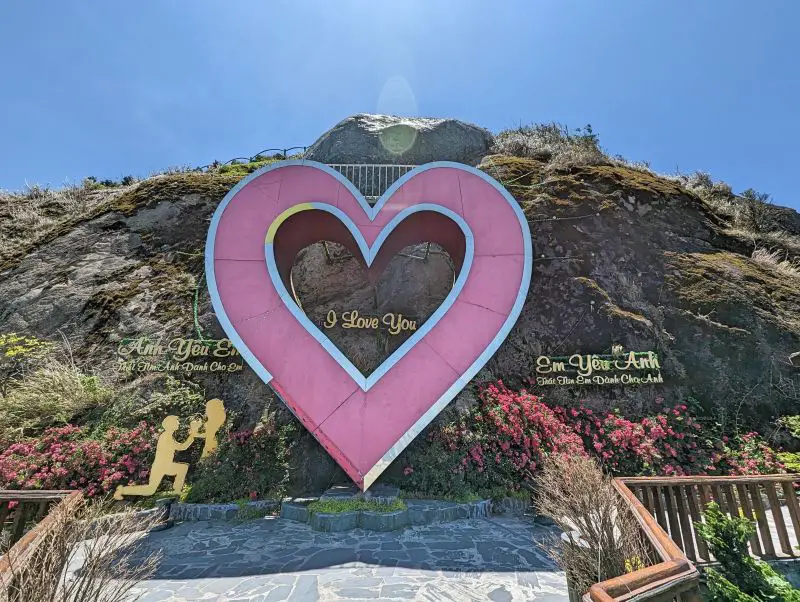 Note: When you explore along the cliffside, you'll see a white hand sculpture on the lower level and near the entrance. Unfortunately, this sculpture is not part of this Heaven's Gate tourist attraction and is located in another tourist area. 
---
Awesome views of the mountainside 
One of the unique things about this place is that there are epic views of O Quy Ho Pass surrounded by green mountains of Hoang Lien National Park and a valley area. Head to the edge of the cliffside and just awe at the beauty. 
Hopefully, this area doesn't turn too commercialized. When we took photos from the heart and circle seating area, we noticed construction in the mountain areas. We're not sure what will appear in that location. 
---
Sapa's Heaven Gate 
If you've been to Bali's Lempuyang Temple, you'll remember the famous first gate overlooking Mount Agung. 
Well, Sapa has its own replica of the Gate of Heaven. This Balinese-inspired gate is located at 2035 meters (6,675 feet) high, which is the highest point of this attraction.  
---
Nearby the Gates of Heaven, there is a tortoise statue with a bronze triangle signage on its back. 
According to the sign, visitors are "…Standing on the back of the sacred O Quy Ho's legend. Heartily praying for health, happiness, success, and longevity which will be fulfilled." Let's hope that all of our wishes and good health continue in our lives. 
---
There is also another grey triangle landmark nearby Gate of Heaven that says, "Cổng trời Ô Quy Hồ – 2035 meters." It's another photo spot to visit.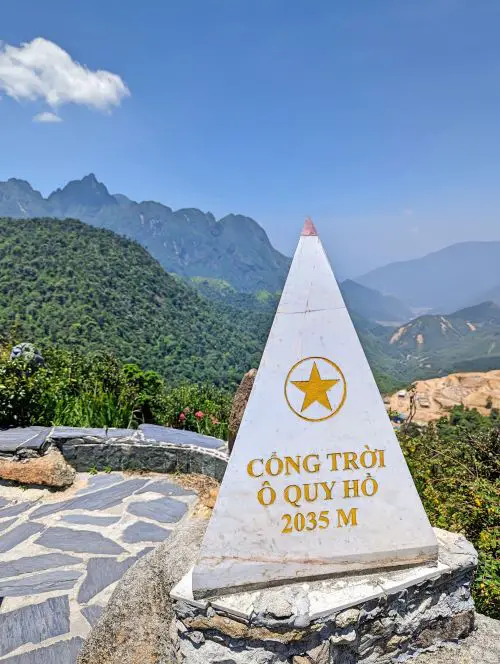 Note: Vietnam loves to use these triangle landmarks for the highest peaks in the area. There is also one on Fansipan Mountain at 3,143 meters. You can reach Fansipan either by trekking for a day or by cable car and funicular. 
---
Buddhist Pagoda
Whenever you're at the top of a mountain in Vietnam, there is always a pagoda. Here, there is a small pagoda with a man-made lake and bridge. Guanyin Statue (Lady Buddha) looks into the mountain.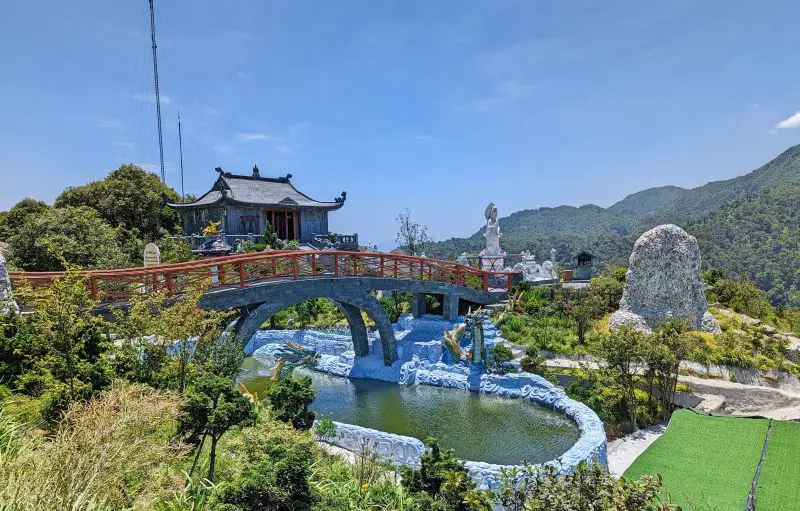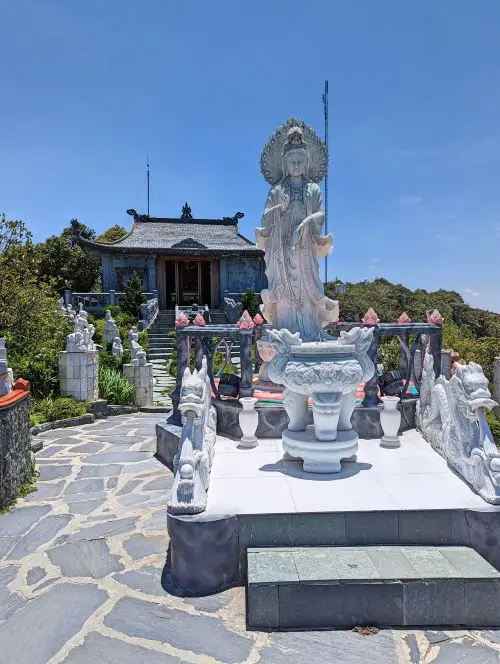 ---
On the lower level of the pagoda near the bathrooms, there are colorful Buddhist statues surrounding a walking path. It looks like a Chinese mythology with deities and peaches involved. Unfortunately, there isn't any signage to fully understand what it is.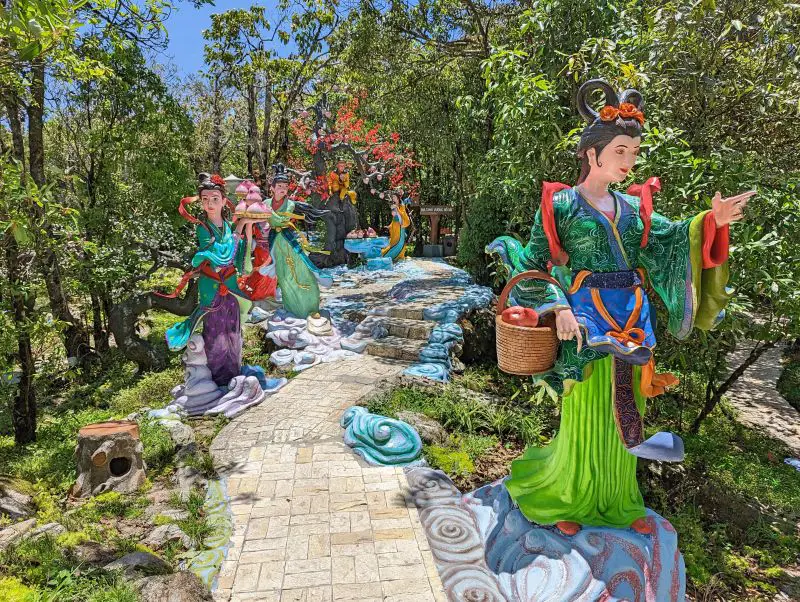 ---
The 1000 Year Old Oak Tree
When heading down from the pagoda to the main entrance, you'll pass by a 1000 year old oak tree. The oak tree can be missed, yet there are statues of deer and goats surrounding the tree and a sign.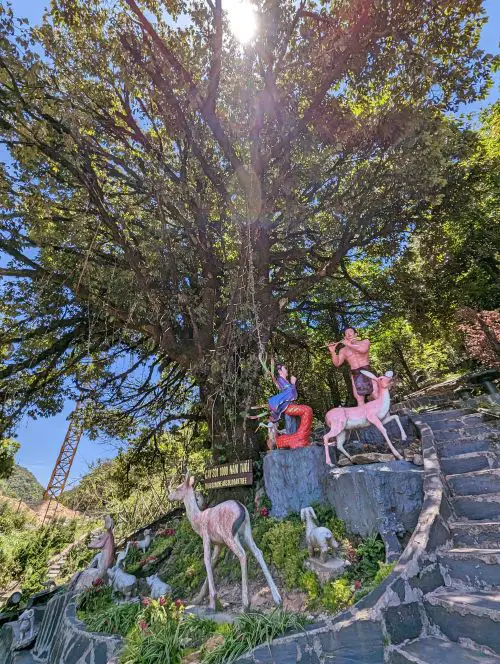 ---
Spa Facilities
There is a hotel, Heaven's Gate Hotel, connected to this tourist spot. 
If you want to spend more time here, consider checking out the spa facilities. There are herbal baths, saunas, and massages. You can ask the staff if you're interested in these options. 
If you want to stay here overnight, click here to book a room on Booking.com. 
Or, book a room on Agoda here. 
---
Where to Eat in Sapa Heaven's Gate Area
The tourist site has an on-site restaurant, O Quy Ho Restaurant and Coffee (Nhà Hàng Ô Quy Hồ). The restaurant has Western and Vietnamese food. 
It also touts its incredible views from 2,035 meters (6,637 feet) above sea level. 
We didn't get a chance to try this place as we were short on time and needed to return to Sapa to catch our bus. 
Opening Hours: 9:00am to 10:00pm 
---
Final Thoughts
If you're looking for a beautiful place to check out when you're in Sapa, add a visit to Heaven Gate at O Quy Ho Pass. 
We recommend visiting this place if you have 3+ days in Sapa and after you've gone on a trek through Sapa's rice fields and ethnic minority villages. You'll want to relax after your hike, so this is a great option to just wander around and explore. 
After this place, you can consider visiting the Cloud Dragon Glass Bridge Tourist Area (Khu Du Lịch Cầu Kính Rồng Mây). It's only a few minutes drive from here. Unfortunately, we didn't have time, we'll visit on our next trip to Sapa. 
Read our other Sapa posts: