After living in Ho Chi Minh City, Vietnam for the past two years, one thing that we miss is a nearby hiking trail. Ho Chi Minh City is pancake-flat so you need to travel over two hours out of the city to get your nature and mountain fix.
If you're itching to go on a hike, head to Chua Chan Mountain (Núi Chứa Chan in Vietnamese). Located in Dong Nai province, it's the perfect day trip from Ho Chi Minh City to get some fresh air, see greenery, and go hiking! 
I had the opportunity to go on this Chua Chan Mountain hike with 14 ladies from Women Who Hike Saigon in November 2019 and had a fabulous time! (Justin stayed home for this event.) What is awesome about this hike is that it isn't difficult so you don't need a guide. Plus, the trail isn't crowded as it's still a hidden gem of a place to explore. 
In this post, we're sharing how you can hike Chua Chan Mountain on your own and what you need to know to prepare for this hike. 
*Disclaimer: We have affiliate links in this post. As an Amazon Associate, we earn from qualifying purchases. If you click on the links and make a purchase, we receive a small commission. There is no cost to you. Appreciate the support.
---
Chua Chan Mountain Hiking Overview
The Chua Chan Mountain hiking trail is a good beginner trail due to its combination of a paved staircase and a dirt path. The dirt path isn't marked but you need to follow the worn-down grass areas. 
Challenging level:

Easy-Moderate as the first half of the trail is shaded and has concrete stairs since it reaches to a pagoda. If you're physically active, you'll have no problem with the trail.

Distance:

7.5 kilometers (4.6 miles) for an out-and-back trip (according to the GPS watch)

Summit height:

837 meters high (2,746 feet) 

Time to complete:

2.5 hours to complete the round trip hike with breaks

Helpful tips: There is a cable car that goes from the bottom to halfway up the mountain. If your legs are tired, you can use this option. An additional fee applies for the cable car ride. Two people in our group brought their dogs so they are welcome on the trail. 
---
How to Get to Chua Chan Mountain From Ho Chi Minh City
By Car or Motorbike
Chua Chan Mountain is 91 kilometers (56 miles) from District 1 of Ho Chi Minh City. You need to allow over 2.5 hours to get to the starting location if you're taking a car. It'll be longer if taking a motorbike. We had a large group of 15 women so it was easier to hire a driver and a van for the day. 
If you decide to drive there on your own, use this pin in Google Maps as your ending location, "Khu Du Lịch Cáp Treo Núi Chứa Chan, Xuân Trường, Xuân Lộc, Đồng Nai, Vietnam." The address leads to the cable car entrance, but you don't need to take it. 
By Bus
You can go to Chua Chan via bus but it'll take some time to get there. Arielle, the organizer of the hike, shared this information on how to get to Chua Chan via bus as she experienced this way herself:
Take the bus from District 5 to Long Khanh bus station. Make a reservation here. Once you arrive in Long Khanh, take the local bus to go to Chua Chan and it will drop you off on the road. You can walk up 1.5 miles to the base or hire a motorbike taxi. The bus back to Ho Chi Minh City departs every 30 minutes and ends at 6:00pm. 
Tip: Download the offline Google Maps of the Chan Chua area. Our group had weak signals for our data as we got closer to the mountain. 
---
When To Do the Chua Chan Mountain Hike
South Vietnam has one of the best weather since it's a high of 32℃ (90℉) mid-day every day. Therefore, you can visit this mountain at any time of the year! 
If you're concerned about the rainy season (May-October), you shouldn't worry. The rain won't last for the entire day. Maybe 30 minutes to an hour. Even if it does rain, it'll make your hike cooler. 
As with the timing of when to do the hike, try to hike as early as possible. Start around 8:00am or earlier so it's not as hot by the time you reach the summit. We started at 10:30am and we were a sweaty mess!
---
What to Wear For Your Chua Chan Mountain Hike
Technical t-shirt

– You'll need a technical shirt to absorb your sweat. Do not wear cotton shirts.

Comfortable hiking pants

– I wore hiking pants but you can wear tights or anything comfortable.

Hiking boots or shoes with traction

– Our group had a mix of those wearing hiking boots and Nike Free shoes. I would recommend hiking boots since there are some steep parts with loose gravel. Here is my recommendation for the

best women hiking boots

.

Sunscreen

– You'll need

sunscreen

once you start the trail part. 
---
What to Bring For your Chua Chan Mountain Hike
Water

– Save the planet and use a

reusable water bottle

.

Snacks – My favorite snacks are cashew and fruits. 
Hat

– Half of the trail gets sunny so it's recommended to have coverage with

this hat

.

Sunglasses

– It's always good to have eye protection with these

sunglasses

.

Light jacket or windbreaker

– The summit is windy so wear a light jacket if you plan to stay at the summit for a long time. I used the Patagonia Houdini and it was enough for the wind. 

Rain gear or umbrella

– Depending on the day that you visit, there is a chance of rain. We encountered rain on the way down from the summit. Buy this

portable umbrella

and/or

rain jacket (women) or men

for your next trip. 

Insect repellent

– The mosquitoes loved my arms so it's recommended that you

wear repellent

. I also love using

Tiger Balm

as a repellent. 

Cash –

You can purchase snacks and drinks along your way up to the summit. Many stalls sell fried banana chips. 
---
Admission Cost to Chua Chan Mountain
There is a small fee to enter Chua Chan. The cost is the following:
Adults 14,000 VND ($.60 USD) and Children (ages 6-15) 6,000 VND ($.26 USD) via cash at the main entrance.
---
What to Expect During Your Chua Chan Mountain Hike
You finally made it to the base of the Chua Chan Mountain after the long drive. After a quick stretch, it's time to start the hike (or take the cable car to bypass the first part of the hike). However, we know you want to have the full hiking experience!
The start of the hike is a set of concrete stairs. The staircase isn't difficult yet there are a lot of stairs to climb! It's a good 20-30 minutes of stair climbing depending on your speed. Luckily the area is covered so you don't need to worry about the blazing sun and heat if you're starting later in the day. (We started at 10:30am and it was the typical hot and humid weather). 
You'll pass by small shops selling drinks, snacks (try the fried banana chips), and souvenirs (jewelry is a popular item). Many locals restaurants sell a variety of local Vietnamese foods such as noodle soup, hot pot, and sizzling pancake (bánh xèo). Many of them have hammocks if you need additional rest breaks. We didn't stop by any but they did look tempting for the way back down.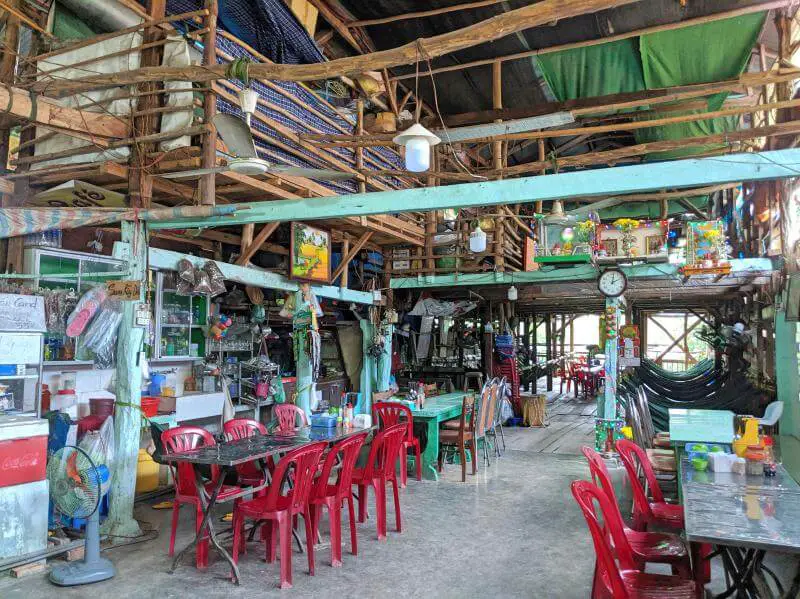 Tip: As mentioned earlier, we had two people who brought their dogs on the hiking trail. If you decide to bring your dog, make sure that they're on a leash. The dogs living along the mountain are territorial and will bark a lot when they see or smell the "outsider" dogs so stay cognizant of the other dogs. 
You've reached halfway up the trail once you've hit the Buu Quang Pagoda (Chùa Bửu Quang (Gia Lào) in Vietnamese). Many people gather at the pagoda for offerings and prayers. Plus, this is where the cable car ends so it's really easy for those who only want to visit the pagoda. Since we went on a Saturday morning, it wasn't too crowded with visitors. There is an amazing view of the mountains and the forest area from the overlook area of the pagoda.
Tip: If you need to use the restroom, use it here! Otherwise, there aren't any other facilities along the trail. 
After you pass the pagoda and the cable car area, the actual hiking route begins. The dirt path isn't marked but you can see the worn-down trail. Some of the areas have stone steps. 
If you didn't stop at the pagoda to take a quick break, there is a rest area only a few minutes after passing by the cable car. You can't miss the spot as astroturf is on the ground. Plus, you get another view of the area. 
It'll take another 30 minutes to go up the mountain. We're so close to the top of the mountain! This part was a bit more challenging as it was steeper. Hiking boots would be handy in this part as there were loose gravel and dirt. Otherwise, the trail was relatively flat.
You made it to the top after hiking over 1.5 hours! It's a stunning 360 degrees view of the luscious green trees and plants and small towns from afar. We saw about a handful of other hikers up on the summit. 
We enjoyed a quick rest and ate our snacks on the large rocks for 15 minutes. It felt amazing to soak in the peace, quietness, and beauty of Chua Chan Mountain. Also, it was so refreshing to smell clean air since Ho Chi Minh City has polluted days. 
Reminder: Remember to take your trash back with you so we can preserve its beauty for future visitors. 
If you're looking for another photo spot on Chua Chan, climb up the huge boulder that has the triangle-shaped landmark of the summit height of 837 meters (2,746 feet). You deserve to showcase your accomplishments! Be careful with climbing the boulder as it's a bit awkward to climb.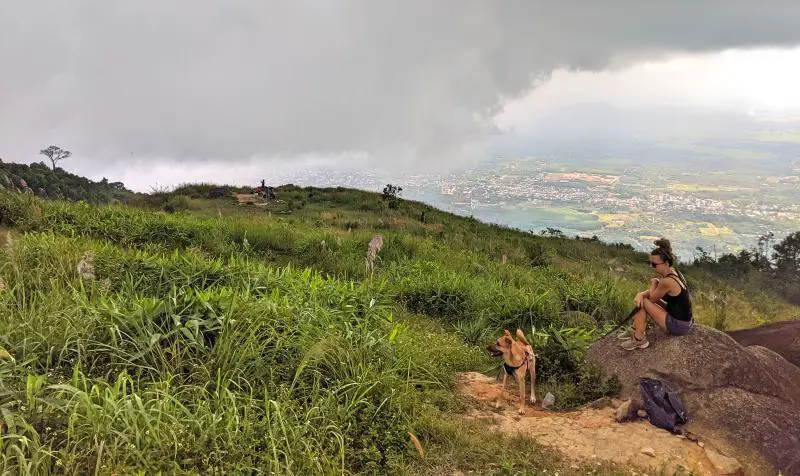 Unfortunately, our rest was cut short as the dark clouds rolled in and it started to rain. We took the exact route back down and were a lot faster versus climbing up. By the time we passed the pagoda area, many of the shops were on their siesta or closed for the day. 
Once everyone reached the bottom of the mountain, we gave each kudos and took the long journey back to Ho Chi Minh City. 
---
Final Thoughts
We hope you're inspired to climb Chua Chan Mountain! It's a great option if you're looking to explore nature outside of Ho Chi Minh City and have extra days in your Ho Chi Minh City itinerary. We wish the trail was closer to Ho Chi Minh City since it does take over 2 hours to get there by car. Yet it was a fabulous experience meeting and hiking with a fun group of ladies. 
If you're looking for more nature areas in Vietnam, check out our posts below:
Interested in hiking Chua Chan Mountain? What other hiking trails have you done in Vietnam? Let us know in the comments below.