If you have a break from work or school and want to visit Asia during the wintertime (December to February), then where should you go? 
Whether you're looking for some cold, snowy activities in the mountains or want to escape the winter blues and spend your vacation in non-stop hot weather and sunshine on a beach, it can be hard to decide. 
In this post, we're sharing the 29 awesome places to visit in Asia in the winter season. With the help of my travel blogging friends, we're covering popular to underrated destinations from Central, South, Southeast, and Eastern Asia countries and recommended month(s) to visit. Plus, each of the locations has fun activities and special festivals (Christmas, Lunar New Year, and more) to do and see.
Since Asia's weather in winter can vary depending on location, we're splitting this post into two major sections – 1) warm and hot destinations, and 2) cool and cold destinations. (Any place with an average temperature of 70℉ (21℃) and above is considered warm.) As with any vacation planning, please pack your clothes accordingly! 
Click here to jump to a certain part of this post:
Warm and Hot Asia Destinations in Winter

Vietnam, Singapore, Indonesia, Thailand, Cambodia, Laos, Malaysia, Philippines, Sri Lanka, India, Iran, and Pakistan

Cool and Cold Asia Destinations in Winter

Vietnam, Japan, South Korea, China, Taiwan, Hong Kong, India, Jordan, and Kazakhstan
Now, let's check out where go!
Read our other blog posts on where to visit Asia in the different seasons:
*Disclaimer: This post contains affiliate links. If you click on them and make a purchase, we receive a small commission. There is no additional cost to you. Appreciate the support.
---
Map of the Places to Visit in Asia During Wintertime
---
Warm and Hot Asia Destinations in Winter
1. Ho Chi Minh City, Vietnam
By Jackie and Justin, Life Of Doing
Recommended Months to Visit: Anytime but late January to February is recommended. 
Ho Chi Minh City (Saigon) is one of the best places to visit in Vietnam. It's the largest city in the country with over 9 million people. The city has an energetic and sometimes frenetic vibe so you'll experience and see something new every day. 
Ho Chi Minh City is a fantastic spot for a warm getaway during winter since the weather is consistent.
South Vietnam's weather from December to February is considered the dry season with hot and humid temperatures of an average of 85℉ (29℃). Therefore, you'll need to pack your swimwear, shorts, and tons of sunscreen with the constant sunshine. 
One of the coolest things to do in Ho Chi Minh is to visit around Tet (Tết) holiday. Everyone celebrates the upcoming Lunar New Year that occurs from late January to February depending on the lunar calendar. 
You'll see fun and bright red and gold decorations around the city and in shopping malls. Also, walk along Nguyen Hue Walking Street to see the gorgeous flower decorations based on the Vietnamese zodiac animal and explore Chinatown (District 5) to see Lunar New Year decorations for sale. 
The city is much quieter (almost like a ghost town) once the Lunar New Year holiday starts since many people return to their hometown.
While you can stay in the city and enjoy the peacefulness, consider hiking nearby, visiting the beaches at Vung Tau, flying to Phu Quoc Island for a few days, or lounging around and hanging out at a local pool. 
---
2. Singapore
By Jackie and Justin, Life Of Doing
Recommended Month to Visit: Anytime from December to February
Traveling to Singapore to escape the cold weather is a great excuse during the wintertime.
You'll experience nonstop hot and humid weather and some potential rain showers throughout the year. Don't let the showers deter your trip as there are plenty of indoor places to "hide" temporarily from the rain. 
Singapore has everything that you can ask for – delicious and cheap street foods at the hawker centers (food stalls), gorgeous greeneries and walking paths, easy and convenient transportation, and tons of shopping available. 
The best place to spend a few hours or over a short layover is at the Gardens by the Bay.
You can wander through the park to see the greenery and gardens. If you have the budget, visit the OCBC Skyway, Cloud Forest, and Flower Dome. Return to the evening to see the free light and music show at the Supertrees. 
Singapore has a large Chinese population, therefore, Chinese New Year is a festive time to visit. Chinatown is always festive with red lanterns, yet they're extra special around the New Year holidays.
You'll see plenty of red and gold decorations for sale and placed around shops for the celebration. Gardens by the Bay will have special flower decorations at the Flower Dome. 
---
3. Bali, Indonesia
By Jackie and Justin, Life Of Doing
Recommended Months to Visit: Any time from December to February
Bali is the swoonworthy destination to visit at any time of the year due to the hot and humid weather. Visiting from December to February is a good time to visit if you want to do any outdoor activities or simply lounge around on the beaches. 
As a heads up, it does rain in Bali as December through February is considered the rainy season. Therefore, prepare for rain at any time of the day and have a backup plan of any indoor locations to visit.
The good news is that it doesn't rain all day as it occurs for 1-2 hours and then stops for the rest of the day. 
During your time in Bali, you'll want to do as many bucket list activities as you can. The top things to do here are visiting numerous temples, spending time outdoors hiking Mount Batur, water rafting, diving, or canyoning, wandering through luscious rice fields and waterfalls, and so much more. 
You'll need a minimum of 4 days in Bali, but 2 full weeks will be even better to explore these attractions. 
If you have extra time on your Bali trip, check out the neighboring Nusa Islands to visit Nusa Penida, Lembongan, and Ceningan. These islands are smaller than Bali and just as gorgeous with the landscape views. 
---
4. Flores, Indonesia
By Nicole, Go Far Grow Close
Recommended Months to Visit: Anytime from December to February
Flores is an island in Indonesia with a staggering array of outdoor activities to do in winter.
If you are interested in ethical and authentic animal encounters, then you can explore Komodo National Park, a UNESCO World Heritage Site, found just off the island of Flores. The park includes three large islands called Komodo Island, Padar Island, and Rinca Island, and 26 smaller ones. Except for park rangers, the islands are uninhabited.
In Komodo National Park, you can hike surrounded by Komodo dragons or watch thousands of flying foxes, the largest bat in the world, migrate each night.
People from all over the world come to Komodo National Park to dive or snorkel, and if you are lucky, you will be able to swim with giant manta rays. 
If you prefer hiking and exploring jungles, then you can go to Padar Island. Hike to the top of a small mountain where you will be able to see three different colored beaches – pink, black and white. 
You can also go to the other side of Flores to a little village called Moni, and hike to the top of Kelimutu, a dormant volcano. At the top, you're rewarded with views of three different colored lakes, an extraordinary sight.
When not hiking up Kelimutu, you can visit small villages, meet chiefs, and learn about their traditions and long history of textile creation. Check out this tour of Kelimutu and other areas here. 
---
---
5. Chiang Mai, Thailand
By Jackie and Justin, Life Of Doing
Recommended Month to Visit: January to February
Chiang Mai is a must-visit city on any Thailand itinerary.
While it's a touristy city known for Buddhist temples (there are over 110 temples here!), delicious street food, and slightly painful Thai massages, the slower vibe compared to Bangkok is what makes a visit enjoyable.
Take the time to explore the city's attractions, such as the Night Market, and even consider walking along the city's moat. Water is still flowing around the moat today. 
To escape the main city, consider visiting a waterfall, exploring Chiang Rai's White Temple (Wat Rong Khun), or spending the day at Doi Inthanon National Park for some hiking and more temple hopping.
It's recommended to stay overnight close to Doi Inthanon National Park since it's a few hours away from the main Chiang Mai city center. (We stayed at this homestay and loved sleeping in the bungalow.)
In February, there is a Chiang Mai Flower Festival. It's a three-day festival with a flower parade and lovely flower decorations on display. Depending on the Lunar Calendar, Chiang Mai also celebrates Chinese New Year. 
As with the weather, it's warm and can be hot. It's an average high of 85-90℉ (29-32°C) degrees while the evenings are cooler at 60℉ (15°C).
---
6. Koh Samui, Thailand
By Missy, Travels with Missy 
Recommended Month to Visit: January 
Koh Samui is the kind of place where it's easy to spend the winter months escaping the bitter cold back home.
December – February is some of the busiest months in Thailand with many Australians and Southern Hemisphere populations taking full advantage of the excellent weather. These winter months in Thailand are exceptional. 
January is the best time to visit. The crowds visiting for Christmas and New Year's have retreated, and you're left with relative peace.
The rainy months have passed, and the dead heat that leads up to April hasn't arrived just yet. Instead, the weather is perfect and balmy, with endless blue skies and sunshine, it's no reason why Koh Samui is the ideal place to escape to during the colder months in the Northern hemisphere. 
Koh Samui is the largest of the 3 islands and has an airport with direct flights from Bangkok, Singapore, and other Asian cities. The island is also accessible by ferry from mainland Thailand. 
Koh Samui offers something for every traveler, from luxurious spas to snorkeling and scuba diving trips. Explore Fishermans Wharf on a Friday evening and experience excellent street food in one of the prettiest locations on the island. Or perhaps you want to go ziplining through the jungle? 
Koh Samui can be as relaxing as you wish it to be. It also has some of the prettiest beaches in Thailand too. Take a day trip to Koh Phangan for a Full-Moon Party or Koh Tao to master scuba diving.
---
7. Sihanoukville, Cambodia
By Linda from Muy Linda Travels
Recommended Months to Visit: January
Sihanoukville, also known as Kampong Som, is a port city in Cambodia on the Gulf of Thailand. Famous for its palmed fringed beaches and lovely sunsets, Sihanoukville makes a great addition to a Cambodia itinerary.
With tropical islands, white sandy beaches, and hot weather, Sihanoukville is a great choice for a winter getaway.
In recent years, Sihanoukville has become touristy and overdeveloped.
But just outside the city, there are many places you can visit for a more peaceful experience. Head to Otres Beach to relax on the sand and enjoy the sun or take a boat to a tropical island paradise.
A day trip to the islands often includes snorkeling, and you can stay for a few days on Bamboo Island for the ultimate serenity experience.
West of Sihanoukville is Koh Rong, a group of jungle-covered islands just off the coast of Cambodia. Koh Rong is surrounded by pristine beaches, clear water, and coral reefs. It's an ideal place for snorkeling and diving.
In Sihanoukville, water activities like swimming, kite surfing, kayaking, and windsurfing are popular.
And you can visit the Wat Leu Pagoda, the colorful local markets, take a Cambodian cooking class, or enjoy a traditional massage. Sihanoukville also has 16 casinos to choose from if you want to try your luck.  
---
8. Siem Reap, Cambodia
By Jackie and Justin, Life Of Doing 
Recommended Months to Visit: Anytime from December to February
Many visitors head to Siem Reap in the northwest part of Cambodia to see the famous Angkor Wat and the Angkor Archaeological Park, a UNESCO World Heritage Site. It's a bucket list place to visit to see the preserved temples and the unique architecture for each of them. 
You'll need at least three days in Siem Reap to explore the temples and won't get "temple fatigue."
The best temples to view are – Angkor Wat, Angkor Thom (to see the various faces on the temples), Ta Prohm (made famous from the Lara Craft: Tomb Raider movie), and Banteay Srey (a small temple built by women.)
During a visit around Christmas time, there isn't any particular Christmas holiday or event. There are decorations in the lobby area or outside of the hotels and guesthouses. Otherwise, it's just like another day in Cambodia. 
Prepare yourself for the weather in Siem Reap as it's HOT (average 88℉/31°C high). The sun can be unbearable from mid-morning to afternoon, so you may want to take a break from visiting temples and return in the late afternoon. 
Remember to stay hydrated and drink tons of water or fresh coconuts when you're visiting. 
---
---
9. Luang Prabang, Laos
By Jackie and Justin, Life Of Doing
Recommended Month to Visit: December
Laos is a landlocked country in Southeast Asia surrounded by Myanmar, China, Vietnam, Cambodia, and Thailand. While the country is not as popular compared to others, it's a great spot to visit in Asia in winter.
We recommend that you visit Luang Prabang, located in the northern part of Laos, in December. It's a small town recognized as a UNESCO World Heritage Site with cultural and historical sites.
December is a high season with tourists visiting this town, yet it isn't as congested and crowded compared to other Southeast Asia major cities. 
The weather is enjoyable in December and wintertime from low 80s(°F)/27°C in the daytime. There is little rain during this time.
Therefore, you can walk around everywhere in the main town and take day trips. A visit to the gorgeous Kuang Si Waterfall is a must as it's considered one of the top waterfalls to visit in Asia.
Luang Prabang has some of the most delicious foods. Walk around the Night Market and try the yummy street food such as grilled chicken and fish. The coconut cakes (khao nom kok) are a must-try and you'll see these cakes in a banana leaf basket.
Or, you can learn how to make Laotian food in a cooking class. 
---
10. Kuala Lumpur, Malaysia
By Brodi, Our Offbeat Life
Recommended Months to Visit: December or February
Kuala Lumpur, Malaysia is a unique place to visit during the winter months. It's a tropical city just three degrees north of the equator.
However, this capital city of a majority-Muslim country loves to celebrate! From Christmas in December to Chinese New Year in February, Kuala Lumpur decks out its world-famous malls in glamorous displays. 
Whether visiting in December or February, the luxurious Suria mall in KLCC (Kuala Lumpur City Center) and Pavillion Mall in the trendy Bukit Bintang neighborhoods always have show-stopping displays for Christmas and Chinese New Year holiday seasons. 
In 2019, Suria mall had a massive north pole display complete with actual snow falling indoors! That same year, Pavillion mall made their Christmas display Star Wars themed with the second-largest Millenium Falcon model in the world performing daily liftoffs to choreographed music.
In 2020, Pavillion mall had a 3D animated bull jump out of a massive two-story simulated window.
February visitors should make a separate trip to the Thean Hou Temple, just south of the city center. This six-tiered temple is adorned in thousands of red lanterns for Chinese New Year and has lovely sculptured gardens surrounding it. 
This is an active temple, so visitors should wear easily removable shoes to remove them when directed in certain parts of the temple. Entrance to the temple is free, but cash donations are happily accepted.
---
---
11. Langkawi, Malaysia
By Victoria, Guide Your Travel
Recommended Months to Visit: December and January
Langkawi is a little island located in northern Malaysia close to the border of Thailand. It's often called the island of eagles and is known for its low taxes on alcohol making it one of the few places in Malaysia where nightlife is relatively affordable. 
You can reach Langkawi via plane as a lot of budget airlines like Air Asia fly here. There are also regular ferries departing from the mainland, or you can even come here from Thailand. 
Langkawi has incredible scenery and beautiful nature. There are stunning white-sand beaches and lush rainforests with waterfalls. Go hiking through the beautiful hills or explore the mangrove forests by boat.
For only around 10 Euros ($11.65 USD) you can join a guided boat tour which will take you to see eagles and even explore caves. 
The highlight of a trip to Langkawi is without a doubt the Sky Bridge and cable car that lead you there. This impressive structure is constructed high in the mountains of the island and offers incredible views.
As one of the steepest cable cars rides in the world, this is not for the faint of heart though. However, if you're brave enough to go to the top you won't regret it. It's truly a once-in-a-lifetime experience.
---
12. Boracay, Philippines
By Mary, Three Week Traveller
Recommended Months to Visit: Anytime between December to February
The best time to visit the Philippines is during winter. The temperature between December to February is much cooler and no storms. You can go during this season and won't have to worry about bad weather ruining your travel plans. 
When choosing the destination for your winter vacation, you must decide which activities you want to do. Boracay island has been known for its white-sand beaches, crystal clear water, snorkeling, kit surfing, windsurfing, and must-do diving spots. 
You can do many things in Boracay. From beach bumming on the fine white sand to booking water activities and boat tours.
If you want to get certified for diving, that's also an option or if you are already certified, book a tour and enjoy the corals, sun, and fish.
If you visit during December, there's no Christmas celebration like in the Philippines.
Don't worry, it's not all about the nativity theme. Houses, streets, and even shopping malls will be covered in massive Christmas lanterns that can only be found in the Philippines and even street dances.
Important tip: Book flights and hotels in advance if you are coming during December since it's the busiest time of the year.
---
13. Weligama, Sri Lanka
By Haley, HaleyBlackall.com 
Recommended Months to Visit: December and January
Situated on the furthest southeastern tip of India, is the isle of Sri Lanka, one of the best winter destinations in Asia. The island boasts golden sand beaches, lush jungle, turquoise water, earthy cuisine, and smiling locals. 
Weligama, Sri Lanka is a small surf hub located on the central south coast and is a sun lover's dream. A perfect spot to escape the cold brittle weather of winter.
Visiting during December and January are perfect times to visit as the monsoon season is over, and drier, sunnier conditions grace the golden coast. The waters calm down too, so whale and dolphin watching is optimal at this time. 
Known as the less developed version of Bali, Weligama offers great beaches, trendy cafes, and nightlife. Grab a surfboard rental and hit the beginner to intermediate waves at Weligama beach, then grab a late breakfast at the Ceylon Sliders rooftop. 
If you'd like to explore the wildlife of Sri Lanka, opt for a day trip to Udawalawe National Park to admire the majestic Asian elephants or to Yala National Park to seek out the elusive leopard. 
To top off an epic day in Weligama, head to The Lighthouse and perch on the top floor balcony for sensational views of the cotton candy Weligama sunset.
---
14. Rishikesh, India
By Vipin, Misfit Wanderers
Recommended Month to Visit: January
If you want a spiritual and adventurous experience in Asia, then you should come to Rishikesh. This city is located in northern India in the state of Uttarakhand and close to the Himalayas. 
You can primarily do two things in Rishikesh: learn yoga and meditation, and indulge in adventure activities.
If you want to focus on yoga and meditation, check out the popular centers of Parmarath Niketan, Rishikul Yoga Shala, and Art of Living Yoga School.
Since Uttarakhand has attracted many famous personalities of the world, you have the chance to visit a site that The Beatles, a world-famous rock band, made famous.
In 1967, the group met Maharishi Mahesh Yogi, the Yoga Guru, in London. His teachings impressed The Beatles, and they traveled to India the following year.
The place they stayed is now known as The Beatles Ashram or Chaurasi Kutia. It's a spiritual hermitage where visitors still meditate and get Ayurvedic massage.
If adventure is your thing, Rishikesh won't disappoint. You can do activities like river rafting, bungee jumping, and cliff jumping. You can even go mountain biking in Brahmapuri and Shivpuri.
Although winters aren't the most suitable time for river rafting, you can still do it in January if you're looking for some adrenaline rush.
Furthermore, if you want to learn more about Hindu culture, Rishikesh is a good place to start. Come, and connect with the almighty in this place of eastern wisdom. Don't forget to attend Ganga Aarti in Triveni Ghat too.
---
15. Hormuz Island, Iran
By Diana, The Globetrotting Detective
Recommended Months to Visit: December to February
Hormuz Island in Iran, also known as the Rainbow Island of Iran, is one of the least known islands in the world and also one of the most unique islands on earth. 
This epic island is situated in the most southern province of Iran, called Hormozgan. In winter, the weather on the island is pleasant as temperatures hover around 22°C/ 71°F.
On Hormuz Island, there are no cars. If you want to explore the entire island, hire a tuk-tuk with a driver, rent a bicycle, or simply walk. While discovering the island, you'll find brilliant beaches, colorful mountains, and valleys where you can hike and see colorful caves.
The two most fascinating and spectacular places are Red Beach and Rainbow Mountain.
Red Beach is the most iconic landmark of Hormuz Island simply because the sand on the beach is red. This beautiful red sand makes the water of the sea look bright pink. 
As for Rainbow Mountain, it's the most colorful part of the island. This mountain features endless streams of shades and hues of red, gold, orange, yellow, ochre, brown, green, grey, white, beige, and turquoise colors.
On Hormuz Island, not only the colorful landscape will blow your mind but the traditional meals you can have there. The fish stew and flatbread are also red.
Can you guess why they are red? The reason is that the locals use the red soil from Red Beach as a spice. Eating local dishes flavored with sand is an unforgettable experience. 
---
16. Karachi, Pakistan
By Arabela, The Spicy Travel Girl
Recommended Months to Visit: December to January
Pakistan's most populated city may not be the country's top attraction, but Karachi is an ideal destination for travelers throughout the winter months for a variety of reasons. 
As winter approaches and snow and ice begin to block the roads to the scenic northern areas of Pakistan, Karachi remains pleasantly warm all throughout winter, with temperatures that allow one to leave behind the heavy jackets and enjoy bathing in the warm Arabian Sea.
In winter the tides are also much more gentle than in summer, allowing for fun water activities like snorkeling or scuba diving.
And of course, the city's vibrant and diverse culture is always a good reason to visit Karachi, so why not check it out this winter?
Besides water sports, popular activities include shopping in local bazaars such as Zainab Market, culinary adventures in Burns Road Food Street, or simply strolling through Karachi's most beautiful places. 
However, despite Karachi being a relatively open-minded city, visitors should always keep in mind the cultural norms of Pakistan and dress modestly. Sometimes this means even swimming in full clothes because bikinis and western swimsuits are not an appropriate choice for Karachi's beaches.
Pro Tip: Plan your visit around the first Sunday of December to experience Sindhi Culture Day and witness grand celebrations in honor of the local Sindhi culture.
---
Cool and Cold Asia Destinations in Winter
17. Phong Nha, Vietnam
By Jackie and Justin, Life Of Doing
Recommended Month to Visit: December 
Who wants to visit caves? Head to Phong Nha, home of the Phong Nha Ke Bang National Park, in Central Vietnam. 
The National Park has an impressive 300 caves. While most of the caves are inaccessible, the most popular and easy to access ones are Paradise Cave and Phong Nha Cave. You'll see some beautiful stalactites and stalagmites. 
If you prefer to visit caves with trekking, add the bucket list hike to Son Doong Cave (the largest cave in the world) or Hang En Cave (the third largest cave in the world).
Hang En Cave is a good alternative to Son Doong Cave since it's only a 2 days/1 night trip (versus 4 days/3 nights for Son Doong) and cheaper. 
Visiting Phong Nha over the Christmas holiday is an ideal time frame since the town is pretty quiet. While there isn't any major Christmas event, there is a church in the middle of town that had colorful light decorations and evening service. Some of the Western-style restaurants offer a Christmas dinner.
The weather is cooler with an average high of 71°F (22°C) and low of 60°F (15°C) from December to February so it's ideal for exploring the caves and spending time outside. Although, doing any water activities such as swimming and kayaking will be cold. There is a chance of rain, so pack an umbrella just in case. 
If you have an extra day in Phong Nha, ride a bicycle or motorbike through Bong Lai Valley to ride through small villages and farmlands. 
---
18. Nagasaki, Japan
By Jackie and Justin, Life Of Doing
Recommended Months to Visit: Late January to February
Nagasaki, located on Kyushu Island, is a historical place to visit in Japan. It was a former trading port during the 16th-19th century and most famously known as the second atomic bombing site that the US dropped on August 9, 1945. 
The good news about visiting Nagasaki during the wintertime is that there are fewer crowds at the attractions. While the weather is cold (an average of 50℉/10°C in the daytime), there isn't much rain so you can walk around the city.  
One of the must-visit spots in Nagasaki is Chinatown. During the Chinese New Year holiday, the area is beautiful. The streets have colorful lanterns and statues based on folklore lights up in the evening. You'll want to hang out and take photos with these lanterns.
In addition, Chinatown hosts a two-week Nagasaki Lantern Festival and has a variety of free shows such as lion dancing and Chinese acrobats. 
Other fun places to check out include the Atomic Bomb Museum and Nagasaki Peace Park to learn more about the bombing history, and Mount Inasa for some evening views of the city.
Don't forget to try Champon as this noodle dish originated from here. It's a hearty noodle soup with beef, seafood, bean sprouts, cabbage, and fish cakes. Since the evenings can get cold in Nagasaki, this dish will warm you up. 
---
19. Sapporo, Japan 
By JB, Will Fly for Food
Recommended Months to Visit: Early to mid-February 
Hokkaido in northern Japan is beautiful at any time of the year but one of the best times to visit is in winter.
It's ideal for three reasons. One, it's home to some of the best skiing in the world. Two, winter is crab season in Japan.  And three, the city of Sapporo has been playing host to an annual snow festival since 1950. 
The Sapporo Snow Festival is held in early February every year. It lasts for about a week and features dozens of snow and ice sculptures spread out over three locations.
The main site features huge snow sculptures, some the size of small buildings. The second venue displays smaller but equally impressive ice sculptures while the third invites guests to ride down giant slides made from snow. It's like a gigantic playground made from snow and ice! 
The festival alone is worth a trek up north but pair that with a few days of skiing or snowboarding on the best powder in the world, and you truly have the perfect winter holiday in Japan.
There are a few ski resorts you can visit on a day trip from Sapporo but serious skiers will want to make the trip to Niseko, one of the biggest and best ski resorts in the country.  
And let's not forget about the crab! Crab is a winter dish in Japan and Hokkaido is one of the best places to try popular varieties like king crab, snow crab, hairy crab, and thorny crab.
They're everywhere in Sapporo – at restaurants, markets, and street food stalls – and can be enjoyed in many different ways. 
---
20. Jeju Island, South Korea 
By Joel, In My Korea
Recommended Month to Visit: January 
Jeju Island, a popular subtropical island in South Korea and one of the New 7 Wonders of Nature, is an amazing place to visit during winter. It's truly an island of contrasts that needs to be seen to be believed.  
You can start the day on one of the many sunny, sandy beaches that line the rim of the island and be knee-deep in snow hiking up the heights of Hallasan Mountain by lunchtime.  
This is an island built for adventure and visiting Jeju Island in winter provides the perfect opportunity to hike Hallasan, South Korea's highest mountain, when it's covered in snow and at its most beautiful.
You can hike to the 2,000 meters (6,552 feet) high summit and take in views of the whole island and be back in time for the local specialty – Jeju black pork Korean BBQ – by dinnertime.  
If you don't want to hike up a mountain, then you can enjoy one of the 26 trekking courses that go around the island, making up the Jeju Olle Trail – a month-long walking path that takes you around the rugged island.  
Winter is the best time to visit Jeju Island for a few other reasons. Namely the unique citrus that is available during January and only found on Jeju Island – the Jeju hallabong orange.
You'll find thousands of bright orange citrus trees dotted across the island, providing a stark contrast to the white of the snowy slopes or yellow beaches.  
Culture lovers will also enjoy the celebrations for Korean New Year's Day (Seollal) –celebrated in late January or early February with fireworks on the beach, special Korean dishes, and cultural performances across the island. 
---
21. Deogyusan National Park, South Korea
By Linda, Linda Goes East 
Recommended Month to Visit: Anytime from December to February is great
Deogyusan National Park (덕유산 국립공원) is a magical yet underrated winter destination in central South Korea.
Not many people know of this winter wonderland, even though it's so easy to get to.
Unlike most national parks in South Korea, where it takes hours on foot to reach the majestic peak, at Deogyusan, you can conveniently take a cable car to the top and then take 20 minutes to reach the peak on foot.
Deogyusan was the 10th national park designated in the country in 1975. The park is home to Korea's fourth highest mountain peak, Hyangjeokbong, standing 1,614 meters (5,296 feet) tall.
Also, it's the only national park in Korea that has a ski resort inside of it. This makes this location incredibly popular with skiers and snowboarders. 
In the winter months, the park offers breathtaking scenery covered in powdery white snow.
Start exploring the hiking paths from the cable car station at the top heading first to a cafe/souvenir shop disguised as a striking three-tiered pagoda. From there, follow the signs to the peak.
En route, take in the beautiful winter scenery: snow-covered trees and blankets of white hills leading into the distance. The further up you get, the better the view of the pagoda gets.
The peak is only a short 20-minute hike. From there, many other trails continue in different directions – the choice is all yours! Either return to the cable car station and grab a hot tea to get warmed up, or continue the adventure.
Make sure you wear suitable winter hiking clothes!
---
22. Tiger Leaping Gorge, China
By De Wet & Jin, Museum of Wander
Recommended Month to Visit: December
The Tiger Leaping Gorge is a stunning and easily accessible hike, and with the mild climate of Yunnan Province, there is no better time than during the winter. The gorge is the deepest canyon in the world, and the hike is one of the best in China. 
Hiking the Tiger Leaping Gorge in December will ensure you have crisp, dry winter days perfect for hiking, unobstructed views of the surrounding mountains, and you'll possibly have the trail mostly to yourself.
As Christmas is not celebrated in China, everyone will be at work, leaving this popular hike blissfully serene. 
Most hikers take two full days to hike the Tiger Leaping Gorge, and there are a few cozy guesthouses along the trail where you can get a hot shower, delicious food, and comfortable sleep before hitting the path again the following day.
The most popular places to stay are Tea Horse Guesthouse and Halfway Guesthouse. 
Tiger Leaping Gorge is about two hours by bus north of Lijiang, and two buses leave from here every morning. Also, spend a few days in the beautiful town of Lijiang before or after your hike for the ultimate Yunnan adventure.
---
23. Chengdu, China
By Sasha, Mog and Dog Travels
Recommended Months to Visit: Anytime from December to February
Winter is one of the best times to visit China and there's definitely no better place to kickstart your winter trip than Chengdu, the capital of Sichuan Province. 
Chengdu is famous for its giant pandas and there are four different reserves that are open throughout the winter.
This is a great time to see pandas as there are fewer crowds and the pandas are a lot more active than in the hot summer months. Some of the centers offer volunteering programs.
Pandas give birth from late August through to December, so it's likely that you'll see baby pandas and newborns. 
Winter is a fantastic time to try Chengdu's signature dish: spicy Sichuan hot pot.
Choose your favorite meat and veggies, and cook them at your table in a rich, bubbling spicy soup base made with mouth-numbing Sichuan peppers, red chili oil, and chilies – a combination that is sure to chase those winter chills away.
The DIY nature of a hot pot meal makes it a fun thing to do with friends. 
Chinese New Year usually falls between late January to mid-February and in the run-up to the celebrations, the streets are decorated with ornate red and gold Chinese lanterns and brightly colored lights.
Don't miss the Chengdu Grand Temple Fair, a carnival-like event featuring handicrafts, popular Sichuan street food, acrobatics, dance performances, and more.
If outdoor winter sports are what you're after, a trip to nearby Xiling Snow Mountain should do the trick. Featuring the largest alpine skiing resort in China, visitors can ski, snowboard, drive a snowmobile, or check out the fantastic hiking routes.  
---
---
24. Taipei, Taiwan (Republic of China)
By Emily, Wander-Lush
Recommended Month to Visit: January or February
Thanks to its relatively mild climate and wintertime festivities, Taipei, Taiwan is a wonderful winter destination in Asia.
While December is the most popular month of the year for tourism, January/February is the low season, meaning you'll find great prices on accommodation and fewer crowds.
As the weather gets chilly (winter temperatures average around 59-68℉/15-20°C during the day), it's the perfect excuse to warm up at one of the city's hot springs. Beitou is a popular choice and can easily be reached by metro from the center.
Pink cherry blossoms start to bloom in the city in January, adding to the atmosphere. For the best displays, head to the Wulai Hot Springs.
When night falls, there's no better way to spend a chilly winter's eve than roaming the night markets and grazing on hot snacks (fried chicken and stinky tofu to start!).
Lunar New Year celebrations (normally in February) see the city decorated with lanterns and lights, while bakeries turn out beautiful moon cakes and other festive treats.
The atmosphere in the lead-up to the festival is electric, while the city empties out over the main days of the holiday, leaving the streets quiet and peaceful – perfect for practicing your street photography in Taipei.
If you're searching for snow, drive into the mountains: Hehuanshan, Xueshan 'snow' mountain, and Yushan all see snowfall in early winter.
---
25. Hong Kong (Hong Kong Special Administrative Region of the People's Republic of China)
By Paula, Truly Expat
Recommended Months to Visit: Anytime from December to February
Hong Kong is known for its hustle and bustle, and of course, its hot and steamy weather.
But what most people don't realize is that during winter, this city cools down to a temperature (16 to 18°C (61–64°F)) that sees you and out and about hiking the islands that most people have never heard of (until now). 
Hong Kong island is the heart and soul of Hong Kong, with high-end shopping, great restaurants, and amazing bars with a skyline that will have you in awe.
Taking a ferry ride over to Kowloon via the Star Ferry is a must (even in winter), where you will find a very different Hong Kong. Much more local with night markets and more local shopping everywhere; this is the Hong Kong you see in the movies. 
Take a trip by ferry to Discovery Bay, where you can spend the day dining at one of the resort-style restaurants or hiking your way through the hills of Lantau Island.
Or from here, catch a bus and then the Disney train to Disneyland, a fun place to visit during the Christmas season.
Or, catch a taxi to Pui-O, one of the last known fishing villages in Hong Kong. 
For an iconic hike in Kowloon, and one that is challenging, hike Lion Rock.
Extra tip: Ask about the Christmas markets usually found in the major hotels, a great way to find local businesses selling unique gift ideas.
---
26. Meghalaya, India
By Joydeep, The Gypsy Chiring
Recommended Months to Visit: December to February. Preferably pre-monsoon.
Meghalaya, the abode of clouds is located in the northeast region of India. It shares borders with the neighboring state Assam and the country Bangladesh. 
Meghalaya is a hub of adventure activities. Blessed with virgin forests, blue natural pools and rivers, innumerable waterfalls, and unexplored caves, Meghalaya is a favorite destination among adventure enthusiasts.
The Double Decker Living Root Bridge Trek (the living root bridges are made from Ficus trees) and David Scott Trail are very popular among hikers. 
Apart from hiking, rock climbing, rappelling waterfalls, ziplining, caving, boating, kayaking, and canyoning are the other activities you can do in Meghalaya. December, January, and February are the best months for such adventure activities. 
The Tura Winter Festival, the Ranikor River Beach Festival, the Strawberry Festival, and the 'Ka Sajer Ka Raid Nonglyngdoh' are some of the important festivals celebrated between December and February.
However, if you come in November, you will also be able to attend the festivals- Shad Nongkrem of the Khasis, the Wangala of the Garo, the Cherry Blossom Festival, and the Bacardi NH7 Weekender.
Tip: Try exploring the offbeat locations with a local guide. This will give you an insider's perspective about the interesting folklores associated with each of the natural spots in Meghalaya.
---
27. Spiti Valley, India
By Avantika, Wayward Wayfarer
Recommended Months to Visit: December to February
Spiti Valley is a high-altitude cold desert located in the Himachal Pradesh state of India. With an average height of 4,000 meters (13,123 feet) above sea level, Spiti Valley is one of the highest (and coldest) inhabited regions in India.
Because of the valley's high altitude, the winters in Spiti Valley here are extremely harsh – with temperatures dropping to as low as -22℉/-30°C! But this also makes for one of the most exciting and adventurous places to visit in Asia in winter. 
Come winters, all water sources in the valley freeze – including rivers, lakes, and even waterfalls – making way for some amazing adventure sports, including ice skating, snowboarding, and ice climbing.
Additionally, expeditions for sightings of snow leopards – the elusive ghost cats – are also done during the winter months.
The Losar Festival or the Tibetan New Year is one of the main winter festivals in Spiti Valley. Usually celebrated in February or March, one can expect a lot of folk dance, singing, traditional food, and homemade barley liquor during this time! 
As beautiful as the blanket of white might look, it is important to remember that it is indeed not the easiest thing to spend your winters here.
One must be cautious of altitude mountain sickness (AMS) and be ready to rough it out – going without showers for days at a stretch and using dry compost toilets till the snow melts.
---
28. Wadi Rum and Aqaba, Jordan
By Cosette, KarsTravels
Recommended Month to Visit: December
Celebrate Christmas in Jordan! It might not be the first place you think of to celebrate Christmas, since the country is majority Muslim, but it's perfect. From Christmas Eve in the desert to Boxing Day at the beach.
Start Christmas Eve by having a jeep tour through the desert. See the sites in Wadi Rum, such as petroglyphs. Have freshly brewed tea at sunset. Then arrive at a camp where you'll have a fabulous home-cooked dinner covered in blankets.
It might be the desert, but at night in December, it's freezing cold. On an unclouded evening enjoy some star gazing to conclude Christmas Eve.
Start Christmas morning with breakfast at the camp. Then mount camels for a ride through the desert. So close to the promised land, this gives your Christmas some extra magic. The camel ride will take about an hour. The rest of Christmas morning will be spent driving to Aqaba.
Aqaba is a city on the Red Sea. Here you'll have warm weather. Have lunch on a terrace in the sun (you need to warm up from the cold in the desert). Spend Christmas Day strolling through Aqaba. Visit the souk and take a glass-bottom boat tour on the Red Sea.
On Boxing Day, visit a resort on the Red Sea. Spend all day swimming in the pool, playing or sunbathing on the beach, and going snorkeling in the Red Sea to admire the corals close to the coast.
---
29. Almaty, Kazakhstan
By Mark, Wyld Family Travel
Recommended Month to Visit: December
Almaty is a city stuck between the old world charm of its soviet history and the modernization plans of the Kazak government. This city is a secret jewel in Asia waiting to be explored in winter. 
Just outside of Almaty is Shymbulak the largest ski resort in Central Asia. With ski slopes sitting as high as 3,200 meters (10,499 feet) above sea level, it's quite the experience for skiers and snowboarders. 
For those who love ice skating, the Medeu ice rink is a must. Since its opening in the 1960s, over 120 speed skating world records have been set there. During the winter months, it's open to the public for free skating times. 
Another place to visit is Big Almaty Lake. It's a beautiful alpine lake that features milky blue water and hiking trails for adventurous travelers. 
The temperatures rarely get below freezing; therefore, a stroll through Gorky Park or a trip to the zoo with kids in Almaty is certainly worth it. 
In the city, the famous Green Bazaar welcomes visitors all year round, where you will find some amazing dried fruits, meats, and all types of products from Asia and the Soviet Union.
While for a more modern experience the new Doystk Shopping Plaza is three floors of shops, food courts, and cinemas. 
Almaty really is an untapped tourist location in Asia, with many new sites and attractions popping up yearly.
---
Final Thoughts
After reading through this post, we hope you have an idea of where to go in Asia during winter. It's always exciting to explore a new place and to experience something new, especially the seasonal festivals and holiday celebrations. 
Which of these places in Asia do you want to visit in winter? Let us know in the comments below!
Check out our other posts in this series:
Save this post to your Asia Travel Pinterest Board!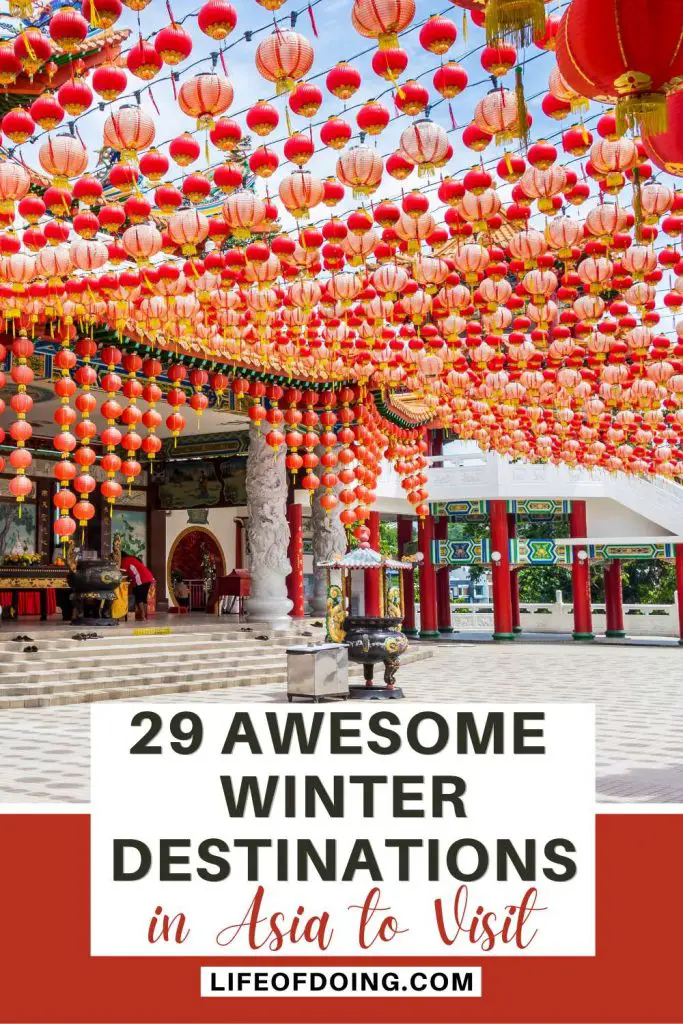 Featured photo and pin #1 photo credit: ArkadijSchell via Depositphotos.com