Luang Prabang, Laos is easily one of the most fun places we've visited. Yes, there were tourists everywhere; however, it didn't feel super crowded like in New York or San Francisco. Fall in love with the small city charm, good eats, beautiful preserved temples and architecture, and easy access to walking everywhere. We can see why Luang Prabang was inscribed as the UNESCO World Heritage List in 1995.
We stayed 4 days in this fun, awesome city as a part of our 2 week trip to Cambodia and Laos and had plenty of things to do. If you're short on time, check out what you can do in 24 hours in Luang Prabang. Also consider visiting these outdoorsy activities in Luang Prabang. 
Below are the top 8 reasons, including plenty of photos to plan your next trip to Luang Prabang! 
1. Visit the night market or morning market.
The night market is fun to explore. The market is a sensory overload with takeout skewered snack items, fruit drinks, colorful fabrics, handmade paintings and cards, ubiquitous elephant pants, and other souvenir items. Check out one of the side streets that serves up barbecued meats and fish. If you need to exchange money or visit an ATM, this is the area to do so.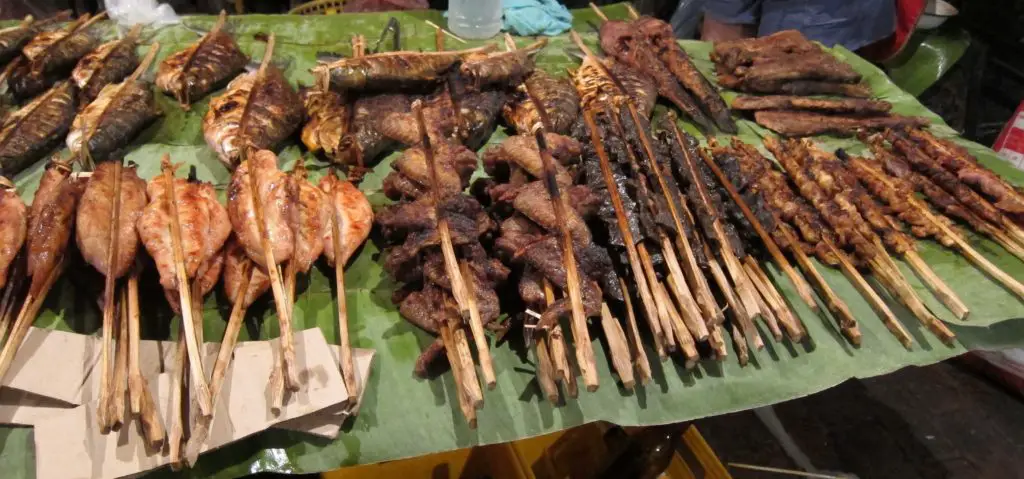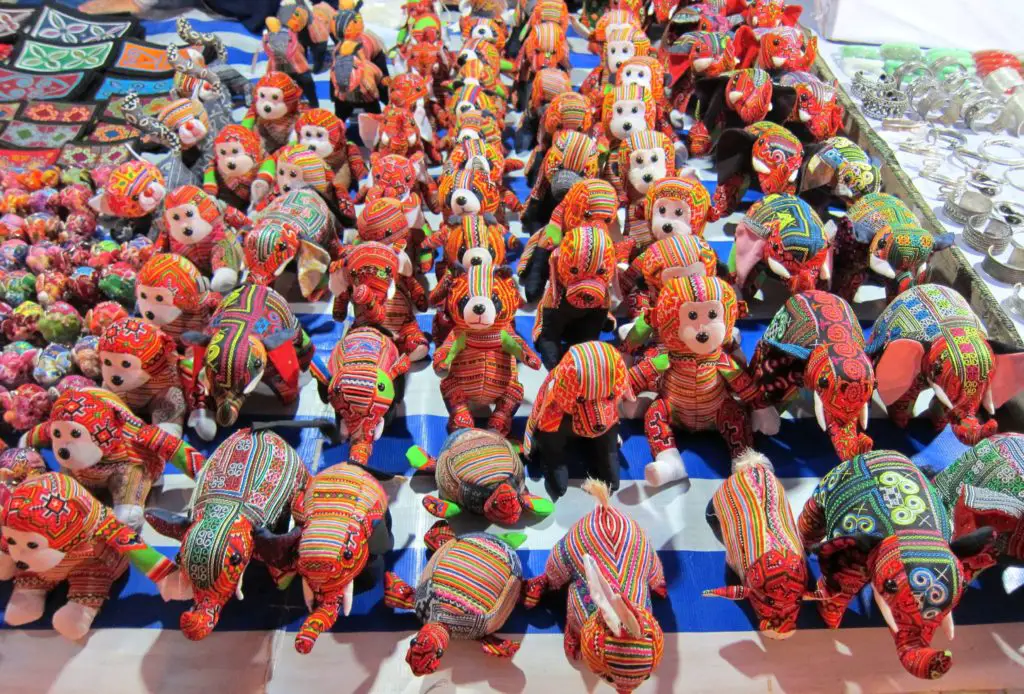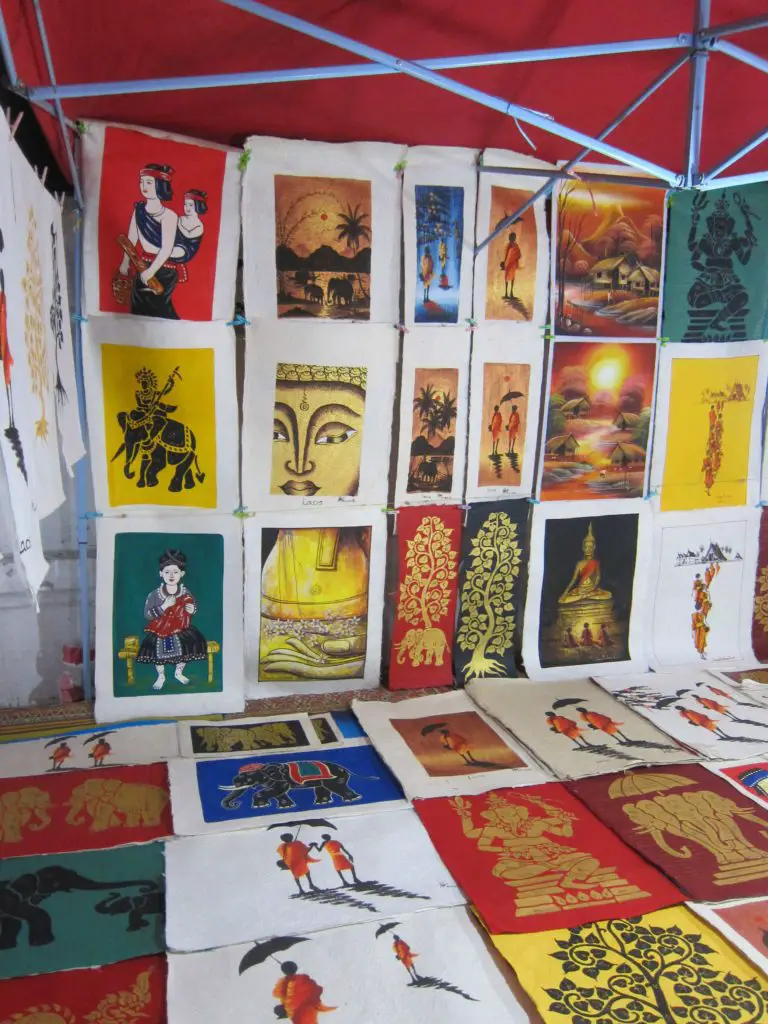 Not into the crowds? The morning market, located on a side street next to the Royal Palace, provides more insight to how the locals live. You won't see the souvenir items as vendors sell fruits, vegetables, and meat. We saw one vendor selling live bamboo rats which were really cute and fuzzy, and another selling a barbecued version.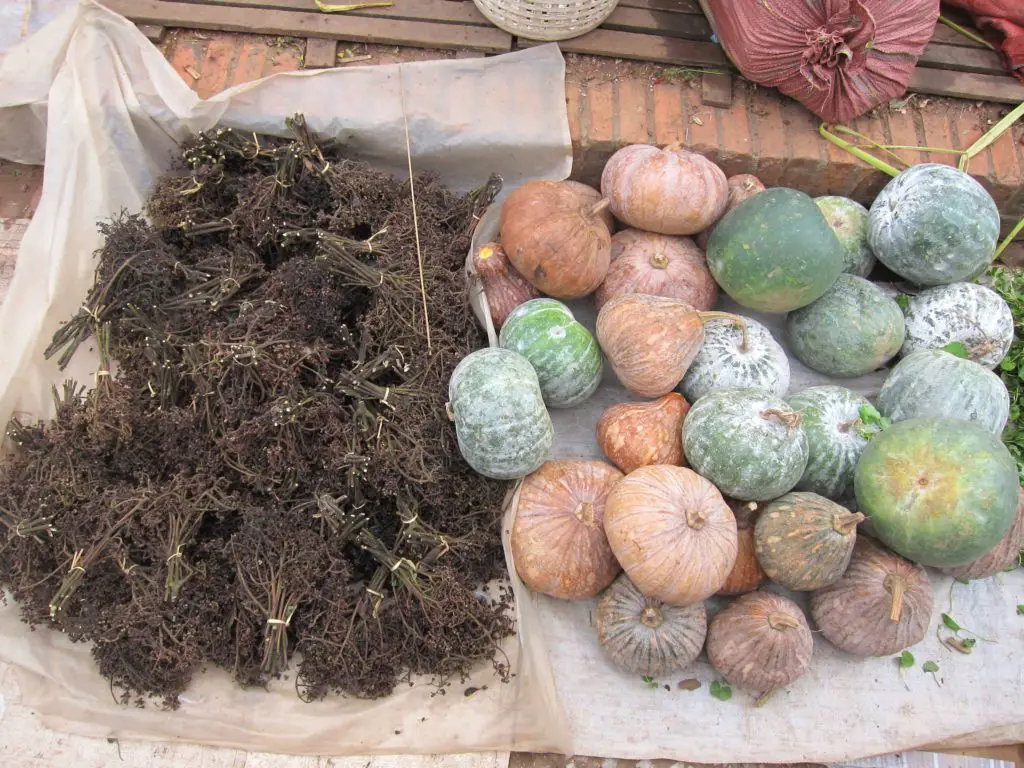 2. Expand your culinary skills and take a cooking class.
Taking a cooking class is one of our favorite things to do in a foreign country. You learn about and purchase local produce at the market, prepare, and eat your own creations. You can't complain about the meal since you're the chef!
There are a few cooking schools to choose from in Luang Prabang. We took a full day course (9am to 3pm) at Tamarind Restaurant. We made an email inquiry weeks before our travels regarding our desired cooking day and were denied a spot as class was full. It was our lucky day as we walked to the restaurant the day before our interested date and were slotted into a class due to a cancellation.
If you have food allergies or dietary restrictions, it can be accommodated. I have a pescatarian diet, where I don't eat meat but eat seafood, and they were able to accommodate me. The class was inexpensive at 285,000 kip ($35 USD) per person.
We had a lovely time with the chef, helpers, and our cooking group. The best part was eating our food. We were stuffed as we made the following meals: larp, fish amok, stuffed lemongrass, eggplant or tomato salsa, and coconut sticky rice for dessert. It was enough food for lunch and dinner!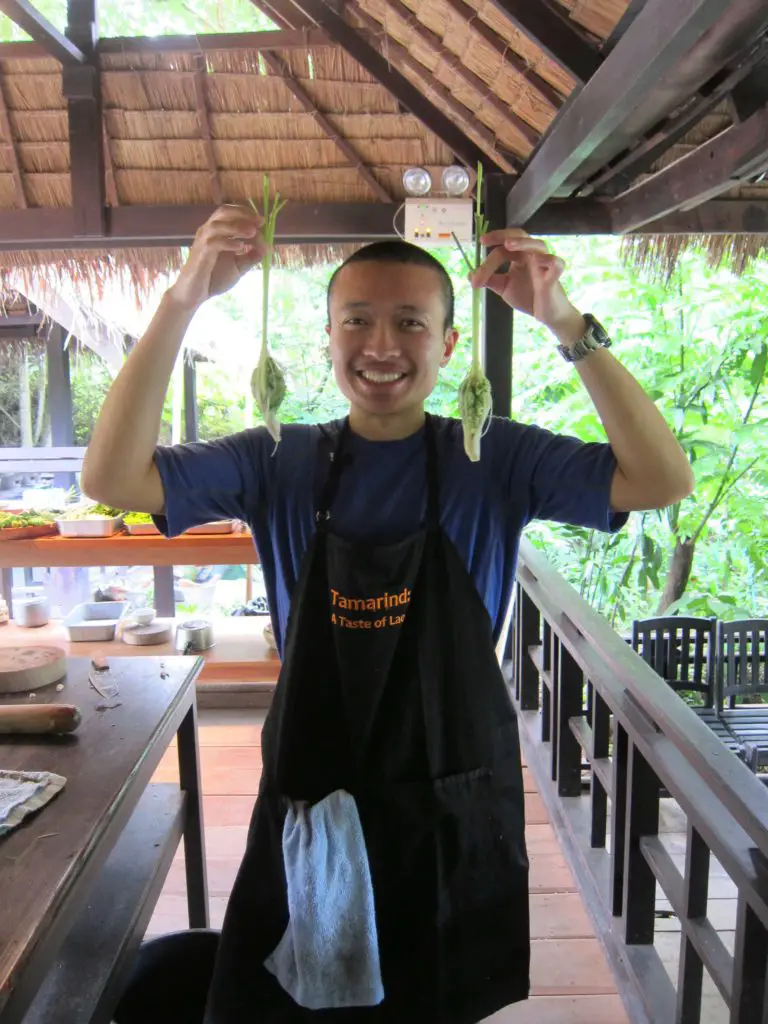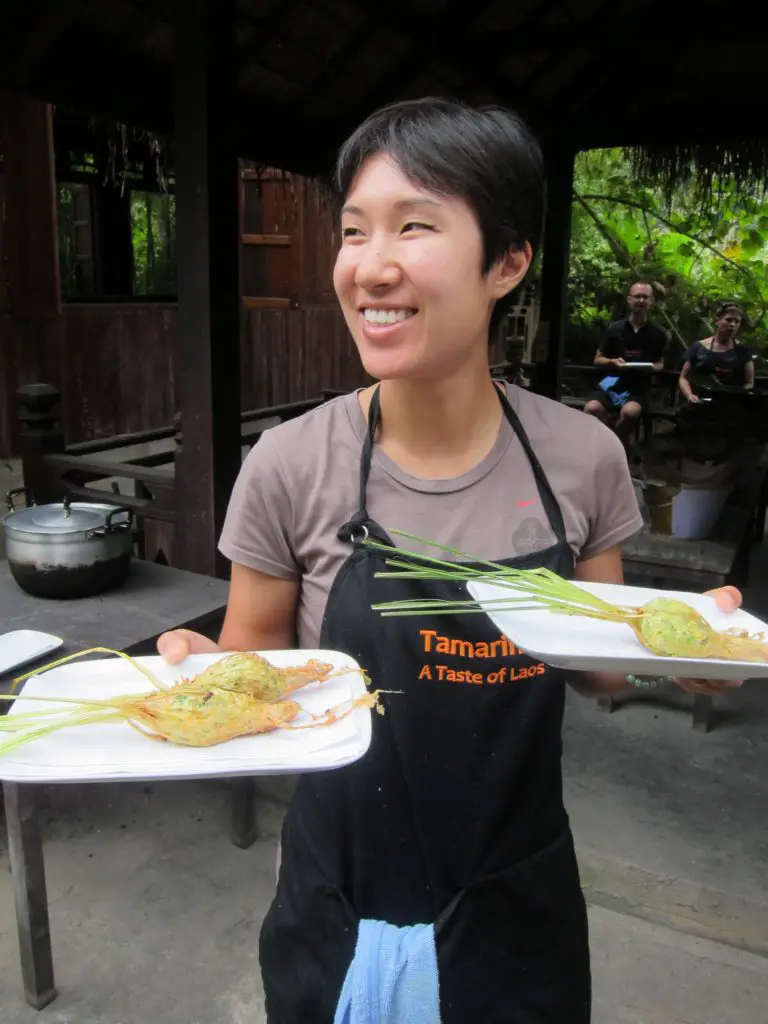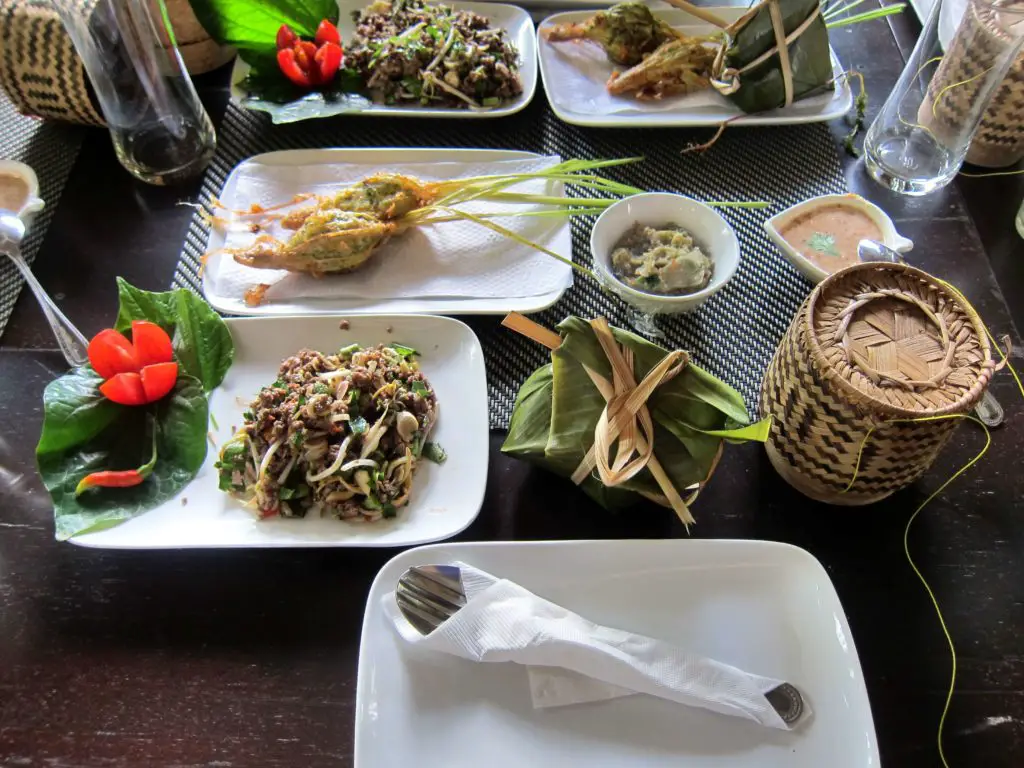 3. Visit the Royal Palace Museum and nearby temples.
The Royal Palace Museum is in a beautiful French colonial building. It was better than expected by providing a better understanding of Laos's history through beautiful mosaics and artifacts. It took about an hour to go through the museum. The back of the palace has the former king's classic car collection.
All visitors must take off their shoes and drop off their bags at the lockers (free of charge). Photography is not allowed in the palace. 
Afterward, check out the temples throughout the city.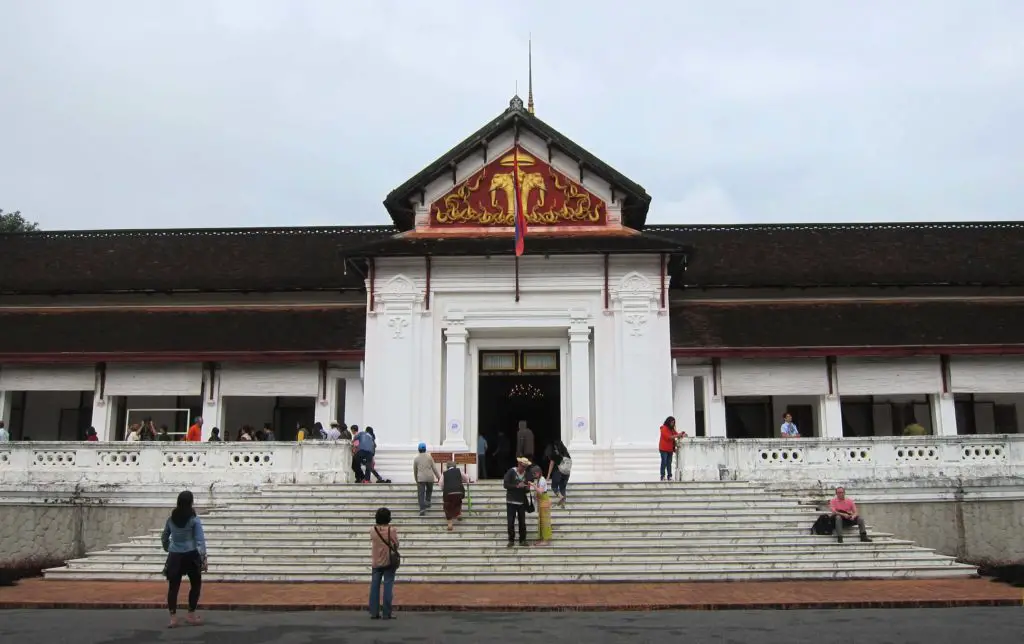 4. Eat at Xieng Thong Noodles.
Get your noodle fix here! This place is located nearby Wat Xieng Thong and we saw many locals eating here. We ate here 2 consecutive days – once for lunch and again the following day for breakfast at 7:30am. It was that good.
The menu is simple with three variation – noodle soup with pork, egg, or pork and egg. A bowl is around 12,000 kip ($1.50 USD). Try a toasted rice cake and add it to your soup to soak up the broth's flavor. If you like pork blood, you can request it in your bowl, otherwise, it won't be given to tourists.
Once the restaurant runs out of food, they close up the restaurant for the day.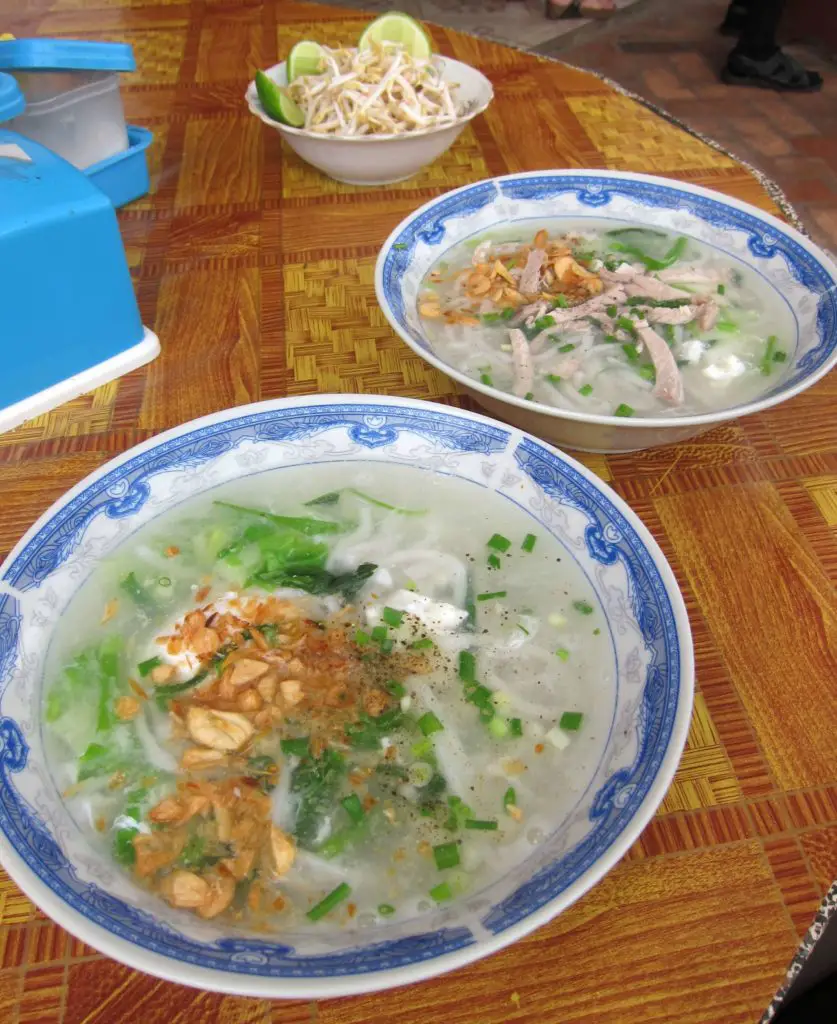 5. Walk steadily along the Bamboo Bridge.
Being a circus performer on a tightrope is how we would equate the feeling on the bamboo bridge. It is wobbly, yet stable (we hope). The bridge is up for 6 months before the rainy season comes. The small entry fee (5000 kip/$.60 USD) pays for bridge maintenance by the family who built the bridge. We walked to the other side of the bridge, but there wasn't much to explore.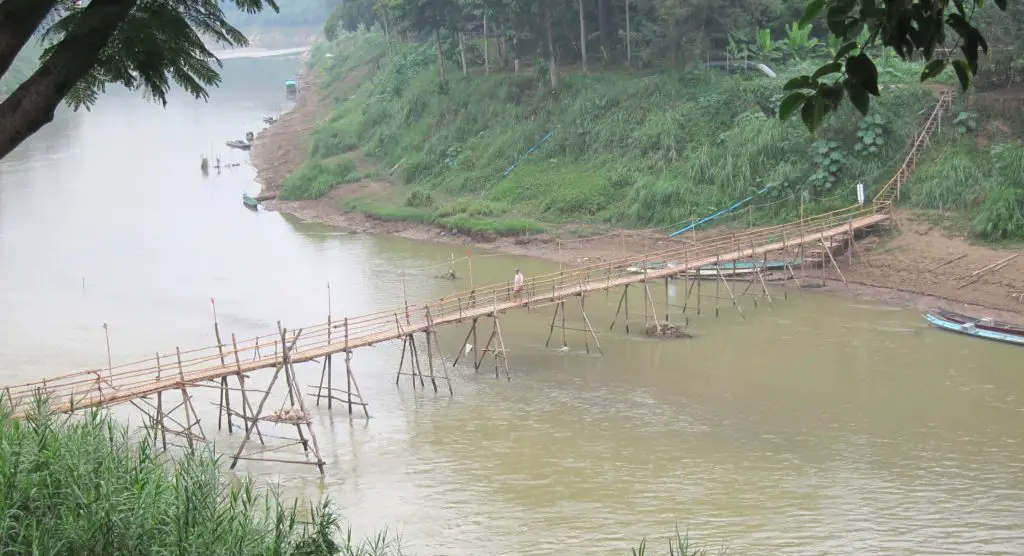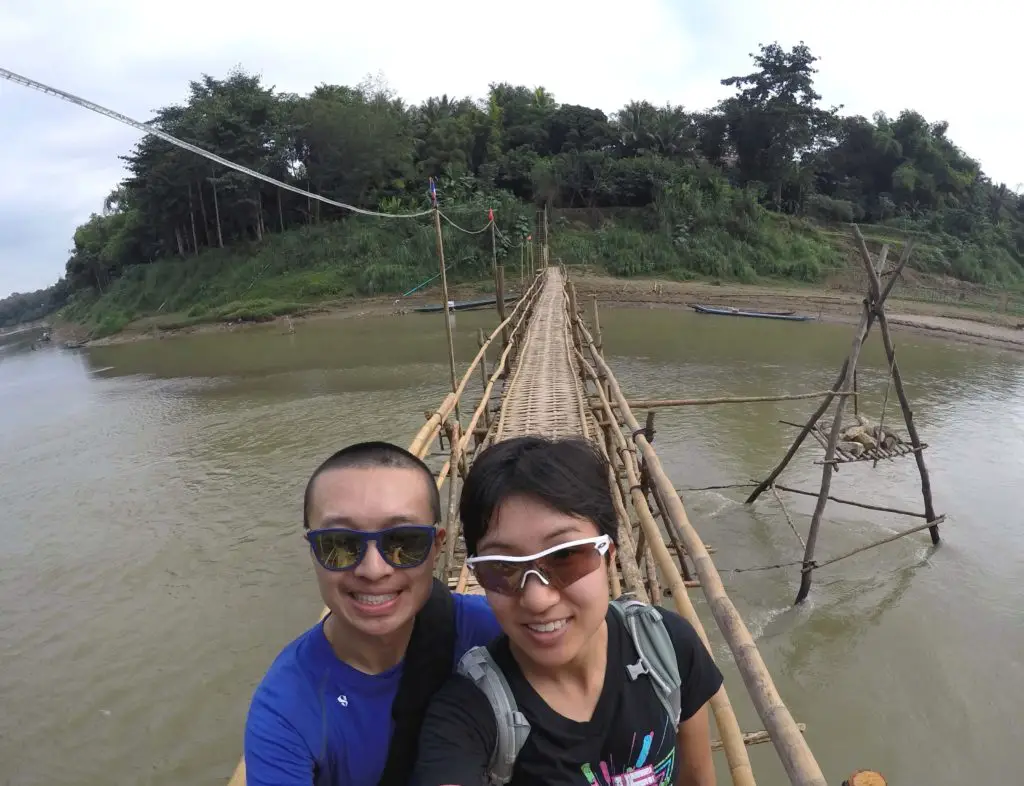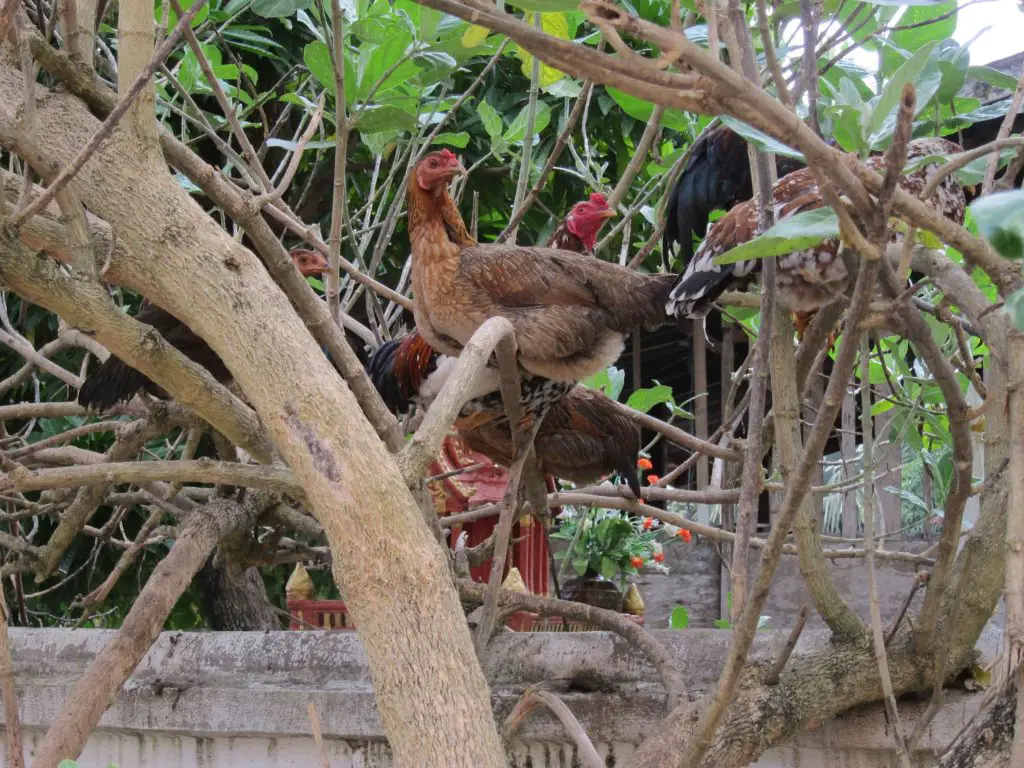 6. See the sunrise and/or sunset at Mount Phousi.
We have mixed feelings about this place. The trek up to the summit of Mount Phousi is incredible. It's a great leg workout climbing up to the top on uneven steps. We went for the sunset and it was super crowded. If you have enochlophobia, then don't come up during the busy times.
7. Awe at the beautiful Kuang Si Waterfall.
Kuang Si Waterfall is one of the most beautiful waterfalls in Laos! It's an awesome place to visit for a few hours.
Hire a tuk-tuk for the trip to the waterfall. It is a 40 minute ride one way on a dirt road.
After you pay for admission, you first walk through the Bear Rescue Center. The bears are enclosed in their space. When we passed by a few times, most of the bears were sleeping or lounging around.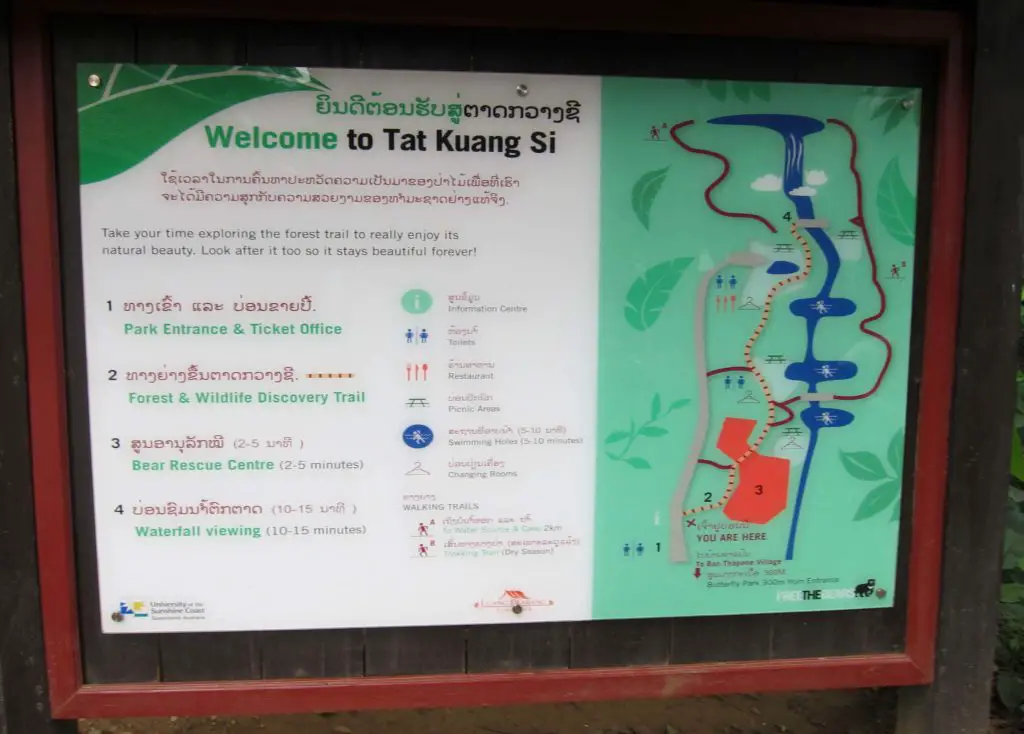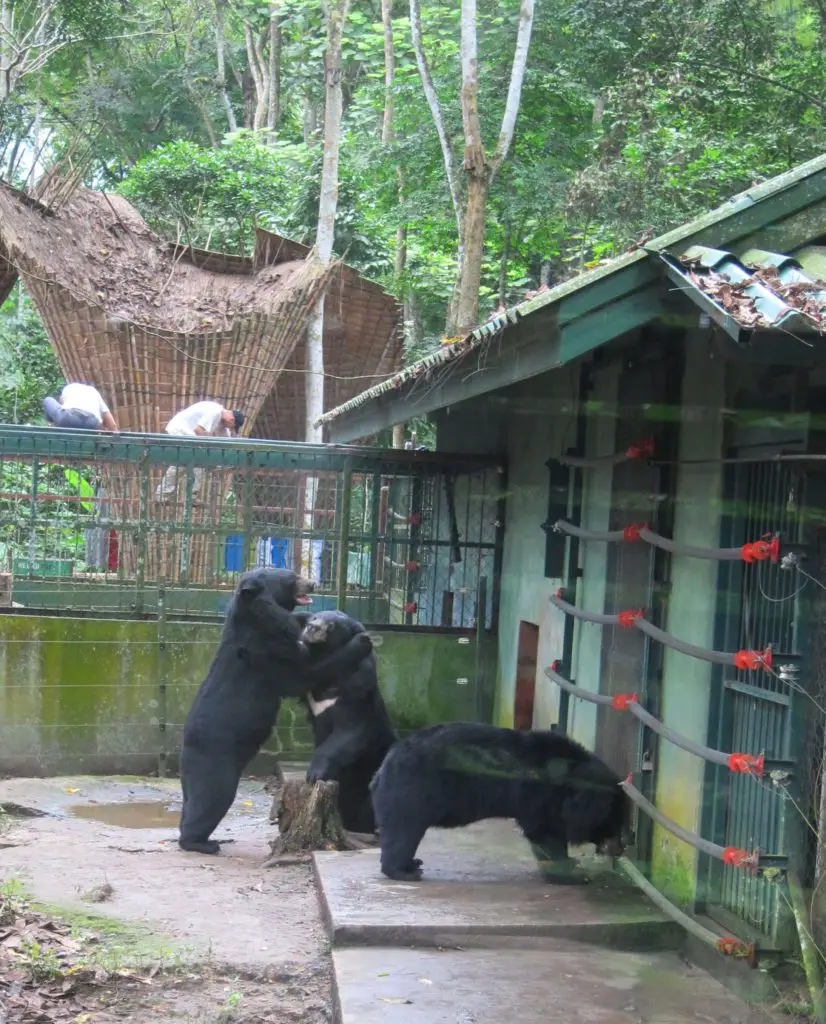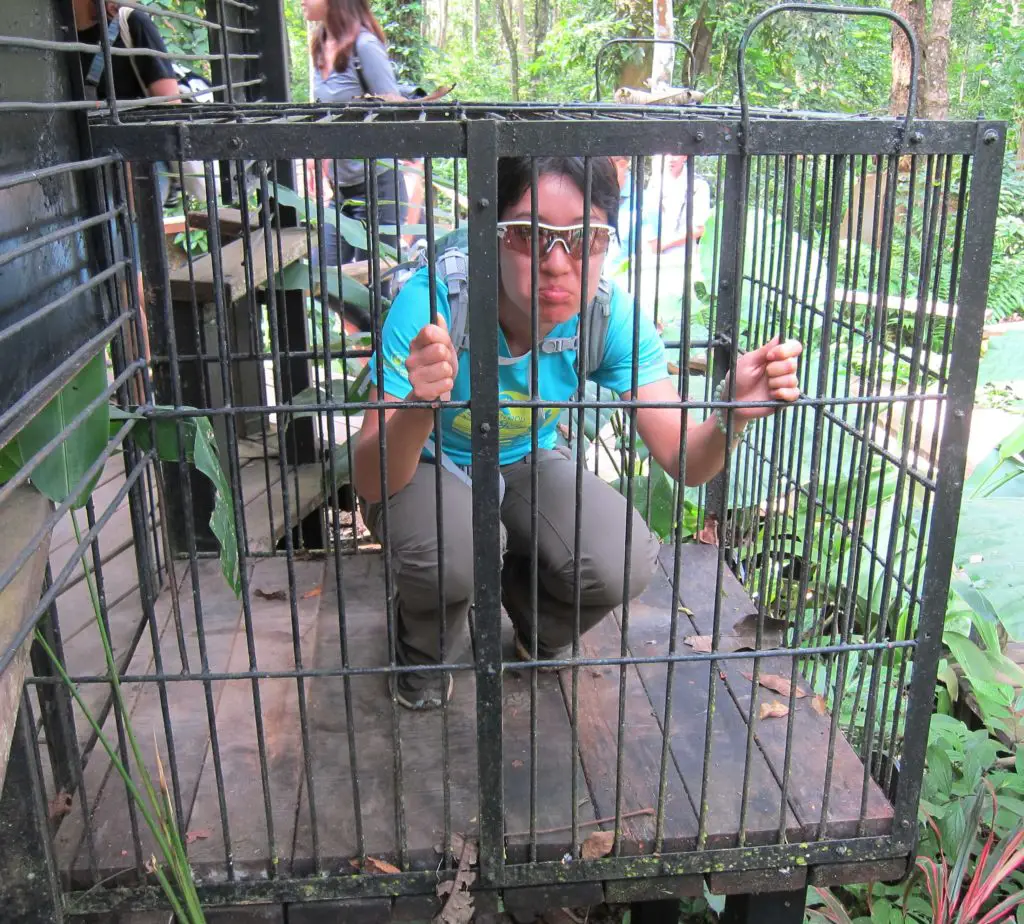 It's a short walk from the conservation to the waterfall, and you'll be shocked! The aqua colored water cascading down a multi-tiered waterfall was surreal and so pretty. Many people swam in the shallow areas of the water. You can hike up to the top of the waterfall. We attempted to go to the top of the waterfall but lost the trail. We got lost along the muddy and steep climb. Feel free to bring some food to enjoy a picnic. Or, if you're on a tour, the tour company will set up a traditional Laos lunch on the picnic tables.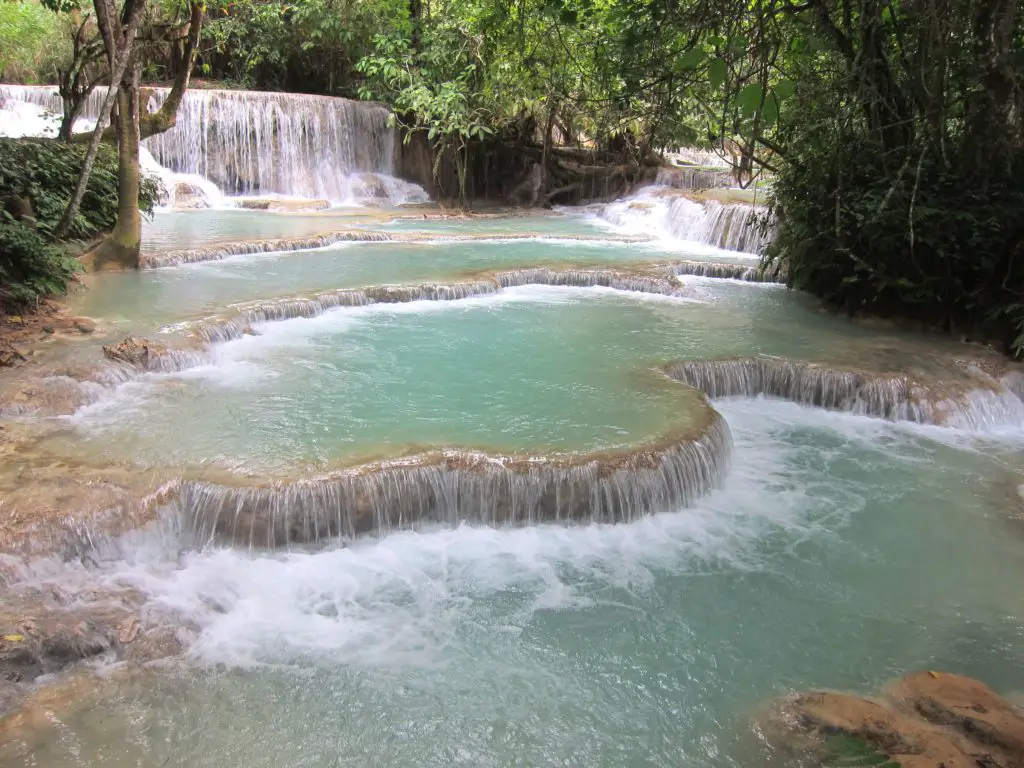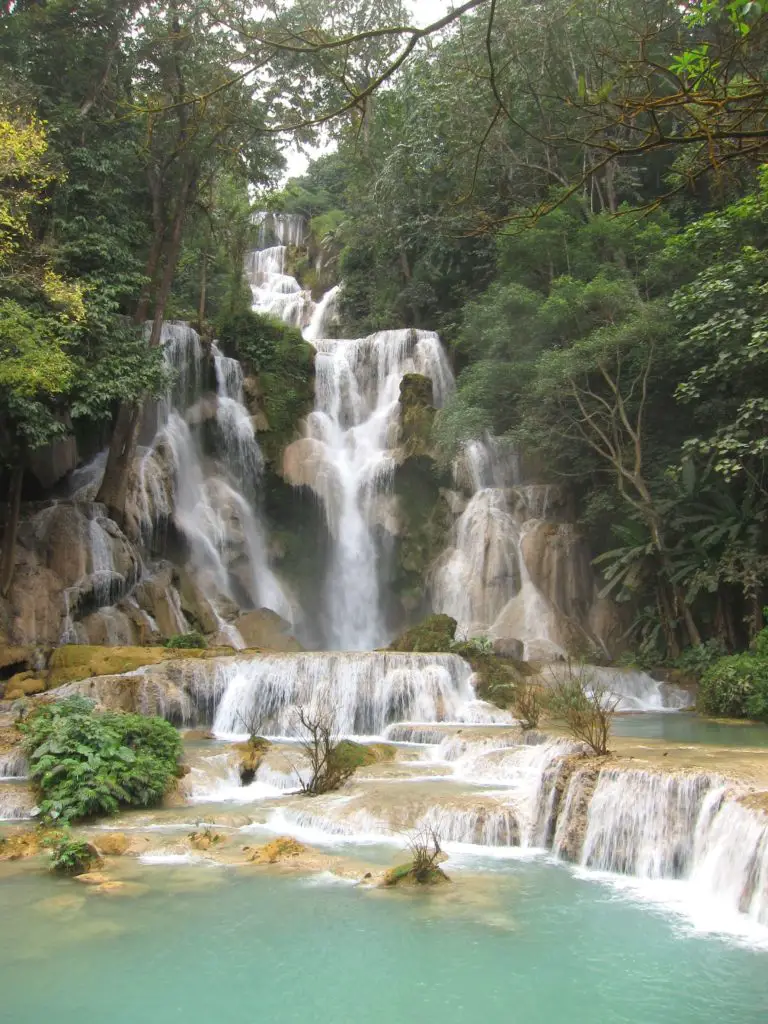 8. Observe the monks collecting alms in the early morning.
It was an early wake up at 5am to observe the collecting of the alms. We did not participate but observed the ceremony from afar. Hundreds of monks in their orange attire collected rice and various food offerings from the locals.
Please be courteous to the monks. We understand why the monks rush to finish their event as quickly as possible. It was sad to see obnoxious tourists acting like paparazzi holding cameras next to the faces of the monks and snapping away using flash. What was supposed to be a peaceful ceremony was spoiled by the tourists.
---
On our next trip, we would love to visit an elephant sanctuary and explore more of the outskirts of Luang Prabang. We would be interested to head to Si Phan Don (4000 Islands) on our next destination in Laos.
Have you visited Luang Prabang? What were your favorite activities?
Save this pin for your Laos board on Pinterest!