While most people associate Japan with Tokyo, Kyoto, and Osaka, one area that needs to be on your Japan itinerary is Kyushu Island. Kyushu is the third largest island in Japan's archipelago and is located in the southern area of the country. 
Where are the best places to visit in Kyushu? Since the island is HUGE, we suggest that you spend the time in Northern Kyushu, specifically Fukuoka, Beppu, and Nagasaki. These underrated cities will give you an introduction to its beautiful landscapes and mountains, history, and mouthwatering local cuisines. Plus, these areas don't attract huge crowds like in Tokyo and Kyoto. 
We suggest that you spend at least 1 week in Kyushu. This Kyushu 7 days itinerary highlights the cities to visit in Kyushu, transportation options, and recommended places to stay. As with any travel itinerary that we share, feel free to mix up the sightseeing attractions based on your interest and time.
Now let's visit these Kyushu must-see tourist attractions!
Click on the links below to jump to certain sections of this Kyushu itinerary for 7 days.
*Disclaimer: Traveling to Kyushu, Japan? This post contains affiliate links to Kyushu tourist attractions. If you click on them and make a purchase, we receive a small commission. There is no additional cost to you. Appreciate the support.
---
Map of Kyushu Itinerary for 1 Week
---
How to Travel Around Kyushu Using JR Pass
The best way to travel around Kyushu and all of Japan is by using the shinkansen high-speed train operated by Japan Rail (JR) Group. The shinkansen is convenient to use since they are fast, always arrive and depart on time, have comfortable seats, and run constantly. They also connect to the local train lines. Using the shinkansen is also a sustainable way to travel since you reduce your carbon footprint for long-distance travel. 
All visitors with a temporary visa have the opportunity to use the shinkansen if you have a wide-area Japan Rail (JR) Pass, JR Sanyo-Sanin – Northern Kyushu Pass, or JR Kyushu Pass. With the pass, you're able to travel within a large area (basically all of Japan), take JR local and fast-speed train lines. You won't be able to take the Nozomi and Mizuho fast line but the Sakura and Hikari still are quite fast with a few extra stops along the way.
You would need to calculate if it's more cost-efficient to have a wide-area JR Pass, Sanyo-Sanin – Northern Kyushu Pass, or Kyushu Pass. Once you have your Kyushu itinerary ready, you can use this scheduler to determine the cost and the departure/arrival times of the shinkansen. 
The wide-area JR Pass is beneficial if you plan to visit different areas of Japan. They have a 7, 14, and 21-day pass. Buy your JR pass for a discounted price here. 
The Sanyo-Sanin – Northern Kyushu Pass is for the Kyushu area and also travels to/from the Osaka area. This pass lasts 7 days. Buy your pass here for a discounted price. 
JR Kyushu Pass is available but has duration of 3 or 5 days. This pass is good if you fly to Kyushu and don't plan to travel outside of the island. Buy your JR Kyushu Pass here.
You'll need to purchase the JR pass in advance and exchange the voucher for the physical ticket at the shinkansen ticket office on your arrival. It's recommended that you also reserve seats in advance so you don't need to worry about not getting one in the non-reserved seating car. You can reserve seats in person at the ticket office.
This post will focus on using the shinkansen between the cities since that was our main mode of transportation.
---
Kyushu Itinerary Day 1-2: Fukuoka
Fukuoka (福岡市) is the main city in Fukuoka Prefecture. As the northern city in Kyushu, it's the perfect introduction to this island. With a mix of traditional and metropolitan architecture and culture, you'll love spending a few days in Fukuoka (also referred to as Hakata in the Hakata area). If you are a huge ramen eater, you'll love eating your way through this city. 
How to Get to Fukuoka
By Plane
Fukuoka has an international airport and it's only 6 minutes away to get to the main station, Hakata Station (博多駅) by train. From the Fukuokakuku Station (福岡空港駅) at the airport, hop onto the local train on the Kuko Line and go two stops to Hakata Station. 
By Shinkansen 
If you're coming from Honshu Island where Tokyo, Osaka, and Kyoto are located, you'll need to take the shinkansen directly to Hakata Station. Travel times will vary depending on your starting location. 
Top Things to Do in Fukuoka 
Eat Hakata ramen

(also referred to as tonkotsu ramen) when you're in Fukuoka.

Many of your favorite ramen shops originated here such as Ippudo, Ichiran, and Shin-Shin Ramen. You can easily spend the day trying different ramen branches.

Take a historical walking tour.

Visit important temples and shrines such as the

Kushida Shrine

and

Tochoji Temple

 which is close to Hakata Station.

 

Walk along the riverfront and try the Yatai food stalls in the evenings. It's similar to hawker food stalls in Singapore

.

Go shopping at

Canal City

, a multi-level shopping center that has boutique and popular stores.

Check out the old ruins of the

Fukuoka Castle

.

See the views of Fukuoka city from

Fukuoka Tower

.

Explore

Dazaifu on a day trip

. It was originally Fukuoka's former government area so you can see ancient ruins of the buildings and also check out the shrines and temples.
Places to Stay in Fukuoka
We stayed at Hotel Mei which is within walking distance to Canal City. It's a new hotel that offers various rooms whether you want a suite or an executive room. We had a budget-friendly room that was spacious and had the amenities needed for our stay. Book a room at Hotel Mei here.
For other options, check out accommodation reviews and book a room in Fukuoka here.
---
Kyushu Itinerary Day 3-4: Beppu
Beppu (別府市) is a famous onsen (hot springs) location in Japan. Located in Oita Prefecture, this mountainous city is unique to visit as you see steam coming from the rooftops of the onsen. You'll love the opportunity to relax in a hot spring and also get a chance to see the multi-colored bubbly hot springs up close. Two days is a good amount of time to relax in the middle of your Japan itinerary. 
Click to read more about our Beppu itinerary here. 
How to Get to Beppu from Fukuoka
Take the shinkansen high-speed train from Fukuoka's Hakata Station (博多駅) to Beppu Station (別府駅). It'll take 2 hours. 
Top Things to Do in Beppu
Relax at an onsen

. You can choose to stay overnight at an onsen or spend time in one with mineral spring water, mud bath, or in the sand.  

The main highlight of Beppu is to

visit the Seven Hells of Beppu

. Take the

Jigoku Meguri

(Hells Tour) to visit the seven hot springs – Chinoike, Tatsumaki, Shiraike, Oniyama, Kamado, Umi, and Oniishi Bozu. You'll love the different colors from cobalt to mud pits for the hot springs. There are 8 Jigoku in the area but one isn't a part of the

Jigoku Meguri

ticket combination. This attraction will take about half a day. 
Eat Beppu specialties

such as steamed foods, steamed custard pudding and eggs, and

toriten

(tempura battered chicken).

Take a

day trip to Yufuin, one of the best onsen towns in Japan. Although it's a smaller town, you can't miss the relaxation opportunities and go hiking up Mount Yufu. 

Visit

Harmonyland

, an outdoor Sanrio amusement park. See Hello Kitty and friends here or visit them in

Tokyo's Sanrio Puroland

.
Places to Stay in Beppu
We stayed at Beppu Hostel U&T which was an affordable option and close to the Beppu Station. The rooms are larger than other places that we stayed at. Plus, this place has unlimited tea and beverage services! Book a room at Beppu Hostel U&T here.
For other options, click here to read reviews of Beppu accommodations and make a reservation. 
---
Kyushu Itinerary Day 5-6: Nagasaki 
Nagasaki (長崎) is a location that has both Japanese and Western influences. As the largest city in the Nagasaki Prefecture and former port city, you'll see influences with the Portuguese and Dutch with the architecture and Christianity. It's also known as the second location to experience the atomic bomb on August 9, 1945 (3 days after the Hiroshima incident). Since Nagasaki is a large area with lots of local attractions, you can easily spend 2-3 days here. 
How to Get to Nagasaki from Beppu
To get to Nagasaki from Beppu, you'll need to allocate 4 hours and do one transfer on the shinkansen fast-speed train. From Beppu Station (別府駅) to Fukuoka's Hakata Station (博多駅), the shinkansen ride will take 2 hours. Afterward, transfer at Hakata Station to go on a different train that goes to Nagasaki Station (長崎駅). This will take another 2 hours. It's a long journey so it's recommended that you purchase a meal or snacks ahead of time for your ride. 
Top Things to Do in Nagasaki
Learn about the history and events leading up to the atomic bomb incident at the

Atomic Bomb Museum

and the

National Peace Memorial Hall for Atomic Bomb Victims. 

Pay your respects at the

Peace Park

and also see the atomic bomb hypocenter at the

Hypocenter Park

.

Visit

Nagasaki's churches

such as Oura Church and

Urakami Cathedral.

Explore the isolated island for Dutch merchants at

Dejima

. 

Eat champon

, a noodle specialty dish from Nagasaki. It's one of our

favorite Japanese foods

to eat!

Visit Chinatown to shop and eat. If you can visit during the Nagasaki Lantern Festival, you'll see over 15,000 lanterns light up the area. Nearby Chinatown is also the Spectacles Bridge that looks like a pair of glasses.
Check out the

nighttime views from the summit of Mount Inasa

at

333 meters (1,093 feet) above sea level. You can take the ropeway to the top of the mountain.

Take day trips to visit the

Huis Ten Bosch

, the Netherland-inspired amusement park, or see the abandoned island of

Hashima Island

(Battleship Island).
Places to Stay in Nagasaki
We stayed at MP Hotel Nagasaki Mizubenomori which is a quiet location in the residential area. This place is great if you're looking for an apartment-style hotel room. The best part is that this room has a washing machine. Regardless, this place is close to the streetcar so you can travel around the city. Book a room at MP Hotel Nagasaki Mizubenomori here.
For other options, click here to read reviews of Nagasaki accommodations and make a reservation.
---
Kyushu Itinerary Day 7: Travel Day or Departure
On your last day in Kyushu, this is your free day to do whatever you'd like! Depending on your schedule you can visit neighboring areas in Kyushu, head to the neighboring Honshu Island, or depart back home via plane at Nagasaki or Fukuoka airport.
Kumamoto
If you have extra time to explore Kyushu, take a day trip to Kumamoto (熊本市). The city is known for the Kumamoto Castle (熊本城) so you'll get an opportunity to explore a historic landmark. 
How to Get to Kumamoto from Nagasaki
From Nagasaki to Kumamoto, take the shinkansen for a two-hour ride. From Nagasaki Station (長崎駅), head to Shin-Tosu Station (新鳥栖駅). The ride takes 1.5 hours. Transfer here and take the shinkansen to Kumamoto Station (熊本駅) for another 25 minutes. 
How to Get to Honshu Island from Nagasaki
If you are planning to head to Honshu Island, you're in luck as there are many places to explore. Honshu Island is the largest island out of Japan's archipelago. It has popular cities such as Hiroshima, Kyoto, Osaka, Tokyo, and other exciting places. 
The nearest main city that is closest to Fukuoka is Hiroshima. We recommend that you stop by Hiroshima for two days to learn more about the Hiroshima atomic bomb, visit the Hiroshima Castle, and do a day trip to Miyajima Island. 
How to Get to Hiroshima from Nagasaki
From Nagasaki to Hiroshima, take the shinkansen for a 3.5-hour ride. From Nagasaki Station (長崎駅), head to Shin-Tosu Station (新鳥栖駅). The ride takes 1.5 hours. Transfer here and take the shinkansen to Hiroshima Station (広島駅) for another 1 hour and 20 minutes. 
Have a safe departure! 
---
This one week in Kyushu went by quickly! This island has so many hidden gems to explore. We hope you enjoyed Kyushu as much as we did so you can return to visit Southern Kyushu in the future. 
What are you most interested in seeing in Northern Kyushu? If you have questions about this Kyushu travel guide or itinerary, ask one in the comments below.  
Save this post to your Japan Pinterest board.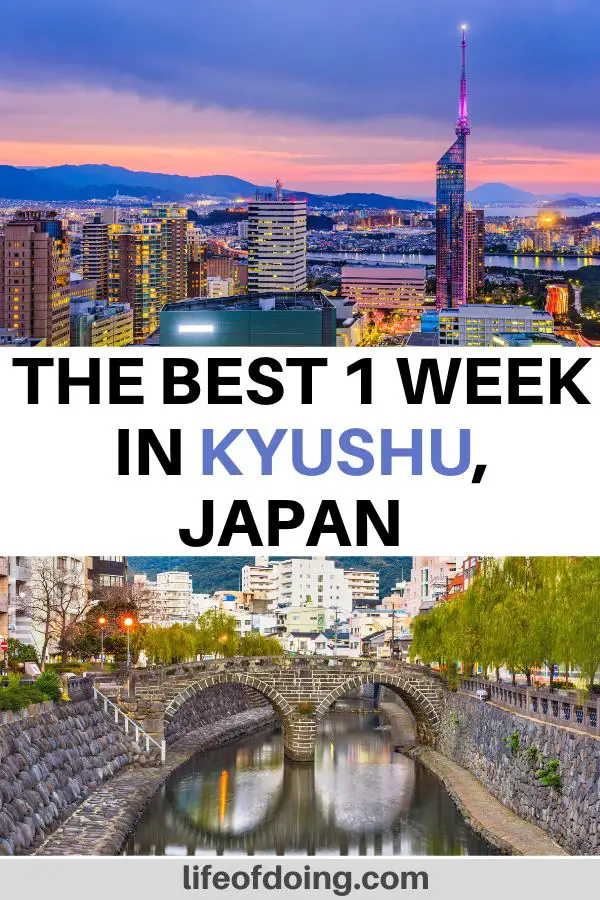 Featured photo & pin #1 photo credit: sepavone via Depositphotos.com