Interested in a day trip from Hiroshima, Japan? Head to Miyajima Island (宮島) for one day! 
This island is traditionally known as Itsukushima Island (厳島) and is located northwest of the Hiroshima area. It'll take 30-40 minutes to get here from Hiroshima Station.
There are so many incredible things to do in Miyajima Island from visiting traditional temples and shrines, seeing one of the tallest torii in Japan, and exploring nature and wildlife, such as deer. 
This Miyajima travel guide highlights how to get to Miyajima, how to get around, what to do in Miyajima in one day, and where to stay overnight. Depending on how much time you have on your Miyajima day trip, feel free to tailor this one day itinerary in any way you'd like. We suggest that you spend a full day here to maximize sightseeing opportunities. 
Let's head to Miyajima Island for the day!
Japan Transportation Passes
Before going into the details on how to get to Miyajima, we'll discuss the various transportation cards and transportation passes to have when you're in Japan and Hiroshima area. 
Japan Railway (JR) Pass
Japan Railways (JR) offers unique transportation passes for international tourists. The passes come in different durations from 1 day to 21 days. They allow visitors to use unlimited trains, buses, and ferries along the JR lines. 
---
IC Card
Consider getting an IC card when you're traveling in Japan. It's a prepaid card where you add funds and can use the card to pay for public transportation such as trains and buses. This card is great for visitors using non-JR lines and not having a JR pass. 
You can get an IC card at any train station. The deposit is 500 yen ($3.50 USD) for the card and has 1,500 yen ($10.55) preloaded. 
---
Hiroshima Tourist Pass
If you do not plan to get a JR Pass or IC card, consider getting this Hiroshima Tourist Pass. 
This convenient pass comes in 1, 2, and 3 days where you can use trains and streetcars for Hiroshima Electric Railway train lines, Miyajima Lines, buses, Meipuru-pu bus, and much more. The Miyajima ferry line will be covered by this pass. 
---
Important Japan Travel Requirements
If you don't have an account, you can create a new login. You can use this same login for future Japan trips. Input your travel dates and requested information for Immigration and Customs. Afterward, save the two QR codes in your email or phone. Show the QR codes to the Immigration and Customs officers on arrival. 
For those traveling in a group, you're allowed to use one login and add visitors' info to the travel date. Each person will need their own QR codes. Therefore, the person managing the registration will need to do the Immigration and Customs form for each person. 
---
How to Get to Miyajima Island
For first-time visitors to Japan, it can be confusing on how to navigate Japan's train and transportation system. It's recommended to use Google Maps so you can plan out your schedule and determine which trains to take to your final destination. 
---
From Hiroshima Airport to Miyajima
Most visitors will arrive in Japan by plane. Hiroshima International Airport (airport code: HIJ) is the closest international airport to Miyajima Island and Hiroshima city. 
---
---
From Kansai International Airport to Miyajima
You could also land at Kansai International Airport (airport code: KIX) in Osaka Prefecture, and take the shinkansen (high speed bullet train) to Hiroshima. 
---
Note: With either of these options above, you'll get off at Hiroshima Station (広島駅) and then go to Miyajimaguchi Station (宮島口駅). Then you'll need to take the ferry. We have more information about the ferry in the "From Hiroshima to Miyajima" section below. 
---
From Hiroshima to Miyajima
From Hiroshima Station (広島駅), take the JR Sanyo Line to Miyajimaguchi Station (宮島口駅). The ride will take between 20-30 minutes depending if you take a local or rapid route. You may use the Japan Rail (JR) pass for this train ride. 
From Miyajimaguchi Station, take the 10-minute ferry from the Miyajimaguchi Pier to the Miyajima Pier. Two companies offer ferry rides – JR West and Matsudai Ferry. 
For both companies, the round trip ticket cost is 360 yen ($2.55 USD) for adults (junior high students and up) and 180 yen ($1.30) for children (elementary school students age 6-12 years).
If you have the JR pass, you board the JR West ferry without having to pay extra. Show your pass to the ferry attendee and hop on board. 
We took the JR West ferry as we had the JR pass and it was a pleasant ride. While you can sit inside the ferry, there is an open area on the third level. It's a great way to get some fresh air and also see the famous Otorii torii. If you decide to sit outside, it can be cold and windy.
---
From Osaka to Miyajima
Once you arrive at Hiroshima Station, follow the instructions above to get to Miyajima Island. If you decide to visit Miyajima as a day trip from Osaka, you'll need a total of 2 hours one-way.
---
How to Travel Around Miyajima
By Walking
The best way to see the Miyajima attractions is by walking. The island isn't large and many of the attractions are close together. 
It's recommended to wear a good pair of walking shoes for your day trip. You're welcome to visit these Miyajima attractions on your own (which is what we did).
---
By Tour
If you prefer a guided tour of Miyajima, check out these options:
---
By Car or Motorbike
---
Recommended Things to Do in Miyajima in One Day
1. Take photos of the deer. 
Most of the deer hang out around Omotesando Shopping Street. They are too adorable and don't mind getting their photo taken. When traveling in a pair, they tend to lick and groom each other's fur so they could care less about the photo opportunity.
The deer aren't as aggressive as the ones in Nara since there aren't any deer crackers sold.
However, you need to be careful if you have food hanging outside of your backpack or purse as the deer have a keen sense of smell. They are ninjas and will pop out of nowhere to try and get your food. 
---
2. Shop and eat along Omotesando Shopping Street.
Once you depart from the Miyajima ferry, you'll walk along Omotesando Shopping Street. It's a fun street to browse around for food, cafes, and souvenir shopping and is a must-visit on your Miyajima itinerary. 
If you haven't eaten breakfast, you can find a place to eat in the area or pick up a snack and have lunch later. 
---
We ordered a set with grilled conger eel (anago), fried oysters, salad, rice, and soup (2,700 yen). The anago was pretty good and the fried oysters were better than expected. 
We also ordered udon with boiled oysters. The noodle soup was refreshing with a light broth and oyster essence.
Address: 505-1 Miyajimacho, Hatsukaichi, Hiroshima 739-0588, Japan (〒739-0588 広島県廿日市市宮島町505-1)
Opening Hours: 10:30am-5:00pm
Prices of Dishes: 1,100-3,000 yen ($7.80-$21.20). Cash only.
---
One thing that you must buy when you're in Miyajima is momiji manju. It's a specialty food item made in Miyajima and many shops sell them.
Momiji manju is a Japanese maple leaf-shaped sponge cake with different fillings such as red bean, matcha, pumpkin, chestnut, chocolate, and more. The cake is on the sweeter side since honey is one of the ingredients in the cake, yet it's not overly sweet. 
They are best when eaten 1-2 days from purchase. Otherwise, the momiji manju gets too soggy. 
Expect to pay 100-120 yen ($.70-$.85) for each piece.
---
3. Visit Itsukushima Shrine.
During high tides, the shrine and torii look like they are floating in the water. It's a special experience to see the floating aspect! It's a good view from the Takabutai pier area. (You can also get a good view of the floating torii gate on the outside of the shrine.)
During low tides, you're able to walk up to the Otorii. Walking up to the Otorii is impressive since it's 16 meters (52 feet) tall and known as one of the largest torii gates in Japan. Wear closed-toed shoes since the ground can get slippery. 
Update: The Otorii construction has finally been completed! Unfortunately, we visited in the middle of the construction in January 2020 so it was covered. But we have the ticket to see what it should look like.
The shrine itself is lovely to walk through with jaw-dropping architecture and the bright vermillion color. 
You can only walk through it one way so you'll pass by smaller shrine areas. You can do some prayers and offerings at several of the shrines. 
Take the time to walk around to observe the various aspects of the shrine. We loved the East and West Corridors with the lanterns and these are good photo spots.
Fun fact: The floors in the corridor areas are not held together by nails but have a small gap between them to relieve the water pressure from high tide.
Address: 1-1 Miyajimacho, Hatsukaichi, Hiroshima 739-0588, Japan (〒739-0588 広島県廿日市市宮島町1-1)
Opening Hours: 6:30am-5:30pm (shrine only)
Admission Cost: 300 yen ($2.10) adults, 200 yen ($1.40) students age 15-17 years, 100 yen ($.70) elementary and middle school students age 6-14 years
---
---
4. Visit Daishoin Temple.
Daishoin Temple (大聖院) needs to be on your Miyajima itinerary. It's located at the base of Mount Misen and is a peaceful and well-maintained Shingon Buddhist temple.
The temple is surrounded by gorgeous greenery, trees, and the mountainside so you get your nature fix here. Out of the temples that we've been to in Japan, this one is one of our favorites. 
When you enter the temple, you have the chance to spin the praying wheels, participate in prayers, and visit smaller shrines. 
Rakans are disciples of Buddha while jizo are depicted as smaller Buddhist monks. The statues come in different sizes and various facial features. Jizo statues are adorable with happy and smiling faces. 
All the statues have knitted hats on their heads to keep them warm. So thoughtful!
TIP: If you have knee or mobility issues, skip this place. To go through the front entrance, guests need to climb up a steep set of stairs. 
Address: 210番地 Miyajimacho, Hatsukaichi, Hiroshima 739-0592, Japan (〒739-0592 広島県廿日市市宮島町210番地)
Opening Hours: 8:00am-5:00pm
Admission Cost: Free admission. Donations are welcome to maintain the temple upkeep.
---
5. Hike Mount Misen.
The summit is 535 meters (1,755 feet) and is the highest mountain on the island. 
Hiking Mount Misen is doable to complete in 2+ hours. 
There are different hiking routes that you can take: 
Ropeway Admission Cost: 
Adults (12 years and up): 2,000 yen ($14.15) round-trip / 1,100 yen ($7.80) one-way
Children (6-12 years): 1,000 yen ($7.10) round-trip / 550 yen ($3.90) one-way
Opening Hours: 9:00am-4:00pm (Final return departure at 4:30pm)
Route 2: Daishoin course – The trail starts next to the Daishoin Temple and is one of the popular trails.
Route 3: Omoto course – The trail starts at the Omoto Shrine which is west of Daishoin Temple.
---
Life Of Doing Recommendation: Daishoin Trail
We decided to take the Daishoin trail since we were already at the Daishoin Temple. It was a moderate hike with some steep areas. 
The trail had a lot of stone paths. Feel free to take breaks along the way since it's not easy to climb up a mountain.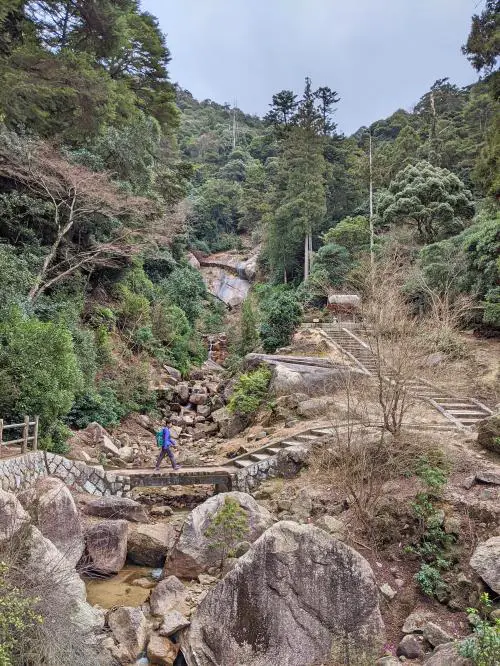 We hiked in the early afternoon and there were only a handful of hikers on the trail. 
It was a nice hike through the forest area so most of the trail is shaded. We also saw some deer along the way up. As long as you follow the trail, you won't get lost. 
Once you reach the summit, take a rest at the observation deck. The observation deck has a restroom and free wifi connection. You'll love the panoramic views of the waters and neighboring islands from the peak. We wouldn't mind seeing this view every day! 
To go back down, you can take any of the three routes. We decided to take the same route back down. 
Along the way down, you can take a detour to see Misen Hondo Hall, Reikado Hall, Sankido Hall, and Kuguri Iwa (a rock tunnel).  
In the end, it took us about 1.5 hours for the round-trip hiking trip (excluding rest break at the observation deck).
---
Helpful Tips for Hiking Mount Misen
Bring enough water and snacks for your trip.
Hiking boots aren't required but good walking shoes with traction. We used Nike Free shoes and didn't have any issues.
Bring a light jacket as the observation deck is windy.
Don't feed the deer.
Don't litter. Bring all your trash back with you.
If it rains, you may want to skip the trail since it can be slippery in steep areas.
---
Other Places to Visit in Miyajima On Your Day Trip
Here are some other attractions in Miyajima to visit if you have extra time on your day trip. 
Since the hike up Mount Misen took up a few hours of our day trip, we didn't have a chance to visit these places.
---
Stop by the Senjokaku Pavilion (Toyokuni Shrine) and Five Storied Pagoda.
These two places are next to each other and across from the Itsukushima Shrine. You'll need to take a flight of stairs up to get to these attractions. If you have knee or walking problems, skip these attractions.
The Senjokaku Pavilion (豊国神社) was built 400 years ago by Toyotomi Hideyoshi, the leader at the time. Due to Toyotomi's death, the building has not finished building. Regardless, people still visit for the views of the island. It's also pretty to visit during the cherry blossom season. 
The Five-Storied Pagoda is 27 meters (88.5 feet) tall. You can't miss the red and brown pagoda since you can even see it from Itsukushima Shrine. Unfortunately, you cannot go inside the temple. 
Address: Miyajimacho, Hatsukaichi, Hiroshima 739-0588, Japan (〒739-0588 広島県廿日市市宮島町)
Opening Hours: 8:30am-4:30pm
Admission Cost: 100 yen ($.70) adults, 50 yen ($.35) elementary and middle school students 
---
Miyajima Traditional Crafts Center
Address: 1165-9 Miyajimacho, Hatsukaichi, Hiroshima 739-0588, Japan (〒739-0588 広島県廿日市市宮島町1165-9)
Opening Hours: 9:00am-5:00pm (Closed on Mondays)
Admission Cost: Free to enter the gallery. Classes are an extra additional fee.
---
Visit Tokujuji Temple
Have a unique cultural experience learning how to do calligraphy, participate in a tea ceremony, and wear a kimono during the experience. 
Book your cultural experience here. 
Address: Kamisairencho-741-1 Miyajimacho, Hatsukaichi, Hiroshima 739-0513, Japan (〒739-0513 広島県廿日市市宮島町上西連町741−1)
Opening Hours: 9:00am-6:00pm
Where to Stay in Miyajima
While we were based in Hiroshima, there are a few dozen places to stay overnight on Miyajima Island. Here are recommended places to stay in Miyajima based on the reviews.
Click here to see all the Miyajima accommodation options.
Kikunoya
If you want a view of the Otorii, then this is the place to stay! Guests enjoy the location and the Japanese and Western rooms. There is a free shuttle to the pier.
The cost of the room is between $100-$400 per night for 2 person occupancy. 
---
Iwaso
This is a luxury inn that provides the ryokan experience. You get the opportunity to sleep on tatami mats and also relax in the outdoor hot spring. The inn provides a shuttle to the pier. 
Rooms start at $350 per night for 2 person occupancy.  
---
Final Thoughts
We hope you enjoyed the one-day trip to Miyajima Island as much as we did! It's an incredible place to see traditional shrines and temples, explore nature, and see wildlife. 
Plus, it's an easy day trip from Hiroshima. If you haven't had a chance to visit Hiroshima yet, read our Hiroshima guide for more details. 
Enjoy Miyajima Island and your travels through Japan. 
Looking for more Japan posts? Check out what we've written about Japan for inspiration:
Have you been to Miyajima Island? If not, what would you like to see here? Share in the comments below.
Love this post? Save it to your Japan Pinterest board.
Featured photo and pin #1 photo credit: sepavone via Depositphotos.com