Hiroshima is a popular destination to visit in Japan.
As the capital of the Hiroshima Prefecture, Hiroshima (広島市) attracts many visitors due to its tragic history on August 6, 1945. It was the first city to get hit with an atomic bomb by the United States.
Now, it's a thriving modern city and continues its humanitarian efforts with promoting world peace and not having nuclear weapons. 
Since there are many things to do in Hiroshima, we suggest that you spend 2 days in Hiroshima. This Hiroshima 2 days itinerary is the perfect amount of time to see the top Hiroshima sights and not feel rushed during your vacation. We know how easy it can get to feel burned out from a vacation from doing too many activities. 
Continue reading to read our insider travel tips and how to maximize your time with these top places to visit in Hiroshima.
Click on the links below to jump to certain sections of this Hiroshima 2 day itinerary.
Need ideas on other places to visit in Japan? Check out our posts below for more inspiration:
*Disclaimer: Headed to Hiroshima, Japan? Please note that this post contains affiliate links. If you click on them and make a purchase, we receive a small commission. There is no additional cost to you. Appreciate the support.
---
Hiroshima Map
---
Hiroshima Itinerary Day 1: Hiroshima Peace Memorial Park & Other Hiroshima Tourist Spots
On your first day in Hiroshima, we're headed to the Hiroshima Memorial Peace Park to see sights such as the Atomic Bomb Dome and will also visit other sites such as Hiroshima Castle and Shukkeien Garden. This will be a packed day filled with learning.
Hiroshima Peace Memorial Park
Located in the center of the city and between the Honkawa and Motoyasu River is the Hiroshima Peace Memorial Park. The area has many memorials and monuments to highlight the bombing on August 6, 1945.
We'll share more in detail the must-see attractions below.
Most of the attractions are free to visit and available to visit at any time of the day.
Atomic Bomb Dome (A-Bomb Dome)
A trip to this city will not be complete without seeing the Atomic Bomb Dome (原爆ドーム). It's a UNESCO World Heritage site for its Outstanding Universal Value.
This former Hiroshima Prefectural Industrial Promotion Hall sustained a lot of damage as it was 160 meters (525 feet) from the hypocenter of the atomic bomb.
The building still retained its dome shape and had some parts of the wall and the iron infrastructure still standing after the blast. When you visit this place, please be respectful. 
Address: 1-10 Otemachi, Naka Ward, Hiroshima, 730-0051, Japan (〒730-0051 広島県広島市中区大手町1−10)
Children's Peace Monument
One of our favorite spots in the Hiroshima Peace Park is the Children's Peace Monument (原爆の子の像). This memorial is dedicated to the children who passed away from the atomic bombing. 
It was inspired by the story of Sadako Sasaki, a girl who was exposed to radiation at age 2 and passed away by leukemia at age 12. Her story is documented in the "Sadako and the Thousand Paper Cranes" novel by Eleanor Coerr. Sadako folded 1,000 origami paper cranes so she can get better. While the book says that Sadako didn't reach her goal, the Hiroshima Peace Memorial Museum (mentioned below) said that Sadako exceeded her goal. 
There is a 9 meters (29.5 feet) statue with a girl holding an origami paper. The center of the statue is an opportunity for visitors to ring the bell. 
As you walk around the monument area, you'll see children's artwork encouraging world peace and lots of origami paper cranes. It's a great reminder to everyone that war is not the answer and how everyone can get along. 
Address: 1 Nakajimacho, Naka Ward, Hiroshima, 730-0811, Japan (〒730-0811 広島県広島市中区中島町1)
Cenotaph for the A-Bomb Victims
This Memorial Cenotaph is dedicated to all atomic bomb victims. Their names are inside the central stone vault regardless of nationality. Y
ou'll recognize this memorial as it's a white curve sculpture and towards the end of the Pond of Peace. Many visitors come here to pay respects to those who passed away. 
On the other side of the Pond of Peace is the Flame of Peace. Since Hiroshima is the city to espouse peace, this flame will burn until all nuclear bombs have been abolished. The flame has been lit since August 1, 1964.
Address: Between Children's Peace Monument and Hiroshima Peace Memorial Museum
Hiroshima Peace Memorial Museum
To understand the history of the atomic bombing and what brought the incident, everyone must visit the Hiroshima Peace Memorial Museum (広島平和記念資料館) during their 2 days in Hiroshima itinerary. 
We enjoyed the museum and spent over 2 hours reading through the material and learning about the history. If you have children, you may want to reconsider bringing them since the materials may be too traumatic for them. 
Start by watching a video of victims' stories and the aftermath of the bombing on the first floor. The video is offered several times a day with English translation.
Afterward, head to the various levels to read more victims' stories, watch videos their stories, and see artifacts from the day of the bombing. You can also read more about the uranium bomb, also called "Fat Boy," how it was created by the Americans, and why it was used on Japan. 
Considering that the Americans used this weapon, the museum kept their information neutral and didn't blame the Americans for the bombing incident. The Japanese learned from the overuse of government power and changed the country afterward. 
The best thing to take away from the museum is that Hiroshima City doesn't want another city to experience nuclear warfare like what they endured ever again. The city continues to advocate peace and wants all countries to not have nuclear weapons anymore. If everyone in the world visited this museum, we think global wars and the use of weapons will stop.  
Tip: The museum offers free day lockers to use. Store your backpacks and other things you don't need to carry. You'll receive your 100 yen ($.90) deposit back when you return the locker key.
Note: If you're interested in reading more about the atomic bomb, head to Nagasaki on the Kyushu island.
Nagasaki was the second location where another bombing occurred on August 9, 1945. They also have an Atomic Bomb Museum which highlights Hiroshima's bombing incident.
Address: 1-2 Nakajimacho, Naka Ward, Hiroshima, 730-0811, Japan (〒730-0811 広島県広島市中区中島町1−2)
Opening Hours: 8:30am-6:00pm (March-July and September-November), 8:30am-7:00pm (August), 8:30am-5:00pm (December-February)
Admission Cost: 200 yen ($1.85 USD) adults, 100 yen (.90) high school students, free children to junior high students; rental fee for audio guide is 400 yen ($3.70)
Hiroshima National Peace Memorial Hall
Located next to the Peace Memorial Museum is the Hiroshima National Peace Memorial Hall (国立広島原爆死没者追悼平和祈念館). This memorial is a place to give remembrance to the atomic bomb victims.
The Hall of Remembrance room has over 140,000 tiles with the number of bomb victims in the Hiroshima City area. The beige walls with the silhouette of the city in the background provide a peaceful yet somber ambiance. Please pay your respects by entering this room.
Other areas of the memorial include seeing photos of the bomb victims and reading more about them on computer screens and also listening to stories and videos from bomb victims. 
Tip: If you need to store your backpack, there are lockers available to use for free. You'll receive your 100 yen ($.90) deposit back when returning the locker key.
Address: 1-6 Nakajimacho, Naka Ward, Hiroshima, 730-0811, Japan (〒730-0811 広島県広島市中区中島町1−6)
Opening Hours: 8:30am-6:00pm (March-July and September-November), 8:30am-7:00pm (August), 8:30am-5:00pm (December-February)
Water Taxi
As we exited the Peace Park area, we saw a sign to take a water taxi. Guests have the chance to take a 10-minute cruise or go farther to Hiroshima Station and Shukkeien Garden. We didn't take the taxi ride yet it sounds like a good way to see a different perspective of the city by boat. 
Address: You'll find the dock along the walkway across from the Atomic Bomb Dome.
Cost: 
10-minute cruise: 500 yen ($4.70) adults, 250 yen ($2.35) children

30-minute cruise: 1500 yen ($14.00) adults, 750 yen ($7.00) children

40-minute cruise: 1700 yen ($15.80) adults, 850 yen ($7.90) children (We're not sure where this goes as the sign didn't have an English translation.)
Hiroshima Castle
After learning about the atomic bomb event, head to Hiroshima Castle (広島城), also referred to as Carp Castle (鯉城). It's one of the popular attractions in Hiroshima.
The castle was built in 1589 by Terumoto Mori, the feudal lord at the time. Unfortunately, everything except for the stone wall foundation was destroyed on the day of the bombing. The castle was 980 meters (.60 miles) from the hypocenter.
Luckily the five-stories castle was rebuilt with its original design in mind. 
Visitors have the opportunity to learn about Hiroshima Castle's history, samurai culture, and even have the chance to try on samurai helmets and kimonos for free. When the weather is nicer, there is an opportunity to take a boat ride around the moat area. 
Unfortunately, we didn't have a chance to visit the castle. We were a bit castled out after visiting Himeji Castle and Okayama Castle earlier in our Japan itinerary. Although, we spent some time walking around the moat and saw the castle from different angles.
Address: 21-1 Motomachi, Naka Ward, Hiroshima, 730-0011, Japan (〒730-0011 広島県広島市中区基町21−1)
Opening Hours: 9:00am-6:00pm (March-November), 9:00am-5:00pm (December-February)
Admission Cost: 370 yen ($3.40) adults, 180 yen ($1.70) seniors 65+ and high school students, free children to junior high students.
Shukkeien Garden 
Shukkeien Garden (縮景園) is a recommended place to visit in Hiroshima to enjoy a Japanese garden. It was developed in 1620 by Ueda Soko, a tea ceremony expert. The garden was damaged during the bombing incident and restored after 1951. 
The picturesque spot in Shukkeien Garden is the Koko Bridge. It's a white bridge in the middle of the pond that is in the shape of a rainbow. The meaning behind the bridge is that the curve represents a connection between earth and heaven.
This was one place that we regretfully didn't have time to visit. We would love to visit on a return trip. 
Address: 2-11 Kaminoboricho, Naka Ward, Hiroshima, 730-0014, Japan (〒730-0014 広島県広島市中区上幟町2−11)
Opening Hours: 9:00am-7:00pm (April-September), 9:00am-5:00pm (October-March)
Admission Cost: 260 yen ($2.40) adults, 150 yen ($1.40) high school and university student, 100 yen ($.90) elementary and junior high school
---
Hiroshima Itinerary Day 2: Miyajima Island
On your second day in Hiroshima, you can either go back to the Hiroshima Peace Park or the Hiroshima Castle area to revisit places that you missed on the previous day. Or, you can go to a peaceful and beautiful island – Miyajima Island! 
Miyajima is the perfect day trip from Hiroshima. From Hiroshima to Miyajima, it's only 30-40 minutes using a combination of the train and the ferry. Most of the major attractions on Miyajima Island are within walking distance.
There are so many incredible things to do in Miyajima.
If you love exploring traditional Japanese architecture, head to the gorgeous Itsukushima Shrine to see the vermilion shrine area and also check out the Otorii. This is the photogenic floating torii gate in the middle of the water.
The tip is to visit during high tide to see the floating effect. Otherwise, low tide provides a unique experience where you can walk up to the gate. 
Hikers will enjoy the outdoor adventures of hiking Mount Misen at 535 meters (1,755 feet). It's considered one of the incredible hikes to do in Japan!
You can also stroll down Omotesando Shopping Street for souvenirs and restaurants. Don't forget to buy momiji manju, the Japanese maple leaf shaped cakes, as souvenirs.
Read more about our exciting Miyajima day trip here.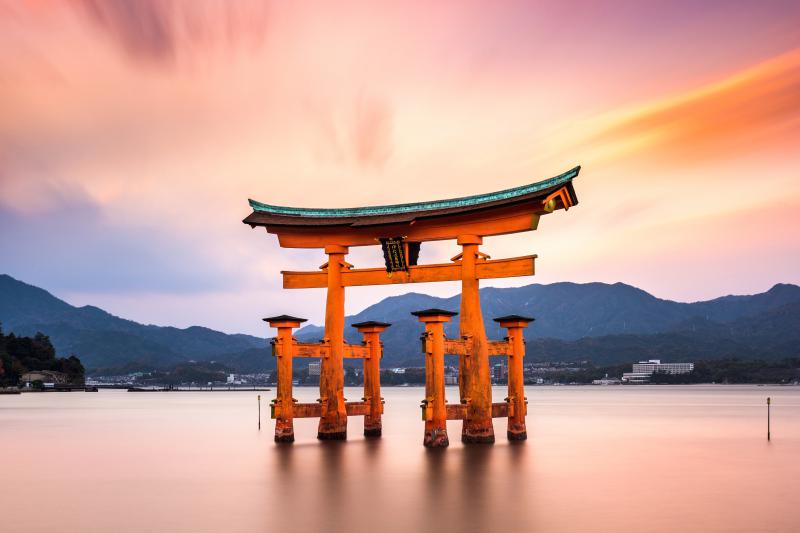 ---
How to Get to Hiroshima 
Depending on your starting location, you can get to Hiroshima easily via the shinkansen (high-speed rail). We'll share information on how to get here from Okayama, Osaka, or Fukuoka (if you're visiting Hiroshima as a day trip).
From Okayama to Hiroshima
The easiest way is to take the shinkansen with your Japan Rail (JR) pass. From Okayama Station (岡山駅) to Hiroshima Station (広島駅), it's a quick 40 minutes. The pass won't allow rides via Nozomi or Mizuho lines. You can go to the shinkansen ticket office to get a reserved seat.
Buy your JR pass for a discounted price here!
From Osaka to Hiroshima 
From Osaka Station (大阪駅), take the JR Tokaido-Sanyo Line to go to Shin-Osaka Station (新大阪駅). This will take 5-10 minutes. Then, head to Hiroshima Station (広島駅) via the shinkansen. The train will pass through Kobe, Himeji, Okayama before arriving at Hiroshima Station. It'll take 1.5 hours on the shinkansen.
From Fukuoka to Hiroshima
If you're based on Kyushu Island's Fukuoka City, you can also take a day trip from Fukuoka to Hiroshima. From Hakata Station (博多駅), take the shinkansen to Hiroshima Station. It'll take 1 hour and 4 minutes.
Tip: At the Hiroshima Station, stop by the Tourist Information Center and pick up a brochure that has a map of Hiroshima and Miyajima. This will help with planning out your Hiroshima itinerary.
---
How to Travel Around Hiroshima 
Walking
Hiroshima is a walkable city, but then again, we love walking around to get some exercise and fresh air. All you need is a good pair of walking shoes.
From Hiroshima Station to Hiroshima Castle, it'll take about 20 minutes since it's 1.5 kilometers (.90 miles) away.
If going to the Atomic Bomb area from the station, it'll take 30 minutes to walk there as it's 2.4 kilometers (1.5 miles) away.
Meipuru-pu Bus
Take the Meipuru-pu which is a convenient bus for tourists that follow three routes and goes to popular places such as the Hiroshima Castle, Museum of Art, Atomic Bomb Dome, and more.
There are three routes to choose from – orange, lemon (yellow), or green route. 
The starting location is from the Hiroshima Station so it's great for those who just arrived from the shinkansen. 
Cost:
One ride: 200 yen ($1.85) adults (age 12+), 100 yen ($.90) children (6-11 years)

One-day pass: 400 yen ($3.70) adults, 200 yen ($1.85) children

Free if using the Japan Rail (JR) Pass or JR West Pass
Tickets can be purchased at the tourist information centers at the Hiroshima Station or inside the bus. You can also pay via IC cards. 
Streetcar 
The streetcar, operated by Hiroshima Electric Railway, is another way to travel in the city. There are 9 routes noted in different colors.
They start from the Hiroshima Station and even travel to Hiroden-miyajimaguchi stop (last stop before heading to Miyajima Island as a day trip). Click here to see the schedule and map of the streetcar.
Cost: 
One ride: The cost varies depending on which route you take. Cost is between 130-270 yen ($1.20-$2.50) while the main inner-city area is 190 yen ($1.80) for adults and 100 yen ($.90) for children.

One-day pass: 600 yen ($5.60) adults, 300 yen ($2.80) children
Take a tour.
While the itinerary above is for those who enjoy a DIY approach, you can take scheduled tours to learn more about these Hiroshima attractions. Here are some tours to consider:
---
Where to Eat in Hiroshima
The one thing that you must eat when you're in Hiroshima is okonomiyaki. We're huge fans of Hiroshima style okonomiyaki and even eat it at our favorite Japanese restaurant in Ho Chi Minh City, Vietnam! 
What we adore about it is the flavors in each layer and the health aspect. You get your daily value of carbohydrates, vegetables, and protein. The layers are a thin crepe of batter and bonito (dried fish) flakes at the bottom, mountain of cabbage and bean sprouts, pork strips (can be removed), noodles, egg, sauce, and topped with seaweed flakes. You can also have seafood and mochi (glutinous rice) added.
We had okonomiyaki three times during our 2 days in Hiroshima. Did we get tired of eating it?! No way! It's a top food to try in Japan. Since we stayed close to the Hiroshima Station, we had two out of three at the Ekimae Shopping Center which connects to the station. 
Here is a list of the okonomiyaki restaurants in Hiroshima:
Mitchan Sohonten 
We found out about this place in the Hiroshima-Miyajima Visitor Guide and it didn't disappoint! Mitchan Sohonten is supposedly the first creator of the Hiroshima style okonomiyaki and the standard for okonomiyaki. 
This is one of the best okonomiyaki restaurants that we've eaten at. We tried several items on the menu – #2 which is the Mitchan Special with fried squid, sauteed squid, shrimp, and mochi with ramen, #9 okonomiyaki with cheese, and a side of fried oysters. Oh gosh. Everything was so delicious! 
If you like crispy noodles, then this place makes it extra crispy. Adding the mochi is a recommended addition since you get the balance of the crunch of the noodles and the gumminess from the mochi. The seafood wasn't overcooked either.
You may think that okonomiyaki with cheese is a bit weird. The combination provides a cohesive balance of the cabbage and bean sprouts with the saltiness and richness from the cheese.
Try the oysters when they are in season. The dish comes with a mountain of green onions. 
There is an English menu available. 
Address: There are 7 locations in Hiroshima and 1 in Tokyo. You can find the addresses here.
For the ones that we went to, the addresses are: 
Ekie Mall Dining Area: 1-2 Matsubaracho, Minami Ward, Hiroshima, 732-0822, Japan (〒732-0822 広島県広島市南区松原町1−2)

Flagship store: Japan, 〒730-0013 Hiroshima, Naka Ward, Hatchobori, 6−7 チュリス八丁堀 1F (〒730-0013 広島県広島市中区八丁堀6−7 チュリス八丁堀 1F)
Opening Hours: Varies depending on the store.
Ekie Mall: 11:00am-10:00pm

Flagship store: 11:30am-2:30pm and 5:30pm-9:00pm (Weekdays), 11:00am-9:00pm (Weekends)
Average Cost for Dishes: 870-1,710 yen ($8.10-$16). Some shops accept credit cards.
Reichan Okonomiyaki
Reichan Okonomiyaki (麗ちゃん) at the Ekie mall under JR Hiroshima Station. It's a good option to try okonomiyaki if Mitchan Sohonten is busy.
We tried the oyster okonomiyaki and one with shrimp and squid (excluded the pork slices). The okonomiyakis are solid.
The opportunity for improvement is that the squid and shrimp are sauteed first before placing in the okonomiyaki layers so the seafood was a bit overcooked.
Otherwise, the store is accommodating for food allergies and requests. Since we didn't order pork slices, we received an 80 yen ($.75) discount.
There is an English menu available.
Address: In the Ekie Dining area of the mall
Average Cost for Dishes: 840-3,500 yen ($7.80-$33.00). Accepts credit card.  
Pro tips for eating okonomiyaki
Sit at the grill area so you can see the okonomiyaki chefs in action. It's exciting to hear the clanging of the cooking spatulas against the grill and to see the okonomiyaki getting cooked in front of you. Heads up – You and your clothes will smell like delicious okonomiyaki afterward.

If you're allergic or have dietary restrictions, you can ask the waiter to have an ingredient removed.

Feel free to add mayo or additional okonomiyaki sauce to your dish.
If you're interested in taking a food tour in Hiroshima, here is an option:
---
Where to Stay in Hiroshima
During your two days in Hiroshima, it's best to situate yourself close to Hiroshima Station. It's convenient to use the train and also catch the streetcar and Meipuru-pu bus. Hiroshima has a variety of accommodations to choose from. 
Check out reviews of Hiroshima accommodations and book a room today!
We stayed at this Airbnb studio apartment since it was an affordable option. We wanted to have more privacy and a "home" feel.
The apartment was perfect for us as it was clean, had an ensuite bathroom, and was a 10-minute walk from the Hiroshima Station. It's a typical apartment size in Japan so don't expect a huge room.
After traveling for over a week in Japan, it was a nice surprise to see a washing machine included in the apartment.
The host was also easy to contact via the Airbnb app. Cost is $43 per night. 
Here are some other Hiroshima accommodations to consider:
WeBase Hiroshima – This hostel is an affordable place to stay in Hiroshima. It's close to the Atomic Bomb and Peace Memorial Park. Guests enjoy clean and modern rooms. The hostel has private rooms and mixed dorms. There is a main dining area to meet other guests. Rooms are between $62-$85 per night for 2 person occupancy or $20 per person for a bunk bed.  Click here to make a reservation at WeBase.
Rihga Royal Hotel Hiroshima – This hotel is great if you would like a view of the city from your room. It's located near the Atomic Bomb and Peace Memorial area. The hotel has several on-site restaurants for guests to choose from. Rooms are between $110-$280 per room per night for 2 person occupancy. Read more about Rihga Royal Hotel and make a reservation here.
Sheraton Grand Hiroshima Hotel – As a part of the Marriott brand, guests will receive excellent hospitality and amenities. It's conveniently located next to the JR Hiroshima Station and connects with the station so guests can access the JR train to other areas of Japan. Guests love their city views and breakfast. Rooms are $200-$850 per room per night for 2 person occupancy. Make a reservation for Sheraton Grand here.
---
Final Thoughts about Hiroshima
Out of the places that we've visited in Japan, Hiroshima is the most thoughtful when it comes to its overall mission – to encourage everyone to have world peace and not to use nuclear weapons in the future.
Visiting Hiroshima for 2 days is a good way to learn more about Japan's history with the atomic bombing and also get a chance to visit Miyajima Island as a day trip.
Hope you get a chance to visit Hiroshima in the future!
What do you know about Hiroshima? What are you the most interested in seeing here? Let us know in the comments.
Save this post to your Japan Pinterest board now!
Featured photo credit & Pin #2: Ludovica Festino via Scopio Photos
Pin #1 photo credit: Tom Shu via Scopio Photos