Overwhelmed at the plethora of food options in Seoul, South Korea? If you're visiting or staying in the Myeongdong area, you're in luck as we'll share the best restaurants in Myeongdong. We stayed in Seoul for five days and tried a variety of foods from traditional Korean food to dessert to enticing street food in this area.
We have you covered with recommended delicious and affordable foods that you need to try and where to eat in Myeongdong which will make you crave more food! Have this Myeongdong food guide post handy when you're in Seoul so you're ready to eat and prevent hanger (hunger and angry).
For vegetarians and vegans, South Korea is challenging as the meals are meat-centric. It's possible to eat vegetarian such as the banchans. Luckily, this list of amazing vegan food in South Korea has some delicious options in Seoul. 
Why Myeongdong? Located off of Line 4 subway system, Myeongdong is one of Seoul's main hubs for shopping galore. We're talking chic and affordable women's clothes, facial products and cosmetics at every corner, and tons of facial mask stores. Many of the stores give a free mask if you visit the store. The shopping opportunities are endless. If you spend a certain amount, don't forget to take advantage of the tax refund at the Incheon Airport when you depart.
Since the Myeongdong area is walkable, Myeongdong restaurants and food options are easily accessible. Now, let's go and see what to eat in Myeongdong!
---
Best Restaurants in Myeongdong
1. Myeongdong's Street Food
Ok, this place isn't a restaurant but Myeongdong is swarming with street food everywhere in the evenings. It'll be hard to go shopping and not stop by one of the vendors to purchase something.
Try snacks like Korean fried chicken with topokki (rice cakes) in gochujang spicy sauce, fried squid on a stick, or even fancier items of BBQ fresh scallops with cheese. If you love sweets, choose from croissant taiyaki, strawberry mochi (when strawberries are in season), or honey ice cream with a piece of honeycomb.
Vendors start to repeat themselves as you navigate further towards the middle of the shopping area, so no need to FOMO (fear of missing out) if you missed the vendor the first time. Make sure that you have enough cash available to pay for the food items as some of the seafood options are pricier. 
2. Sulbing Korean Dessert Cafe (설빙)
Sulbing Korean Dessert Cafe is one of the best places to eat in Myeongdong. We went here every evening of our stay for dessert even during the rain. It's that good and we're still dreaming about this place!
This popular place is famous for its snow-ice desserts and specialty toast. The snow is heavenly with the smooth, superfine powdered snow. We can't go back to eating any other snow-iced desserts. What is great about this place is that the desserts can be shared with another person. Or if you're a big eater, you can try to tackle it yourself!
We tried the following and loved every one of them:
Real Green Tea Snowflake

(9,500 KRW / $8.40 USD) – What is not to love about green tea anything?! This snow comes with TWO scoops of green tea ice cream and red bean filled mochi.

Green Tea Chocolate Snowflake

(9,500 KRW / $8.40 USD) – Mix of chocolate powder and green tea snow with green tea ice cream = deliciousness. It's a popular menu item and perfect for chocolate lovers. We noticed that the chocolate did overpower the green tea flavor though.

Strawberry Snowflake Tree

(13,500 KRW / $12 USD) – During our visit, strawberries were in season. Therefore, we had to try the strawberry snow with the green tea ice cream (instead of a ball of ice cream it was flatter to look like a tree). Although a pricier dessert, the fragrant and sweet strawberries complemented the green tea flavors.

Injeolmi Snowflake

(7,000 KRW / $6.20 USD) – If you want a lighter flavor, try the snow with the injeolmi powder. It's a soy powder with almonds, mochi, and a side of condensed milk.

Injeolmi Honey Butter Toast

(7,000 KRW / $6.20 USD) – For the bread junkies, this dessert comes with three layers of toast with cheese in between, vanilla ice cream with honey, and topped with injeolmi powder.
Address: 32-17 Myeongdong 2(i)-ga, Jung-gu, Seoul, South Korea (on the second level)
3. Myeongdong Kyoja (명동교자)
Since 1966, Myeongdong Kyoja serves incredible kalguksu, knife-cut noodles in the area. Everyone makes kalguksu differently as we've had it in Jeonju (also one of the UNESCO Creative Cities of Gastronomy). The kalguksu at this place comes with beef and dumplings in a hot, savory soup. We also ordered the kongguksu, cold soybean soup, which had a rich flavor from the crushed sesame seeds. Everyone also receives a small dish of kimchee. Both dishes were 8,000 KRW ($7 USD) each.
Due to the crowds at this place, efficiency is key. Therefore, you'll pay for the meal before the food arrives. In addition, the tables are cleaned up within 15 seconds of a group leaving.
Space is also tight at this restaurant as your neighbor is half an arm's length away. If you have claustrophobia agoraphobia, you may want to go to a different restaurant.
Address: 29 Myeongdong 10-gil, Myeongdong 2(i)-ga, Jung-gu, Seoul, South Korea (There are 2 locations nearby each other)
4. Migabon (味加本) – Permanently Closed
** This restaurant is closed as of March 2020**
It's time for porridge! Migabon is another must-try place when you're in Myeongdong. It offers a variety of porridge which is wonderful to enjoy in any weather.
The waitress recommended the mushroom porridge (7000 KRW / $6.20 USD) which had rich flavors of mushrooms and topped with green onions and sesame seeds. We also went extravagant and ordered the abalone and mushroom porridge (18,000 KRW / $16 USD). Wow! This was the best porridge that we've eaten. The intense flavors of the abalone and mushroom topped with seaweed and sesame seeds brought out an umaminess to the porridge. Both of the porridges had a silky smooth texture (similar to Hong Kong-style porridge).
Address: 56 Myeongdong-gil, Myeongdong 2(i)-ga, Jung-gu, Seoul, South Korea (on the second level) – You'll see a long line outside, but take the stairs up to go to Migabon.
5. Yoognae Restaurant (유가네)
Yoognae is a chain restaurant that focuses on chicken galbi since 1981. There are locations around the world including in Ho Chi Minh City, Vietnam. This place has a long queue but if you have a party of two and there is a table available, you'll get to jump the line. Unfortunately, this place isn't good for solo travelers due to the minimum ordering.
There is a minimum order of 2 for your meats and everything is cooked in a giant skillet. Waiters came around to mix it up every few minutes so you don't need to cook anything yourself. It's best to wear the aprons that they provide since the food splatters everywhere. You can go to their self-serve section for kimchee and cabbage.
We had the chicken and giant octopus with leeks and cabbage. They were first cooked in the skillet. Then, we added ramen and assorted topokki (regular, sweet potato, and cheese stuffed) to the meats and the red-orange gochujang sauce. The gochujang was spicy but had great flavors mixed with the meats. Once you leave the restaurant, you have a nice BBQ smell attached to your clothes to remember the meal.
Our meal was 27,000 KRW ($24 USD), with meats starting at 10,000 KRW ($8.80 USD).
Address: 8 Myeongdong 4-gil, Myeongdong 2(i)-ga, Jung-gu, Seoul, South Korea (There are two locations nearby each other)
6. Issac Toast (이삭토스트)
Need a place for a quick takeaway breakfast? Check out Issac Toast. There are over 700 stores in South Korea, yet the Myeongdong shop always has a queue. The concept is similar to a grilled cheese sandwich where you have buttered toast cooked on a griddle and stuffed with your choice of filling. The top menu choices are bulgogi, chicken, or galbi toast and each has hashbrown inside. It's a cheap sandwich starting at 3,200 KRW ($2.80 USD).
Address: 17-1 Myeongdong 10-gil, Myeongdong 2(i)-ga, Jung-gu, Seoul, South Korea
7. 32 Parfait (32 파르페) 
We're suckers for ice cream so we couldn't resist seeing everyone eating tall ice cream. After roaming around the streets, we found two places that served the tall ice cream and decided to go to 32 Parfait. You can't miss this place with the long lines and the servers in red baseball jerseys.
This place advertises the 32 cm (12.5 inches) length ice cream and combines two flavors – vanilla and chocolate, strawberry and mango, and green tea and blueberry. All for 2000 KRW ($1.77 USD)! It's a must-eat in the Myeongdong area!
Address: 48 Myeongdong-gil, Myeongdong 2(i)-ga, Jung-gu, Seoul, South Korea
8. School Food Blooming Mari (스쿨푸드)
If you're looking for Korean food at reasonable prices, visit School Food! The menu is vast and has a variety to choose from noodle dishes to kimbab.
We loved the kimbab at this place and had the shrimp and combo kimbab, which came with meat, fish roe, and squid ink. Who knew squid ink kimbab would be yummy? We also had cold noodles, blood sausage (not quite a fan), and galbi. It was a lot of food and many dishes started at 10,000 KRW ($8.90 USD).
Address: 27 Myeongdong 8-gil, Myeong-dong, Jung-gu, Seoul, South Korea (on the 5th floor of the M Plaza)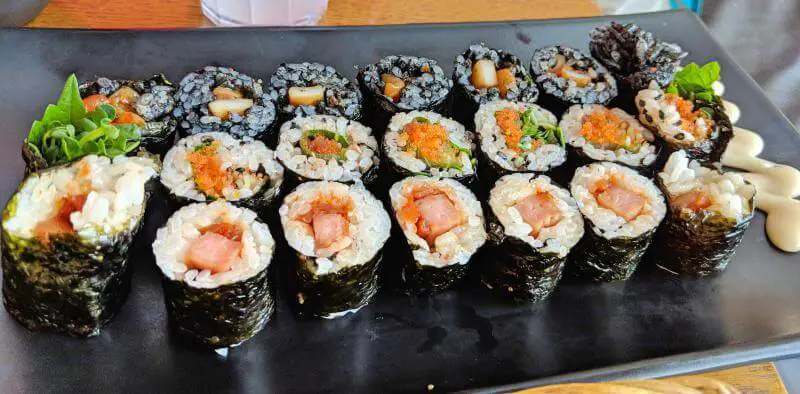 9. Lotte Department Store – Basement Level (롯데백화점)
Although not along Myeongdong Street, the flagship Lotte Department Store is less than a 10 minutes walk from the area. Head to the basement level of the department store to find a huge food court. Choose from Korean, Japanese, Thai, baked goods, and other dining options. It can be a change of pace compared to what you've eaten at Myeondong Street.
We discovered the food court on our last day in Seoul and wished we found it sooner! As our last meal, we had half of a fillet of grilled fish with soup and also grilled eel with kimchi fried rice.
Tip: If you head during lunchtime, it's a battlefield to find seating. You may want to go during the off-hours.
Address: 81 Namdaemun-ro, Euljiro 1(il)-ga, Jung-gu, Seoul, South Korea
---
You're probably drooling or growing hunger pains after reading this post! We hope you enjoyed reading about the various food options in Myeongdong in Seoul, South Korea. As you can see, we scratched the surface as there are so many delicious places to eat in Myeongdong! On a future trip, we'll try Korean BBQ, ice cream made with gold, and find more vegetarian options in the area.
For more good eats in South Korea, check out another post such as food options in Incheon. Or, if you're looking for a day trip from Seoul, check out Gapyeong!
---
Which restaurants do you want to try when you visit Myeongdong area? What other recommendations do you have in the area? Let us know in the comments below.
Like this post? Save it on your South Korea Pinterest board!