Have some extra days in Tokyo, Japan, and need some places to visit outside the main city area? You're at the right spot since we're sharing 6 fabulous day trips from Tokyo that we've personally visited and are less than 1.5 hours one-way by train from central Tokyo. From traditional cities such as Kawagoe to enjoying the jaw-dropping views on top of Mount Takao, these day trips will be the perfect addition to any Tokyo and Japan itinerary.  
While you can visit these places on a guided tour, you recommend that you go on these day trips on your own via public transportation. Japan's train system is so easy to use. We'll share information on how to get to the locations of these easy Tokyo day trips via the train system using the Shinjuku Station (新宿駅) as the base. Time is money so we don't want to spend all day traveling to get somewhere. 
Read to learn more about these exciting day trips from Tokyo by train!
*Disclaimer: If you love Japan as much as we do, just note that this post contains affiliate links. If you click on them and make a purchase, we receive a small commission. There is no additional cost to you. Appreciate the support.
---
Map of Tokyo Day Trips Locations
---
Best Day Trips from Tokyo 
If you're planning to extend your Japan stay, you may consider using the Japan Rail (JR) pass which can be used on the trains (rail, shinkansen) on the JR Lines. The pass allows access to all JR lines without needing to buy tickets. It saves time and money! 
Buy the JR pass here and save money.
1. Kawagoe
Kawagoe is one of our favorite day trips from Tokyo. This small town in the Saitama Prefecture is referred to as "Little Edo" as it retains its traditional building facades and traditions during the Edo period. It's the perfect place to explore a smaller and quieter city while also exploring the main Kawagoe attractions. Plus, it's a very walkable area as many of the sightseeing sites are close together. 
The top things to do in Kawagoe include shopping and eating along the main Kurazukuri shopping street and also visiting the shrines and temples. Kawagoe Hikawa Shrine and Kitain Temple are a must-see in the area while there are numerous smaller temples to explore. Plus, we can't forget about the iconic Toki no Kane, the Time Bell Tower, which was built between 1627-1634 and has been rebuilt many times due to fires. It still rings four times a day at 6:00am, 12:00pm, 3:00pm, and 6:00pm. 
Kawagoe is known for its sweet potatoes so you can't leave without trying a sweet potato item such as cakes, steamed buns, or baguettes. 
Read more about our exciting day trip to Kawagoe, including more transportation information here. 
How to Get to Kawagoe from Tokyo: From Shinjuku Station, take the JR Yamanote Line to Ikebukuro Station (池袋駅). From Ikebukuro Station, take the Tobu Tojo Line to Kawagoe Station (川越駅). 
How Long It'll Take to Get to Kawagoe: 30 minutes one-way
2. Yokohama
Yokohama is one place in Japan where we wished we had more than one day to explore. As the second-largest city in Japan and the main capital of the Kanagawa Prefecture, it's a modern city that still utilizes its ports for shipping products. Plus, there are lots of attractions to visit on your day trip from Tokyo.
The best things to do in Yokohama include learning about the history of ramen and eating it at the Shin-Yokohama Raumen Museum. If one ramen attraction isn't enough for you, head to the Cup Noodles Museum to customize your Cup Noodles and also learn about Momofuku Ando's innovation. Visiting Yokohama's Chinatown is a must-see place as it's the largest Chinatown in Japan so feel free to eat your way through the area. If you prefer to go shopping, head to the Red Brick Warehouse, formerly used as a port for customs.  At sunset, head to Cosmo World amusement park to go on rides and the Ferris Wheel. 
For more information about what to do in Yokohama, check out our Yokohama day trip guide
. 
How to Get to Yokohama from Tokyo: From Shinjuku Station to Yokohama Station (横浜駅), take the direct JR Shonan-Shinjuku Line. Or, take the train from Shinjuku to Shinagawa Station (品川駅) via JR Yamanote Line and then transfer from Shinagawa to Yokohama Station via JR Keihin-Tohoku Line.
How Long It'll Take to Get to Yokohama: 35 to 55 minutes one-way
3. Kamakura
Whether you're doing a side trip from Tokyo or Yokohama, Kamakura is a peaceful place to visit with the numerous shrines, temples, and beaches (Zaimokuza, Yuigahama, and Koshigoe during the summertime). It's no wonder it's also called the "Kyoto of Eastern Japan."  
For your Kamakura day trip, start with shopping and eating along Komachi-dori Street. The top thing to do in Kamakura is to visit the famous temple, Kotokuin Temple, to see the Great Buddha. This is the iconic place to visit in Japan whenever someone hears about Kamakura. It's a giant bronze Buddha that is 11.31 meters (37 feet high / 44.8 feet high with the base) and weighs 121 tons (242,000 pounds). 
There are a handful of temples and shrines to choose from so you can spend the day wandering to each of these places. The recommended temples include Hasedera Temple and Tsurugaoka Hachimangu Shrine. You can also consider going hiking through the mountains as there are trails nearby the temples.
If you have the opportunity, consider spending some time in the Enoshima area. It's an island that has hot springs, lighthouses, caves, and more adventures to spend the day. 
Learn more about what we did on our Kamakura day trip and more transportation information here.
How to Get to Kamakura from Tokyo: From Shinjuku Station, head to Kamakura Station (鎌倉駅) via the JR Shonan-Shinjuku Line.
How Long It'll Take to Get to Kamakura: Between 1 hour to 1 hour 15 minutes one-way
If you'd like to take a tour of Kamakura, consider these options:
4. Narita City
Narita City is not on everyone's radar as a place to go on a day trip from Tokyo. Most people go straight to the Narita International Airport and don't realize that there is a small city waiting to be explored. While it's a bit farther away compared to the other places we listed here, it's still a fun place to experience a hidden gem of Tokyo. Located in the eastern outskirts of Tokyo in the Chiba Prefecture, Narita is a quieter city to experience the traditional streets from the Edo period. 
Since Narita City isn't large, you can get to the main attractions on foot. Most visitors stop by the Naritasan Shinshoji Temple to see the three-storied pagoda and other halls. Another top thing to do in Narita is to visit the neighboring Naritasan Park to see the Great Pagoda of Peace or the Museum Calligraphy. 
If you're a fan of grilled eel (unagi), then you must try the unagi along Omotesando Street! The unagi no kabayaki is a popular Japanese meal where freshwater eels are grilled and lightly brushed with sauce and then placed on top of a bed of rice. It's such a treat to eat it! Afterward, you can shop along the street for souvenirs and other snacks.
How to Get to Narita from Tokyo: From Shinjuku Station, take the Yamanote Line to Nippori Station (日暮里駅). Transfer to the Keisei Line and get off at the Keisei-Narita Station (京成成田駅). 
How Long It'll Take to Get to Narita: 1.5 hours one-way
5. Mount Takao
Mount Takao is a fabulous day trip from Tokyo. If you're an outdoor enthusiast itching for some nature and hiking opportunities, then Mount Takao is your kind of place.
There are several ways to reach the summit at 599 meters (1965 feet) – hiking via 8 different trails or taking the cable car or chair lift. Since we're into hiking, we did the round trip hike which took a couple of hours. The Omotesando Trail is a beginner hiking trail (and the most popular) that passes by Yakuoin Temple and Monkey Park. We recommend Inariyama Trail for a more challenging trail as there are some steep hills to overcome. Don't forget to admire the views from the summit as the trees are gorgeous with seasonal colors.
To refuel from your mountain adventure, try one of the soba restaurants on the base or at the top of the mountain. Soba is well-known in the area, so it's made fresh and very delicious. We had both hot and cold soba dishes. 
How to Get to Mount Takao from Tokyo: From Shinjuku Station, take the Keio Line to Takaosanguchi Station (高尾山口駅).
How Long It'll Take to Get to Mount Takao: 55 minutes one-way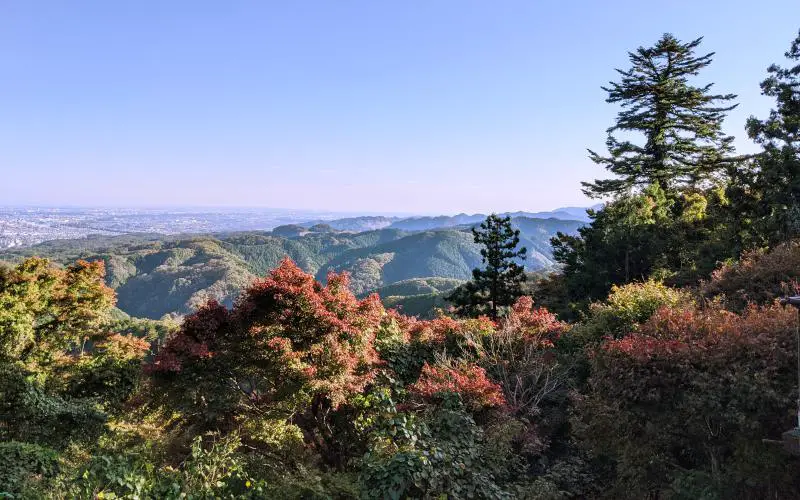 6. Sanrio Puroland
Who is a Sanrio fan? If you love Hello Kitty, My Melody, Badtz Maru, and friends, then Sanrio Puroland is the perfect place for you to spend the day in Tokyo. Located in the Tama area of Tokyo, this indoor theme park has everything kawaii (super cute) you can imagine. It doesn't matter what age you are as this place is unique and so much fun!
The main highlight of the day is to watch the daily Miracle Gift Parade with Hello Kitty and friends. It's shown one time a day so you must find a spot in the viewing area early! Other top things to do in Sanrio Puroland include meeting your favorite characters throughout the day, watching shows (although they are in Japanese), going on children-friendly rides such as the Character Boat Ride, and playing games in Gudetama Land. We can't forget about the food as the on-site restaurant and food court area has Sanrio character-shaped foods. 
To maximize the day trip to Sanrio Puroland, we suggest that you arrive at the theme park when it first opens. Otherwise, you'll wait in a long line for the Character Boat Ride.
Buy discounted tickets to Sanrio Puroland here!
Check out our in-depth Sanrio Puroland guide for more details on how to spend the day here and what to expect.
How to Get to Sanrio Puroland from Tokyo: From Shinjuku Station to Sanrio Puroland, take either the Express or regular train towards Hashimoto on the Keio or the Odakyu Line towards Karakida and get off of at the Tama Center Station (多摩センター駅). 
How Long It'll Take to Get to Sanrio Puroland: 45 minutes one-way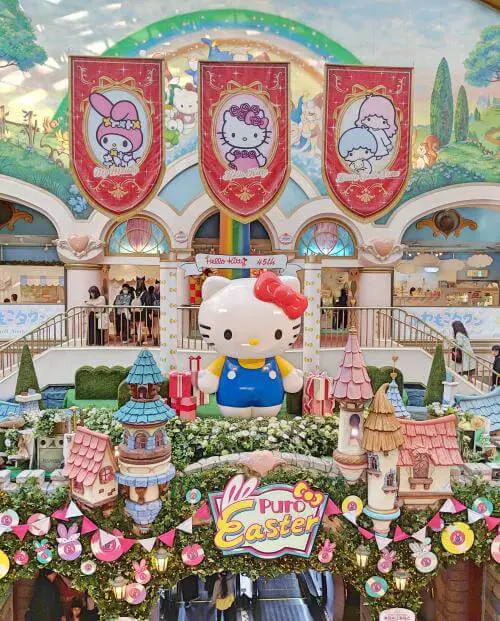 ---
We hope you consider spending an extra day or two exploring the other areas of Tokyo. Whether it's your first time or a return visit to Tokyo, there will always be a new and exciting place to visit. We'll continue to update this page as we visit more areas. 
Which of these easy Tokyo day trips do you want to go to? If you have questions about any of these, ask us in the comment box below. 
Like this post? Save it to your Japan Pinterest board.
Pin #1 photo credit: Tahian Ahmed via Scopio Photos