You've landed at Narita International Airport and now have a long layover. You may be wondering what you should do next. This happened to me during one of my flights to Narita, Japan from Ho Chi Minh City, Vietnam as I had a 10-hour layover.
What should you do during your Narita layover? Should you leave the airport to visit Tokyo area and visit unique attractions?  Do you have enough time to travel back and forth between the airport? 
Have no fear! We're here to say that you can leave the airport and explore during your layover in Japan. 
One place that may not be on your radar is to explore Narita City itself. It's a fabulous opportunity to explore a smaller city outside of the main Tokyo area. Plus, it's very close to takes 10 minutes to get there from the airport. I also heard that Narita is famous for their unagi no kabayaki (grilled eel) so I had to try it for myself.  
In this post, we're sharing the top things to do in Narita for your Narita layover. If you have a longer time in Japan, consider spending three weeks with this itinerary or visit this place as a day trip from central Tokyo.
For more information about our other layovers, check out these posts: Singapore layover, Brunei layover, Sydney, Australia layover, and Beijing, China layover.
Now let's see what you can do during your Narita layover.
---
Narita Airport Transit and Stay Program
Narita Airport has an awesome opportunity for visitors who want to explore the nearby cities or even the countryside during their layover. It's called the Narita Airport Transit and Stay Program. (Currently, this program is temporarily suspended.)
English-speaking volunteers provide guided tours. All tours start at 9:00am and the duration is a minimum of three hours depending on the tour. There is a nominal fee for transportation and/or food.
Some of the tour options include exploring Narita, enjoy a home-style Japanese lunch buffet, walk or bike through the Tako area, and much more. 
Online reservations are available to reserve your tour. You can also stop by the Narita Transit Program Counter in Terminal 1 Arrivals near Central Exit C1 or Terminal 2 Arrivals South Exit 2 to check availability. The counter hours are from 9:00am to 12:00pm.
If you prefer not to do a tour, there are self-guided tours. The Narita Airport Transit counter has maps so you can do tours yourself. 
I didn't use the Transit Program due to my early arrival at 7:00am and wanted to explore Narita on my own.
---
Where to Store Luggage at the Narita Airport
Narita Airport has baggage storage at every terminal. They charge according to the size of your baggage from small, medium, and large sizes. Check out the locations of the baggage store here. Since I traveled very light and only had a backpack, I didn't use the storage facilities.
---
How to Get to Narita from Narita International Airport
From the airport, it was easy to get to Narita. There are two subway lines to get to Narita Station – JR Narita line or Keisei line. I took the Keisei line and arrived at Narita Station in less than 10 minutes. It's only two stops away from the Narita airport. The cost was 270 yen ($2.50 USD) each way.
I was surprised at how budget-friendly the subway cost was. Click here to read more on how to travel on a budget in Japan.
---
What to Do in Narita, Japan During Your Layover
Shop along Omotesando Street.
Omotesando Street is super easy to get to off of the subway station. The street is known for eating and souvenir shopping.
If you arrive early like I did at 7am, the shops and restaurants are closed. I was looking forward to eating a Japanese breakfast. Besides the children heading to school, the street was eerily quiet. It is recommended to stop by this street past 11am for lunch.
Enjoy the stone Chinese zodiac animals along the street and the various shopping opportunities. You'll have plenty of time to explore the various souvenir shops, grab a bite to eat, try soft serve ice cream from a few vendors, see the action of grilling unagi and smell it too, buy senbei (rice crackers), yokan (Japanese sweet), ceramics, basket weaving items, and more.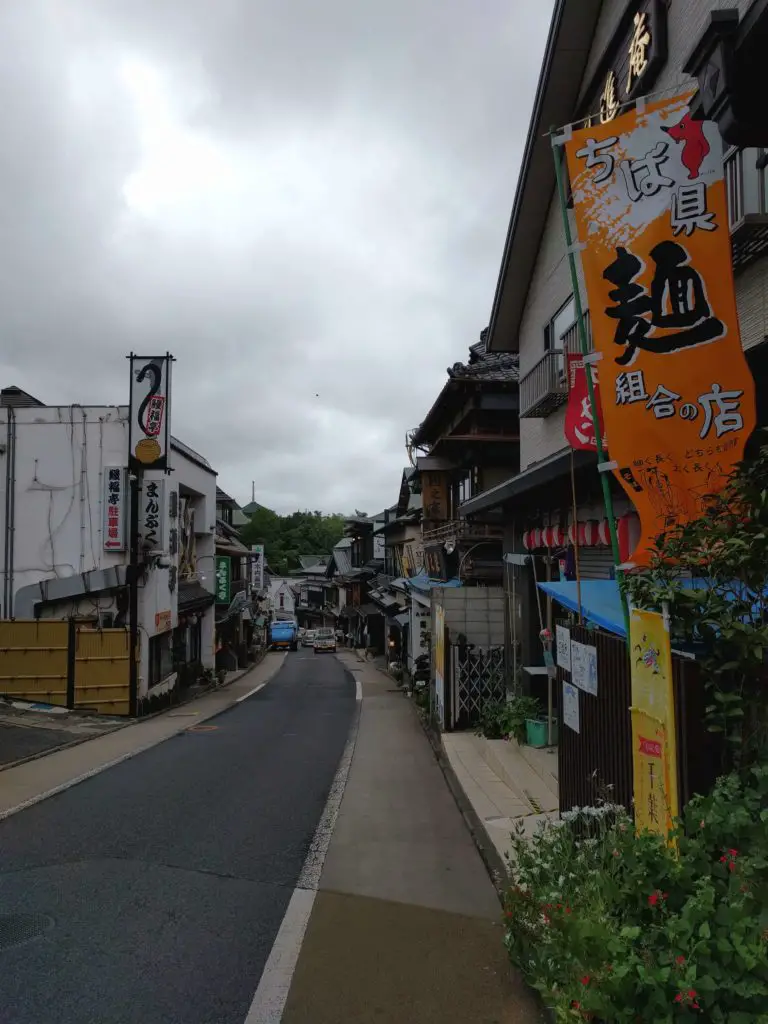 Visit the Narita Tourist Office along Omotesando Street.
The tourist center is a great place to visit when visiting a new city. If you need recommendations on what to see or places to eat, need a map in your language, or even a rest stop, then this is the place. The staff is super nice, eager to help, and speak English. It's located across from one of the famous unagi restaurants.
The tourist office has a mini museum in the back which has three old floats and the history of warriors and leaders. The second level shows how life was like in Narita in ancient times.
Eat Unagi.
Narita is known for unagi (grilled eel). As one of the top good eats in Japan, there are plenty of unagi restaurants to choose from along Omotesando Street.
During the Edo Period, it took two days for people to walk 64 kilometers (39.7 miles) to Narita, and people would eat unagi to overcome fatigue and gain strength. It's amazing to see the restaurant workers sharing their preparation and grilling the eel to the public in front of the restaurant.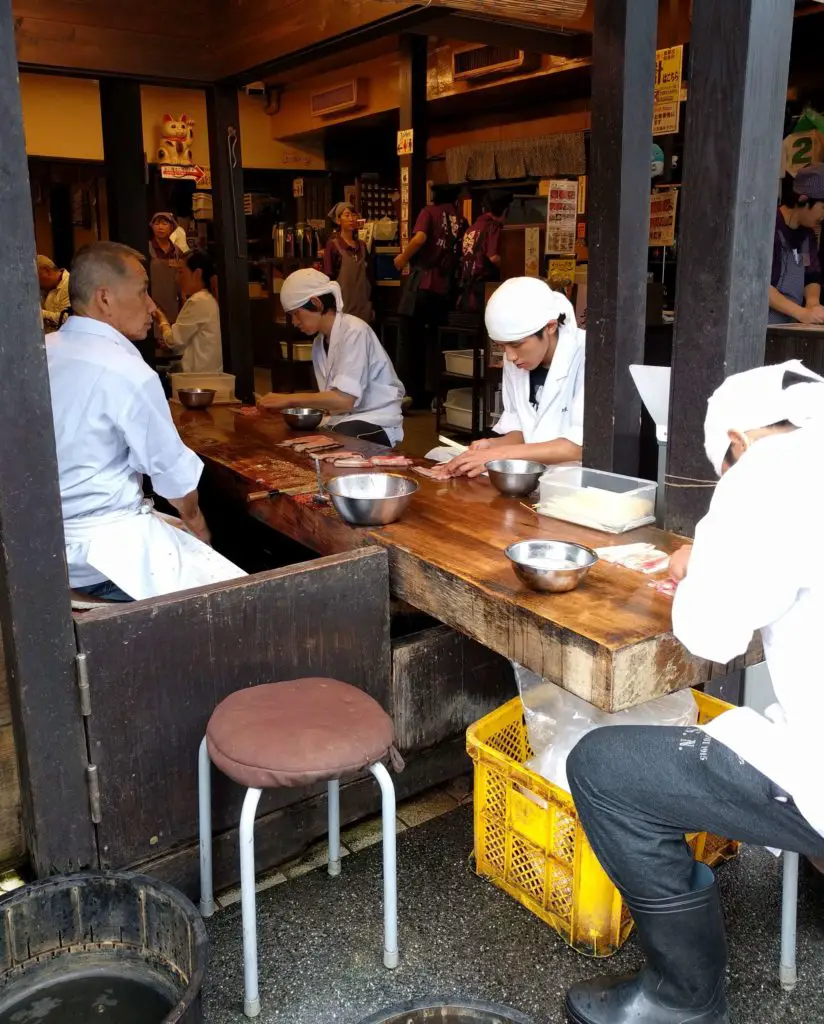 Stop by Kikuya (next to one of the famous unagi places and was also recommended from the tourist center) for lunch. I was greeted by the workers upon entering the restaurant and provided an English menu. I ordered the super deluxe eel which was a better cut of eel. The meal came with rice, side of pickles, and miso soup. The grilled unagi was moist and delicious with the sauce. It was well worth the cost of 2200 yen ($20 USD). (Cost during the visit in August 2018).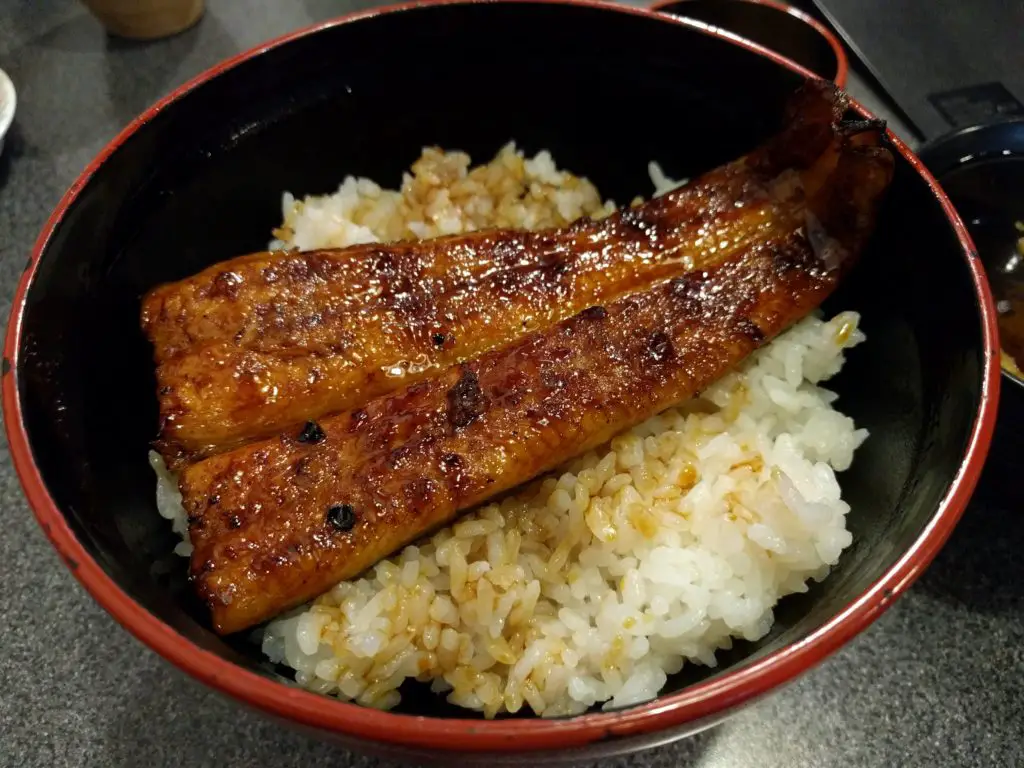 Visit the Naritasan Shinshoji Temple and Naritasan Park.
Naritasan Shinshoji Temple is known as Narita's O-Fudo-sama, and is a popular tourist destination due to the size of the area and the history. Wear your good walking shoes as this place is huge. At the entrance, you'll walk through the Niomon Gate and then up the stairs to the three-storied pagoda, Daihondo Hall, and other halls.
The best part was meandering around the premise and eventually walking through Naritasan Park.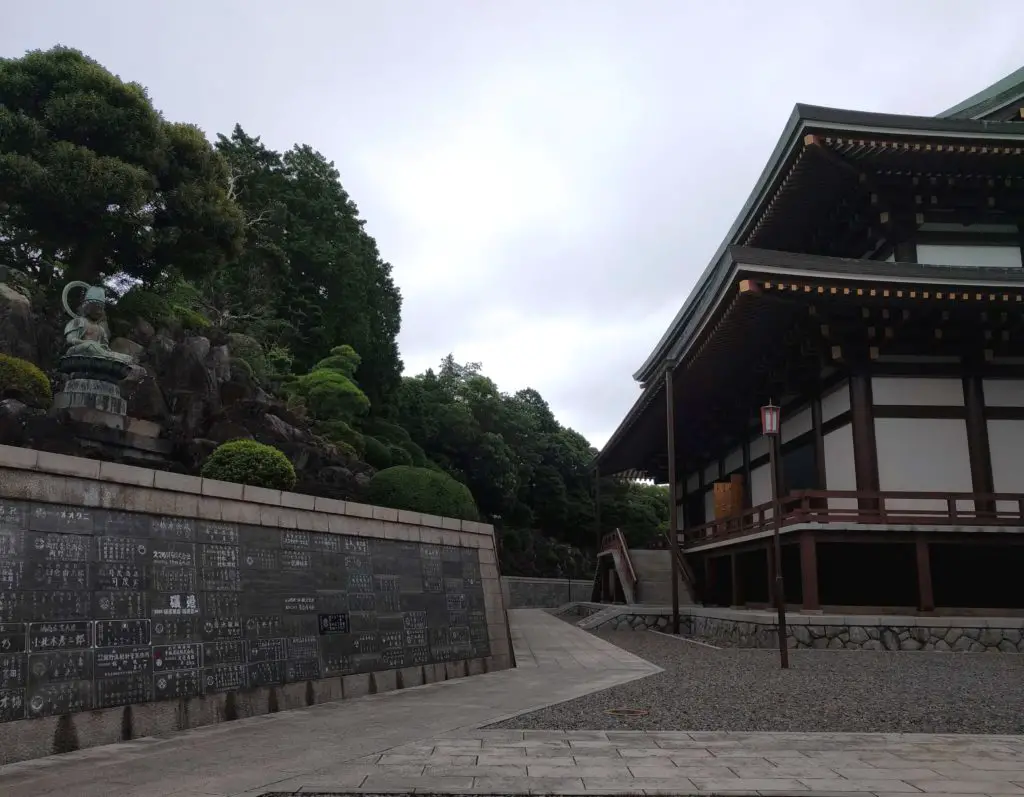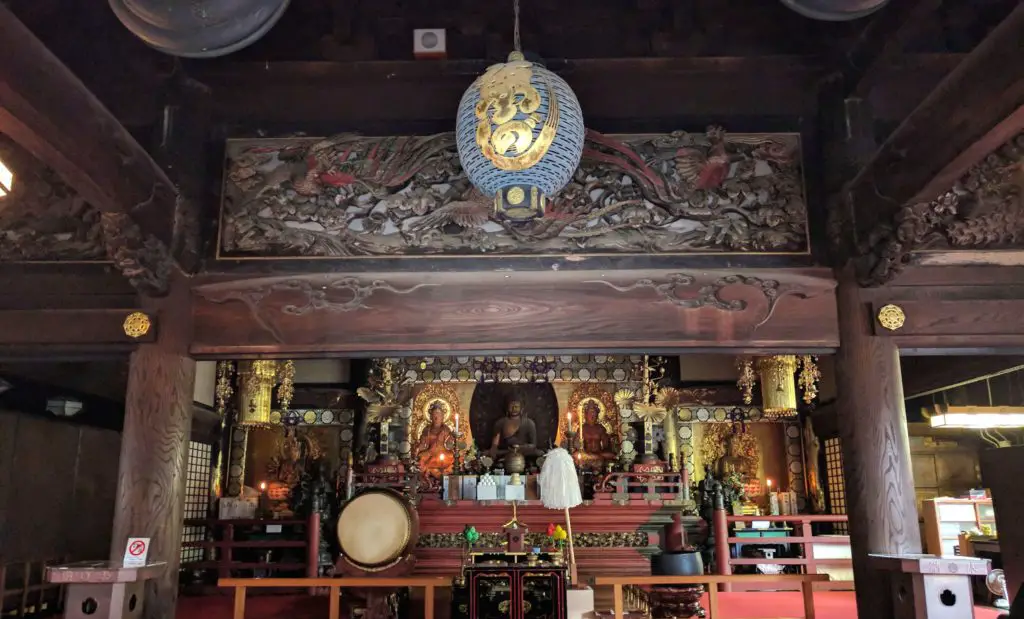 Naritasan Park is a beautiful park that is a calm and peaceful area. Choose your pathway either along the rim or down various dirt paths. The park has the Great Pagoda of Peace, large red and green pagodas that were currently getting restored at the time of visit. You'll also see three ponds filled with huge koi fish and trees.
Signs are in Japanese, so just beware of where you're walking. I ended up getting lost in finding my way back to the temple entrance. Or, you may choose to leave the area at a different exit.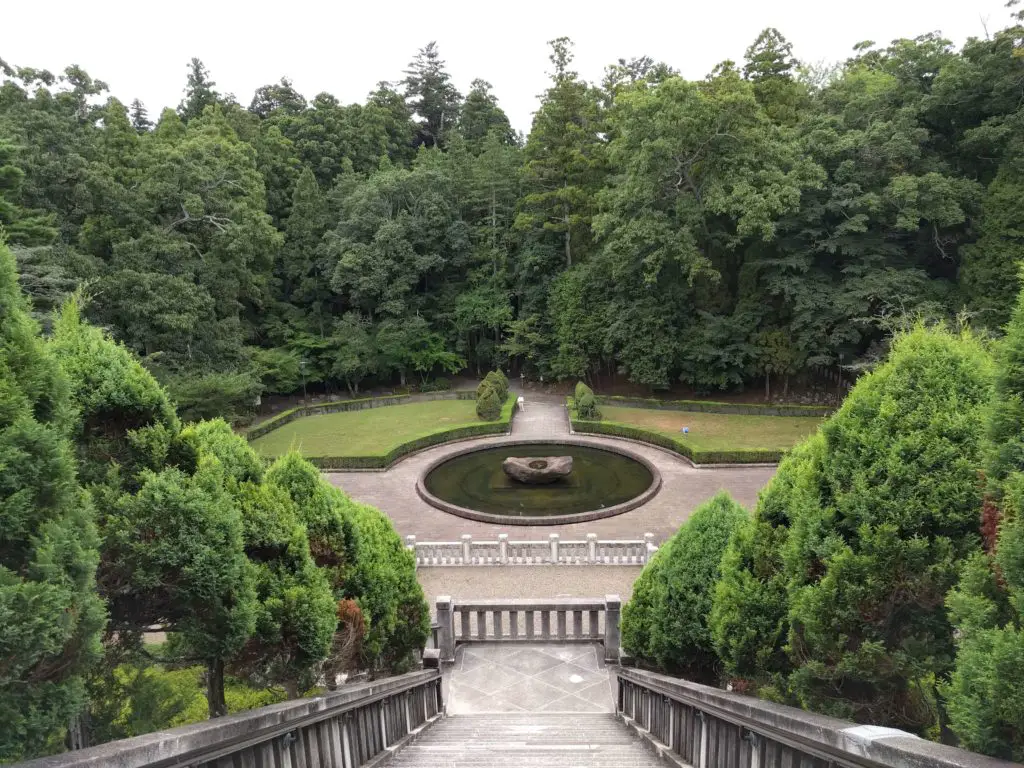 Next to the three ponds is the Naritasan Museum of Calligraphy. If you're interested or know how to read Japanese, then this is a good place to admire calligraphy on scrolls. The admission cost is 500 yen (cash only).
The museum is on two levels and has lots of different styles of calligraphy. One of the impressive exhibits is an original rubbing of a carved monument that is in Mount Tai, located in Tai'an, China. It's a tall exhibit at 13.3 meters (43.6 feet) high. As with the other exhibits, it is best to bring someone who knows how to read Japanese to translate as a handful of signs are in English. Otherwise, it isn't as engaging and a bit disappointing with the lack of translation.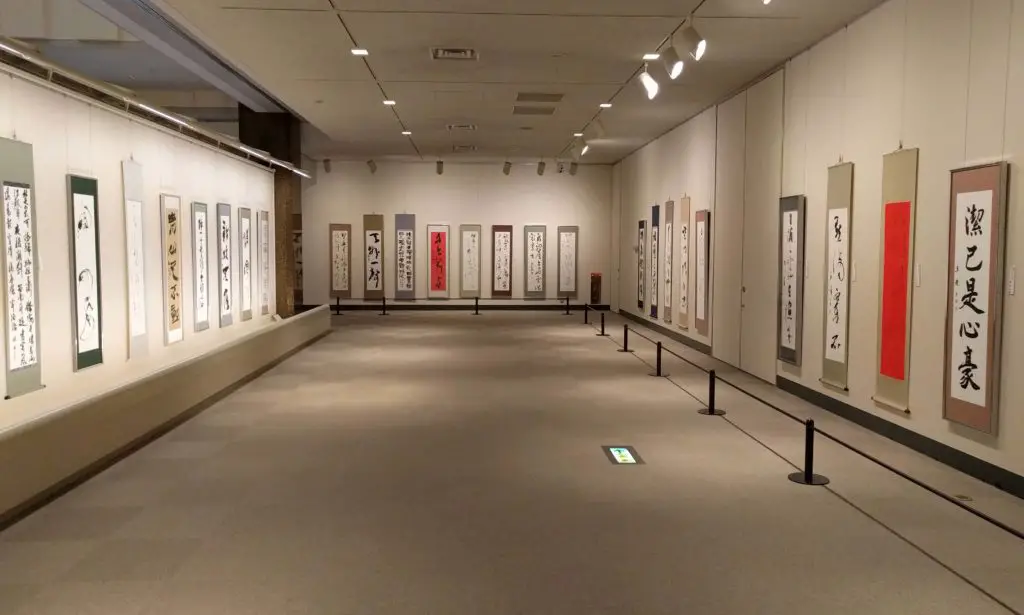 Try Yokan and Visit the Yokan Museum.
Have you had yokan? Yokan is the Japanese sweet made from red beans or other flavors, agar, and sugar. It comes in a rectangular block where you eat in slices. If you want to learn more about yokan and the creator, check out the Yokan Museum. The museum is located off the street from Omotesando and behind the large yokan souvenir shop. It's free admission too!
Similar to the Calligraphy Museum, it is best to bring someone who can read Japanese. You can somehow depict the history of making yokan and the creator of the yokan brand.
Afterward, walk across to the huge souvenir food shop and buy your Japanese sweets. The store also provided samples of yokan, dorayaki (a pancake stuffed with red bean inside), and free tea to guests.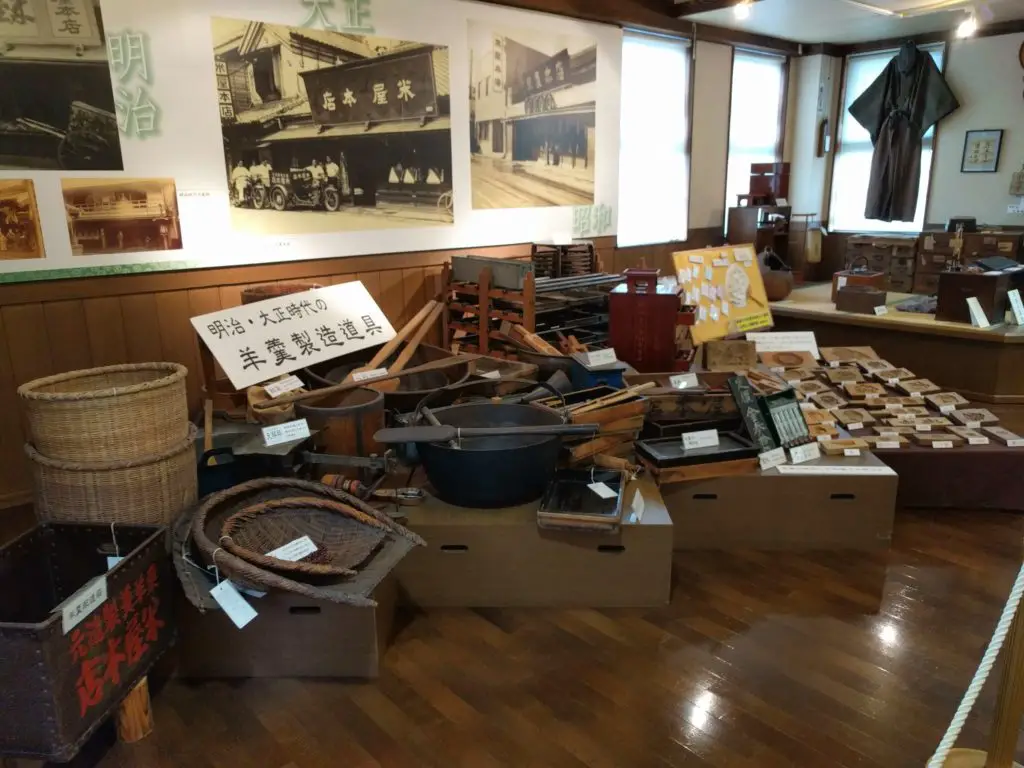 Final Thoughts
Visiting Japan is always a treat due to the good food and friendly people. I didn't use up the full 10 hours to explore Narita as the main tourist area was small. It is recommended to spend at least 3-4 hours to explore here. Next time, I would consider using a taxi to see the outer area of Narita, take a train to Tokyo (although I would allot at least over 1.5 hours by train), or use the services of the Narita Airport and Transit and Stay Program for the volunteer-led tours. Can't wait to go back to Japan again!
If you plan to stay in Japan for an extended time, check out our Japan posts:
Save this post to your Japan board on Pinterest!